Choosing a good bassinet with wheels is not easy by any stretch of the imagination.
In fact, I'd argue it's much more complicated than choosing a 'regular' bassinet…because there are more moving parts, both metaphorically and literally.
That's especially true if you're not privy to the industry's lingo.
You might end up spending hundreds on a bassinet that will damage your floors. Today, my mission is to navigate around those.
I'll offer concise answers and specific recommendations in different categories of wheeled bassinets.
Let's dive right into the top picks.
Image
Best Bassinets with Wheels
Features
Price

Best Overall

7 height positions
Easy-open side panel for bedside mode
Comfortable mattress with sleeping board

CLICK FOR PRICE

Cry Detection Technology
3 different motion speeds
2-speed vibration

CLICK FOR PRICE

3 modes of use
Height adjusts between 24" – 33.5" tall
Dual-function handle or brake

CLICK FOR PRICEBuy at Amazon

Built in Wheels
Nine Height Levels
Comes with One Machine Washable Sheet

CLICK FOR PRICE

Adjustable cradle for bedside use
Soothing sounds lull baby to sleep
Storage pockets keep necessities nearby

CLICK FOR PRICE

Includes a mattress pad
Transforms into a rocking cradle
Full canopy can be used as a mosquito net

CLICK FOR PRICE

Reversible bassinet and changer all-in-one
2 speeds of vibration to choose from
4 locking wheels

CLICK FOR PRICE

Calming nightlight and soothing music
Adjustable, removable canopy
Large storage basket

CLICK FOR PRICE

Slim base with wheels
5 adjustable heights
Large storage pockets on each end

CLICK FOR PRICE

Legs fold inward and outwards
Bassinet into a bedside sleeper option
Tool-free assembly

CLICK FOR PRICE
---
If you want a bassinet with a premium wheel that's designed around easy access (when used as a bedside sleeper) but still does as good of a job as a standalone bassinet, Micka Micky might be where your search ends.
Features
Two modes of use – standalone bassinet or bedside sleeper
Wheels are built-in (with breaks)
Adjustable height – 7 positions
Wide base for added stability when moving
Safety anchors attach the bassinet to your bed
Lowering side panels for easier access (made of mesh)
Why I love it
There's much to love about this Micka Micky – from the adjustable height and sturdy frame to the small footprint and lowering walls.
However, in the context of this guide, I'd like to put one aspect front and center – the superior wheel wheels.
Is your baby having trouble sleeping in a bassinet? Here's why.
They're robustly built and feature breaks. The finish is dampened so that they don't damage your floors.
That's precisely what you want to see in a good bassinet with wheels.
Related reds: best bassinets for reflux | best vibrating bassinet
Sense2Snooze is a high-end bassinet with wheels and an extensive soothing center packed with modern features.
It only features wheels on two legs, but that's not a deal-breaker because they're well-made, maneuverable, and move smoothly.
And the two fixed legs make it more stable than most similar models with a "4-wheel drive."
Features
Built-in wheels
Soothing features: cry detection, motion, vibration, and sound
Breathable mesh side and a reversible canopy
Parent controls feature dimmable lighting
Mattress cover removable and washable
Integrated storage organizers for diapers, wipes, and other essentials
Why I love it
I like it because it features what's probably the most comprehensive soothing center among the wheeled bassinets.
Typically, for good, maneuverable wheels, you have to sacrifice some of the soothing features.
That's not the case with Sense2Snooze.
It boasts everything a high-end soothing center should, including cry detection and vibration.
If you told me to ignore the other features and choose the best wheels, I'd go with Chicco Close to You.
They're seamless, rubberized, and controlled with a handbrake and not a footbrake, which is way more practical.
Features:
Rubberized swivel wheels with a dual handbrake
Three modes: portable bassinet, bedside sleeper, and a changing table
Soothing features include 2 vibration settings, 6 melodies, and a mellow nightlight.
The mattress is quilted and waterproof
The fabrics can be zipped-off and machine-washed.
Height adjustable – almost 10 inches of range 24-33.5 "
Why I love it
Other than the superior wheels and break, Chicco Close to You is the one bassinet here that successfully plays three roles – a changing table, bassinet, and a bedside sleeper.
For you, this means spending much less than if you bought the three separately.
If you're not looking for fancy soothing functions like vibration and cry detection but a simple bassinet that just goes on with it, this Ronbei is a serious candidate.
Features:
Built-in sleek-looking wheels with a rubberized finish
Adjustable to nine height levels
Music box and overhead toys
Simple assembly – you just push legs frames and pull the handrails
It's foldable for easy transportation
Removable mattress cover and washable machine sheets
Why I love it
I love this Ronbei because it does pretty much the same things as similar high-end units without making much of a dent in your budget.
However, it's not the best choice if you have many "transitions" around your space – like moving from a hardwood floor to a thick rug.
The wheels don't handle these transitions as well as bassinets with heftier wheels, like the Micka Micky.
Our top budget pick among bassinet with wheels comes from Ingenuity, a company that insists on "simplified gear for a simple life."
The soothing station is not as comprehensive as in the more expensive bassinets (like the Graco Sense2Snooze), but it costs much less.
If money is tight, give this one a serious look.
Features:
Robust steel frame with 4 locking wheels
Height adjustable cradle with mesh sides
Features a gentle nightlight and soothing vibration and sounds
The mattress cover is machine washable
Includes a set of fitted mattress pad sheet
Why I love it
I love it because of the price-to-value balance that's second to none, at least among the bassinet with wheels.
Lacy by DreamOnMe is a light, affordable bassinet that stands out because of the many unique color schemes. The important part is that "light" doesn't mean "fragile," but it does mean easy to move.
Features:
Four locking wheel (hooded)
Doubles as a standard or rocking bassinet
Generous storage basket – suspended on the frame, under the bassinet
Full canopy with a mosquito net
Dozens of colors schemes available
Why I love it
I love the unique design and the spacious storage that still stays out of the way because of the smart design. It's suspended on the two extra "branches" of the frame and hangs underneath the bassinet.
The intelligent part of the design is that it uses the space that would've otherwise been wasted.
On top of that, it's the one bassinet here that breaks the mold in terms of the earthy color scheme and adds mellow blues, rose, and yellow.
Related reads: portable crib reviews | best bassinet for small spaces | best bassinet strollers
The second entry from Graco on the list of best bassinets with wheels is very different from the Sense2Snooze.
It's more versatility-oriented.
You can either lay your child down to sleep or change their diaper. If you're doing the latter, your supplies are on-hand.
Features:
Four locking wheels with a rubberized finish
Two vibration intensity settings
Reversible – doubles as a changer and a bassinet
Small footprint and light – weighs just over 18 lbs
The changer is extended-use – up to 30 lbs
Canopy with suspended toys
Removable and washable mattress cover
Why I love it
I'm a fan of the balance this bassinet finds between maneuverability and features. Graco managed to add features without adding weight of heft.
Pair that with a solid set of lockable wheels, and you've got a winner.
Related reads: best tall bassinet | top-rated smart bassinets
This Delta is the lightest bassinet here and one of the most affordable, too. It weighs only 10.6 lbs and features four lockable wheels.
Features:
Light frame with four lockable wheels
Electronic module with calming sounds and lights
Foldable canopy for light protection
Comes with a 1″ water-resistant pad and a fitted sheet
Spacious storage area attached to the legs
Why I love it
I'm a sucker for simple products that just do the job.
That's what this bassinet is – it meets all the standards I initially set for a good bassinet with wheels and does it at a much lower price point than the competition.
This Simmons is one of the best values among bedside sleepers with wheels. The frame is stable, the craftsmanship, the finish, and the materials (including the wheels) feel high-end.
Features:
Four locking wheels on a low frame (slides under the bed)
Bedside sleeper with a lowering sidewall
Adjustable to five levels of height
Generous storage pockets on both sides
Washable mattress pad (1-inch thick) and a fitted sheet
JPMA certified to meet and
Why I love it
This is a substantial bassinet with a high-end vibe to it. It's made to compete 'against' bassinets like Chicco Close-to-you, and it looks the part. Yet, it costs much less.
Related reads: top picks among twin bassinets | top-rated luxury bassinets
The Skylar bassinet is an interesting take on the classic bedside sleeper with four wheels.
It makes you wonder if you actually need four wheels. For many parents who're not moving the bassinet all the time, the answer to that will be no.
You just need the wheels on the 'front legs' to glide the thing under the bed and not scratch the floors.
Features:
Aluminum frame with a range of fabric colors
Wheels only on front legs (with additional stabilizers)
The legs fold outwards and inwards to keep the bassinet close to the bed
Dual-use – as a bedside sleeper or a standalone bassinet
Safety straps secure the Skylar to the adult bed
Why I love it
I love that the folks over at DreamOnMe had the common sense to make a bedside sleeper that can work with more than one color scheme.
What you typically get is black and gray.
Skylar also comes in blue, mint, pink, and purple.
The extra pizazz is refreshing.
What to look for in a good bassinet with wheels
In the mini buyer's guide below, I'll address all the significant quality aspects to consider when choosing the wheeled bassinet for you.
The wheels (duh)
What exactly makes the wheels of bassinet good?
There are five key aspects to consider:
1 – Overall build quality and finish
You want robust wheels with secure joints that will stand the test of time. The latter is even critical if the wheels aren't built-in, and you'll be moving the bassinet daily.
The finish is typically plastic or rubber with a smooth finish to minimize streaks to your floors. With wooden floors, splurge a bit more for rubberized wheels – the few extra dollars are nothing compared to the cost of repairing damaged floors.
2 – Size of the bassinet wheels
Bigger wheels will be better at those critical transitions from floors to rugs. This quality aspect only makes sense when interpreted with the smoothness of movement (we'll talk about that next).
3 – How smoothly they rotate
A wheel will effectively transition from floors to rugs if it's big enough, swivels easily, and rotates smoothly. If it's subpar in any of the two categories, you'll be thudding around the house as you move the bassinet.
4 – Are they lockable?
Lockable wheels are a must for stability unless the bassinet only has wheels on two legs.
5 – Do they feature hand brakes?
Hand breaks are not a must-have but a nice-to-have. You typically see them on better, more expensive models like Chicco Close To You.
Safety of a bassinet with wheels
You want a bassinet that's easy to move and maneuver, but maneuverability doesn't come at the expense of safety.
Let me be precise – this is what to look for:
A bassinet with a flat and firm sleeping surface
Meshy breathable sides
Securely attached to the adult bed (if it's a bedside sleeper)
Good examples of bassinets with wheels that ticks all the safety boxes are the Micka Micky and Chicco Close-to-you.
Rule of thumb – only buy certified.
All the good bassinets with wheels will be JPMA-certified and meet the baby product safety standards set by the ASTM and CPSC.(*)
*JPMA – Juvenile Products Manufacturers Association
ASTM – American Society for Testing and Materials (now international)
CPSC – Consumer Product Safety Commission
Soothing the baby
If money is not your primary concern, you can get a premium bassinet with wheels that will take on a few of your parenting jobs and free a bit of your time.
The good ones will soothe the baby through vibration, motion, and sound.
The best ones will do all of the above and even detect when the baby is crying and kickstart the soothing. An example of a bassinet with cry detection tech is today's runner-up – Graco Sense2Snooze.
These cost more. Significantly more.
But before you dismiss any bassinet because of the price, ask yourself one simple question, "How much does an hour of sleep cost?"
How easy is it to assemble
If you're looking for a bassinet with wheels that's also going to be travel-friendly and portable, you'll want one that's easy to set up and down and is light enough to carry.
When it comes to easy assembly, there's good news – all of the top brands recognize how important it is and, nine times out of then, you'll have zero problems doing it on your own.
If we're talking about assembly on the go, you'll want something extra-light and simple, like the Deluxe Sweet Beginnings (ranked 8 overall).
Main benefits of a bassinet with wheels
Convenience of a bassinet
A bassinet's sleeping surface is smaller than a crib, making it more convenient for keeping your newborn close.
For small apartments, a crib or a bassinet with no wheels will do. But, for spaces with multiple rooms, wheels will make your life much easier.
With bedside sleepers, the wheels are a must to guide the bassinet close to the adult bed smoothly.
Moreover, having them close by makes those late-night feedings much easier since you don't have to venture out of your bed. That makes all the difference in the world if the mother is recovering from a c-section.
Having the baby close
Instinctively, you'll want to keep a watchful eye over your baby during those first few months.
A bassinet with a wheel will either be height-adjustable or be close in height to an average adult bed. The walls are almost always breathable see-through mesh, so you can see into the bassinet from any corner of the room.
Close and not-so-close
There will be nights when you'll want them as close as possible, and there will be times when you're too anxious for that. If you can hear every squeak or grunt, you might want to move them and give yourself a bit of silence.
That doesn't make you a bad parent, although it might feel like that when the anxiety passes.
In those scenarios, a bassinet with wheels is a life-saver.
Bassinets with wheels – the bottom line
Choosing a good bassinet with wheels comes down to planning the process right and understanding exactly what you need.
There are three steps to doing it successfully:
Deciding on the type of bassinet you need
Deciding how much you're willing to spend
Choosing one with solid wheels
If you're choosing a bassinet from among my picks, it makes it all much more straightforward because I tried to answer the three crucial questions in the mini-reviews of each product.
I sincerely hope it helps.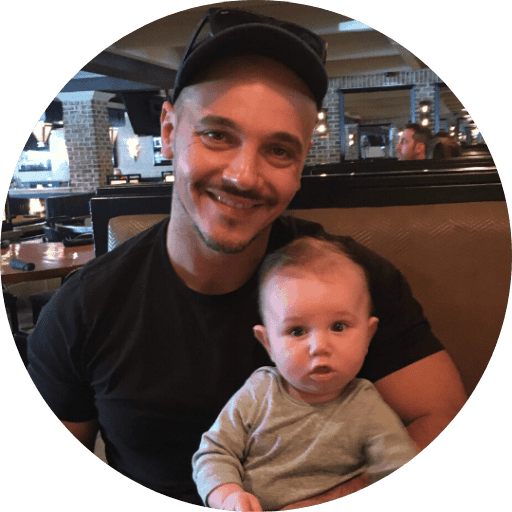 Paul is a passionate dad who founded Upside Dad to share his parenting journey with other new parents. He graduated from Concordia University and worked as a test engineer for over a decade. Paul loves dad jokes and craft beer.
Learn more about Paul and Upside Dad here.