Topics like choosing a bassinet for a baby with reflux are where I draw the red line -a line between 'blissful ignorance' and 'you belong in jail.'
I'm of course talking about the kind of information that's available on the internet – from pure fluff that helps no one to downright dangerous advice, like putting your baby to sleep on an incline.
Let's get that out of the way – we will talk about bassinets in the context of acid reflux relief, and some of them will feature micro-inclines, but your baby should ONLY sleep on a flat, firm surface.
That means that the bassinets I chose as "best for acid reflux" will offer relief in one of two ways:
By having the baby spend some time at a micro recline angle, awake and supervised
By soothing them – a calm brain typically means a calm(er) esophagus.
With expectations in check, let's move right into my top picks.
Bassinets for reflux – my top 5 + a BONUS pick:
Image
Best Bassinets Under $100
Features
Price

Best Overall

RONBEI Bedside Sleeper

Height adjustable – 9 levels
Music box and hanging toys
Rubberized, locking wheels

CLICK FOR PRICE
Baby Delight Beside Me Dreamer

Adjustable to 6 height levels
Aluminum frame
Fiber-filled mattress

CLICK FOR PRICE
Kidsclub Bedside Sleeper and Bassinet

Two modes – standalone bassinet and bedside sleeper
Safety straps
Great frame – wide base and low-profile legs

CLICK FOR PRICE
Milliard co-sleeper bassinet

Height adjustable between 23 and 31 inches
Big storage pockets
Waterproof mattress encasement

CLICK FOR PRICE
Fisher-Price Soothing Motions

Gentle rocking – motor power and self-propelled
Overhead mobile
Soothing music and sounds

CLICK FOR PRICE
SNOO smart bassinet

Safest infant bed ever made – keeps the baby on its back at all times
Elaborate soothing center – gentle rocking, vibration, white noise, soothing music
It's automatic – equipped with motion sensors, microphones and two motors

CLICK FOR PRICE
---
Main benefits
Simple design of the lowering walls
I've seen one too many brands overcomplicating things when it comes to how the walls lower and stay in place. With Ronbei, you simply unzip the fabric at the top corner, take out the rail and move it to the bottom slot.
It's simple and intuitive.
Practical height adjustment
OK, this is not unique for Ronbei, most bedside sleepers are height adjustable…but not all of them are created equal. Problems here go from height range, levels that "miss" the height of an average bed to poorly made base that makes it impossible to secure the sleeper to the bed.
Adjustable legs of the Ronbei avoid all those pitfalls and seamlessly snug against pretty much all bed heights and designs. They work just as well with all bed types – from the classic, bookcase and poster beds to divans and ottomans…even sofas in the daytime.
Easy to move
The built-in rubberized wheels, although small, work smoothly. They're just sturdy enough to move the bassinet without wobbling the sleep surface and have a soft enough finish to protect your floors.
And they lock in place. That's a combo I like to see in a bedside sleeper.
Specs Table
| | |
| --- | --- |
| Dimensions | 32 x 15 " |
| Height adjustment (floor to bottom) | 18 to 25.6 inches |
| Dimensions | 32 x 15 " |
| Weight | 24.3 lbs. |
| Materials | Mesh and high quality microfiber |
| Weight / Age Limit | 19.8 lbs. / 6 months |
Features
Height adjustable – nine levels of height will work with most beds
Built-in, locking rubberized wheels make it easy to move around the house
Straps for anchoring it to the bed
The included sheets are machine-washable
Comes with a music box and hanging toys
Lightweight and portable, plus it folds down for easy transport
Breathable mesh sides
What I like about the bassinet
I like the balance Ronbei strikes between quality, price, and features, including a micro-incline. With nine adjustable height levels, it will be a good fit for most adult beds. The soothing sounds and detachable toys are a nice plus.
It's this combo that makes it the best bassinet for reflux. To be more precise, it's the top value among bassinets that might offer relief to babies with reflux and the most-well rounded product in its price range.
You can see my full review of this Ronbei bedside sleeper here.
Main benefits
Taller than most
Sitting at 31 inches, this Baby Delight is 5 inches taller than Ronbei, making it a more dad-friendly choice. For families sharing the "burden," the extra height is a huge plus.
If the height is important to you, you can read my picks for best tall bassinets here.
Local company
This might not be a "benefit" per se, but I'd be lying if I said there's no comfort in knowing that you're buying from a local (Rhode Island) and JPMA Certified company.
Easy to put together
Knowing that you'll put it together in minutes is a massive boon if this is your first time doing it.
Specs Table
| | |
| --- | --- |
| Dimensions | 37″ x 22.5″ x 30.75″ |
| Height adjustment (floor to bottom) | 6 level, up to 31 inches |
| Weight | 19 lbs |
| Materials | Mesh walls, aluminum frame, fiber-fill mattress |
| Weight Limit | 20 lbs |
Features of the bassinet
Height adjustable – 6 positions, up to 31 inches
Aluminum frame
The mattress if fiber-filled
Mesh, breathable sidewalls
You can adjust the two legs separately
No-tool, 5-minute assembly
Safety straps snugly attach it to your bed
The included fitted sheets are waterproof
Folds flat for transport
What makes it suitable for a baby with reflux
Strictly speaking, this is not an inclined sleeper, but the height of the two legs can be adjusted independently, which means you can set it to a micro-incline by choosing different levels for the two legs.
One caveat
You should be extra careful with this, especially if you have another toddler running around. The height adjustment mechanism doesn't lock and can be released by pushing the knob. If one side is at level 6 and the other at 1, the sleep surface will be at about 30 degrees – a scenario that's a serious safety concern.
Still, it's a product worth every penny and of the better bassinets for a baby with reflux. You can see my review of the Baby Delight sleeper here.
Main benefits
Light but stable
With a bedside sleeper, you'll want something that's easy to move when you want and impossible to flip over by accident. The C-shaped aluminum frame of this bassinet ticks both boxes.
Security straps
Safety is everything with products like this. That's why I always take an extra close look at how the safety straps work and how snugly the sleeper fits against the adult bed.
Micro incline
The micro-incline of 3 to 8 degrees is designed to stop the baby from spilling milk. For our purposes today, the more important part is that an incline sleeper might help a baby with reflux.
Specs Table
| | |
| --- | --- |
| Dimensions – sleeping area and folded (LxWxH) | 37.4″ x 22.83″W x13.98″H and 37.2" x 22.7" x 7.5" |
| Height adjustment (floor to bottom) | 17.52″ to 25.39″ |
| Weight | 23 lbs |
| Materials | Aluminium, Steel, Suede, ABS plastic |
| Age / Weight Limit | 5.5 months / 25 lbs |
Features
It can be used as a bedside sleeper or a standalone bassinet
Safety straps keep it secured to the adult bed
The side panels unzip to about two-thirds of the total wall height
Sidewalls made of breathable mesh
Well-built frame – wide base and extendable, low-profile legs
What I like about the bassinet/inclined sleeper
This Kidsclub sleeper found its way to the 'best bassinet for reflux' list because of its safety-oriented design and the micro-incline mode. It's certified by the CPSC*, and it meets all the safety specifications defined by the ASTM* F2906.
I talk about the Kids club bassinet in greater detail in its dedicated review here.
CPSC – Consumer Product Safety Commission
ASTM – American Society for Testing and Materials (now international)
Main benefits
Bigger sleep surface
What good are listed age and weight limits if your baby outgrows the sleeping surface before it even gets close to maxing out the weight?
I've seen it happen in one too many bassinets of this type. This Milliard boasts 35 inches of sleeping surface.
This practically guarantees two things:
Your baby won't outgrow it before they max out the weight and age limits
They'll be more comfortable as they grow
Pockets all around
It's typical for bedside sleepers to skimp on storage because including pockets complicates manufacturing (read: makes it more expensive).
Yet, not having enough storage at hand kind of defeats the very purpose of a bedside sleeper – not getting up. Parents get creative and make do with what they have available, but Miliard took a different approach and went all out with pockets. And I love it.
Specs Table
| | |
| --- | --- |
| Dimensions of the mattress | 35.5″ x 20.5″ |
| Compatible bed heights | 23"-31" |
| Weight | 25.6 lbs |
| Weight Limit | 20 lbs |
Features
Adjustable height – 23-31 inches
Two modes – bassinet and bedside sleeper
Waterproof mattress encasement
Generously-sized storage pockets
One washable sheet included, extra sheets available for purchase
Adjustable sliding brackets and lock buttons make setup a breeze
What makes it good for babies with reflux
If a bedside bassinet is fixed (doesn't allow for an inclined position), you'll want a flexible frame that will allow to gently soothe the baby through rocking motion during episodes of acid reflux.
That's where this Milliard shines – the aluminum frame is sturdy enough to be absolutely safe yet flexible enough to lull the baby by gently swaying the bassinet.
It's also one of the very few bassinets I looked at that's safety-tested in an independent US-based lab.
You can read more about this Milliard in my detailed review here.
Main benefits
Soothing motion and sounds
It's been proven times and again that some sounds and motions are soothing for a fussy baby. And there are few greater agitators than acid reflux.
With this Fisher-Price, you press a button, and the bassinet does the rest – at least for 30 minutes. Most of the time, that's enough for a reflux episode to subside.
Even if they start fussing and you're asleep, the bassinet is designed to use the kinetic energy of the moving baby to rock the bassinet slowly. The movement is slight and subtle, but that's often all it takes.
Entertaining mobile and lights
The light projection unit and the overhead mobile will keep the baby entertained. One of the light modes projects a colorful display onto the ceiling. The two features combined will likely give you a bit of extra downtime each day.
And we know how much each moment of rest means.
Specs Table
| | |
| --- | --- |
| Dimensions | 22.8 x 5.9 x 40" |
| Height adjustment | no |
| Weight | 20 lbs |
| Weight / Age Limit | 25 lbs or when the baby starts pulling itself up |
Features
Gentle rocking movement
Overhead baby mobile
Soothing sounds and music
Two-mode lighting unit: night light or soothing projection (the unit is removable)
Why it's one of the best bassinets for babies with reflux
This bassinet carries two titles – best bassinet for reflux among the classic, standalone bassinets, and the top budget pick. There are bassinets out there that will be more effective when soothing a baby with reflux, but they cost more. Much more. I'm talking 5-10 times more.
We'll talk about one of those in a minute.
This rocking bassinet will lull the baby to sleep through a combination of sound and motion. There's no inclined position here, but a gentle rocking movement is a well-known way to help with acid reflux.
Follow this link to read the full review of the Fisher-Price Soothing Motions.
If you're working with a tight budget, you might want to take a look at my list of best budget bassinet here.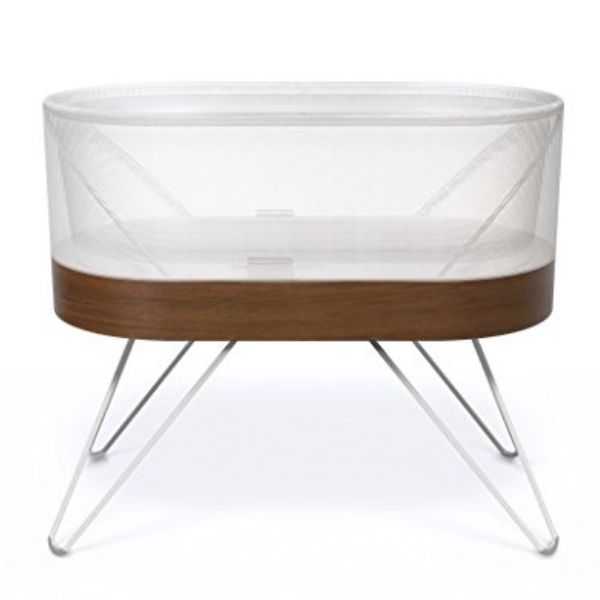 As a "money-is-no-object" pick, I'd like to mention the ultimate pacifier – the SNOO smart bassinet.
When asked about acid reflux, most pediatricians will tell you that it's about waiting it out and doing what you can to soothe the baby. Some of them will mention an inclined position; most won't.
It's touch-and-go because a baby should only sleep on a firm, FLAT surface.
How can SNOO help with acid reflux?
It can help by soothing the baby and putting them into a slight incline position (when they're awake and supervised). For the latter, you'll need the leg lifters that don't come included.
The brain behind SNOO is Dr. Harveey Kaarp, a famous pediatrician known for the 5S's of soothing a baby.
My experience with SNOO
The smart bassinet is packed with cutting-edge technology.
Not only does it put the baby to sleep like no other bassinet out there, but it "recognizes" signs of a baby waking up. It can even tell the difference between baby noise and room noise. It's impressive.
If I sound like an SNOO fanboy, it's because I am. And with good reason – it's the bassinet that changed my life when it felt like I was losing my mind.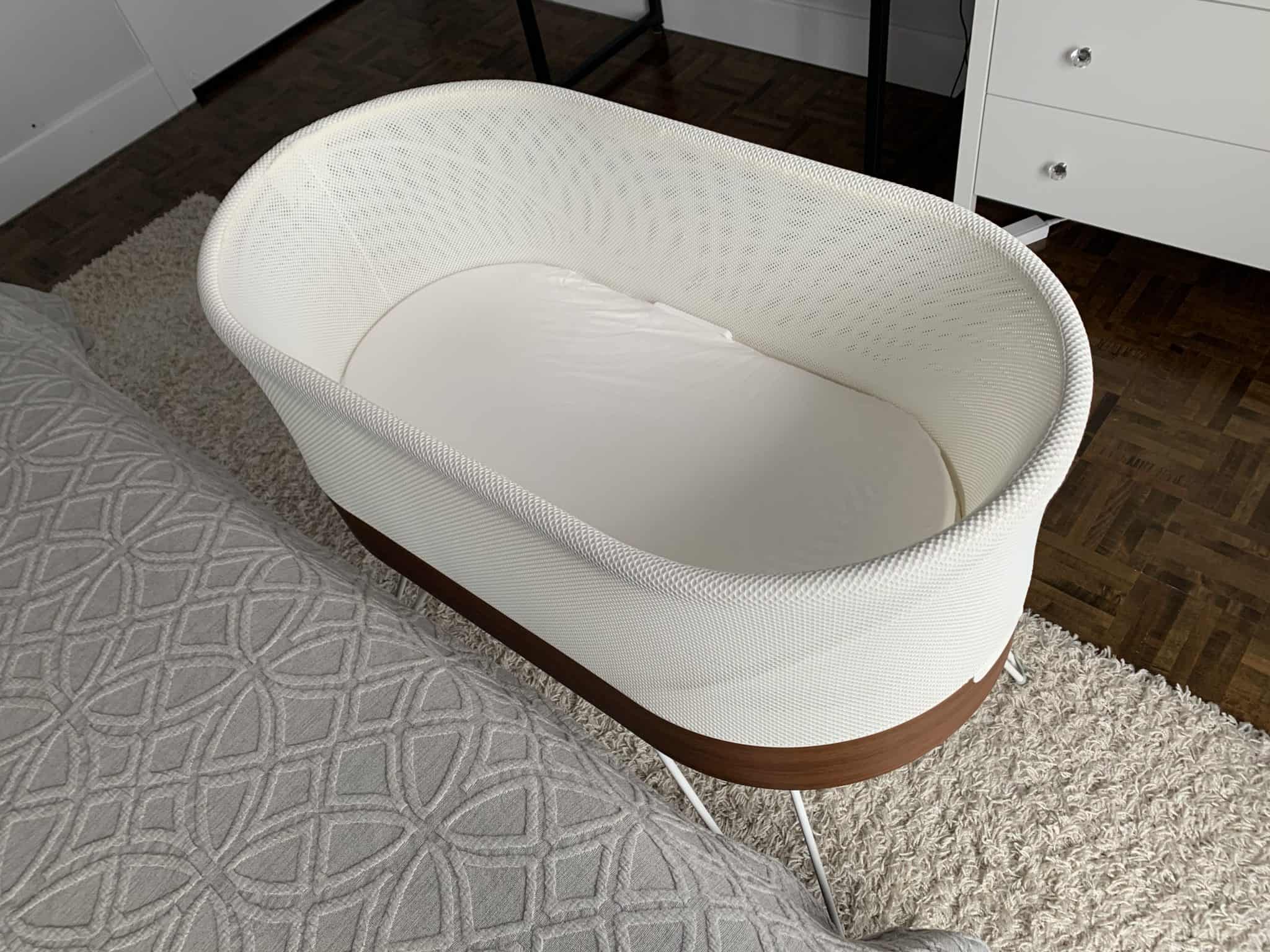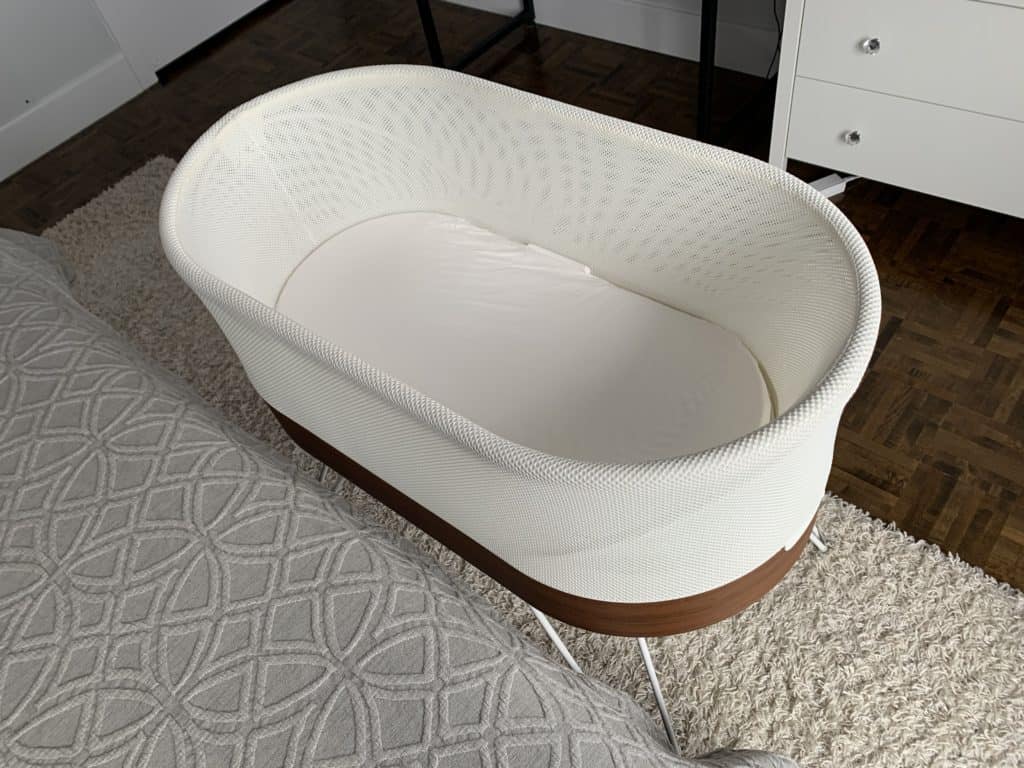 You can read the rest of the story and my detailed review of the SNOO here and see a complete list of best smart bassinets here.
Note: When using it to help with acid reflux, make sure to choose a gentle movement setting. At higher settings, it can even be counterproductive and rile the reflux up.
Related reads: top luxury bassinets, top twin bassinets, top-rated vibrating bassinets, SNOO vs mamaROO
Reference information about acid reflux in babies
A lot of the information on acid reflux out there is outdated or inaccurate. That comes as no surprise because the topic is complex, and there are many moving parts.
Instead of trying to sum it all up into a block of text, let's 'eat the elephant' one bite at a time.
How to tell if your baby suffers from acid reflux
Let's start with the basics – reflux in babies takes two forms – "regular" and silent.
You'll have no problems recognizing regular acid reflux, but silent reflux is a different beast altogether.
The insidious, silent reflux
A baby with reflux will typically exhibit symptoms like spitting up, vomiting, persistent dry cough, difficulty swallowing, and sleeping.
On the other hand, silent reflux is more subtle because the food doesn't come all the way up.
This eliminates the most-telling symptom sign of reflux – the spitting.
The baby will just become fussy, cry and refuse to eat. The problem here is that these "symptoms" have a lot in common with colic and are often dismissed as such, and the baby continues to suffer.
If the silent reflex persists, they're likely to develop a feeding aversion. They do eventually outgrow it, but it's seriously stressful to spend time wondering if your child is starving themself.
The more subtle signs to look for include: arching back or choking during feedings and screaming afterward, hoarse, raspy voice (as a result of the acid hurting their vocal chord), and sour burps.
FAQs about reflux in infants
What causes acid reflux in babies?
Acid reflux in babies is caused by the involuntary opening of the esophageal sphincter – the muscle between the esophagus and the stomach.
When that happens, food moves back up, from the stomach into the esophagus.
How do I raise my bassinet for reflux?
You can raise a bassinet by placing a towel underneath the top part of the mattress. Make sure that the recline you're creating is minimal – I'd say no more than 5 degrees. Again, a baby should never sleep or be left unsupervised in a reclined position.
What is the best position to reduce reflux in infants?
To reduce reflux in infants, hold them upright during feeding and for about half an hour after.
How do you sleep train a baby with reflux?
To sleep train a baby with reflux, move their last meal to at least an hour before bedtime to allow 30 minutes to hold them upright.
What's the best sleeping position for babies with reflux?
A baby should sleep on its back and on a flat, firm surface, reflux or no reflux.
Should they sleep on an incline?
No, babies with reflux should not sleep on an incline.
In fact, stay well away from anything "reclined" or "inclined." That includes both the inclined bassinet and the infamous inclined sleeper.
Rock n Play inclined sleeper from Fisher-price is a good example of what I'm talking about – it's been linked to 1,000+ injuries and a minimum of 73 fatalities (as reported here by the Consumer reports).
The Rock n Play somehow flew under the radar and stayed on the market for a decade. The inclined sleeper was later found to cause dangerous forward slouching and dramatically increase the risk of SIDS.
Why?
Because the angle of an inclined sleeper is too great, even when they're awake. At this age, a baby's head is too heavy for its weak neck muscles.
Is acid reflux causing colic?
No, acid reflux is not the cause of colic. There is a massive body of studies that disproves the theory that colic is just a burning pain caused by reflux.
When does it begin, and how long does it last?
Acid reflux typically begins around the 2-4 week mark, peaks at 4 months, and subsides around 7 months of the baby's life.
How common is it?
Reflux is very common, and about 50% of all babies will spit up multiple times a day in the first three months.
What's the underlying cause?
The most likely cause are underdeveloped muscles of the esophageal sphincter. There are no large-scale studies that prove that, but the fact that it goes away as the muscles mature is reason enough to safely assume it's (at least) a contributing factor.
Takeaways and final thoughts
I'm confident that this guide contains all the information you'll ever need to choose the best bassinet for reflux. There's a catch, though – the marketplace changes all the time.
For you, this means that taking mental note of what you read today is not good enough.
So, if you haven't chosen a bassinet, bookmark this page and come back. I'll keep the information fresh.
Stay smart and safe,
Paul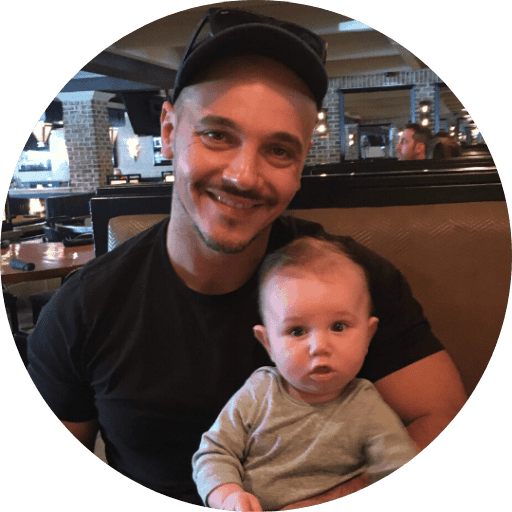 Paul is a passionate dad who founded Upside Dad to share his parenting journey with other new parents. He graduated from Concordia University and worked as a test engineer for over a decade. Paul loves dad jokes and craft beer.
Learn more about Paul and Upside Dad here.