Is there such a thing as a "luxury baby bassinet"? Are smart bassinets a luxury?
Speaking from experience, I would be on the 'no' side of this argument. The word "luxury" suggests that you might've spent too much money on stuff you don't necessarily need.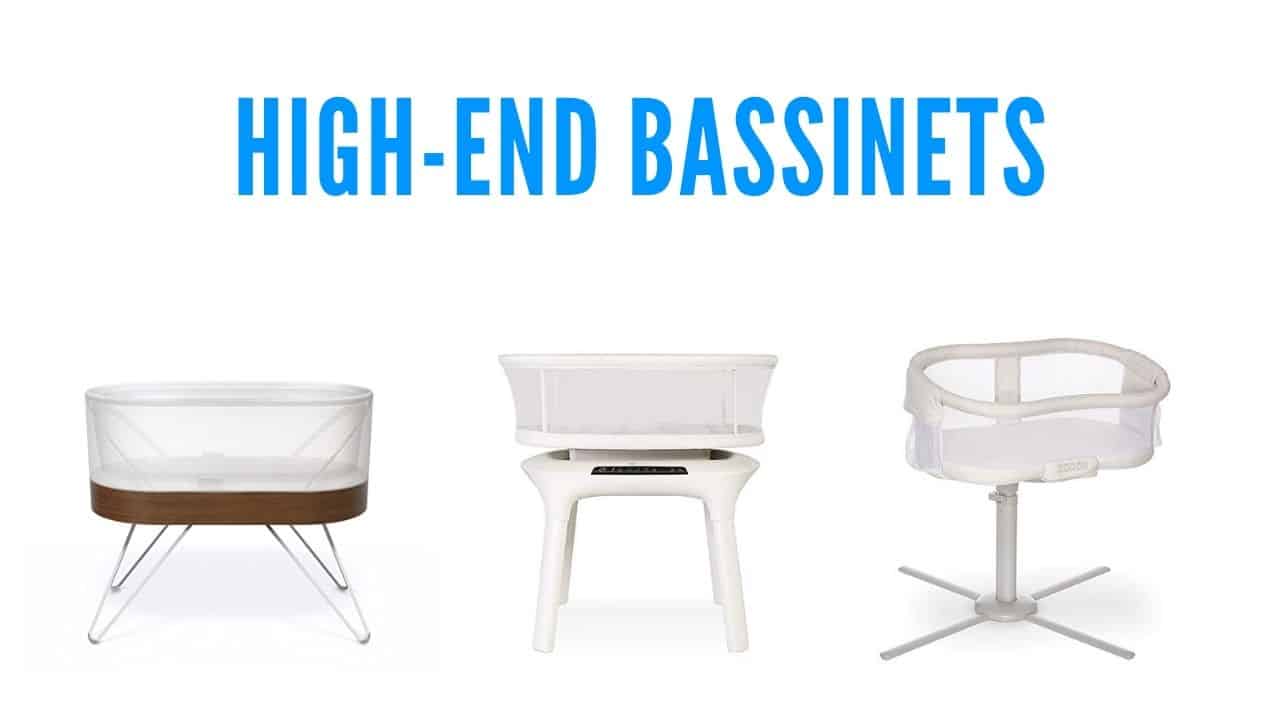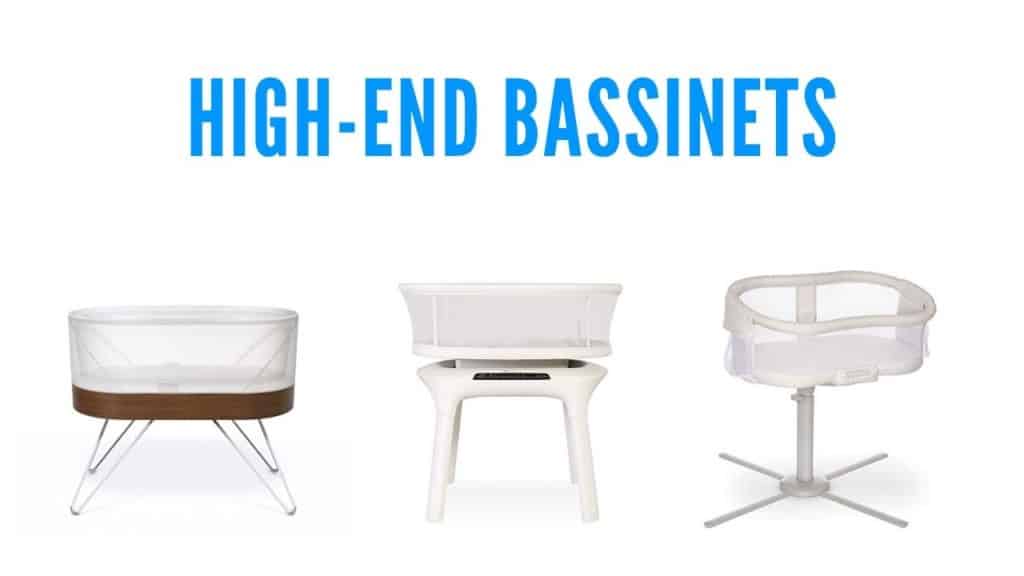 There are pricey and fancy bassinets, but even the most expensive ones are not a luxury.
Not if they're focused on functionality and making your life easier.
Why?
Because I'm finding it hard to put a price on how much my family's life has changed since we got our SNOO vibrating bassinet.
In this guide, we'll go over the most critical aspects of the process of choosing a high-end bassinet that's right for you. I'll also offer my 6 top picks and explain each in detail.
Pour yourself a cup of coffee, put that phone on airplane mode and let's dive right in.
Best high-end bassinets – my top 5 picks:
---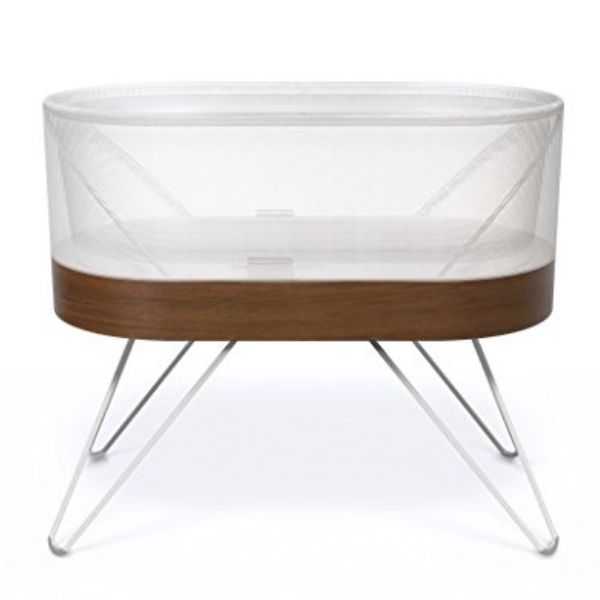 This fancy bassinet has been my top choice in a range of categories for as long as I can remember. If you ask me, no bassinet comes close to this life-changing product.
You might know the man behind it, Dr. Harvey Kaarp, as "the baby whisperer" or the author of the 5 S's of baby-soothing.
The SNOO smart bassinet has won more major awards than any other baby product ever – 20+ top honor awards, including the Innovation of the Year (awarded by the National Sleep Foundation).
Main benefits
Second to none safety
The swaddle of the SNOO became the golden standard as soon as this elegant bassinet hit the shelves. It's the only bassinet out there that fully meets the AAP back-sleeping recommendations. The proof is in the pudding with this one because they have recently celebrated a huge milestone – 150 million sleep hours without a single case of SIDS.
Most elaborate soothing station
SNOO gets your baby to sleep faster, keeps them asleep longer, and regulates their sleep patterns.
That's the promise, and that's what I've seen first-hand. It does the job through a combination of sensors, sound, motion, and vibration.
Features:
State of the art soothing center
Monitors and responds to fussing
Patented 5-second swaddle
Dual breathable mesh walls
Automatically adjusts motion
Automatically chooses the optimal sounds
Why I love it
What I love most about the SNOO are the second-to-none safety standards.
It is the most expensive bassinet out there, but it more than makes up for every dollar spent in peace of mind and sleep hours – both yours and your baby's.
For more information on the SNOO you can read my analysis of the SNOO rental process as well as my detailed and hands-on SNOO review.
MamaRoo is a high-end bassinet that doesn't cost nearly as much as the SNOO. In my opinion, it also doesn't come close to the SNOO in terms of quality. That's not because there's anything wrong with it.
It's because SNOO exists in a category of its own.
With the MamaRoo, it's all about getting a somewhat fancy bassinet without making a significant dent in your budget.
Features at a glance:
A solid, firm mattress
Breathable mesh side-walls
Phone-controlled settings (Bluetooth)
Motion designed to human movement
Timer helps create a sleep routine
Adjustable height
Main benefits:
The natural motion is simply smart design. Not only does it soothe the baby, but it also lowers the risk of them getting dependent on the crib – because it moves the same way you do.
MamaRoo ticks all the basic boxes of a well-made bassinet – the safety of the firm mattress, well-regulated airflow, timer to help your baby get on a sleep schedule. It's all there, and it all works pretty well.
Why I love it
I love the value proposal of the MamaRoo and their idea to mimic human motion.
You can read more in my full review of the MamaRoo by 4Moms here and how it compares to the SNOO here.
Halo might not be a luxury bassinet per se, but it definitely belongs to the high-end group, especially in terms of convenience and ease of use.
Its unique full-rotation swivel allows easy access, even without getting out of bed. Pair that with lowering walls and adjustable height, and you have, I dare say, the most user-friendly bassinet out there.
That might not be a deciding factor for most people, but it can definitely be for recovering moms or lazy dads.
Main features:
Full rotation swivel
Adjustable height (10 inches range)
Lowering sidewalls (lockable)
Removable bed for off-base use
Waterproof pad, chemical-free certified
Machine-washable materials
Why I love it
The Halo Bassinest is a unique product focused on convenience and flexibility. Raise it, lower it, pack it, wash it, rotate it…do with it what you will; it takes it all like a champ.
There's nothing quite like it out there.
You can see my full review of the Halo Bassinest here.
This bad boy is a minimalist eye candy, which is just what we grew to expect from BabyBjorn. It combines polyester mesh and wood to create a fancy bassinet that breathes well and looks great. It's also one of the most expensive bassinets from the Swedish brand.
The easy access, small footprint, and a somewhat lower base make it one of my favorites for close-to-bed use.
The trade-off here is that the low base is not as user-friendly if you're picking the baby up wile sitting on the bed.
Features:
Low profile base
Small footprint
Lightweight, coming in at only 17 lbs
All fabrics are machine-washable
Close-to-optimum airflow
What I love about it
I absolutely love the BabyBjorn design. I always have – it's simple and streamlined.
If a Babybjorn bassinet could speak, it would probably say something along the lines of, "I don't care about the frills; I'll just make your life easier."
You can see my review of the BabyBjorn cradle here.
This stunner by Venice Child Store is one of my wife's all-time favorite bedside cribs. She adores the wood-gray combo. Me, on the other hand…I love the high-end craftsmanship at a reasonably low price.
You'll be a fan of this bassinet if you're into natural materials. The mattress has zero foam and is 100% compressed cotton – not something you see every day.
Most importantly, it features security straps. You tie these to your bed to make sure no room appears between the bed and the crib, which is the no.1 priority when using bedside sleepers.
Features:
100% compressed cotton mattress
Bamboo-viscose cover and sheets
Secure attachment straps
Travel-friendly – easy to set up and down
No tools needed for set-up
Comes with a travel bag
Why I love it
The price doesn't indicate it, but this is a high-end, "luxury" bassinet. Knowing what I know about the materials cost, I'm not sure how they pulled it off. My best guess is that the price might be a marketing move to bring attention to the brand.
I don't have any proof for what I'm saying here; it's just a hunch.
Marketing or not, the value is there. And then some.
If you're intrigued, you can read my full review of the Venice Child bassinet here.
What to look for in a luxury bassinet (mini-guide)
If you're considering a fancy baby bassinet outside of the recommendation I made here; the following section is for you. We'll go over some of the most important quality aspects that make for a good luxury bassinet.
Zero-compromise safety
Before looking at any doodad, make sure you have your basics covered. An expensive, top-of-the-line bassinet should have a zero-tolerance policy when it comes to safety.
The certificates should all be there (CPSC, JPMA, ASTM). The mattress should be firm, and the air should flow freely through the mesh sides. Finally, I prefer bassinets that have means in place to keep the baby sleeping on their back.
Cutting-edge technology that works
If you are willing to spend more, you'll likely come across a range of similar features – sensors to register the baby waking up, soothing sounds, motion, and vibration.
What separates the wheat from the chaff is how well executed the ideas are. Look past the industry jargon and into the owner experiences – that's where the truth lives.
Simple and intuitive apps
At this price range, a well-made phone app is a given. The questions I ask here are:
Does it work without bugs, crashing, or freezing?
Is it easy to set up?
Is it easy to use and intuitive?
You shouldn't need an engineering degree to get the bassinet working.
The people behind the product
This is a big one for me – I like to know the exact story behind a product. Ideally, I'd like to learn about the person who designed the product and what makes them qualified to tell me what's good for my kid.
Manufacturing practices
This is probably the single most time-consuming aspect of my research. Most of the major bassinet brands outsource at least some of their manufacturing. That's not a bad thing per se. It's about the standards and protocols.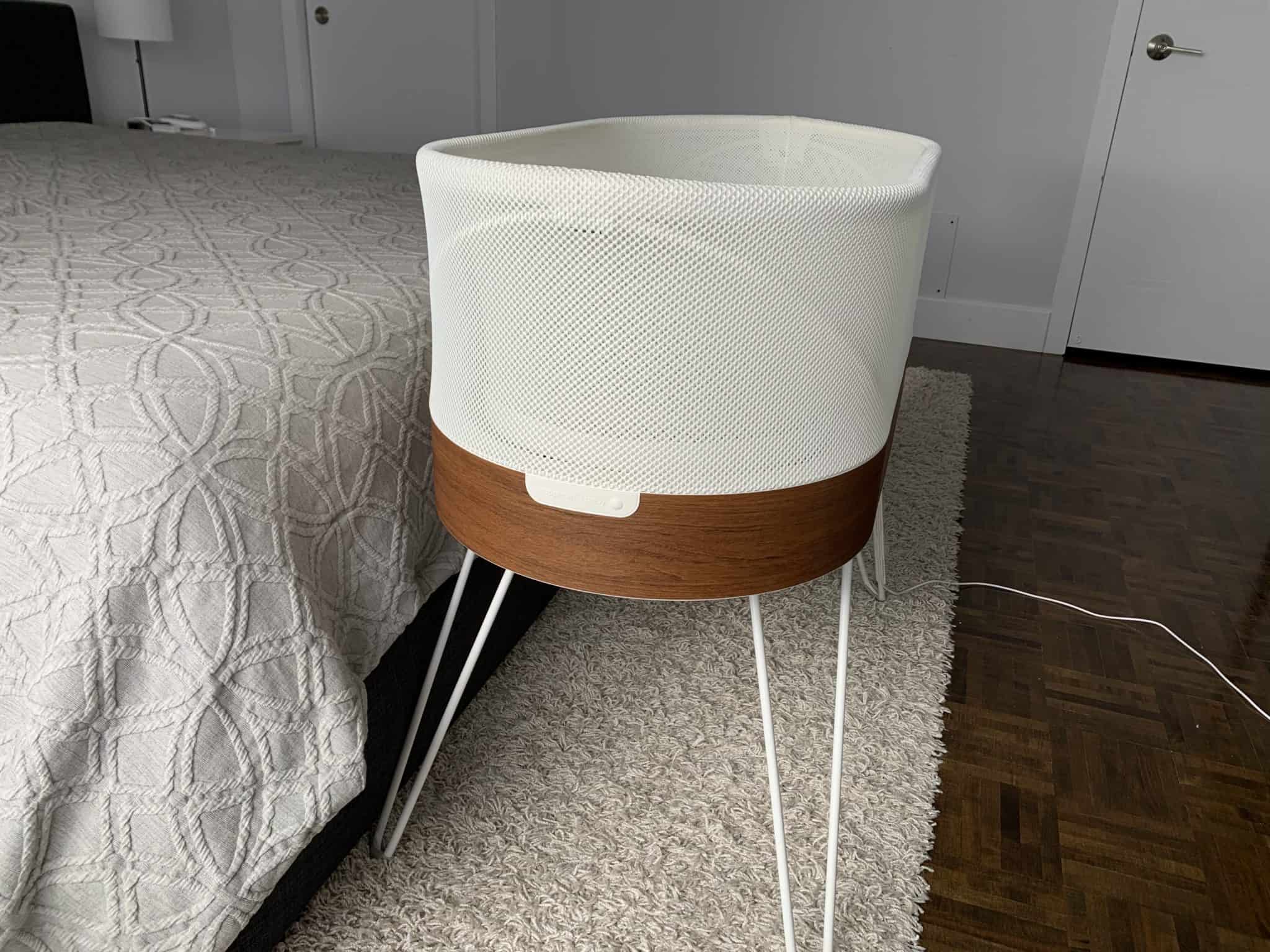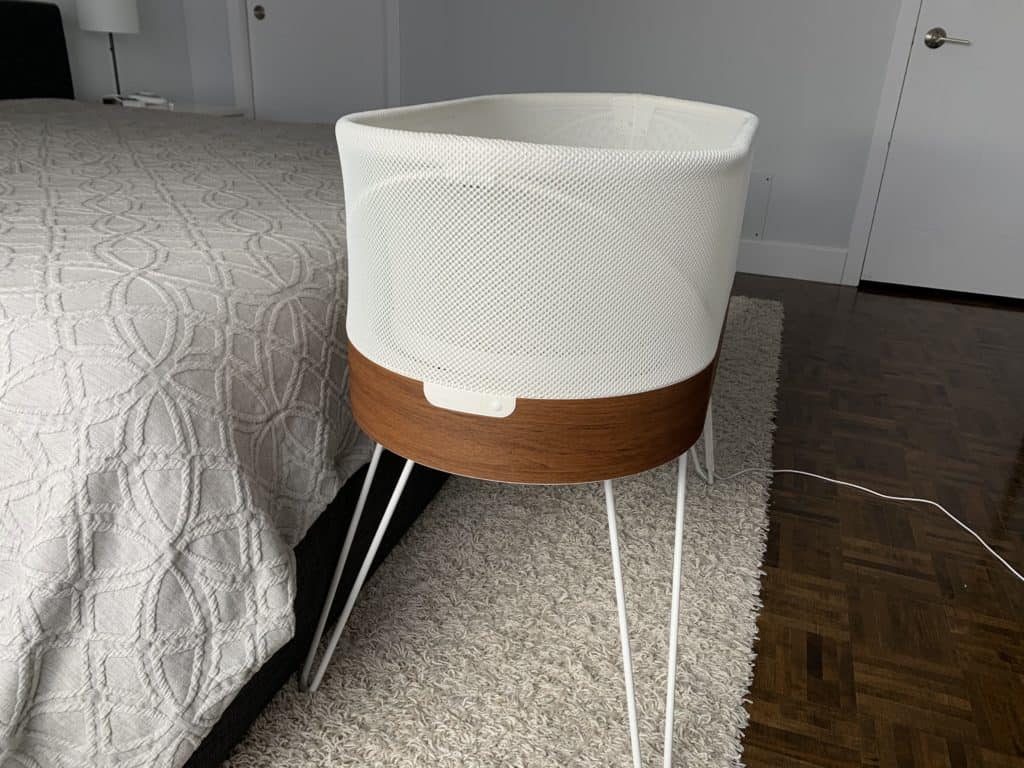 I have a comprehensive list of outsourcing locations. I rate each site based on everything I learn about it on a scale from one to five. Only bassinets manufactured on four and 5-star sites ever make it to my top picks.
My picks by category
Not all of the picks we talked about will meet the same set of circumstances. It would be pointless to cover identical products, that's why I took a more granular approach and listed different bassinet types.
These are my favorites by type:
SNOO is my top overall pick and my favorite among the smart bassinets
Among bedside bassinets and co-sleepers, the California Dreaming is the king of the castle
Final thoughts and future updates
This chunk of the bassinet market is packed with new arrivals giving the veterans a run for their money.
For us as buyers, that's a good thing.
More competition means lower prices and less room for quality compromises.
I keep this guide updated to reflect the fast-changing market. If you're unsure whether you want to order your crib today, I suggest you bookmark this text and consult it when you're ready to buy.
Stay smart and choose wisely.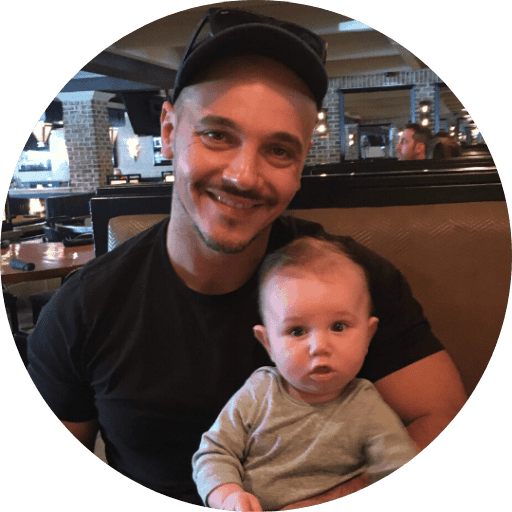 Paul is a passionate dad who founded Upside Dad to share his parenting journey with other new parents. He graduated from Concordia University and worked as a test engineer for over a decade. Paul loves dad jokes and craft beer.
Learn more about Paul and Upside Dad here.