Sleep deprivation is not only common among new parents, it's the reality for most of us.
A study conducted by OnePoll[1] revealed that 33% of new parents claim to have fallen asleep at work during the first year, and another 22% of us were so tired that they fell asleep while standing up.
Automatic cry detection
App-controlled
Five intensity levels
Pattented swaddle technology
SAFEST bassinet ever made
Rent for less than $5/day
---
You may already know that the SNOO is the top smart bassinet on the market. The SNOO Smart Sleeper was created by Dr. Harvey Karp, one of the best pediatrians in America. Not only was this bassinet created by a trusted pediatriain, but it's also been tested and confirmed proven to help extend infant sleep. You probably also know that SNOO costs $1595 to own.
If looking at that price tag makes you cringe, I'm here to tell you that the SNOO rental is probably a great choice for you. I know it was for our family. Before I tried out the SNOO rental, the only way I could get my baby to fall asleep was to drive him around in his car seat.
In this article, I will explain the entire process of renting a SNOO Smart Sleeper and how it compares to buying one.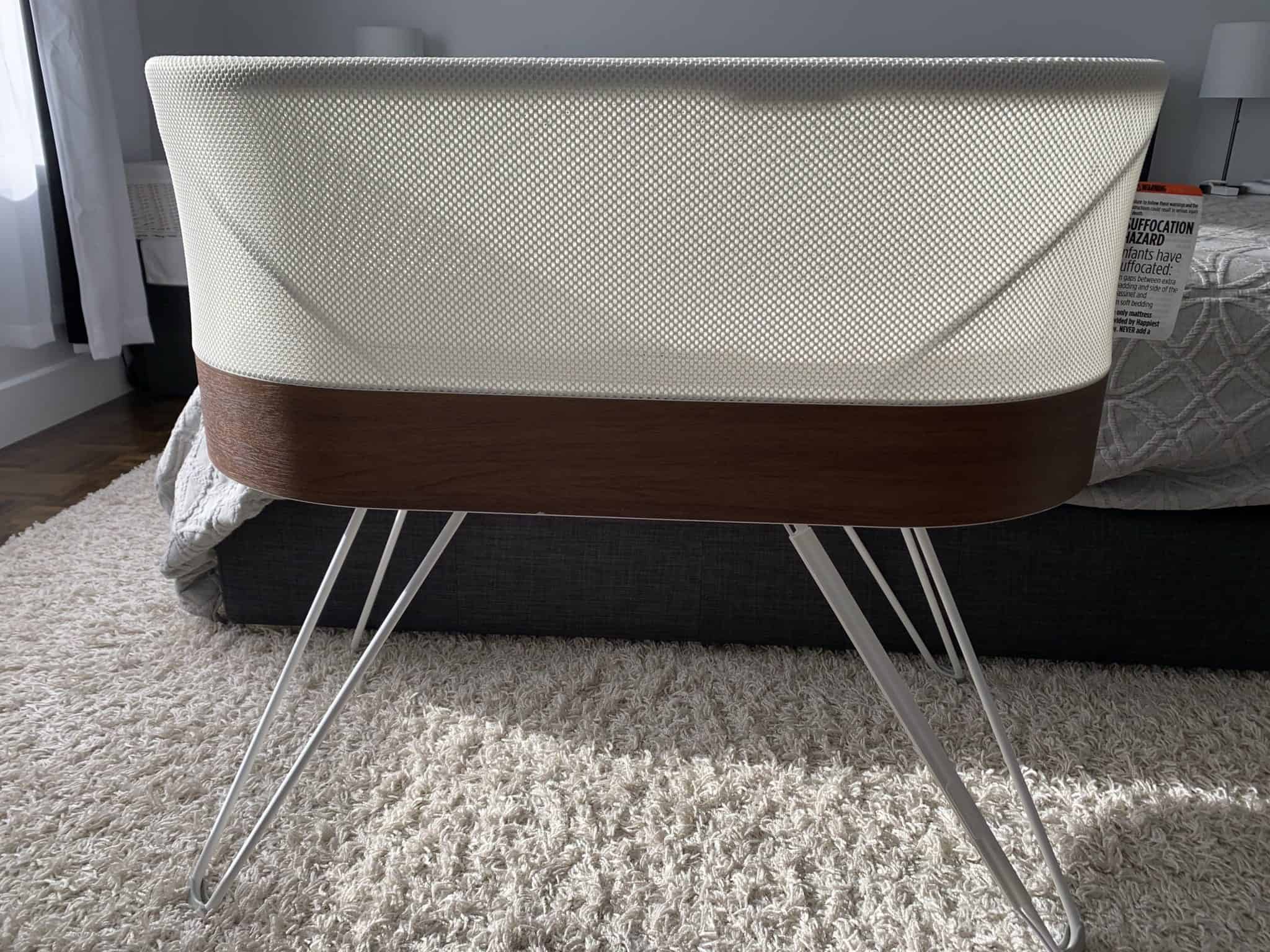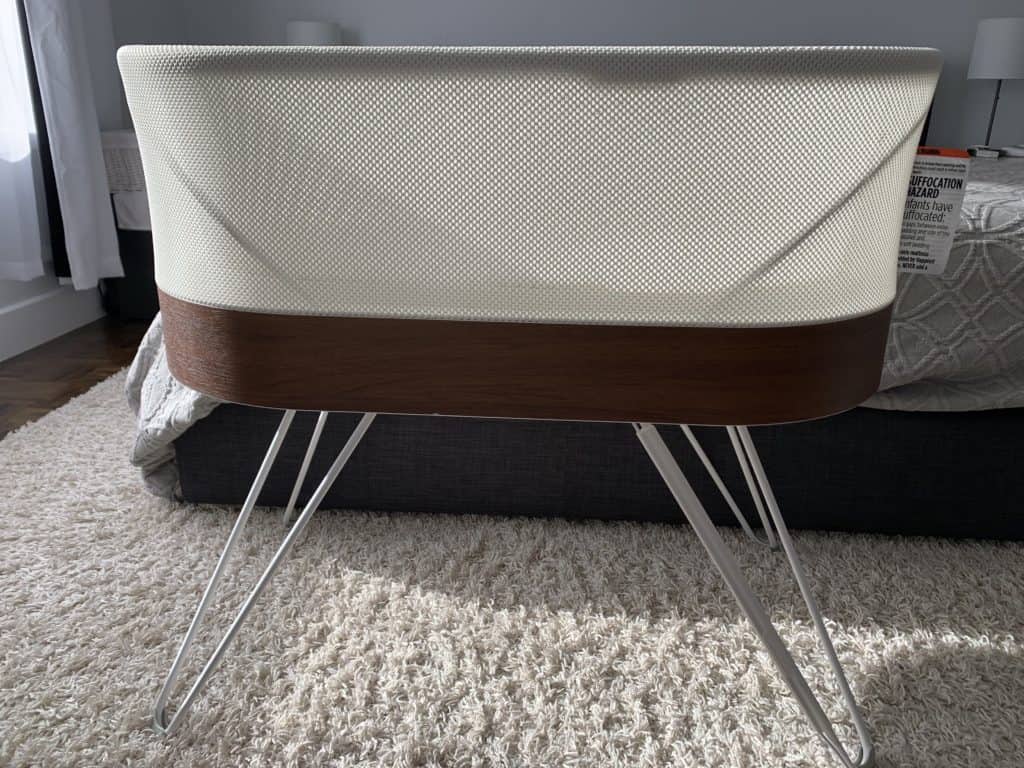 The SNOO smart sleeper is a smart baby bassinet that combines gentle rocking motions and white noise to soothe a baby and extend sleep. It's like an extra pair of hands that will hold and calm your baby while you fix a meal, take a shower, or catch up on much-needed rest.
This robotic bassinet comes with Wi-Fi, speakers, and sound sensors that detect any baby cries. If your baby starts to get fussy, the SNOO motor will begin its gentle rocking motions.
However, a major drawback of SNOO is its price.
The high-tech bassinet costs close to $1,595 to buy outright. Since most parents will only use it for several months at most, that price may seem way too high for some – it did for me.
Luckily, you can rent a SNOO from Happiest Baby for under $5.5 a day — that's about $159 a month.
I looked further into SNOO to see if this rental offer was worth it.
Here is what I found out.
How Does the SNOO Rental Work?
Are you ready to try out the SNOO bassinet? Let's dive a little deeper into the rental terms.
SNOO rental cost: $159 a month (under $5.5 a day) + $99 reconditioning fee + $99 refundable security deposit
Shipping to your home: Free
Return shipping to Happiest Baby: $60
Minimum rental period: 1 month
If you have twins or triplets, you can rent up to three SNOO bassinets at a time.
Even better, you don't need a pediatrician's prescription to rent a SNOO. However, if your baby has any special needs due to an underlying medical condition, please consult your doctor.
SNOO's Approach to Hygiene and Sanitation
Are you worried about the health and safety implications of renting a pre-used SNOO? Dr. Karp created a great process to ensure the safety of each bassinet. No need to be concerned — each bassinet is sanitized and reconditioned using a thorough 5-step process.
Here are the five reconditioning steps the SNOO bassinet undergoes before shipping to a new family:
High-powered vacuuming to remove any debris, particles, and dust
Cleaning and sanitizing with hospital-grade, baby-safe products used in NICU wards
Deep cleaning of the bassinet's outer and inner mesh using the ultra-hot steam method
Replacement of the mattress, waterproof cover, and organic cotton bassinet sheet
Safety certification and testing of security clip sensors, motion and sound sensors, and other features
After this process, the SNOO unit spends at least ten days in quarantine before reaching you.
Bonus items
For a limited time, you get the following items (brand-new) when you rent the SNOO:
2 baby sleep sacks
1 Mattress
1 Organic cotton fitted bassinet sheet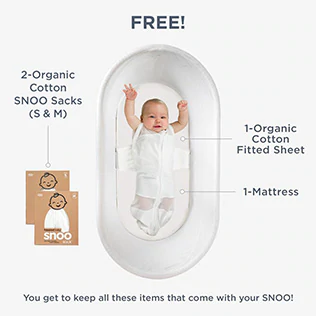 Monthly charge
Once you confirm the rental order, you will be charged for the first month's rental. You will also need to pay a refundable security deposit and the reconditioning fee.
Following that, you will be automatically charged on a monthly basis. After the initial minimum 1-month rental period, you can cancel whenever you want.
Just remember to save the shipping box and inserts — you'll need them to return the SNOO.
Return shipping
After you ship the SNOO back, you will receive a refund for your security deposit, provided that the bassinet is in good repair with no missing or lost parts.
In case of any damage exceeding normal wear and tear, the rental service will make deductions from the security deposit.
To ensure you get a full refund, repackage the SNOO bassinet carefully. Follow the steps demonstrated in this video.
In case the original packaging has been lost or damaged, you can get replacement packaging. However, it will cost you about $48.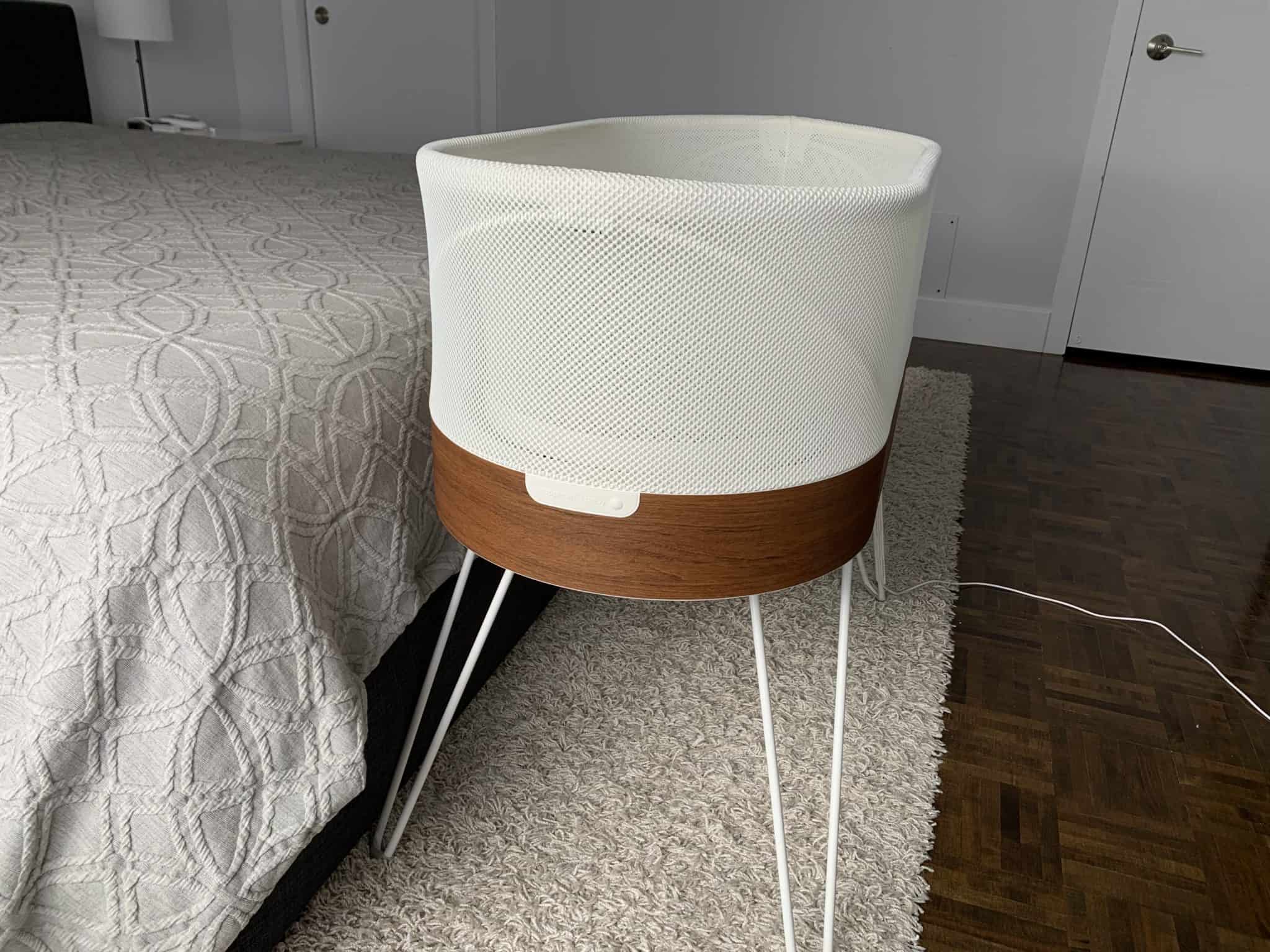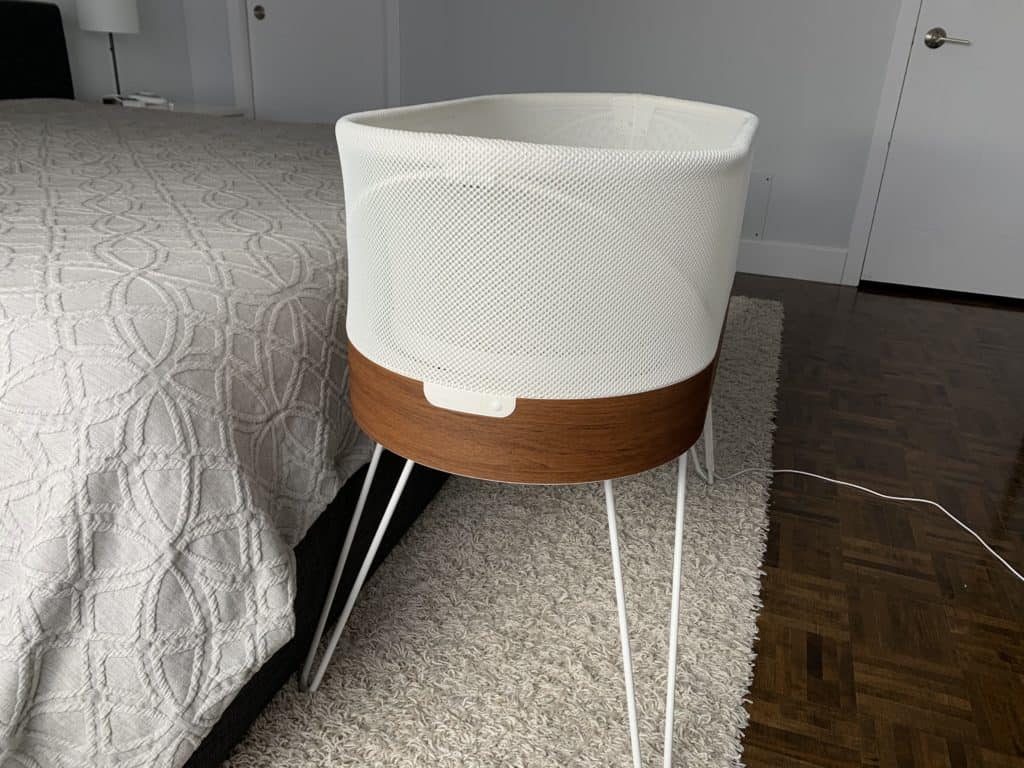 So, make sure you save the shipping box and all its relevant contents. Watch this video to see the proper way to store the original packaging.
You can expect your security deposit refund within 5 to 10 business days after receiving your SNOO return shipment.
How do I cancel a SNOO rental?
If you decide to cancel your SNOO rental order, you may do so from your account up to one business day before shipping. The same goes for changing the shipping date or address.
Once the SNOO smart bassinet ships, you will have to pay the minimum one-month rental fee, the return shipping, and the reconditioning fee.
There is a limited warranty covering the rented SNOO unit, so do not hesitate to report defects.
What if the SNOO stops working during the rental period?
No worries. If the SNOO smart sleeper stops working while you are renting, contact Happiest Baby customer service, and they will ship you a replacement in no time. Many new parents claim to have received a replacement unit within one or two days.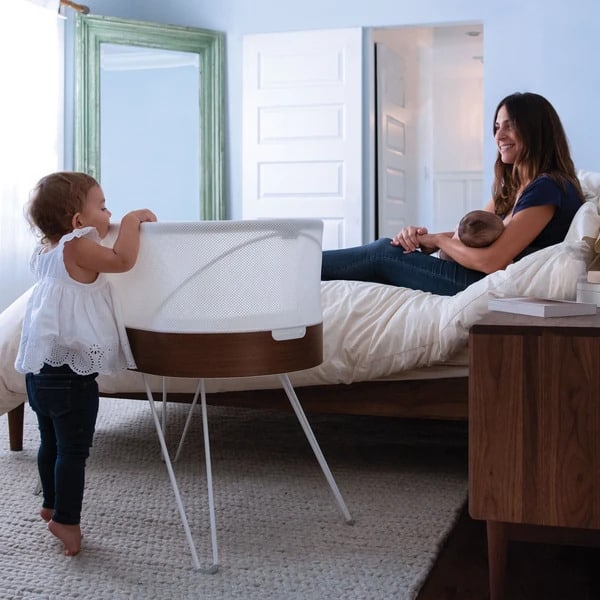 Includes 2 FREE sleep sacks, 1 mattress and 1 fitted sheet!
Is the SNOO Smart Bassinet Rental Worth It?
There is no clear-cut answer to this. While many new parents swear by this product, some SNOO rental reviews claim the bassinet is lackluster.
The SNOO bassinet has a baseline level of constant gentle motion. This motion will intensify if the sensors get a "fussy baby" alert. However, a few parents express their disappointment and say they expected a more dramatic effect. Their baby still sleeps, but less than they had imagined. 
This may be a matter of expectations. All new parents will experience some waking during the night throughout the first months of their baby's life. Baby cries are normal throughout the night, as babies are still adjusting to life outside of the womb. Some babies will sleep better than others. Even an extra hour or two of sleep or the help of calming a fussy baby can help a new mom or dad adjust better to life with a newborn. `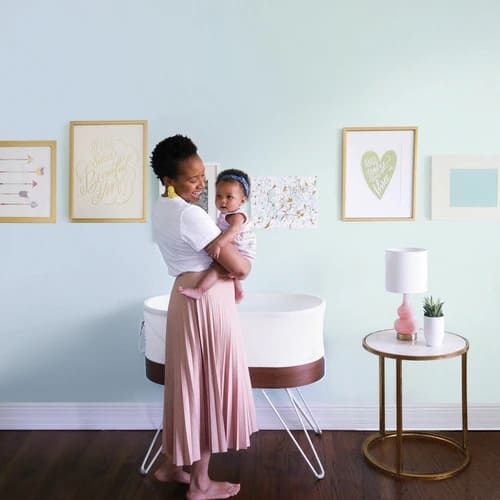 The SNOO works, but all babies are different. Some parents used it reliably for their first child but struggled to get the gentle rocking to soothe their second baby.
It's important to follow the official recommendation for acclimating your baby. For the first two weeks of using the SNOO, place the baby in the bassinet while he is already asleep.
If parents aren't following these instructions, they may feel like the system doesn't work. Also, it's recommended to swaddle your baby while they're in the SNOO smart bassinet to improve baby's sleep. Parents should also consider placing their baby in the SNOO smart bassinet during nap time, as they will help the little one to adjust to sleeping inside of the bassinet. If baby still isn't responding well to the calming sensations, parents can try putting on the soothing white noise that comes with the bassinet. This specially designed sound mixed with the gentle rocking of the SNOO smart bassinet can significantly help to soothe a fussy baby.
Having said that, after the adjustment period, the SNOO will usually help thanks to the combination of rocking, white noise, and swaddling.
7 Reasons To Rent The SNOO instead of buying it
Here are some reasons why parents choose to rent the SNOO instead of buying it
Not sure it will work but want to give the SNOO a try before buying or committing long term
Having your last baby and will not have use for it after
Do not want to deal with the hassle of resale
Your baby is already 1, 2 or 3 months old
Simplicity and full warranty for the entire rental period
Travelling out of town with a your baby that is already used to the SNOO at home
Unsure how long you use it for – some babies are ready to transition to a crib at 3 or 4 months
Should you rent or buy the SNOO Bassinet?
The SNOO is an expensive item most parents will only need to use for a short time (usually 4 to 5 months). This makes renting a viable, affordable option. You can take advantage of the bassinet for as long as you need without shelling out a fortune.
Let's do the math. Suppose you rent the SNOO for $159 a month for 5 months. The total is $795.
If you add about $99 for a reconditioning fee and $60 for return shipping, the grand total comes up to $960. That price is still substantially lower than buying the SNOO bassinet outright.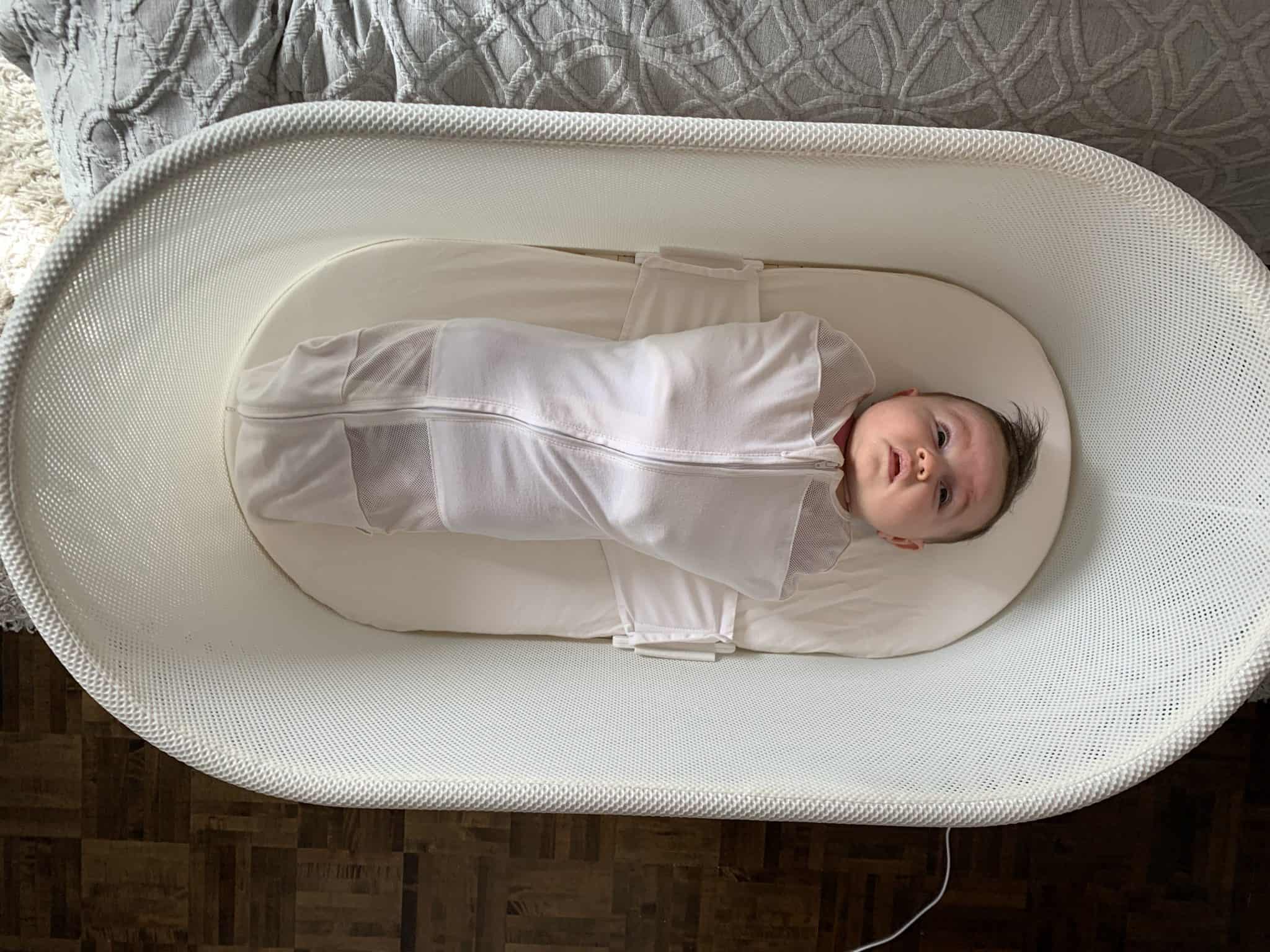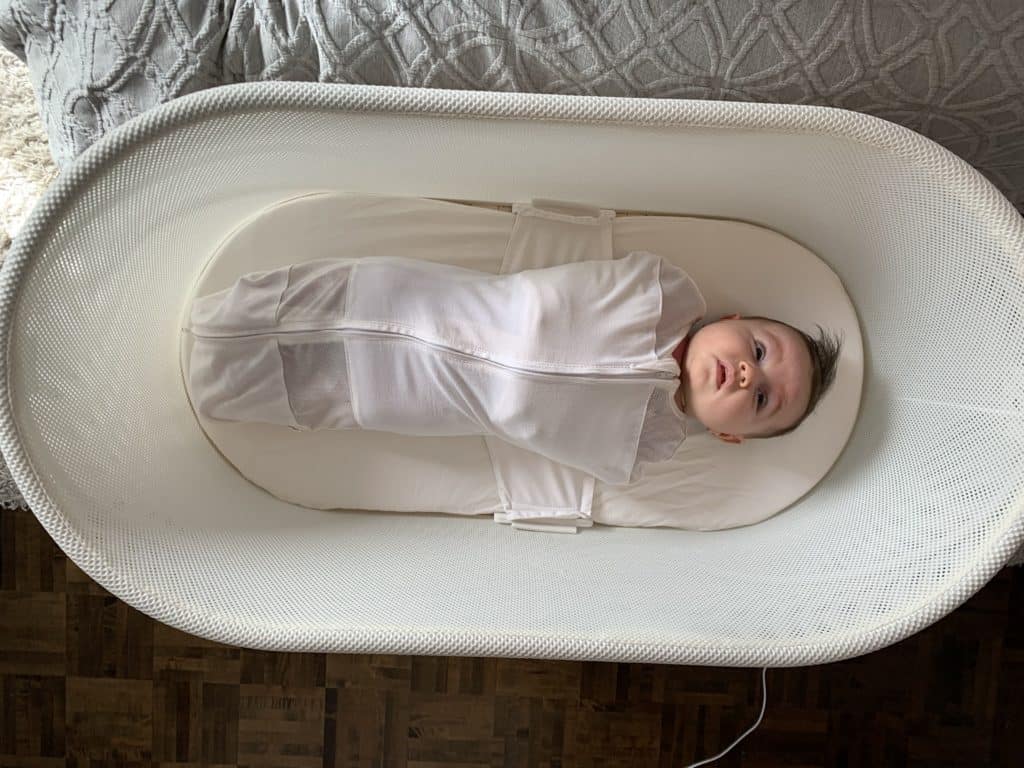 On the other hand, if you really like this smart bassinet and plan to have another baby (or more) down the road, you might want to consider purchasing a SNOO.
Renting the SNOO bassinet for two babies for five months each time would total up to $1,890. 
If you buy the SNOO smart sleeper to use with two kids, you save a couple of hundred dollars and you can resell the SNOO once you're done. The SNOO is a very hot item that will sell quickly in local classified listings.
Not sure whether the SNOO bassinet will work for you and your baby? While you can read over SNOO rental testimonials below, it's best to test it out yourself.
The minimum rental period for the SNOO is only one month. Test it out and return it if your baby isn't happy or doesn't adapt well to it!
For more details on the differences between renting and buying the SNOO, please check out my post comparing Renting VS Buying the SNOO.
How to Use the SNOO Bassinet
To start using the SNOO, you will first need to swaddle your baby in one of the provided sleeping sacks. Many babies sleep better swaddled. But once babies can roll over, swaddling is no longer considered a safe practice. So be sure to watch your baby for signs of rolling.
The SNOO swaddling sack addresses the risk of a baby rolling while swaddled by securing the baby to the bassinet and preventing him from rolling over. Each SNOO sack has clips for securing your baby to the sides of the bassinet. This position helps make sure he sleeps on his back to lower the risk of Sudden Infant Death Syndrome (SIDS).
Once the baby is securely snuggled, the SNOO will begin its soothing combination of soft rocking and white noise. These actions will continue as needed throughout the night.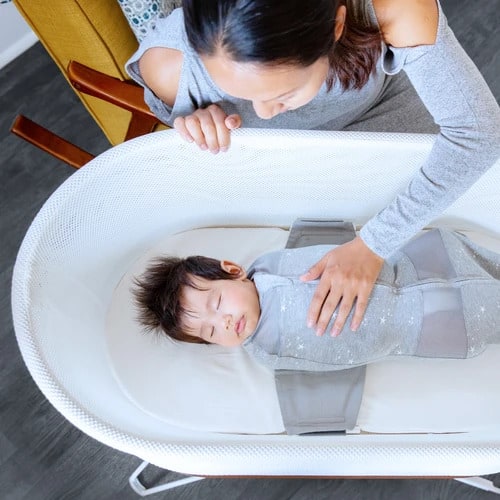 If the baby wakes up or starts tossing in his sleep, the SNOO sensors will recognize it. The system will switch to higher intensities of rocking and white noise. In many cases, this will be enough to lull the baby back to sleep.
The SNOO comes with a convenient mobile app. You can track your baby's sleep with the app and see when SNOO's activity is not enough to calm him. The app also allows you to adjust motion and white noise levels manually.
Read more about how to use the SNOO bassinet.
Does the SNOO work?
Babies who use the SNOO sleep on average 1-2 hours longer at night, which can make a world of difference to tired parents. Many parents claim their babies start sleeping through the night within days of starting to use the SNOO.
However, parents can't always count on a night of uninterrupted rest.
Up until a certain age, newborns can and should eat at night, especially preemies and low-weight babies. Also, trying to skip nighttime feedings may lead to a decrease in milk production in breastfeeding mothers.
A baby may also be restless because of a full diaper, gas pains, or simply because he needs to feel the safety and comfort of a parent's arms. No high-tech robotic bassinet can replace that.
To learn more about SNOO Bassinet, I made a comprehensive SNOO bassinet review here.
SNOO Rental Testimonials
I ran a survey with parents that chose to rent the SNOO and here is what they had to say about the SNOO rental experience.
Started renting the SNOO at 9 weeks
"We started renting at 9 weeks, 13 weeks currently. For us it's been life changing, she went from wake ups every 4.5 hours to sleeping 7+ hours from the first night in the snoo on, sleeping through the night (11+ hours) after just a week. We've been able to put her down drowsy awake to sometimes fully awake and have the snoo slowly rock her to sleep. While cheating to some extent, it has helped her learn how to sleep on her own and we've had success with crib naps this week and her putting herself to sleep. So for us I definitely think it has been worth it and wish we had started with it from day one, but at the same time I would not had known how good of a sleeper she was or if it was the snoo.
We're still renting it with the intent of sending it back probably around 5 months. Depends on when she starts getting over the motion. I will say the customer service on the rental side is great, I emailed CS about a weird grinding noise on a Monday and I had a new rental on my doorstep on Friday. Upon delivery of the original snoo they'll refund me 14 days of rental time."
Cheaper to rent for only one kid
"Our LO just turned two months, and we've had the Snoo for 3 months. I missed out on all the specials. We'll keep it for another two or three months. At five months usage, we're at $800 including return shipping, against a $1,400 purchase price. You basically have to have a second kid with it to make sense to actually buy it, or hunt down super Black Friday specials. Even with two kids, it's $1,600 v. $1,400 purchase, and that's over two or more years, so not a significant advantage on buying."
Vacation SNOO rental
"We are currently renting a SNOO while we're on vacation for a month. We have one at home and didn't want to give up the good sleep we've been getting. The box is a pain in the ass to store, but everything is packaged well and it's easy to assemble and pair. Shipping is a breeze, too!"
No hassle of resale
"We just started our rental, so I can only address some of your questions. But we chose to rent bc this is our second, and last, child and we only expect to use it for about 4 months. We didn't want to deal with the hassle of resale so renting made more financial sense for us. We rented on their cyber Monday deal, so we are receiving about a 20% discount from typical cost. It shipped fairly quickly and came well packaged. It looks brand new. We have to store the packaging (a giant box) to ship it back, so that's a bit of an inconvenience but not a big deal. So far, it's been worth it for us. We haven't gotten the magical "sleep thru the night" stretches that some parents experience, but our LO is also only 3 weeks old. We love that LO has a safe, independent place to sleep."
Rented for the first and will rent for the second
"We rented it with our first and plan to do it with our second. We didn't have plans on the number of kids, if we knew we would have 2 we probably would have bought it instead. We didn't know if it was worth the money and didn't want to deal with resale. We ended up renting it for 6 months. My baby did well in the snoo, was a good sleeper and I liked the added security that she won't roll during the night. And not having to rock her all the time was a plus too. We had no issues with returning, they even refunded the unused days of the last month. 10/10 would rent again. I have all the sacks and sheets from my first now, so that's an added bonus. We were paying 113 a month, but I think that the price has changed since then."
Automatic cry detection
App-controlled
Five intensity levels
Pattented swaddle technology
SAFEST bassinet ever made
Rent for less than $5/day
---
SNOO Bassinet Rental FAQ
How long do parents typically rent the SNOO?
According to SNOO rental reviews, many parents choose to rent the bassinet from the first days or weeks of their newborn's life. If they see results, they will keep it until their baby is about 6 months. This is often the age for transitioning to a crib.
How much does it cost to rent a SNOO bassinet?
The SNOO rental program costs about $5.5 per day. But there are a few additional fees as well. On top of the $159 per month, you will also have to pay a $99 reconditioning fee, a $60 return shipping fee, and put down a $99 refundable security deposit. Happiest Baby will give you the mattress, an organic cotton sheet, and two swaddles with any SNOO rental.
The total cost of renting a SNOO comes up to about:
| | |
| --- | --- |
| SNOO Rental Period | Total Cost (approximate) |
| 1 month | $320 |
| 2 months | $480 |
| 3 months | $640 |
| 4 months | $800 |
| 5 months | $960 |
Even for a relatively long rental, the cost is still significantly lower than buying a SNOO at full price.
Do you return swaddles with the SNOO rental?
No, you do NOT return the swaddles you got with your SNOO rental. Happiest Baby ensures that every person renting a SNOO smart sleeper gets their own swaddle for safety and cleanliness. When you prepare your SNOO rental return, keep your swaddles.
Is the SNOO bassinet rental worth it?
Ultimately, only you can answer this question. You'll have to try the SNOO to see if it works for you and your baby. Having said that, most babies who use the SNOO sleep 9 hours or longer at night by the time they are 2-3 months old.
The SNOO can't feed your baby or change his diaper, but it will rock and soothe him throughout gas, colic, and other issues. It also helps with sleep regression at 4 months, when most babies become more alert and active.
How to keep your baby warm in the SNOO?
You can dress your baby in an extra layer or wrap him in a light swaddling blanket in addition to the SNOO sleeping sack. Having said that, anxious parents often tend to overdress their babies.
Keep the room temperature comfortable and, to reassure yourself, check the baby's ears and neck. Red, hot ears and a sweaty neck mean that the baby is probably too warm.
Do babies become dependent on the SNOO?
Don't worry – your baby won't always need the SNOO to sleep well.
As babies get older, they will naturally sleep longer at night. Once the baby gets closer to 6 months of age, parents can start using the SNOO App's weaning option for an easier transition. Weaning mode removes the basic level rocking motion but keeps the white noise.
Is the SNOO safe for newborns?
The SNOO is safe to use from birth. Thanks to its unique sleep sack, it guarantees secure swaddling and back sleeping, per the American Academy of Pediatrics' recommendation. This makes the SNOO one of the safest sleeping choices for infants up to 6 months.
Automatic cry detection
App-controlled
Five intensity levels
Pattented swaddle technology
SAFEST bassinet ever made
Rent for less than $5/day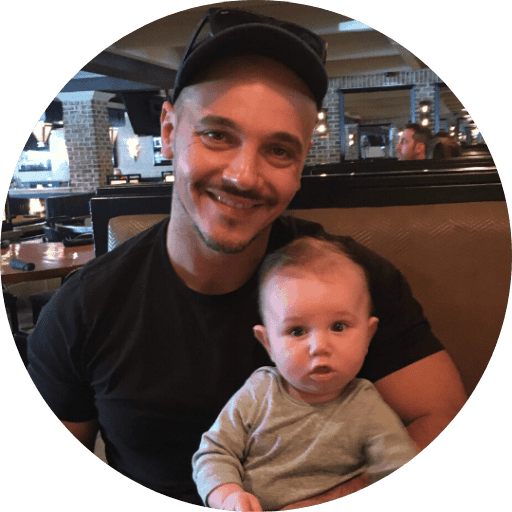 Paul is a passionate dad who founded Upside Dad to share his parenting journey with other new parents. He graduated from Concordia University and worked as a test engineer for over a decade. Paul loves dad jokes and craft beer.
Learn more about Paul and Upside Dad here.