SNOO is all the rage these days in parenting circles.
Awards, safety milestones, parent's praise…you name it, the brand's got it.
World's first ever 5-second swaddle
Attaches to SNOO
Soft and cozy 100% organic cotton
Extra-quiet Velcro
Breathable mesh
---
If you're a regular reader of UpsideDad, you already know that I'm a believer, too.
SNOO is the brainchild of Dr. Harvey Karp, aka. 'the baby whisperer' and the creator of 5 S's baby soothing system.
Today, however, I'm not interested in the high praise of the SNOO bassinet or Dr. Karp.
I'm interested in a piece of baby gear that played a crucial part in the SNOO story – I'll be reviewing the one-of-a-kind Snoo swaddle/sleep sack that comes with the purchase or rental of a SNOO Smart Sleeper Bassinet.
There's ground to cover, so I'll get right to it.
If you're still on the fence about buying the SNOO, check out my complete review of the SNOO bassinet as well as my experience with renting the SNOO.
Specs & features of the SNOO Swaddle:
Made of 100% organic cotton
Inner bands use velcro to keep the baby hands in place
Airy breathable mesh prevents overheating and gives you an unrestricted view of their legs
Keeps the baby on their back through the night, which supports safe sleep and reduces risk of sudden infant death syndrome
Top-to-bottom zipper
WIngs with safety loops on both sides
Comes in three sizes – Small (for babies weighing 5-12 pounds), Medium (12-18 pounds), and Large (18-25 pounds)
In sleep sack configuration, the special inner arm bands allow you to swaddle the baby with arms free. To use it like this, just unsnap the buttons near the shoulders.
Strongest points of the SNOO swaddle
Safety review of the SNOO swaddle – second to none
SNOO is advertised as the "world's safest infant bed."
You don't make claims like that lightly, especially when we're talking about baby safety.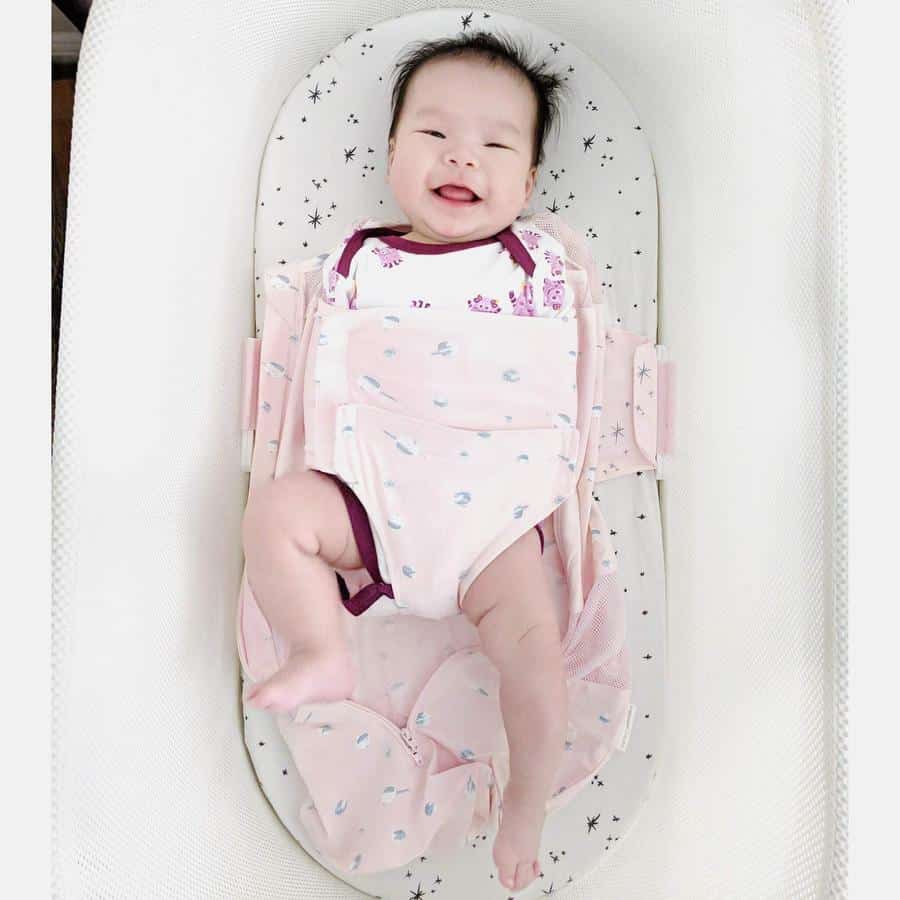 Happiest Baby INC. (the company behind the SNOO Smart Sleeper Bassinet) had no problems using it as their slogan because they have an unparalleled safety track record – 50+ million sleep hours without a single case of sudden infant death syndrome (SIDS).
A major role in the endeavor was played by the SNOO swaddle…crucial, I dare say.
Here's why – it is THE ONLY baby bed to strictly meet the safe sleep recommendations and safety advice of the AAP (American Academy of Pediatrics) that babies should only sleep on their back for the first 6 months.
There's no doubt that swaddling is a must – you can read more on the reasons here.
Bottom Line
The proof is in the pudding with this one. SIDS is not a mystery anymore.
If the only bassinet and swaddle combo on the market with zero reported SIDS is also the only combo that keeps babies on their back the whole time, you don't need a medical degree to draw conclusions.
One thing bugs me still – why aren't all baby accessories brands following in the footsteps?
The bottom line is that the baby should never roll over – I have a dedicated piece on rolling over when swaddled here.
My take
I used to be uncomfortable whenever the topic of SIDS was broached. That was before we got the SNOO.
What made me nervous was the feeling that talking about it somehow made it hit too close to home…made it too real.
I have since come to understand that the only thing worse than talking about SIDS is not talking about it, if that makes sense.
I have SNOO to thank for that.
Super easy to use
When you talk about safety, you might get the impression that the swaddle is some intricate piece of baby garment.
Far from it.
In my experience, the SNOO sleep sack is very easy to use, and I've had a little escape-artist on my hands.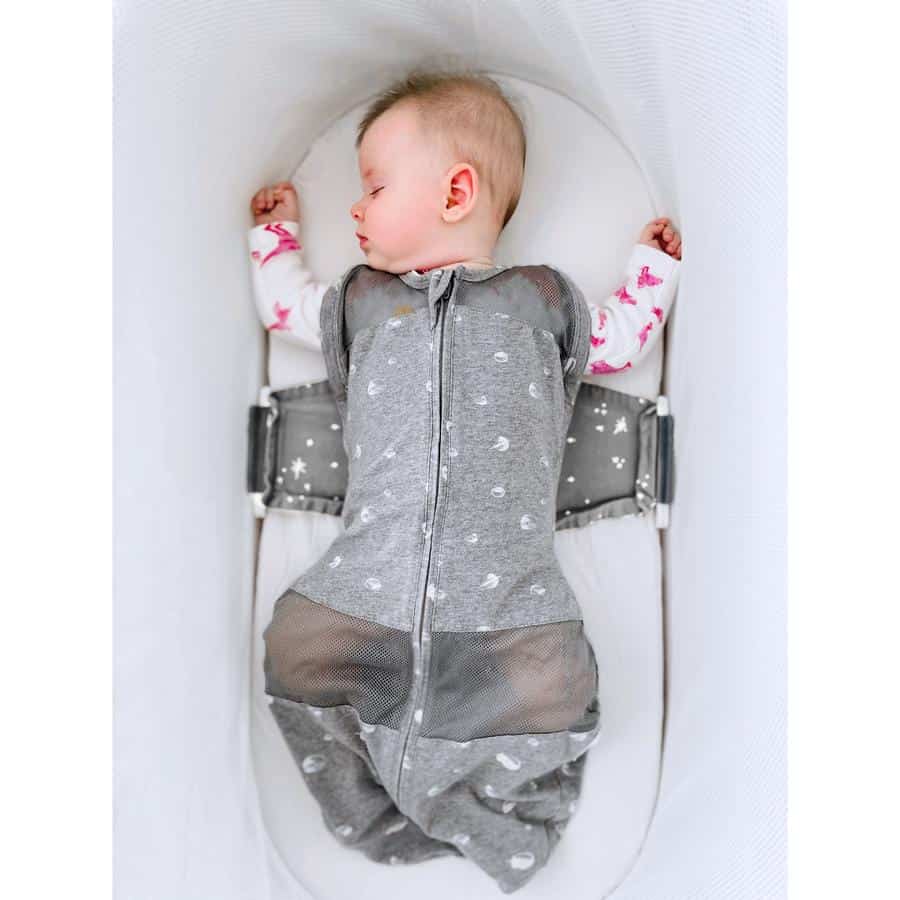 I've heard the SNOO sack referred to as the 5-second swaddle. I agree with the logic behind it, but it's more like a 25-second swaddle for me.
What makes it easier to use
Once you swaddle your newborn or baby with the SNOO sack once, you're good to go.
It's that simple.
What makes the most difference:
Reliable two-way zipper that opens all the way
The placement of the arm openings is just right
The materials are soft and easy to move around without feeling you might scratch the baby wrap them too tight
One caveat – it might feel weird to strap babys arms down for a few days. It takes getting used to, so you could always try doing it during nap time. But once that comfort of knowing they're completely safe kicks in during ap time and nighttime sleep, you'll be good.
Stretchy soft material
In those first few days of using the SNOO swaddle, the stretchy soft material will make it easier to make your piece with the fact that you're basically strapping your baby down.
It's much easier to do when you're wrapping the baby into a delicate garment that feels softer than their butts.
Many a wash with minimal wear & tear
The SNOO swaddle feels deceptively tender and you might get the feeling that it will give in after a dozen washes (as it tends to happen with sub-par swaddles).
Not the case with the SNOO sack.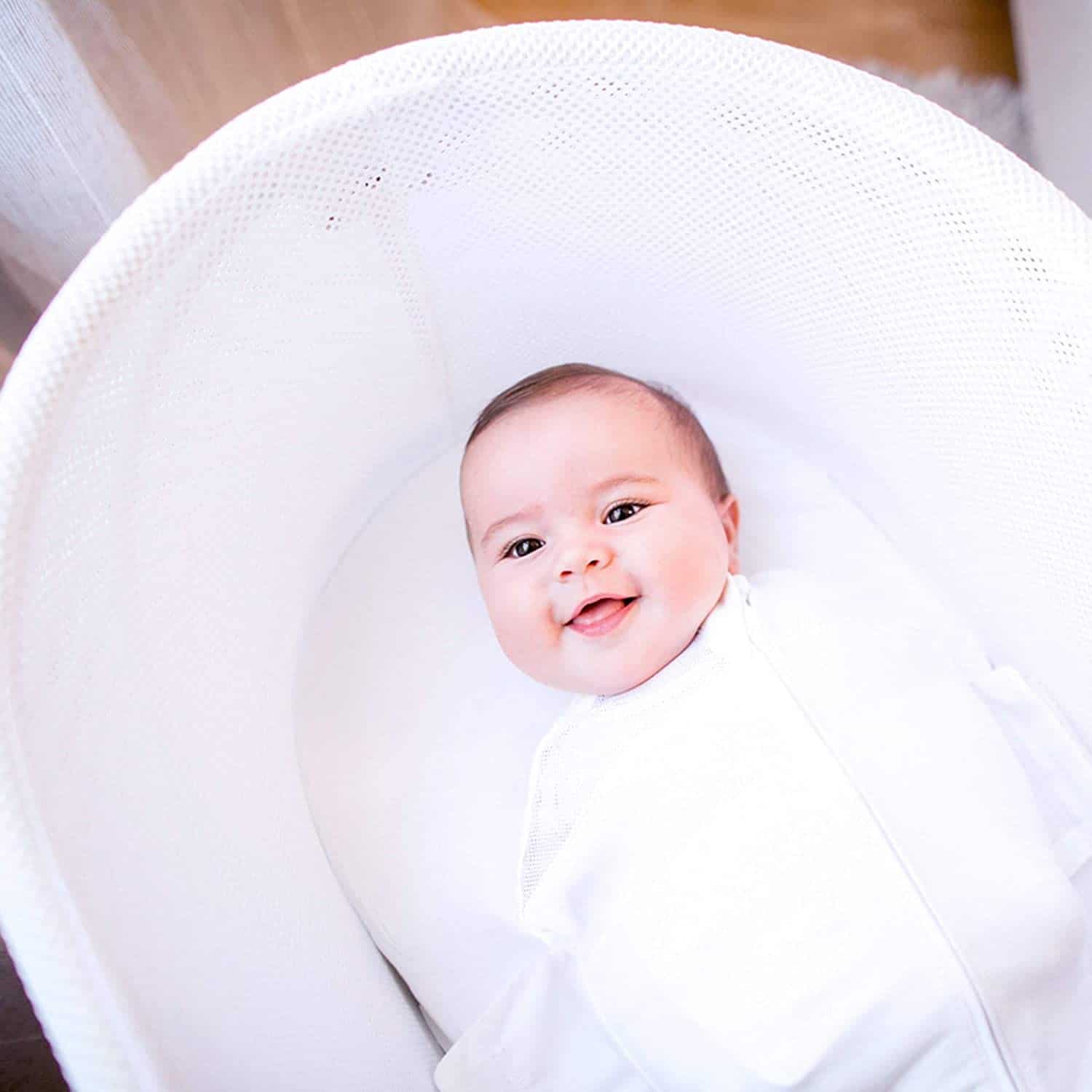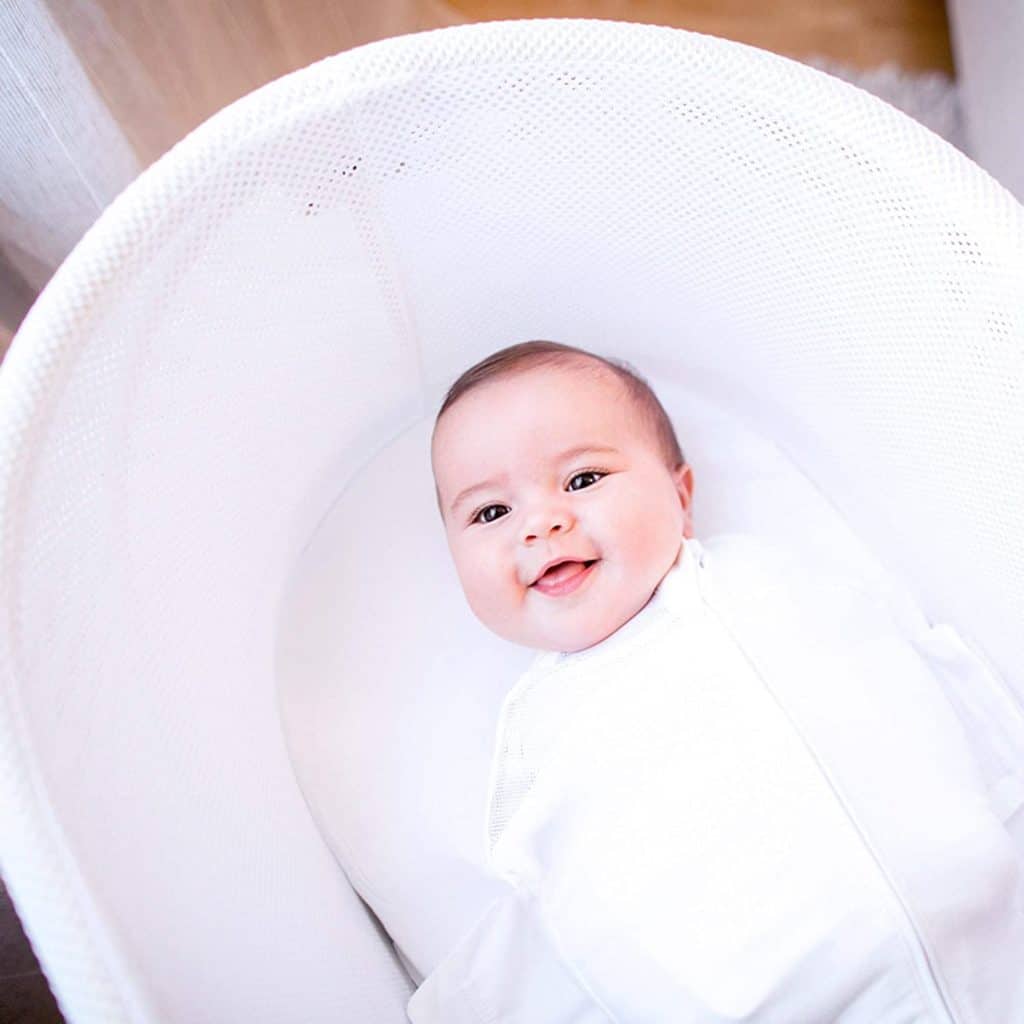 We used it every day.
Washed it and dried it more times than I can count.
It took it all like a champ with minimal change in appearance and without a single tear.
What I like about the SNOO swaddle
I'd put two things front and center – the safety and how easier it is to use than your run-of-the-mill-swaddle.
It allows me to do the swaddling and gives the complete piece of mind that my baby is perfectly safe.
What could be better
My SNOO swaddle/sleep sack review wouldn't be complete if I didn't find something that could be better. So, let me give that a go.
I guess that the velcro could be stronger.
As time went by and he grew, I was under the impression that the velcro connections would give in if he got any stronger.
It never happened but it's fair to say that sturdier strips would give me more confidence.
FAQs about the SNOO swaddle
What to wear under the SNOO swaddle?
The SNOO sack can be used with or without additional layers. You can use a light swaddle blanket and then put the baby in the sleep sack.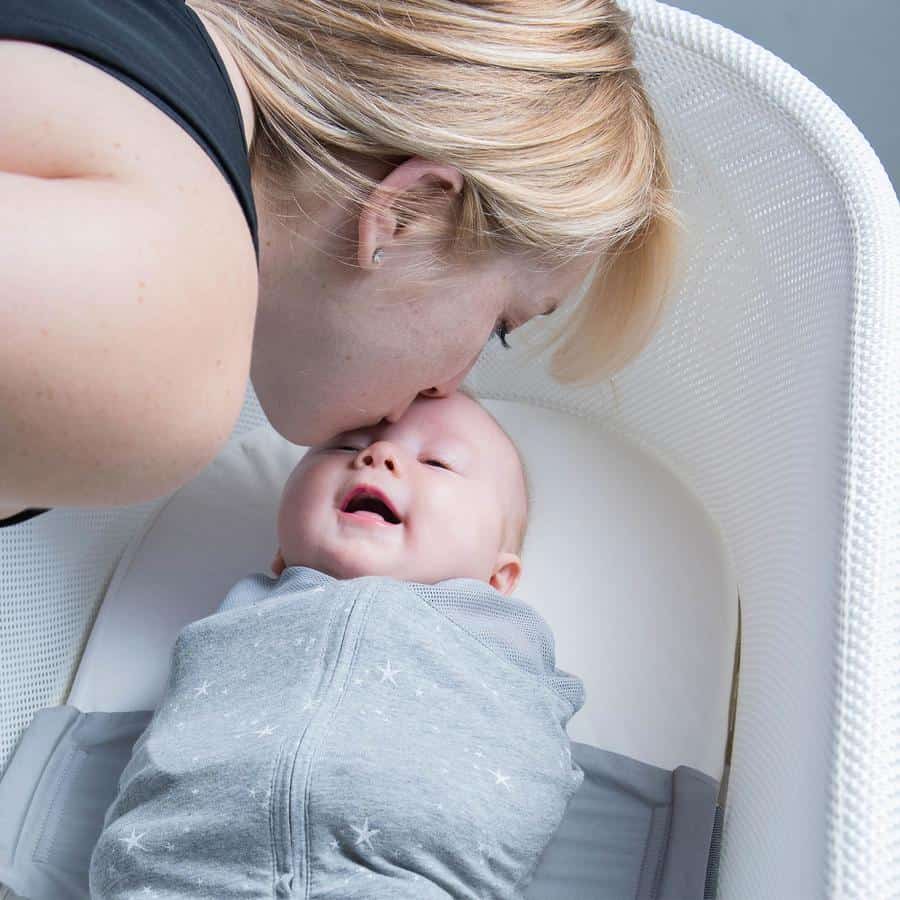 You can see my guide on what a baby should wear under a swaddle here.
How to use the SNOO swaddle?
Step-by-step instructions:
Remove the band and slide the sack upwards (off the safety clips)
Unzip the sack and remove the cardboard insert
Lay the sack on a flat surface with the zipper open
Put your baby on top of the open sack with the shoulders slightly above the top sack edge
Straighten your baby's arms along the side of their body and close the velcro across their chest
Zip the sack up all the way
Is the SNOO swaddle safe?
Yes, it is absolutely safe.
Final thoughts and takeaways
SNOO swaddle/sleep sack combo is the best the market has to offer. There's no doubt in my mind about that.
Safe, comfy, easy to use, it's the kind of product that has the power to change a parent's life.
Two thumbs up from UpsideDad!
World's first ever 5-second swaddle
Attaches to SNOO
Soft and cozy 100% organic cotton
Extra-quiet Velcro
Breathable mesh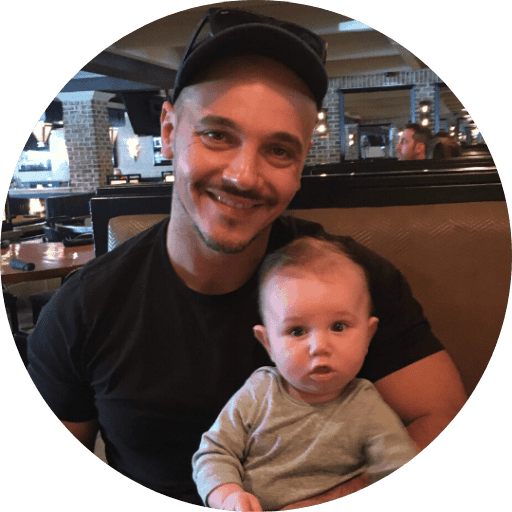 Paul is a passionate dad who founded Upside Dad to share his parenting journey with other new parents. He graduated from Concordia University and worked as a test engineer for over a decade. Paul loves dad jokes and craft beer.
Learn more about Paul and Upside Dad here.