To keep your baby warm in the SNOO, dress them accordingly with the weather under the SNOO swaddle.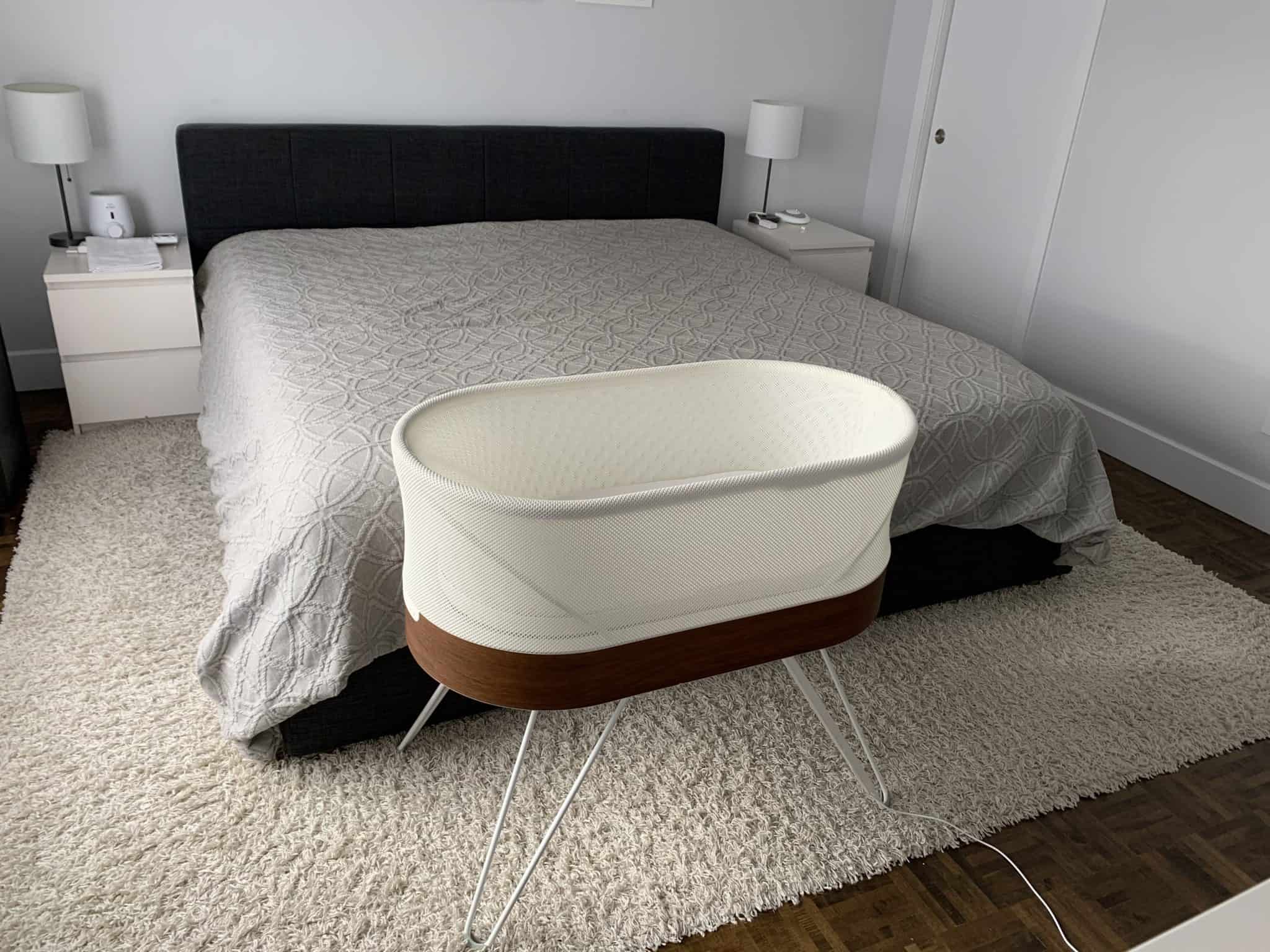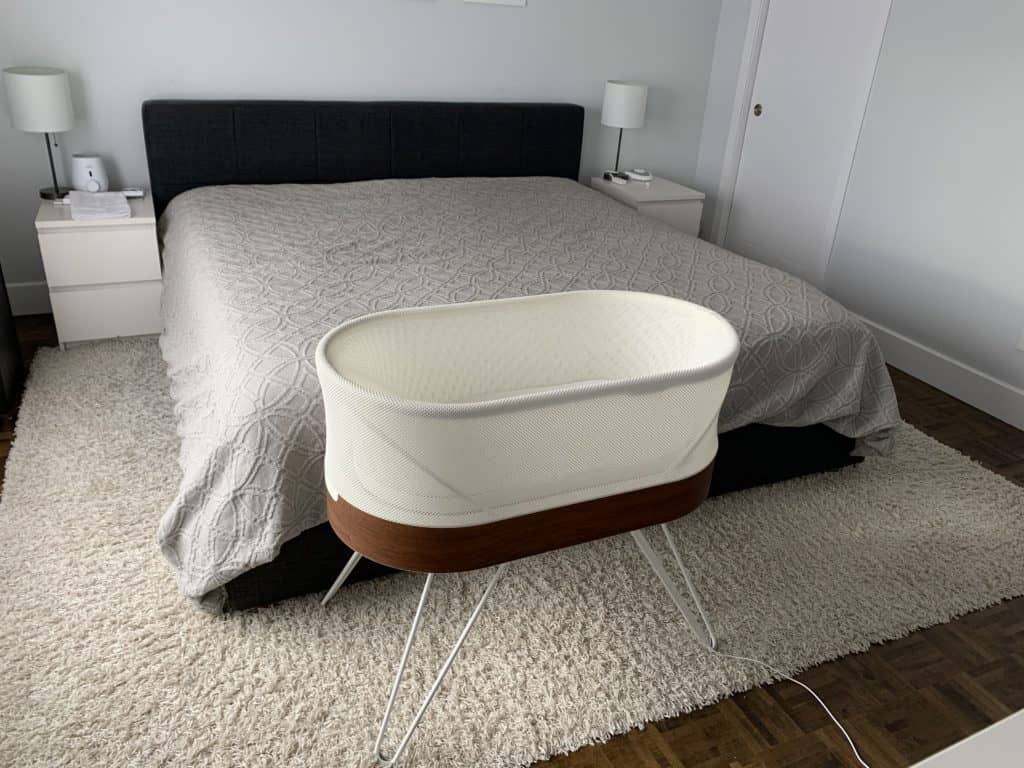 That would be the short answer to the question from the title. Today, I'm interested in a more comprehensive, complete answer.
Why?
Because this is one of the more common questions I see in my inbox since I published my SNOO review and my take on the SNOO rental process.
It can be overwhelming to make sense of any new baby gear, especially high-end pieces like the SNOO, that come with their own set of rules.
Keeping your baby warm in the SNOO – three basic rules
The reality is – it's all straightforward; you just need clarity on a few basic rules. All other scenarios are a combination of these three rules.
One – you can use the Snoo sack with or without additional clothing.
Two – no additional blankets or other accessories are allowed inside the SNOO bassinet.
Three – apart from Rule One and Two above, all other rules of keeping your baby comfortable apply to keeping your baby warm in SNOO, too.
Bottom line – keeping your baby warm in the SNOO comes down to dressing them properly and regulating the room temperature.
Six specific tips
1 – Dress them properly
In one of the posts I stumbled across, Happiest Baby (the company behind the SNOO) shared that most parents using SNOO find that a combination of light, easily removable layers (like a onesie or a swaddling blanket) works well.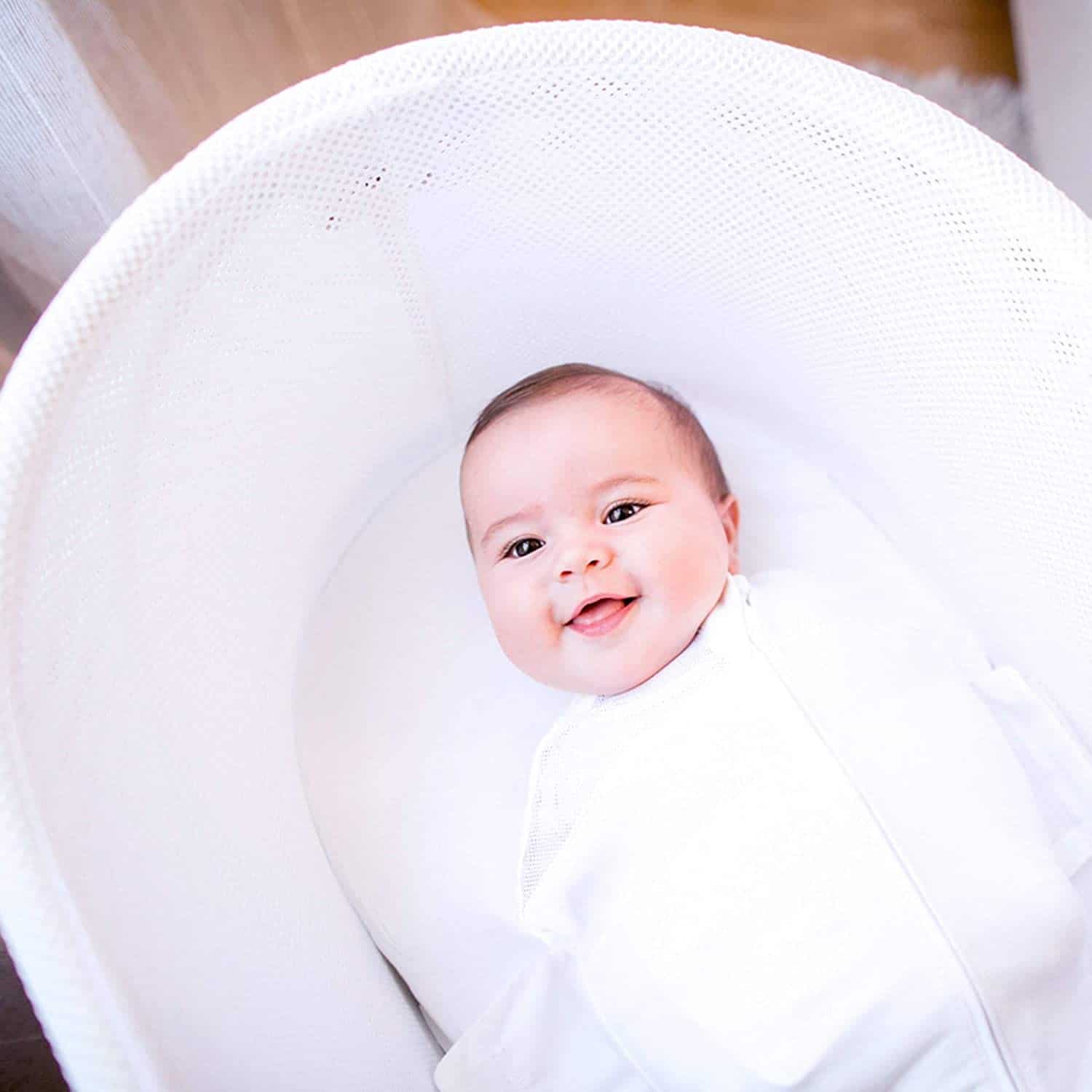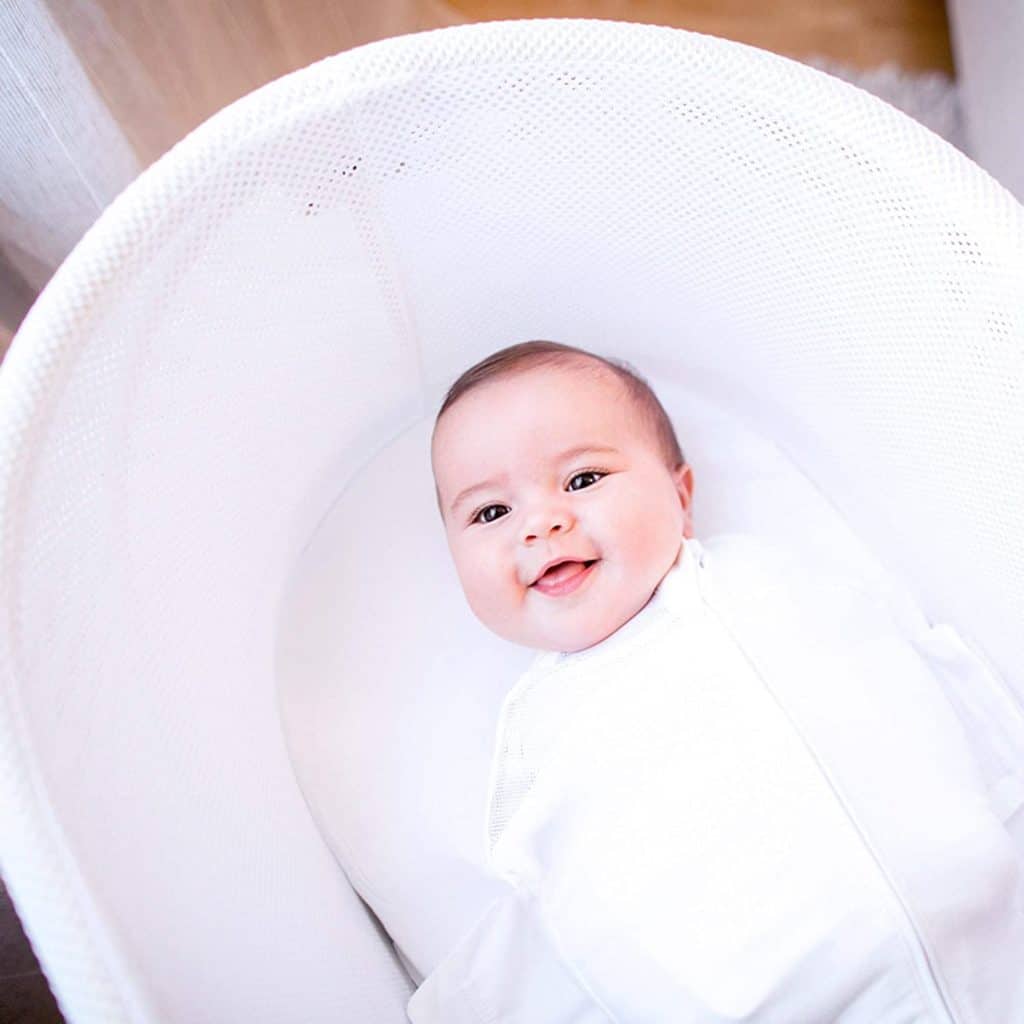 As I was reading that, I was shaking my head in approval because that's just what my wife and I found with my son. We had a range of onesies and occasionally combined them with a small space heater that we only used once the room temperature dropped below 65 °F (18.3 °C).
I talked to people who use a light swaddle blanket before placing the baby in the SNOO sleep sack. We used no additional swaddling blanket, just the SNOO sack.
2 – Choose the right room temperature
SNOO can do a lot of things for your baby's comfort and a good night's sleep, but you'll still need to take care of the basics, like the room temperature.
You don't want the room too hot or too cold; you want to keep it in that "Goldilocks just-right" range, which is between 68-72 °F or 20-22 °C according to WebMD.
3 – Plan B for "anti-swaddlers"
You might be "less fortunate" and have a small anti-swaddler on your hands.
Yes, some babies aren't fans of layers and want to make "Free Hands Great Again."
The solution here might be counter-intuitive. There is a Harvard study I keep quoting every time people ask me about this – it actually proves that babies cry more when they are not wrapped snugly.
Go for a snug swaddle around the arms and loose in the hips and knees.
4 – Avoid direct air circulation
I am always very cautious with anything that has been proven to increase the risk of SIDS, like hot rooms. That's why I'm not a fan of localized heating in baby rooms.
On top of that, your baby won't sleep as well if exposed to direct air circulation. So, keep them at least a few feet away from fans and vents.
Better say I'm OK with it, but not as a primary means of keeping your baby warm. Keep the room temperature in the range mentioned above and regulate everything else through appropriate clothing.
The rule of thumb here should be that the temperature in the area around the bassinet should be stable and free of sudden changes. This also means that placing a bassinet close to an outer wall is not the best idea, especially in colder climates.
5 – Regulate humidity
If you are ticking all the boxes and your baby is still restless, low relative humidity might be the reason. It dries out their nasal passages and causes discomfort no bassinet can offset, even the SNOO (which is pretty much the best bassinet out there – you can see my complete list here).
One mistake that I've seen new parents make is assuming that the central humidistat is precise enough to tell you all you need to know about your baby's room.
It's not.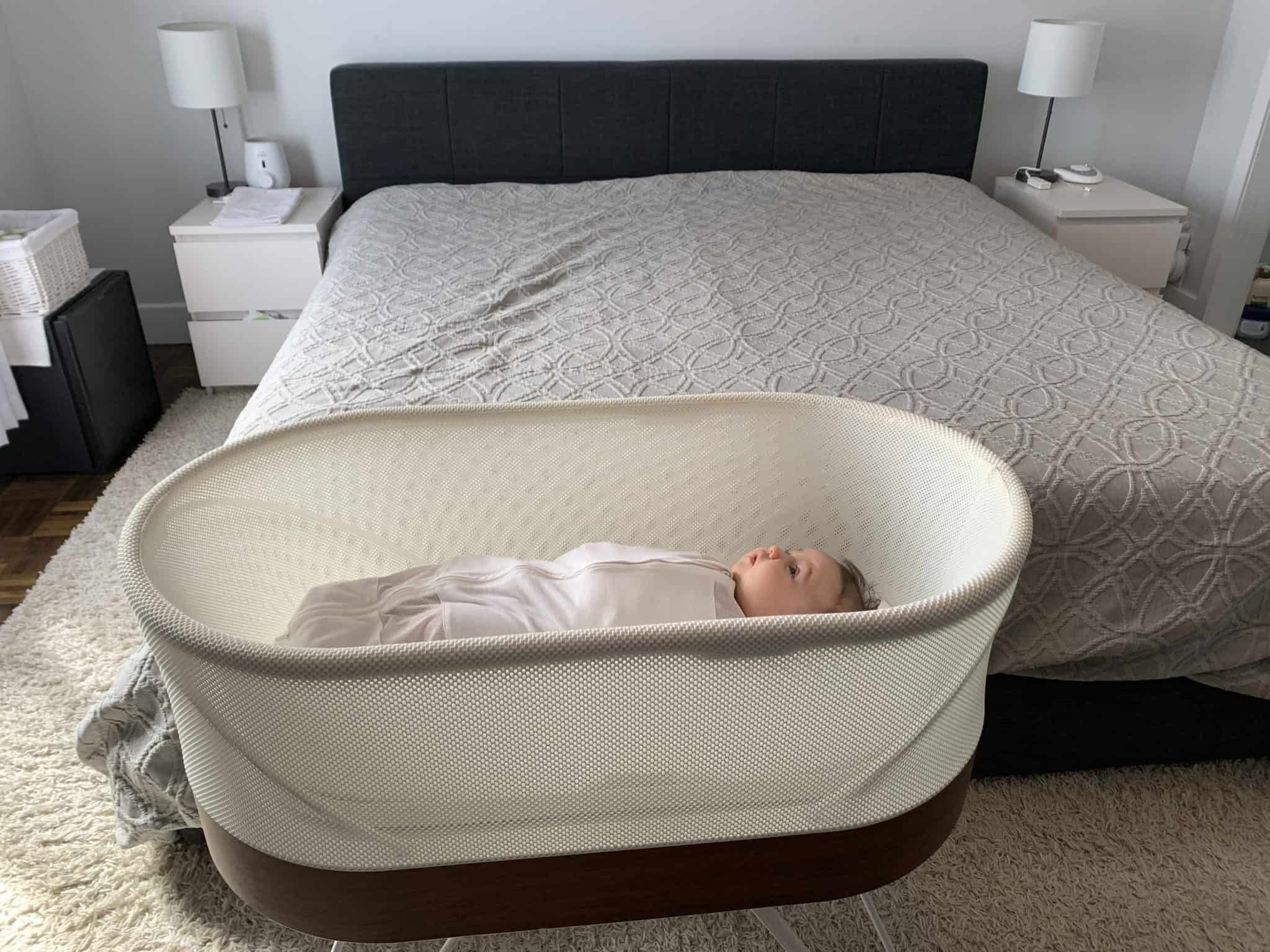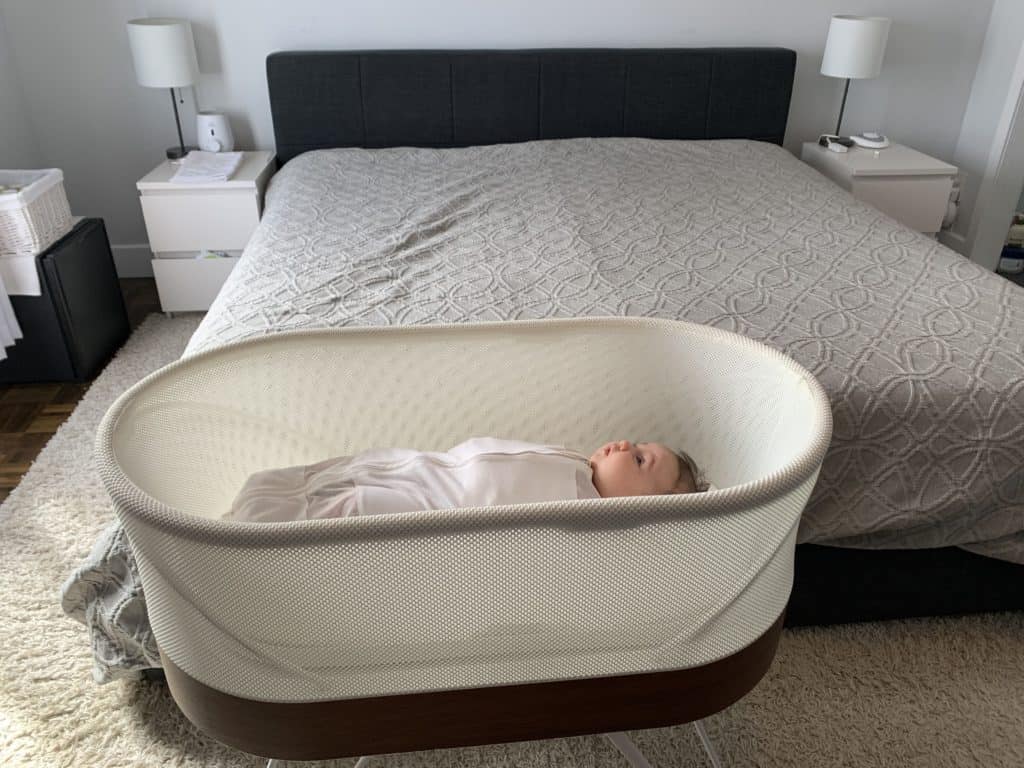 Your central humidistat is not enough
Get a separate thermometer and humidistat for the baby's room and maintain the humidity at the desired levels. Those levels are between 30 and 60% for adults, but some baby experts say that the higher part of that range is better for a baby.
That might make sense in terms of keeping them warm, too. This is because lower humidity gives you the subjective feeling of lower temperatures and vice versa.
Since there is no universal consensus on this one, you might be better off trying which part of the 30-60 range works best for your baby.
6 – Know your baby
If your baby swats and is flushed, he's probably hot and needs to get rid of a layer. If their tiny hands and feet feel cold and start to take on a bluish hue, think about adding a layer.
These are only proverbial rules of thumb and are meant to be a starting point.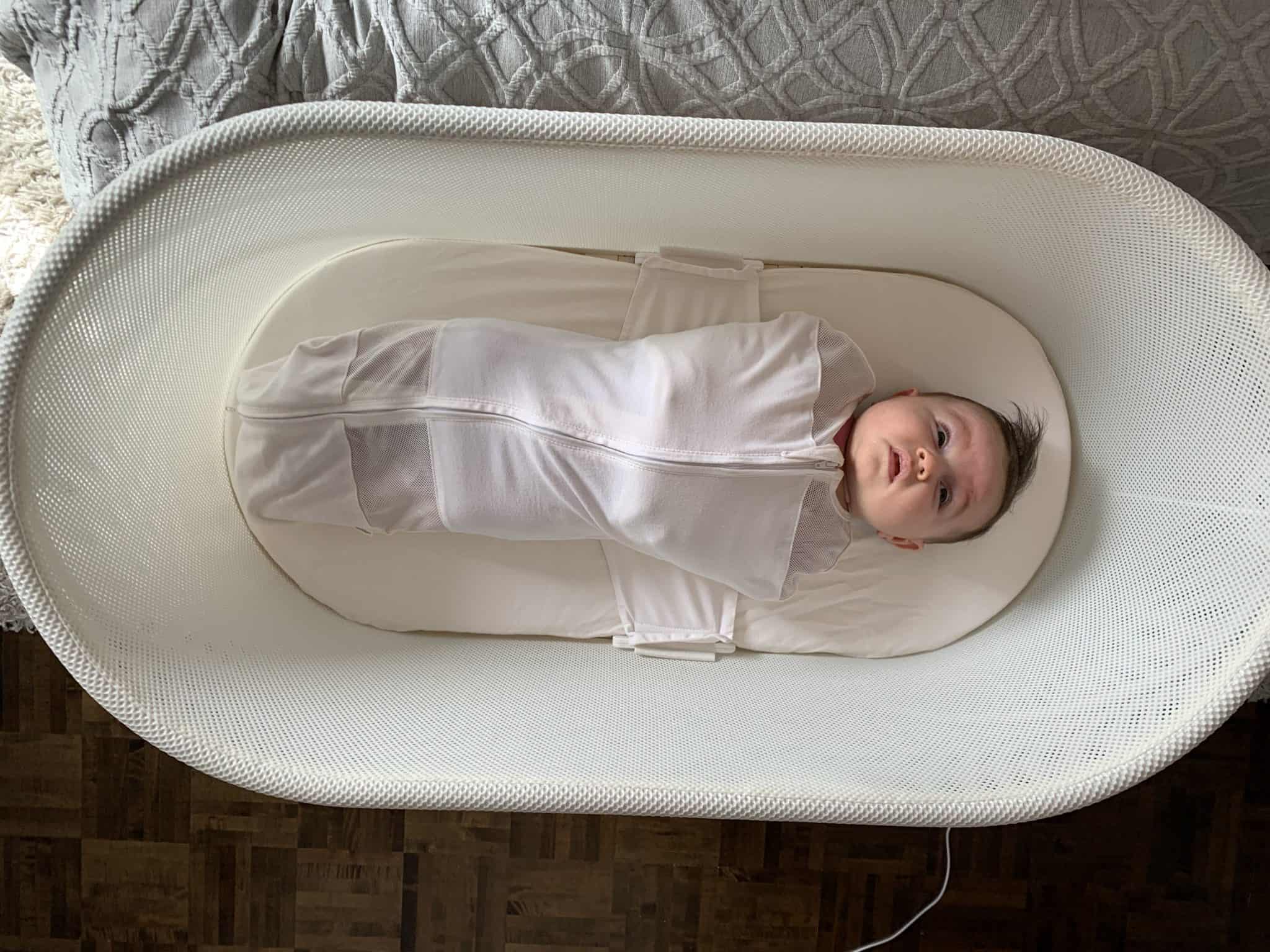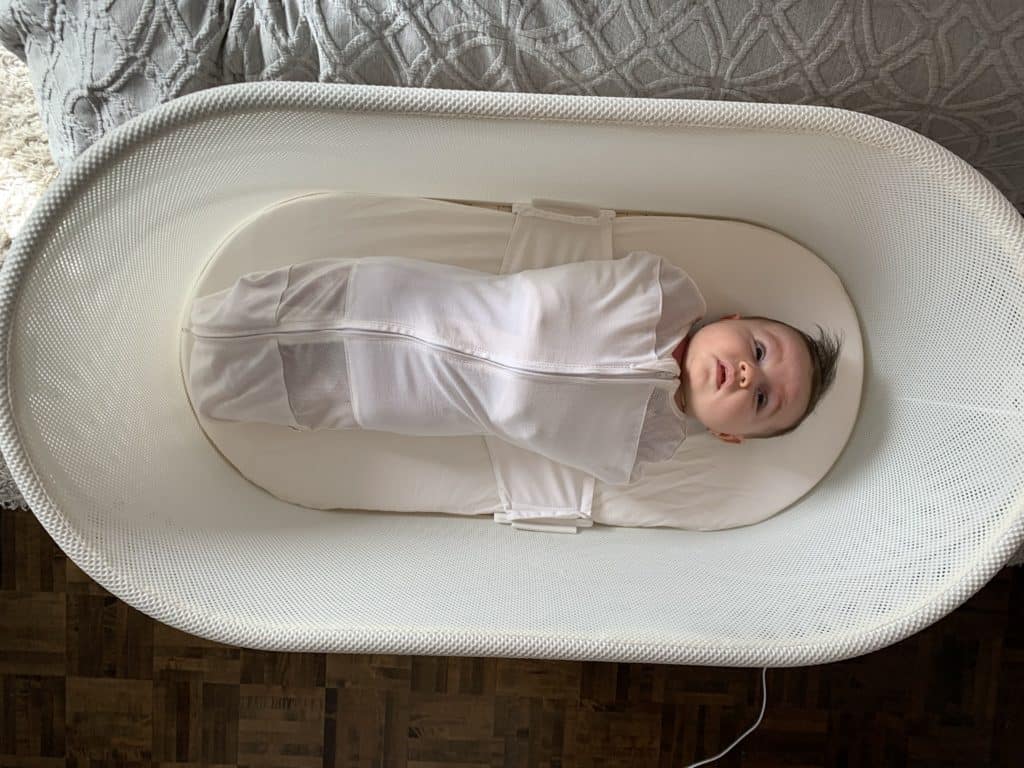 Make mental notes about your baby's reaction to hot or cold. Are they sweating? How does their neck feel? Is it sticky?
If it is, you might crank that dehumidifier and lower the humidity by 5 or 10 %.
If you want to read more on keeping your baby warm in the crib, click here.
No objects in the bassinet under any circumstance
Regulate your baby's temperature and keep them warm through clothing and clothing only. At no time should a foreign object like a pillow, quilt, or blanket find its way into the SNOO bassinet.
And don't even get me started on heating pads and hot water bottles; forget that you ever knew those words.
A firm mattress, a good mattress cover, and proper clothing are all the tools you have in your arsenal.
It's also all you'll ever need, especially with a fantastic bassinet like SNOO.
Breathable mesh walls for healthy air flow
5 levels of specially designed sound + motion to soothe babies and boost sleep
Premium motor for quiet and reliability
Advanced algorithm can tell baby cries from room noise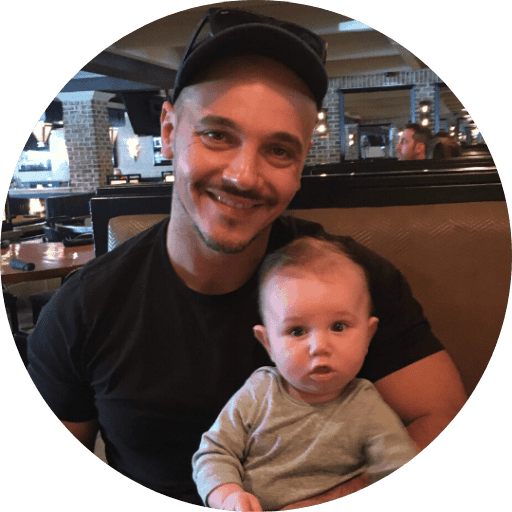 Paul is a passionate dad who founded Upside Dad to share his parenting journey with other new parents. He graduated from Concordia University and worked as a test engineer for over a decade. Paul loves dad jokes and craft beer.
Learn more about Paul and Upside Dad here.