Vibrating bassinets have become more and more popular over the years, being chosen over cribs or cradles to comfort newborn babies. Just like the rocking motion of cradles, vibrating bassinets help soothe your baby for a calmer and more restful sleep.
Here are my choices for the best vibrating bassinets available today:
Image
Best Vibrating Bassinets
Features
Price

Swivels 360 degrees
Lowering side wall for easy access
Removable bassinet

CLICK FOR PRICE

Rocks with baby's movements
Super affordable
Nightlight and overhead mobile

CLICK FOR PRICE

Dual handle/brake and rubberized wheels
Portable bassinet, bedside bassinet, or changing table
Height adjustable

CLICK FOR PRICEBuy at Amazon

Cry detection technology
Three varying motion speeds
Soothing sounds

CLICK FOR PRICE

Adjustable Height and Tilt angle
Lowering side wall
Attaches to parents' bed

CLICK FOR PRICE
A bassinet is super convenient. Their compact size allows parents to fit them anywhere in the bedroom making it much easier to care for their baby while room sharing. Bassinets are also stable, protective, and the safest place for a newborn baby to sleep in.
With the added benefit of vibrations and sounds, a vibrating bassinet makes the ideal environment for your baby. You can rest assured your baby is close by, safe, and happy in any one of these following vibrating baby sleepers.
Here is a short overview on each of the best vibrating bassinets.
The Halo BassiNest is a sturdy vibrating bassinet for babies up to five months or 20 pounds. Able to extend to the height of 34 inches, with stable feet able to tuck under a bed and needing only 32 inches clearance from the wall, it is ideal for bedside use.
Features of the Halo swivel sleeper
Swivels 360 degrees
Patented lowering bedside wall
Amber nightlight and floor light
Two levels of vibration
Four soothing sounds
Waterproof mattress
Machine-washable sheet
Why I Love It
This vibrating baby sleeper is called the Halo because of its maneuverability. It swivels a full 360 degrees on its base to make it easier to reach your baby from any angle.
The patented lowering bedside wall folds down for easy baby access, keeping your baby as close as possible. The main bassinet can also detach from the base for added portability.
For a more soothing experience, the Halo comes with a variety of light and motion options. These include an amber nightlight, an amber floor light, two bassinet vibration levels, and four gentle sounds with auto shut-off: heartbeat, babbling brook, rainforest, and white noise.
Check out my detailed review of the Halo Luxe BassiNest.
Who is It For?
This bassinet is for moms and dads who want to keep their little one close, but safely out of their bed. It's portable, easy to work around, and fits just about anywhere. Moms recovering from an especially tough delivery or C-section will also benefit from close access to their baby.
If you require a bassinet that rocks and vibrates, the Soothing Motions-Windmill is the right choice. This twenty-pound unit boasts a soothing sway that gently rocks your baby to sleep, helped along by the baby's movements.
Designed to fit a baby up to six months, it is a smaller unit but very secure and sturdy.
Features of the Fisher Price bassient
Gentle motion-generated swaying
Detachable dual-mode projection lighting
Deluxe overhead mobile
Thirty minutes of music
Optional motion lock
Wipeable sleep pad
Machine washable sheet
Why I Love It
This vibrating baby cradle has a rocking feature to soothe infants further. The Fisher-Price vibrating bassinet also has an optional motion lock, which turns off the swaying feature for a more stable unit.
The projected light display shines stars on to the ceiling for a sleepy nighttime glow, and the detachable projector has a double use as a tabletop soother. The Soothing Motions-Windmill is also one of the few units with an attached mobile, featuring shooting stars and a colorful lion.
This bassinet is the perfect combination of functionality and value. You can see my review of the Fisher-Price Shoothing Motions bassinet here.
Who Is It For?
Any parent who wants a more traditional bassinet will love the Soothing Motions-Windmill. It has everything a baby needs to sleep well and safely. Even after the baby has outgrown the bassinet, the detachable projector can play music and project light.
The Close to You 3-in-1 is the most versatile bassinet on this list. It can change from a portable to a bedside bassinet to a changing table with little effort. The extended use changing table can hold up to 35 pounds.
Features of the Chicco bedside bassinet
Three modes of use
Dual function handle/Brake
Reversible and waterproof mattress
Two vibration settings
Six melodies plus nightlight
Why I Love It
This bassinet extends in height from 24 to 33.5 inches, depending on your needs. It is easy to place, and the wheels and brakes make for convenient and safe maneuverability.
With two baby bassinet vibration settings, six melodies, and a nightlight, the Close to You has everything you could want in a vibrating bassinet, plus included convenience and security.
Who is It For?
Mothers who expect to spend most of their recovery time in bed will significantly benefit from the Close to You. The Close to You is also a great bassinet for easy nighttime feedings.
Any parent who prefers to have their babies close can benefit from this vibrating baby bassinet, as it is easy to maneuver to any room in your house.
Interesting Read: How to Find the Best Bassinets from Target.
The Sense2Snooze is the only Smart Crib on this list due to the Cry Detection Technology built into the unit. This bassinet allows good visibility to keep watch on your baby with its mesh walls and a detachable canopy.
Features of the Graco Sense2Snooze
Cry Detection Technology
Three different motion speed modes
2-speed vibration
Parent Mode
Storage space
Canopy
Why I Love It
The Cry Detection Technology works to soothe the baby automatically.
First, a microphone built into the bassinet will pick up the baby's cries. Next, the Sense2Snooze will automatically respond by providing a combination of motion, speed, vibration, and sounds to soothe them back to sleep gently.
The bassinet will cycle through its settings until it finds one that best comforts the baby.
This bassinet also uses Parent Mode, which saves the baby's preferred settings to make it easier for the Cry Detection to soothe them immediately.
If you're looking for more info on this awesome bassinet, I have a hands on review of the Graco Sense2Snooze as well.
Who is It For?
The Sense2Snooze is perfect for the baby that will only sleep if rocked. Vibrating bassinets already think about the busy or tired parent, but this unit takes its responsibilities one step further.
With most other vibrating bassinets, the parent still needs to get up in the middle of the night to reset their vibrating crib if their baby wakes up. With Graco's Sense2Snooze, it turns itself back on to soothe your baby and ensure their sleep and yours.
Designed for babies up to six months old with breathable mesh sides and a stable structure, the Baby Joy is a sturdy and safe choice for a vibrating bassinet.
Features of the Baby Joy bedside bassinet
Adjustable Height and Tilt
Zippered side bar
Toy rack
Retractable feet with wheels
Fastening belt
Sturdy structure
Detachable, washable mattress
Why I Love It
This bassinet simplifies bedside care. The fastening belt helps better connect the bassinet to the parents' bed for close contact. The zippered side bar lowers the wall to reach the baby easier.
The tilting feature means fewer spills while feeding. The bassinet can be set to various heights and adjusted so that one end is higher than the other, which provides a comfortable feeding angle for the mother and less of a chance of vomiting.
The height discrepancy from one end to the other is not so much that it upsets the baby.
Who is It For?
The Baby Joy Bedside Bassinet is an excellent choice for first-time mothers or any mother with particular anxiety. Suppose you want your baby close to you while in bed for easy feeding; this bassinet will hold them as close as possible while also keeping them safe.
---
What to Look for in a Vibrating Bassinet
While choosing a bassinet with vibration, there are many factors to consider. Vibrating bassinets provide added comfort but what else should you look for?
Pick the bassinet that fits you and your lifestyle by focusing on what you actually need.
Features
Bassinets today come with a multitude of features, but not everyone needs all of them.
Some of the features that available today include:
Soothing sounds
Automatic cry detection
Smartphone App connection
Change table convertible
Height adjustable
Lowering side wall for easy access
Bed attachment
Wheels
Detachable bed
Canopy
And many more.
Before you decide which bassinet is best suited for your needs, you need to decide which features you want and what you want them for.
Benefits
Features are great, but how do they actually help parents and babies? Do these features make your life easier? That's where benefits come in.
Each bassinet comes with its own benefits and advantages. Some allow you to reach your baby from the comfort of your bed while others will automatically move to soother your baby.
Only you can decide which one of these meets what you're looking for from your bassinet and how you plan to parent.
Maybe you prefer your baby's vibrating sleeper to wheel around from room to room.
Taking a look a customer reviews is a great way to get a glimpse at the benefits and how each bassinet meets or misses the mark on them.
Design
Design is important because your baby's vibrating bassinet needs to fit where you want it and it should also look good. If space is an issue, the smaller bassinets with a narrower base width are best.
Bassinets come in all shapes, sizes and colors so make sure to choose one that fit's with your room. Your baby bassinet will be an added piece of furniture that will remain in your room for a while.
Function
The primary function of your chosen bassinet should reflect you and your family's lifestyle. If you simply need a vibrating bassinet to help ensure your child's sleep, you don't have to look very far to find one.
But if you need a rocking vibrating bassinet or a unit that can double function as a changing table, these are also things to think about.
Favorites
For each of the following categories, one bassinet from this list takes the top spot.
Smart Bassinets
The smartest vibrating bassinet is the Graco Sense2Snooze, with Cry Detection. This bassinet is a new step forward in vibrating bassinets because it goes above and beyond its duty.
Often parents struggle with newborns to get them to sleep and keep them asleep. The Soothe2Snooze is the first in line to change this struggle and give everyone a better night's sleep.
Luxury
The most luxurious bassinet is the Halo BassiNest Swivel Sleeper. This vibrating infant sleeper does everything you could possibly want!
It fits close to the bed, raises high enough to access the baby, has a simple lowering wall, and the swivel feature helps to simplify care from any angle, not to mention the vibration and light options with automatic shut-off.
Versatile
The Chicco Close to You 3-in-1 is a clear winner for the most versatile. With three different modes and easy maneuverability, this vibrating sleeper is great for the parents on the go. Plus, it caters to long-term use with its changing table properties.
Traditional
If you're looking for a vibrating baby cradle, the Fisher-Price Soothing Motions is a good choice. With its rocking feature encouraged by the infant's own motions, this bassinet acts like a cradle while still providing safety, support, and vibrations found in a good vibrating bassinet.
Bedside
The best bedside bassinet is the Baby Joy Bedside Bassinet for its ability to connect directly to the parents' bed. This vibrating infant sleeper easily becomes an extension of the main bed while also keeping the baby safe.
The lowering wall makes access even more manageable, and the included fasteners keep it secure to the adult mattress.
The gentle tilt feature also provides extra support for feedings and reduces the chance of spills.
Conclusion
Vibrating bassinets are used more and more for how easy they soothe a fussy baby. Different kinds of vibrating bassinets cater to different needs, but all in all, they will bring about a more peaceful night for the entire family.
When choosing a bassinet for your child, consider a vibrating one. They're safe and secure, and they help your baby sleep.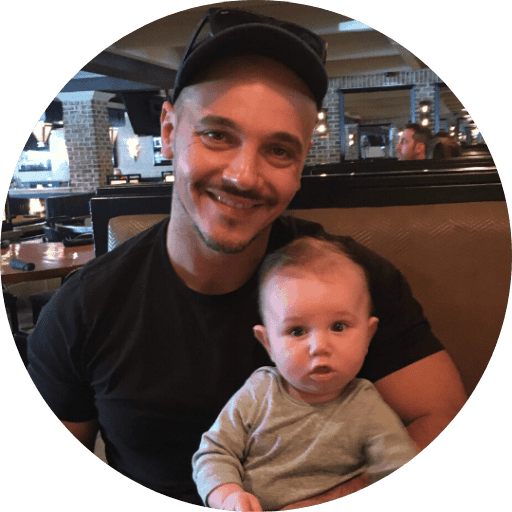 Paul is a passionate dad who founded Upside Dad to share his parenting journey with other new parents. He graduated from Concordia University and worked as a test engineer for over a decade. Paul loves dad jokes and craft beer.
Learn more about Paul and Upside Dad here.