If you're serious about getting your baby off to a good night's sleep at the end of a long day you will need a comfy-cozy (and safe) place to put him down. As parents, we need to consider our little one's sleeping situation and after some research you should come to the conclusion that the best place for a newborn to sleep in is a bassinet. The Fisher Price Soothing Motions bassinet does just that!
Fisher Price Soothing Motions bassinet
Comfortable and safe
Overhead mobile
Soothing sounds
Rocking movements
Removable light projection unit
---
The Fisher-Price Soothing Motions bassinet has a range of features that will help soothe most infants and keep them (and you) feeling great all night long. After all, it does what parents do to get a little one to sleep: it gently rocks, plays soft music and while that's going on, baby can stare at the magical shapes hanging from the overhead mobile.
At less than $150 this bassinet and mobile combo is money well spent to get your baby to sleep feeling happy and secure.
Features
Comfortable and safe, flat sleeping surface
Overhead mobile
Gentle, calming rocking movements
Soothing music and sounds
Dual-mode lighting: soothing projection or night light
Light projection unit is removable so you can operate it from somewhere else
Specification
| | |
| --- | --- |
| Sleeping pad dimensions | 15 x 31 x 0.75 inches |
| Product dimensions | 22.8 x 5.9 x 40 inches |
| Bassinet Weight | 20 pounds |
| Bassinet Type | stand-alone, rocking |
| Weight/age limits | 25 pounds or when the baby can pull himself up on his hands |
Why I like the Fisher-Price Soothing Motions
Sleek design
The oval shape and high-quality materials used, plus the overall design makes this piece of baby furniture good to look at and not out of place in another room in the house.
Sturdy but easy to move
The bassinet is lightweight and can easily be moved from one room to another. It weighs 20 pounds, so it's easy to have in the bedroom at night and another room during the day. You won't be able to move it with the baby in it, but it's very easy to move around while it's empty.
Entertaining and soothing
The Fisher-Price Soothing Motions bassinet is the ultimate baby pacifier. It features soothing music and other sounds as well as soothing motions to help your baby drop off to sleep.
Lying down on the comfy sleeping pad, your baby will be mesmerized by the overhead mobile as it sways gently above him. When he wakes up in the morning the stars will still be hanging from the mobile, providing a source of entertainment while mommy and daddy are still sleeping.
The bassinet provides 30 minutes of calming vibrations, music, and sounds for your baby.
Self-propelled movement
This is a great feature that might help your baby fall asleep by himself after he's woken up in the night. It works like this. When a baby wakes up at night, they naturally start moving around. This movement causes the bassinet to start rocking ever so slightly. 
The Fisher Price Soothing Motions is my top choice for the best rocking bassinet.. In a while, this motion becomes a calming swing motion that puts the baby back to sleep.
Dual light projection
The dual light projection module works in two ways.
First, there is the soft night light that lets you check on your baby without having to turn on other lights in the room. Second, you can turn on the overhead projection that casts a beautiful light display on the ceiling. This is sure to captivate a baby's attention.
Storage rack
At the bottom of the bassinet is a very handy storage rack where you can put everything you need for a diaper change. Or you can simply use it to keep diapers or blankets.
Cool and ventilated
Fisher-Price Soothing Motions bassinet is made of mesh all-round, which makes this bassinet a cool and well-ventilated bed for a baby. This contributes to the safety of this bassinet since suffocation and overheating are two main contributing factors to infant death while sleeping in a bassinet.
Safety
Fisher-Price has created a safe sleeping space for babies with this product. The mattress that the baby sleeps on is not too soft as recommended by experts. The bassinet is made of mesh on all sides so the baby's sleeping space is ventilated and cool. The product itself weighs a sturdy 20 pounds so it won't fall over with your baby in it.
The Fisher-Price Soothing Motions Bassinet is a JPMA-certified product. JPMA stands for Juvenile Products Manufacturers Association. This means the product meets the guidelines set by standards developer ASTM International.
Setup and assembly
Easy to follow instructions
Quick to assemble
No tools needed
Requires 3 C batteries for the projector/soother.
Here is a video that illustrates how to assemble a Fisher-Price Soothing Motions Bassinet
How to use it
When you put your baby on the comfortable sleeping pad, the calming music and mesmerizing overhead mobile combined with the gentle sway of bassinet will lull your baby off to a peaceful sleep.
You can use the control panel on the side to play music and sounds and to project a light show on the ceiling. There is also a switch for a night light so you don't have to switch on the bedroom lights when you check in on your baby during the night. The brightness of the night light can be adjusted.
And that's not all. The control panel also allows you to turn on the calming vibrations feature of the bassinet.
The Fisher Price Soothing Motions bassinet is designed in such a way that it sways naturally when you put your baby in it. You can also nudge the bassinet gently to continue the soothing motion.
Conclusion
If you are a parent looking for a little help during the tough night without having to spend a fortune, look no further. This bassinet offers enough soothing options to lull your baby to sleep and to help him drop off to sleep again should he wake up in the middle of the night.
The Fisher-Price Soothing Motions bassinet offers everything your baby needs to stay safe and go to sleep peacefully or stay entertained while awake. And that means you will get some sleep too!
Fisher Price Soothing Motions bassinet
Comfortable and safe
Overhead mobile
Soothing sounds
Rocking movements
Removable light projection unit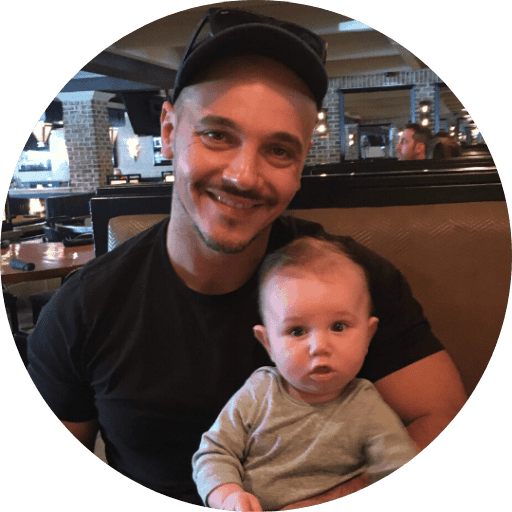 Paul is a passionate dad who founded Upside Dad to share his parenting journey with other new parents. He graduated from Concordia University and worked as a test engineer for over a decade. Paul loves dad jokes and craft beer.
Learn more about Paul and Upside Dad here.