The Halo Luxe Series BassiNest is a high-quality, high-valued bassinet with many unique features designed for ultimate safety and to make caring for your baby a breeze following childbirth.
HALO BassiNest
Swivels a full 360°
Netted breathable sidewalls
Removable bed
Lowering sidewalls for easy access
Heights adjustable from 22 to 34 inches
---
This bassinet is the only cradle with the ability to swivel a complete 360° so you can have your son close by at night. Its study four-point base can fit under most beds, and the bedside wall can be lowered, allowing you to reach into the bassinet with minimal strain on your abdomen and back, which is ideal for mothers recovering from a cesarean or difficult birth.
With the upgraded Halo Luxe Plus Bassinet, the bassinet is removable to allow for napping anywhere in the home. The BassiNest Swivel Sweeper also has a variety of additional features, including soothing sounds, vibrations, and a machine-washable polyester sheet, all covered in this Halo Luxe review.
The Halo Luxe Series is one of my favorite bassinets and it made my top 5 best cosleeper bassinets list.
At a Glance Features of the Halo Luxe Plus Series BassiNest
Swivels a full 360° to bring baby closer to you
Ventilated, netted walls provide proper airflow within the bassinet
Removable bed for napping anywhere
Removable storage caddy attached to keep baby's essentials nearby
Includes a 100% machine-washable polyester fitted sheet
Optional settings with auto shut-off include an amber floor light and night light, two vibration modes, and four sound settings: heartbeat, babbling brook, white noise, and rainforest
Adjustable bedside wall can be lowered and places less stress on your abdomen and back when lifting the baby out of the bassinet
Adjustable for various bed heights ranging from 22 to 34 inches
Sturdy, adjustable base fits under most beds
Waterproof mattress with no toxic flame retardants
Specifications
| | |
| --- | --- |
| Dimensions | 34.45 x 18.71 x 10.83 inches |
| Weight | 28 pounds |
| Height Adjustable | Yes, between 22 and 34 inches |
| Warranty | 1-year limited warranty when purchased from an authorized retailer |
| Weight Limit | 20 pounds |
| Age Limit | Should not be used once the baby is showing signs of rolling over or pushing up on hands and knees, or once they reach 5 months |
Benefits of the Halo BassiNest Swivel Sleeper Luxe Plus
Easy to Clean
The Halo Luxe bassinet includes a waterproof mattress with surrounding breathable mesh walls, easily wipeable if they get dirty. The 100% polyester fitted sheet can also be wiped clean with a damp cloth but is machine-washable.
Ideal for Recovering Mothers
The lowering bedside wall reduces strain on your abdomen and stomach, ideal for recovering mothers. The proximity of the bassinet to your bed also reduces the distance you need to move during the night and encourages safe co-sleeping.
Portability
One of the most significant upgrades when moving up to the Luxe Series is the ability to remove the bassinet. This is great when you're moving around the house doing laundry or other chores or if you're not at home.
Who Is the Halo Luxe Bassinet for?
The Halo Luxe series bassinet is great for any woman transitioning into motherhood or anyone who wants to have their baby close by at night. Co-sleeping at a young age can be particularly dangerous for babies and risk suffocation or falling, and this bassinet is an excellent alternative.
You can keep your baby close during the night and reach over when it's time for nursing, and then return him to the bassinet afterward. They're quickly rocked back asleep by your choice of sound: heartbeat, white noise, babbling brook, or rainforest. If you're struggling to see in the dark, there are two built-in nightlights to help.
What I Liked About the Halo Luxe BassiNest
Soothing Center with Nightlight
One built-in feature I was a particular fan of is the soothing center with a nightlight. Many parents end up buying a stuffed animal with sounds included or an external noise center, which can be expensive and tedious.
The Halo Luxe BassiNest soothing center has four sounds (heartbeat, white noise, babbling brook, and rainforest), two vibration levels, and two lighting options (amber night light and floor light). These options are easily reachable on their own panel located on the bassinet side and come with an auto shut-off timer.
Lowering Sidewall
Like I've mentioned a few times already, the lowering sidewall is one of the features that set the Halo BassiNest Swivel Sleeper Luxe Plus apart from the competition. A bassinet with a static wall can press into your ribcage or abdomen as you lean over to lift your baby and can make it difficult to access if you're reaching from a sitting position.
The lowering sidewall makes it easy to lift your baby out of the Halo swivel bassinet and reduces the strain on your back and abdomen, which is essential for recovering mothers.
High-Quality Materials
The first thing that I always look at before making a purchase is the price. While the Halo BassiNest Luxe Plus has a high price tag, I knew it was because of high-quality materials that would guarantee both stability and durability. Not only is the structure of the base and stand high-quality, the materials composing the mesh walls and the mattress are as well.
360° Swivel and Rotation
The one feature that sets the Halo sleep bassinet apart from its competition is the ability to swivel an entire 360° and rotate. This makes it easy to access your baby no matter what side of the cradle they're laying on and is convenient for getting out of bed without having to move the entire bassinet.
Removable Storage Caddy
Just like the bassinet, you can also remove the storage caddy. This is great for storing diapers, wipes, formula, or even a pacifier, and you can bring it with you if you're in another room like the kitchen or the living room.
Conclusion
Overall, the Halo BassiNest Luxe Series is a worthy upgrade from the other Swivel Sweeper models and is an excellent purchase by itself. I hope that this Halo Luxe review has helped you decide amongst the many BassiNest reviews out there.
I'm a fan of the lowering sidewall for easy access and the soothing center that comes with a variety of sounds, vibrations, and lighting options. It also fits in great with the chaos of caring for a newborn by being easy to clean and letting you move the bassinet and storage caddy around the house.
This bassinet is a great choice for any parent who wants to keep their baby close at night, but I think it's the best one for mothers recovering from particularly difficult childbirth or a cesarean section.
HALO BassiNest
Swivels a full 360°
Netted breathable sidewalls
Removable bed
Lowering sidewalls for easy access
Heights adjustable from 22 to 34 inches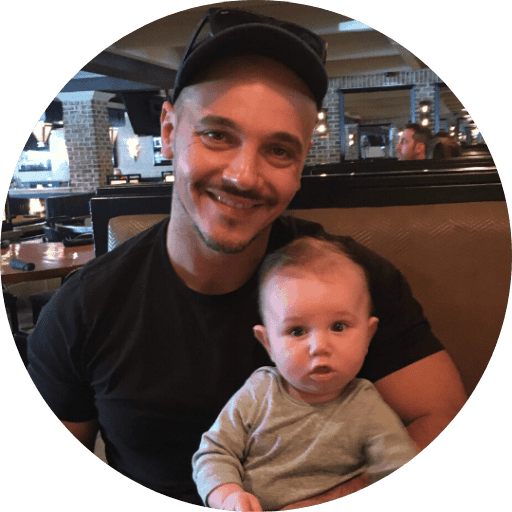 Paul is a passionate dad who founded Upside Dad to share his parenting journey with other new parents. He graduated from Concordia University and worked as a test engineer for over a decade. Paul loves dad jokes and craft beer.
Learn more about Paul and Upside Dad here.