Every parent wants to keep their newborn baby safe and close by during the most critical first few months of their little lives. Navigating the nights and establishing a routine can be extremely difficult and frustrating for new parents and sometimes even for experienced ones. Many parents choose the convenience of a bedside cosleeper crib for their little ones.
We've performed detailed reviews of the top co-sleepers to help make your decision a little easier. Check below to find out more about our cosleeper reviews and the best choices for parents like you.
The AAP (American Academy of Pediatrics) suggests that newborn babies should sleep in the same room as their parents for a minimum of 6 months, and even up to 12 months! This means that your baby will be spending a lot of time in your room.
Your solution? A bedside co-sleeper!
Bedside co-sleeper bassinets are not only compact to fit pretty much any room, but they also provide your baby with a cozy and safe space for their precious sleep during the most critical time of their lives. Time and time again, research has proven that the safest place for a newborn baby is in the parent's bedroom in a bassinet, and we know your baby's safety is your number one priority.
We reviewed the top cosleeper bassinets and summarized all the important information to help make your decision as easy as possible.
The best bedside cosleepers
Image
Product
Features
Price

Best Overall

Adjustable- 6 position height adjustment
Trusted by parents for over 20 years
Jpma certified

CLICK FOR PRICE

360 swivel to keep your newborn close
Patented lowering bedside wall
The bed can be removed from the base

CLICK FOR PRICE

Easy to attach or remove from parents bed
7 height positions
Easy-open side panel for bedside mode

CLICK FOR PRICE

360 swivel to keep your newborn close
Easy assembly
A convenient storage pocket

CLICK FOR PRICE

Safe and comfortable materials
Adjustable height and feet
With music box and detachable toy

CLICK FOR PRICE
---
The Baby Delight Beside Me Dreamer Bassinet and Bedside Sleeper is a sleek-looking cosleeper loaded with many functional features that are designed to make your life easier. It is easy to assemble and take down, making moving it around the house a breeze.
Other features of the Baby Delight co-sleeper bassinet include breathable sidewalls, adjustable height, and straps to attach it snugly to your bedside so there is no chance this bassinet will move even if you accidentally touch it in your sleep or bump it while getting up to go pee.
The Baby Delight co-sleeper is built on a light metal frame and has extendable feet for ultimate stability. It comes in a neutral grey color to match any decor.
Check out our full review of the baby delight beside me dreamer bassinet for more details.
Why we like it
Lowering side wall for easy access to your baby
Comes with straps that anchor to your bed
Breathable mesh walls
Folds down flat for transport
6-position height adjustable
Tool free assembly
Specifications of the Baby delight beside me dreamer bassinet
| | |
| --- | --- |
| Dimensions | 37″ H x 22.5″ W x 30.75″ L |
| Height adjustable | Yes, 6 positions |
| Child weight/age limits | 20 lbs or 5 months |
| Baby access from bed | Yes |
| Built-in Vibration and Sound | No |
Our Verdict
The Baby Delight bedside co sleeper bassinet has some premium features such as the collapsible sidewall and the attachment straps but it still comes in at a reasonable price. It offers parents the functionality and safety they seek and is perfect for everyday use.
The Halo Swivel Sleeper Luxe bassinet is a high-end co-sleeper that has been designed with everything you and your baby need. It features breathable sidewalls, a stable base, 360 degrees rotation and it has lowering side walls for quick and simple access to your baby from any position.
The Luxe Series of the Halo cosleeper bassinets is the best and most feature-rich bassinet you can get from Halo. It comes with a control panel that plays soothing sounds and vibrates the bassinet to help calm your baby.
This luxury bassinet is made from really good quality materials that are baby-friendly and soft to touch. The Luxe Plus model even comes with Halo's newborn insert that creates a cozy (and safe) cocoon for your little one.
The bed portion of the bassinet can be removed from the base and placed anywhere in the home so you can continue watching your baby as he sleeps as you go about your daily chores.
Why we like it
Tend to your baby from bed with the lowering side walls
Rotate the bassinet to any position (360 degrees)
Soothing vibration and sounds from the control panel
Height adjustable (24" to 34")
Removable bassinet
Newborn insert
Specifications of the Halo glide bassinest
| | |
| --- | --- |
| Dimensions | 33.5″ L x 22″ W x (24″ to 34″) H |
| Height adjustable | Yes (24″ to 34″) |
| Child weight/age limits | 20 lbs/5 months |
| Baby access from bed | Yes |
| Built-in Vibration and Sound | Yes |
Our Verdict
Like all Halo products, the Luxe Plus Bassinest Series is safe, practical, and offers peace of mind to new parents. You can easily carry the Halo Luxe Plus bassinet around the house with you as well as reach your baby from bed at night. This luxury cosleeper is perfect for usability and portability.
The Mika Micky bedside sleeper bassinet is a newcomer to the bedside co-sleeper crew but it still manages to be one of the top-selling bassinets on Amazon. It is simple yet effective. It comes with features that are designed to make a new parent's life a little easier. Coming loaded with options such as the foldable mesh walls, bedside attachment, storage pockets, and 7 position height adjustable it's sure to catch some eye from onlooking parents.
The Mika Micky is a solid bassinet that is above all things safe. The wide base, sturdy build, and breathability make it perfect for parents that are looking for peace of mind after putting the little one to sleep. We highly recommend this bassinet and thousands of parents who tried it agree.
See our Mika Micky bedside sleeper bassinet review here.
Why we like it
Anchors to your bedside for ultimate safety
Can also be used as a standalone bassinet
Side panels lower for easy access to your baby from bed
7 position height adjustable from 13" to 21"
Breathable mesh side walls on both sides
Built in wheels with brakes allow for easy movement from room to room
Long lasting; can be used up to 5 months or 33 lbs
Easy assembly, no tools required. (See our illustrated assembly instructions here)
Specifications of the Mika Micky co sleeper sleeper bassinet
| | |
| --- | --- |
| Dimensions | 36″ L x 22″ W x (13″ to 21″) H |
| Height adjustable | Yes (13″ to 21″) |
| Child weight/age limits | 33 lbs or 5 months |
| Baby access from bed | Yes |
| Built-in Vibration and Sound | No |
Our Verdict
If in doubt, go for the Mika Micky. The value offered by this co-sleeper bassinet is unbeatable. You get all of the features from a premium bassinet for the price of an entry-level one. The easy assembly and portability are just the cherry on top.
---
The Halo Bassinest Swivel Sleeper is a first-class co-sleeper bassinet that comes in at an affordable mid-level price point. This model stands as the middle range of the Halo series of bassinets but it actually delivers the most bang for your buck.
Features include the lowering mesh sidewall, adjustable height, 360o swivel, and the Soothing Center which comes with nightlight, 3 soothing sounds, 3 lullabies, and vibration; all with a 30-minute auto shut off.
Assembly of the Halo co-sleeper bassinet is easy and the wide base slides under your bed to allow for the bassinet to sit nice and close to you in bed. The mesh walls help you to see your baby no matter the angle as well as reach him without having to get up, allowing for an easier recovery from childbirth for mom and better rest for both parents.
Check out our Halo bassinet swivel sleeper bassinet review for more information.
Why we like it
Tend to your baby from bed with the lowering side walls
Swivel the bassinet in and out of the way
Soothing center with sounds, nightlight and vibration
Adjustable height
Large 4-point base tucks under the bed
Specifications of the Halo bassinest swivel co sleeper
| | |
| --- | --- |
| Dimensions | 33.5″ L x 22″ W x (22″ to 34″) H |
| Height adjustable | Yes |
| Child weight/age limits | 20 lbs |
| Baby access from bed | Yes |
| Built-in Vibration and Sound | Yes |
Our Verdict
The Halo Bassinet Swivel Sleeper Premier Series swivel function makes it extremely convenient for new parents looking to minimize get ups and stay close to their baby. The lowering mesh sidewalls allow for easy access to the baby and the ability to see him from any angle.
---
If you are looking for a lightweight, easy to carry, and large bassinet, look no more. This co-sleeper bassinet is perfect for room-sharing with your newborn. To begin with, it is extremely easy to assemble and disassemble. It is designed with very few parts that can be hooked or unhooked in seconds, literally.
What's more, the RONBEI bedside sleeper bassinet is made with the convenience of use for all scenarios. The feet are very low profile to slide under your bed and the legs can be adjusted to 9 different heights. This means you can adjust the bassinet to fit into a sofa or bed of any surface you desire.
Check out our RONBEI bedside sleeper bassinet review here.
Why we like it
Attachable to parents' bed for superior safety
9 different height adjustment options to fit any bed
Mesh side walls
Meets ASTM F2906 safety standards
Safe from newborn to 6 months
Micro angle option (~3 to 8 deg) inclination
The bassinet measures 32 x 15 inches
Specifications of the RONBEI co sleeper sleeper bassinet
| | |
| --- | --- |
| Dimensions | 32″ L x 15″ W x (18″ to 25.6″) H |
| Height adjustable | Yes (18″ to 25.6″) |
| Child weight/age limits | 19.8 lbs/6 months |
| Baby access from bed | Yes |
| Built-in Vibration and Sound | No |
Our Verdict
The RONBEI bedside co-sleeper bassinet does a great job overall. It's very close to being a premium bassinet but falls just short missing a sharper look and some of the bells and whistles you may find with a more expensive brand.
---
Best Co Sleeper Bassinet Buyers Guide
Your co-sleeper bassinet will be your baby's home for the first 3 to 5 months of their lives. They are designed for the safety of your newborn and to ensure they stay close to you all night long.
When you put your baby down in your co sleeper bassinet you are not only trusting that this small piece of furniture will keep your baby safe and sounds, but you are also looking for it to add convenience to your life. Babies have slept in bassinets (or similar basket type beds) for hundreds or even thousands of years in some cultures.
Today's bassinets are nothing like they were back in those day but the idea remains the same; bassinets provide a safe and cozy space for your newborn to sleep in. If you imagine putting a newborn in a full-size crib you can see how they may not like being in such a large, open space shortly after coming out of the womb.
The bassinet gives your baby the coziness they were used to in the womb yet still being a safe environment.
Recent studies have shown that not only is your baby safer in a bassinet but they also feel comforted by sleeping near mom and dad. The cherry on top is that mom and dad feel better having their baby by the bed side, so in the end, everyone wins with a bassinet.
Why use a bassinet?
By design, a co-sleeper bassinet is supposed to provide safety from dangers such as asphyxiation or having a baby turn over get stuck in an undesirable position. With a sleeping area much smaller than a crib, the bassinet houses a newborn is a much cozier space that also limits movement minimizing the risk for your baby to turn.
The convenience of this type of sleeping arrangement comes from the many new features found in bassinets where you can have full access to your baby without ever having to get up and leave the bed. Being able to reach your baby, whether it be for a calming touch or to scoop him out and feed from the comfort of your bed is the real game changer.
When searching for a co sleeper bassinet consider the usability, safety, setup, build quality, footprint as well as ease of cleaning it on a regular basis.
Everyday use
Here is something to think about before choosing your next bassinet; You will use your bassinet every single day, multiple times a day and night. The pressure is on! Imagine hating the one piece of equipment that you rely on to give your baby (and you) a good night's sleep, not a good idea.
I have no doubt that your baby will wake up at night in the first few months, in fact, I would bet that he will wake up many, many times per night. This means that you want to look for a bassinet that offers you the most comfort and convenience.
Being able to reach in from your bed and touch your baby can be life changing for both you and him. If he cries, your touch will many times be sufficient to calm him and send him right back to sleep. If that doesn't work, you can choose to pick him straight up from the bassinet from the comfort of your bed; a win-win-win situation. If this sounds like an important feature make sure to choose a bassinet that has this feature (i.e. the Halo Swivel or Baby Delight shown above)
For full convenience you can also go with a bassinet that does the soothing and rocking for you (i.e. the Snoo) but let's be honest; most of us can't afford that and we also enjoy bonding with our baby during those long nights
In the end, when looking for your bassinet, keep in mind that this one purchase will be your and your baby's best friend for the first few (long) months so don't skimp on what's important for you and how you envision your night routine going.
Safety
Ten out of ten parents will agree that safety is their number one concern when it comes to newborn babies. Newborns are so fragile and susceptible to external dangers that our top concern is to keep them safe. SIDS (Sudden Infant Death Syndrome) is no longer that common in the developed world but it is still a concern and parents need to be aware of it and make the right choices when deciding how to set their baby to sleep at night.
Today's bassinets are designed with your baby's safety in mind but it is still important that new parents take the time to examine the details of products they are buying, especially something as important as your baby's bed.
Look for a bassinet that is made of breathable materials. Things like Mesh walls, light cotton sheets, breathable mattresses are very important when deciding which one to choose. These features make it safe for your baby to continue sleeping and breathing even if somehow he ends up with his face against the side or facing down.
Another safety concern for parents is deciding when they should move their baby from the bassinet to the crib. Most bassinets have a weight limit of 20 to 25lbs but every single one warns that if your baby shows any sign of rolling over, it's time to move them out of the bassinet.
Set up and Assembly
Set up and assembly is not only important for the first time you set up your bassinet. Most parents end up moving the bassinet around the house in the first few months. Whether it's to nap your baby during the day somewhere you can see him or if it's to take it to grandma's house for a longer than usual visit, you may find yourself taking your bassinet down and setting it up more times than you think.
Most bassinets on our list are very easy to assemble but some take the win with tool-free assembly and fold flat functions (i.e. the Baby Delight). If you plan on being on the go or are not sure where you will end up some days (or even nights) make sure to choose a bassinet that supports that lifestyle.
Footprint
How does the bassinet fit your bedroom set up? Does it take a lot of space? Whose side will it be on? Will the feet/base be in the way when you walk by at night to go pee? These are all questions you should ask yourself to ensure the bassinet you choose goes with the flow of your bedroom.
Some of the bassinet options we suggest above have a base that is designed to slide under your bed which saves a lot of floor space. Other can even slide or swivel in and out above the parent's bed optimizing the space in the bedroom even more.
Cleaning
Keeping your baby's sleeping quarters clean is important. Babies are unpredictable and can sometimes spit up or even have a blowout while in bed! That's when dad or mom needs to step up to get the bassinet cleaned up and turned around quickly so baby can get back to bed.
Make sure the bassinet you choose comes with machine washable linen and mattress and can be easily wiped in case of an unexpected spill or another kind of accident.
Your bassinet will be the most important piece of nursery gear you will buy for your newborn. A newborn can sleep up to 14-16 hours per day so making the right choice for your bassinet can be the difference between lots of free time and lots of frustration.
Other Features
Nowadays you can get bassinets with some pretty advance features. They can even detect wake-ups and rock to put the baby back to sleep! All that is missing is a "feed" and "change diaper" function
So, with all the available technology, what's really needed and useful for parents?
Vibration
Many models now come with a console that can vibrate to calm your baby. The vibration can be a lifesaver for some parents but it can also not work at all (as was the case for my son). One additional feature that some models come with is an auto shut off function so your battery doesn't get fully drained in one use.
Soothing Sounds
I am a firm believer in white noise as a form of soothing for my babies but I do not necessarily believe it needs to be attached to your bedside bassinet. You can use any sound machine or white noise machine in your room to help soother your baby. The only advantage of having it built into the bassinet is that if it is potentially bothersome for you or your partner, you should be able to keep the volume pretty low and your baby will still hear it.
If your bassinet doesn't come with one, I strongly suggest you still get a white noise machine as it can be what helps keep your baby sleeping for longer at night.
Night light
A built-in night light on the bassinet can be a very useful feature. If you need to see inside the bassinet in a dark room, or just do a quick check-in, the nightlights are usually very soft and nonintrusive. Or you can use your cell phone flashlight function but that can be a bit harsh for your sleeping or waking baby.
Rocking
Rocking a baby to sleep is one of those old-time tricks that are still used today. Babies like movement and they love rocking, so why not let the bassinet do the work?
There are two types of rocking bassinets:
Free rocking in which the bassinet is free to move either from external input (from the parents) or from the baby's movements themselves. These are usually very simple designs in which the bassinet is free to sway
Automated rocking where the bassinet is motorized and can rock itself. This is a very advanced feature and comes at a premium price.
Free or automated rocking can help put your baby down and keep them asleep.
Conclusion
These days the choices of bassinets and added features are endless, and that can mean making a choice of the best bassinet for you is almost impossible. With all the choices available, a new parent should always keep in mind the most important aspects to consider:
Safety: Stick with brands that you trust and that are safety certified
Size/footprint: Make sure the bassinet you chose will fit your room set-up
Height (Fixed or Adjustable): Select a bassinet that allows for easy access in any condition. Height adjustable options can allow for easy access from bed or standing position
Extras: Vibration, soothing sounds and nightlight options can be very helpful additions to the traditional bassinet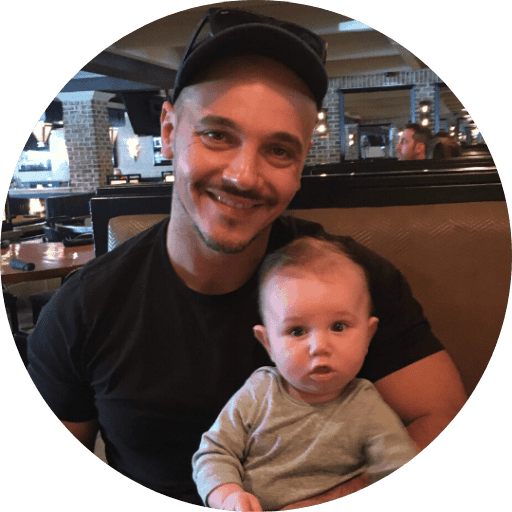 Paul is a passionate dad who founded Upside Dad to share his parenting journey with other new parents. He graduated from Concordia University and worked as a test engineer for over a decade. Paul loves dad jokes and craft beer.
Learn more about Paul and Upside Dad here.