According to the American Academy of Pediatrics, parents are advised to room-share with their newborn baby for at least the first 6 months and up to 12 months of age.
So, what's the best way to do this? In a co sleeper bassinet!
RONBEI Bedside Sleeper Bassinet
---
The sleeping options available today are limitless. You can have your baby sleep in a crib, pack n play, mini-crib, portable crib, cradle or many other trendy options. Each of these has their own pros and cons but the cosleeper comes out on top for more than a few reasons.
But, most experienced parents will agree with me that the best and safest place for a newborn to sleep in is a bassinet. Bassinets are snug and comfy. They are also extremely safe and easy to move around. Co-sleeper bassinets bring the safety of the bassinet to your bedside with full access to your baby – what more could you ask for?
In this review, we'll take a closer look at a very convenient, affordable, and practical baby bassinet: the RONBEI bedside sleeper and baby bassinet.
Still searching for other options? Check out our other cosleeper reviews and comparisons of the top bassinets.
Back to the RONBEI. If you are looking for a lightweight, easy to carry, and large bassinet, look no more. This co-sleeper bassinet is perfect for you.
To begin with, the RONBEI cosleeper is extremely easy to assemble and disassemble. It is designed with very few parts that can be hooked or unhooked in seconds, literally.
Additionally, as a new parent you will soon find out that dealing with a newborn will involve many messy affairs including but not limited to: drooling, spit up, leaky diapers, and even the dreaded blowout from time to time.
Fortunately, the RONBEI baby bassinet's mattress cover and side fabric are easily removable and also machine washable.
Did you have a messy ordeal from an unexpected spit-up? Worry not! Just remove the sheets and mattress cover and toss them into the washer. If you don't have an extra set of sheets, you need to get some.
Check out these amazing sheets we suggest for the Ronbei Bedside sleeper baby crib:
What's more, this bedside co-sleeper is made with the convenience of use for all scenarios. The feet are very low profile to slide under your bed and the legs can be adjusted to 9 different heights. This means you can adjust the bassinet to fit into a sofa or bed of any surface you desire.
Features/Specs Table
| | |
| --- | --- |
| Bed Dimensions | 32 x 15 inches |
| Height (floor to bottom of bassinet) | 18 to 25.6 inches |
| Weight | 24.3 lbs. |
| Materials | Breathable mesh, high quality microfiber |
| Attaches to bed | Yes |
| Weight/Age Limit | 6 months/19.8 lbs. |
Key Features
Attachable to parents' bed for superior safety.
There are 9 height adjustment options to fit any bed.
Side panels are made from breathable mesh for adequate air circulation.
Easily removable sheets and side fabric that can be machine washed.
Easy and quick assembly and disassembly.
Safe and comfy, top-quality microfiber.
Fits newborn to 6 months up to a weight of 19.8lbs.
Can be used as a standalone bassinet.
Measures 26 x 32 x 15 inches and can fit fairly large babies.
Extremely stable and doesn't wobble.
Pros
Cons
Who Is It Suitable For?
How will my baby sleep? Where will my baby sleep? I've always wanted to co-sleep with my baby but I know sharing the same sleeping surface with a newborn is not safe…
Are the above questions and thoughts running in your mind?
Worry not!
The RONBEI baby bedside cosleeper is perfect for parents who want to co-sleep without sharing the same sleeping surface. It is made with top-quality microfiber that is gentle and soft to your baby's skin. On top of that, it meets all the ASTM F2906 safety guidelines.
You see, the first few days or weeks (or months) after bringing your baby home are often extremely challenging. The baby wakes up a zillion times each night to feed. Plus, you may need to change multiple diapers in the middle of the night as well.
The RONBEI baby bassinet will help take the edge off and make some of these a little easier.
It has mesh sides that can either be zipped up so it can be used as normal stand-alone bassinet or opened on one side and attached to your bed to be used as a co-sleeper.
What's more, the RONBEI bassinet has adjustable legs that can be adjusted to 9 different heights.
Having this co sleeper makes it easier for you to nurse or soothe the baby at night. And, the number of times you'll need to get up at night to pick up your crying baby is reduced drastically. You can comfort him back to sleep from the comfort of your bed.
On top of that, you'll enjoy better and longer sleep. Having your baby closer to you has shown to be extremely helpful in keeping him calm and sleeping longer.
Why We Like It
The RONBEI co sleeper is one of a kind. It is extremely easy to assemble and disassemble – and it's very well priced!
Additionally, the RONBEI bassinet can be inclined at a slight angle. This promotes better sleep especially when your baby has reflux, colic, or occasional nasal congestion.
The RONBEI bedside sleeper baby crib is also CPSC certified and conforms to ASTMF2906 safety standards.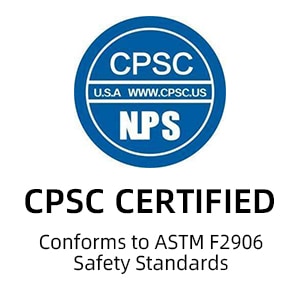 Another feature that makes this co-sleeper bassinet stand out is that you can lock down the side down when using it as a co-sleeper.
That's not all. The side fabric, bassinet sheets, and mattress cover can be removed easily for cleaning.
Clearly, there's no doubt that this is a feature-packed bassinet that is worth every penny.
For more information on bassinets, check out our buyers guide to the best bedside bassinets.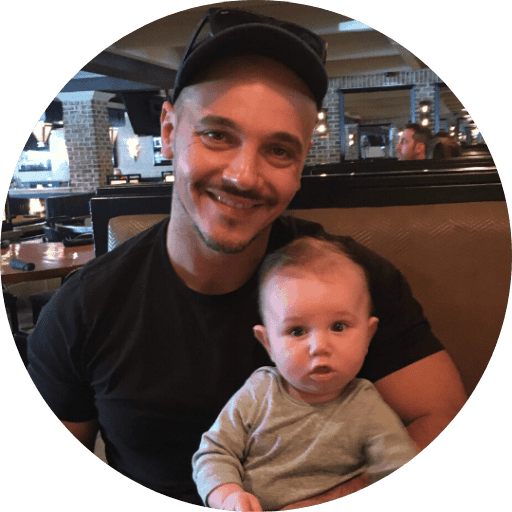 Paul is a passionate dad who founded Upside Dad to share his parenting journey with other new parents. He graduated from Concordia University and worked as a test engineer for over a decade. Paul loves dad jokes and craft beer.
Learn more about Paul and Upside Dad here.