A co-sleeper bassinet is a bassinet that is put right next to your bed allowing for your baby to be at arm's reach while you are in bed. It has a side panel or wall that can be lowered for direct access to your baby. It's a bedside crib that gives you a safe way to keep your baby close at night.
Some bedside sleepers simply stand right next to the parents' bed while others use safety straps or other means to secure the bassinet to the parents' bed. This safety feature is important because it keeps the bassinet in place even if you happen to roll over and push it by accident in the night..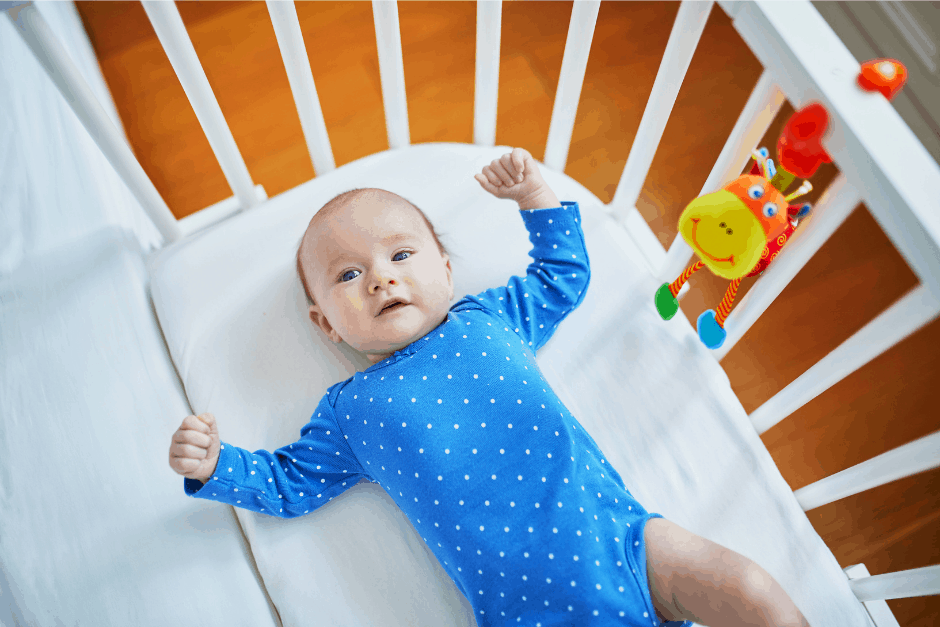 Are bedside co-sleepers safe?
The American Academy of Pediatrics (AAP) recommends that babies be put to sleep in a crib, bassinet or play yard that conforms to the safety standards of the Consumer Product Safety Commission (CPSC).
As for bedside sleepers attached to the side of the parents' bed, the AAP says there is little research on the safety of such products, but the CPSC has established safety standards for bedside bassinet.
According to the AAP, parents can use co-sleeper bassinets for their babies to sleep in as long as the co-sleeper adheres to the CPSC safety standards.
With this in mind, it's perfectly safe for your baby to sleep in a co-sleeper bassinet. Just make sure the product you choose complies with the CPSC standards.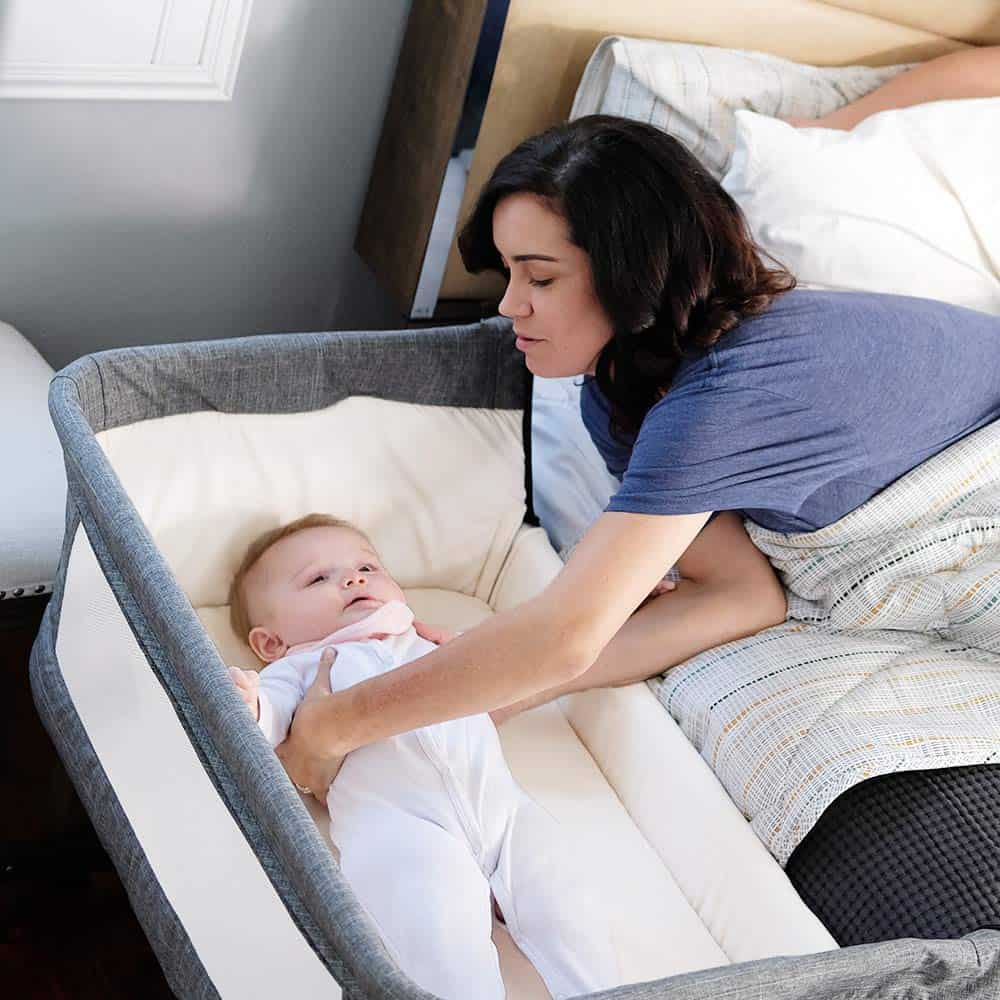 Safe sleep guidelines
The safe sleep guidelines from the AAP should guide the basis for any safe sleep with infants. If you have any doubt about safe sleep, always check back with the AAP or CDC for the latest research and up to date guidelines.
When it comes to bedside cribs and co-sleeper bassinets that attach to your bed, the first thing to do is make sure to follow all instructions per the manual. Ensure the co-sleeper bassinet is correctly and securely attached to your bed and that the sleeping area is clear of any materials or potential gaps. The bedside crib must be attached in such a way that there is a maximum gap of half-inch between your bed and the baby's bedside sleeper.
Every time you use the bedside sleeper, make sure the bassinet has not moved and that that gap is still the same.
As with all ordinary bassinets and cribs, make sure that there are no loose blankets or soft toys in the co-sleeper bassinet. Also, make sure that blankets and sheets from your bed don't spill over onto your baby's bed.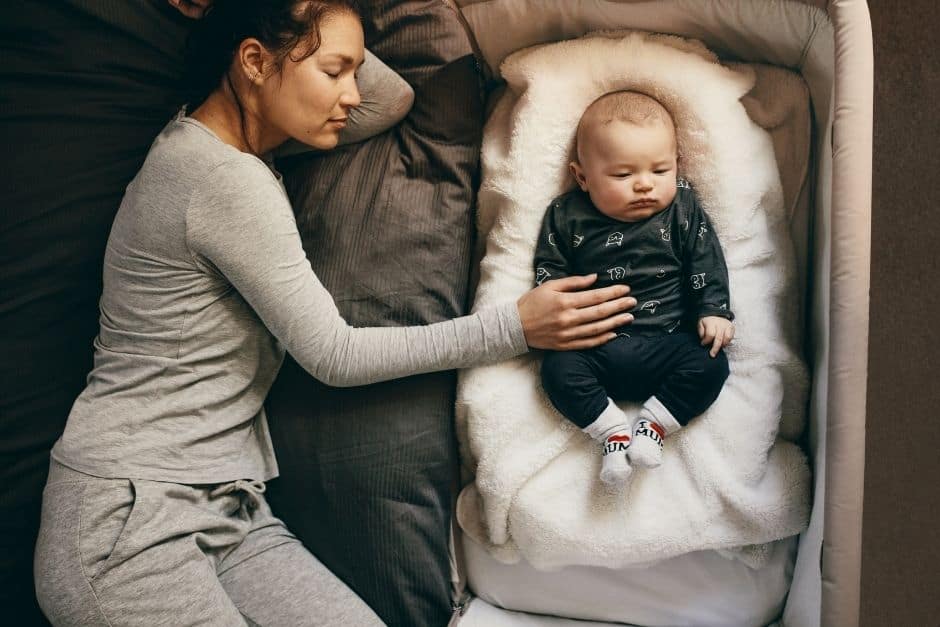 Who are bedside bassinets for?
Bedside bassinets are used for the exact same reason as ordinary bassinets. They are used by parents of newborn babies who want their babies to sleep near them during the first few months of the baby's life without the dangers of bed-sharing.
Co-sleeper bassinets are designed to be used from the first day of life until your baby reaches the bassinet weight limit – that is usually around 25 pounds, depending on the model. Also, once you notice that your baby is strong enough to push himself up on his forearms, roll over on his own or get to a sitting position alone, he has outgrown his bedside bassinet and can no longer safely sleep in it.
These milestones happen at different times for different babies. For some, it's as early as three months, for others it only happens around six months. So watch your baby carefully to know when to move him out of his bassinet.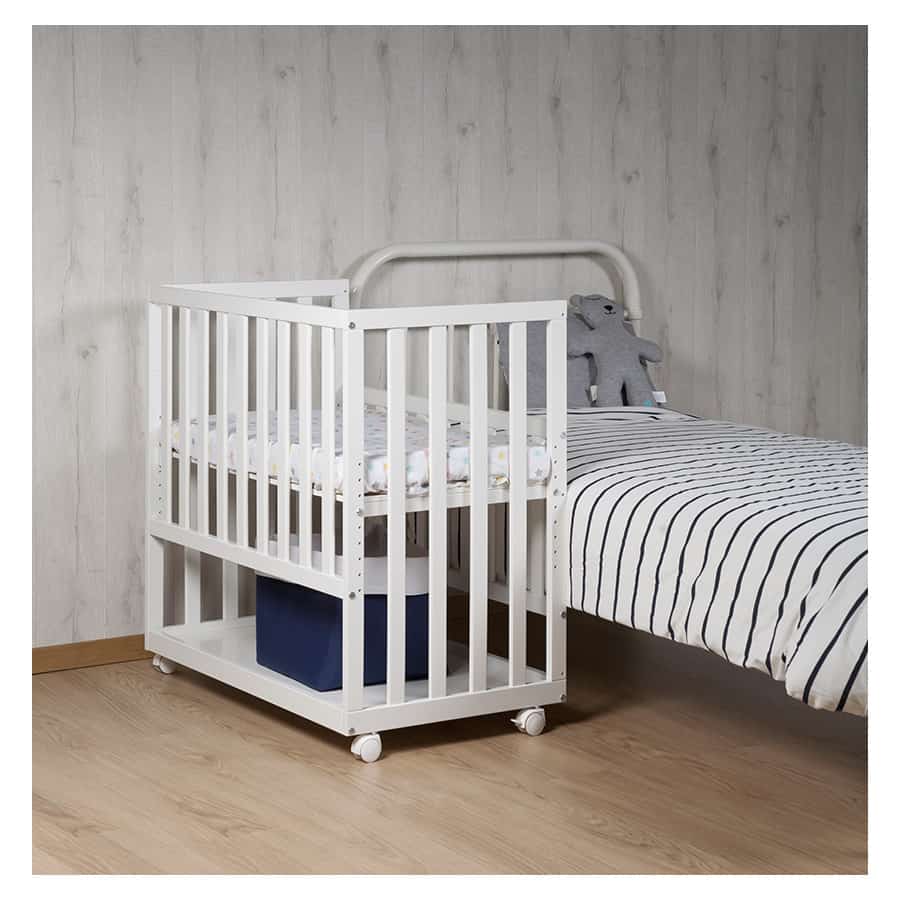 Benefits of bedside co-sleepers
The AAP recommends that infants sleep in the same room as their parents for the first six months. A bedside bassinet facilitates that recommendation, allowing your baby to sleep next to you without sleeping with you in your bed. It's the best of two worlds.
With a co-sleeper bassinet, your baby has his own sleep space, which is recommended by the AAP for safe sleeping. If your baby sleeps with you in your bed, there is a risk of suffocation either by you or the bedding.
The fact that your baby is right there with you also means you don't have to get up for that midnight feed – a bedside crib gives you easy access to your baby at any time.
If your baby is a bit restless in those first few months, you won't need to get up to check in on him every time he starts crying. Being able to pull down the sleeper's side and have your baby within arm's reach is a great convenience, especially in the early mornings of those first few months.
Bedside sleepers are also a good choice for a mother who gave birth via a C-section and may find it difficult to move around in those first days after the birth. Especially bending over a crib can be difficult after a C-section.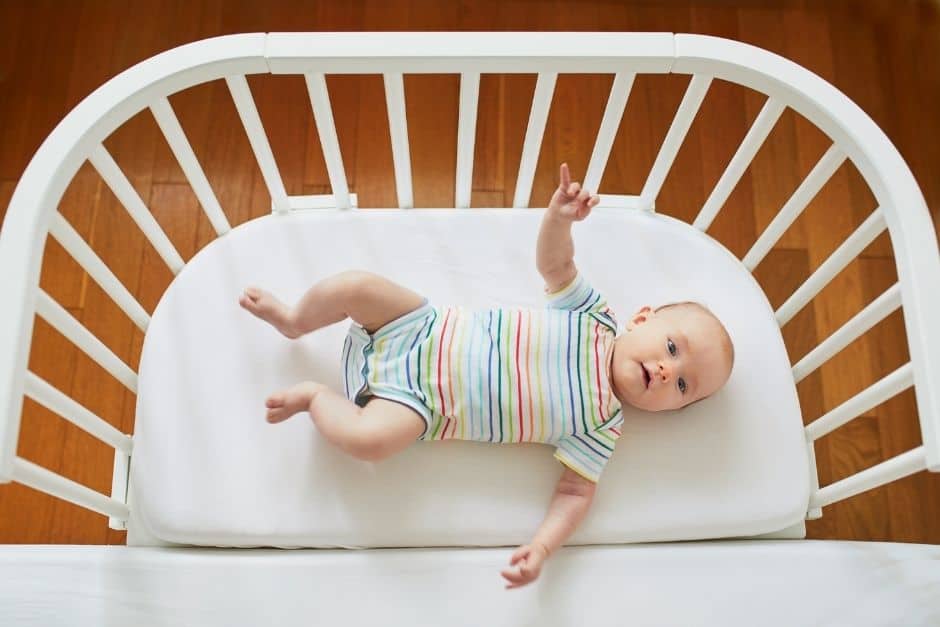 Choosing a co-sleeper bassinet
When choosing a bedside bassinet, make sure it has a firm surface for your baby to sleep on. The mattress should fit snugly inside and the sides of the bassinet should be made from mesh or other material that is breathable.
Make sure the frame is sturdy and locks in place safely. Make sure the co-sleeper bassinet can attach securely to your bed.
Above all, ensure that the model you choose is certified by an authority such as the CPSC.
When it comes to the bassinet itself it will come down to the features, size and style.I personally love the larger model that allows your baby to grow into the bassinet for many months but if you are short on bedroom space you may want to choose a smaller model.
Check out our extensive list of bassinets where we compare sizes, weight limits and more.
What I love about co-sleeper bassinets
Co-sleeper bassinets are the optimal sleeping arrangement for parents and their baby. You are all together in one room, but you are not sleeping in the same bed.
It's convenient for those middle-of-the-night and early-morning feeds in the first few months.
You have direct access to your baby any time during the night. There isn't a better sleeping arrangement for parents with a newborn baby.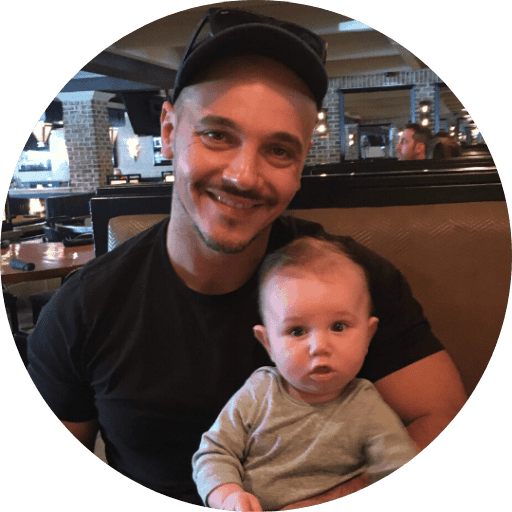 Paul is a passionate dad who founded Upside Dad to share his parenting journey with other new parents. He graduated from Concordia University and worked as a test engineer for over a decade. Paul loves dad jokes and craft beer.
Learn more about Paul and Upside Dad here.