If you are in the market for a bedside co-sleeper bassinet you have likely already heard or looked at the Baby Delight Beside Me Dreamer Bassinet and Bedside Sleeper, and if you haven't yet you really should!
Baby Delight Beside Me Dreamer Bassinet & Bedside Sleeper
Anchors to the side of your bed
6-position height adjustment
Side panel drops for easy access to your baby
Mesh side walls for added safety
Folds flat and sets up in seconds
Tool-free assembly
---
This bassinet is always one of the top contenders and consistently makes the Top 5 or 10 best bassinet lists for a good reason. In this Baby Delight beside me dreamer bassinet review I will share my experiences with this cosleeper bassinet and how I liked using it with my newborn son.
For comparison against other comparable products, check out our detailed review of the top cosleeper bassinets.
The Baby Delight Bassinet currently sits as the #1 best selling bassinet on Amazon and has extraordinary reviews from its customers.
There are obviously some things I don't love about it and I will get to that later; so first let's take a look at some of the features and specifications.
Key Features
It is lightweight and easy to move around the house or take on the go
The attached straps safely secure the Bedside Sleeper to your bed, ensuring it doesn't move during the night
The 6-position height adjustment allows you to adapt the sleeper height to almost any adult bed
The side panel opens for easy access to your baby
Comes with a waterproof fitted sheet and a fiber-fill mattress
It gently glides from side to side to soothe your little one
The feet extend and slide under your bed to allow for a wide, stable base and a snug fit for any size room
Easy, tool free assembly
Additional storage pocket for keeping the important items close by
Specifications
| | |
| --- | --- |
| Dimensions | 37″ x 22.5″ x 30.75″ |
| Weight | 19 lbs |
| Materials | Mesh sidewalls, fiber-fill mattress, aluminum frame |
| Max Allowed | 20 lbs |
Pros & Cons
Pros
Anchors to your bed for a secure fit
Collapsible; easily folds down for transport and can be set up in seconds
The extendable feet slide under the bed for stable and snug fit
Breathable mesh side walls for ultimate safety
Tool free assembly
Side panel opens for easy access to baby from bed, in sleeper mode
Cons
May be slightly short for very high beds
Who is it for?
The Baby Delight Beside Me Dreamer Bassinet and Bedside Sleeper was designed with functionality in mind. From moms' that have to deal with recovering from a C-section to dads that just want to calm their baby without having to leave the bed, this bassinet can fit many different needs.
Its main distinguishing features are that it is height adjustable, attaches to your bed, and has a removable section of the sidewall allowing full access to your baby with complete confidence that your baby is safe in his own cocoon.
If you worry about how you will tend to your newborn during the night without having to bed-share, this bassinet is for you.
Why I Like It
Not only is this bassinet a sturdy piece of equipment that is a perfect permanent fixture in your bedroom, but it also folds down flat in a heartbeat allowing for easy transport anywhere in the house or on the go.
Everyday Use
This baby bedside bassinet is ideal to use in your bedroom or anywhere else in your home if you choose to do so. It is light enough so you can move the bassinet from room to room with ease.
One of the nice plusses of the Baby Delight bassinet is that you do not need any tools when assembling it and taking it apart. All pieces attach together seamlessly and quickly.
The bassinet folds entirely flat for travel making it perfect to use on the go ensuring your baby feels at home regardless of where you guys end up for the night or even for a quick nap at grandma's.
Safety
This amazing bassinet is made of premium materials that feel great to the touch and guarantee the utmost safety for your precious newborn baby.
The side walls are made of breathable mesh which allows for your baby to easily breathe even if they end up facing the bassinet walls for any reason. The mattress is also breathable and soft for added safety and comfort.
The adjustable feet allow for a very wide base that ensures the bassinet is stable in any condition. Additionally, the bassinet is also height adjustable which allows for parents to set it just perfectly for easy and safe access from their bed.
Setup and Assembly
Setup and assembly are a breeze with this smart design.
To assemble it, simply follow these 5 easy steps:
Extend the legs to the upright position
Attach the middle frame
Attach the side rail
Secure the cover to the frame
Flip it and insert the mattress.
It takes mere seconds to get it from fully folded to fully assembled. Check you the video below:
Quality
You would think that a bassinet that folds flat and is easy to transport may be made of cheaper materials and wobble, but that is not the case here. Even though the Baby Delight bedside sleeper can be easily transported and folds down in seconds, it still has the characteristics and feels of a premium bassinet making it perfect for everyday use in your bedroom.
The extendable metal feet allow for a very sturdy feel and they lock in place making this one of the most solid foldable bassinets out there today.
The breathable side mesh feels smooth to the touch and not rough like some other cheaper models.
The mattress is on the harder side which could be seen as a positive or negative. Positive because of safety. Having a newborn sleeping on a surface that is too soft is never the best choice since if somehow your baby ends up on his tummy, you want to minimize any chance of asphyxiation and a "hard" mattress is a great option. If you find it a bit too hard you can always get a thicker mattress cover to add some comfort.
Footprint
The bassinet itself is a medium-large bassinet which allows for your baby to grow well into the infant months. What I found was that the actual floor space taken by this unit is not significant at all.
Since the extendable feet slide under your bed and the bassinet attaches nice and tight to the side of your mattress, you can be sure that it won't feel like it's taking too much living space from your bedroom.
Cleaning
The covers and sheets are both removable and washable making cleaning after a spit up a breeze. The mesh sidewalls wipe down in seconds and are super easy to clean.
Please ensure that you follow the washing instructions carefully. Some customers claim that if you wash the sheets at the wrong temperature, the foam insert can in fact start to fall apart over time.
This product is safe to place in your washing machine which is going to save you a lot of time.
About Baby Delight
Baby delight has over 30 years of experience in the baby industry and they are constantly trying to expand their range and better their products for baby safety and parent comfort and peace of mind. They design slick looking and functional lines of baby products that have safety and functionality in mind.
All Baby Delight products come with a standard industry warranty, and the bedside bassinet is no exception.
In 2001 Baby delight created and introduced the Snuggle Nest. It was a safe way to co-sleep with your baby and now they have many other quality products in the baby industry. They are constantly trying to upgrade their designs as well as their products to ensure that your baby is as safe as possible.
Baby Delight now also sells extra bedding so that you can have more than one set if you ever need it.
Final Verdict
The Baby Delight Beside Me Dreamer Bassinet & Bedside Sleeper is a wonderful choice for any parent looking to sleep close to their newborn but not bed-share. Having your baby in arm's reach but safely in their own bassinet can be a game changer for parents that worry about SIDS and don't want to bed-share with a newborn.
The collapsible sidewall makes it a breeze to reach in and pick up your baby directly from your bed and can really improve the life of a mom who just had a c-section, or anyone trying to remain in bed and care for their baby.
Life with a newborn can be tough enough, if you are trying to minimize some of the discomforts, keep your baby close, and cut down on getting up from bed every time they cry, this product can do that.
Additionally, if you need to go somewhere for a long time or even stay overnight, the convenience of having your bassinet fold down flat and fit easily in any car can be a huge bonus. You don't need to worry about being on the go with your newborn if you have this kind of functionality. Simply set it up anywhere and have your baby nap or sleep as if you were home.
The combination of quality, safety, and functionality is what makes this bassinet a great choice and it is why it is consistently the top 3 most sold bassinets on Amazon month after month.
Baby Delight Beside Me Dreamer Bassinet & Bedside Sleeper
Anchors to the side of your bed
6-position height adjustment
Side panel drops for easy access to your baby
Mesh side walls for added safety
Folds flat and sets up in seconds
Tool-free assembly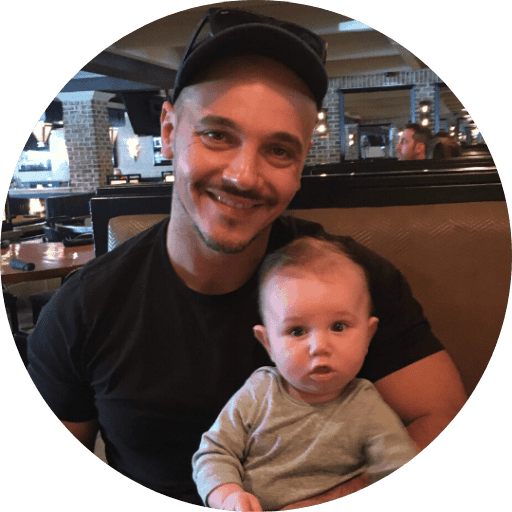 Paul is a passionate dad who founded Upside Dad to share his parenting journey with other new parents. He graduated from Concordia University and worked as a test engineer for over a decade. Paul loves dad jokes and craft beer.
Learn more about Paul and Upside Dad here.