Having the perfect bassinet is something a lot of parents want for their new baby. There is a vast selection out there, from fancy to practical. It all depends on the needs you're trying to cover and the look you'd like to establish. I was given a bassinet from the 80s that my mom used for me, and though it was beautiful and nostalgic, it was somewhat fragile and not what I needed.
You will only use the bassinet for a short time, so you might as well pick something you like and, if possible, something that will make your life easier! This may even be something you keep, stored away in your attic for your next bundle of joy, or maybe even pass it down to your child one day.
When I was just about to have my son, I spent way too much time reviewing everything he would need. I recall it taking me forever to read through all the descriptions and reviews on bassinets. I was overwhelmed and just wanted someone to tell me which was the very best. That's exactly what I am going to do for you! Here's my criteria for selecting the best target bassinet models.
Criteria I Stick to When Making Recommendations
I look for the highest-rated bassinets found at Target.
I check the safety ratings and avoid any bassinets that have been recalled.
I choose the most comfortable bassinets for your little one.
I try to include a wide variety of types of bassinets.
I include a range of pricing to meet everyone's budget.
I like to include bassinets that offer extras.
I try to find bassinets that allow you to customize the color or accessories included.
I look for the absolute top-rated bassinets from everywhere and apply that to selecting Target bassinets.
I like including unique bassinets that offer something a little more.
I include bassinets that are easy to unpackage and use.
I have listed some bassinets that are excellent for traveling.
Bottom Line on Bassinets
The winner, hands-down, is the Delta Children Serta iComfort Hands-Free Auto-Glide Bedside Bassinet! It has excellent reviews and comes with the crucial bells and whistles most parents want. Serta is a major sleep brand for all ages, and the memory foam mattress in this bassinet is undoubtedly much better than the hard, cardboard mattress you get with most bassinets. I didn't even find a single negative review which is pretty crazy.
Please do not ever use a bassinet of any kind if:
Your baby is twenty-five pounds or more
Your baby can sit up on her own
Your baby can pull himself up
If you intend to put your baby in a bassinet without supervision
If you will be walking in/out of the room to do chores and leaving pets in the same room as your baby unsupervised
Is your baby having trouble sleeping in a bassinet? Here's why.
The Very Best Target Bassinets
This bassinet truly is from the future! It comes with a price tag that will make you gasp, but if you can afford it, you will want to do so. It is a bassinet with a moving mattress, like a Las Vegas bed but in a soothing lullaby way. This is almost too fancy and high-tech for a bassinet that will only last until your sweet little one weighs twenty-five pounds or can push themselves up. It even has a built-in fussy baby calmer. We are well on our way to having robot nannies.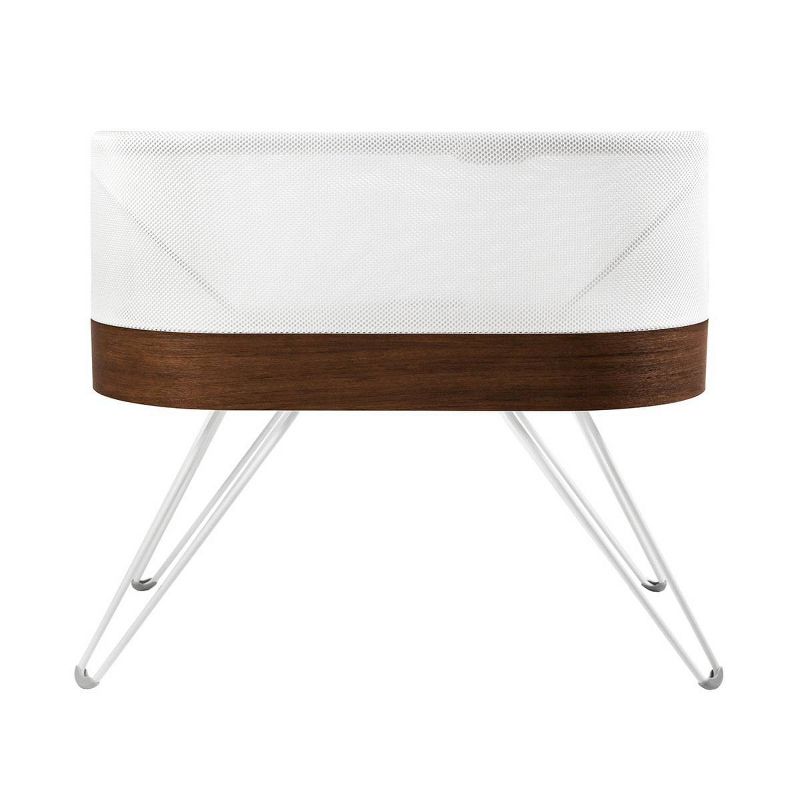 Pros:
A swanky woodgrain finish gives this bassinet an upscale look.
If your little one wakes up in the night crying, this bassinet will jump to action and soothe the baby back to sleep using its motion and sound technology. It claims to put your fussy baby back to sleep in one minute.
The bassinet's motor is very quiet.
The bassinet comes with a Snoo sleeper, three organic cotton white Snoo Sacks, and a flat organic sheet.
Daily sleep report and tips.
Teaches baby to self-soothe without using the cry-it-out method.
Cons:
This is the most expensive bassinet I have found.
Why are the Snoo Sacks white? It is a bad idea in my experience.
If the power goes out or you find yourself without electricity, this could be a problem.
It is helpful with calming an upset baby, but mama will always do that best.
If this bassinet has an electronic issue outside the one-year warranty, you are out of luck, and the company is said not to be able to tell you how to fix it.
At that price, I would like to see some color options.
It states that it teaches your baby to self-soothe. I think self-soothing should never be tried with a newborn or infant.
Read Also: How to Find the Best Smart Bassinets.
This is a futuristic Jetson-type bassinet. It has all the bells and whistles you could ever want. The bassinet has a very hefty price tag, but sometimes Target offers specials and deals on baby products. Either way, remember that this bassinet will only be used briefly. When your little muffin can sit up, pull themselves up, or weighs twenty-five pounds, it's time to retire the bassinet. If money isn't an issue, this is the one you want.
Pros:
Using Bluetooth, you can control this fantastic futuristic machine through the 4moms app.
The mattress is water resistant and comes with a fitted sheet.
The bassinet's bed offers a firm, flat surface for your baby to lay on safely.
Five types of rocking movements help your little one fall asleep; waves, car ride, rock-a-bye, kangaroo, and tree swing.
Timers for bedtime and four white noise options for sleep; ocean, fan, shh, and rain
The bassinet comes with bottom storage.
Choose between a simple and elegant black or white bassinet.
Two choices for adjustable height.
This bassinet comes with a two-year warranty.
Cons:
The price tag may look brutal, but in reality, it falls in the middle.
It only comes in black or white, which could look off in your nursery or bedroom.
This is 100% automatic—no option to foot rock the bassinet yourself.
If your power goes off, this is basically a box without any sound or rocking features.
It automatically stops playing music and rocking at four hours. This will wake some babies!
Reviews state glitches with electronics and the company not assisting as much as they would like.
Sustainability is not exactly a highlight here. In other words, you won't be passing it down to your children, but you will still leave that nonrenewable footprint.
This bassinet does not have wheels.
Interesting Read: How to Find the Best Bassinets with Wheels.
If you have twins, this will appeal to you. Having one newborn can be tricky, but add a duplicate copy to the mix, and you might find yourself overwhelmed. This is a nice bassinet with all of the extras. It has flexible sides to make it easy for you to pick your babies up while in bed. The mesh sides allow your babies to see you and each other, which will help comfort them at night.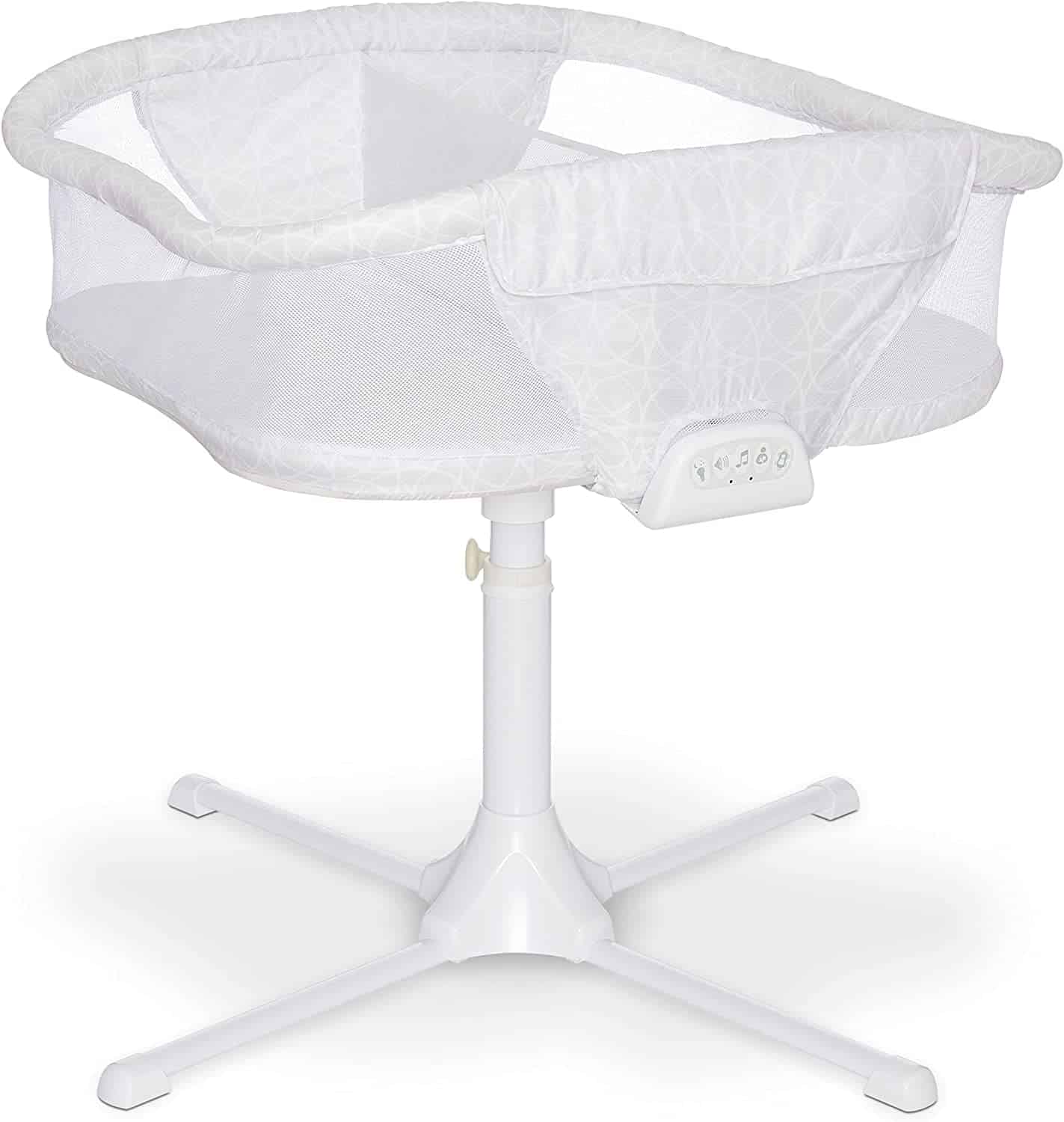 Pros:
A swivel bassinet makes it easier to pick your babies up while sitting down or in bed.
Includes soft bendable sides for easily picking up your little ones.
Three calming, soothing sounds, two vibration settings, and three lullabies help your babies fall asleep and stay asleep.
This bassinet comes with a nightlight and nursing times feature.
Reduces the risks babies face when bed-sharing.
Cons:
The mattress is hard, and there isn't an upgrade that fits.
This bassinet does not come with any type of newborn insert.
Sides of the mattress angle down a bit which positions babies to roll into the mesh side if they are fussing.
There is no way to lock the swivel; it can become off-balance if your babies weigh different amounts.
This will be tough if you have a small bedroom because the footprint is relatively large.
The bassinet is only suitable for babies up to twenty pounds.
This is an excellent choice if you are a fan of the tried and true old-school bassinets. It's cute and elegant looking. Unfortunately, it does not have any electronic capabilities but do not worry; your incredible parenting skills will come in handy to rock your sweet baby to sleep. This is an attractive bassinet made of engineered wood.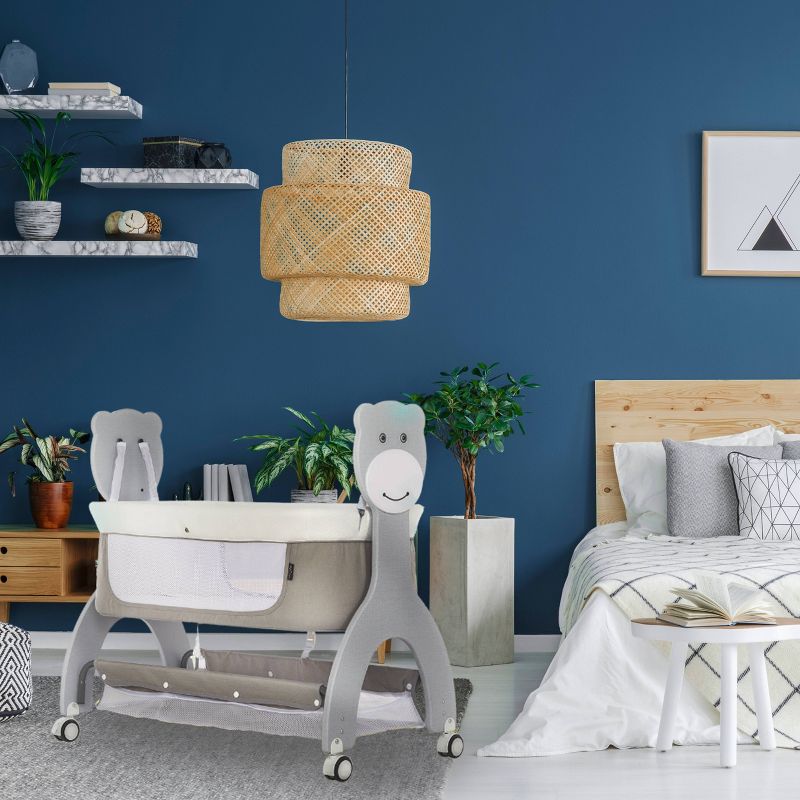 Pros
This bassinet is very sweet and simple looking.
This bassinet does not take over parenting responsibilities like soothing your baby.
You and your little one will improve your bonding with this manual rocking bassinet. Get ready to do some singing!
The canopy top gives the bassinet a dreamy, nostalgic appearance.
Since this bassinet doesn't have time-sensitive electronics, so will not expire over time! You can store it away for baby number two or even pass it down to your children one day.
Cons
I am not sure that canopy does anything other than looking cute unless you're outside and trying to prevent bugs from entering the bassinet.
I'm not a big fan of engineered or manufactured wood. They tend not to be as sturdy as natural wood or metal.
The critter's eyes are black bolts which are a little creepy.
That critter doesn't have a nose, either.
This is a classic bassinet made from plastic painted to look like wood. It is easy to set up or pack up, making it perfect for travel. All the materials on the bassinet's bed can be removed and tossed into the washing machine. The most significant selling point for this bassinet is its simplicity and ability to allow rocking or be stationary.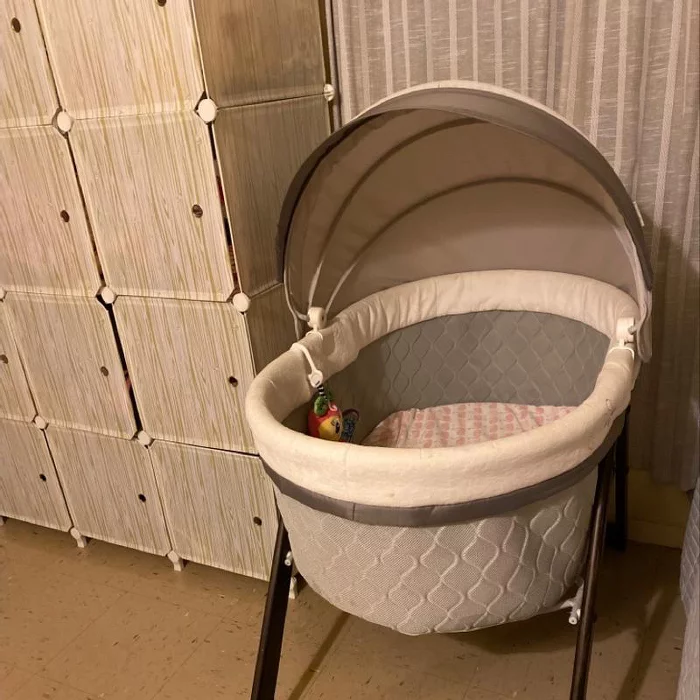 Pros
This bassinet offers a beautiful and elegant-looking design.
If you want, you can store it away for when your children become parents.
I love that it is a classic, no-frills rocker bassinet.
The bassinet is not electronic, so you won't have to worry about it becoming obsolete or needing to be recharged.
Cons
If you want extras, this isn't the bassinet for you.
In the case of tech parents, this is not an electronic rocker, so you will be manually rocking your baby to sleep.
There is not any natural wood on this thing. It is plastic painted to look like wood.
This is potentially not a smooth rocker, although many reviews of this product are excellent.
This may not look that impressive at first glance, but I can assure you it has what babies like; those two birds and simple coloring. My little man had a little swinging monkey the same size as those doves, and it kept him entertained for hours and many months. I had to cut the monkey off the bassinet when it was time to move on to a toddler bed so my little guy could keep him. Also, the bassinet is lovely, affordable, and has a storage pocket for extra pacifiers or wipes.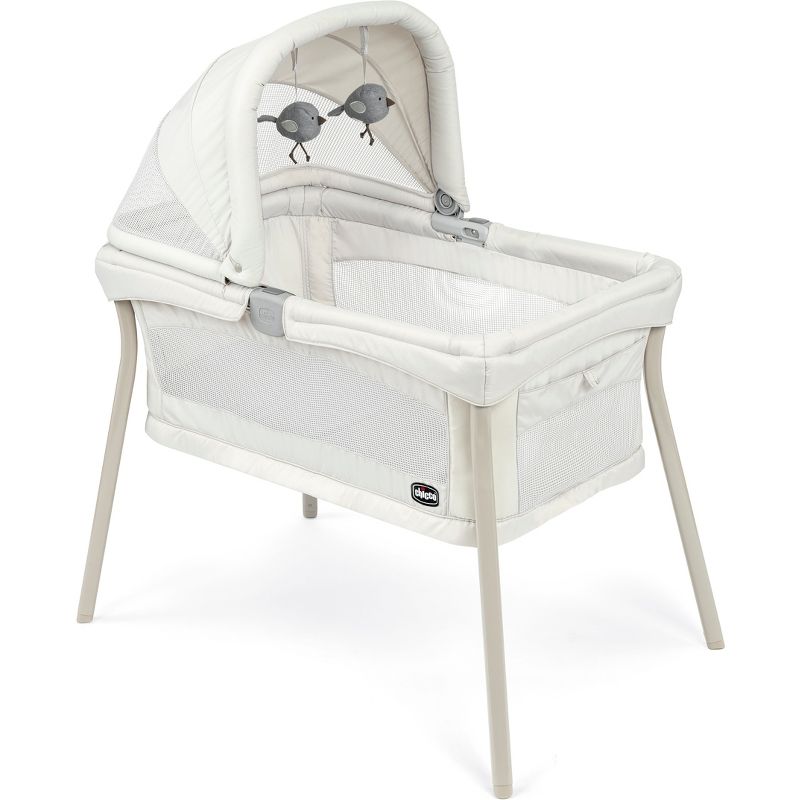 Pros
It has adorable doves that your baby will likely love.
The simple color choices in quiet tones are also lovely.
The legs are removable and made of metal.
Everything unzips for easy washing.
Cons
The mattress may crease in the middle over time from closing it up for travel.
The mattress is said to be hard, but most newborn mattresses are to ensure your baby's safety.
The side mesh is said to tear easily, but Chicco is supportive and will replace it.
I like this one. The mattress is extra thick and comfy, and the height is adjustable to match your bed height. It is pretty basic but also comes with a few electronic perks to soothe your little one while they fall asleep. That part comes in handy for those late nights and super tired mamas.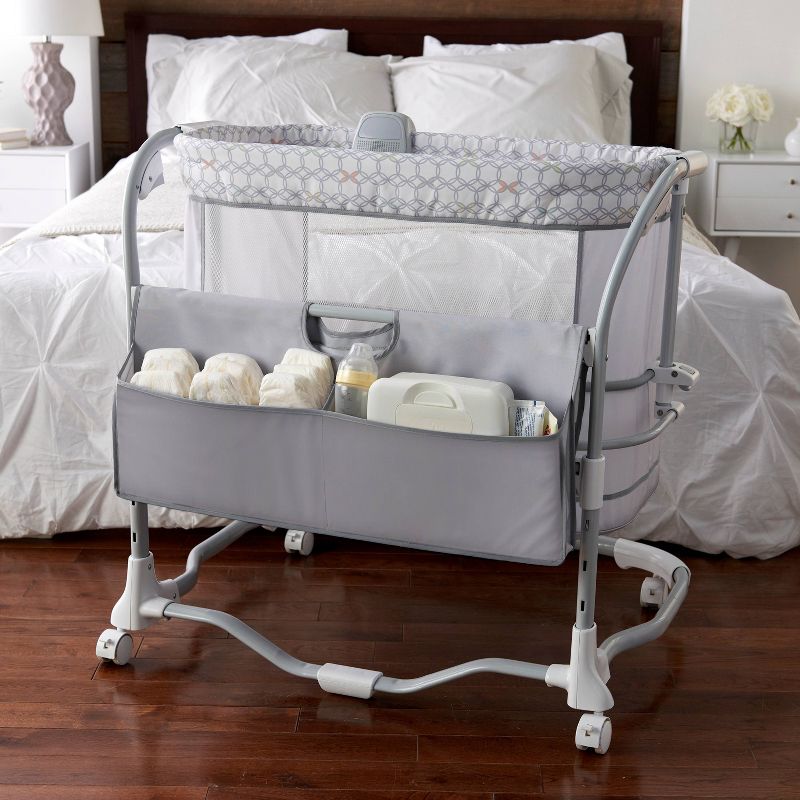 Pros
Finally, a bassinet with a comfortable mattress!
The bassinet is lightweight at only thirteen pounds.
It comes with a nightlight for late-night check-ins.
All four wheels lock to provide extra security.
The bassinet plays quiet, soothing music to help your little one fall asleep.
Cons
I would like this slightly more if it had a rocking feature. Rocking is crucial.
If you are five feet tall, placing your baby at the lowest level of the bassinet will be challenging.
Some reviews state that the mattress causes the baby to roll over on their side and could cause suffocation.
The mattress fabric is not waterproof.
I have always loved Fisher-Price baby stuff. It seems they have been around forever, and their products are generally excellent. This is a nice bassinet with some super cute extras. It even has a projector with precious stars and crescent moons to create a calming nighttime effect on your ceiling. In addition, the bassinet comes with the option to listen to music or soothing sounds while your little human drifts off into sleep.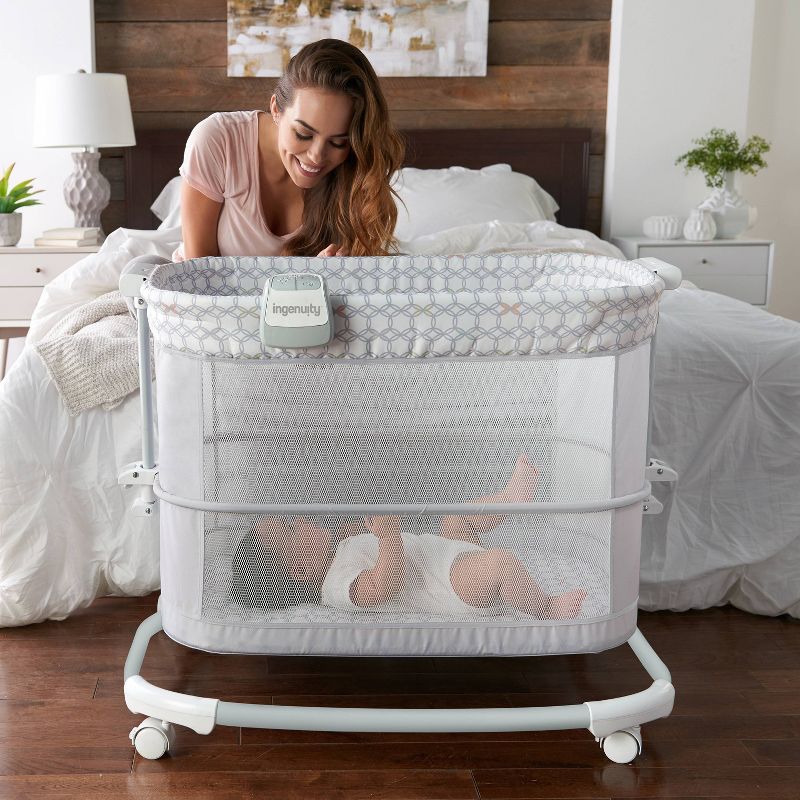 Pros
The bassinet has a charming mobile displaying an adorable lion and some stars.
The nighttime projector is a definite bonus and works well with babies who have trouble drifting off to sleep.
The quiet music projected stars and moons set a perfect sleepy time routine for your baby.
The bassinet can vibrate just enough to lull your baby to sleep.
The projector is also a night light and can be removed for tabletop use.
Cons
My experience with Fisher-Price baby stuff is that while great and cute, they do not last very long.
Again, it is electronic, meaning eventually, it will burn out, and you will have a regular bassinet capable of rocking.
Reviews state that your baby may roll over on their side because the bassinet is lopsided. I think that if you are using a newborn insert, you will not run into that problem. I always swaddled my baby before putting him in the bassinet.
This is a classic-looking bassinet and reminds me of the one in the Lady and the Tramp movie. It is gorgeous with its long draping fabric and removable canopy. It does not rock or have any type of mobile or electronics, but sometimes that's okay. It certainly looks beautiful and will do the trick.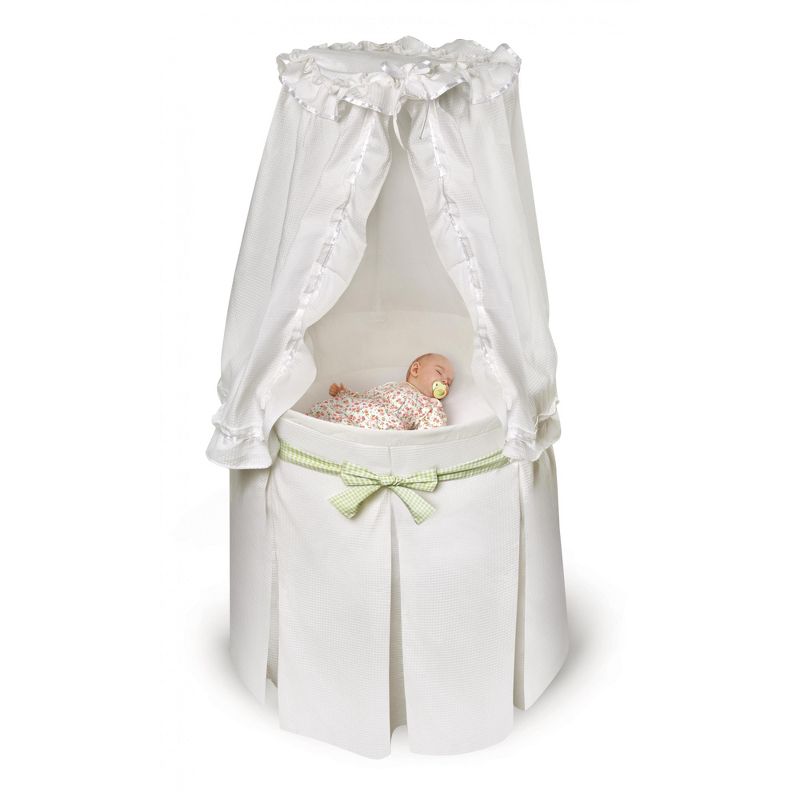 Pros
The beautiful and elegant design makes you feel like you and your baby are royalty.
You can select which color pattern or gingham print you would like.
The bassinet is affordable for most and worth it.
The bedding is washable, but it would be weird if it weren't!
The bassinet comes with a vinyl-coated mattress and sheets.
Cons
The sheets are 100% polyester, and I am not a fan of the feeling of polyester. Although, I'm sure you can purchase different sheets if you like.
There isn't much to help the baby fall asleep, so that will be left up to you.
This model has no bells or whistles except for the beautiful bassinet itself.
The storage shelf only holds five pounds worth of stuff, so aim to keep one bag of wipes on it with some diapers or other lightweight baby items.
Delta Children Serta iComfort Hands-Free Autoglide Bedside Bassinet
This bassinet is my favorite because it offers an auto gliding feature similar to rocking, and the mattress is memory foam- not cardboard. So when you are too tired to rock your baby to sleep, this will do so for you. I used a similar one after I was finished rocking my baby in the rocking chair and wanted him to stay asleep. This is perfect and comes with a cute mobile that you can activate.
Pros
The bassinet comes with an AC adapter, so you won't need to use batteries.
It has a nightlight and soft glow twinkling lights to mesmerize the baby right to sleep.
The mobile arm rotates, so getting your baby out won't be challenging.
The soothing music is perfect for those little ones that need a little background noise to fall and stay asleep. I still use a sound machine with my child five years later.
This bassinet has wheels with locking capabilities and can easily move around your home.
Serta is a major sleep brand that is highly trusted and recommended.
It even comes with a good amount of storage underneath the bassinet.
Cons
It is electronic, so it will likely lose function in time, but you only need it for the first five months anyway.
I wish it came in different colors.
FAQs
Question: How long can babies sleep in a bassinet?
Answer: Most bassinets can be used safely until your little miracle turns six months old; however, if your little one can sit up or pull herself up on the sides, it's time to retire the bassinet. It is only safe with your baby laying on his back, unable to pull himself up.
Question: Are bedside bassinets safer than cribs for sleeping?
Answer: Yes, bassinets are more thoroughly regulated than cribs and use updated safety measures to ensure your baby stays safe and asleep. All bassinets should always note approval by the Consumer Product Safety Commission. Also, always check google for any recalls.
Question: Is it safe to place my child's stuffed animal or blankie in the bassinet while they sleep? 
Answer: No, this should never be done. SIDS happens more when the baby is placed with objects that could cause suffocation. So instead, set your little one in the bassinet alone. If you are worried about your baby getting cold or feeling uncomfortable, I suggest using the swaddling method with a thin swaddle cloth.
That will provide similar comfort to what they experienced while in their first home – the womb. Sleep sacks are also excellent, but I would wait until your baby is at least three months old before using one.
Question: Can my baby sleep in their room alone in the bassinet?
Answer: I would not recommend it. As a parent, I always kept my bassinet beside my bed at night. It also traveled with me throughout the house during the day. It is advised that you and your baby share the same room for the first six months of their life.
Final Thoughts
In conclusion, I recommend the Delta Children Serta Comfort Hands-Free Auto-Glide Bedside Bassinet. It is everything you and your little one could want from a bassinet. It isn't expensive considering the cost of other similar models and their features. Serta is highly recognized as a leading sleep mattress brand, and their memory foam infant mattress is said to be much better than the average bassinet. It sounds so lovely and cozy that I want to sleep in it!
Choosing the perfect bassinet can be fun and rewarding whether you are a new parent or a seasoned one. However, it should not be a miserable experience that leaves you feeling sideswiped by price or features. If ever in doubt, ask other parents what bassinet they used. The best critics are the parents who use the product. They will know the ins and outs of the entire bassinet, brand, pricing, quality, sales, and so forth. As humans, we often see things differently and disagree on many topics, though one thing can certainly be said about other parents; they almost always help each other out.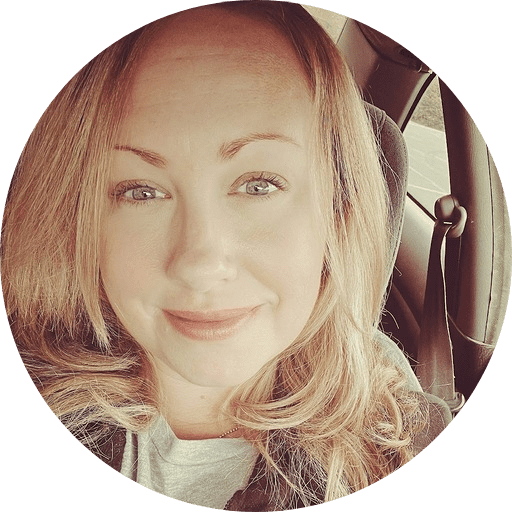 Katie is the mama of a 5-year-old kid. She has experienced every new parent's challenges including sleep schedules. She knows a lot of tricks to better help you and your baby get that much-needed sleep. She ensures your child is safe, happy, and comfortable. In her free time, she loves collectibles from old Muppets stuff to antique vehicles.