I remember the night when I ordered our smart bassinet. It was 2 AM, and our son had been screaming his lungs out for the last 40 minutes. Just like he'd been doing every night for two weeks straight.
I had been looking at the Snoo bassinet as well as other smart sleepers for about a week. But it was just too darn expensive. But that night…that night I would've paid double for one night of solid shuteye.
So, I did two things – I looked at the price of a new bassinet and browsed eBay for used ones. I did the math and reached a simple conclusion:
If I used this thing for six months and it worked as advertised, I'd be paying 50-60 cents for an extra hour of sleep.
I liked that math. I like it a lot.
What you'll see in this guide
If you are reading this, you're either preparing for "D-day," or you're going through the same stuff I talked about.
Whatever the case, I got you – I planned this guide to be a concise, one-stop-shop for all the information you might need when choosing among the dozens of smart bassinets out there.
Let's jump in with both feet and get straight to the results.
Best smart bassinets – my top 6 picks:
Image
Best Smart Bassinets
Features
Price

Designed by a famous pediatrician
Technologically advanced soothing features
Proven track record of safety

CLICK FOR PRICE

Proven soothing motions and sounds
Five motion styles, five-speed settings
Simple controls

CLICK FOR PRICE

Made by one of the most trusted brands
360 degrees swivel
Convenience - adjustable sidewalls

CLICK FOR PRICE

Unique "baby-operated" bassinet
Elaborate sound system
Save your baby's favorite setting

CLICK FOR PRICE

Easy to move - rubberized wheels
Extended use changer
Convenient hand-activated brake

CLICK FOR PRICEBuy at Amazon

Designed by parents for parents
Three-in-one crib, bassinet, and monitor
Tracks sleep patterns

CLICK FOR PRICE
---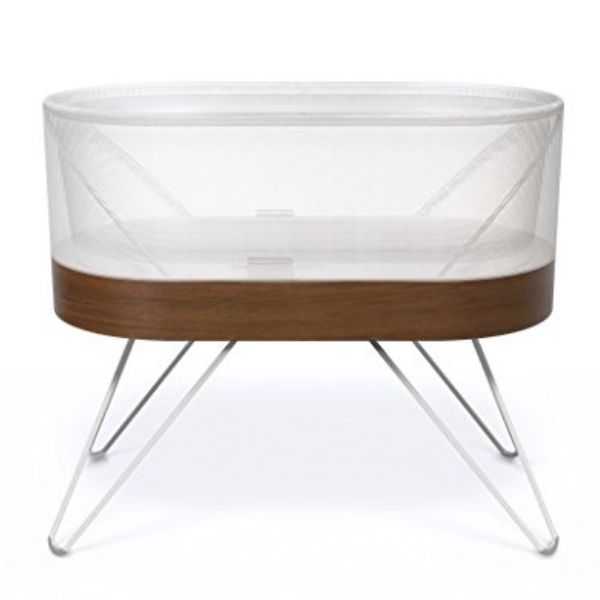 Snoo is the king of the hill in pretty much all categories I look at when comparing bassinets. Since the launch in 2016, SNOO changed the industry's landscape and quickly became the measuring stick to which any other smart bassinet is compared.
At a glance features of the Snoo
Soothing rocking and white noise
Responsive – recognizes movement and sound
Five intensity levels & smooth transition
Patented back-sleeping swaddle
Adjustable activation threshold
Simple, intuitive app controls
Specifications
| | |
| --- | --- |
| Dimensions | 35.75 x 19 x 31 inches |
| Weight | 38 lbs |
| Height adjustable | no |
| Warranty | 12 months limited warranty on all material and workmanship defects |
| Weight/Age limit | 25 lbs or until the baby is able to get up on hands and feet, whichever comes first |
Main benefits of the Snoo smart bassinet
As safe as they come
Snoo smart bassinet makes no compromises when it comes to the baby's safety. The unique, patented swaddle will keep the baby on their back the whole time – which is what the AAP (American Academy of Pediatrics) recommends to eliminate the risk of SIDS.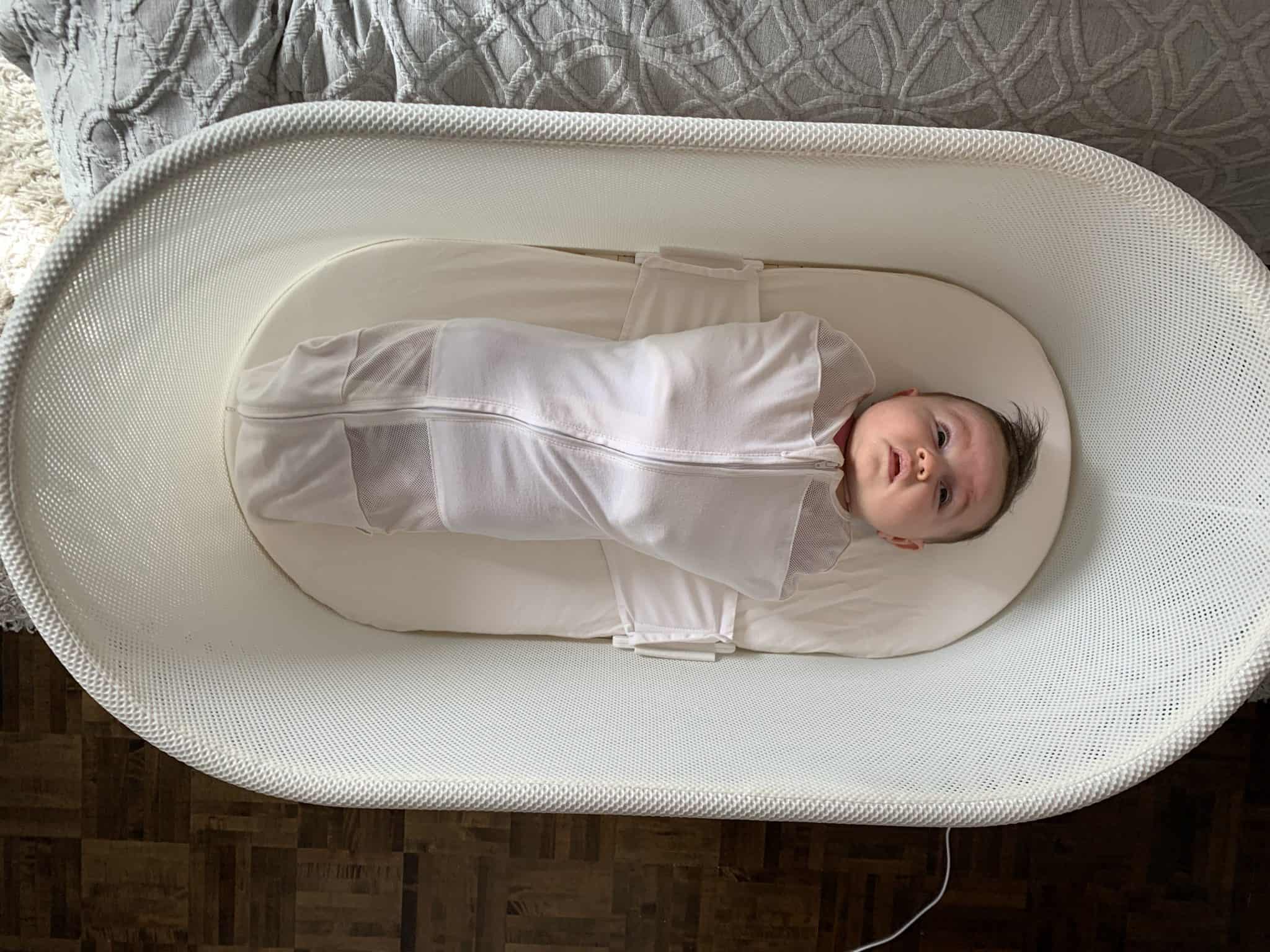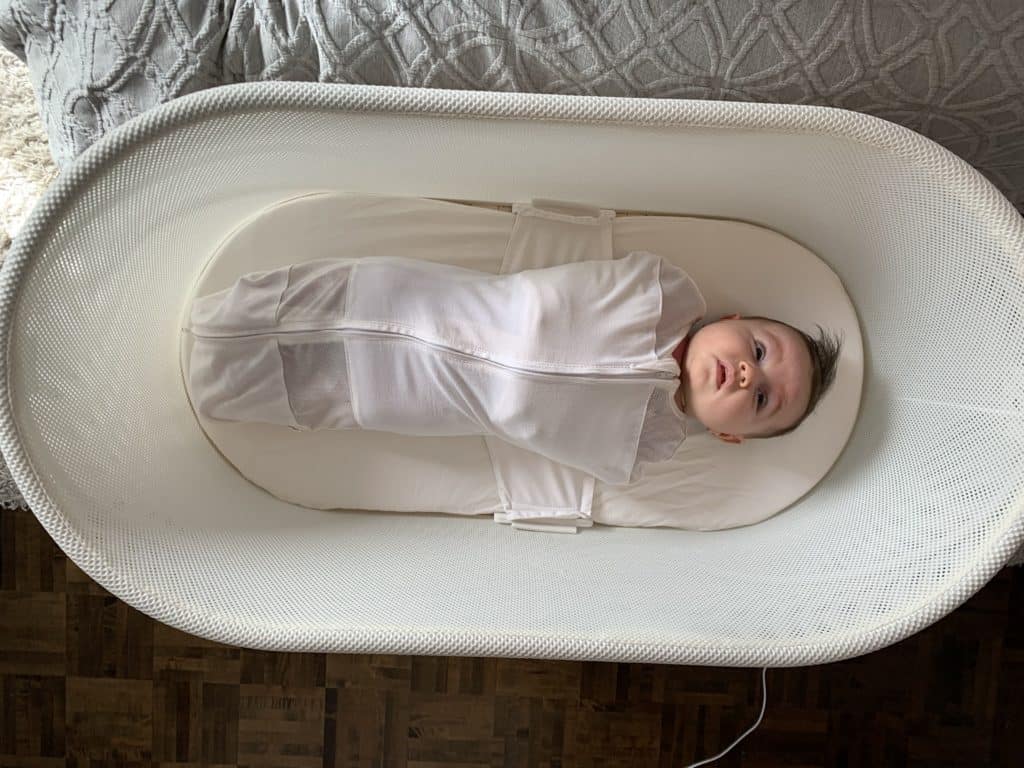 Gets the baby to sleep faster
The combination of gentle rocking motion, vibration, and white noise will put your baby to sleep faster and prolong the uninterrupted sleep.
Soothes them back to sleep when they wake up
Snoo is responsive, which means that it can recognize any fuss in the bassinet. It responds through gentle rocking and white noise to soothe the baby back to sleep.
Intuitive app controls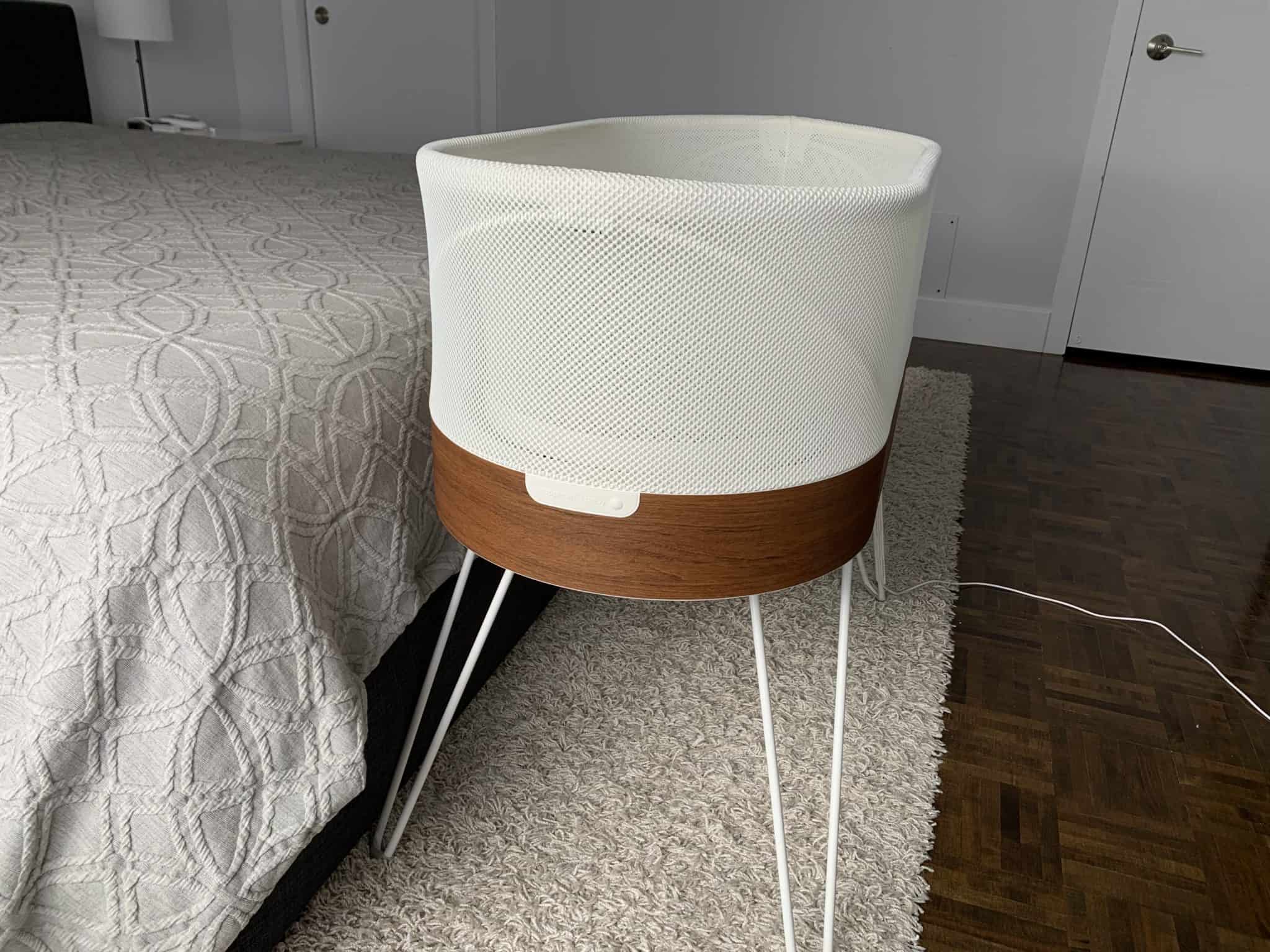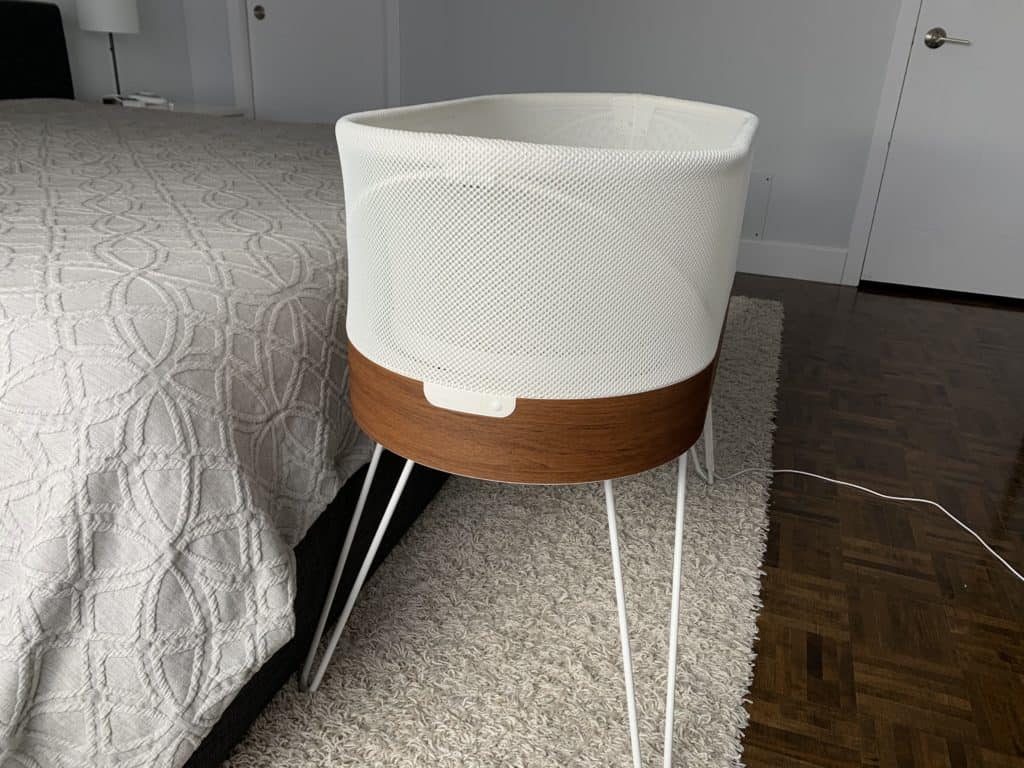 You control the bassinet setting through a simple app on your phone – everything from the intensity levels of the rocking and sounds to the activation threshold.
What I liked about the Snoo
If I had to sum it all up, I'd say that SNOO is my favorite because it does all the jobs better than the competitors and keeps the baby absolutely safe in the process.
Safer
I like the zero-compromise policy when it comes to safety. If you're anything like me, Snoo will give you much-needed peace of mind.
I won't name names, but there's an inclined sleeper we used for a while before it was recalled for safety reasons (read: cases of SIDS).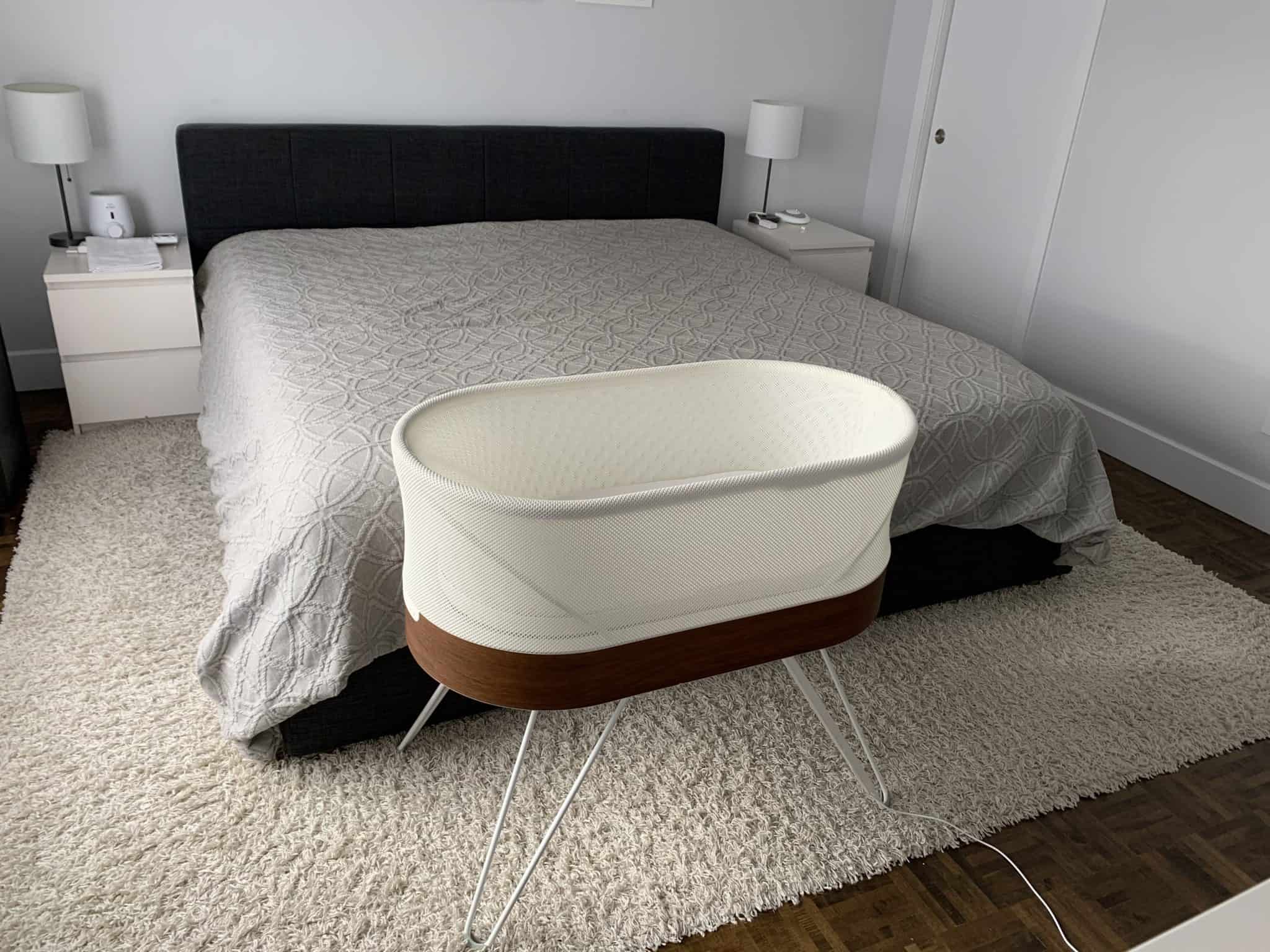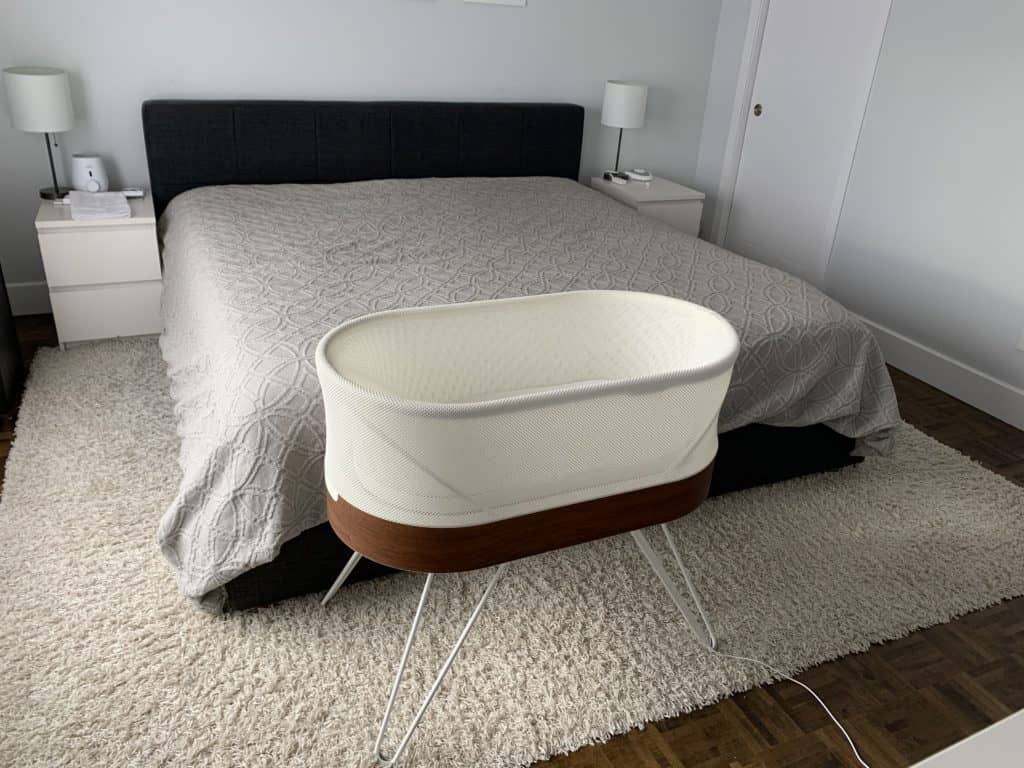 It's behind us now, but just the thought of it sends chills down my spine.
SNOO is unlike any other bassinet when it comes to safety. They recently celebrated a milestone of 50+ million sleep hours without a single case of SIDS.
You can't put a price on that. If the price is your central dilemma, then renting it might be your answer – you can read my full review of the SNOO rental here as well as my personal experience and review of the SNOO here.
Simply better
As you move through this guide, you'll notice some common threads that most good smart baby bassinets will have in common, like the active soothing through sound and motion.
What stands out about the Snoo is that, in my experience, it is simply the most well-rounded smart bassinet out there because it does everything well.
With most of the competitors, I could pinpoint the "weak points" – quality aspects where the bassinets simply don't deliver.
I have none of those to report with the Snoo.
The MamaRoo is the runner-up in the best smart bassinets category. It's an affordable alternative to SNOO for parents on a budget.
I wouldn't exactly call it a competitor to SNOO. And it's not because it's not good; it's because SNOO is in a category of its own.
Features of the MamaRoo at a glance:
Firm flat mattress makes for a safe sleep surface
Well-designed mesh sides for optimal airflow
Bluetooth-controls through a phone app
Soothing motion mimics those of a parent
Adjustable height for better visibility and access
Timer helps with establishing a sleep routine
Matching storage basket (sold separately)
Specifications
| | |
| --- | --- |
| Dimensions | 24 x 34 x 39 inches |
| Weight | 30 lbs |
| Height adjustable | yes |
| Warranty | 1 year limited |
| Weight/Age limit | 25 lbs or until the baby can push up on hands or feet |
Main benefits
Moves like you
The rocking motion imitates the movement patterns of a parent. That makes for a more seamless transition when you pick the baby up.
Visibility and breathability
A combination of the airy mesh used for the sidewalls and the adjustable height results in second-to-none visibility and airflow.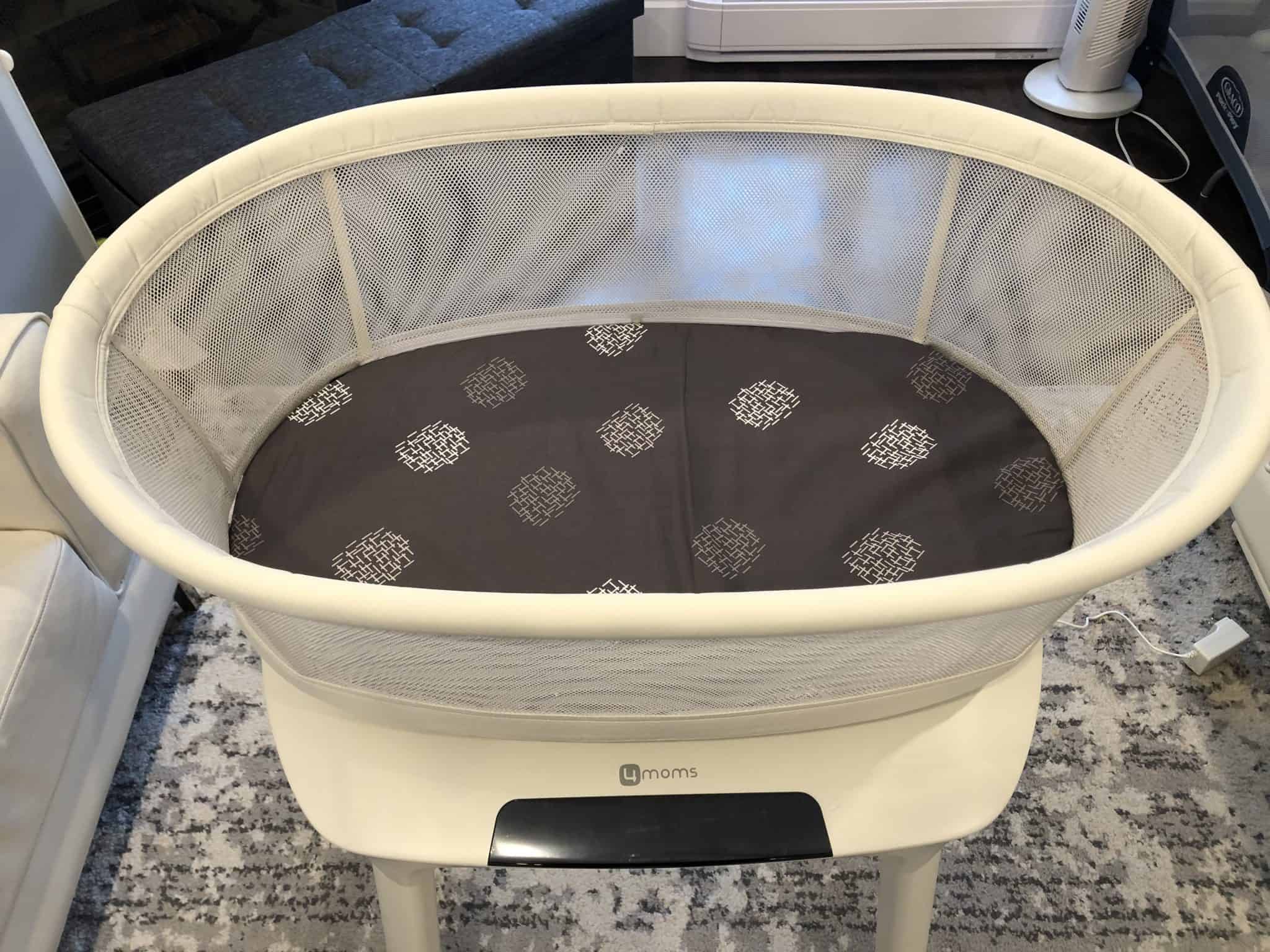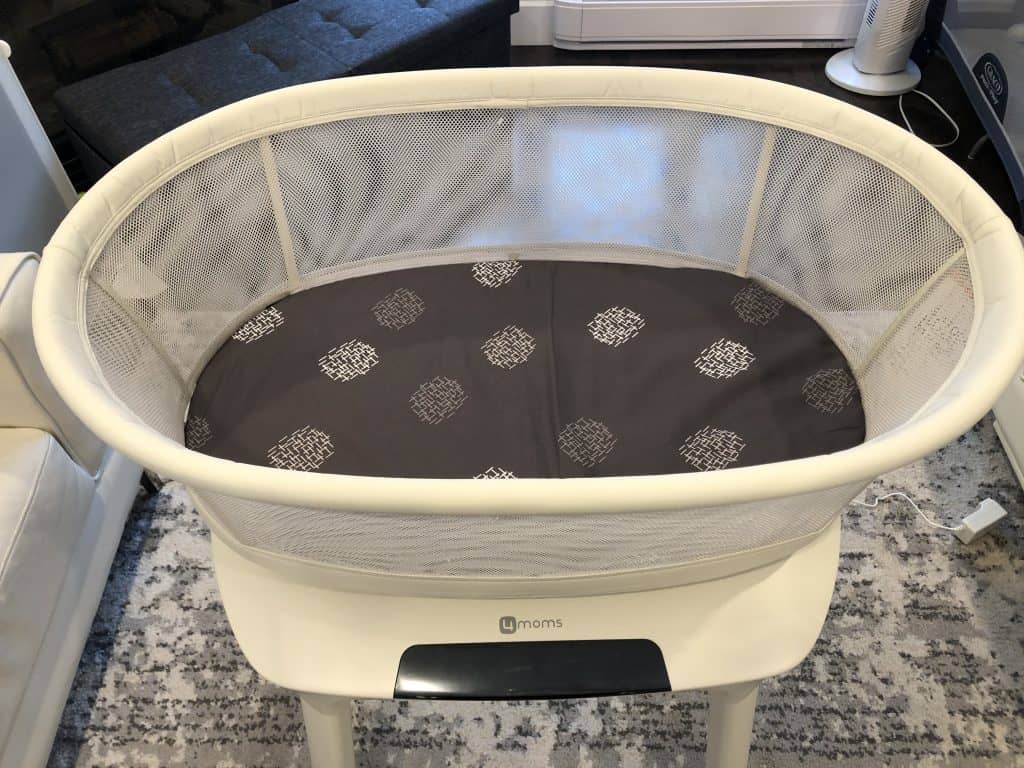 Helps you to establish a sleep routine
The timer is well designed and easy to use in the process of establishing a healthy sleep routine.
What I liked about the MamaRoo
I'd say that the MamaRoo from 4Moms (best known for their infant seats) is as close as you can get to the SNOO for below $500.
It's well-designed and solidly made and a solid bang for a parent's back.
Related reads:
Complete review of this MamaRoo
Halo is one of the most trusted brands in the bassinet industry. Their bassinets are highly praised for comfort, safety, and convenience.
This smart baby sleeper from the Luxe Series is no exception.
Features at a glance:
Patented 360-degree swivel
Adjustable height (range 24 to 34 inches)
Soothing center – sounds, vibration and lights
Timer helps create a routine
Chemical-free and waterproof pad
Lowering, lockable bedside walls
Detachable bed
Machine-washable premium materials
Generously-sized storage caddy (removable)
Specifications
| | |
| --- | --- |
| Dimensions | 37.6 x 18.12 x 10.83 inches |
| Weight | 36.7 lbs |
| Height adjustable | yes |
| Warranty | 1 year limited |
| Weight/Age limit | 20 lbs or 5-months old |
Main benefits of the Halo Luxe
Easy to use
The adjustable height and the full rotation do make a difference, especially for moms who still find it challenging to get up and lay down.
Suitable as a bedside sleeper
Combine the features we mentioned above (adjustable height and rotation) with lowering sidewalls, and you have a bassinet that does a great job playing the role of a bedside sleeper.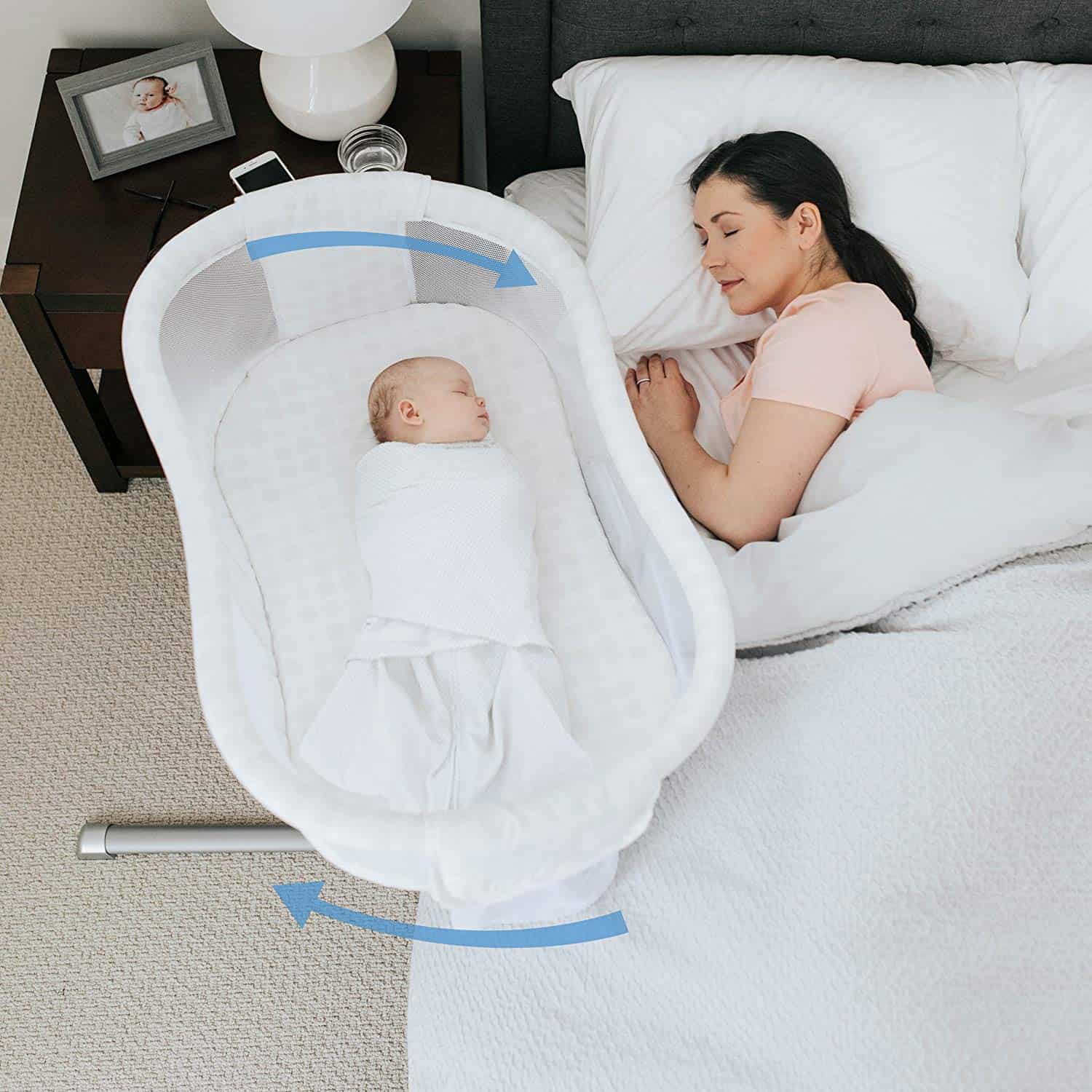 Small footprint
The Bassinest is an excellent choice for small spaces. The legs can be tucked under most beds and require only 32 inches of clearance from the wall.
What I liked about the Halo Bassinest
The one thing that allows the Halo Luxe to stand out among the luxury bassinet is the convenience of use.
When you write and research bassinets for as long as I have, you learn to tell the difference between features of substance that genuinely make a parent's life easier and those that just look good on paper.
The rotation and adjustability of the Halo Luxe belong to the former.
For more details, you can find my full review of this Halo here.
This Graco is one of the most popular choices in the lower price range.
It's also one of the few bassinets in the market that's been maintaining a satisfaction percentage of over 85 % among owners since it hit the market.
Specs:
| | |
| --- | --- |
| Dimensions | 24.1 x 29.3 x 48 inches |
| Weight | 23.7 |
| Height adjustable | yes |
| Warranty | 1 year limited |
| Weight/Age limit | 20 lbs |
Features at a glance:
Built-in microphone to detect crying and activate the soothing center
Complete soothing center includes motion, vibration, and sound
Automatic settings choice to fit your baby's needs
Breathable side walls (mesh)
Canopy to protect the baby (reversible)
Additional storage integrated into the unit
Simple app controls
Main benefits of the Graco smart cradle
"Baby operated"
Graco uses "baby operated" to describe this smart cradle. It's a creative way of saying that the bassinet recognizes crying and automatically adjusts the soothing settings.
Elaborate soothing station
The bassinet features ten calming sounds, two white noises, ten songs, three motion speed settings, and two vibration settings. The bassinet learns from the baby's sleep patterns and finds the right combo, even for the most restless little sleepers.
Washable materials
The materials and finishes are high-end and yet, removable and machine washable. In terms of convenience, it's not a combination you see every day.
What I liked about this Graco
There are three things I especially liked about this Graco:
the simplicity of the controls
the fact that you can save the settings that work for your baby
the convenience of the removable and machine-washable materials
It's also one of the most budget-friendly options on the list.
Related reads:
Read the full review of the Graco Sense2Snooze here
Read the SNOO vs. Graco Sense2Snooze comparison here
See the Sense2Snooze and MamaRoo compared side-by-side here
This Chicco is a 3-in-1 bassinet that does everything it set out to do – and does it well.
That's far from a give in its niche of products.
What I saw with most bassinets that try to double/triple as changing tables and bedside sleepers is a lack of performance in one of those aspects.
Not with this Chicco.
Features at a glance:
Three modes – adjustable changing table, bedside sleeper, and a portable bassinet
Top-of-the-line soothing center – two settings for the vibration and six calming melodies
Convenient handles that double as brakes
Reversible mattress
Breathable mesh walls
Specifications
| | |
| --- | --- |
| Dimensions | 33.5 x 28 x 46 " |
| Weight | 33 lbs |
| Height adjustable | yes |
| Warranty | 2 years on all manufacturing defects |
| Weight/Age limit | Bassinet: 20 lbsChanging table: 35 lbs |
Main benefits
Versatile
This triple-action bassinet will do the three jobs it promises to and to them just as well as any standalone product would, at least in that price range.
Budget-friendly
If you bought all three units separately, you'd spend at least double the money of what this Chicco costs. If you're working with a tight budget, that might be a key decision point.
Space-saving
If you live in a small apartment or simply want to avoid being surrounded by baby gear, Chicco Close to You might be your best bet. It stamps out the need for two additional units.
Adjustable height
The range of height is close to ten inches (up to 33.5) which is as good as it gets for dads on the taller side.
Easy to move around
There's a glide-like quality to the way the rubberized wheels move. That means two things: moving the bassinet won't be a hassle, and you'll keep your floors intact.
Why I like it
Although I haven't personally used it or tested it, I'm a fan of this Chicco. I became one after talking to a few couples who own it. I've heard nothing but good things in the interviews, and that's impressive.
It's impressive because a vast majority of all-in-one bassinets I reviewed in my time running this site weren't worth it. There's always something lacking – sometimes it's a wobbly changing table, sometimes an unreliable height adjustment mechanism.
Chicco Close to You is definitely one of the most well-rounded products in its class.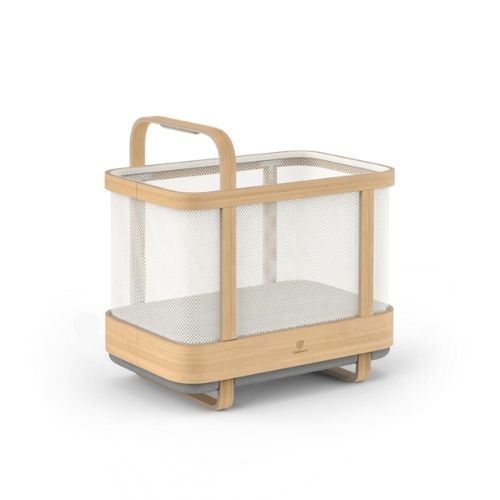 In my opinion, this is the only bassinet that could potentially be a true competitor to the SNOO.
This promising new arrival won Time's 2020 Best Invention Award in the parenting category. However, in my opinion, it is yet to stand the test of time.
Features at a glance:
Converts to a smart crib by lowering the base
Built-in monitor tracks the baby's sleep patterns
Allows the parent to choose the white noise based on the sleep patterns
Uses the monitor data to "recognize" when to lull the baby back to sleep and when to let them wake up
The monitor can be used as both an audio and video monitor
Bouncing motion limited to 30 minutes
Simple app controls
Specifications
| | |
| --- | --- |
| Dimensions | 40 x 25 x 42 inches |
| Weight | 67 lbs |
| Height adjustable | yes |
| Warranty | 1 year limited |
| Weight/Age limit | From newborns up to 2 year-olds or 33 lbs in weight |
Main benefits of the smart crib and bassinet:
Fine-tuned sensors
Not only does it react to a waking baby, but it learns from the sleep patterns. It learns to tell the difference between regular and unscheduled awakenings and reacts appropriately.
Smooth, natural movement
It's designed to imitate the calming movement of a mom bouncing a baby back to sleep. The transitions between motion modes are seamless and soft – no sudden movements.
Quiet
They describe the bouncing mechanism as being "quiet as a whisper."
What I liked about the CradleWise
I love the idea of the nuanced approach to recognizing when the baby is waking up following their sleep schedule or outside of it. It's innovative thinking.
There's value in prolonged use as a crib, especially if you're buying and not looking to rent.
Why I still prefer the SNOO
If I haven't pounded the point home yet, I'm all about a proven track record of safety. The CradleWise looks like it might give SNOO a run for its money in the future, but it's not there yet.
What to look for in a good smart bassinet
Good smart bassinets should:
Work as advertised
It's easy to make claims, but it's the performance that sets the high-end models from those that won't survive the fiercely competitive market. That's why I make a point out of only recommending time-tested products.
When I do make an exception (like I did with the CradleWise here), I explain my reasoning and what it means for you. In the case of CradleWise, it means that it might be a competitor to SNOO at some point, but it's not there yet.
Be functional
If you're paying this kind of money, the product must make your life easier.
Apart from the "basic" functions like the soothing center and responsiveness that should transform your baby's sleep habits, the bassinets should be detail-oriented and designed with parents' needs in mind.
Depending on the model you choose, this functionality can come in the form of an adjustable base, lowering walls, a removable mattress pad, or additional storage.
To put it simply, you should be clear on what it is EXACTLY that you're paying extra for.
Be safe
There's no room for compromises here. Among other things, that's the part I like about the top-rated smart bassinet on this list, the SNOO. All the strictest standards should be met, if not exceeded.
In a word, a good smart bassinet will be better than a regular product in pretty much all quality aspects. That's true for our top six bassinets.
FAQS
There are two most commonly asked questions about smart cradles and bassinets.
Are they safe?
Yes, smart baby bassinets are absolutely safe. Furthermore, new research has proven that vibrations of a smart bassinet have several benefits, some of them potentially life-saving, in the literal sense of the word.
Research shows that vibrations lower the risk of SIDS in underdeveloped babies that experience episodes of sleep apnea.
Are they worth it?
If you're asking me, our SNOO is worth every penny. It's a game-changer.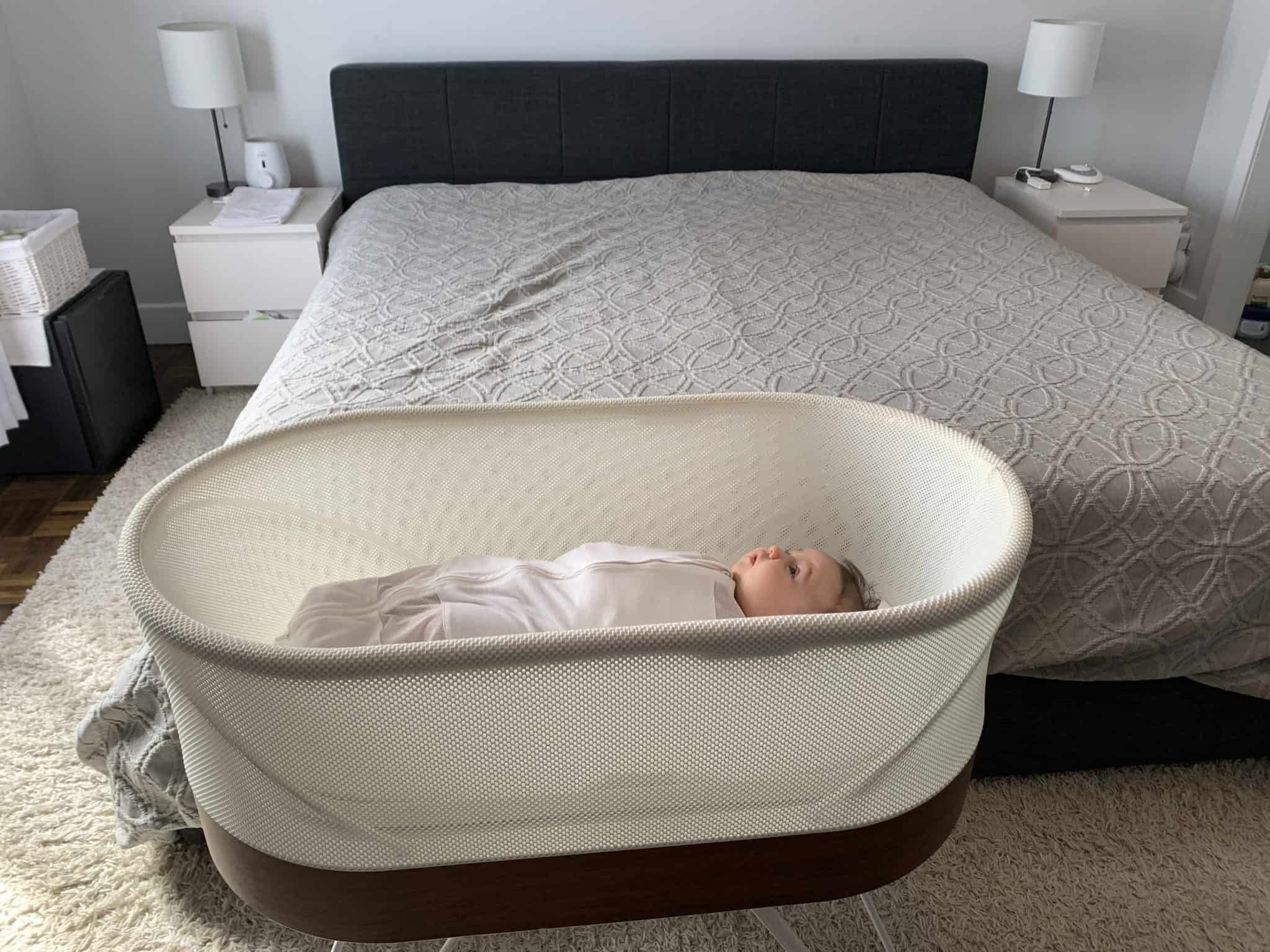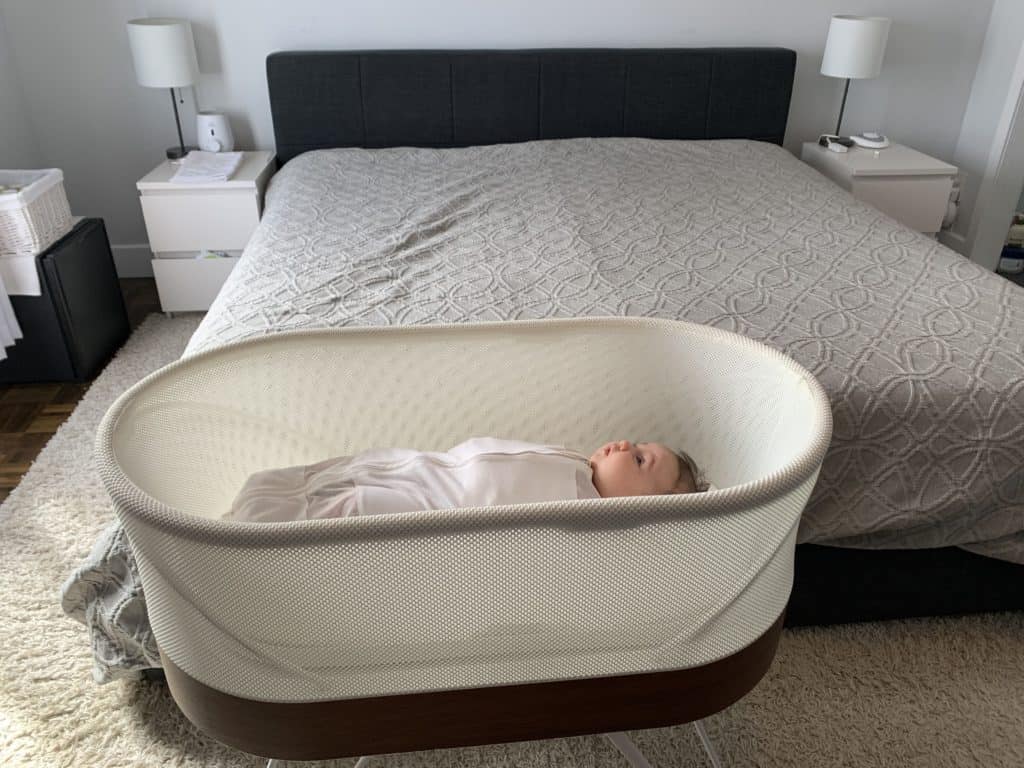 I'm not a rich man, far from it. But getting the SNOO was probably the best parenting decision I made so far…for all of us.
Final thoughts
I stay on top of things at all times and look for any new arrivals in the smart bassinet market so that I can keep this guide updated and relevant.
The one thing that has my full attention right now is how well the Cradle Wise smart crib will fare against the SNOO in the months and years to come.
UpsideDad out.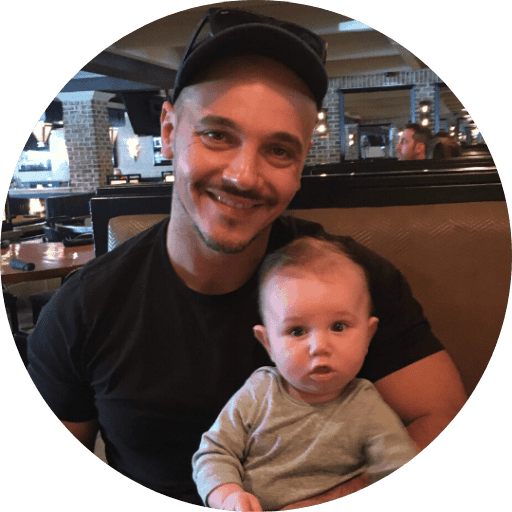 Paul is a passionate dad who founded Upside Dad to share his parenting journey with other new parents. He graduated from Concordia University and worked as a test engineer for over a decade. Paul loves dad jokes and craft beer.
Learn more about Paul and Upside Dad here.