Most parents still believe that newborn babies never sleep and there is nothing anyone can do about it. So, we go about our days and nights wishing it was different but without changing any of our patterns and actions.
4moms MamaRoo Sleep Bassinet
5 unique soothing motions
Safe from newborn up to 25lbs
Height-adjustable
App-controlled
Easy to assemble
---
Luckily, the 4moms mamaRoo Sleep Bassinet is here to break the cycle of no-sleep.
Nowadays, parents have a multitude of tools available to help them deal with an unhappy, crying baby. Pacifiers, swaddles, bottles, sound machines, and the list goes on. But sometimes all baby wants is to be rocked to sleep.
And most times the rocking happens in the middle of the night – over and over again.
Imagine your bassinet could rock your baby to sleep for you? Well, the 4moms mamaRoo Sleep Bassinet can!
The 4moms mamaRoo Sleep Bassinet does everything you ever wished a bassinet would do.
It's safe
It's height adjustable
It's breathable
It moves and rocks (five different ways)
It's Bluetooth enabled (phone controlled)
It vibrates
It plays soothing sounds
And if you're still unsure about the 4moms bassinet, I put together a mamaRoo alternative list to help you choose the best one.
I've also included my unboxing pictures and assembly instructions below – read on to find out more!
4moms mamaRoo Sleep Bassinet Specifications
Dimensions
With leg extenders:
Without leg extenders:

34 x 24 x 39 inches
34 x 24 x 34.5 inches
Bassinet Weight
30 lbs.
Materials
Plastic, aluminum and mesh walls
Weight/Age Limit
25 lbs
Adjustable height
Yes
Attaches to bed
No
Timer
Yes
Key Features of the mamaRoo bassinet
Comes with a firm, flat sleep surface for maximum safety and comfort
Has mesh walls to increase airflow and visibility
Pairs with 4moms app for easy control of settings
Extendable legs for height adjustability
5 rocking motions (kangaroo, car ride, tree swing, wave and rock-a-bye)
5 speeds for the swaying motions
Includes a water-resistant mattress
Has a timer to help create a consistent bedtime routine
Does not require additional tools (other than what's provided) for the assembly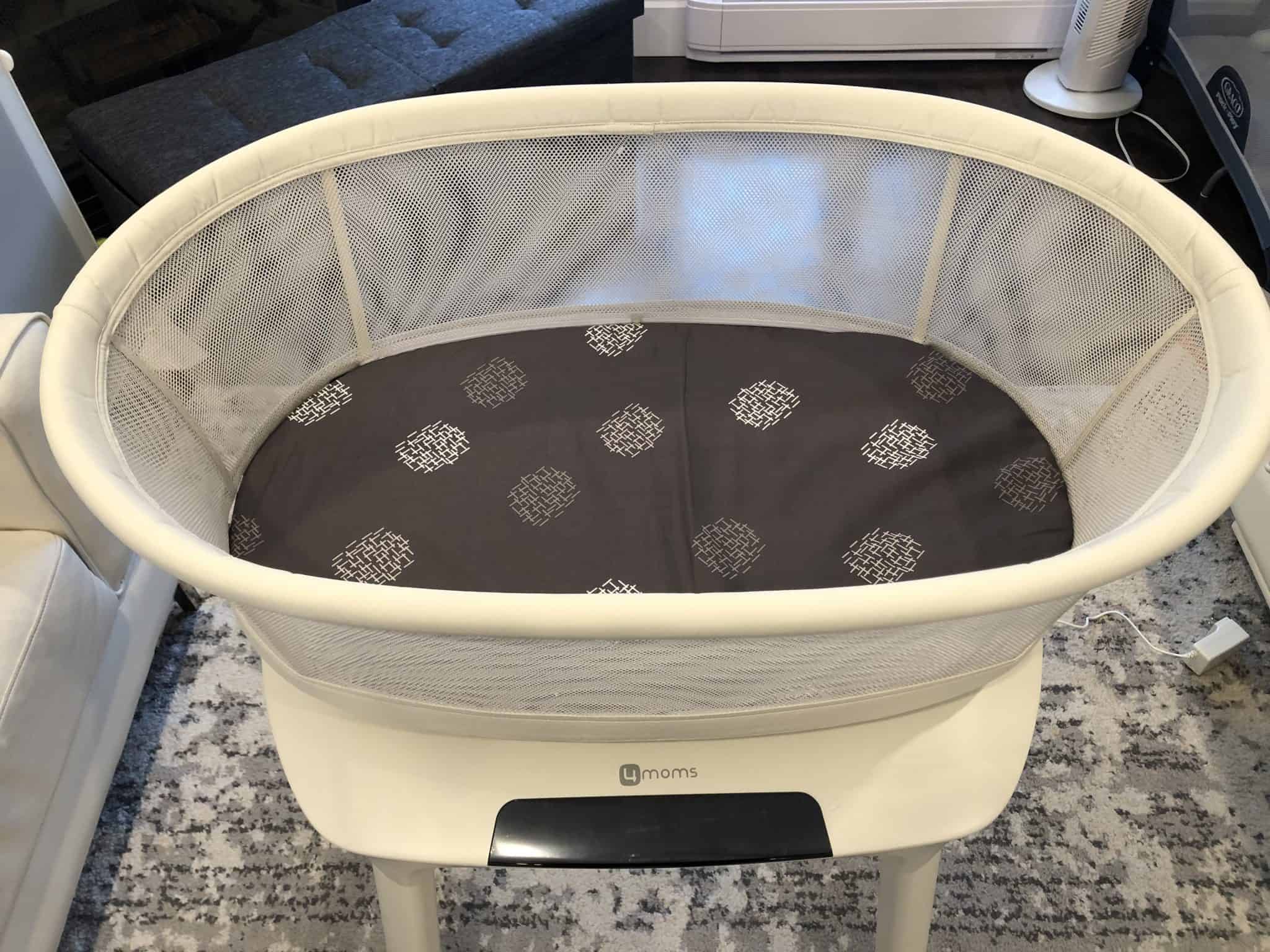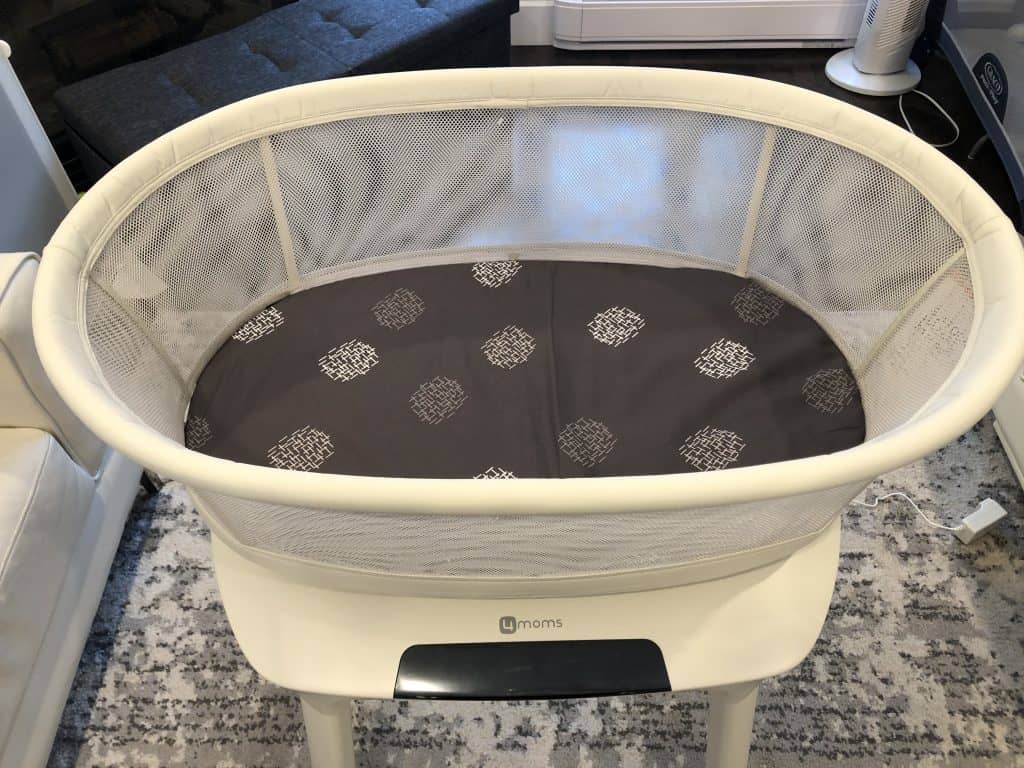 Safety
When you place your little guy or gal in a bassinet, you want a 100% guarantee that they're completely safe. Thankfully, the mamaRoo sleep bassinet comes with several safety features.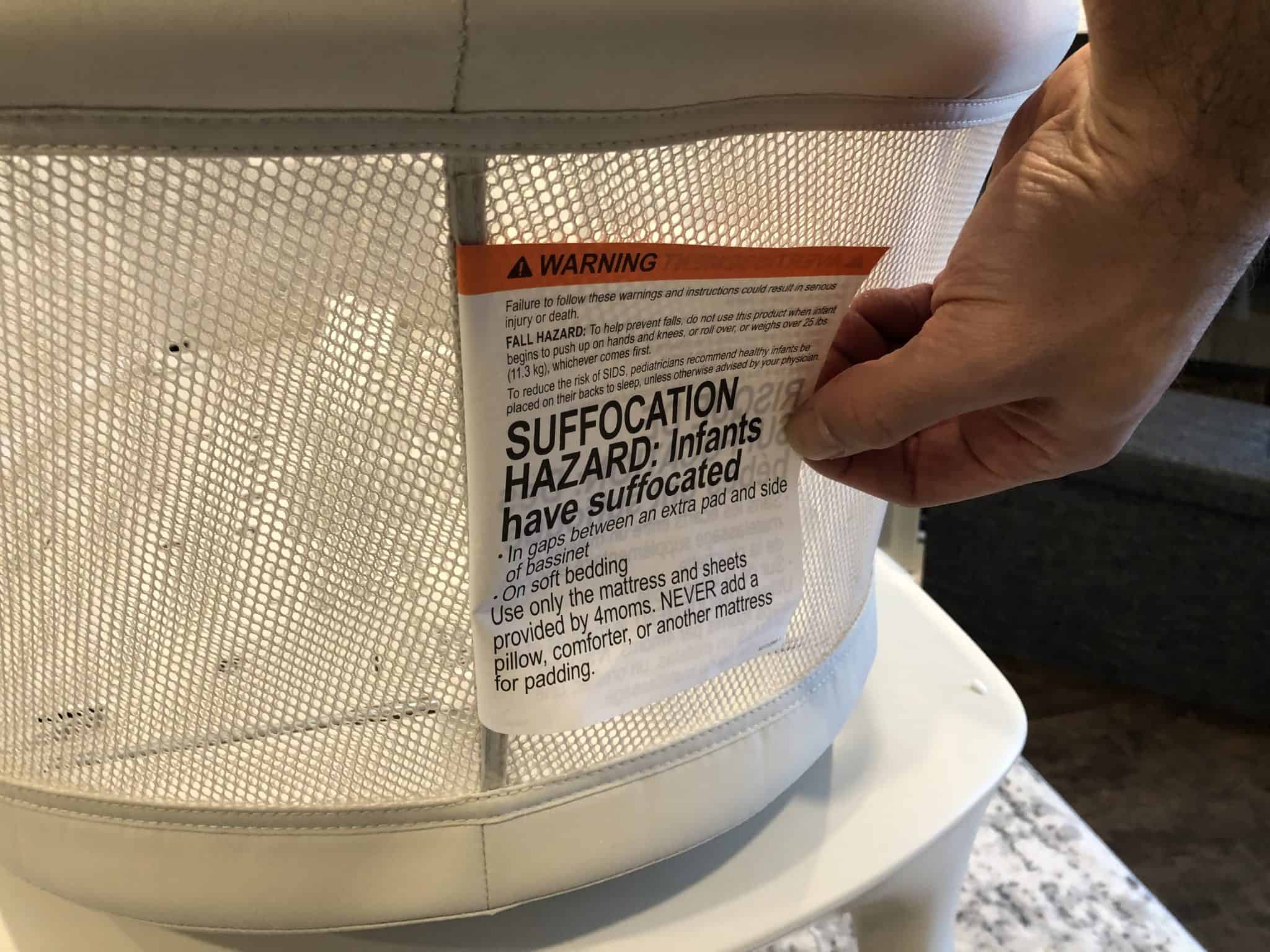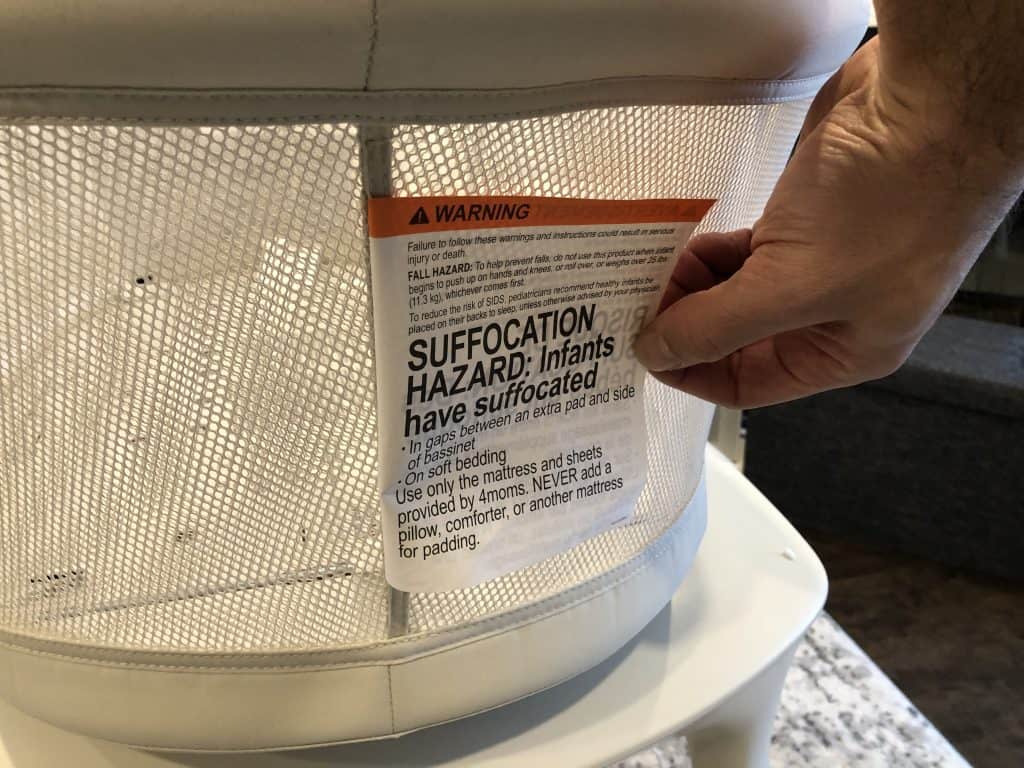 This bassinet also provides a firm and flat sleeping surface. Not only is this comfortable for your baby but it also reduces the risk of sudden infant death syndrome (SIDS). Plus, the mamaRoo Sleep Bassinet follows all safe sleep guidelines provided by the American Academy of Pediatrics (AAP).
Height Adjustable
Yes, the 4moms mamaRoo smart bassinet is also height adjustable. It gives you the ability to configure it to a comfortable height to match your bed; or almost. You can easily increase or decrease the height by 4.5 inches depending on the height of your bed, so you have 2 heights to choose from.
It's not the most versatile for height adjustability but for a smart bassinet it is unheard of until now. This kind of feature is usually reserved for much simpler bedside sleeper type bassinets. But somehow, 4moms was able to integrate it into this amazing smart bassinet.
Mesh Sides
Mesh side walls serve two main purposes:
Safety: they provide breathability in case baby ends up rolling over and pressed against the side. This mean that baby can still breathe in this unlikely position.
Visibility: Having mesh all around the bassinet means that parents can see the baby at any time and from any position.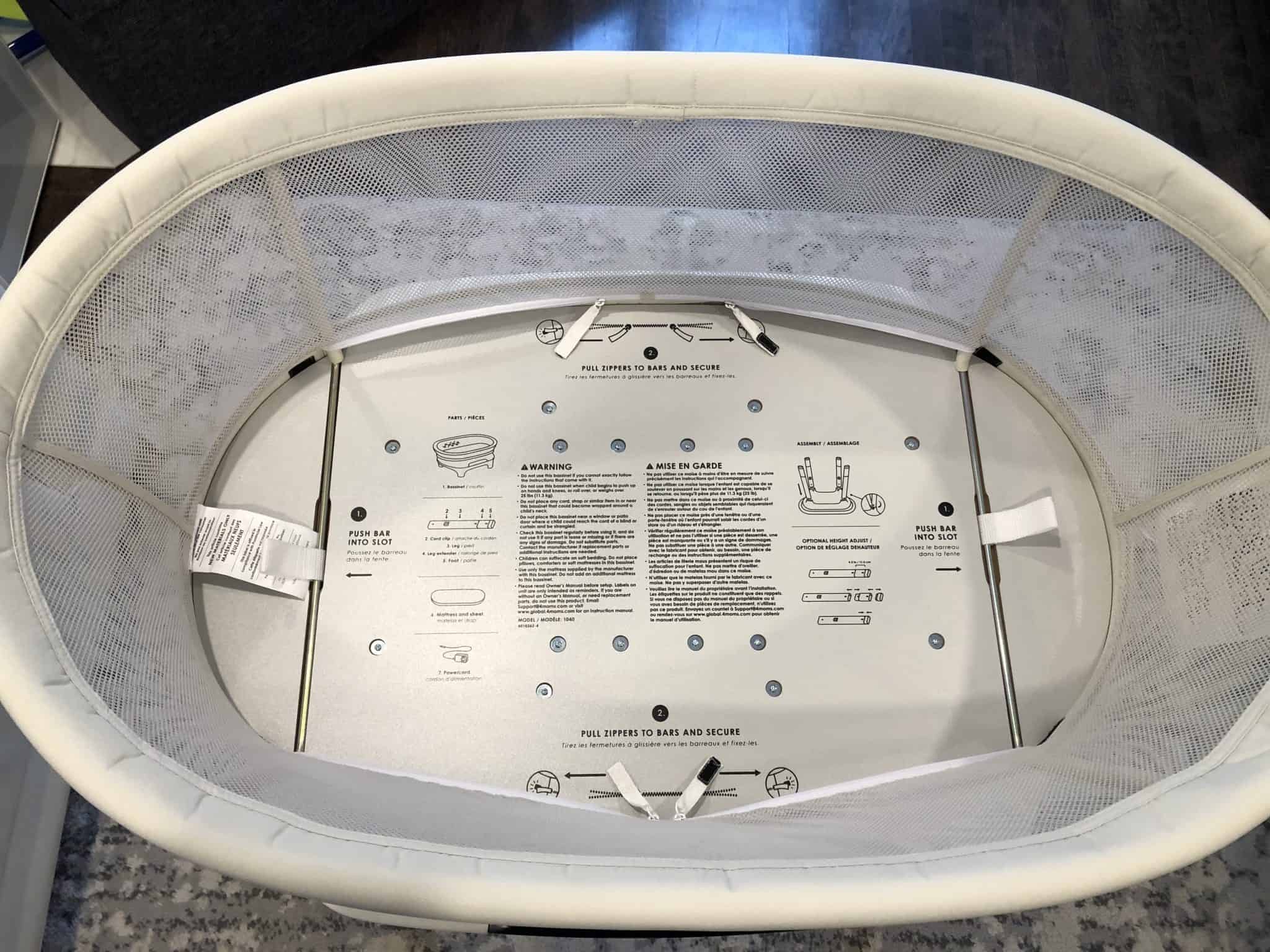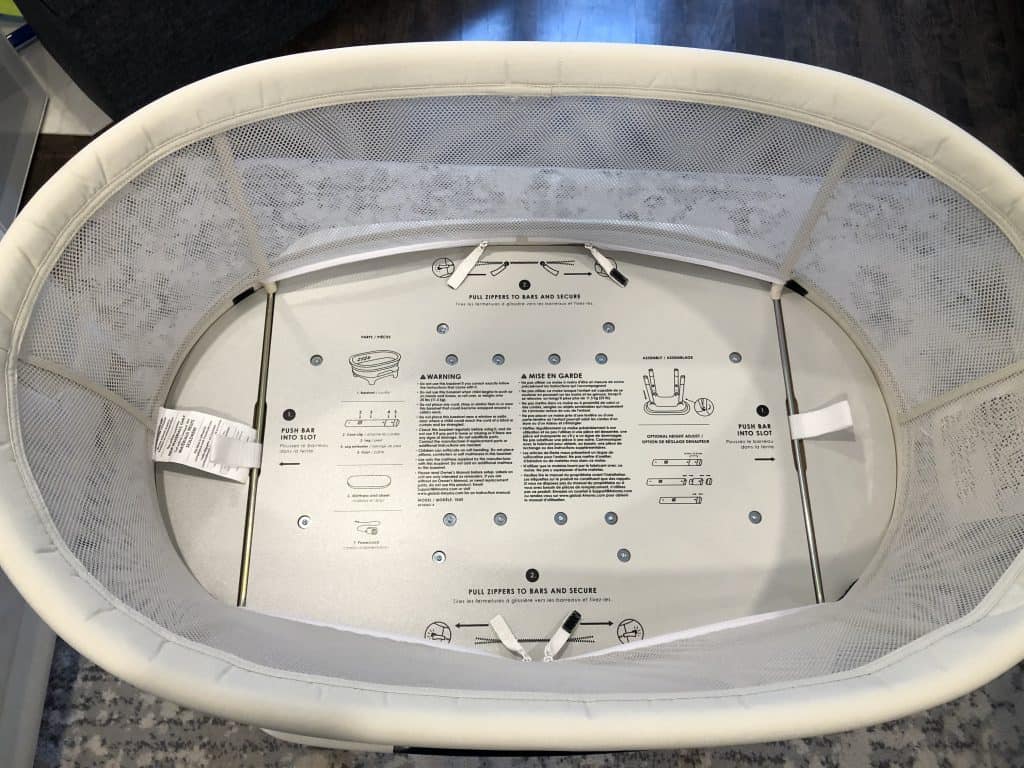 Mesh sidewalls are now standard in most bassinets and they are a key feature of the 4moms mamaRoo Sleep Bassinet. The mesh used on this bassinet is soft to the touch and will not irritate your baby's skin even if he rubs on it.
It also provides the parents great visibility from almost any angle, so you can always see where your baby is and how he is doing.
5 Unique Rocking Motions with Multi-Speed Settings
There's nothing that your baby loves more than being held close and rocked from side to side. But if you have to hold your baby all night, you won't get any sleep. Luckily, mamaRoo sleep bassinet has got you covered.
It has 5 movement patterns for you to pick from. Each type of motion has 5 speeds, which adds up to 25 total settings giving you a high level of customization.
Best part is, each pattern is modeled after a parent's natural swaying and rocking motions. The five motions are:
Car ride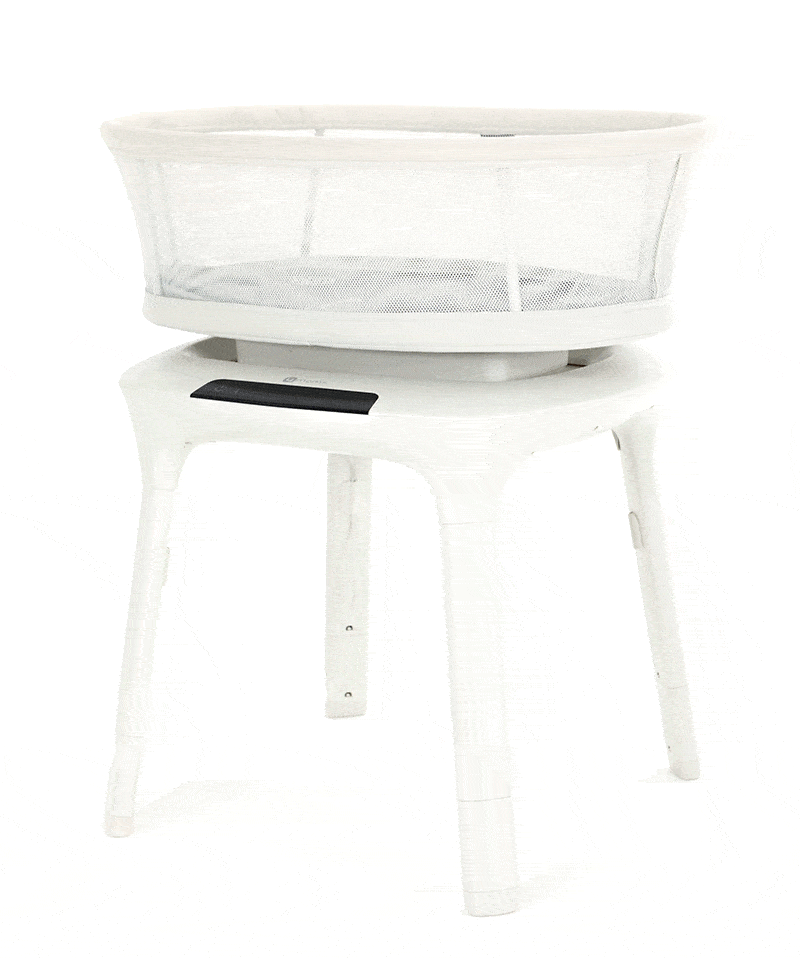 Kangaroo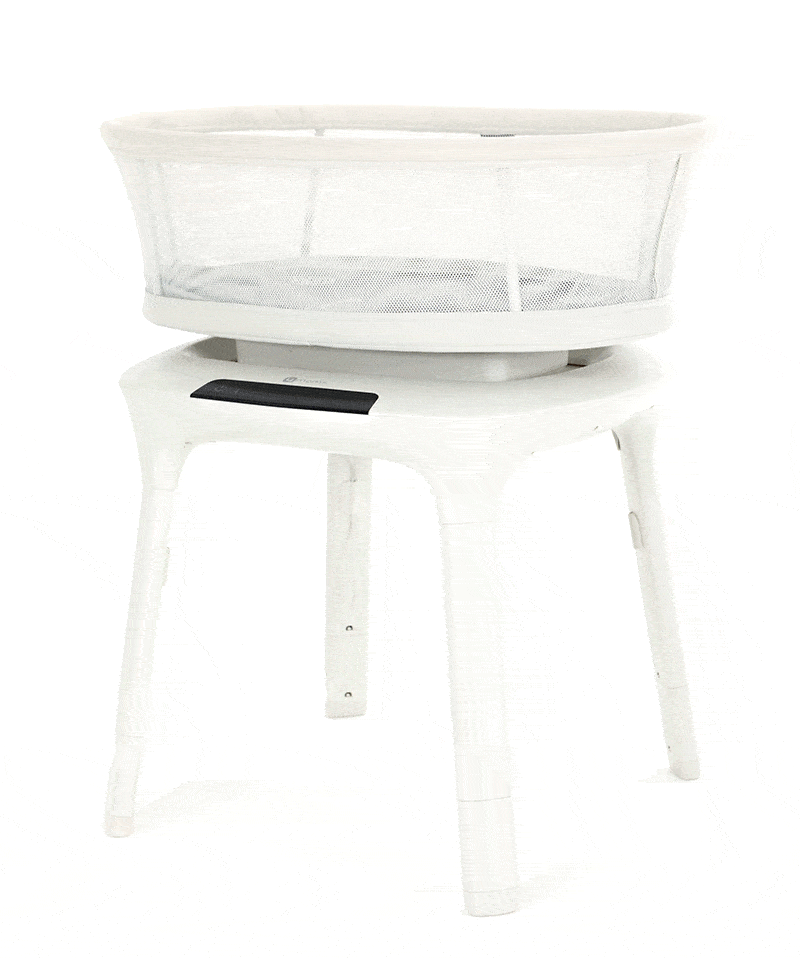 Tree swing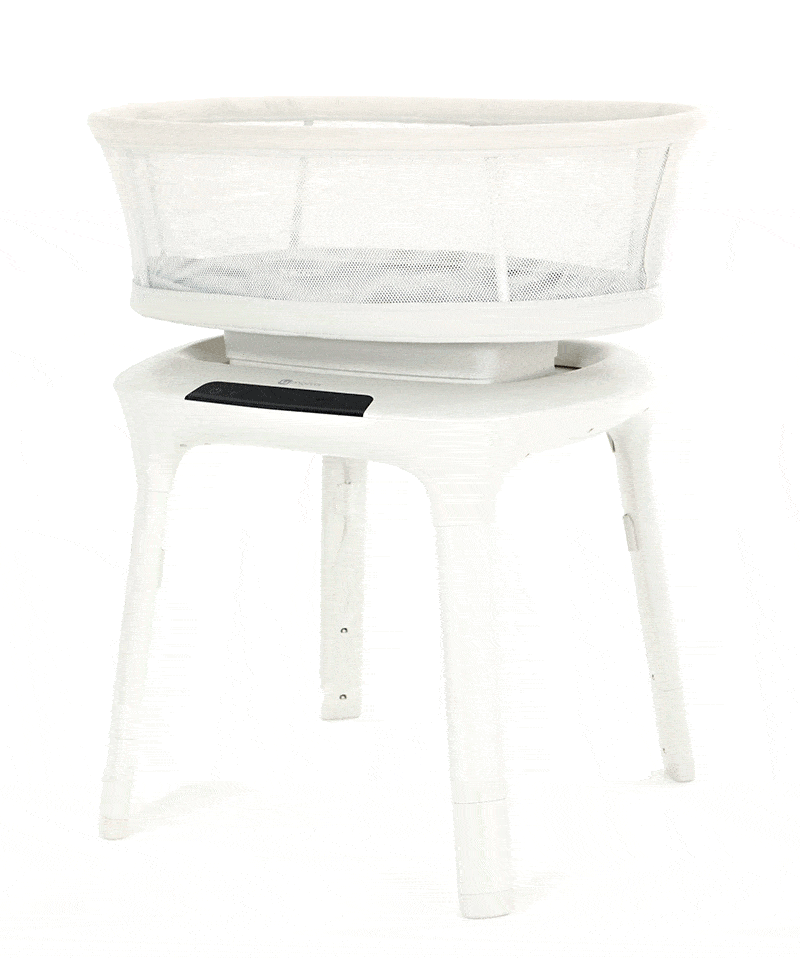 Wave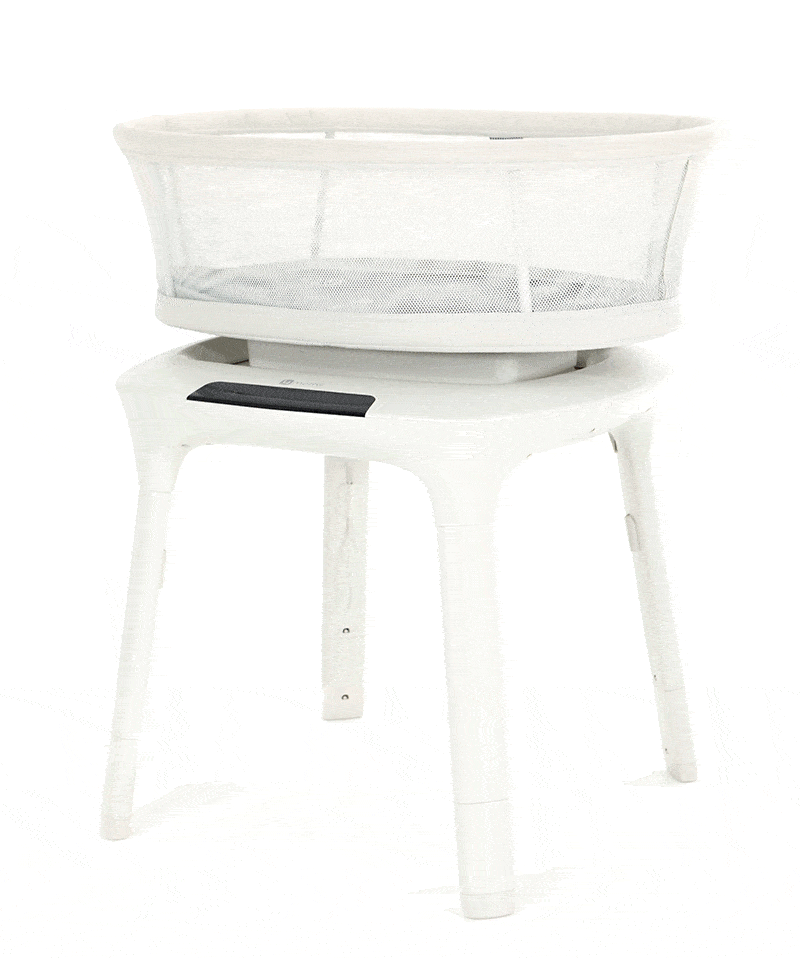 Rock-a-bye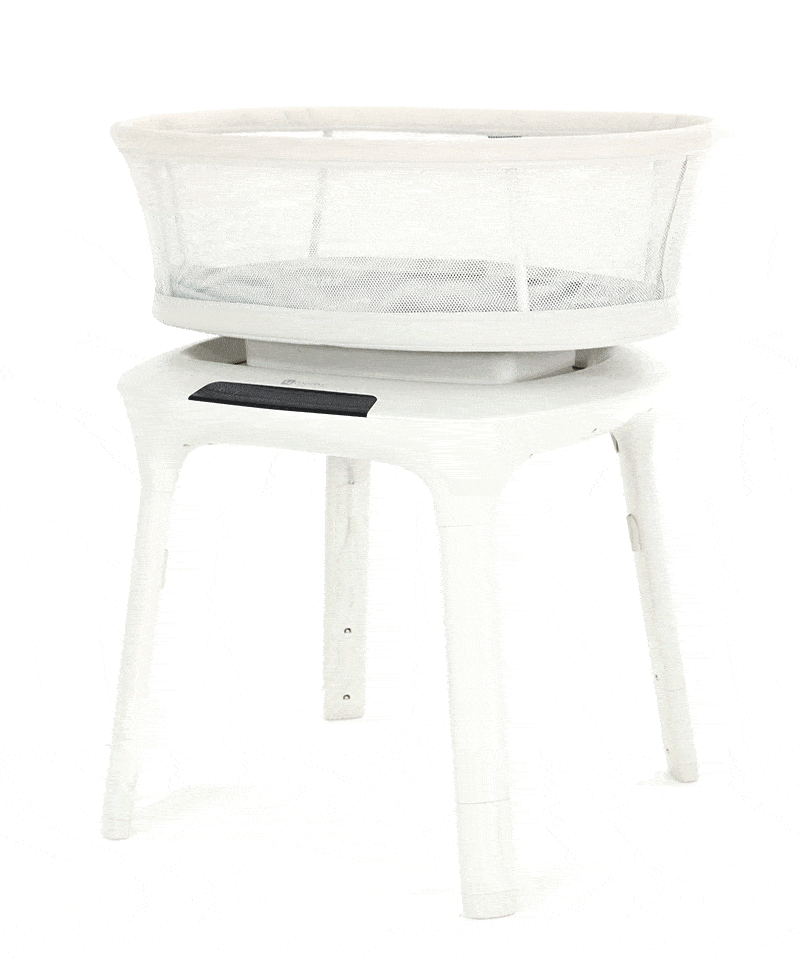 Smart App-Enabled with Bluetooth Connectivity
The mamaRoo sleep bassinet is designed to connect wirelessly to the 4moms app, which you can download on your smartphone.
This feature enables you to adjust each of the functions remotely. Other than the five programmed movements, you can also choose from different vibration modes (NOTE: the vibration feature was removed from the newer model of the mamaRoo Sleep Bassinet) as well as four soothing sounds: rain, ocean, fan and shush.
What's more, you can set a timer using the app to create a consistent bedtime routine. Pair different movements, speeds and vibrations to find the perfect sleep-inducing formula for your little one.
Accessories
The main accessory every parent needs when it comes to bassinets is extra sets of sheets. When you get the mamaRoo Sleep bassinet, make sure to get a couple of extra sheets for those unpredictable messy moments.
4moms makes their own sheets for the mamaRoo Sleep bassinet and they are great, but we also love Ely's & Co bassinet sheets because they are very soft to the touch, fit perfectly and you get two for about the same price as one 4moms' sheet.
Pros
Intuitive design
An intuitive design is one of the features that makes this bassinet stand out. Parents find the mamaRoo Sleep bassinet very easy to operate thanks to the user-friendly controls and simple app.
Comfortable sleeping surface for baby
Another advantage of mamaRoo sleep bassinet is the quality and feel of the sleeping surface. As recommended by the AAP, it comes with a cozy mattress that's firm and completely flat; but not hard as a rock.
It has the perfect amount of give so you don't feel like your baby is sleeping on a plank of wood, but you know he is safe.
What's more, the mattress has a water-resistant layer. This is a pretty important feature considering all the mess that kids create; spilled milk, pee, poop, puke and sometimes even more.
Versatile
Considering all the essentials you have to buy for your newborn, you'll probably be looking to invest in a bassinet that can be used for a long time.
Luckily, the mamaRoo doesn't disappoint. With a weight limit of 25 pounds, you'll be able to use this bassinet until your baby reaches about 12 months or until he can push up on his hands and knees on his own.
Easy care and maintenance
Cleaning and maintaining the mamaRoo Sleep is easy. Every surface is exposed and super easy to wipe down. There are no hard to reach spots that you need to clean.
Simply use a damp cloth and some soft soap or baby safe cleaner to wipe down the entire bassinet.
Warranty and flexible payment options
4moms provides a 1-year warranty starting from the date of purchase. This covers all repair and replacement expenses.
Tool-less assembly
If you're not a DIY enthusiast, the last thing you want is to spend hours putting a bassinet together. Luckily, 4moms has taken this into consideration.
They've provided a detailed manual to help you assemble the bassinet in the shortest time possible.
How does it compare to the competition?
There are only a handful of smart bassinets in the market today that can be compared to the 4moms mamaRoo Sleep bassinet.
I've reviewed and compared a few of them. If you're still looking for more information on smart bassinets, you can check out my comparison between the SNOO and the 4moms mamaroo as well as my SNOO rental review. I also have a detailed review of the Graco Sense2Snooze smart bassinet.
4moms MamaRoo Sleep Bassinet
5 unique soothing motions
Safe from newborn up to 25lbs
Height-adjustable
App-controlled
Easy to assemble
---
Unboxing the 4moms mamaRoo bassinet
Unboxing the mamaRoo Sleep is super easy. The main bassinet portion is fully assembled so there are very few pieces to deal with.
Here are some images of my own unboxing.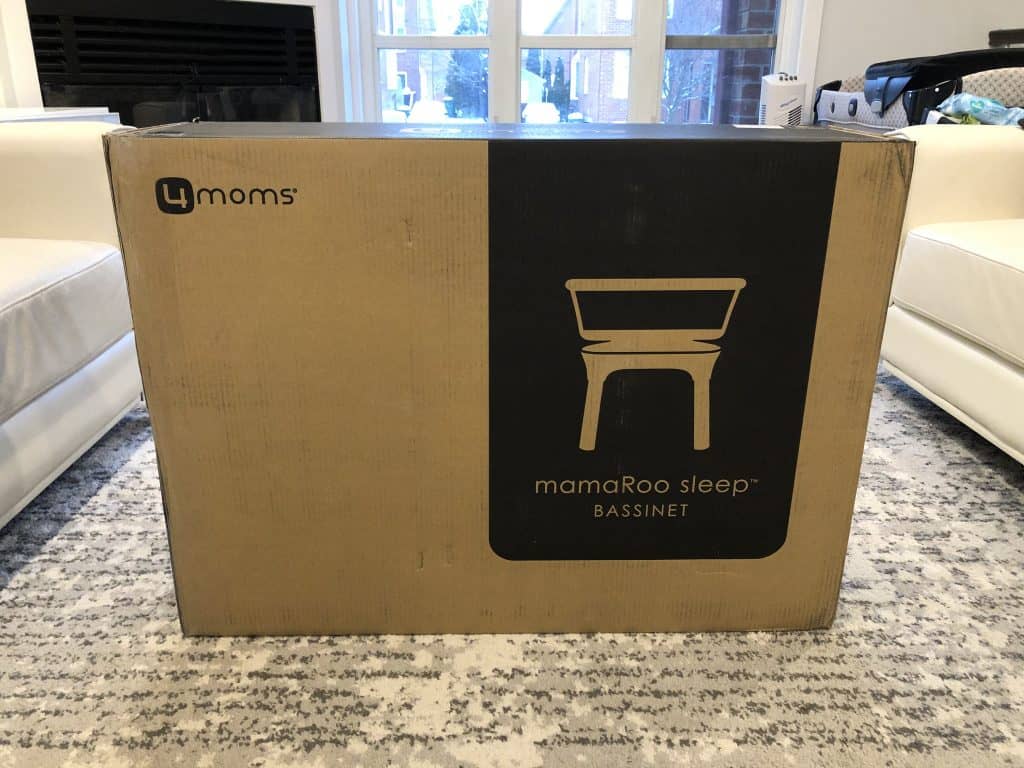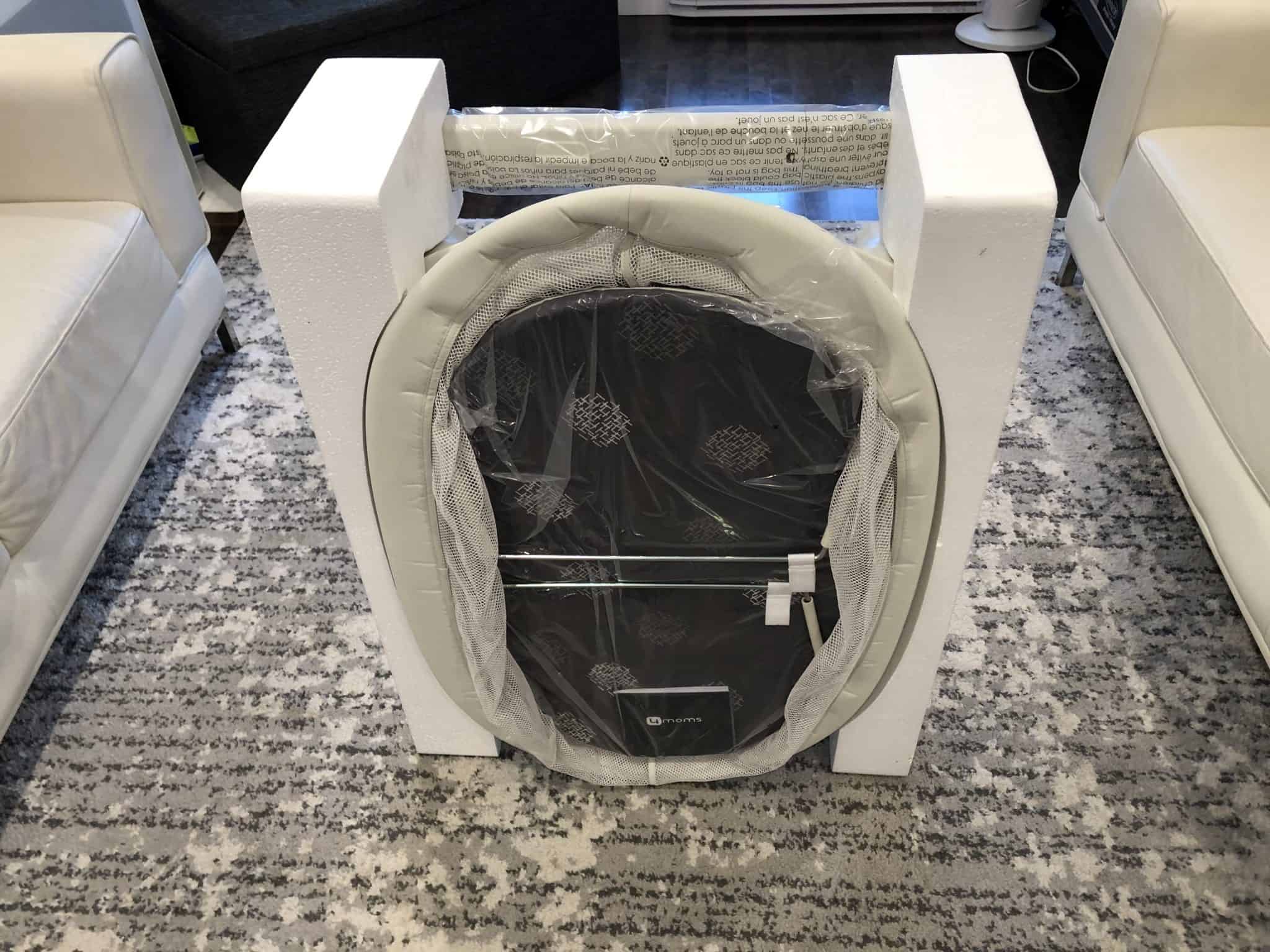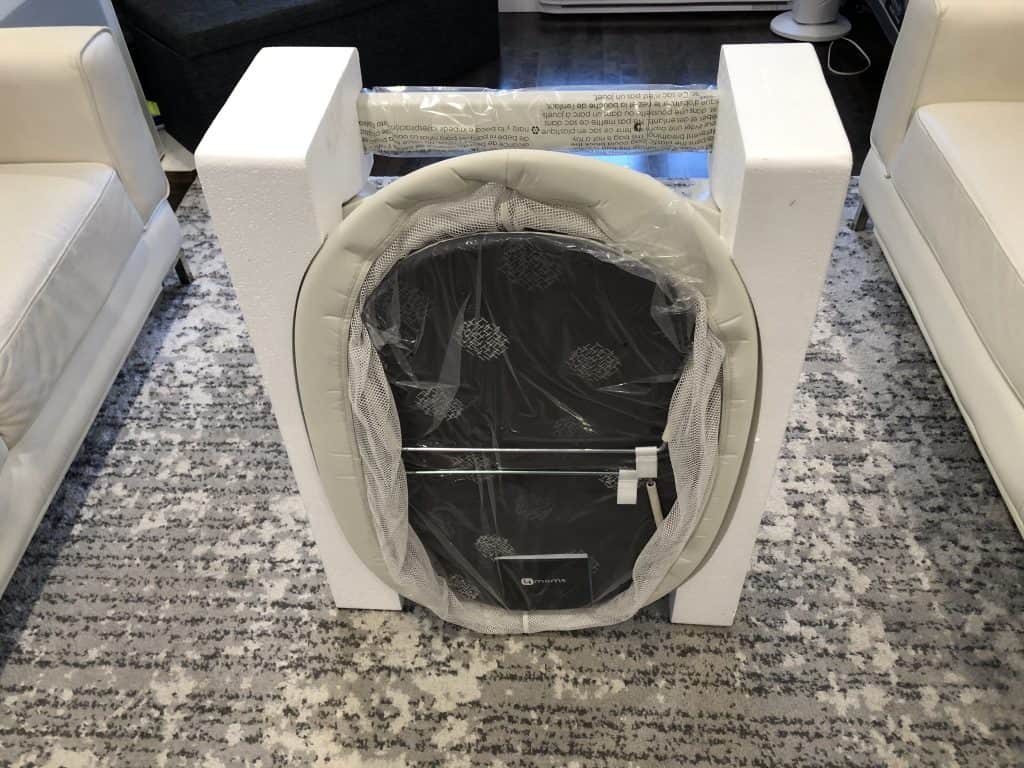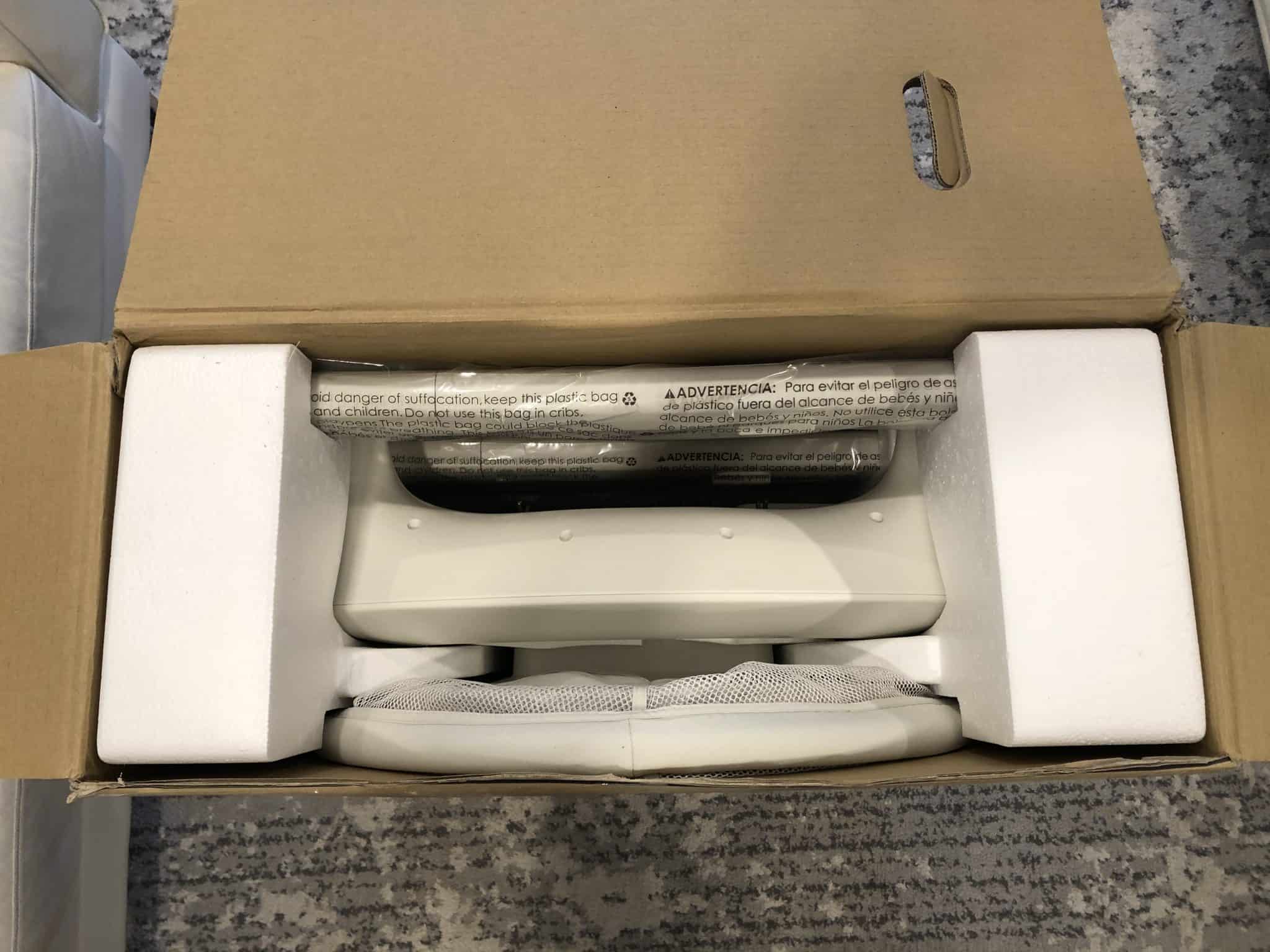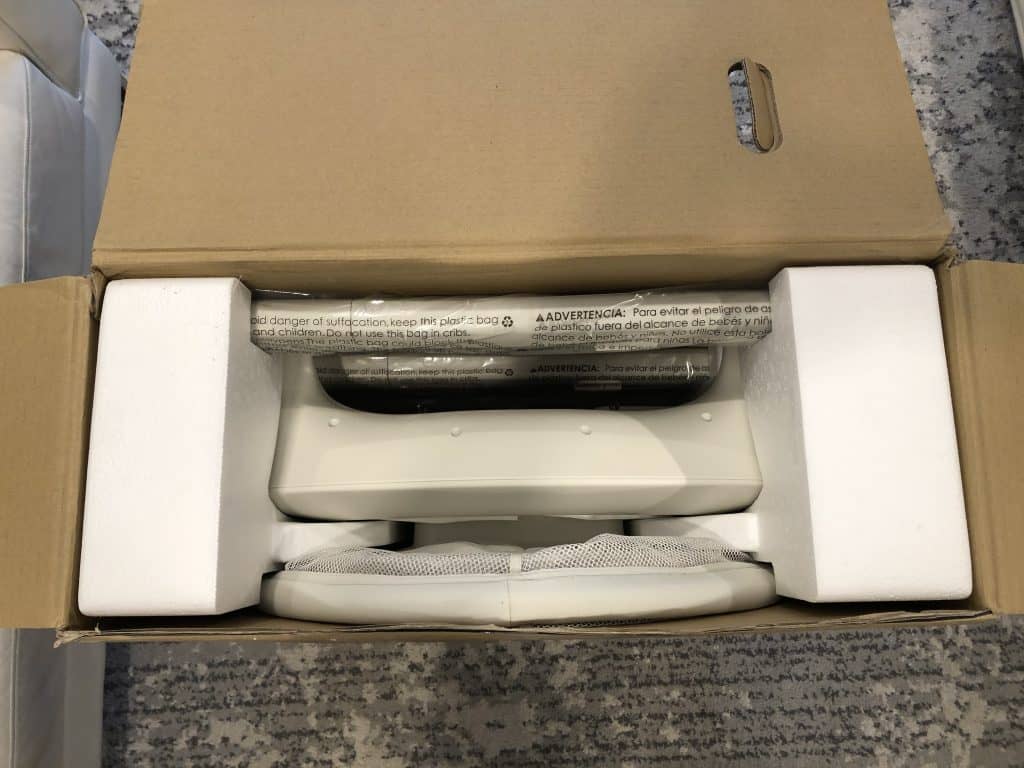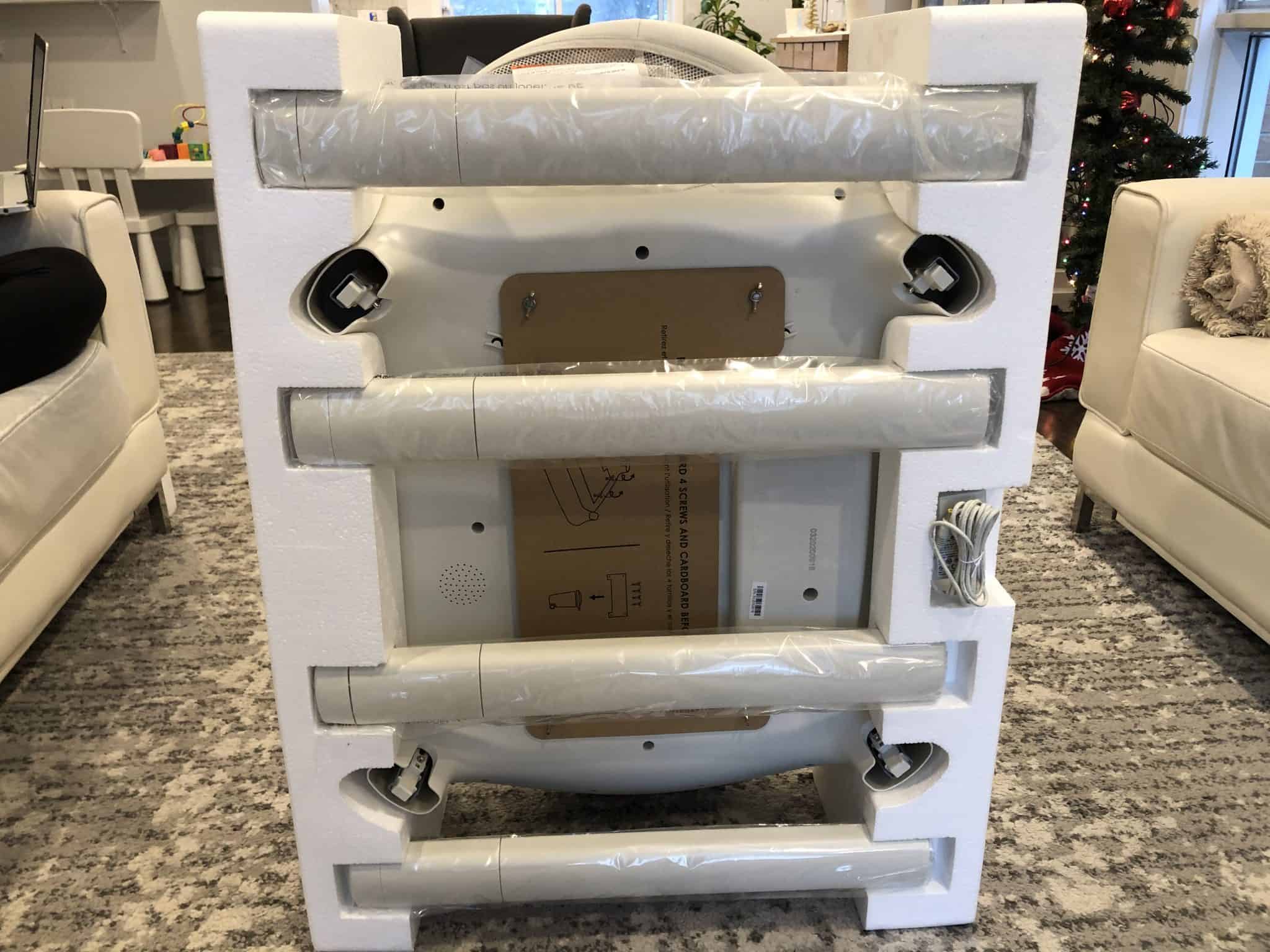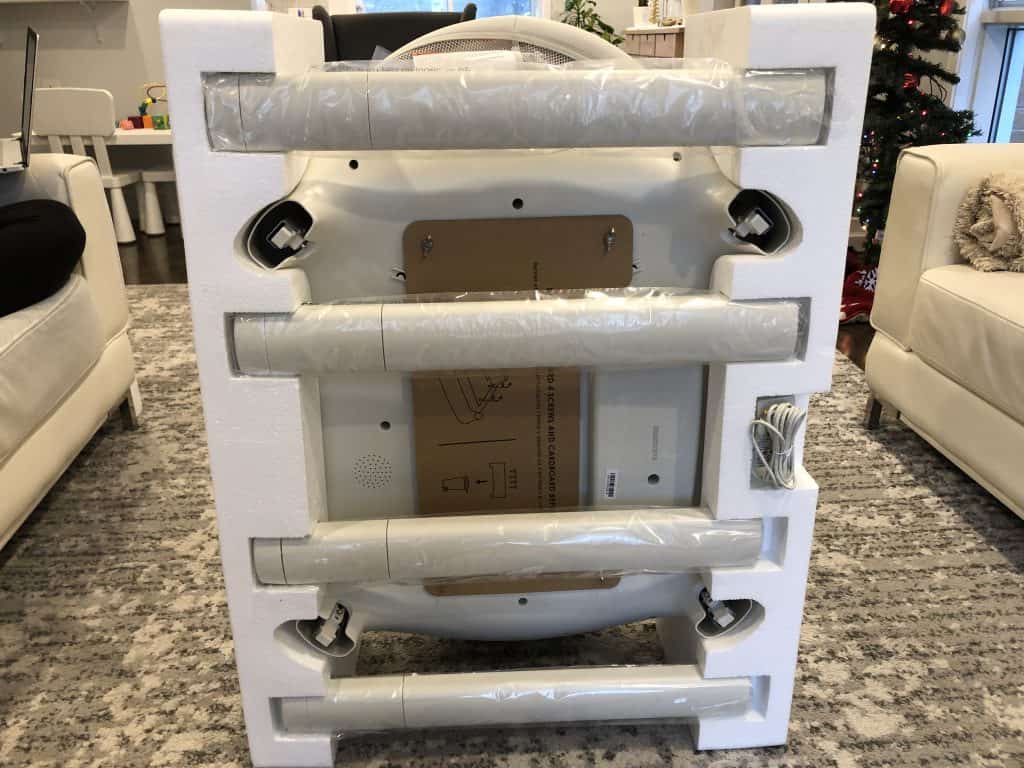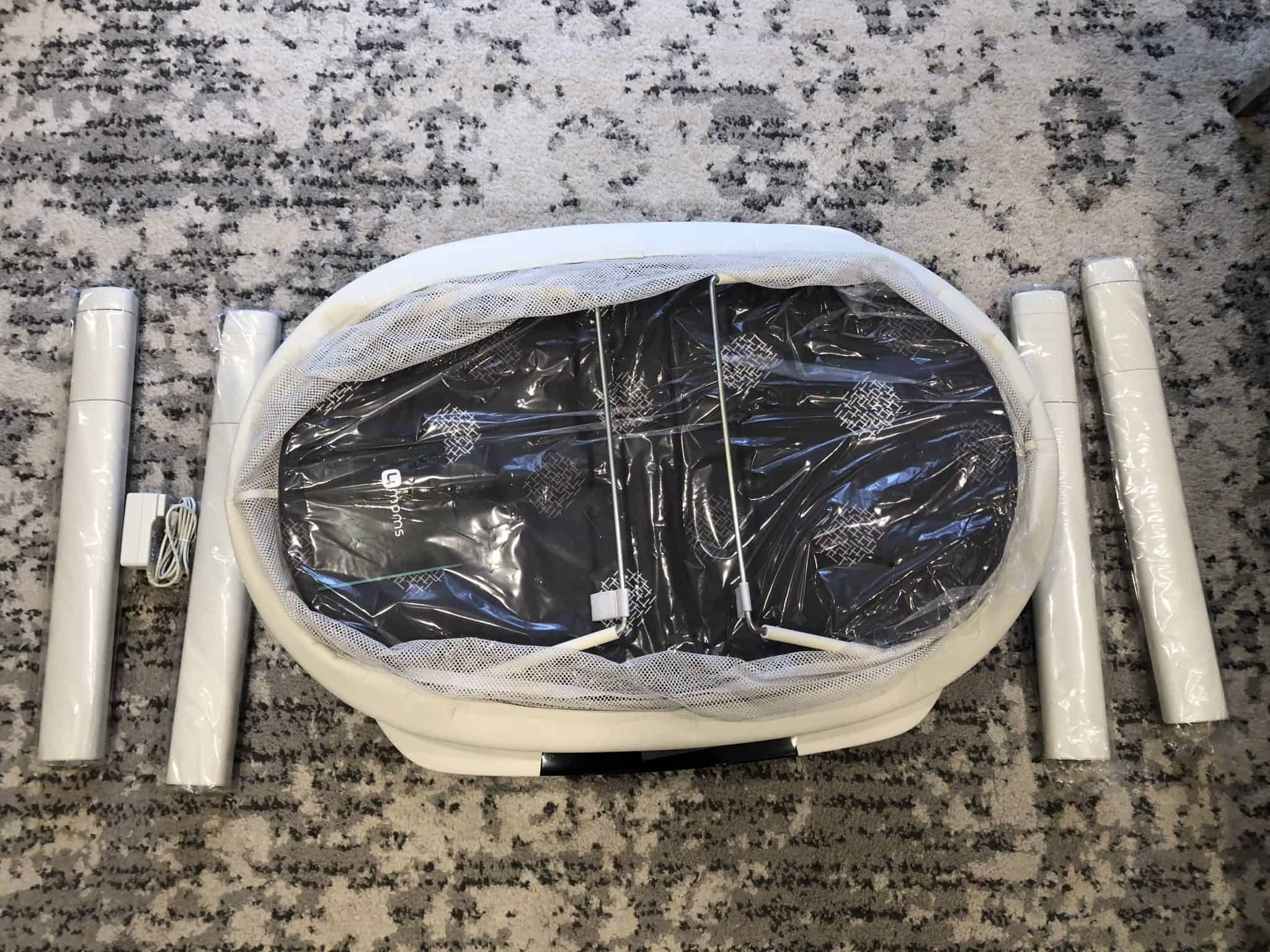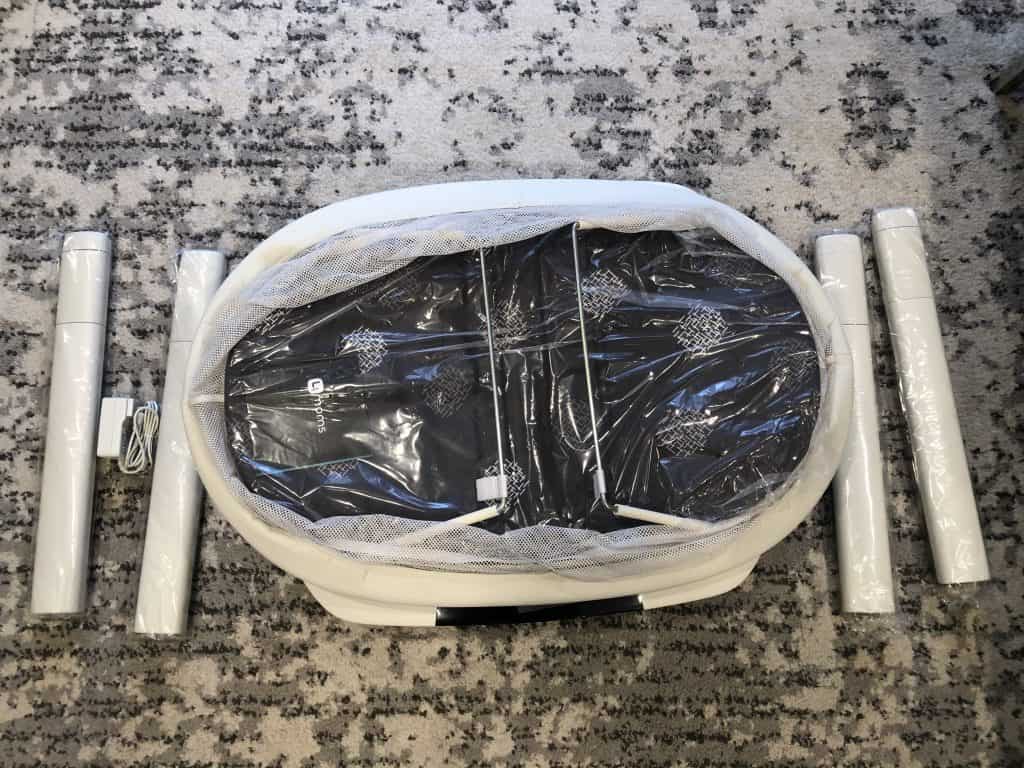 4moms mamaRoo Sleep Bassinet Assembly
When it comes to putting it together, this bassinet gets you off to a great start thanks to its easy, tool-less assembly. It took me literally under 2 minutes to assemble the 4moms mamaRoo Sleep bassinet.
Assembly can be completed in 4 easy steps, here is how to do it:
1. Connect the four legs to the main body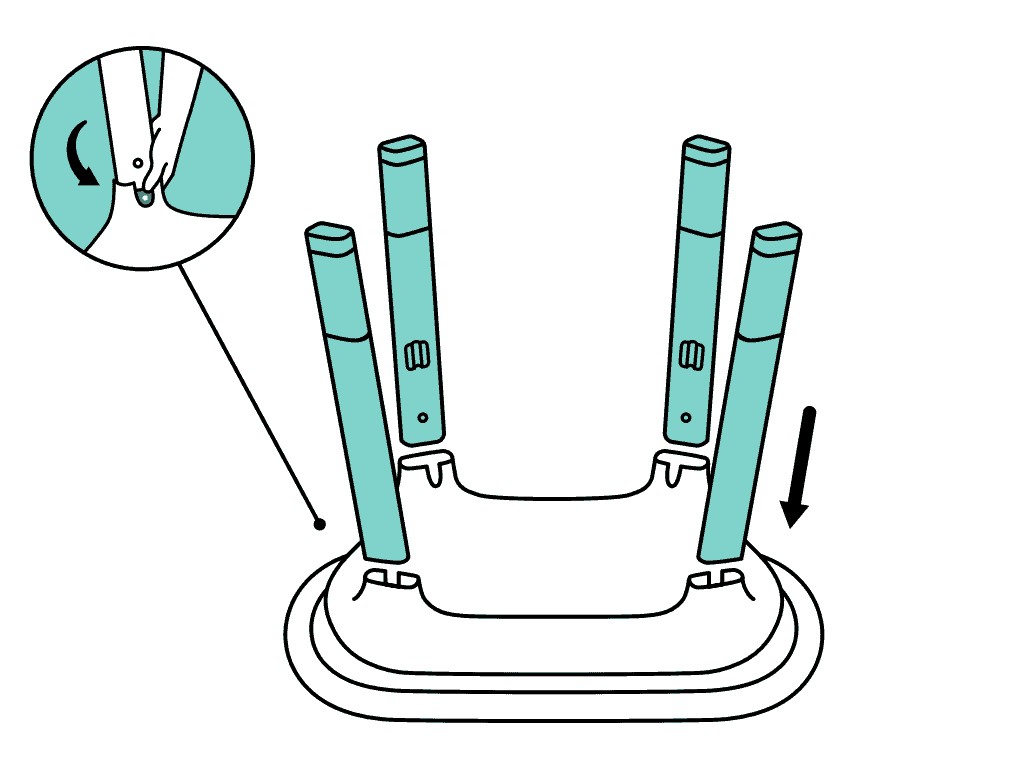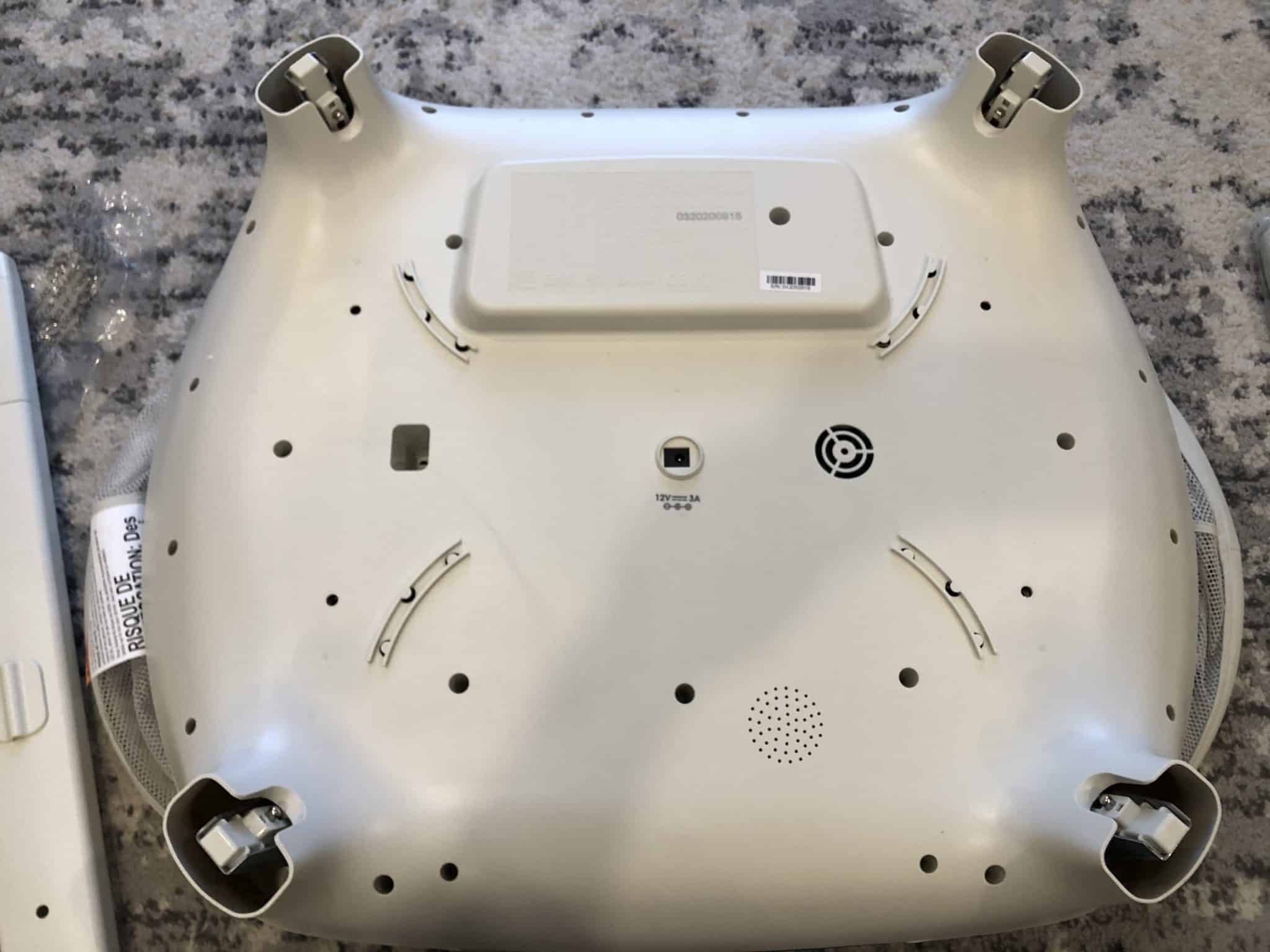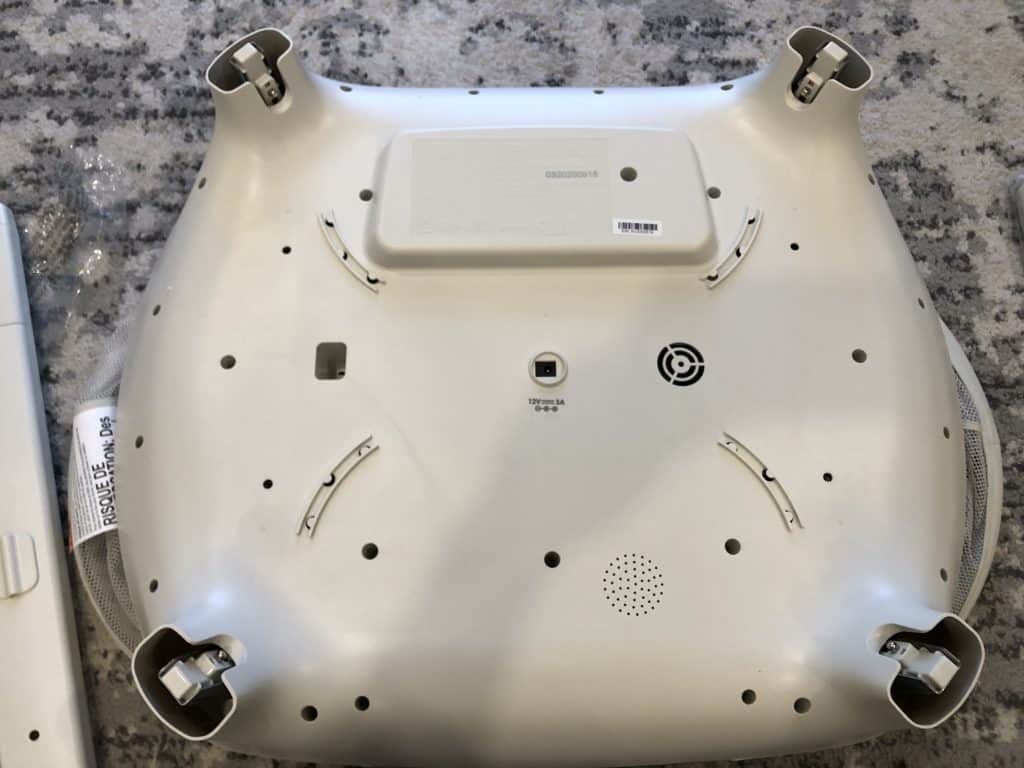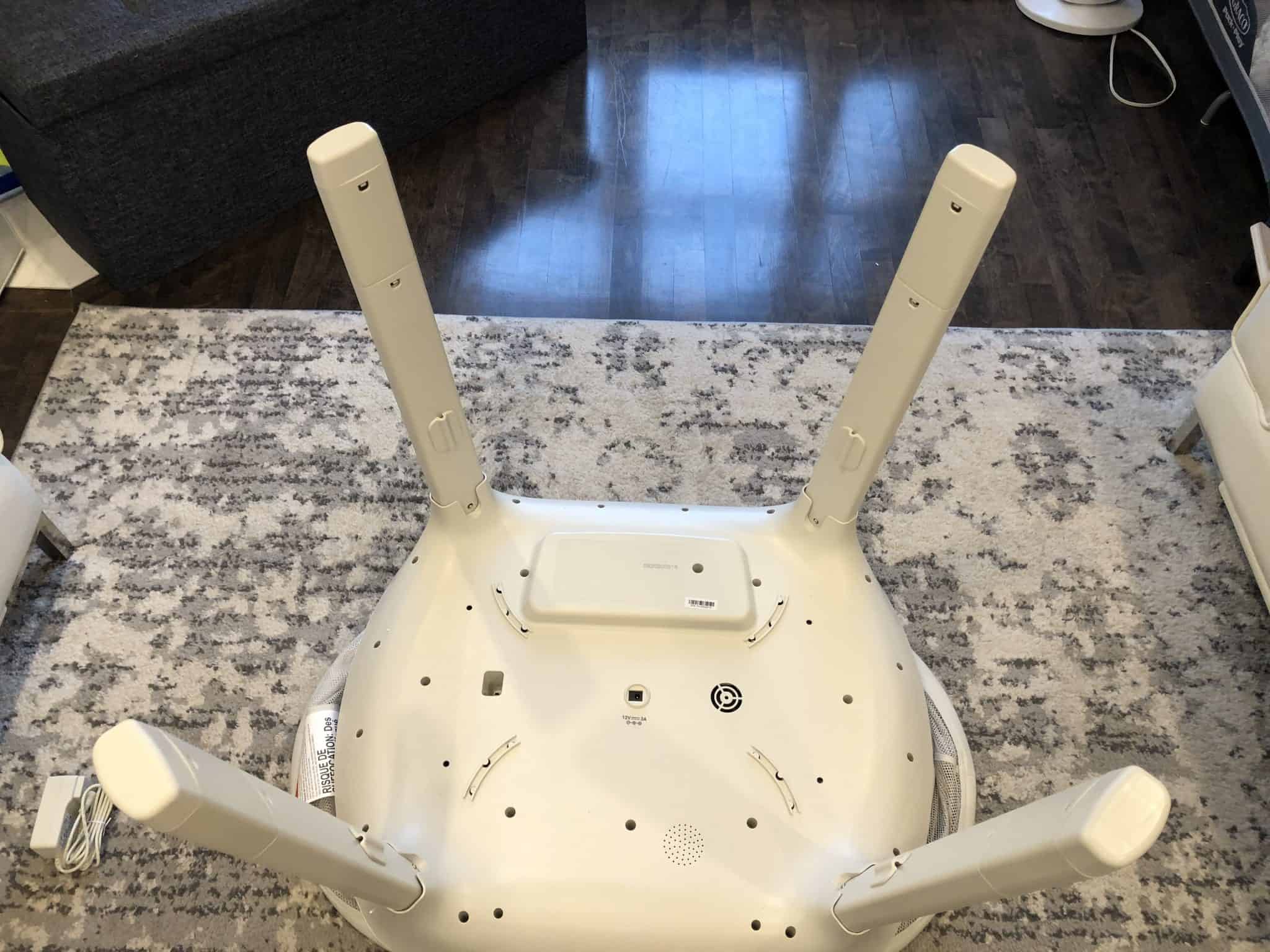 2. Lift the bassinet mesh and push the bars into the slots until it locks in position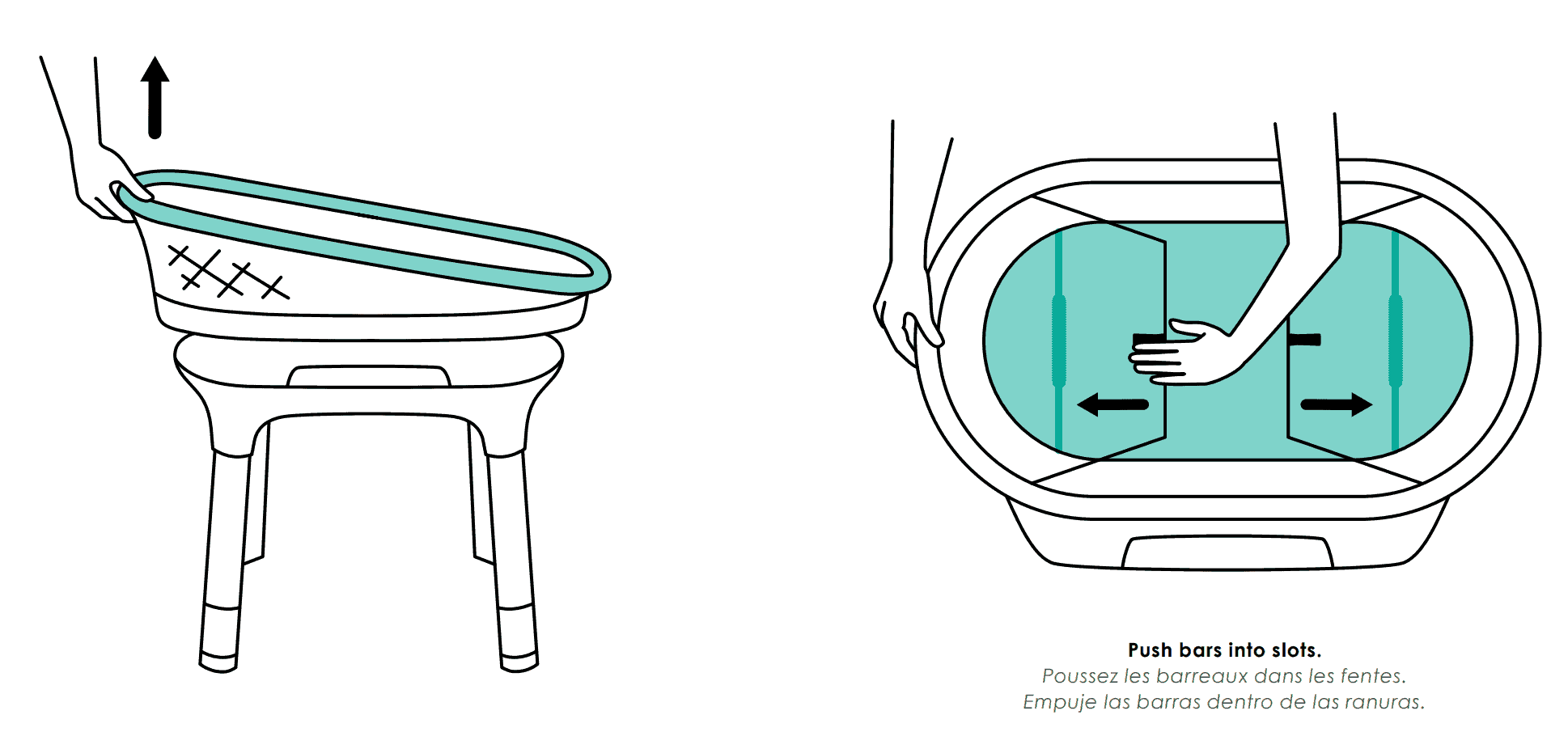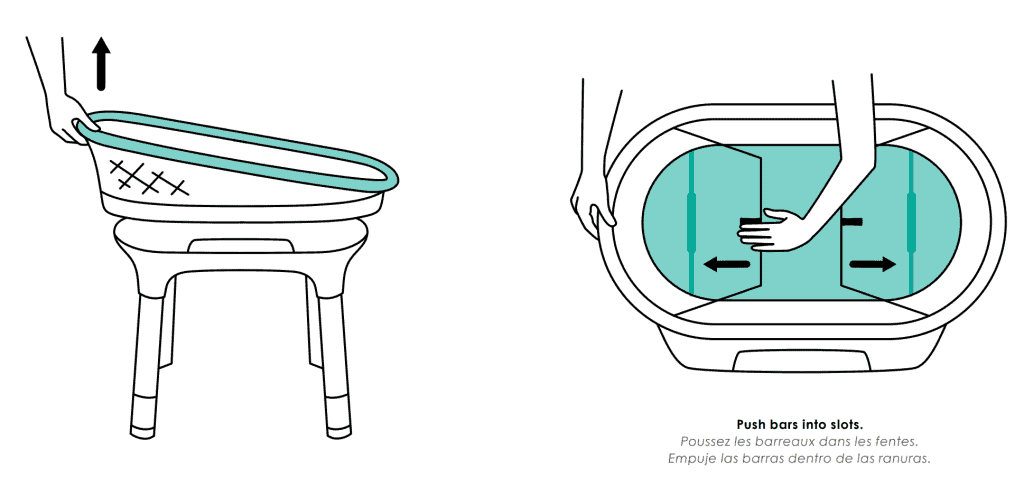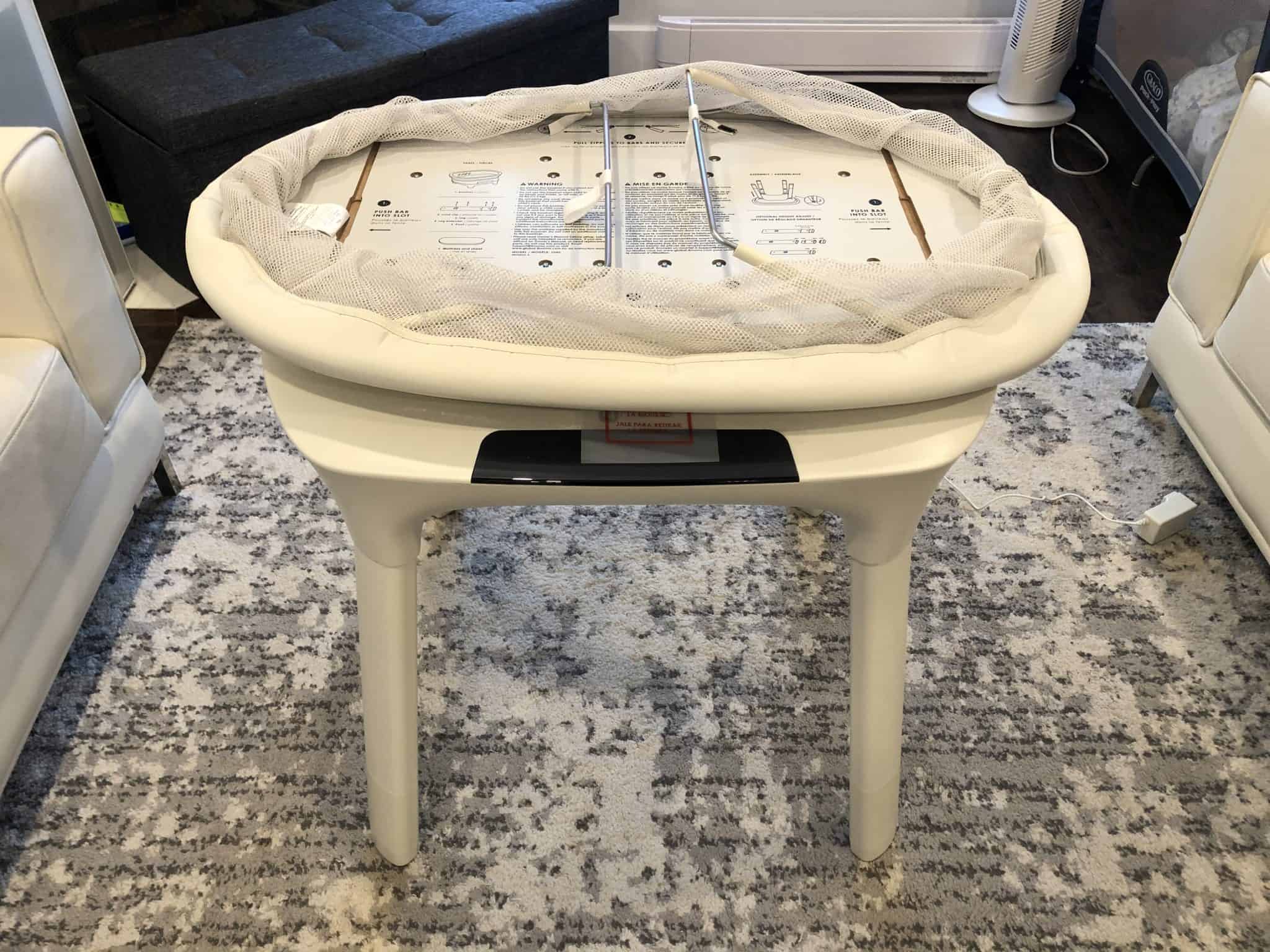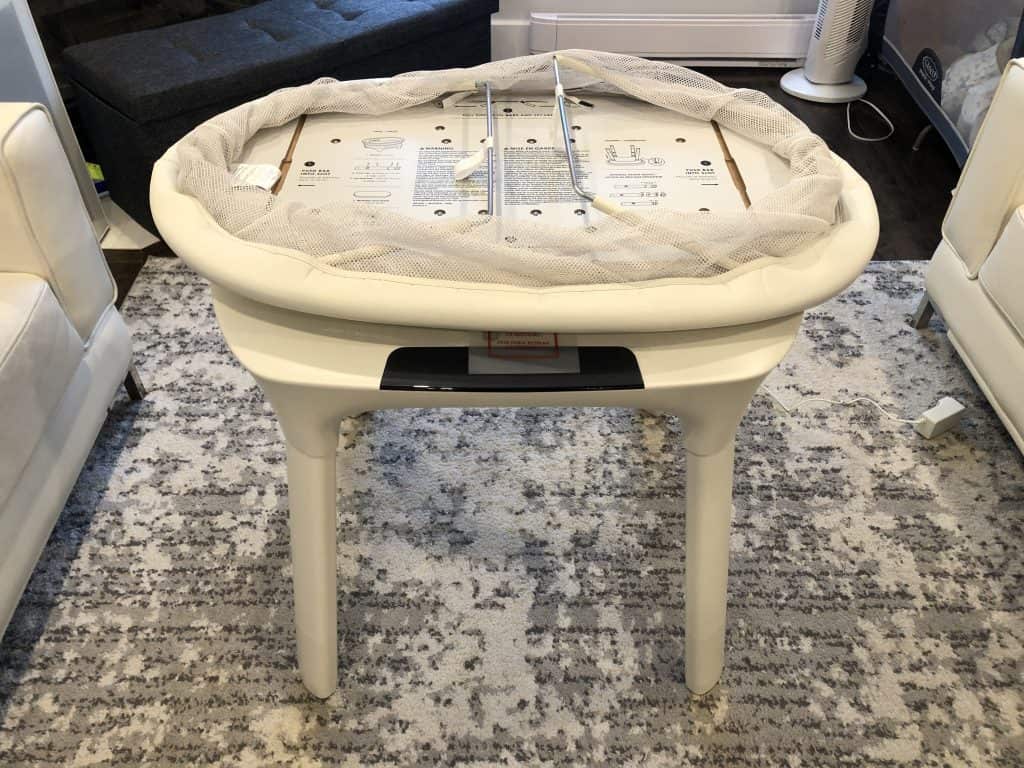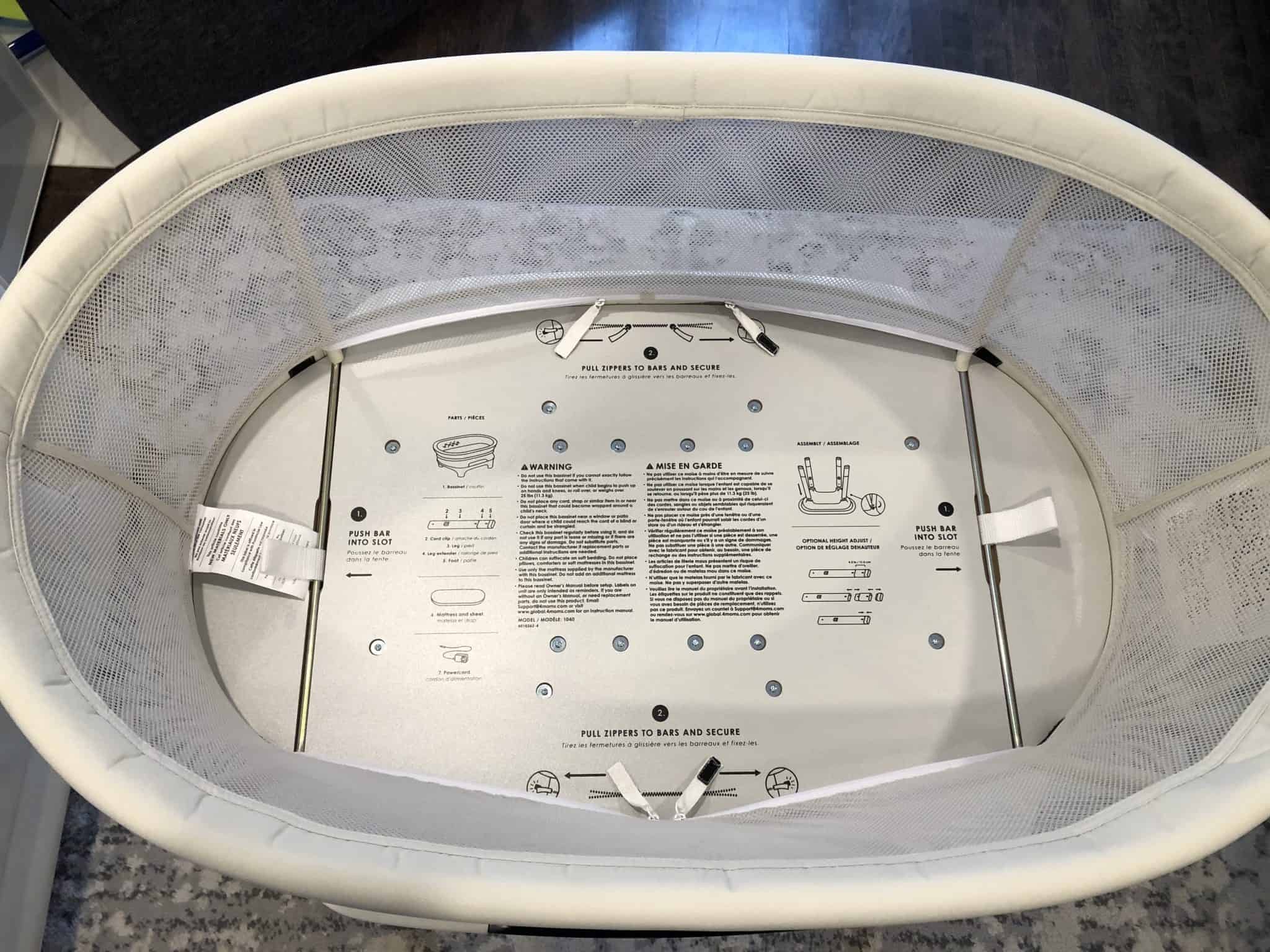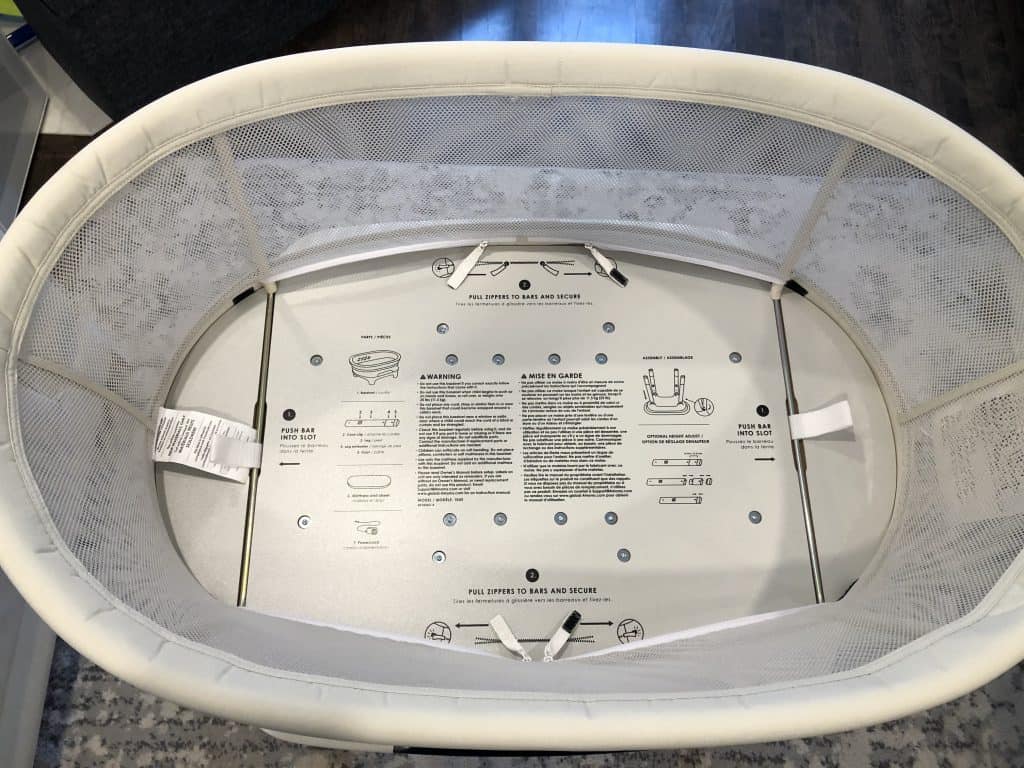 3. Zip the sides closed and place the mattress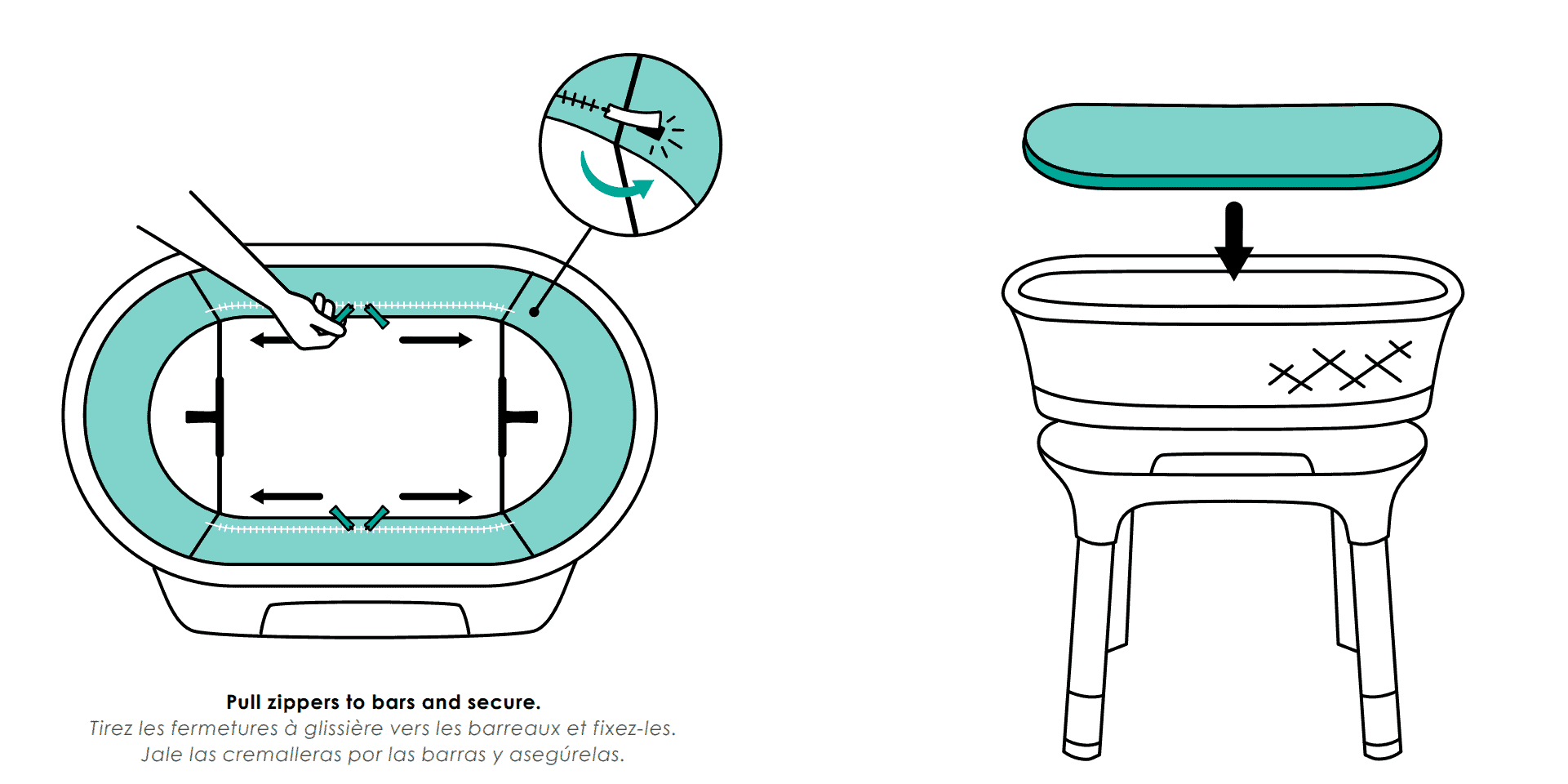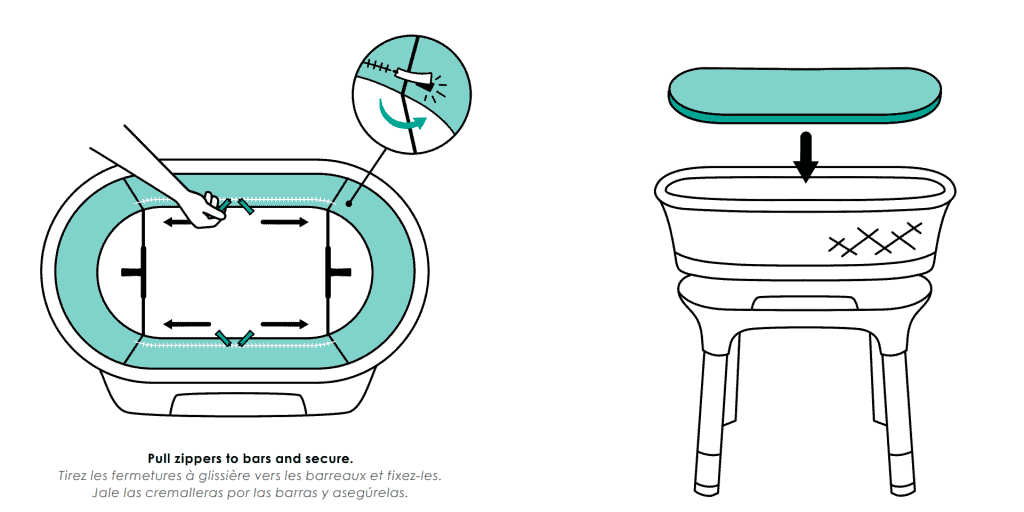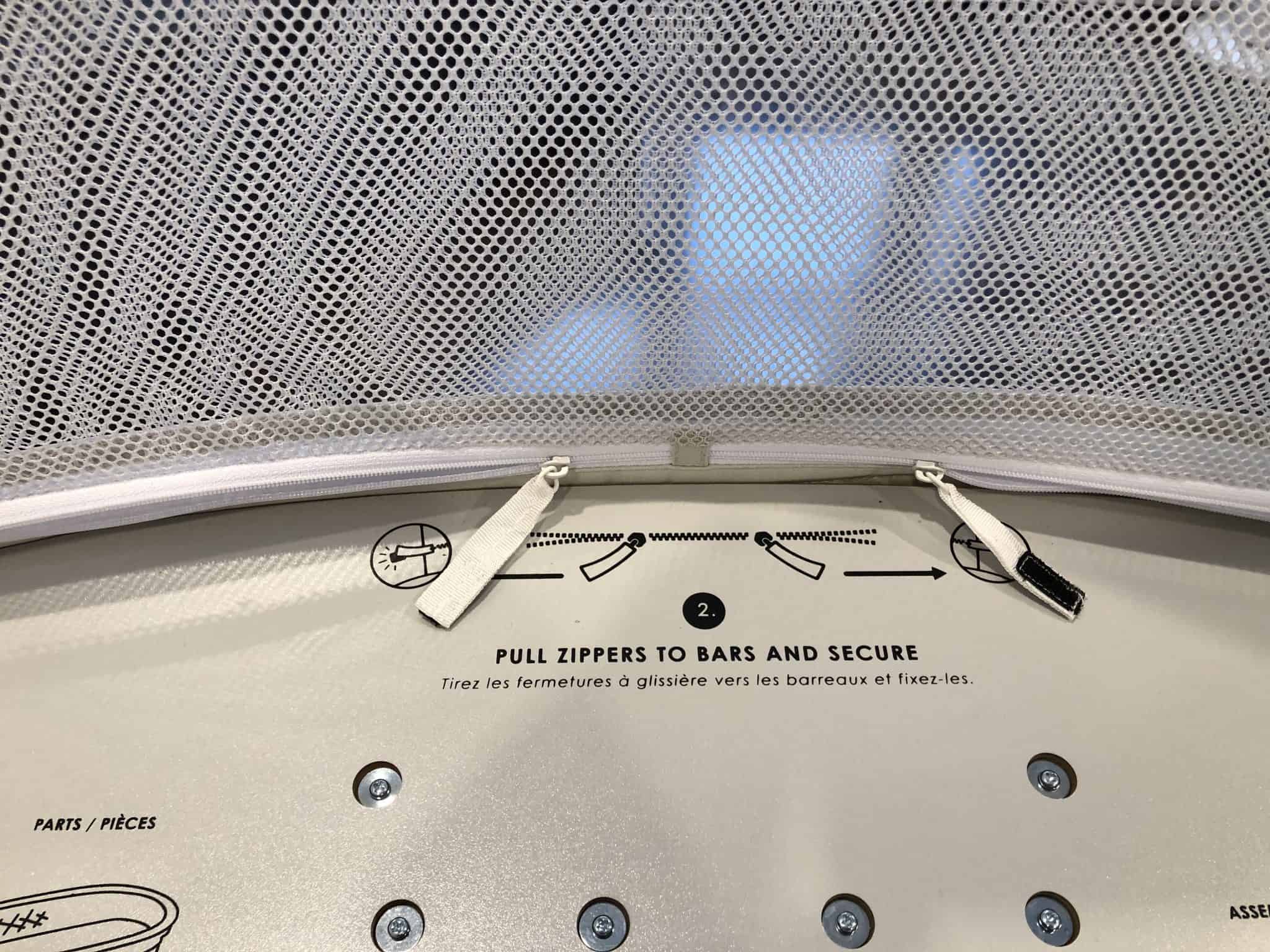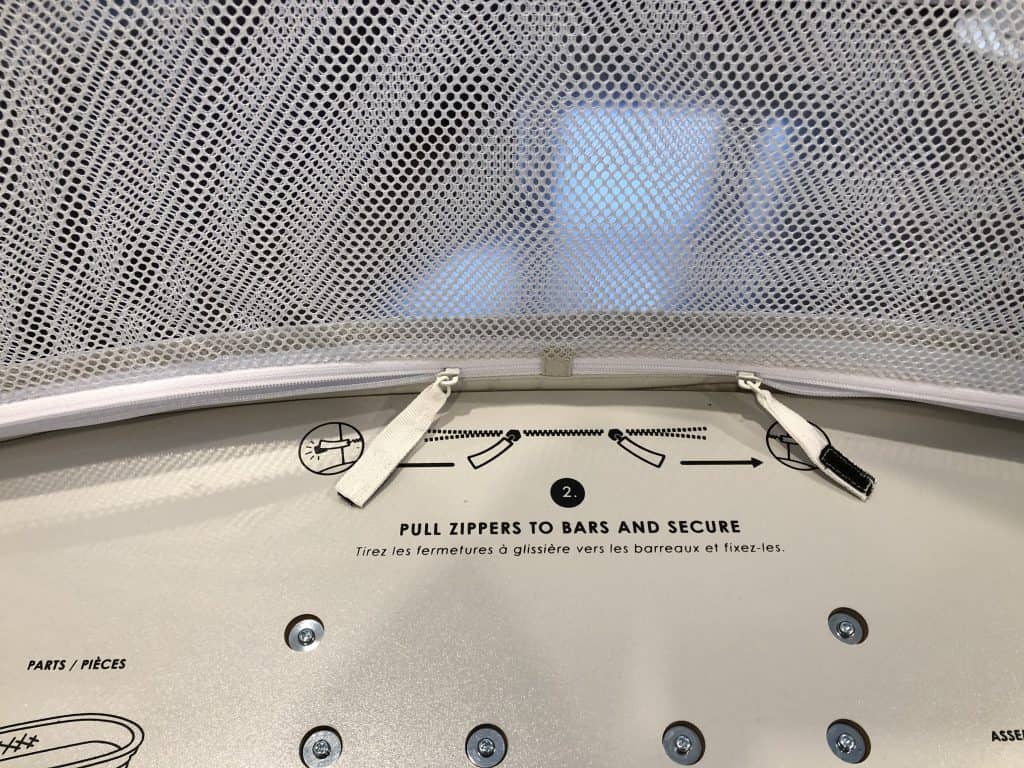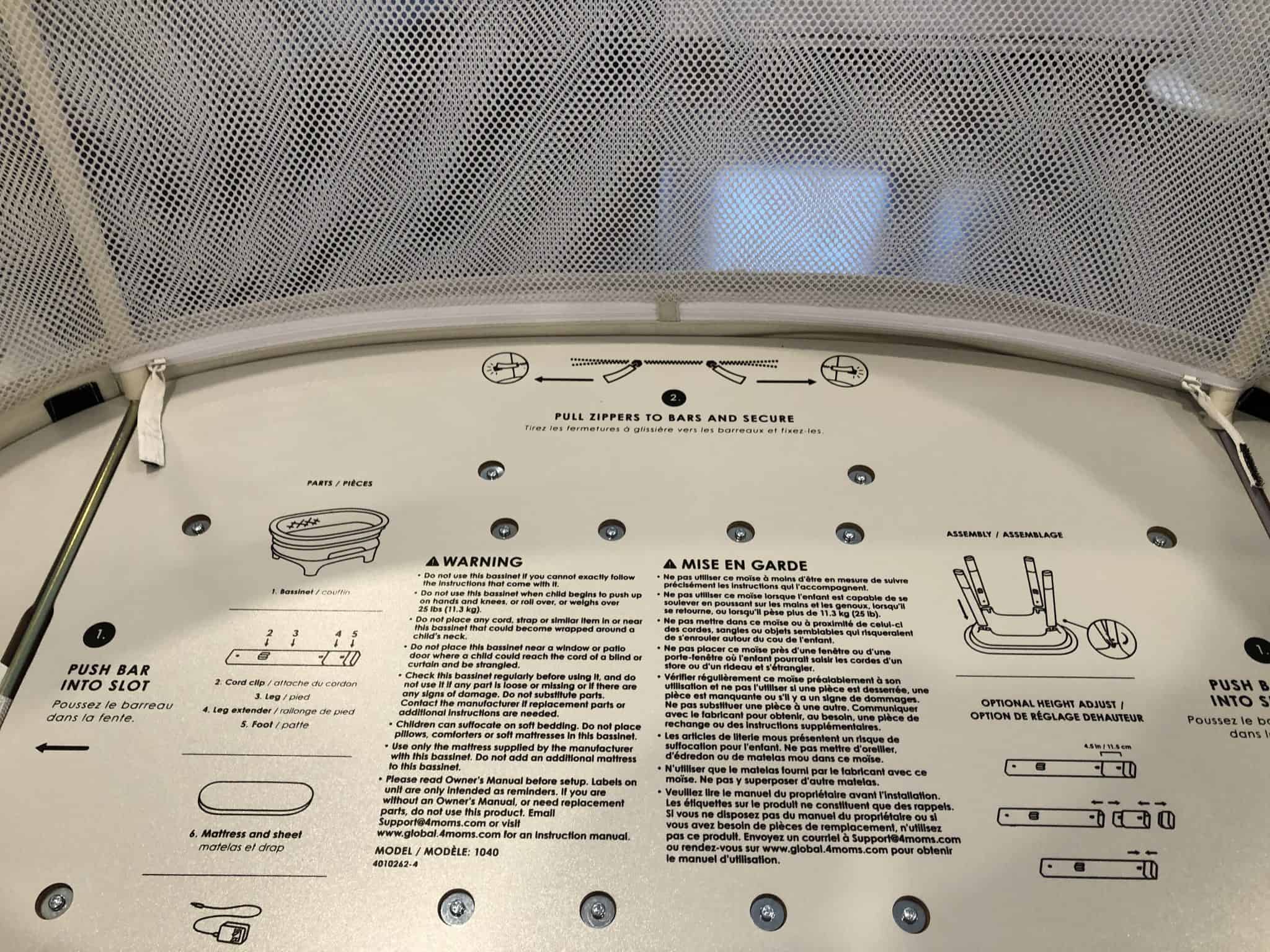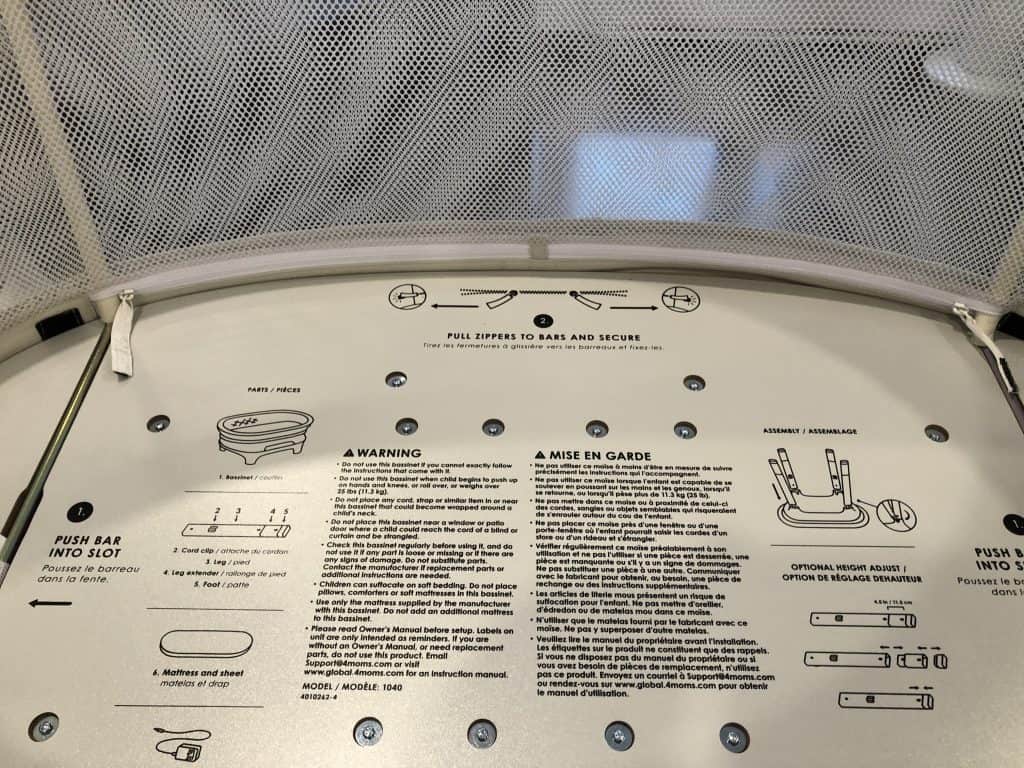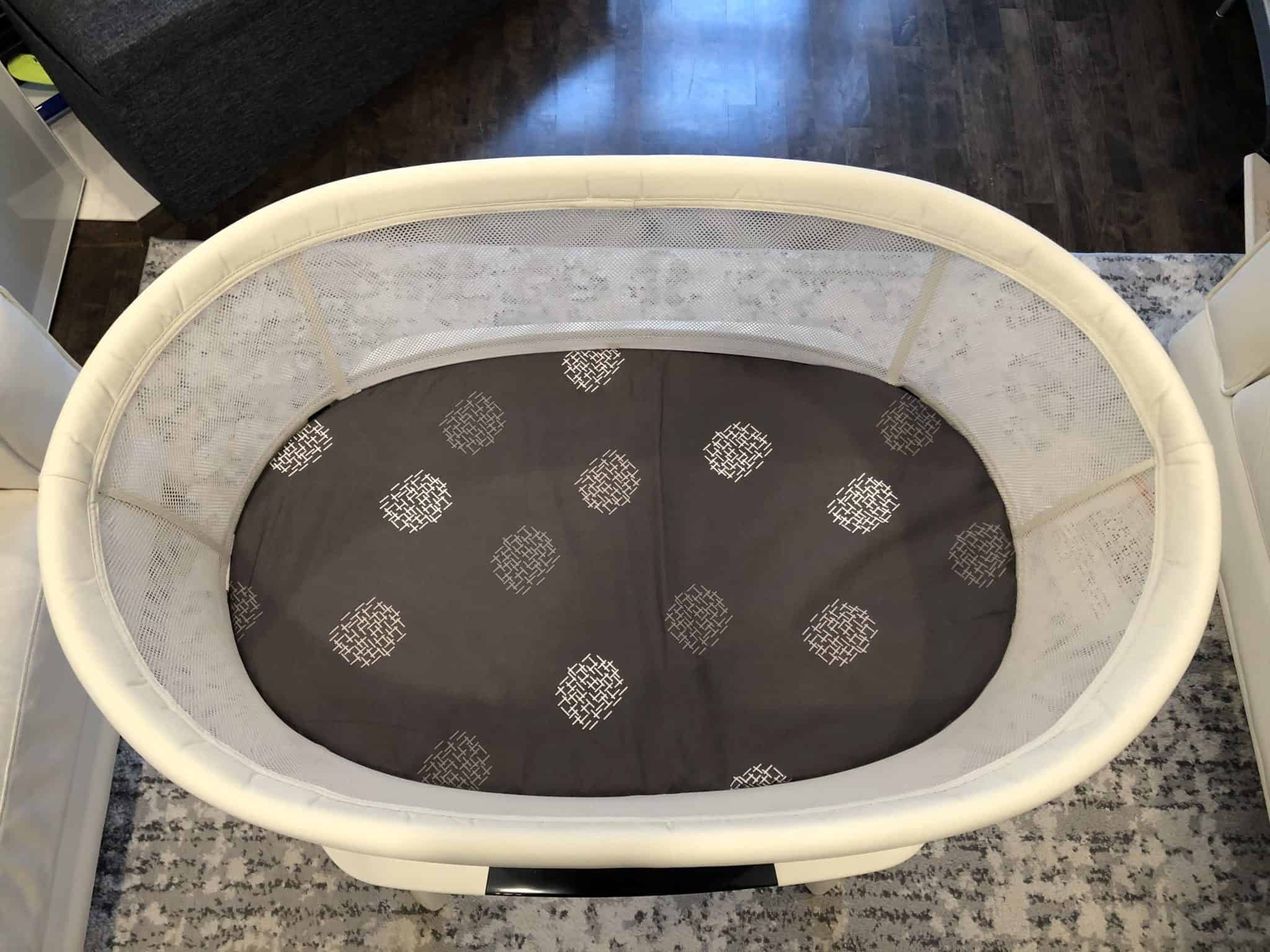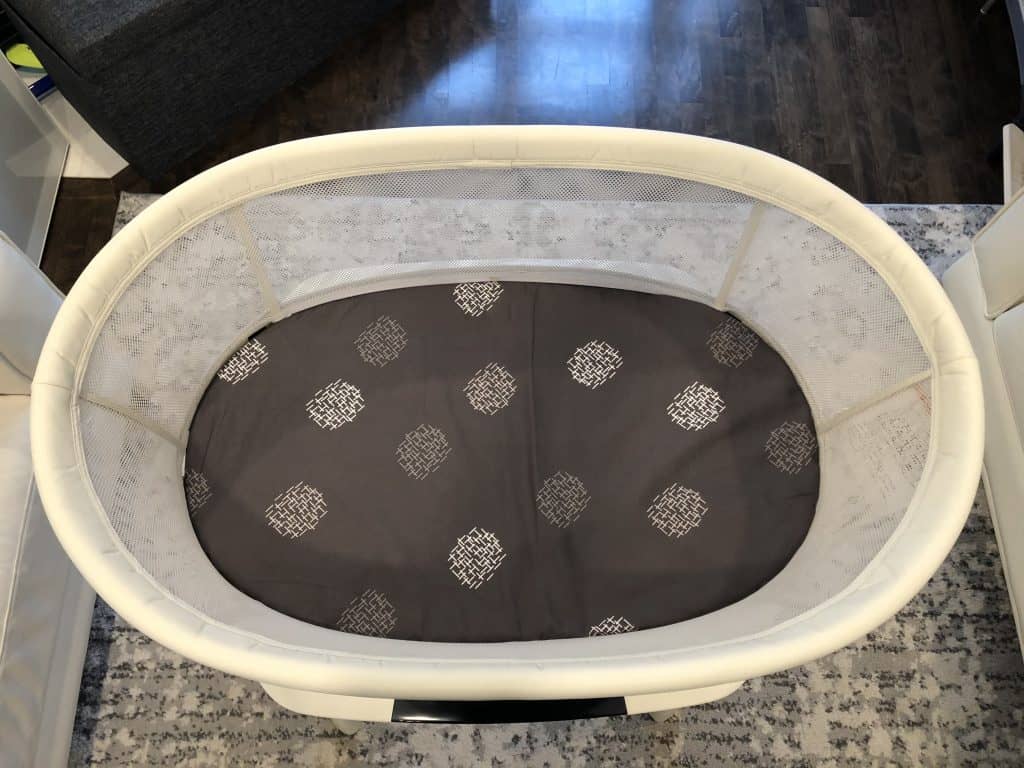 4. Connect the AC power adaptor to the bottom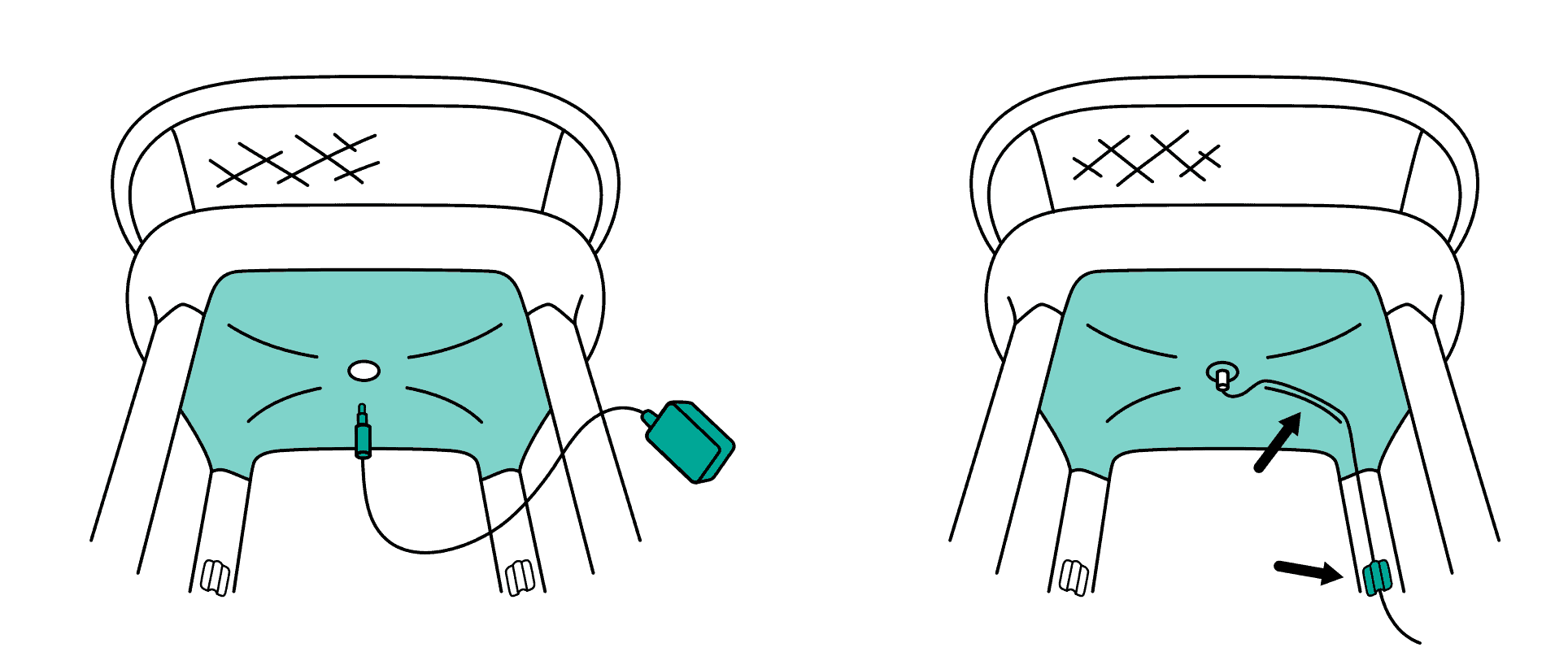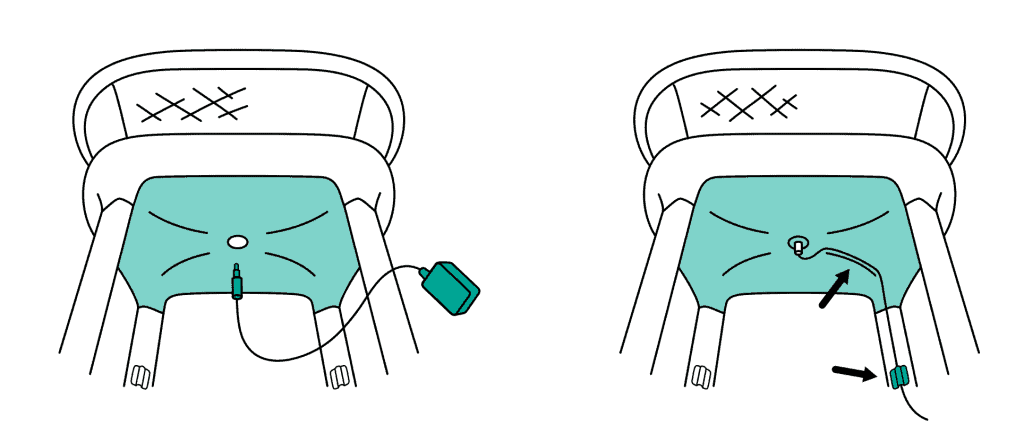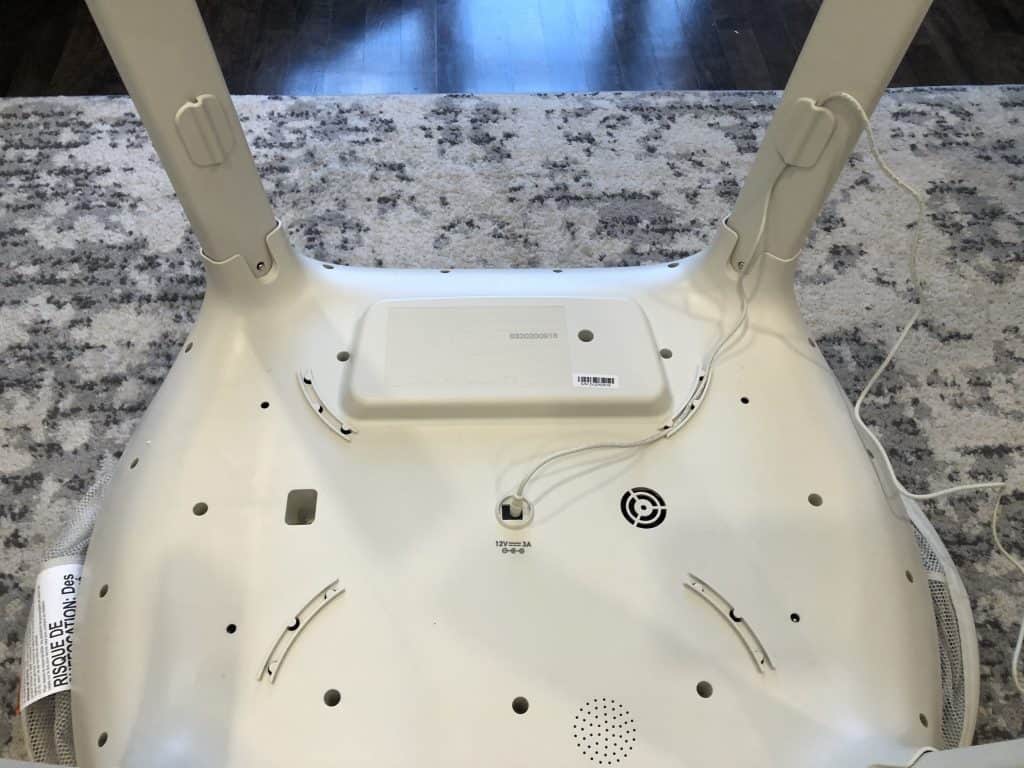 And that's it!
Who Is It For?
The mamaRoo Sleep bassinet is specifically made for parents who are looking for that extra edge when it comes to getting some much-needed sleep without breaking the bank. The mamaRoo Sleep's closest competitor is about double the price and provides pretty much the same features.
It is a known fact that babies are soothed by motion. If you've ever seen a mom bouncing up and down with a newborn you know what I'm talking about. Babies love it and it calms them down.
This bassinet does the work for you.
It doesn't mean that your baby won't wake up in the night. All it means is that it will extend his sleep and putting him down is much, much easier.
With the mamaRoo Sleep you get premium features, the best in sleep safety, amazing quality and a fair price tag.
If you're still deciding on a smart bassinet, I suggest you check out my SNOO Smart Sleeper review.
For more information on the best bassinets, check out our guide to the best cosleeper bassinets.
4moms MamaRoo Sleep Bassinet
5 unique soothing motions
Safe from newborn up to 25lbs
Height-adjustable
App-controlled
Easy to assemble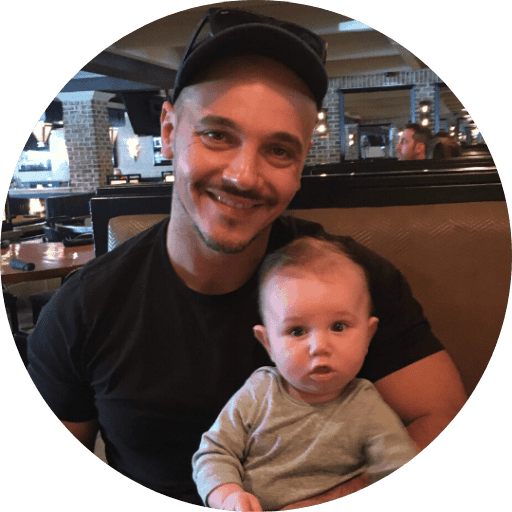 Paul is a passionate dad who founded Upside Dad to share his parenting journey with other new parents. He graduated from Concordia University and worked as a test engineer for over a decade. Paul loves dad jokes and craft beer.
Learn more about Paul and Upside Dad here.