The Graco Sense2Snooze bassinet is basically Graco's answer to the smart bassinet movement. This is one of the few "smart" bassinets out today and it goes head-to-head with two big dogs; the original smart bassinet, the SNOO by Happiest baby, and the newcomer, the 4moms Mamaroo Sleep basinet.
Graco Sense2Snooze Bassinet
Soothing motions with 3 speeds
2-speed vibration
Soothing sounds
Mesh side walls for breathability
Storage pockets
---
So, what does the Graco Sense2Snooze do that's so smart?
Well, not only does it come with a soothing motions feature (a light swing) on top of the vibration and sounds but it actually detects your baby's cry and adjusts these three features automatically to help soothe the baby.
Specifications
| | |
| --- | --- |
| Bassinet weight (assembled) | 21.94 lbs |
| Dimensions (L x W x H) | 29" x 17" x 41" |
| Weight limit (baby) | 20 lbs |
Graco Sense2Snooze weight limit
The Graco Sense2Snooze bassinet is rated for babies weighing up to 20lbs or until baby can roll over or sit up on his own.
Colors
The Graco Sense2Snooze bassinet comes in three different colors; Ellison, Hamilton and Roma
Features
The Graco Sense2Snooze comes with many handy features to help parents get their little ones to bed and most importantly, keep them asleep.
Soothing motion
There are three levels of motions that you can select to help soothe your baby or put him to sleep. The bassinet moves from to back in a smooth and continuous motion. The bassinet moves on curved tracks to give your baby the feeling of being rocked. If you worry about the motion being dangerous you should know that the Graco Sense2Snooze bassinet is JPMA certified and is fully qualified for your baby to sleep in.
Vibration
There are two vibration speeds (low and high) to help soothe your baby. I have personally never had much success with the vibration as a soothing feature for my son but some parents swear by it.
Sounds
The bassinet comes with white noise, 10 sleepy songs and 10 soothing sounds. You can scroll through them using the three buttons on the front panel.
Cry detection
Come equipped with a microphone to detect your baby's cry and automatically activate the soothing motions, vibration and sounds as needed.
Parent mode
Parent mode saves your favorite settings so you don't need to go searching for the perfect vibration level, sound or motion speed every time.
Removable Canopy
It comes with a removable and reversible canopy that can be placed at either side of the bassinet to best cover the light or sun from your sleeping baby. This feature also comes in handy when it's time to place or remove your baby from the bassinet since it allows for much more space to get baby in and out.
Storage Pockets
The storage pockets are handy for keeping diapers, wipes or even some formula for those unexpected night changes or feeds.
Integrated wheel
The wheels come in handy when you need to move the bassinet around the room or into another room. We loved putting our son in the bassinet for naps when he was young so we can
Control Panel
There are multiple buttons on the Graco Sense2Snooze control panel but the controls are fairly simple. In general, there are 3 sections to the controls
LEFT: motion
CENTER: Power and pre-sets
RIGHT: Sounds
The figure below shows you exactly what each button does.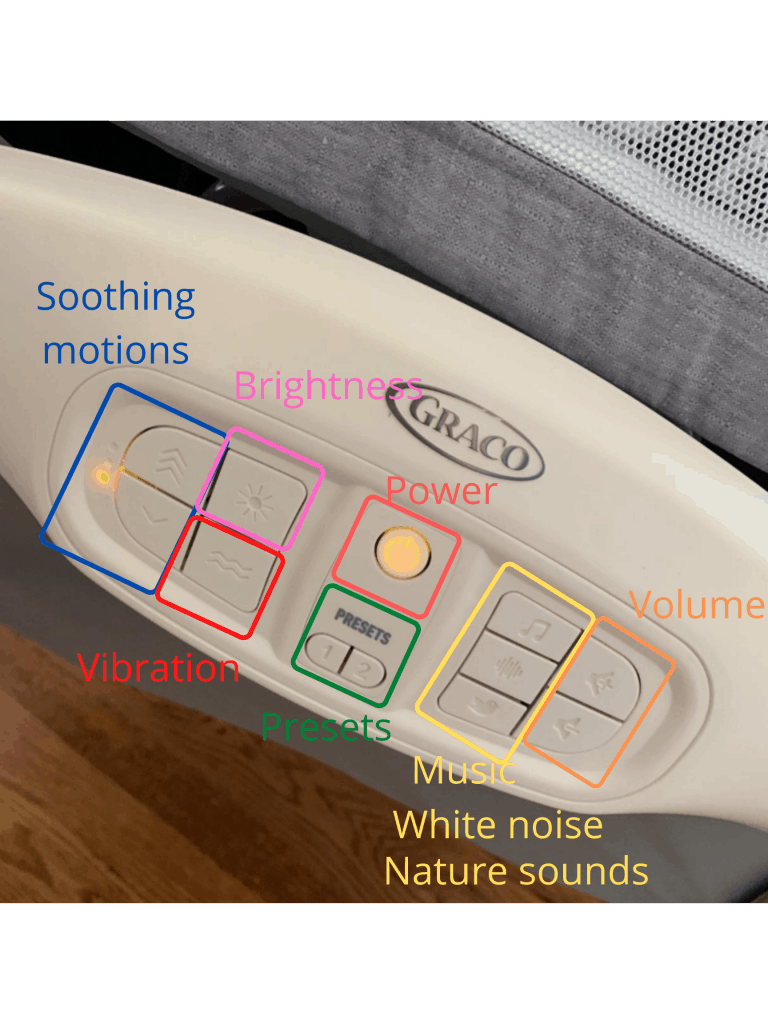 Conclusion
The Graco Sense2Snooze mingles with the "smart" bassinets because of its cry detection feature. The bassinet starts to move, vibrate and play sounds as needed when your baby cries and continues to do so until after he stops crying. These smart features do help some babies but not all, so don't be surprised if your baby is not in love with them.
Unlike a cosleeper bassinet, the Graco Sense2Snooze does not allow for arm's reach sleeping but the mesh sides help parents keep an eye on the little one from bed.
The Graco Sense2Snooze Bassinet is a great budget smart bassinet option, but if you're looking for the best of the best you can read my SNOO review here.
All in all this is a good bassinet with a few extra bells and whistles.
If you want to try out a smart bassinet but don't want to spend a fortune on it, this is the one for you.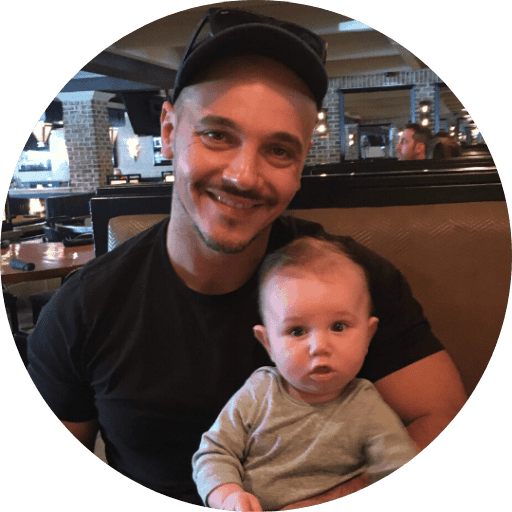 Paul is a passionate dad who founded Upside Dad to share his parenting journey with other new parents. He graduated from Concordia University and worked as a test engineer for over a decade. Paul loves dad jokes and craft beer.
Learn more about Paul and Upside Dad here.