If you found your way here, you're probably looking for a good alternative for the Mamaroo bassinet. If I'm right about that, close all other tabs in your web browser and read ahead – this guide is packed with all the information you'll ever need to choose right.
Basics of the Mamaroo bassinet
Mamaroo is a high-end bassinet that has changed many a parent's life by rocking the baby back to sleep in their place. It's a fantastic piece of baby gear, and the Mamaroo alternatives have big shoes to fill.
Some of Mamaro's top features:
A range of five soothing motions – even the most restless of the tiny sleepers will likely find one that works for them
Height adjustable for easier access – works just as well for petite moms to tall dads
Packs extensive soothing features, including vibration and sounds
You can control it through your phone by pairing the devices via Bluetooth
You can see my full review of the Mamaroo bassinet here. It is also featured as both one of the top smart bassinets here and the best luxury bassinets here.
The fact that it found its way to top picks in both smart and luxury bassinets speaks volumes about it.
Two reasons parents look for a Mamaroo bassinet alternative
Parents looking for alternatives will fall into two groups, those looking for a more affordable bassinet and those looking for something even better than the Mamaroo, at any price point.
This guide is geared towards the former. That's why we'll go over a few more budget-friendly options and only one more expensive alternative (the last on the list below, SNOO).
My top alternatives for the Mamaroo Sleep bassinet are
The first alternative I'll look at is another bassinet from a reputable company that's just as well made but costs a bit less and does not have all the features of the Mamaroo.
Main differences
The main difference between the two is that the Halo has no rocking feature, but you can rotate it for full 360 degrees.
To put it concisely, Halo Luxe is focused on bedside access and ease of use, while the Mamaroo focuses on the soothing power of motion.
With that said, Halo doesn't lack soothing features – from vibration (two settings) through four white noise options and amber night light.
Defining features of the Halo
Halo is all about ease of bedside access. It's the only bassinet out there that fully rotates (360 degrees).
It also features one lowering wall to take the accessibility one step beyond. In this configuration, it only makes sense that it's height-adjustable (24-34 inches) to pair well with pretty much any adult bed.
It also gives you the option to remove it from the stand and move it around the house.
However, don't expect to move it around as you please. The feature is there so that you can move the bassinet between rooms, not carry it with you wherever you go. At almost 43 lbs, it's way too heavy for that. I'm mentioning this because I talked to parents who were disappointed because they expected a portable bassinet.
Halo Luxe is not that.
Who'll choose which?
You'll choose the Mamaroo if your baby responds to motion and it puts them to sleep. This is a life-changing feature if you have a restless sleeper on your hands.
You'll choose the Halo Luxe if the automatic motion is not a critical factor and it's more about easy access. If you're going through a difficult postpartum period when moving around doesn't come easy, Halo Luxe is the bassinet for you.
Finally, if you want to save more, you can always go for the "stripped" versions of this Halo, like the Essentia or the Premier series.
If the Halos sounds like the bassinet for you, you can read more about it in my detailed review of the Halo Swivel sleepers here.
Sense2Snooze is a much more similar alternative to the Mamaroo than Halo was. It comes packing similar soothing features, and the differences are more subtle.
Key differences
Both feature soothing motion, and the main difference here is that the Mamaroo has 5 modes and the Graco has 3.
Apart from that, it's fair to say that Graco has a more 'complete' soothing center because it features a cry detection feature and vibration (both absent in the Mamaroo) and a more comprehensive sound unit (10 sounds in the Graco vs. 4 in the Mamaroo.)
On the other hand, there's no app connectivity or phone controls
Graco's strongest point
One thing that stands out about this Graco is the cry detection, which you don't typically see in this price range. As an illustration of that, let me just mention the SNOO, which also features cry detection but costs about 4-5 times more.
The vibration, white noise, sturdy wheels, and the removable canopy add up to Graco's solid value proposal.
Who'll choose what?
You'll choose Graco over the Mamaroo if you've had enough of waking up through the night and you love the idea of automatic cry detection.
You'll choose the Mamaroo if the cry detection isn't a key factor, but phone connectivity is.
You can see my complete review of the Graco Sense2Snooze here and a detailed comparison to the 4Moms Mamaroo here.
Chicco Close2You is one of the most diverse pieces of baby gear I know.
It's a bassinet, a bedside sleeper, and a changing table.
More importantly, it really delivers in all those modes. Multipurpose bassinets are a dime a dozen, but, in my experience, most of them don't really do the job in all the listed modes.
That's where this Chicco shines.
Defining features of the Chicco
The price point of this Chicco is one of the very few things in the baby gear industry that surprises me to date. As you learn what's what, you realize that about 90% of units cost more than they should.
The features that add the most value are:
Height adjustment (24– 33.5″)
High-quality materials, including machine-washable fabrics and reversible quilted mattress
Soothing features – nightlight, six calming sounds, and two vibration settings
Top 1% in value
What I've always tried to do with this site is find those top 10% products that truly deliver the goods for your money. In those terms, Chicco is probably in the top 1% – it does it all and does it well.
On top of that, I've always been a safety-first parent who never takes anything for granted. That's why I find extra comfort in knowing Chicco's approach to testing the products in their Happiness Laboratory in Italy.
Who chooses what?
You'll choose Chicco over the Mamaroo if you like the idea of one piece of baby gear doing it all, whether it's about saving space or money.
You'll choose the Mamaroo if you're primarily looking for a bassinet and already have a changing table/bedside sleeper.
You can read a more in-depth review of the Chicco Close2You here.
Quilted, reversible mattress
Portable bassinet
Changing table with height adjustment
Bedside sleeper
High-end soothing functions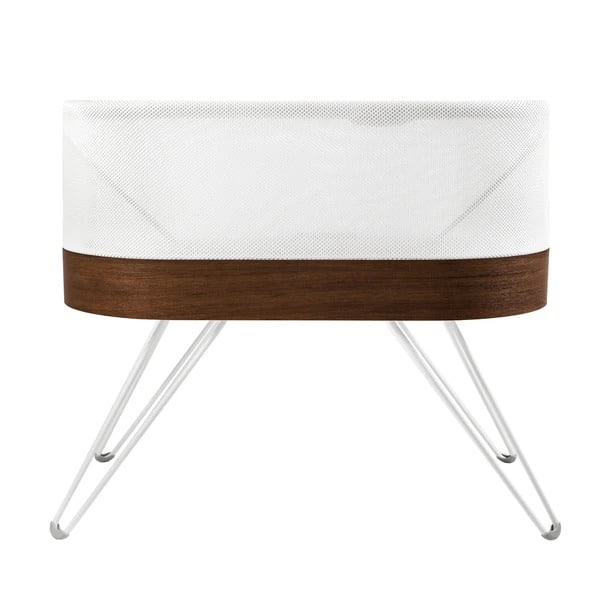 If this is your first time at my site, let me be honest – I'm a SNOO 'fanboy.' I love everything about this bassinet, and I'm thankful to the people who made it.
If you have a restless sleeper on your hands as we did, it's a game-changer.
Its strongest points
First things first – SNOO is advertised as the "safest bassinet ever made." It is the only bassinet out there that follows the APP safety guidelines to the T by keeping the baby on their backs at all times.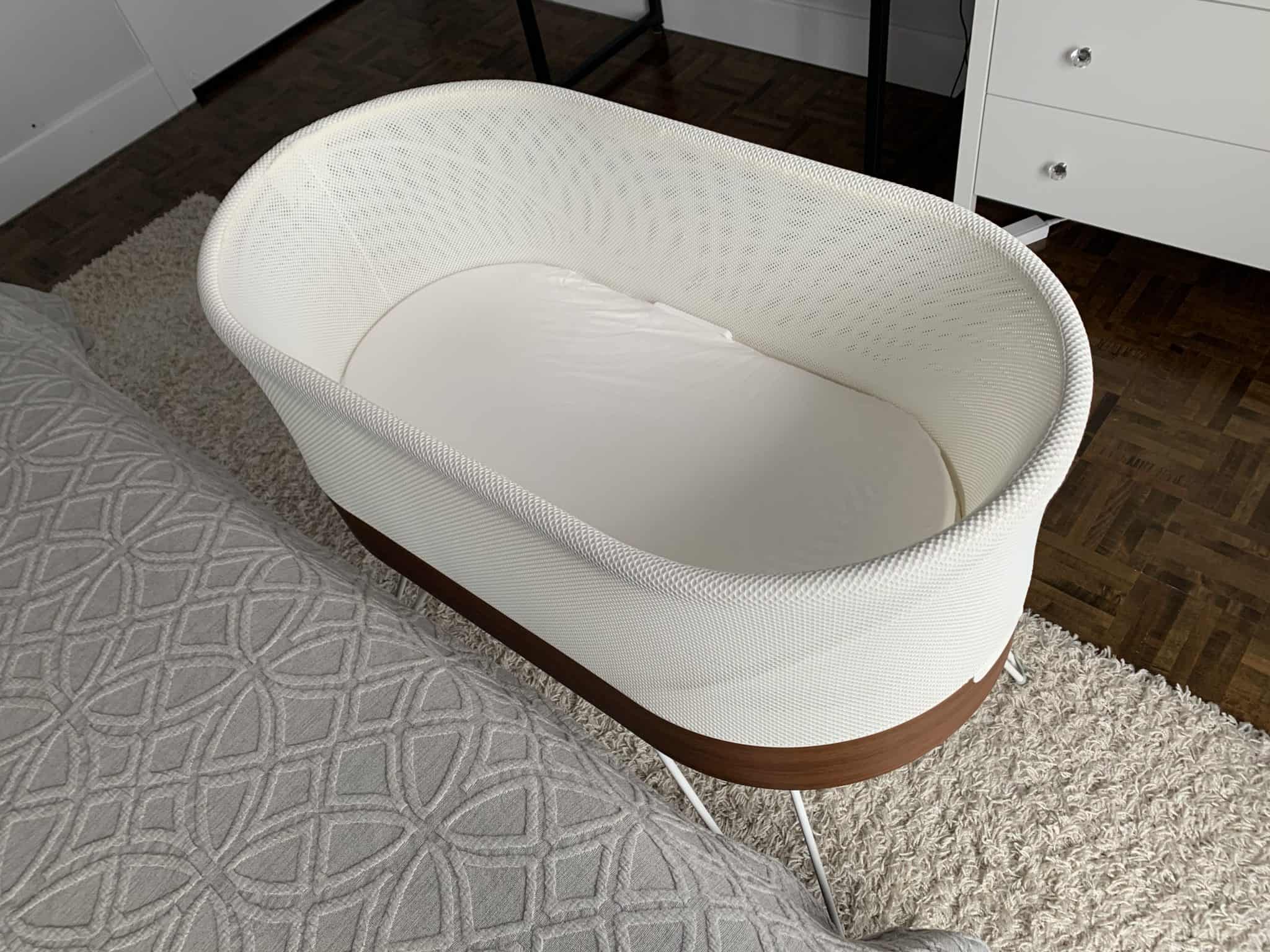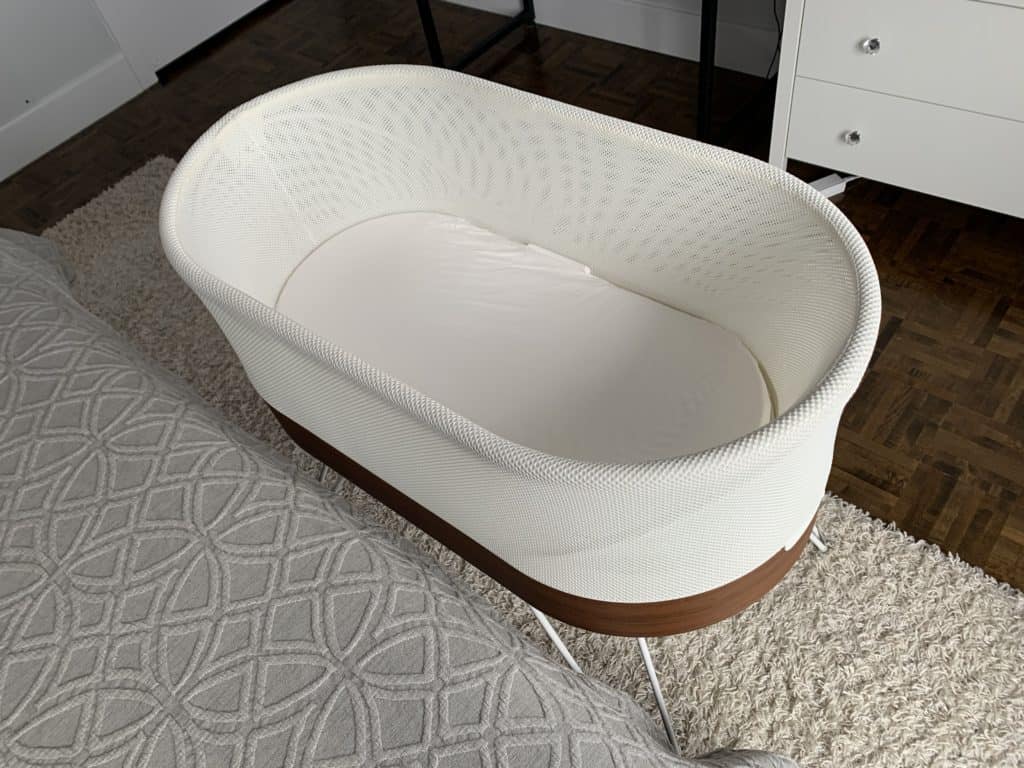 Happiest Baby (the company making it) and Dr. Harvey Kaarp (the famous pediatrician behind the SNOO) earned the right to call it "safest ever" by reaching a milestone of 50+ million sleep hours without a single case of SIDS back in 2019.
SNOO ticks all the boxes
Safety aside, SNOO is a responsive bassinet with automatic cry detection and the most comprehensive approach to soothing on the market.
The downside?
It cost much more than any of the units we talked about so far.
You can read its full review here and a more detailed head-to-head Snoo vs Mamaroo comparison here.
Who'll choose what?
This one is simple…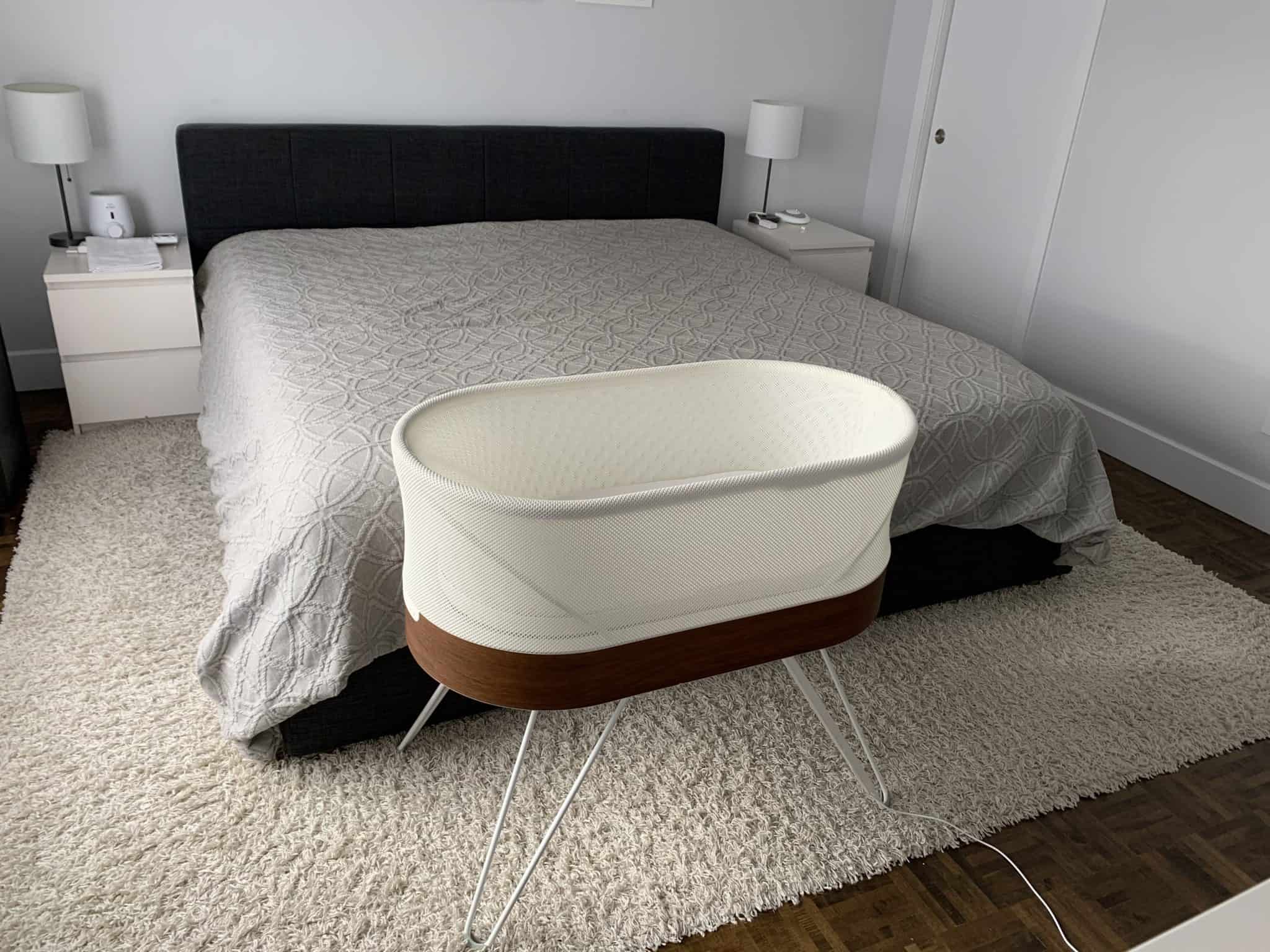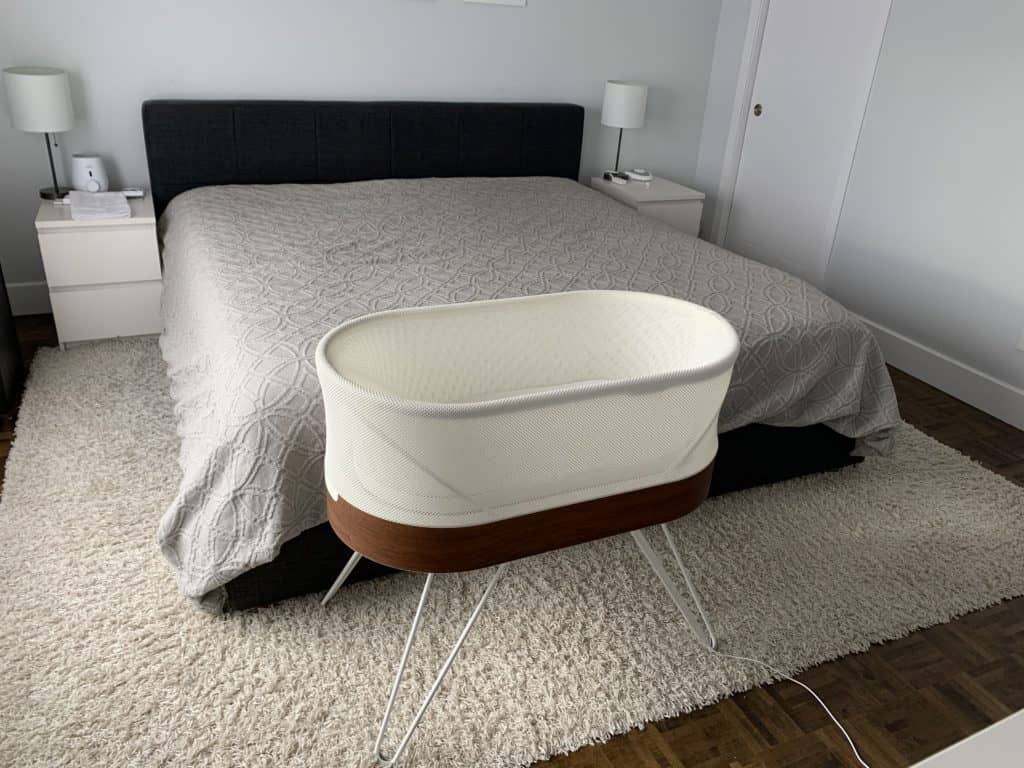 You'll choose the SNOO if the money is not a key decision point.
You'll go with the Mamaroo if you're trying to save some money.
Final thoughts
The Mamaroo is a great high-end bassinet that offers value for money in spite of the premium price point.
If you look at its main competitors, you'll see that the savings are not huge. So, it's more about what you need than how much you can save. In my opinion, looking for a much cheaper alternative is moot, because the features are uncomparable.
That's why I vent with alternatives that are similar in quality but focus on different aspects of everyday use.
Choose smart,
Paul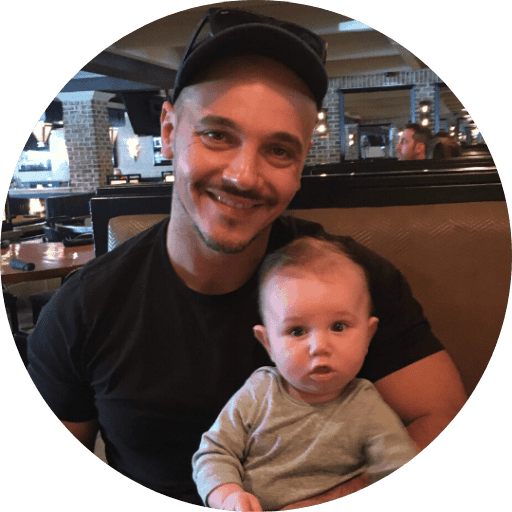 Paul is a passionate dad who founded Upside Dad to share his parenting journey with other new parents. He graduated from Concordia University and worked as a test engineer for over a decade. Paul loves dad jokes and craft beer.
Learn more about Paul and Upside Dad here.