The Graco Sense2Soothe Swing is an innovative product that you'll want to invest in for your new baby. This unique swing is patented to include a Cry Detection system so it activates automatically as soon as your baby starts to fuss.
Graco Sense2Soothe Baby Swing
Cry detection technology
Eight soothing motions
Speed adjustable – three levels
Two vibration modes
Three position incline settings
---
The Graco swing offers one-of-a-kind technology that allows your baby to change the mode of operation according to their sounds and movements.
The swing is the first of its kind, with several settings for motion and gentle vibration. It's manufactured by Graco, which is a reputable company that offers a wide range of high-quality baby and child-friendly products.
Let's take a deeper look at this amazing product in our Graco Sense2Soothe Review.
At a Glance: Features of the Graco Sense2Soothe Swing Review
You'll find a lot to love about the Graco Sense2Soothe baby swing and its incredible features:
Three speeds to adjust as you find the perfect "sense to soothe" setting
A high-quality safety harness
You have the option of automated and manual control for the Sense2Soothe
Seating is adjustable in multiple directions.
Graco Sense to Soothe offers two vibrations for a calming effect.
Three positions to recline the seating to create an ideal position.
Calming sounds to soothe your baby (up to 15 sounds and songs)
Cry Detection Technology soothes by automatically adjusting settings based on a built-in microphone.
Made of durable materials
Lightweight and portable
Specifications
| | |
| --- | --- |
| Dimensions | 18.9 x 28.35 x 32.28 inches |
| Weight | 25 pounds |
| Incline adjustable | 3-position |
| Warranty | 1 year |
| Weight limit | 25 lbs/18lbs (rocker mode) |
Benefits of the Graco Sense2Soothe Swing
There are plenty of fantastic benefits when you invest in the Graco Sense2Soothe baby swing. You'll find it's one of the essential items you'll buy for your child. The soothing swing offers one-of-a-kind technology that directly interacts with your child so that you can take a break!
Easy Set-Up
The Graco Sense 2 Soothe swing is easy to assemble. Once you open your new Graco swing, you'll find everything you need to put your baby's new soothing swing together within just a few minutes. While there is a manual enclosed with assembly instructions, I didn't have any difficulty getting all the parts attached without referencing it!
Straightforward Use
For the most part, Graco's soothing swing consists of the motorized base and the baby's seat. All other items are accessories that easily fit with the swing. You'll find that the rocking motion is ideal for helping your baby sleep and relax anytime.
There is an AC adaptor, which means no batteries are needed.
Portable
Busy parents will enjoy the convenience of the swing's portability and size. Coming in at 18.9 x 28.35 x 32.28 inches, it's easy to install anywhere without taking up too much space. With it weighing roughly 25 pounds, you're able to move it around without much hassle.
Who is it For?
The Graco Sense2Soothe is an ideal investment for new parents. It makes the perfect shower gift for a family member or friend who's expecting a new baby.
The Graco Sense2Soothe swing is also ideal for grandparents and caregivers who babysit regularly. It's perfect for indoors and durable enough to use outside too.
What I Liked About the Graco Sense2Soothe Swing
The Graco Sense2Soothe baby swing is impressive on several levels. I tend to prioritize the essential items for my kids, and as a parent, investing in Graco products is always a good move! They are durable, easy to wash, and developed with parents in mind.
Swing Motions
The soothing swing is ideal for taking care of a few household tasks with your baby close. It's designed to adjust to your baby's cries, so you can continue enjoying your little one without jumping to adjust the seat or motion. This feature is automatic!
There are eight soothing motions to calm your baby with three-speed levels, two vibration settings, and a collection of natural sounds. I found the mechanisms easy to understand and loved how all the parts fit together to create the child's ideal motion.
You can program and save your baby's favorite settings. It's effortless to keep your child entertained and relaxed at the same time with the Sense2Soothe product.
Safety
Like all Graco products, the Sense2Soothe swing is a safe and durable product that includes a sturdy harness system and keeps your baby in place. The seat's contours and insert provide additional security, which I found reassuring, especially when my baby falls asleep.
Graco is a well-established company with high standards, which is another reason I will always buy their products. They have been around for decades, and their quality is consistently competitive.
Comfort
The seat inclines and adjusts for your baby's size and comfort. When your baby cries, the swing immediately shifts into the appropriate setting to soothe them.
I like having control of seat settings once I know what my child prefers, switching to automatic when I need that break in between with my other kids, or getting a few items done at home.
Plush accessories and toys add another layer of comfort, which I think is excellent. The seat's shape gives you ample room to provide your child's favorite toy while they relax.
Versatility
The swing is adjustable, portable, and easy to carry. If you need to move into another room to entertain your older kids, you'll find the Sense2Soothe swing can effortlessly travel everywhere with you. There's nothing to disassemble or adjust.
It's ideal when you visit family or decide to spend time outdoors for a picnic or road trip. While this product is not suitable as a car seat, it fits easily into your backseat or trunk for a family weekend getaway or day trip.
Easy Care
I find this product is one of the easiest to wash and clean, without any unique soaps or detergent. The entire swing is made of plastic, metal, and fabric. The fabric insert is easily removable for your next regular laundry load.
Conclusion: A Summary of the Graco Sense2Soothe Baby Swing
Based on our Graco Sense2Soothe reviews, I would highly recommend this product for its unique technology and innovative design, but more importantly, it's perfect for us parents. Whether you are a new parent expecting your first child, have multiple babies, or are looking to invest in a unique product as a caregiver, you'll get a lot of use out of this swing.
The technology adjusts instantly and makes it easy to care for your baby when you get busy. It's one of our top picks for the best products on the market and a worthwhile purchase that eliminates the need for multiple carriers and baby products. In the long run, you'll enjoy both quality and savings for many years with the Graco Sense2Soothe Swing.
Graco Sense2Soothe Baby Swing
Cry detection technology
Eight soothing motions
Speed adjustable – three levels
Two vibration modes
Three position incline settings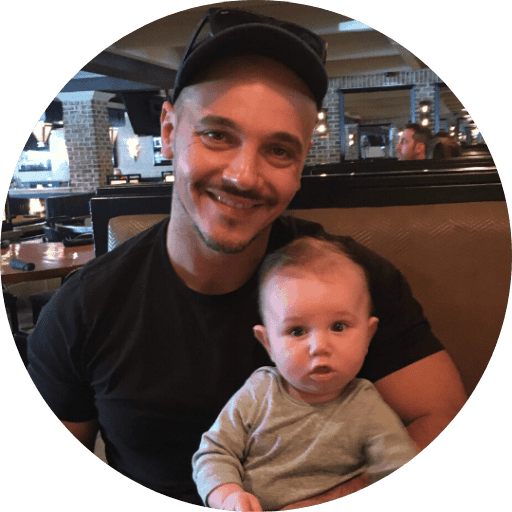 Paul is a passionate dad who founded Upside Dad to share his parenting journey with other new parents. He graduated from Concordia University and worked as a test engineer for over a decade. Paul loves dad jokes and craft beer.
Learn more about Paul and Upside Dad here.