Did you know most newborns wake up on average 5 times per night? This means that new-mom and new-dad need to be ready to act within seconds, no matter the time of the night.
JPMA certified
Sturdy and stable
Rotates 360-degrees
Breathable side panels
Adjustable height
---
After multiple consecutive nights (or weeks) of multiple wakeups, there is a 100% chance that you and your partner will be exhausted!
Now imagine if you could have your newborn baby sleeping right beside you (or your partner), in view and in arm's reach, yet fully safe in their own cocoon. What if you could calm your baby with your touch without having to get up from your bed. Meet the HALO Bassinest.
For more information on other bedside bassinets, check out my roundup of the best cosleeper bassinets.
The American Academy of Pediatrics (AAP) suggests that newborns should sleep in the same room as their parents for a minimum of 6 months and up to 12 months. That's a long time, and a lot of wake ups!
Your touch is one of the magic ingredients in calming your crying baby. On top of that, having access to your baby from the comfort of your bed can make your life so much easier whether it is for night time feeds or just a cuddle to stop the crying.
Pros and cons of the HALO Bassinet Swivel Sleeper
Here is what I like and dislike about this bassinet:
Pros
JPMA certified
Sturdy and stable
Adjustable height
Base slides under the bed keeping the bassinet close
Works with most beds and bedroom setups
Rotates 360-degrees
Breathable side panels for added safety
Cons
On the heavier side
Not easy to move from one room to another
Requires a large, flat and even surface for the base
Getting Home from the Hospital
New-dads LISTEN UP! You also need to plan for your partner's reduced mobility postpartum. Whether she delivers from a C-section or vaginally, she will be in some level of pain and discomfort for a while. The Halo bedside cosleeper bassinet can make the difference for her, and you.There will be times when the baby needs to be fed and dad is not around to help, or dad is just exhausted from doing all the other night feeds .
The Halo Bassinest allows mom to reach the baby from the comfort of the bed and handle the baby as needed without having to get up.
The HALO Bassinest Swivel Sleeper is a revolutionary product that has been designed to make it easier to care for your baby during mom's recovery period. It makes it easy to reach your baby, all you need to do is to sit up and swivel the bassinet to reach your young one.
The first few days and weeks with your new baby can be really tough, why not put all the odds in your favor?
Detailed Product Information
This co sleeper bassinet comes packed with many useful features. Here is a look at some of the top features:
Lowering side walls for easy access to your baby from bed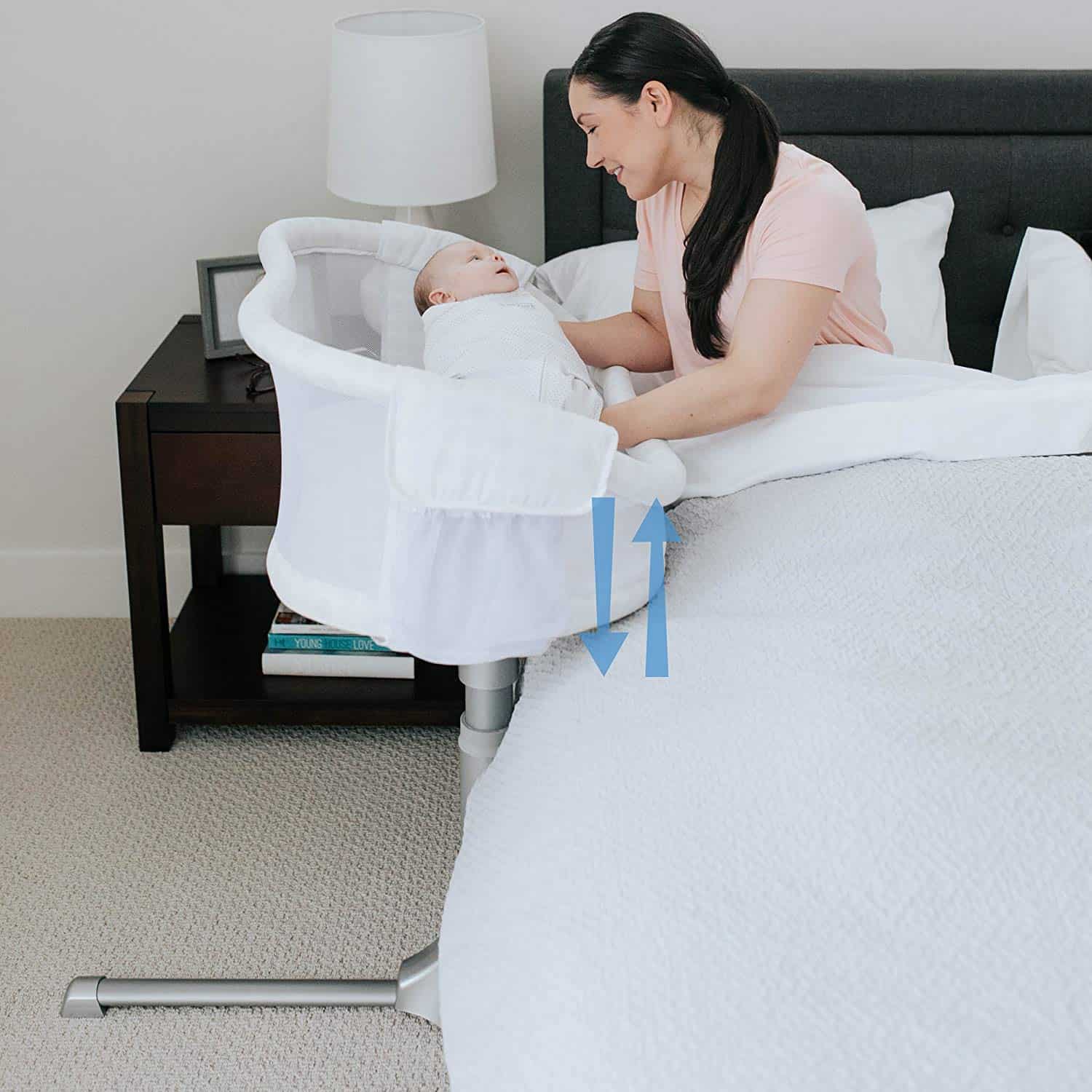 Rotates and swivels 360 making getting in and out of bed hassle-free.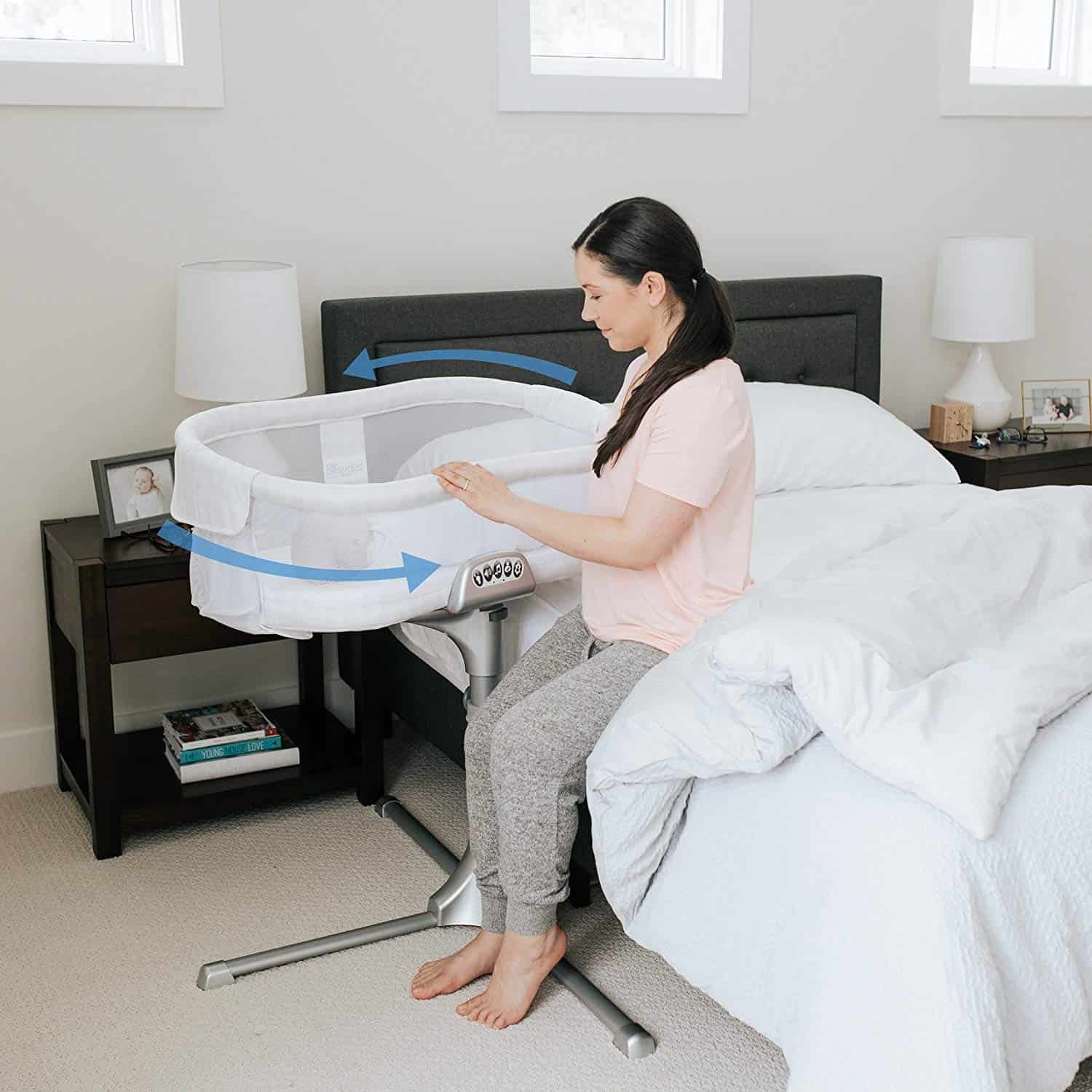 Stable and wide 4-point base for great stability.
Adjustable height to fit most beds (24 to 34 inches).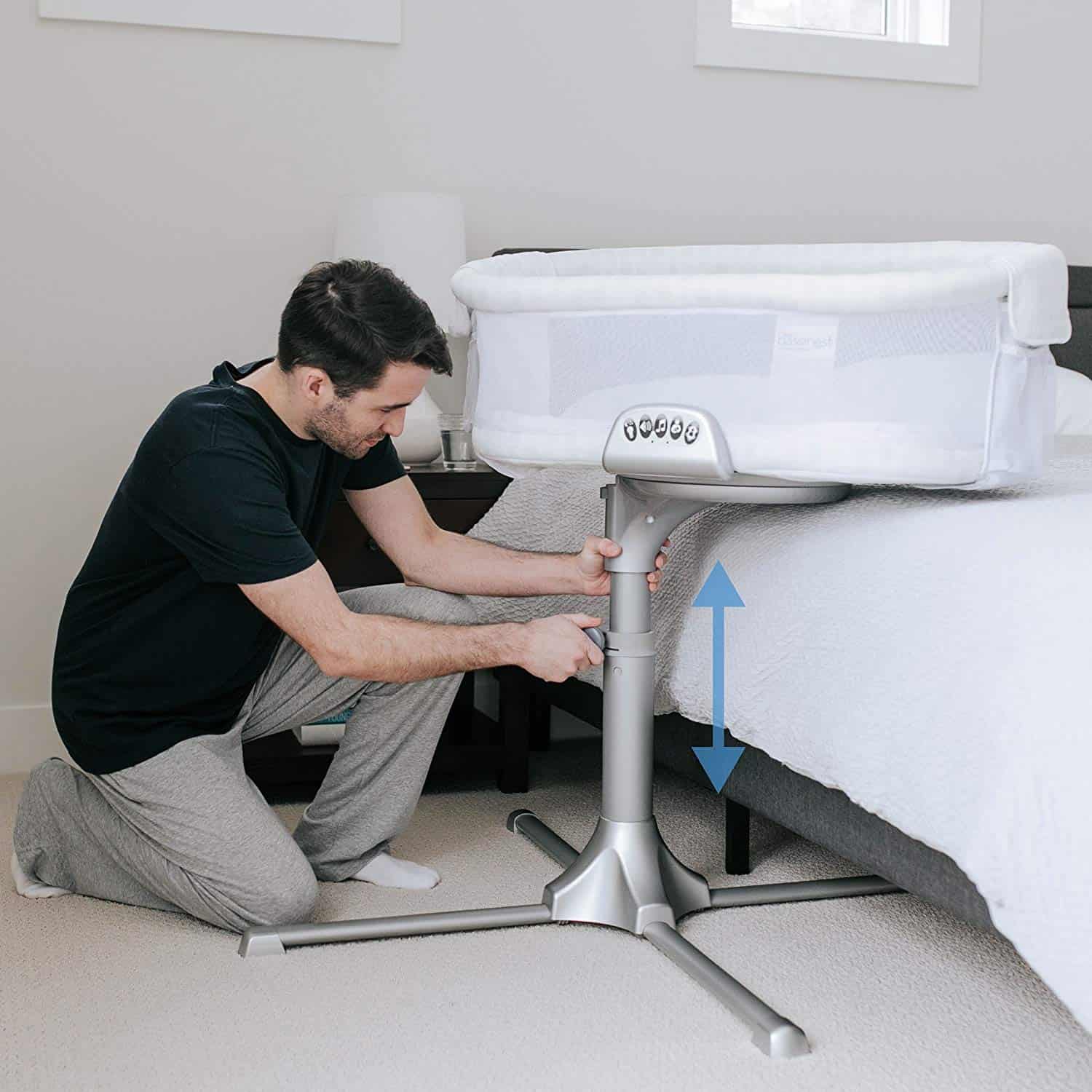 Base slides under the bed to allow for the bassinet to be as close to you as you need
Soothing center console includes a nightlight, 3 soothing sounds, 3 lullabies, a back to bed reminder and vibration – with 30 minute auto shutoff for all functions.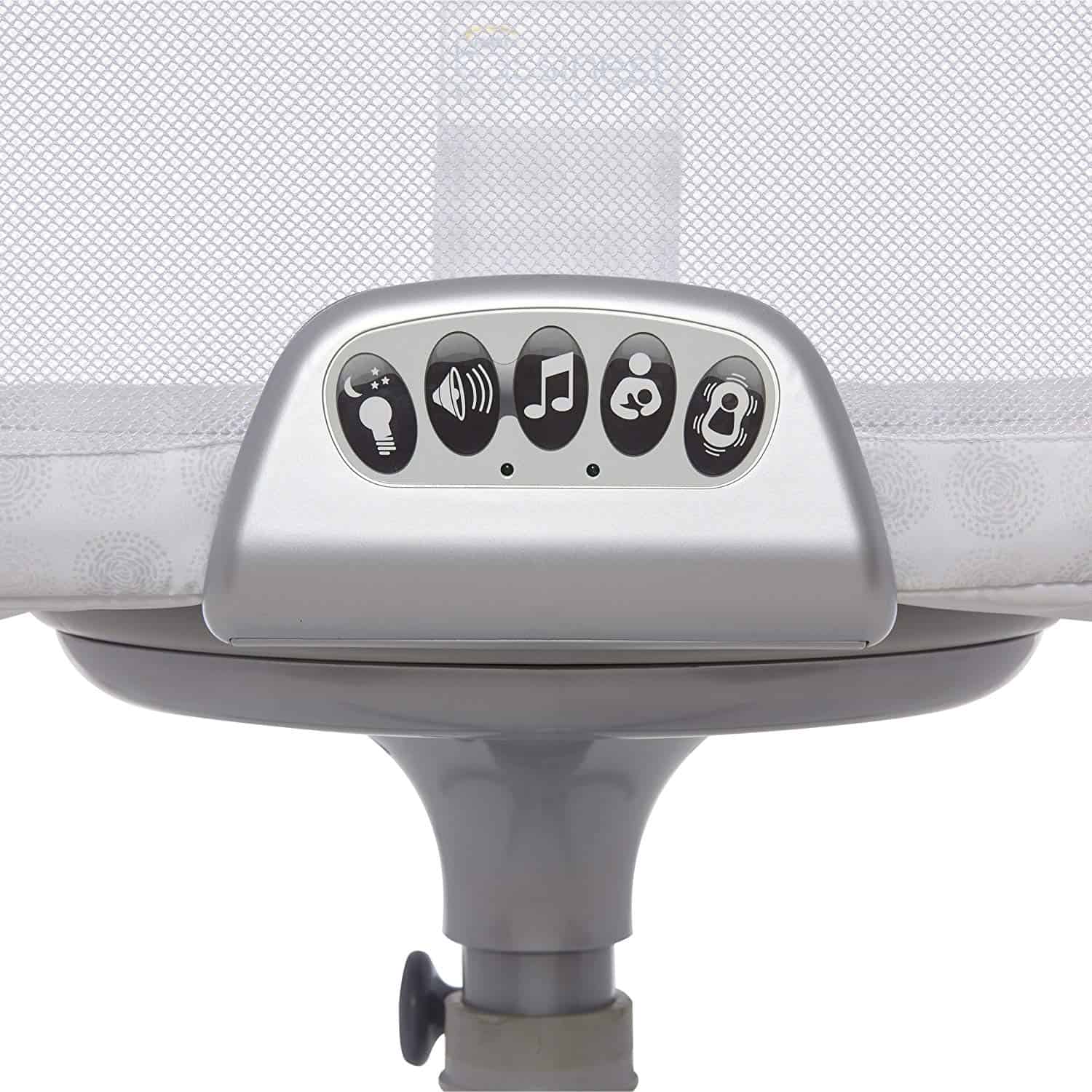 Includes 100% polyester coordinating fitted sheet.
2 storage pockets for all of your baby's essentials such as diapers, wipes or bottles.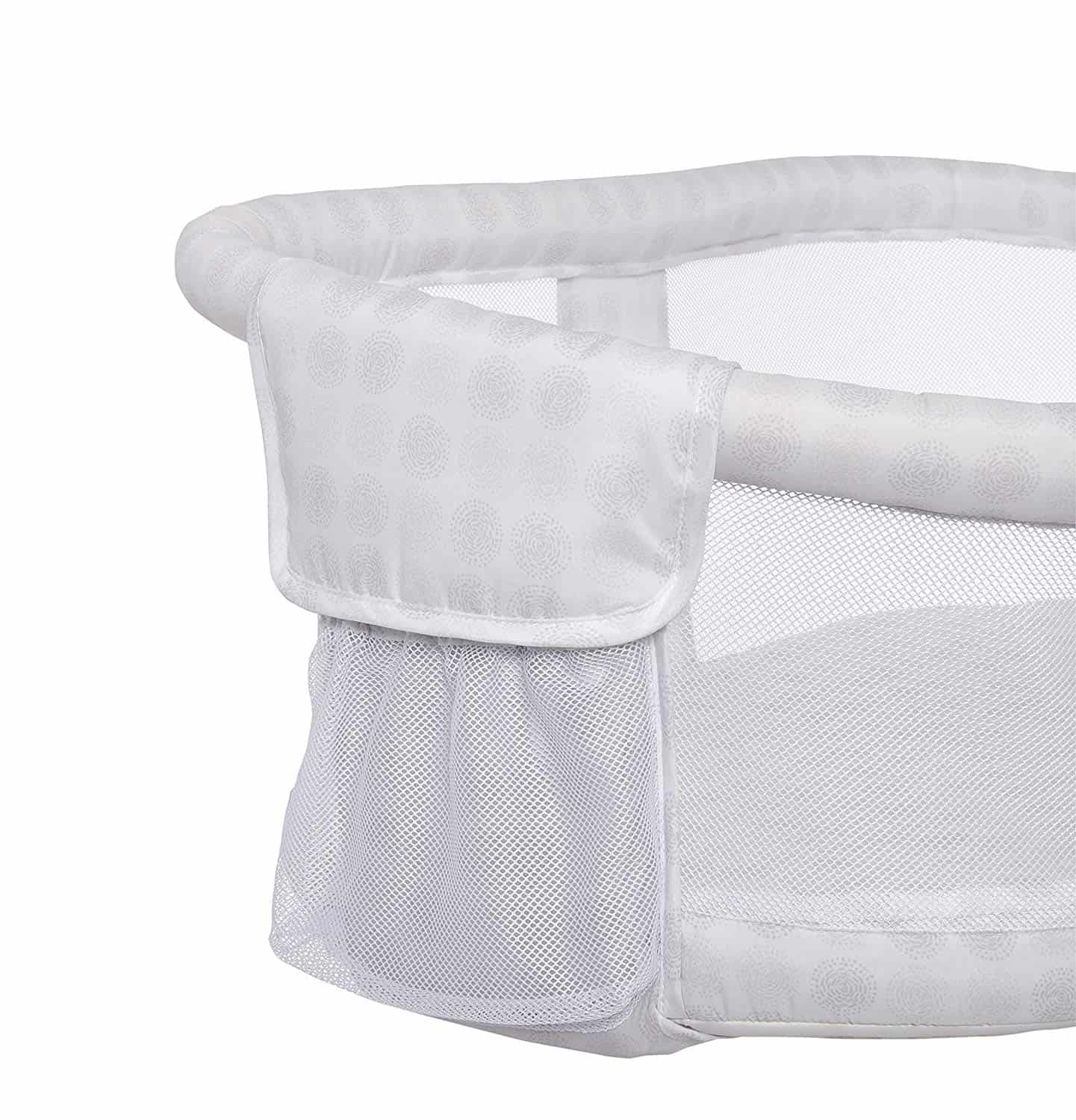 Specifications
| | |
| --- | --- |
| Dimension | 35 x 19 x 12 inches |
| Material | Polyester |
| Weight | 28 lbs |
| Base slides under a bed | Yes |
| Weight limit | 20 lbs |
| Height Adjustable | Yes |
| Swivels | Yes |
Manufacturer background information
HALO Innovations was born out of a tragedy. The founding couple Bill Schmid and Cathy lost their newborn to Sudden infant death syndrome (SIDS). After this, Bill started researching how to create a healthy sleeping environment.
An engineer by profession, he began developing products that are meant to prevent SIDC. One of the company's most innovative products was the Bassinet Swivel Sleeper, a product that is meant to create a safe sleeping environment while allowing parents to sleep next to their babies. This removes the risk associated with sharing a bed with the infant.
Performance of HALO Bassinest Swivel Sleeper
Does the Halo Bassinet Swivel Sleeper deliver on its promises to make new-parents' lives easier? To answer this question, let us take a closer look.
Everyday use
The Halo Swivel bassinet has been designed with convenience in mind. This co-sleeping bassinet has a four-point, height-adjustable mechanism. It rotates and swivels 360 degrees making it easy for you to get in and out of bed. The bassinet is a great product that allows you to sleep with your baby without putting him or her in danger. It has pockets where you can keep your baby's essentials such as diapers, wipes. It comes with a sheet that is made of 100% polyester.
The lowering side wall design makes it a breeze to put your baby in or take him out whenever needed, or to just reach in for a touch if needed. The walls are also made of mesh material that gives you a clear view of your baby and makes it super breathable.
Set up and assembly
The Halo Bassinet Swivel Sleeper is easy to assemble and use. All you need is a screwdriver and batteries. The bed rails click together and have a system with matching numbers that ensure a foolproof setup. You will need to pop the seeping area on the base before making any adjustments. After adjusting the height of the bassinet and sliding its base under the bed, it will now be ready to use.
Quality
All of the materials used are of high quality and soft to the touch. There should be no worries about leaving your baby in the Halo bassinet for as long as needed.
The Halo cosleeper has sidewalls that can be pulled down easily to enable you to pick your baby at night from the comfort of your bed. This collapsible side mesh is a great addition when you want to put the binky back or soothe your newborn. The four-point base provides stability. It has a soothing center that plays natural calming music.
Safety
The co-sleeping bassinet safely tucks under your bed making it possible to watch over your baby as he sleeps. The sidewall has a locking mechanism that prevents it from lowering down unnecessarily. The mesh side ensures that your baby is able to breathe well. The sleeping pad secures well to the bassinet protecting your baby's fingers from getting stuck. It has smooth edges to enhance your baby's safety.
Footprint and weight
The bassinet is suitable for small spaces as it has a small footprint of 32". It also weighs 28 lbs making it stable, sturdy and easy enough to move around the room or the house as needed.
Cleaning
Cleaning the Halo is really easy. The Bassinet Swivel Sleeper has sides that are made of 100% polyester. You can clean it using a damp piece of cloth. The removable matching mattress sheet can be machine-washed. Avoid using bleach and other harsh chemicals. Avoid machine washing the mattress.
Whether she is breastfeeding or not we should be taking the lead during night wakings in one way or another:
When mom needs to rest make sure you are the one to jump out of bed to calm or feed your baby. Scoop him up from the cosleeper bassinet and feed him or get him ready for mom to breastfeed.
If shes breastfeeding, make sure she has all she needs such as a wiping cloth, water, breastfeeding pillow, etc.
When she is done feeding, make sure to burp your baby and put him to sleep. If you don't know how to do that, sign up for my newsletter below and get my Ultimate Baby Sleep Guide!
Final Verdict
If you are searching for a convenient, stable, safe and sturdy bedside bassinet you must consider the Halo Bassinet Swivel Sleeper. It has been designed to help you co-sleep with your little one while easily taking care of him from the comfort of your bed.
The advanced features of this co sleeper bassinet easily blow most of its competitors out of the water:
The breathable and collapsible side walls make access to your little one a breeze.
The built-in sounds, light and vibration are a useful added bonus that can help calm your baby when everything else fails
The 360-degree swivel makes getting in and out of bed very easy for mom and dad
The adjustable height helps it easily fit with your bedroom set up no matter the height of your bed
Given that the pricing is very compatible with the competition, I find that the Halo bassinet is the perfect choice for new parents looking for convenience, safety, and value.
JPMA certified
Sturdy and stable
Rotates 360-degrees
Breathable side panels
Adjustable height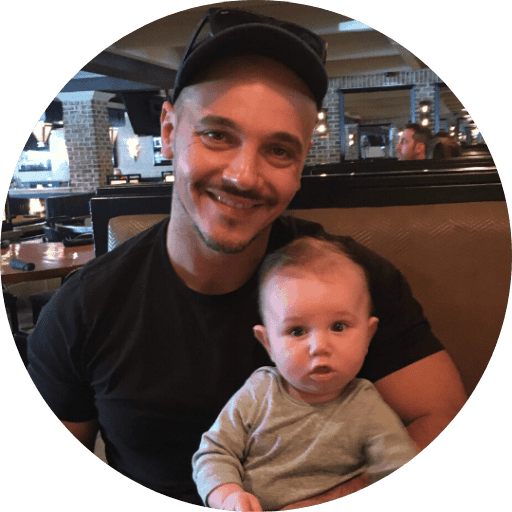 Paul is a passionate dad who founded Upside Dad to share his parenting journey with other new parents. He graduated from Concordia University and worked as a test engineer for over a decade. Paul loves dad jokes and craft beer.
Learn more about Paul and Upside Dad here.