I've seen one too many baby products trying to do it all and coming up short in at least one quality aspect.
Quilted, reversible mattress
Portable bassinet
Changing table with height adjustment
Bedside sleeper
High-end soothing functions
---
That's what I love most about the Chicco Close to You bassinet – it sets ambitious goals and delivers on all points.
The Chicco is a portable bassinet, a bedside sleeper, and a changing table. Over the last few years, I've reviewed dozens of baby sleep products, so I know what's what when it comes to bassinets.
I can say with confidence that even if you compared this Chicco to classic bassinets, bedside sleepers, or changing tables, it would stand its ground in most quality categories.
You don't see that every day. And when you do, it costs more than this Chicco…much more.
Chicco Close to You features at a glance:
The three modes – portable bassinet, changing table with height adjustment, and a bedside sleeper
High-end soothing functions work through vibrations and music – features two vibration settings, 6 calming melodies, and a nightlight
Removable and machine-washable fabrics
Quilted, reversible mattress
Handles double as brakes
Swivel wheels with a locking mechanism
Full-length mesh fabric for the bassinet walls
Specifications
| | |
| --- | --- |
| Dimensions | 33.5 x 28 x 46 " |
| Weight | 33 lbs |
| Height adjustable | yes |
| Warranty | 2 years for manufacturing defects |
| Weight limit | Bassinet: 20 lbsChanging table: 35 lbs |
Main benefits of the Chicco Close to You
If you were to show me this eye-candy and ask me to put a price on it, I'd easily guess 50% higher than it actually costs.
That doesn't happen often. In fact, it rarely happens. Over the years of reviewing baby products, I developed a pretty accurate sense of price points.
This Chicco is one of the very few surprises I've seen recently.
Versatile and well built
Who doesn't love the idea of a product that does it all, right?
As long as it does it well.
You don't want a light bassinet that will tilt because the leg hub is not robust enough. I've seen it happen.
You don't want a clunky changer that doesn't age well and looks worn after 3 months.
These are all common issues with some of the lesser combo products.
Not this Chicco – it does all it's advertised to and does it well.
Dad-friendly height range
The range of height adjustment is almost 10 inches (24 to 33.5).
This not only makes it work well for most beds but allows you to stand when using it as a changing table. Standard changing table height is 32″, which makes this Chicco more dad-friendly than a classic changer.
The height-adjustable sides also make it a great choice for both a bedside and co-sleeping bassinet. It pairs well with pretty much any bed height.
Easy to move around without damaging your floors
I love the build of the legs and the wheels. The added layer of rubber adds to the solid look and feel and does a good job protecting your hardwood floors.
My first impression was that the mobility might be compromised by the robust build. So far so good, the wheels are taking it like a champ.
I've seen no problems with moving it through shaggy carpets, which is the ultimate mobility test.
Quality materials
The pad feels just right, firm enough to maintain shape but not firm to the point of feeling uncomfortable.
Flip it over, and you have a nice, soft changing pad made from non-absorbent fabric, which makes it easy to clean up when leaks happen.
The fabric is easy to zip-off and wash in a machine.
Multiple Soothing modes
What you typically see in products similar to Chicco are pretty basic soothing modes.
There's nothing basic here. The 6-melody/2-speed vibration system feels well-built and, more importantly, it does the job.
The night light is a nice touch and does make it easier to see your baby at night. I've seen mixed reviews about it, and most of the people that didn't like it talk about how it looks.
My take on this is that the light is not there to be interesting to the baby; it's there to help parents change and care for their baby in the dark.
What I personally like about it
Very easy to set up
If you find the Chicco Close to You hard to assemble, you'd be absolutely frustrated with most similar products on the market.
The only thing that needs screwing in is the vibration/sound machine. Other than that, it all just clicks into place and stays there.
The height range
As a father who takes an active part in all the messy stuff, I appreciate that the Chicco bassinet can go as high as 33.5 inches.
The few extra inches are not life-changing for me, but for some people out there, they might be.
It also shows the effort to over-deliver, which I always loved about Chicco's products.
Strikes the right balances…
…between versatility and safety
If you're gonna make a bassinet that's going to double as a changing table and a bedside sleeper, you better make sure it stays in place.
This Chicco gets that balance right. Nothing tilts or moves when you get it back to the bassinet mode.
Both the wheels and the bassinet lock safely into place.
…between robustness and weight
This balance is crucial for mobility. It feels well-built and sturdy without being heavy.
There are lighter similar products out there but, in daily use, it becomes a moot point. You're not going to carry the thing on your back.
Sturdy panels, nice mesh
Apart from the top and bottom handle areas, the side panels of this Chicco are all breathable, see-through mesh that doesn't feel flimsy.
The handles feel sturdy and double as brakes, which is a nice touch.
In a word, it ticks all the safety boxes.
What could be better
In an ideal world, this Chicco would feature at least a small basket attached to the leg. It wouldn't have to be anything fancy, just a handy place to dispose of wipes temporarily.
I'd also love to see a wider range of sheet options for it.
Conclusions
When I spend 10 minutes looking at a product and trying to come up with things I'd improve, I know I have a winner on my hands.
This Chicco is well-made, feels high-end, and is a pleasure to look at.
If you're in the market for a height-adjustable bedside sleeper, this Chicco is a good penny-worth.
Quilted, reversible mattress
Portable bassinet
Changing table with height adjustment
Bedside sleeper
High-end soothing functions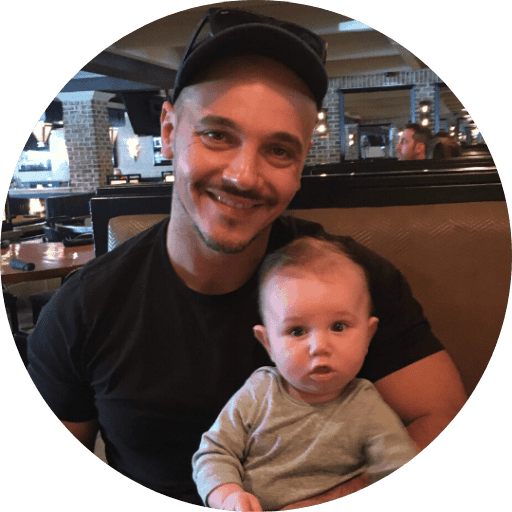 Paul is a passionate dad who founded Upside Dad to share his parenting journey with other new parents. He graduated from Concordia University and worked as a test engineer for over a decade. Paul loves dad jokes and craft beer.
Learn more about Paul and Upside Dad here.