I can't think of a single aspect of becoming a parent more complex and confusing than understanding baby sleep.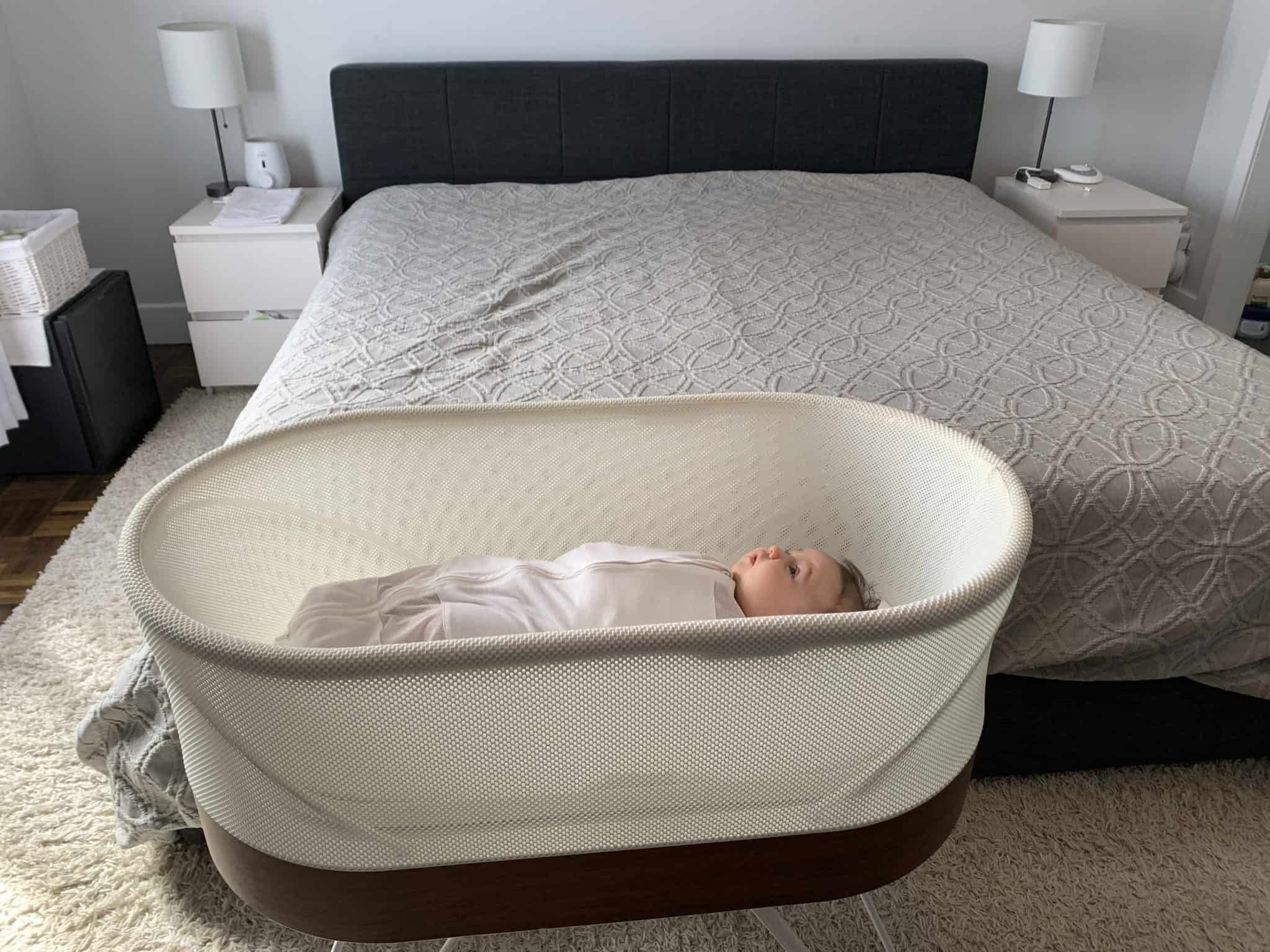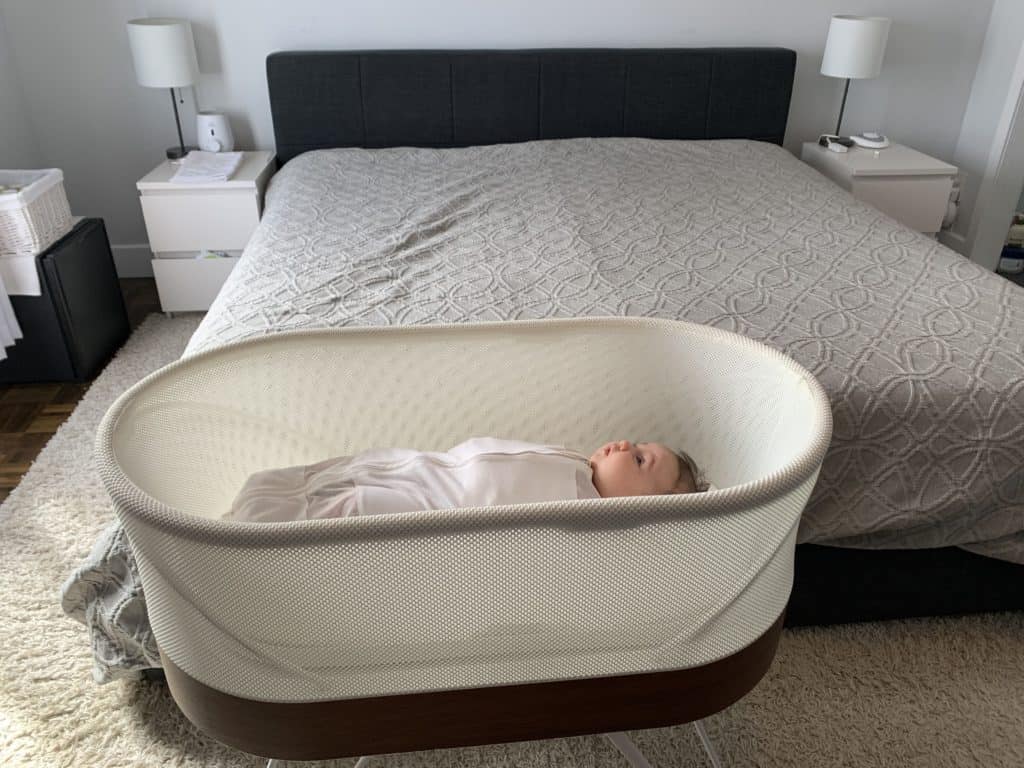 I get it because I know what kind of information is out there.
There's a lot of conflicting "noise" that raises more questions than it answers. For a new parent, it all gets overwhelming very fast, especially if you already have a restless baby.
Today, we cut through that clutter and look for clarity on which of the baby sleep products can actually make a difference from the first day.
Below is a table of baby sleep products we'll go over.
---
Top baby sleep products – an overview of features & benefits
In the section below, we'll go over the key features of each product on the curated list.
I'll try to clarify what's unique about my top picks compared to the competition.
Let's get to it.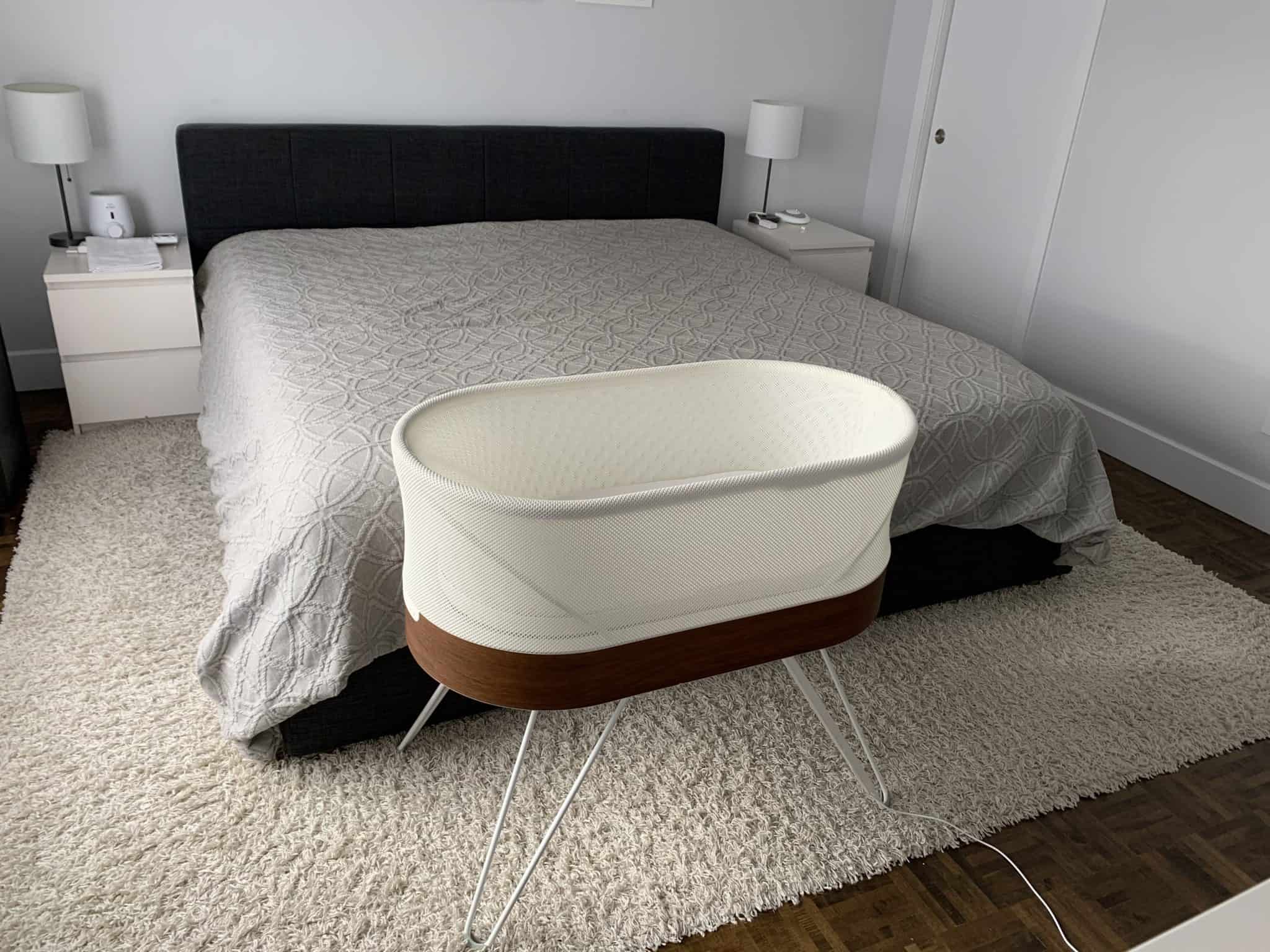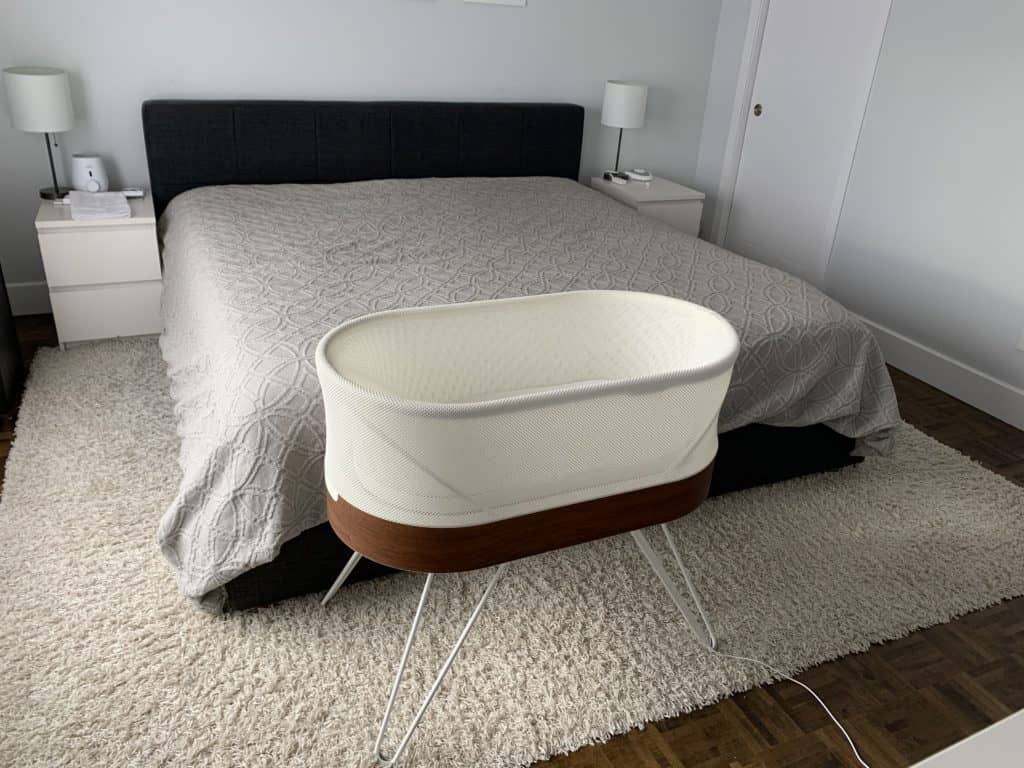 If someone told me I could choose one piece of baby gear, SNOO would be it.
Not only does it work miracles in terms of soothing through motion and white noise, but it also 'recognizes' fussing and starts the calming cycle on its own.
It's also the safest baby bed in existence, with over 100 million logged sleep hours without a single case of SIDS or even injury.
For you, all this comes down to two things – extra sleep and peace of mind.
Features
Swaddle and sleepsack – keep the baby on their back.
Swaying – gentle, soothing motion, 5 intensity levels.
Responsive – detects crying/fussing and initiates motion.
White noise – imitates the calming sound of the womb.
App-controlled – you can change most settings without getting up.
Preemie mode – extra gentle movement for premature babies.
Weaning mode – facilitates the bassinet-to-crib transition.
Why I love it
SNOO transformed our lives, especially with my son, who was a little Tasmanian devil when it came to sleep.
My wife and I were at the end of our ropes.
It felt like someone was sneaking double shots of espresso into his formula.
SNOO changed all that.
Our son started sleeping an hour more within 3 days in the SNOO And he was on a tidy sleep schedule within a month.
My perception of the SNOO's price changed from "dumb expensive" to "totally worth it."
With all that said, the one thing that stands out compared to any other bassinet is the unparalleled safety. It's the only one out there that keeps the baby on their back at all times.
It's hard to put a price tag on that.
You can see my full review of the SNOO here and a list of top smart bassinets here.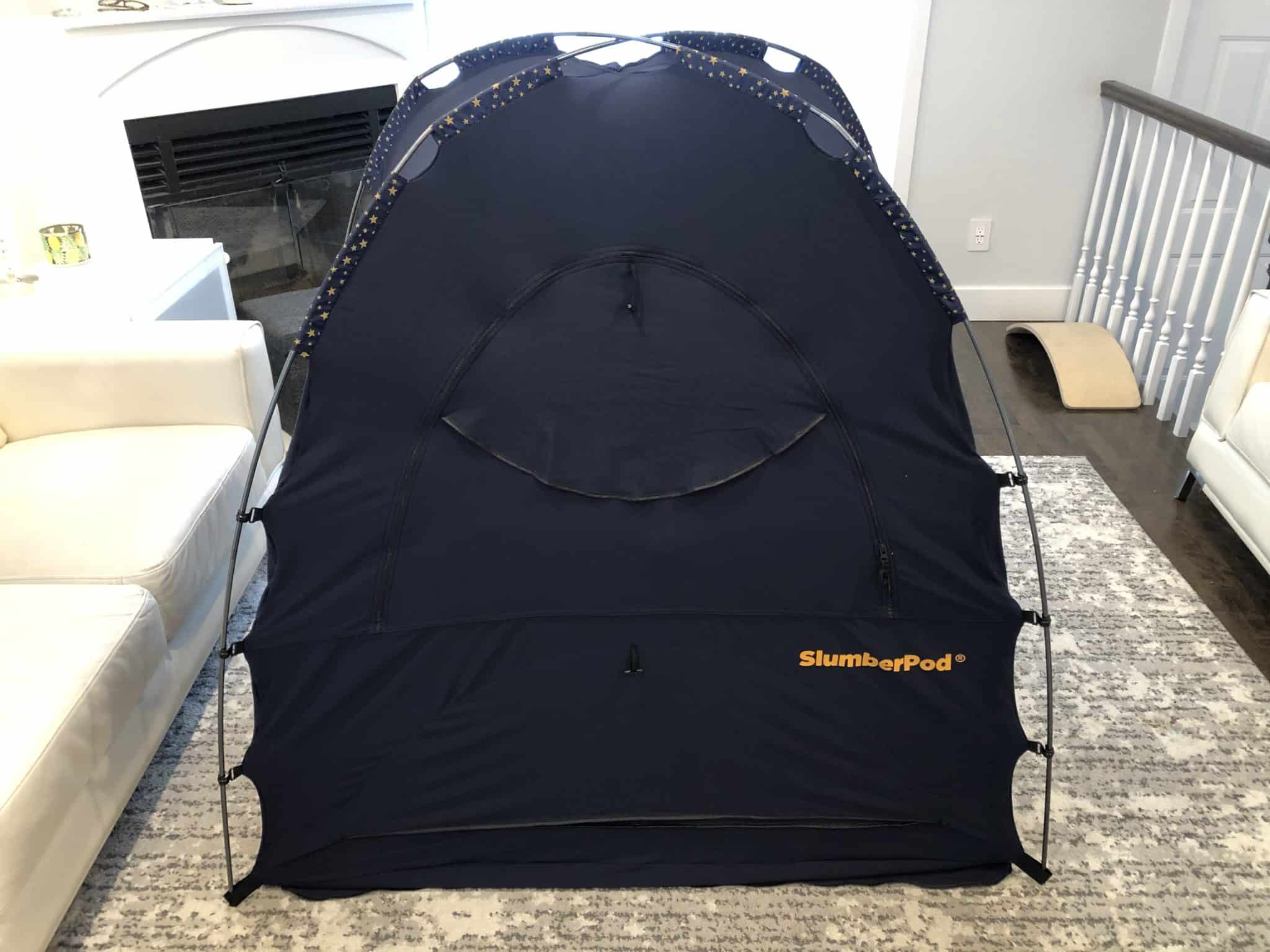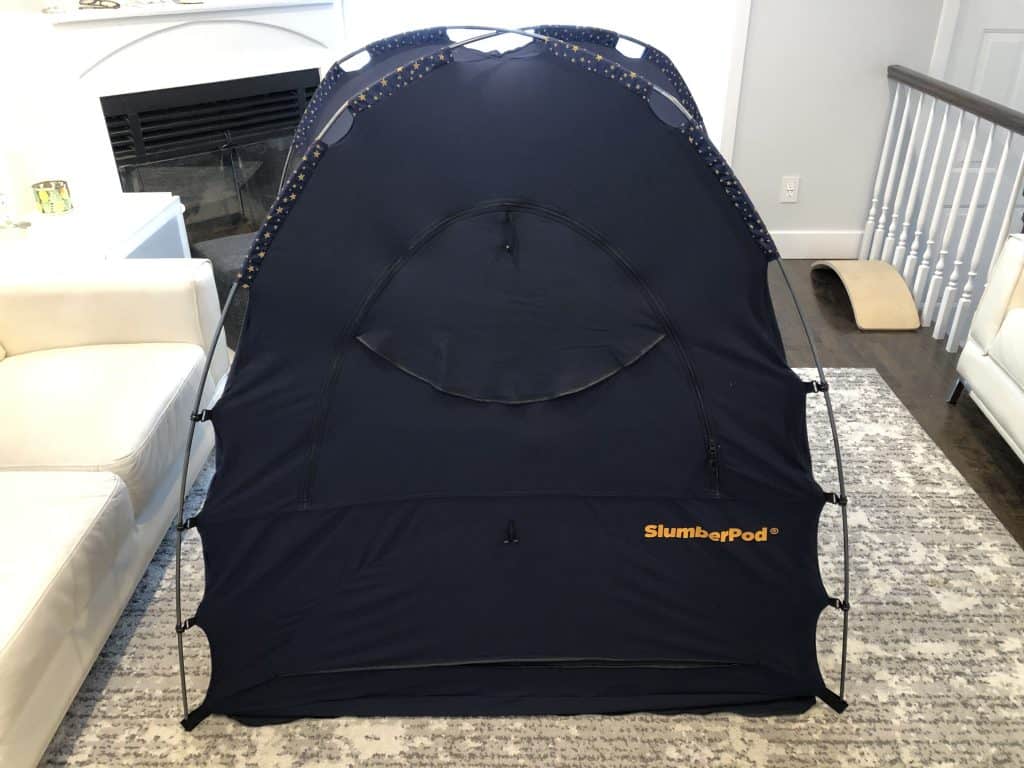 If you'll be sharing a room with your baby, a sleep tent is a must.
Your baby needs darkness and a distraction-free environment for proper sleep, and you need to go about your day.
Those two clash in shared spaces.
Moreover, even if you're not sharing a room, the baby room might not be dark or quiet enough for sleep.
A sleep tent plays the role that used to be reserved for closets or bathrooms. It gives your baby their own dark oasis and gives you the freedom to do your thing.
Among the sleep tents, Slumberpod stands out for a few reasons:
It's bigger than your average sleep tent (extends beyond a pack and play).
It's pitch black – it's totally dark inside even if the light is on.
The materials are premium – everything about it feels high-end, but it still allows unrestricted airflow.
Features
Extra pockets for the fan and camera.
Complete blackout material – no light goes in.
Tested and safety certified – compliant with all safety standards.
Easy set-up – takes under two minutes.
Big enough to fit over a standard pack n' play.
Why I love it
Space is not my reason for using the Slumberpod. My reasons are all about travel.
I love the convenience of taking the Slumberpod out wherever we go and setting up a dark space for sleep before you can say Jack Robinson.
Follow this link to see the full review of the SlumberPod and this one to see some SlumberPod alternatives.
Exclusive Deal!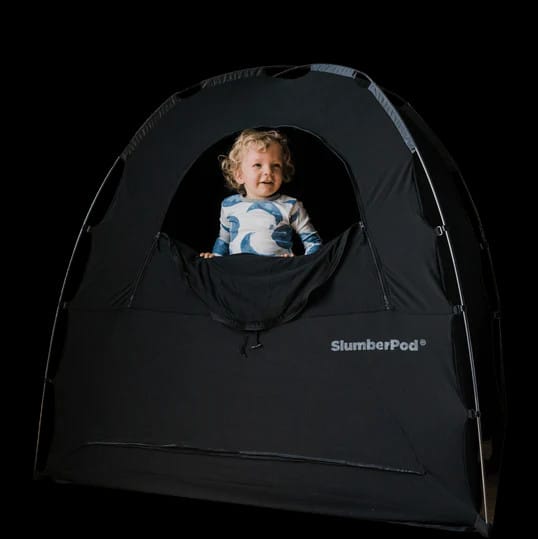 Use the DISCOUNT code "UPSIDEDAD" for $20 OFF or click the button below for your EXCLUSIVE discount!
Whether your child is restless or a calm sleeper, darkness is your friend. In the former scenario, it might be the solution because less stimulation might be enough to calm and settle the baby.
In the latter scenario, it means deeper and better sleep even if there's no change in the sleep schedule.
Among blackout shades, Redi stands out because it's THE top value for money.
You can trim Redi to a perfect fit at home, you don't need tools to install the shades, and they block 99% of light.
In a word, Redi does it all at a lower price point than competing shades.
Features
Block out 99% of the light.
Made of durable pleated paper – doesn't yellow or crack.
No chords – you use clips to lower and raise the shades.
Paper can be easily trimmed to a perfect fit.
No-tool installation – takes but seconds.
Why I love the Redi shades
I love the idea of getting a blackout shade that costs a fraction of the price you'd pay for fabric or plastic and installs in minutes.
It's a simple product that does what it promises – blocks (almost) all the light.
The womb-to-world transition is the most significant change of environment that ever happens to a human. If you think about things like that, you can begin to understand the fussing and the crying.
One of those massive changes are the sounds – in one day, the calming whooshing and swishing is replaced by all these 'who's-a-pretty-baby?'s.
It's too much too fast.
That's where white noise comes in.
If you don't have a good bassinet with an integrated sound system, a white noise machine is the way to go.
There's a reason I'm saying "good bassinet" here. It's because the sounds of most bassinets can't be compared to a standalone white noise machine.
Marpac Dohm stands out as the industry classic with a storied history (in production since 1962). The white noise is fan-based, making it closer to the natural whooshing of mom's blood than a sound played from an audio file.
Features
Natural, fan-based white noise
Non-looping sound – you twist the top to customize it
Adjustable – two speeds for tone and volume
Simple design – 7 ft. cord, one plug, and one button
Classically designed – will seamlessly blend with most spaces
Why I love it
I'm a fan of airflow-based white noise because it's the closest you can get to natural sound. The constant hum does a great job of blocking the environmental buzz.
EPA (Environmental Protection Agency) recommends keeping the humidity in the baby room in the 30-60% range. And some baby sleep experts say the optimal spot is towards the higher end of that range – around 55%.
But how exactly do you get there?
For new parents, I'd recommend a cool-mist humidifier. These are often made with babies in mind, feature a nightlight, and produce a very fine mist at the lower settings.
One humidifier that ticks all those boxes without breaking the bank is the Fridababy 3-in-1.
Features
Multipurpose (3-in-1) – humidifier, nightlight, and diffuser
Use vibration to create a cool mist
Prolonged use – can run up to 12 hours
Mist' size' is adjustable – from gentle to rainforest
The diffuser covers up to 320 square feet
The water tank is free of any BPAs
Why I love it
Finding a good diffuser-humidifier combo is a tall task.
By 'good,' I mean one that does a good job at actually diffusing baby-safe essential oils.
There are similar products, but most of them aren't great at evenly diffusing the essential oil mist, so most of the mist stays around the unit.
Fridababy does a great job as a humidifier and a decent job as a diffuser.
(which is as good as it get switch combo units)
The humidifier can go on for half a day at the lowest setting, which is a massive plus for busy parents.
There are nice baby monitors, there are good baby monitors, and then there's the Nanit Pro.
Getting a constant view of what's happening in the crib is essential for any new parent. Actually seeing that everything's OK is the only way to calm a racing mind.
Nanit Pro stands out as one of the most well-rounded baby monitoring systems out there.
Features
Full-HD (1080p) bird-view video
Crisp two-way audio – listen and talk to your baby
Background audio – monitor sound is on even when the phone screen is off
Monitor temperature and humidity and receive notifications.
Connect through any device – iOS, Android, Kindle, or Echo.
Sleep tracking with detailed stats and sleep timelapse
Why I love it
I love any product that goes down the no-compromise route, no matter how much it costs.
You typically see baby monitors that excel in one aspect and skimp in others.
I've seen it all – from great cameras and mics mounted onto dirt-cheap plastic to monitors that just refuse to pair to your phone.
There's none of that with Nanit Pro.
It's a high-end (read: expensive) baby monitor that does it all. And I mean all.
AAP officially recommends babies share the room with their parents, but never a bed. That's fine during the day and if you have no mobility problems.
If you have the urge to sleep near your baby, the safest way to do it is by a bedside sleeper.
It's also a great way to have easy access to the baby if you're recovering from a Cesarean or just don't feel like getting up 10 times a night.
Features
Adjustable height – seven levels, 17-26 inches
Attachment system safely secure it to the adult bed
Lowering sidewall for easy access
Mesh sides for unrestricted airflow
Generous storage – two large side pockets
Built-in wheels with breaks
Why I love it
Compared to most bedside sleepers, Micka Micky is of superior value. The fabrics and the finish are comparable to similar units that cost significantly more.
If you want to read more you can see the complete review of the Micka Micky here and the list of top co-sleeper bassinets here.
Swaddling is a natural way to calm your baby and protect them from the startle reflex. It also imitates your touch, which can help them self-soothe.
All of the above means a calmer baby that sleeps better.
The critical part here is doing it safely, and that's not as simple as it sounds. Any loose piece of fabric is a suffocation hazard.
Swaddle Up is a trademarked, breathable swaddle that will keep the baby's arms up, which is the natural position for most babies (around 90% of babies will keep their arms up when sleeping on their back).
Features
Simple, quick swaddle with no breakouts – takes but seconds
Fabric suitable for moderate climates – 1 TOG
The ideal room temperature for the SwaddleUp is between 68°F & 75°F
One-layer fabric- minimal risk of overheating
'Hip-healthy' design – allows for leg and hip flexion
Machine washable fabric – 93% Cotton with 7% Elastane
Why I love it
I love any product that makes you go, "Why didn't I think of that?"
If 9 in 10 babies want their arms up, why would we restrict the instinct by swaddling them down?
The way I see it – no reason bar safety.
The folks who created the SwaddleUp had the same question. Then they came up with a great answer and trademarked it all.
Read more about the benefits of swaddling your baby here.
Between months 2 and 4, your baby will start to roll over, and you'll need to ditch the swaddle.
The transition can be a real pain because it can throw them off and mess with their sleep schedule.
Using a weighted multipurpose swaddle with removable sleeves will make the transition seamless. Instead of gradually changing the way you swaddle, you just unzip a sleeve.
The 'secret' here is understanding what's safe when it comes to weighted products.
Features
Three weighted sections – 42 grams total
Two weighted pads on the sides and one in the middle
Inner band – can hold the baby's hands down
Two-way zipper with soft covers
Quick-drying sleeves made of breathable mesh
Removable sleeves – safer and easier to transition
Why I love it
Anything that imitates your touch is a great soothing tool.
Such is the case of a weighted swaddle. But there's a caveat – the all-weighted sleepwear is deemed unsafe by the AAP.
Between the all-weighted options and the regular swaddle lives this nifty thing.
The peg of extra weight mimics your touch, and the removable sleeves make it safe as the baby's mobility increases.
Zen One Classic is advertised as "the only swaddle" you'll ever need. Based on everything I've seen, it delivers on that promise.
And then some.
Bottom line and takeaways
If you took the time to go through my picks carefully, you're taking away some precious tidbits of information. I'd say you now belong to the top 5% of parents who truly understand what baby sleep is about.
If you're a first-time parent and just learning about all this stuff, it might be too much to take in.
Don't fret because it gets easier…especially if you make the right choices.
Bookmarking this page for future reference is one of those choices.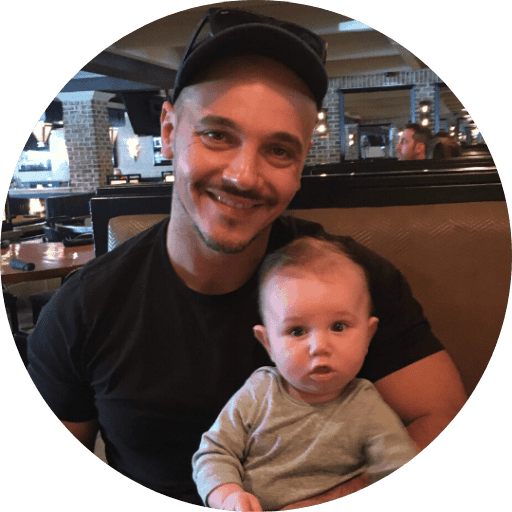 Paul is a passionate dad who founded Upside Dad to share his parenting journey with other new parents. He graduated from Concordia University and worked as a test engineer for over a decade. Paul loves dad jokes and craft beer.
Learn more about Paul and Upside Dad here.