If you've recently looked at the SlumberPod blackout tent but for whatever reason you are still looking for options, this post is for you! I'm going to explain why I love the SlumberPod but also what the best options are if you're looking for an alternative.
I've owned and tested multiple pack n play blackout tents for the simple reason that I'm obsessed with good sleep.
Let's get into it.
Exclusive Deal!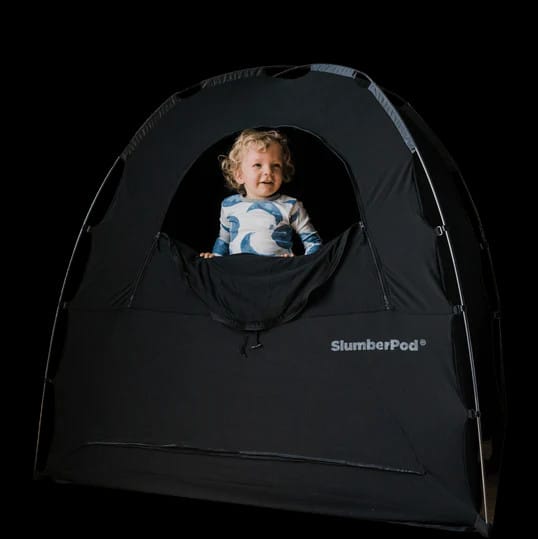 Use the DISCOUNT code "UPSIDEDAD" for $20 OFF or click the button below for your EXCLUSIVE discount!
---
The SlumberPod is a simple yet revolutionary solution to baby sleep while traveling. As a parent, you already know how hard it can be to have babies and toddlers sleep at home on a good day.
Now imagine how hard it can be to put your child to sleep while on vacation or away from home for the night?
There are so many factors that can make it almost impossible to get a good night sleep
The crib is different
The room is too bright
You have to share your room with your baby
The environment is too loud
And the list goes on…
SlumberPod set out to fix this problem. The SlumberPod blackout tent brings the coziness and darkness of home anywhere you go with your little ones.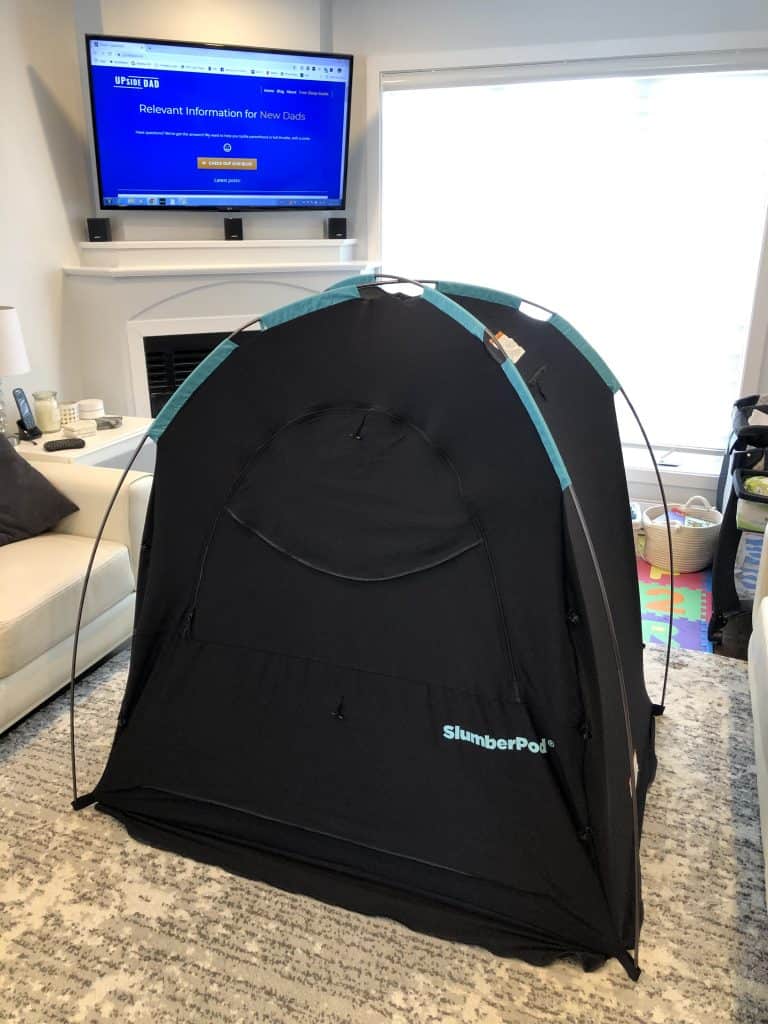 Simply set up the SlumberPod blackout canopy and place it over any standard pack n play and you've just given your little his own dark and cozy space to sleep in.
SlumberPod does a few things differently, and better than their competitors:
The pod extend above and beyond the pack n play allowing your child to not feel like he is locked in a box and also stand up if he needs to
The material is 100% blackout. You can't see anything inside the SlumberPod even if the lights are on in the room or the sun is shining.
Everything is made from premium materials. The pod, the pockets, the carry bag, and the tent poles are all very high quality.
I recently did a very detailed SlumberPod review where I went over each and every feature of what I consider to be the best pack n play blackout tent. In my review I highlighted what was awesome about it and where they fell short.
If you consider taking a second look at the SlumberPod you can use my discount code "UPSIDEDAD" for $20 off your new SlumberPod or just click the button below to have it applied automatically.
Exclusive Deal!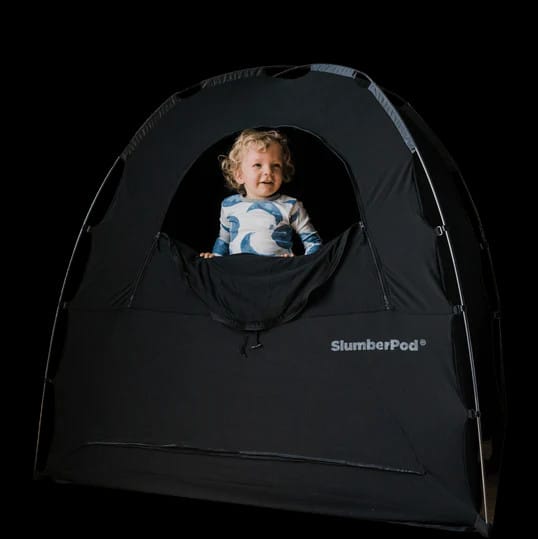 Use the DISCOUNT code "UPSIDEDAD" for $20 OFF or click the button below for your EXCLUSIVE discount!
---
But if you're looking for an alternative pack and play tent, I suggest you keep reading.
Why do I need a SlumberPod alternative?
If the SlumberPod is so great, then why would you need a Slumberpod alternative?
Maybe you're just not ready to ditch out $170 for a sleep tent for your baby that you may only use once or twice. I get it, parenting can be expensive.
There are a few options out there that are significantly cheaper than the SlumberPod and that will do the job almost as well.
Another reason may be that your baby doesn't need complete darkness to sleep. Maybe your baby sleeps no matter where and when and you just want to give them a little privacy when room sharing in a hotel or at grandma's house.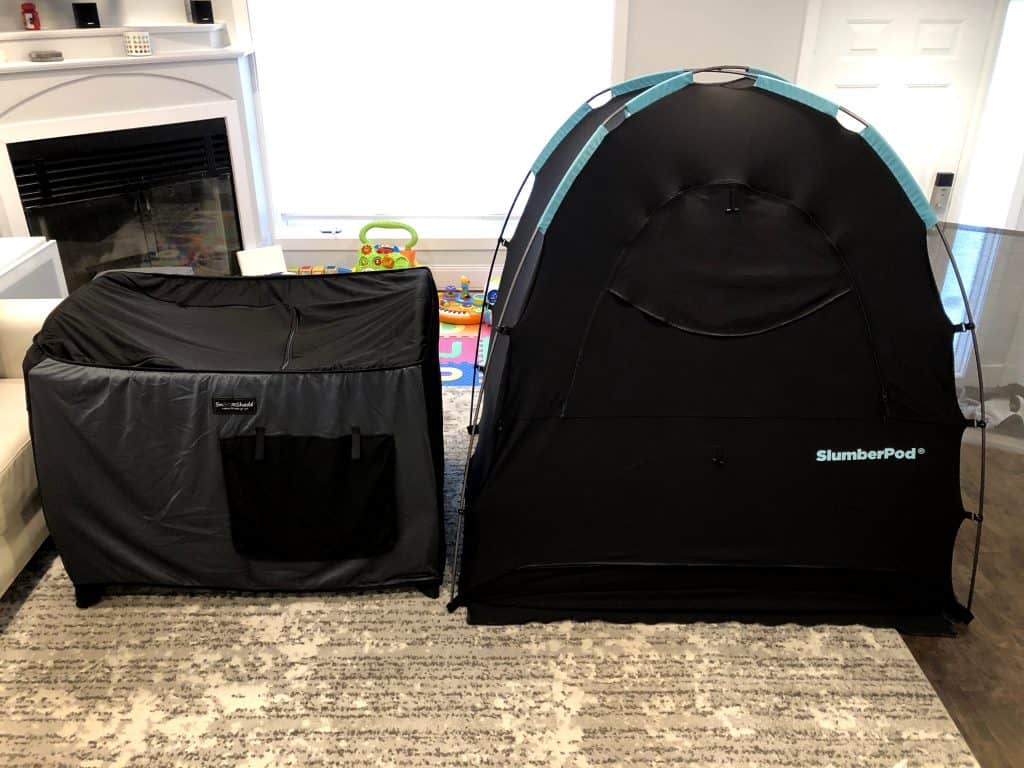 Finally, many parents simply don't really care for the best of the best when it comes to this stuff.
Maybe you are planning a weekend away this month but you're not really sure when you will go away next.
Some of the alternatives on our list are perfect for a rare getaway with the family and won't cost you an arm and a leg.
There are many reasons why someone may want a baby sleep pod solution that is NOT a Slumberpod and that's exactly why I put together this comparison of the best SlumberPod alternatives.
What are the best alternatives to the SlumberPod?
The SlumberPod is still my favorite baby blackout tent, but some parents may be looking for a simpler, smaller, cheaper alternative.
Here are my choices for the best SlumberPod Alternatives:
Here is a brief review of each of my favorite SlumberPod alternatives:
---
The SnoozeShade is my second favorite sleep tent. I actually bought this sleep tent because I wanted to see the differences between the Snoozeshade and the SlumberPod in person. I even wrote a detailed comparison between the two.
You can see my Snoozeshade vs SlumberPod comparison here.
The Snoozeshade is super easy to set up, even easier than the SlumberPod. You simply drape the material over your Pack n Play and tie each corner down on the legs – done.
The SnoozeShade is proven to block 94% of light. It is not a FULL blackout tent but it makes the sleep area much darker while providing your baby some much needed privacy.
Unlike the Slumberpod, the Snoozeshade is VERY breathable. The air-permeable fabric ensures your baby won't be stuffy in the Snoozeshade.
Finally, the Snoozeshade is significantly cheaper than the Slumber pod. If you're looking for a good quality alternative to the SlumberPod I recommend checking out the SnoozeShade.
Check out my detailed review of the SnozeShade for more info. You can also find the SnoozeShade on Amazon or at SnoozeShade.com for 10% OFF with my discount code "UPSIDEDAD"
Guava's Lotus crib is built to travel and a solid alternative to Slumberpod. Guava is a reputable brand which does matter to me compared with some of the knock offs I see on Amazon.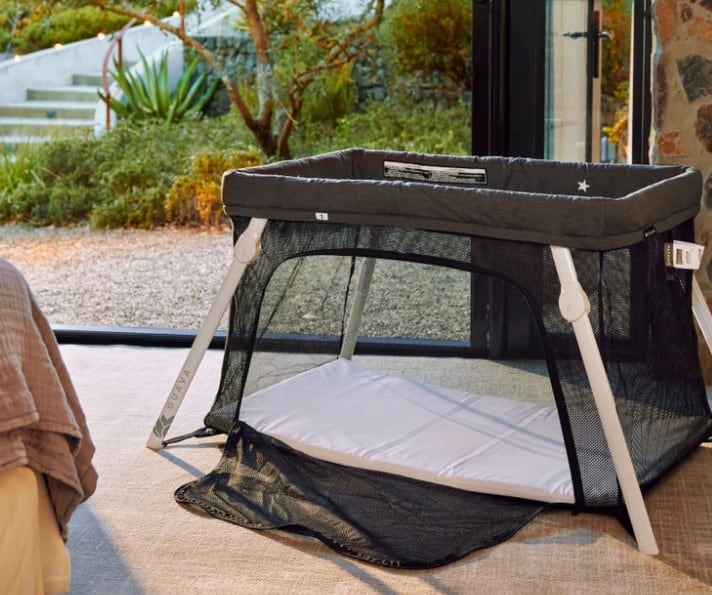 The Lotus is incredibly lightweight, yet sturdy, making it super easy to bring along. I especially love that it packs up into it's own included carry bag—no need for lugging around a bulky, heavy travel crib. Plus, it takes less than a minute to fully set up.
I like that it doubles as a play pen and "safe area" for our little one to play on the road.
The design is not only unbelievably convenient, but also very safe. The sturdy frame and tear-resistant material make the Lotus one of the most durable and secure travel cribs available. I also love that it meets or exceed ASTM International safety standards.
I purchased mine via Amazon at this listing here.
The Milliard darkening sleep tent is very similar to the SnoozeShade. The design is pretty much the same.
The tent goes right onto your pack n play and attaches to the bottom of each leg.
The material for the Milliard pod is actually thicker on top and gives slightly better darkness inside the playard. The sides are thinner and lighter so there is a ton of airflow as well.
They use a patent-pending secure attachment system that prevents babies from pulling the tent off the pack n play which makes it one of the safest alternatives to the SlumberPod.
The Milliard darkening sleep tent folds flat and compact making it perfect for travel.
This cool sleep tent also comes in at less than a quarter of the price of the SlumberPod.
Check out the Milliard sleep tent on Amazon.com for the best price.
The EGP ZZZ crib canopy tent is a super simple alternative to making your baby's pack n play dark and safe. It pops open like a beach tent and requires NO assembly at all! Just take it out of the bag, pull it apart lightly and the whole tent will come open in seconds.
This is not a full blackout tent but it will do the job and make it dark enough for most babies to fall asleep.
The material is also not so breathable so I suggest leaving the windows open for optimal airflow.
Putting the ZZZ sleep tent back in the bag can take some practice but if you follow the instructions there is no going wrong. Once you get the hang of it is becomes really easy and quick to pack up.
The ZZZ crib canopy is 38"W x 54"L x 57"H and will fit over a standard pack n play travel crib.
This is a great budget option for parents looking to get a tent that's easy to assemble and carry around.
Check out the EasyGoProdcuts EGP ZZZ Play & Crib Canopy Blackout Instant Tent on amazon.com.
The Minnebaby darkening cover for Pack n Play is another baby sleep tent that follows the same principle as the SnoozeShade. The darkening cover is draped over your playard and securely tied to each foot.
The Minnebaby darkening tent is made from a breathable fabric that provides great airflow inside the pack n play. Additionally, it has 3 window panels; one on top and two on the sides.
It weighs less than 2 pounds and folds compactly in the provided carry case. It's so easy to throw in your diaper bag or carry on luggage no matter where you go.
Minnebaby is compatible with all standard size pack n play and portable cribs measuring up to 37.5" x 25.5".
The Minnebaby is very comparable to the Milliard cover and comes in at about the same price which is about one-quarter of the price of the SlumberPod, making this baby sleep tent another great option for parents looking to spend less.
Check out the Minnebaby pack n play tent on amazon.com
Exclusive Deal!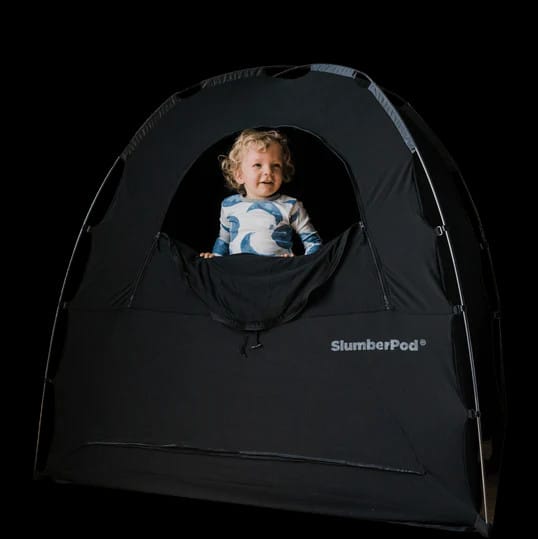 Use the DISCOUNT code "UPSIDEDAD" for $20 OFF or click the button below for your EXCLUSIVE discount!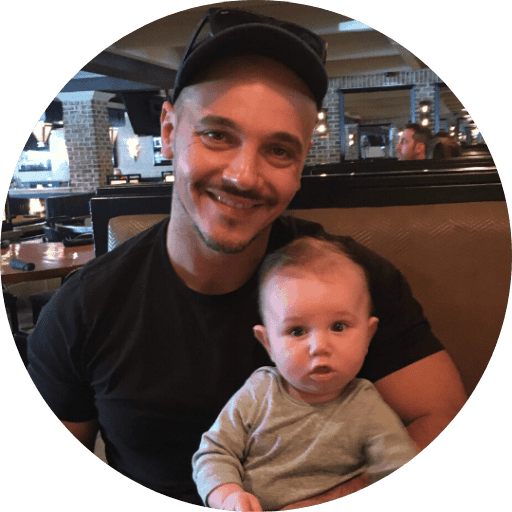 Paul is a passionate dad who founded Upside Dad to share his parenting journey with other new parents. He graduated from Concordia University and worked as a test engineer for over a decade. Paul loves dad jokes and craft beer.
Learn more about Paul and Upside Dad here.