With a newborn baby or infant, traveling is no longer the same as before. From all the baby gear you'll have carry, to the fatigue associated with traveling with an infant or toddler, It's just not that easy or relaxing anymore. There are however ways to make it easier and it comes down to one thing; good planning.
Since you now need to care for another human that still can't help himself, you must plan ahead in order to no get caught up in an undesirable situation.
One of the most challenging yet inevitable decisions that every parent will have to make is on where they are going to place their baby to sleep when away from home. If you are travelling for extended periods of time (more than a night or two), you must make sure there is a proper and safe sleeping area for baby.
Because we understand the challenge associated with the hassles of putting your baby to sleep when traveling, we have put together a list of vacation sleep options for your baby so you can plan ahead and enjoy your trip to the max.
Sleep and bedtime routine
It goes without saying that a bedtime routine is really important. Even more important is not deviating too much from that routine when you are out on vacation with the family.
Babies not only respond really well to routine but they are also extremely sensitive to change of any kind. Try to imagine going to sleep on vacation from your baby's point of view:
Not being at home
In a different bed/crib
Surrounded by different sounds
A room that's too bright or too hot/cold
Different smells
Sheets that feel different
These are all very likely circumstances you may or may not have control of when on vacation. However, what you do have control of is their routine.
So even if you're away from home, we suggest you do the following in order to keep a similar routine:
Keep the same bed times as much as possible
Same meal times
Same bath time if usually before bed
Do not deviate from any other pre-bedtime activities such as playtime, reading, feedings, etc…
Keeping the same bedtime routine while on vacation is half the battle. The other half will be planning so they don't feel too different sleeping away from home, so here is what you can do.
Places For Your Baby To Sleep When Travelling
If your baby can be put down in a comfy space that is somewhat familiar then you are already ahead. This would make sure the shock of being away from home is reduced and they are likely to sleep better and longer.
Below is a complete guide on the various places where your baby can sleep in when traveling away from home.
Hotel Crib
In case you are going to spend your night(s) in a hotel, a good idea would be to inquire if the hotel provides a crib for your baby. You'll find that several major hotels often provide a crib (or equivalent) for free.
If you are lucky, then you'll have been saved the troubles of bringing your own travel crib or pack n' play.
However, like any other baby item, you must ensure the baby crib provided by the hotel is reliable and safe for use by infants and toddlers.
Some hotel cribs are smaller and more compact. They may not be large enough for some toddlers. Thus, if you are traveling with a toddler, you should enquire about the size of the crib provided.
Other hotels may provide a pack n play instead of a crib which works well in most cases but remember that pack n plays are much flimsier and sometimes not as comfortable as cribs, especially if they are being provided to you by a hotel.
Travel crib
A travel crib is often the number one go-to solution for most traveling parents. Most are designed with travelers' needs in mind.
On top of being lightweight, most travel cribs pack down to a small size that fits perfectly in a compact bag. They are easy to assemble and disassemble.
Another advantage of using a travel crib is that it can be used for both infants and toddlers alike, thus, if you travel a lot, a travel crib is a worthwhile investment.
We've done a ton of research on portable cribs and our favorite is the Lotus Travel Crib. You can also check out our top 5 choices of portable cribs that includes buyer's guide.
Pack n Play
When you were compiling your list of must-have baby essentials for travel, a pack n play or travel crib was probably one of them.
Pack n plays are a type of portable baby crib that is designed to serve multiple purposes. You can use it as a playpen, baby crib, or simply a place where you can place your baby to relax.
A feature that makes pack n plays stand out from all the other options is their versatility. They can be used by a newborn aged zero days up to when they are around 3 years old.
That's not all. A pack n play is versatile and is perfect for road trips. They are fairly sized and can be packed down to fit easily in the trunk of most cars.
However, pack n plays are not the best choice for use when traveling by plane. Most pack an plays are fairly heavy and not easy to carry around, especially as a carryon item so you will likely have to check it as additional baggage. Also, because of their weight and size, pack n plays may cost a lot of money to transport in the long run.
Pack n plays are ideal for use when visiting grandma, during road trips, or when you are taking a long vacation with your baby or toddler.
You'll only need to make sure that your choice of a travel crib is lightweight, portable, and easy to assemble and pack away.
We've compiled a detailed review and list of the top travel pack n plays to help you chose the best one for your situation.
Bassinet
If you are going to be traveling with a newborn, then a travel or portable bassinet is perhaps your best bet for infant travel bed.
Most travel bassinets have a firm well-fitting mattress and a fitted sheet creating a snug and safe environment for your baby to sleep.
On top of that, bassinets are small-sized, light and will fold up into a very compact size that can fit in a suitcase.
In many cases, even if a bassinet is not labeled as a "travel bassinet", they can still be easily folded and brought along on a trip. So, if you already have a bassinet just take a look at the assembly manual to verify how easy or complicated it would be to take it down for your trip.
The bassinet we used for home and on the go was the UPPAbaby bassinet and stand. It's really easy to fold flat and take wherever you go. It could even be connected to your stroller so you can save bringing along another piece of accessory.
Tips for best sleep when traveling with a baby
Now that you already know where your baby will be sleeping, here are additional tips that will come in very handy when traveling with an infant or toddler.
Ensure your baby has enough rest before starting your journey. Try not to wake baby up in the middle of the night in order to leave early. It could easily backfire and you'll end up with a cranky baby all day.
Choose your accommodation wisely. The best choice is one that gives your baby their own sleeping space, even better their own room.
Try as much as possible to recreate your baby's normal bedroom. This includes scents, blankets or swaddles, lights, and the white noise (if they are used to listening to bedtime sounds).
Maintain your usual bedtime routine
If you are going to be traveling the entire day, try to keep baby active throughout the day. It will help them to sleep better.
When traveling with an active toddler, a good idea would be to allow them a little time to play before starting the trip. This will help to settle down during the trip.
Finally, if you'll be traveling to a different time zone, start by slowly adjusting the mealtime and sleep routine a few days before the trip. This will ensure an easier transition.
Our suggestion
In our travels, we have found that one accessory made the whole difference regarding how our baby slept; The SlumberPod!
The SlumberPod is a gamechanger because it allows your baby to sleep in their own space within the parent's room. It's breathable, super dark and extremely potable. It even fits in a carry-on baggage.
If you haven't heard of it, I suggest you take a look at my All inclusive travel guide where I talk about it in more detail and check out what other people are saying about it.
Exclusive Deal!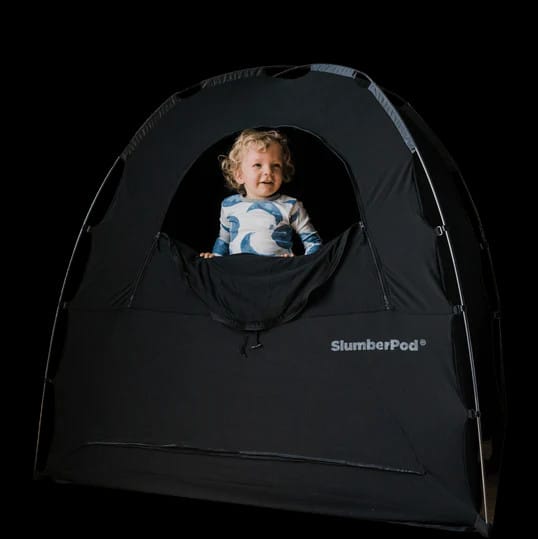 Use the DISCOUNT code "UPSIDEDAD" for $20 OFF or click the button below for your EXCLUSIVE discount!
In Conclusion
To wrap this up, no parent should cancel a trip because they are unsure where the child will sleep when traveling. Instead we strongly suggest you plan well in advance.
The options of safe sleeping areas for both infants and toddlers are numerous, so choose the one that fits your trip and your lifestyle best. An infant can safely sleep in either a bassinet, travel crib, pack n play, or a hotel crib, just to mention a few.
If you plan to travel more than once with a young child, we suggest you get a travel pack n play or a portable crib to bring along and not have to worry about finding something each time you leave on vacation. This also ensures that your child is familiar with the crib and will not reject it during your precious vacation.
Finally, always remember to keep the AAP's safe sleep guidelines in mind and safe travels!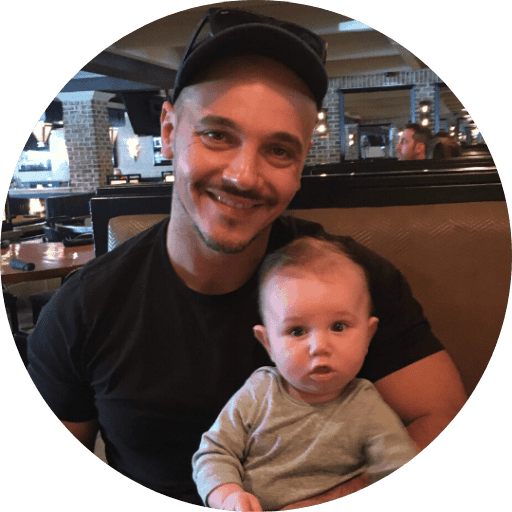 Paul is a passionate dad who founded Upside Dad to share his parenting journey with other new parents. He graduated from Concordia University and worked as a test engineer for over a decade. Paul loves dad jokes and craft beer.
Learn more about Paul and Upside Dad here.