If you're here looking for my detailed review of the UPPAbaby bassinet and stand you are likely part of one of these two groups of parents:
UPPAbaby Bassinet
Top Pick
Extendable
Longer mattress
Canopy unzips
Vented base and mattress
Bug Shield included
UPPAbaby Bassinet Stand
Top Pick
Elevated fixture
Bassinet snaps and locks
Fold compactly
Convenient bottom tray
Converts as double hamper
You already have the UPPAbaby Vista (which comes with the bassinet) and you are trying to decide whether you can use the UPPAbaby bassinet as your main bassinet with your newborn, and whether you need the stand or not.
You may be trying to decide on whether to get the Uppababy Cruz or the Vista and you are here to find out if the bassinet is worth the added price.
Lucky for you, I have the answer to these questions and many, many more below!
You probably already know this but I'm going to repeat it anyway, UPPA baby products are awesome. They are well engineered, made with great materials, safe, certified and they look great.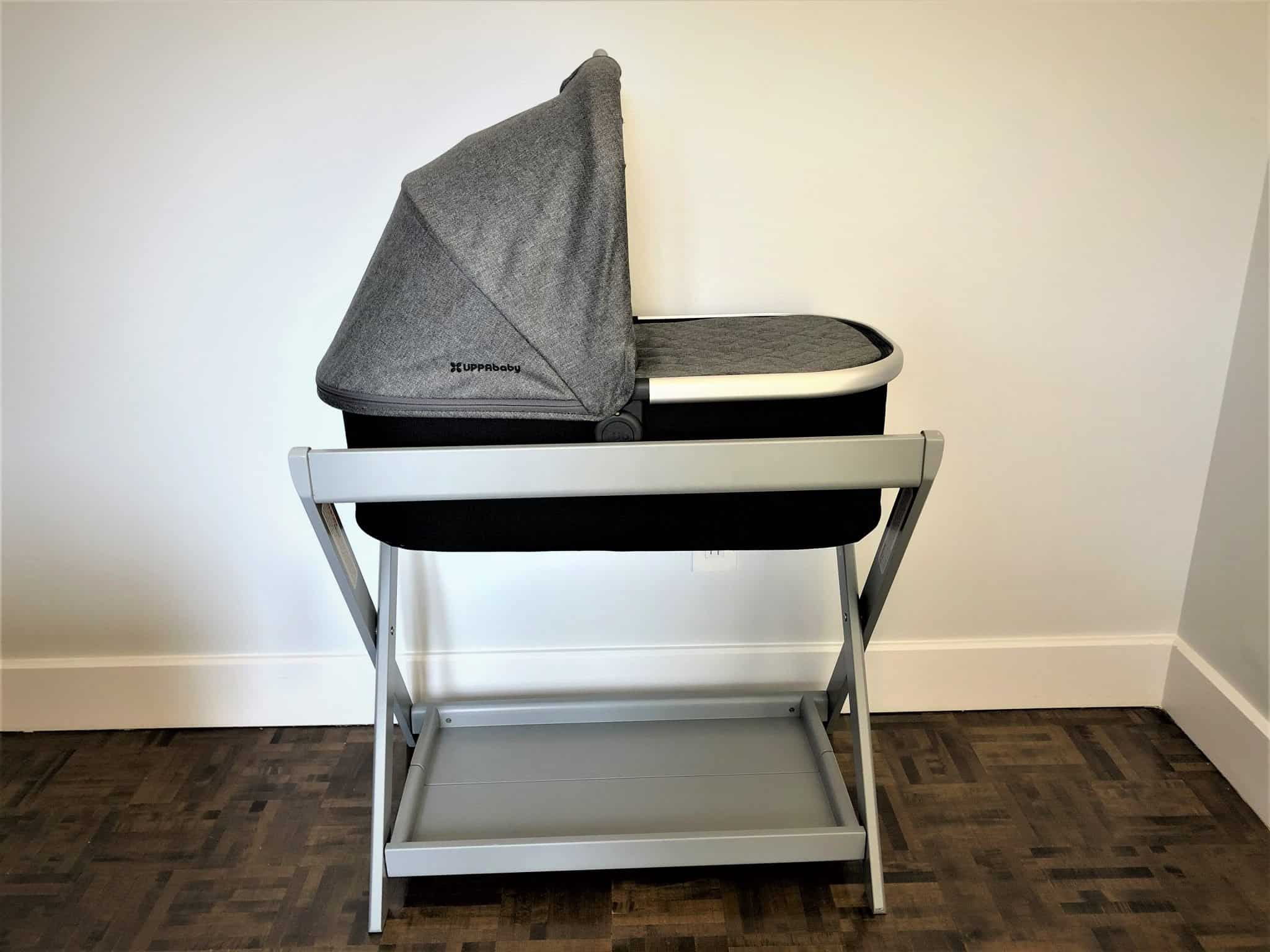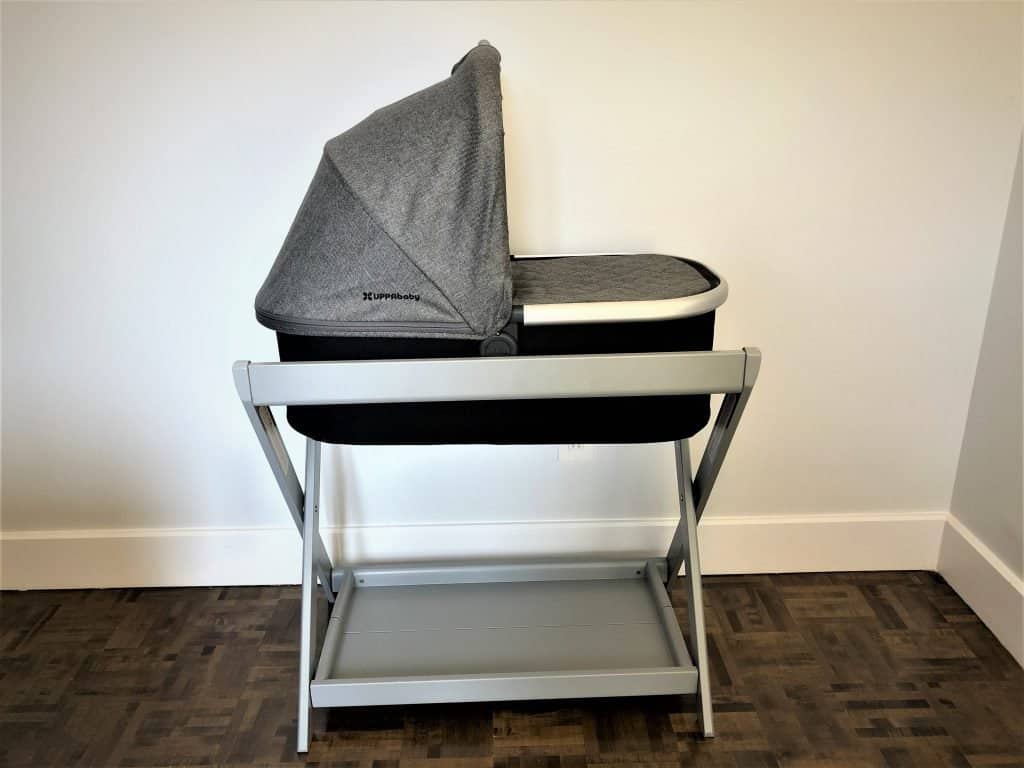 And as expected, they come with a hefty price tag.
I used the UPPAbaby vista bassinet and stand every single day and night, for naps and sleep, for over 3 months with our son so I have some amazing hands-on experience to share with you.
I also spoke to and answered questions from so many parents with similar concerns that I thought it would be important to share them here with you.
Let's start with the Vista stroller and bassinet combo.
The Uppababy Vista Package – A Short Summary
Let's start by breaking down the Vista stroller/bassinet combo. The Vista stroller is very similar to the Cruz stroller. The main differences between the Cruz and the Vista are:
The Vista is slightly larger and comes with the famous Uppababy bassinet
The Vista allows for mounting 2 seats with the addition of the upper adapters and lower adapters shown below
The Uppa baby Vista is a very solid choice and an all-around great stroller. It can go head-to-head with some of the more expensive brands and still come out on top. It is made with great quality materials such as aluminum and leather and it just feels so smooth to push around.
So, once I decided to go with the Uppababy stroller my next thought was "for an extra few hundred bucks I can have a bassinet for the bedroom AND on the go? Deal!".
The added bonus of interchangeability between the stroller, car seat and the bassinet stand was another huge plus for me. Every piece of the UPPAbaby system connects seamlessly from one place to the next.
In the end, even though I thought I would be bringing the bassinet with us everywhere we went and using it as a stroller AND a bed, the reality was that the Bassinet stayed parked in our bedroom 99% of the time. We used it as his bed every single night for 3 straight months until my son grew a little too long for it.
The Uppababy Bassinet
The Uppababy Vista bassinet is a safe and well-built bassinet that can be used at home or on the go. It boasts impressive features and is in my opinion the most versatile bassinet in the market right now. You can easily use it for the first 3 to 5 months, or even longer depending on how fast your baby grows.
It easily connects and disconnects from your stroller or stand with one hand and it folds flat for travel.
Here are the main specifications and allowable limits of the Uppababy Vista bassinet:
| | |
| --- | --- |
| Size/Dimensions | 16″W x 31″D x 10″H(24" with handle up) |
| Materials | Cotton and Polyester |
| Max Child Weight Allowed | 20 lbs(9kg) |
| Max Child Length Allowed | 25″ (63 cm) |
UPPAbaby Vista Bassinet Features
Suitable for up to 20 lbs or until your baby can push up on hands and knees
Perfect for overnight sleep
Extendable, UPF 50 sunshade
Features a longer mattress making it more comfortable for a growing baby
Canopy unzips for added air flow
Removable, breathable mattress pad
Vented base and mattress for breathability
Machine washable mattress cover and zip-out liner
Bug Shield included
Compatible with VISTA 2015-later and all CRUZ strollers
Fits onto Bassinet Stand (sold separately)
Pros and cons of the Uppababy bassinet
Here is what I like and dislike about the UPPAbaby bassinet:
Pros
Approved for overnight sleep
Overhead canopy keeps it dark and cozy for better sleep
Easily attaches to the Uppababy stroller
Folds flat for easy transport
Lightweight
Rated up to 20lbs (6 months)
Sturdy and stable
Cons
Fixed height
Not designed to be accessible from your bedside
Everyday Use of the UPPAbaby bassinet
The latest model of the Uppababy bassinet is very light, collapsible, and easy to transfer from the stand to the stroller. It fits all Uppababy strollers starting in 2015 or newer. This bassinet should always be used on the stand or attached to an Uppababy stroller, not on a flat surface.
The Vista bassinet is made of premium cotton and polyester making it feel sturdy and soft to the touch. It comes with a breathable mattress and mattress cover. You can put the baby directly on the mattress cover like I did, but there are also sheets you can get to make changing and washing them easier. I wish I had some when I would find some spit up on the cover and would have to do a load of wash just to make sure the baby had a place to sleep that night.
Setting it up or collapsing it flap are both very simple and quick. Just lift the mattress and pull on the tabs attached to the two metal rods causing them to slide and unlock or lock in position.
It also comes with a UPF 50 sunshade and a bug net that are both great for outdoor use.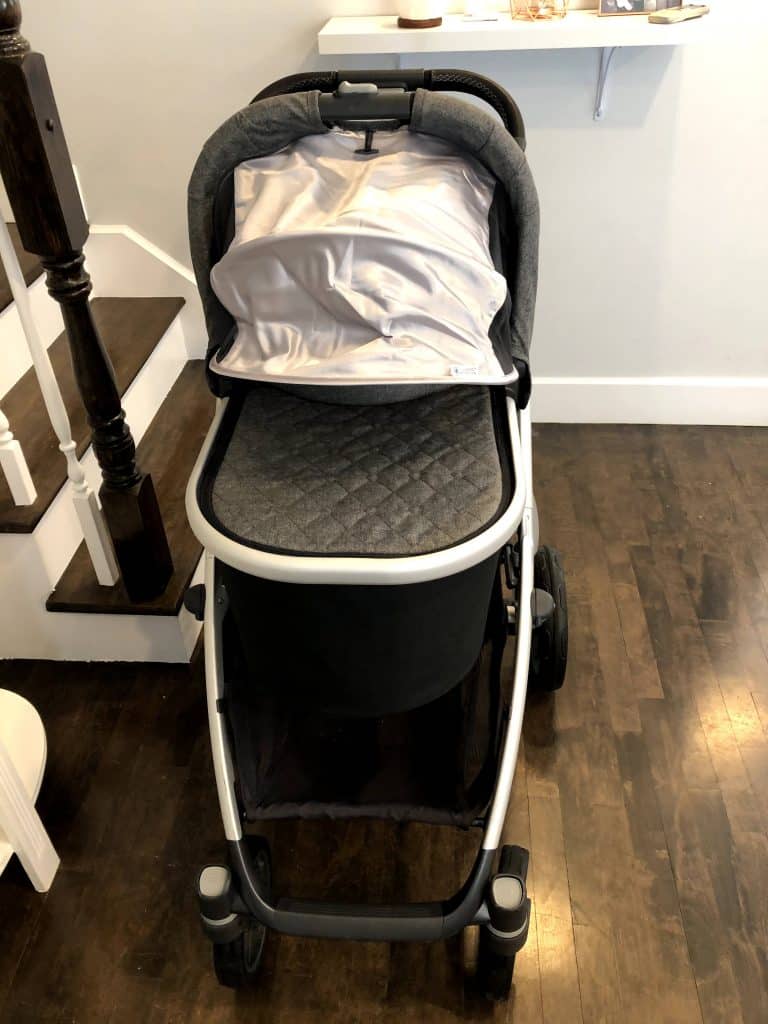 UPPAbaby bassinet safety
The breathable materials used make it perfectly safe for newborn sleep. On top of that, Uppababy made the mattress perforated and the base vented for further airflow and breathability. Another neat feature is that the canopy unzips for additional airflow throughout the bassinet.
It is rated for babies up to 20lbs or 25". They also mention that if your baby can pull himself onto his hands and knees, it's time to stop using the bassinet.
Set up and assembly of the UPPAbaby Vista bassinet
The bassinet comes flat in the box. Simply lift it holding it by the handle, and slide the 2 rods at the bottom away from each other until they click into position and the side material looks taut.
Open the stand and push down lightly with your foot until the bottom shelf is flat and place the bassinet aligning the clips on the sides until you hear a click
If you push up and down on one side of the bassinet you will notice that it moves slightly and that is normal. This play is expected and is not an issue.
Build quality of the UPPAbaby bassinet
As with anything from Uppababy, the quality and the materials used are great! Everything one the inside of the bassinet is very soft to the touch and breathable. The outside feels soft yet sturdy.
The sunshade pulls out from under the top and works well but can become a little flimsy overtime.
All of the moving parts click when in position which gives you great feedback that everything is properly assembled.
Footprint of the UPPAbaby Vista bassinet
The bassinet is 31" by 16" which makes it just the right size for everyday use. My son became too big for it at around 3 months of age which we were slightly disappointed in since we expected to use it for longer. However, if the bassinet was any larger it would not make it for easy transportation so I think they got the sizing right.
Cleaning the UPPAbaby bassinet
The outside and covers are very easy to wipe down. The material is very strong and does not get dirty or stain easily.
The inside comes fully apart. The walls, mattress, mattress cover are easy to remove and put in the washer. I would suggest getting some extra sheets so if you baby spits up it's an easy swap instead of an emergency wash before the next sleep.
Using the Bassinet on the Vista Stroller
The beauty of the Uppababy system is that each accessory is compatible with each other. With this in mind, they made sure the bassinet can be used at home on the stand, or on the go attached to the stroller.
The Bassinet on a Walk
On the third day home from the hospital with our son, we decided it was time to go on a short walk around the block. As first-time parents, this was a HUGE deal. The only thing we had done up to this point was drive from the hospital to our home so we were a tad nervous but also excited to try out our fancy new stroller.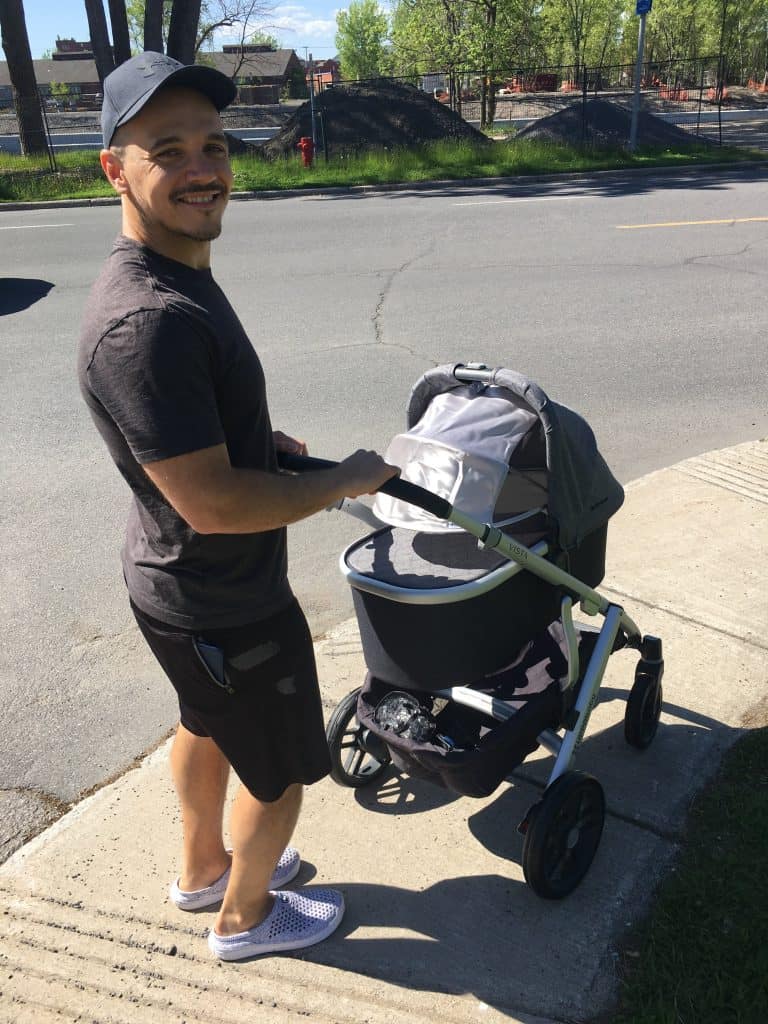 I looked at the shiny Vista stroller all set up and ready to go and realized it was not suitable for our three-day-old yet. It completely skipped my mind that a newborn needs the infant snugseat attachment before being able to use the full-size stroller. I eventually got the insert but at that moment I just wanted to go for a walk, so I looked at my wife and said "we have the bassinet! Let's pop it on the stroller and go", and so we did.
To my disappointment, our teeny little guy did not seem safe in the bassinet as we pushed the stroller on the sidewalk.
First, every little bump and crack we went over made it seem like an earthquake for him. He was moving up and down so much that we had to move extremely slowly. Second, the baby is not attached in any way inside the Vista bassinet. This means that when you take a turn, the baby rolls. You do not want that to happen with a three-day-old.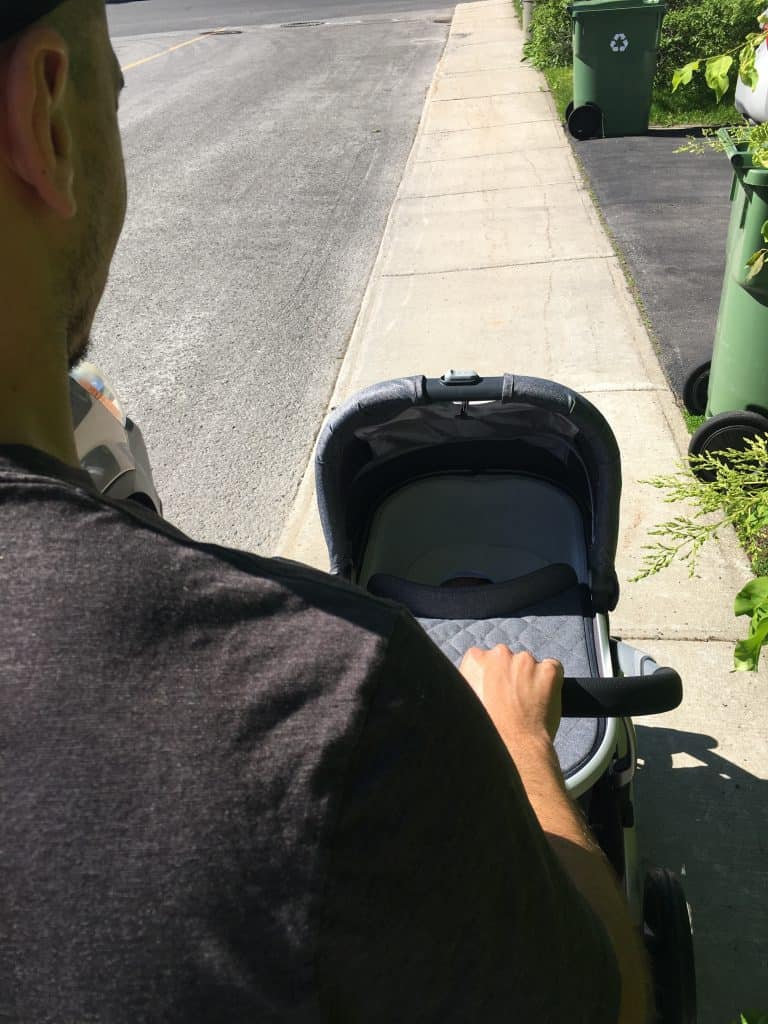 Needless to say our walk lasted no more than a few minutes minutes. We turned around, got home and ordered the infant snugseat right away.
The conclusion is that for a young newborn that is only a few days or weeks old, the bassinet is not the best choice for walks unless on a really smooth surface (maybe at the mall or an indoor space) and at very low speeds. For anything else, please make sure to get the infant snugseat which supports the newborn's body and head.
The UPPAbaby Bassinet on the Go (Stationary)
Now, this is where the Uppababy bassinet shines! If you are going to a friend's or family members' house and plan to spend nap time there with your newborn, you must not forget the bassinet at home.
This beautifully portable bassinet folds flat for transport and opens up in second to provide your baby a nice and cozy space to nap on the road or sleep the night.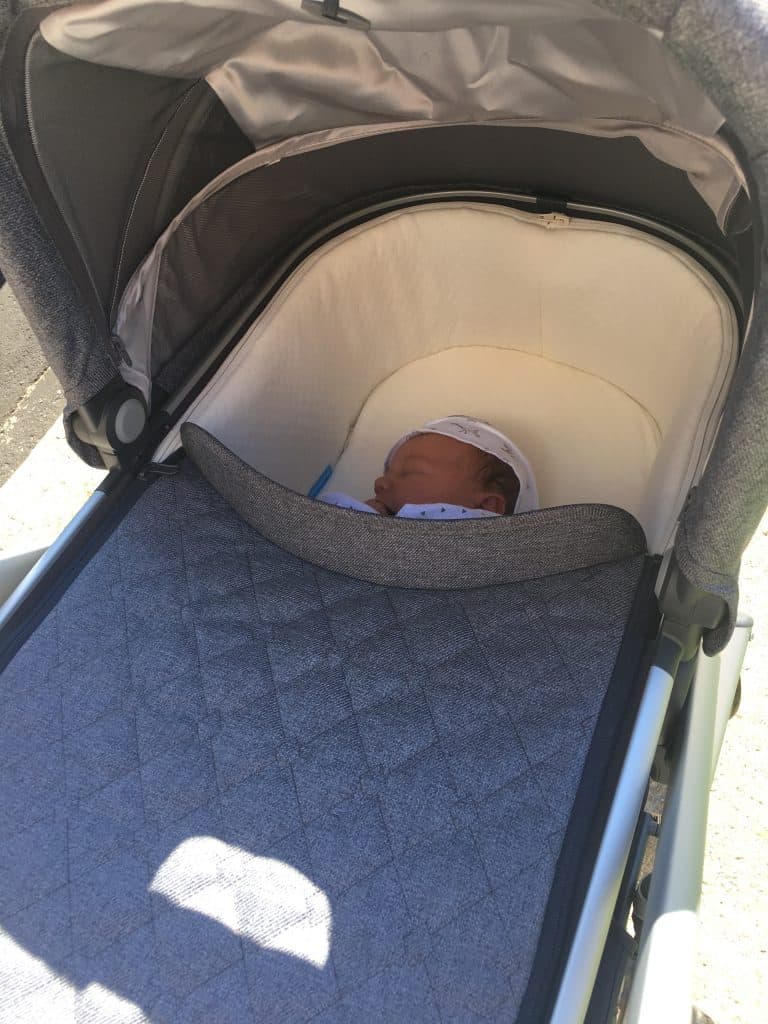 I have used the bassinet many times for this exact purpose and have never been disappointed. Not only is it already a familiar setting for your baby, since he already sleeps in it at night, but it is also extremely convenient and portable. Fold it flat, pop it in the car and pull it out when he starts to get tired. What else could a parent ask for?
Even if you already have a bedroom bassinet or mini-crib, this feature alone makes the Uppababy bassinet worth its price tag.
---
The Uppababy Bassinet Stand
The Uppababy bassinet stand does what it's supposed to without any bells and whistles. It easily opens and closes for quick and compact storage making life very easy for the parents when you need to clean the room or move things around.
The Uppababy bassinet locks in from the top and unlocks with the easily accessible button in the middle of the handle.
Here are the stand specifications:
Size/Dimensions
Open: 28.25″H x 29″W x 19.25″D
Folded: 33.5″H x 30.5″W x 5″DTray: 15″W x 27″D
Materials
HWPW (Hardwood Plywood)
Max Child Weight Allowed
20 lbs(9kg)
Max Child Length Allowed
25″ (63 cm)
Stand Features
Elevated fixture for Uppababy bassinet to keep baby off the floor
Bassinet snaps and locks onto the stand
Easy open and close
Fold compactly for stand storage
Convenient bottom tray
Converts into a double hamper
Available in Grey, Espresso and White
Fits UPPAbaby Bassinet 2015-later, VISTA 2015-later Bassinet, and all CRUZ Bassinets (Does not fit VISTA Bassinets model year 2014 and earlier).
Everyday Use
If you plan on using the Vista bassinet for night sleep with your newborn, I strongly suggest you get the Uppababy bassinet stand. The other option is to have the stroller in your room, which some people choose to do.
It's worth to get the stand just for the convenience of not having to lug around the stroller around the house every single day before bedtime.
The Uppababy stand is as basic as they come. It's an "X" frame that folds and is easy to put away against a wall or in a closet. It comes assembled and is easy to open and close. Just lightly step on the bottom tray once it's open to ensure the stand is fully locked in the open position, and use your foot to push up in the middle of the tray from the bottom to close the stand.
It is light enough that anyone can move it around the room whether the bassinet is attached to it or not. Make sure the baby is not in the bassinet if moving the stand.
The one thing that I noticed with this stand is that even once the bassinet clicks in there is still some play in the connection between the bassinet and the stand, which allows you to very slightly tilt the bassinet back and forth. The actual movement translated to the bassinet is vey minimal so it's not enough to cause any issue with the position of baby but I expected a tighter fit.
The button on top of the Vista bassinet handle allows you to unlock the bassinet from the stand and easily remove it.
NOTE: The Uppababy MESA car seat does NOT fit on the Uppababy bassinet stand even though it looks like it should, so please don't try to make it fit because you may damage some parts in the locking mechanism.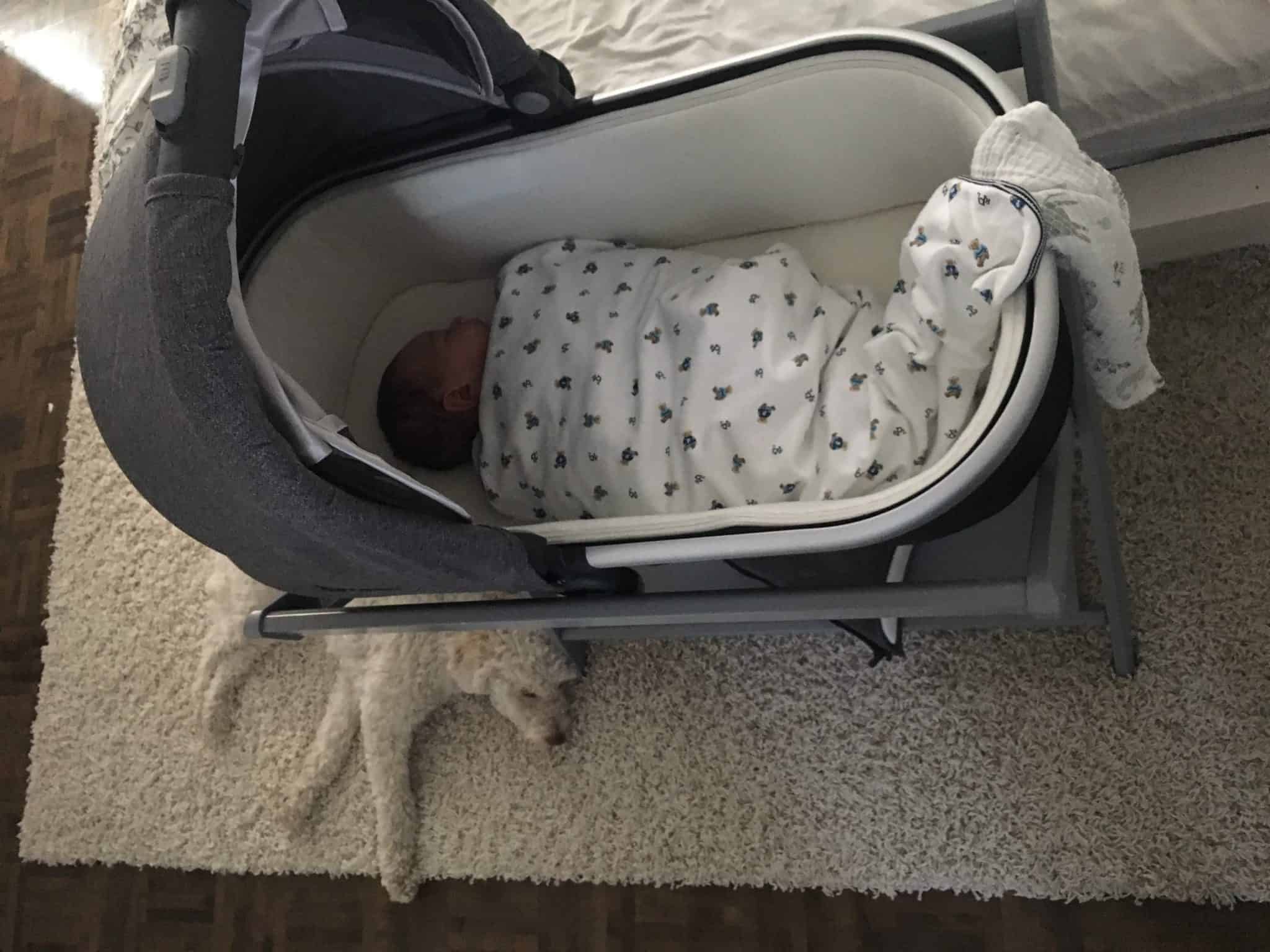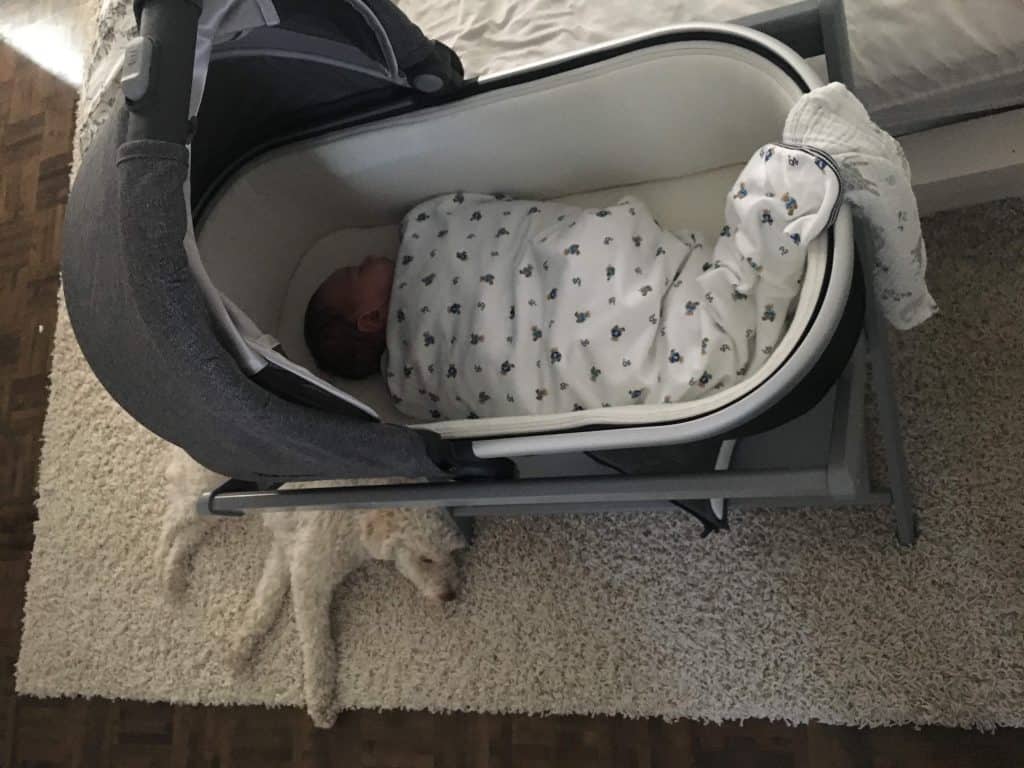 ---
The UPPAbaby bassinet and stand combo – how do they hold up?
The Uppababy bassinet and stand were certainly the right choice for us when room-sharing with our newborn.
The portability came in handy many times when we were able to easily collapse the bassinet, shove it in the trunk and have a bed for our baby anywhere we went.
The stand felt sturdy and safe even when our little guy was getting a bit too big for the bassinet. He would sometimes kick and try to roll around when he woke up and we never felt it was unsafe, even for a second.
Cleaning and taking it apart was a breeze as well. Zippers and clips make the whole cleaning process simple and quick.
We never really used the bassinet on the stroller as we didn't feel it was appropriate for a newborn while in motion. There is a bit too much free space for baby to slide and roll around when we were moving and he could have ended up face down.
This bassinet was not ideal for having access to you baby while in bed since the height is not adjustable and you are unable to bring it close enough to your bedside to reach and pick up your baby. You can definitely see your baby from the bed (depending on the height of your bed) if you keep the bassinet near by.
For anyone with reduced mobility such as mom's who had C-Sections we would recommend a bedside bassinet such as the Mika Micky bedside bassinet which does a great job for these situations.
My conclusion is if you decided to go with the Uppa baby stroller and car seat system I would very strongly suggest you get the bassinet and stand since they offer additional flexibility you just won't get with any other brand out there.
They are also great for travel, everyday use when not at home or on the go.
For more help on how to choose the best bassinet, check out our full guide on the best bedside bassinets.
UPPAbaby Bassinet
Top Pick
Extendable
Longer mattress
Canopy unzips
Vented base and mattress
Bug Shield included
UPPAbaby Bassinet Stand
Top Pick
Elevated fixture
Bassinet snaps and locks
Fold compactly
Convenient bottom tray
Converts as double hamper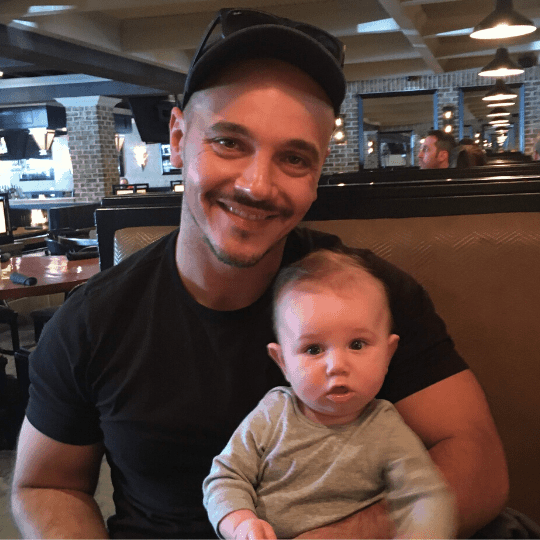 Paulo is a passionate dad who founded Upside Dad to share his parenting journey with other new parents. He graduated from Concordia University and worked as a test engineer for over a decade. Paulo loves dad jokes and craft beer.
Learn more about Paulo and Upside Dad here.