Halo bassinet or Uppababy bassinet?
If that's the question you're trying to answer for your family, I got you.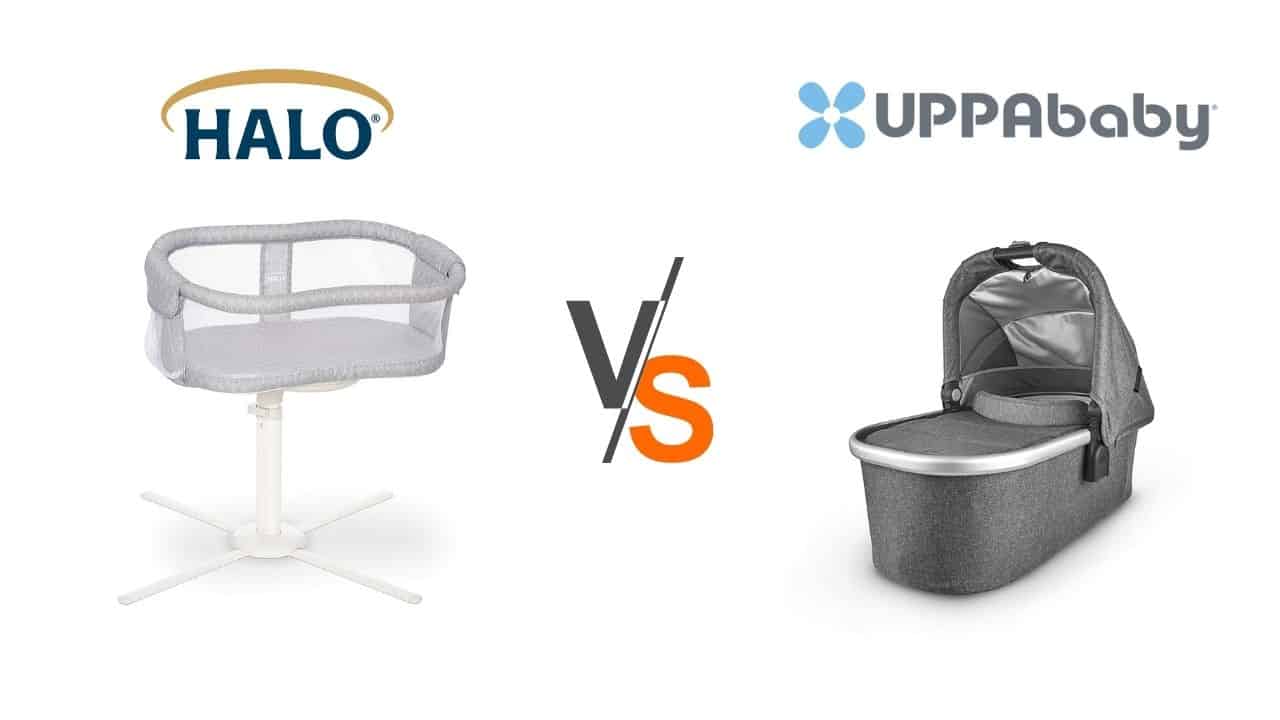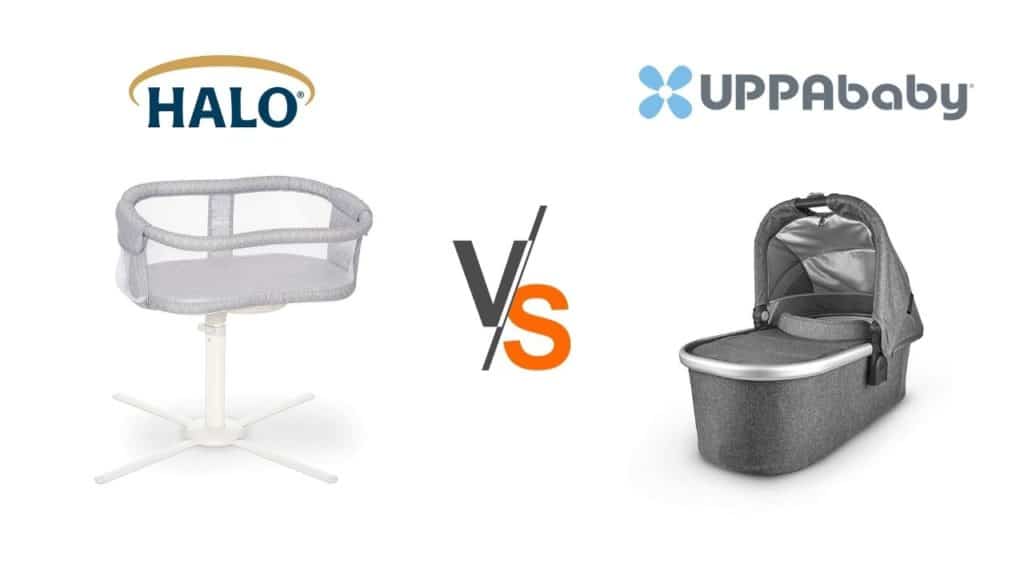 It should be an easy choice to make, too.
Although both Halo and Uppababy make high-end bassinets, there are significant differences between the two products I'll be analyzing today.
This "Halo bassinet vs. Uppababy bassinet" comparison guide is a 5-minute read but will leave you with perfect clarity on which of the two bassinets is right for you.
Let's dive right in with a side-by-side comparison.
Halo bassinet vs. Uppababy bassinet comparison table
Functions
Halo bassinet
UppaBaby bassinet
Motion

YES

YES

Vibration

YES

YES

Sound/white noise

YES

YES

Mesh sides

YES

NO

Adjustable height

YES

NO

Full rotation

YES

NO

Washable, water-resistant mattress

YES

NO

, water repellent
Canopy

NO

YES

Age/weight limits
20 lbs
20 lbs
Manufacturer background information
HALO Innovations is a company with a sad story behind it. The couple who found it, Bill and Cathy Schmid, lost their firstborn to SIDS.
Given Bill's engineering background, they decided to turn the tragedy into an admirable pursuit of safe baby sleep. One of their staples is this bassinet.
UPPAbaby is another American family company with a long track record of bringing high-end baby gear to the market – 30-year long, in fact.
The owner, CEO, and chief of product development, Bob Monahan, has spent years developing products for reputable companies like Ford and Reebok before going his own way to create UPPAbaby.
Conclusion – there's nothing in the fine print of the two companies that would give one an edge over the other.
Both are reputable, family-owned American businesses.
How do the Halo bassinets work?
Halo bassinets are designed with a singular focus but still deliver in all other aspects.
The 'singular focus' is the ease of access/use that eliminates any risks associated with co-sleeping.
Optimal for postpartum recovery
The sales proposal of Halo revolves around offering well-made 360-degree rotation bassinets, which makes them unique in the industry.
Full rotation for the win
If you pair the 360-degree rotation feature with the stable foundation and the lowering sidewalls, you get bassinets that belong to the very top of the bedside bassinet marketplace.
Adjustable height
The height is adjustable (in the 22 to 34 inches range) and that plays a major role in pairing the co-sleeper bassinet with your bed height.
That goes for both models we're looking at here – the Halo Luxe and the Halo Bassinest swivel sleeper (Essentia Series).
The main difference between the two is the intricate soothing center that comes in the Luxe series.
Other features of the Luxe series that you won't find in the Essentia series:
Back-to-bed reminder
Floor light
Storage caddy
Detachable bed
Naturally, the price tag of the Luxe is significantly higher compared to the Essentia.
Pros and Cons
PROS:
Full, 360-degree rotation
Safe and breathable
JPMA certification
Stability
Height is adjustable
Easy to slide the base under a bed
High-end soothing center (in the Luxe series)
CONS:
This is not a light bassinet, and it's not easy to move around
Follow the links below to read more:
Full review of the Halo Luxe Series
Review of the Halo Bassinest Swivel Sleeper (Essentia series)
How does the UPPABaby bassinet work?
This is the bassinet I used for three months with my son. I chose to get it because it was a good, affordable solution to pair with the Uppababy Vista, which is the stroller we had.
My verdict – two thumbs up for both products, here's why:
Probably the most flexible combo for dynamic couples
If you get the UPPAbaby stand and the Vista stroller (that comes with the bassinet), you're pretty much set.
I used the stand with the bassinet every night until he got a bit too big for it. I interchanged between the bassinet, stroller, and car seat daily and with ease.
The three products make a complete solution, second-to-none in terms of convenience and the UPPAbaby bassinet is one of the most versatile on the market today.
Safety
UPPAbaby is known for adhering to stringent safety standards, and this bassinet is no different. It's breathable (perforated mattress and vented base).
The canopy provides solid sun and light protection but can be removed if need be.
NOTE: this bassinet is always to be with either the stand or the Vista stroller and never on a flat surface. For newborns, you'll need the infant snugseat attachment.
Materials
UPPABaby makes sturdy bassinets that feel high-end and are still light and easily collapsible for those nights away from home.
The materials used for the Vista are premium cotton and polyester, both soft to the touch (where you need softness) and sturdy in areas where you need strength. The materials are also pretty resistant to staining and easy to wipe down.
Easy to pack/unpack
To set it up and collapse, you just pull on the metal rods – they slide back and forth and lock in position.
You can see my complete Uppababy bassinet setup guide here.
Great for small spaces
The footprint of the UPPAbaby bassinet is only 31 x 16 inches, which makes it a solid choice for smaller spaces.
Pros and Cons
PROS:
High-end materials
Breathable and safe
Affordable solution
Flexible use as bassinet, car seat, and stroller
Excellent choice for nights away from home
Easy assembly/disassembly
Removable canopy
Stable
CONS:
If you want to read more, follow this link to see my full review of the UPPABaby bassinet.
Halo or Uppababy bassinet – Which one is best for you?
If I did a good job of comparing Halo and UPPAbaby bassinets, you should have a pretty clear idea of which of the two is right for you.
This is the skinny:
HALO will be the choice of parents looking for an easy-access bedside sleeper bassinet, especially during the postpartum recovery.
The UPPAbaby bassinet will be your choice if you're looking for a flexible bassinet/stroller/car-seat solution.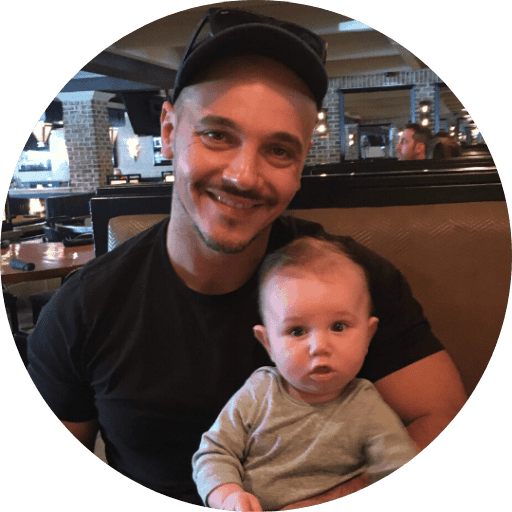 Paul is a passionate dad who founded Upside Dad to share his parenting journey with other new parents. He graduated from Concordia University and worked as a test engineer for over a decade. Paul loves dad jokes and craft beer.
Learn more about Paul and Upside Dad here.