The Babybjorn bassinet is a modern take on the classic cradle style crib. This awesome baby bed is the perfect choice for parents looking for a room-sharing solution that is functional, safe and looks great.
Machine-washable mesh
Gentle rocking motions
Compact size fits any room
Weight capacity of up to 17 pounds
Easy to compress breathable mattress
---
The BabyBjorn Bassinet, or Cradle, is straightforward. The construction is high-quality polyester mesh material and genuinely attractive wooden legs. The cradle's fabric portion is machine-washable and overall, relatively small.
Its size makes the Baby Bjorn Cradle a perfect co-sleeper option for moms and dads who require peace of mind during the night and for babies who need gentle rocking occasionally.
At a Glance Features of the Baby Bjorn Cradle
The machine-washable mesh and inner mattress allow for easy cleanup.
Gentle rocking motions help lull your baby to sleep.
The BabyBjorn Bassinet is small enough to fit in the space beside your bed and wall.
The polyester mesh material is breathable, with no metal construction or loose parts to trap his feet or hands.
The BabyBjorn Cradle Bassinet has a weight capacity of up to 17 pounds, but is ideal for babies at least 8 pounds or more.
Fabric is Oeko-Tex Standard 100, class 1 approved, for your baby's delicate skin.
Perfect height for mom or dad to reach him or look over the cradle.
Easy to compress mattress for simple storage.
Simple setup allows for your new or used Baby Bjorn Cradle to be up and running in minutes.
At just over 12 pounds, the Baby Bjorn Baby Cradle is easy to move.
Specifications
| | |
| --- | --- |
| Dimensions | 31 x 23 x 26 inches |
| Weight | 13 pounds |
| Height adjustable | No |
| Warranty | Limited to manufacturing defects |
| Weight limit | 17 pounds |
| Age limit | 6 Months |
Benefits of the Baby Bjorn Cradle
There is a reason why most Baby Bjorn Cradle reviews remain favorable to this day. The Baby Bjorn Harmony Cradle is one of the top choices for parents because of its portability, ease of cleaning, and simple setup.
Portability
Weighing in at just over 12 pounds with its legs attached, the Baby Bjorn Bassinet is exceptionally lightweight. I can pick it up and move it to the living room for an easier nap time during the afternoon without straining.
Cleaning
With its machine washable mattress and lining, the BabyBjorn Cradle wins with our family. It's easy to toss the fabric into the washing machine while doing other chores.
Easy Setup
If you have a few spare minutes and a screwdriver, you too can put together a BabyBjorn Bassinet with relative ease.
Who Is It For?
If you're researching Baby Bjorn Bassinet reviews, chances are you're a parent or about to become one. Congratulations!
Many of us do not trust placing our infants in a crib for the first few months, we want to have them close by. The Babybjorn bassinet is not necessarily a cosleeper bassinet but can be used just like one.
The BabyBjorn Cradle is ideal for parents who want their baby nearby for the first six months, which is proven to reduce the risk of SIDS significantly.
What I Liked About the Baby Bjorn Cradle
There's a lot to like about the Baby Bjorn Cradle.
Close Proximity to Your Little One
Honestly, is there anything better than snuggling with your little guy? Babies adore affection; they require it to regulate their body temperature and relax, which is difficult when you put them in a crib at night and leave them alone.
A Baby Bjorn Bassinet right beside the bed personally allowed me to reach over, touch my baby, then fall back asleep, knowing full well that he was safe, still breathing, and comfortable.
Sleepful Nights
Like most parents, like us, you may struggle with your little one sleeping for any significant stretch during the night. When they're very young, most babies only sleep two to three hours maximum, then awake for a feeding.
By six months, many sleep through the night. But if your little one isn't comfortable, they may wake hourly. The Baby Bjorn Cradle helped us sleep soundly for hours, allowing my partner and me to get the rest we so desperately needed to function the next day.
Trusted Brand
You may know Baby Bjorn because of their baby carriers, fantastic products in their own right, but it is their cribs and bassinets making waves these days. Take a look at any BabyBjorn Bassinet review available, and you'll find parents, like you or I, who are delighted with this product.
With nearly six decades of experience, Baby Bjorn, a Swedish company, has countless positive reviews on all of their products. As a parent, I want only the best for my little one. And if other parents trust Baby Bjorn, I feel I can, too.
Safety Features
Speaking of trust, take a look at any BabyBjorn Cradle review, and you'll note the focus on safety features. Most of the good reviews focus on how safe this cradle is for you and your little one, and I agree wholeheartedly.
When shopping for a bassinet, look for the Juvenile Products Manufacturing Association (JPMA) Certification. It's a seal of approval.
The Baby Bjorn Bassinet has one, and it's because their product, including the fabric, meets international safety standards. This is also the same reason for which Baby Bjorn Bassinet also gets certified by Oeko Tex.
Knowing my little one is safe is what matters most, especially overnight.
Optional Accessories
Because no single baby item is one-size-fits-all, the Baby Bjorn Bassinet comes with optional accessories that are, in my opinion, worth every penny. The two that seem most necessary for parents include the fitted sheet and the overhead canopy.
You want a fitted sheet to help protect both the mattress and your little one. A loose-fitting sheet is dangerous. As for the canopy, which is entirely optional, blocking out excess light is ideal for naptime or bedtime, where babies require a little touch of darkness to help them drift off.
Is the Babybjorn cradle worth it?
Do you need a bassinet or cradle for your little one? If so, despite the higher-than-average cost of the Baby Bjorn, this is one cradle that parents, yours truly included, rave about. It has all of the safety features a worried mom could ask for, machine-washable fabric for the messy little one, and peace of mind knowing your little man is an arm's reach away.
More so, knowing your little guy can rest quietly and comfortably in the Baby Bjorn Cradle for up to six months before transitioning to the crib is terrific!
Yes, this one is highly recommended!
Machine-washable mesh
Gentle rocking motions
Compact size fits any room
Weight capacity of up to 17 pounds
Easy to compress breathable mattress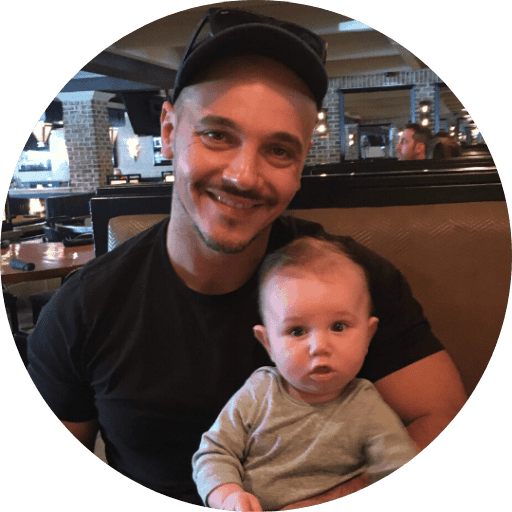 Paul is a passionate dad who founded Upside Dad to share his parenting journey with other new parents. He graduated from Concordia University and worked as a test engineer for over a decade. Paul loves dad jokes and craft beer.
Learn more about Paul and Upside Dad here.