Many parents are opting for co-sleeping bedside cribs when they bring their infants home from the hospital and there is a good reason for it; everyone sleeps better! As a society, we've learned a ton about baby sleep in recent years and it is reflected on the gear we currently have available. The Venice child California Dreaming bassinet is a prime example of this progress.
California Dreaming Bedside Crib by VENICE CHILD - Bassinet w/Travel Case, Bamboo Bassinet Sheet,...
A bedside cosleeper crib like the Venice Child, lets you sleep close to your baby but without the usual dangers of co-sleeping. The cot can be attached to your bed and the sides brought down so you can touch and feed your baby, but you don't share the bed, so it's extremely safe.
You are lying next to your baby at arm's reach, but you are not sharing the same bed. Genius!
This innovation brings the best of two worlds to parents: the soothing comfort of closeness between you and your baby but without the risks normally associated with co-sleeping like sudden infant death syndrome (SIDS) or fatal sleeping accidents.
For other options of great bassinets, check out or detailed comparison of the top bedside cosleepers.
The Venice Child California Dreaming Bassinet is especially useful in those first few weeks when your baby doesn't sleep through the night. Instead of getting up every time he cries, sometimes it will be enough just to reach out to him in his bassinet and caress him to get him to go back to sleep.
Features of the Venice Child Co sleeper Bassinet
Allows for safe co-sleeping
Ideal for mothers recovering from C-sections
7 height adjustments to align with most bed heights
Pure compressed cotton mattress
Simple setup
Lightweight for traveling
Venice Child Specifications
| | |
| --- | --- |
| Open Size | L 39.4 x W 19.9 x H 27.2-31.9 inches |
| Folded Size | L 39.4 x W 21.7 x H 5.9 inches |
| Weight | 24.4 lbs |
| Type | Bedside sleeper or stand-alone |
| Materials | Mattress: compressed cotton; mattress cover and walls: 100% bamboo viscose |
| Age/weight limit | From birth to 6 months or up to 22 lbs |
Why we LOVE the Venice Child bedside bassinet
Price
The Venice Child California Dreaming bedside sleeper is a premium bassinet with loads of features for a very fair price. The regular price on Amazon is $249 but you can often find this model for sale at $199 or cheaper. The Venice Child bassinet is also often sold out so check out the stock and current price at Amazon through this link.
Practicality
The Venice Child bedside cosleeper bassinet was designed with different bed heights in mind. It comes with 7 height adjustments so it can be attached to most beds. Chances are very good that it would fit to your bed.
Safe sleeping
The Venice Child bassinet attaches to your bed with straps. It uses safe locking technology to hold the bassinet securely in place. This setup makes for a very safe sleeping arrangement.
You sleep close to your baby and your baby is within easy reach at all times, but you don't share the same bed. A portable crib and bedside sleeper bassinet that attaches safely to your bed is the ultimate solution for safe co-sleeping.
Helps mom to recover from giving birth
Knowing that your baby is right next to you in his own bed puts your mind at ease and also means you don't have to get up every time he cries. This is especially helpful for moms who are recovering from a difficult birth or a C-section. With your baby next to you, you can just reach out to him to comfort and soothe him without having to get out of bed every time.
Easy access for night-time nursing and soothing comfort
The side of the Venice Child California Dreaming bassinet zips down to give you direct access to your baby. At any time of the night, your baby is right next to you when you need to nurse or soothe him. The drop-side is fantastic for accessing your baby in the middle of the night, said one reviewer.
Tilt function for baby reflux
The Venice Child California Dreaming bedside bassinet can be tilted so your baby doesn't lie flat but with his head higher than the rest of his body. This is very useful for babies who are restless because they suffer from reflux. Simply follow the instructions to tilt the bassinet and your baby might enjoy more comfort.
Special mattress
The mattress itself is made of 100% compressed cotton, a natural fiber that's healthy for babies. The mattress is soft and comfortable without being too soft.
Benefits from special bamboo qualities
The Venice Child mattress cover and mattress walls are made of 100% bamboo viscose fabric. Bamboo fabric has many benefits that make it ideal for baby products.
Bamboo can absorb up to three times its weight in water. This means bamboo fabric has superior wicking properties that will pull moisture away from your baby's skin.
Bamboo is hypoallergenic, so it won't irritate your baby's skin. Bamboo also doesn't encourage the growth of mold, mildew or bacteria. It has natural antibacterial properties that keep out odors and keeps fabric smelling fresh.
Yet, with all these qualities, bamboo also has a luxuriously soft quality to it.
Because it's extremely breathable, the bamboo fabric keeps the cot environment cooler in the heat and warmer in the cold.
Added storage
At the bottom of the Venice Child California Dreaming bassinet is a very handy storage rack you can use for items you might need during the night.
Lightweight and compact
The Venice Child co sleeper bassinet is sturdy but light enough to carry around easily. You can take it with you on vacation or, weekend breaks, on visits to friends and family homes. It's compact and comes with a travel bag for easy portability.
Sleek design
The over-all clean design and high-quality materials used make this bassinet pleasing to look at It will look good in most home settings.
Multiple functions
This product can be used as a co-sleeper bedside crib or as a stand-alone bassinet. So, when you are busy somewhere in the house and want your baby with you, you can have him in the bassinet where you are.
Setup and assembly
Easy to set up
No tools required
Final Thoughts
The Venice Child California Dreaming Bassinet is a well-designed and great-looking bedside portable crib. It will look good in your room or any room you happen to use it in.
The safety features, simple structure, and superior bamboo fabric lining and cover make this portable crib and bedside sleeper ideal for the first six months of a baby's life. It's lightweight and the easy assembly makes it convenient to use next to your bed or in any room in the house.
The incline option is an extra feature that can help your baby with reflux so he can sleep peacefully.
With the Venice Child cosleeper, your baby is always within easy reach for night-time feedings or any time he needs soothing. This is co-sleeping at its best: close, but safe.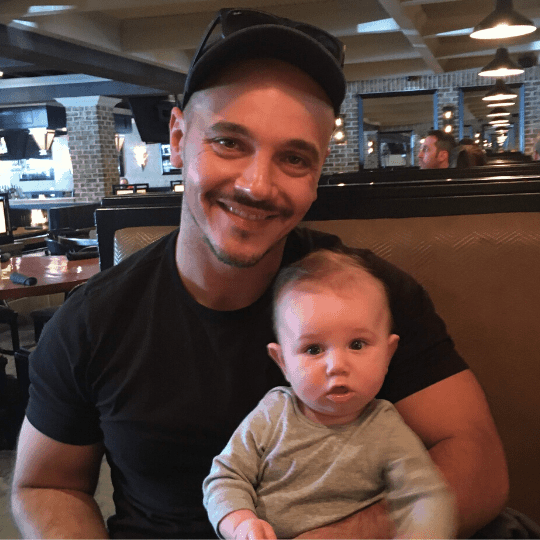 Paulo is a passionate dad who founded Upside Dad to share his parenting journey with other new parents. He graduated from Concordia University and worked as a test engineer for over a decade. Paulo loves dad jokes and craft beer.
Learn more about Paulo and Upside Dad here.
Last update on 2021-05-08 / Affiliate links / Images from Amazon Product Advertising API