What would you say is the no1 mistake parents make when choosing an affordable bassinet.
I'd say it's looking for the cheapest possible instead of good value for money.
The market is crazy competitive and, for the buyer, competition means low margins and reasonable prices.
To put it simply, there are some fantastic inexpensive bassinets out there if you're willing to do more than filter Amazon results by price "from low to high."
That's where I come in
I started this website with a simple idea – to make all those long hours researching baby gear more fun.
As the website grew, I did my best to move on from opinion-based recommendations to a data-based approach.
That's what I did for this guide
I compiled two lists of affordable bassinets with simple criteria in mind – minimal number of user reviews and a minimal rating
I sift through the data and crafted a rating system
I talked to parents who actually own and use the bassinets
I compiled two lists of Top 3 picks – under $200 and under $100
What it means for you
It means that I did all the legwork and the pesky research, so you don't have to.
If you see the bassinet on this list, there's no better value out there in the price range. I'm confident about that.
Let's get to my list of best budget bassinets.
Best bassinets under $200
Below is a list of my top 3 picks under $200 and a short review of each.
---
The Beside Me Dreamer is my top pick in the under $200 range for several reasons.
Safety
The quality and placement of the mesh walls are the first things I look at when analyzing the safety of a bassinet.
In those terms, Beside Me is every bit as well made as bassinets that cost a few times more.
Convenience and flexibility
In this price range, getting a well-thought-out product is an expectation rather than a rule.
Beside Me Dreamer is that expectation.
It's light (19 lbs) and has a small enough footprint (37″ x 22.5″ x 30.75) to be easily moved between rooms.
The side panel conveniently opens, transforming the bassinet into a side sleeper. The straps are well placed and keep it securely in place.
The height is adjustable to six positions and, based on what I've seen, it works well with pretty much any adult bed.
It's a simple yet elegant solution with attention to detail you only see in higher price ranges.
You can see a more detailed review here.
If you know your baby brands, you're probably surprised to see a Halo bassinet in this low price range.
It's a reputable brand whose bassinets typically cost much more.
The reason behind the low price point is simple, as is the bassinet.
The Essentia series are bassinets made for the parent not interested in the frills…sounds, vibration, and such.
Affordable, but not cheap
The bassinets from the Halo Essentia Series are not cheaply made.
In fact, they're all JPMA certified and third-party tested to meet/exceed all U.S. Consumer Products Safety Commission safety standards.
The sturdily constructed bassinet features a lowering sidewall, can be fully rotated and is height-adjustable in the 24-34 " range.
It's one of THE most user-friendly bassinets out there, and not just in the price range below $200.
Read more about the Swivel sleeper from Halo here and for more info, please see the Halo vs Uppababy bassinet here.
If this is the first time you're hearing about Mika Micky, it might not sound like a serious brand.
Please take my word for it; they are.
In fact, the way they're broadening their portfolio while maintaining standards gives me a reason to believe we're likely to see more Mika Micky bassinets as top picks in other categories.
The main quality aspects (like safety and design) are comparable to similar co-sleepers with a much higher price tag.
But, where this co-sleeper truly shines is the robust build and size.
Most co-sleepers list 20 or 25 lbs as the baby weight limit, while the upper limit of the Micka Micky is a whopping 33 lbs.
It's a robust bassinet (weight: 25 lbs, size: 36 x 24.5 to 32.7 "), and your best bet of moving it around the house is the built-in wheels.
Pair all that with adjustable height (7 positions), two large storage pockets, and lowering side panels, and you have one solid bang for your buck.
To see a more comprehensive review of Mika Micky, click here.
Best bassinets under $100
Image
Best Bassinets Under $100
Features
Price

Ultra-lightweight design
Sturdy snap-on metal legs
Mesh side panels

CLICK FOR PRICEBuy at Amazon

Bassinet can be stationary
One-second open&fold system
Surrounded by breathable mesh

CLICK FOR PRICE

Spacious and roomy
Lightweight aluminium frame
Handy storage basket

CLICK FOR PRICE
---
"Anywhere" in the name of the Chicco Lullago refers to the portability of this featherweight bassinet (only 12 lbs).
It makes for a great secondary and travel bassinet, but it's also good enough to be used as a primary bassinet if you're a frugal parent.
The basics are there
The legs of the Chicco Lullago don't feel like they belong on a 100-dollar bassinet. They're sturdy, well-made, and snap securely into place.
The fabric parts at the top edges feel soft (yet durable) and provide enough grip to move the bassinet easily.
The fabric part is also removable and machine-washable, as is the fitted sheet.
Most importantly, the mattress feels firm enough to be completely safe. It's a well-rounded product that does all the basic bassinet jobs at an amazingly low price point.
To read more about this bassinet, see my complete Chicco bassinet review here.
If you did any reading on cheap cribs before this, there is a good chance you already heard of the MiClassic brand.
If you didn't know the price and just looked at this eye candy, what would your cost guess be?
Me, I'd probably put it between $150 and $180 based on looks alone.
In reality, it costs less – way less.
It's all about space and simplicity
I love the simplicity of the design and the all-mesh sides.
It's amazingly light (18.21 lbs) and relatively small (37.4 x 23.8 x 28 "), but the most important aspect of its portability is how simple the setup/down is. It reminds me of unfolding a fishing chair.
Both the machine-washable cover and legs are removable to make it even more space-saving for storage and transport.
Sleeper and cradle
The frame is slightly rounded at the bottom to allow for gentle rocking. Once the baby is soothed, you unsnap the plastic stabilizers and convert it into a sleeper.
I'm a sucker for simple concepts and effective execution.
That's why I love the MiClassic.
You can see my full review of the MiClassic here.
Who says that a bassinet has to cost more than lunch?
And if it does, nobody tell the people from Dream On Me because they might stop making this shockingly cheap portable crib.
Owners love it
I know the processes involved in making a crib, and this price point boggles my mind.
And not only did they make it on the cheap, they actually made it well.
Its user satisfaction rating is one of the highest I've ever seen.
Of course, that doesn't mean it's the best – it means that it's one of the top bangs for your buck out there.
It doubles as a rocking cradle (when wheels rotated upwards) and a bassinet (when the wheels are down).
Most importantly, at this price point, it ticks all the safety standards set forth by the ASTM (JPMA certified).
It weighs next to nothing
At only 11 pounds, it's the lightest bassinet I know that's worth mentioning. It's undoubtedly the lightest I ever included in one of my guides.
Color me amazed.
Or color me using one of the eight color schemes the Lacy comes in.
Did I help?
At the beginning of this guide, I remember saying that budget-friendly doesn't have to mean cheaply made, especially in 2021 with all the outsourcing available to the top companies.
Should you save on a bassinet or a crib?
According to this poll on Today's Parent, if the money is tight, bassinets and cribs "take a hit" regarding how much new parents spend on them.
It does make sense to save on a crib because you won't be using it for long after all. One thing that never makes sense is making compromises when it comes to your baby's safety.
That's also where my focus was – making sure that none of the products I list here have shady manufacturing practices.
Spending less money doesn't mean sacrificing the peace of mind that comes with knowing that your baby bed is safe.
It doesn't have to sing, hum, or vibrate, but it has to be safe.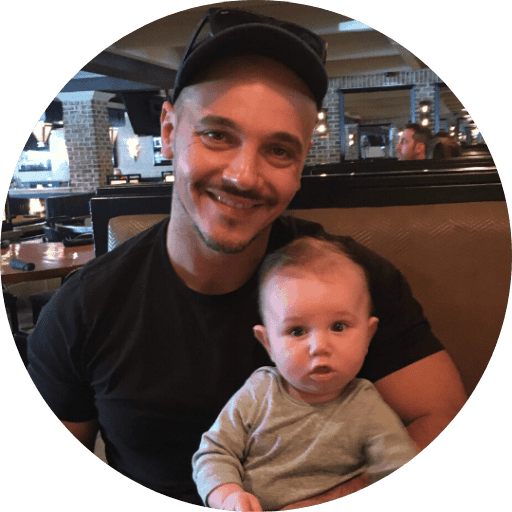 Paul is a passionate dad who founded Upside Dad to share his parenting journey with other new parents. He graduated from Concordia University and worked as a test engineer for over a decade. Paul loves dad jokes and craft beer.
Learn more about Paul and Upside Dad here.