If you're a parent that's always on-the-go and plan to continue doing so with a young baby, you already know you will need a comfortable and safe place for your baby to nap and sleep on the road. The MiClassic bassinet is the best portable bassinet that also doubles as a permanent bassinet for your home.
MiClassic 2 in 1 Stationary&Rock Bassinet
Portable
One second open-fold action
Rocking or stationary option
Folds flat
Light weight
Large sleeping area
---
In this MiClassic bassinet review, we will go over all of the most important features of this portable bassinet and how it can help make YOUR life a little easier.
We also put together a detailed comparison of the best portable bassinets.
Features of the MiClassic bassinet
One-second open-and-fold action
Comes with a carry bag
Light-weight frame
Mesh sides for ventilation and easy monitoring
Comfortable and waterproof mattress
Two-mode function: stationary and rocking mode
Higher weight limit than most bassinets
MiClassic portable bassinet specifications
| | |
| --- | --- |
| Dimensions | 37.4 x 23.8 x 11 inches |
| Weight | 18.4 pounds |
| Type | Portable and stationary |
| Warranty | 1 year |
| Weight limit | 15kg (33lbs) |
| Age limit | 6 months |
Why we like the MiClassic
The MiClassic is a portable bassinet specifically designed for parents who live an active life and become slaves of their baby's sleep and nap schedule. Having a home bassinet that is also easily portable will allow you to nap (or sleep) your baby on the road and not worry about his safety while you hang out with family and friends.
The MiClassic is quick and easy to set up, so you can have it ready for your baby as soon as he shows signs of needing a nap. And when he wakes up, it takes only seconds to fold his bed up and be on your way again.
The MiClassic is lightweight, folds up in a compact parcel, and comes with a travel bag so you don't have to struggle with an unwieldy cot.
The bassinet has mesh on all sides so your baby is always visible from any angle. Plus, the mesh ensures that the baby's environment is constantly ventilated and breathable regardless of which position he is in.
The MiClassic has two modes of operation: stationary and rocking.
The rocking mode may be suitable for some babies who like motion in order to doze off to sleep, but this isn't for everyone. If your baby likes a bed that doesn't move, there is no problem. Simply fold the plastic rockers from each leg and you have a standard bassinet.
Safety certification of the MiClassic
This product complies with the necessary safety regulations, rules, and standards under CPSIA, and is a CPSC-certified product (Consumer Product Safety Commission).
The crib has mesh sides all around which makes for a breathable environment that is safe for newborn babies.
Setup and assembly of the MiClassic bassinet
The MiClassic bassinet has "one-second-open-and-fold" feature which means it can be opened and folded in an instant.
The MiClassic bassinet can be opened and folded using one hand, so you can do it while holding your baby.
No tools are needed for assembly.
Setup and assembly video of the MiClassic bassinet
MiClassic materials and build quality
The MiClassic Bassinet features a simple design and sound construction. The manufacturer used quality mesh and lightweight aluminum to construct it.
The aluminum frame is light but sturdy and strong enough to support a baby that weighs 33 pounds, yet the bassinet itself weighs half that weight. A good quality mesh makes up the sides of the bassinet.
Breathable mesh sidewalls
The bassinet has mesh on all four sides, making it well-ventilated and cool for your baby. This feature effectively limits the chances of infant death due to suffocation or lack of oxygen. It also prevents your baby from getting too hot in his bed.
You can see through the mesh sides of the bassinet, so you can keep a watchful eye on your baby from across the room. You can easily see if he's sleeping or awake. This is a very helpful feature if you need to get on with household chores or office work while you are looking after your baby.
Large sleeping area
The MiClassic bassinet offers a roomy bed for infants. Many consumers comment on how their large four-month-old babies had outgrown their bassinets or mini cribs and had to be accommodated in a larger full-size crib. This is where the MiClassic may come in handy.
They can grow with your baby up to 6 months of age or 33lbs (15kgs)
The MiClassic bassinet is ideal for infants that are larger or longer than the average, so you don't have to worry about moving them to a crib at 3 months of age.
The spaciousness of the bassinet also means that you can change your baby's diaper or clothes while he's in the bassinet, something you can't do with many other bassinets.
Rocking feature
The bassinet can be used in two modes: stationary or rocking mode. It's easy to switch from one mode to the other. Once in the rocking mode, the bassinet just needs a light push to get it moving and the rocking motion will soon soothe your baby to sleep.
Easy storage
This bassinet has a unique folding feature that lets you fold up the bassinet quickly and with ease. But not only that. It folds up into a small compact unit which you can store in a closet or out of the way.
It's easy to fold up quickly and carry to the car or to another room in the house, so the baby can nap in the kitchen while you cook or clean up the mess from the day.
Price
Compared to similar products, the MiClassic is very affordable. It is a budget-friendly baby crib that is nonetheless top quality. This is the right pricing for this kind of product which parents will only need to use for a few months.
Conclusion
The MiClassic is ideal as a travel bassinet. It's lightweight, super easy to fold up, and comes with its own travel bag for easy portability and storage.
The bassinet is more spacious than many similar products on the market, allowing a lot of room for your baby to grow in the first six months.
On top of that, the bassinet has a rocking feature that will put your baby to sleep wherever your travels lead you, be it the great outdoors or in your office
This is why the MiClassic made my list of the best rocking bassinets..
If you are an active family that gets about often, the MiClassic bassinet is what you are looking for.
MiClassic 2 in 1 Stationary&Rock Bassinet
Portable
One second open-fold action
Rocking or stationary option
Folds flat
Light weight
Large sleeping area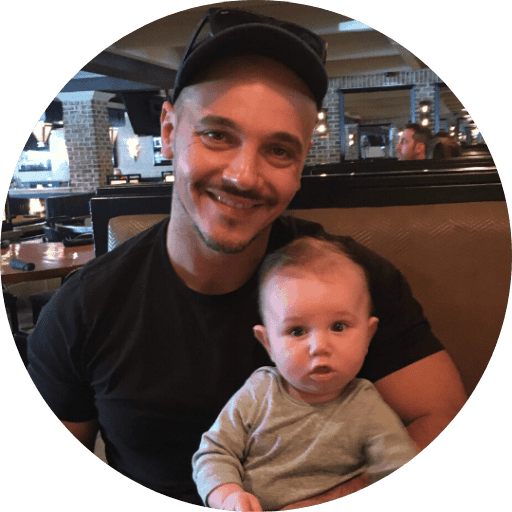 Paul is a passionate dad who founded Upside Dad to share his parenting journey with other new parents. He graduated from Concordia University and worked as a test engineer for over a decade. Paul loves dad jokes and craft beer.
Learn more about Paul and Upside Dad here.