If your bed is too tall for most bassinets or co-sleepers, you have two options.
The first one is to improvise with extenders, rails, and whatnots.
The second (and smarter option) is to take a bit of extra time and find a bassinet that will be a perfect fit height-wise.
"But I already tried…"
I hear you.
Finding a good tall bassinet that will tick all the safety and comfort boxes is a tall order (pun intended) for someone who doesn't know the ins and outs of the market.
Luckily, you found your way to this guide.
If the problem above describes your situation, this guide will help you in two ways – give you answers and recommend specific products.
And being tall is not the only criteria I'm applying here. The bassinets we'll talk about are some of the best on the market.
In a word – you should have an idea about which of these is suitable for you in a few short minutes.
Let's get to it.
Best tall bassinet – my top 5 picks
Image
Best Bassinet Strollers
Features
Price

Height range adjustability
Multipurposes bassinet
Comprehensive soothing station

CLICK FOR PRICEBuy at Amazon

Five levels of height
Z-shaped body
Built to last

CLICK FOR PRICE

Height adjustment to six positions
Sliding (lowering) side panel
Light and portable

CLICK FOR PRICE

High-end materials
Nine-level height adjustment
Removable and washable sheets

CLICK FOR PRICE

Two modes
Safety-tested in US labs
Easy access storage pockets

CLICK FOR PRICE
---
If you're looking for a tall, adjustable bassinet and a co-sleeper, there's a good chance that your search ends right here.
Chicco Close To You is not only the top pick here but one of the highest-rated bassinets on this site.
Features that stand out:
A hefty height range adjustability – almost 10 inches
Multipurposes bassinet – doubles as a bedside sleeper and changing table
Comprehensive soothing station – vibration, music and a night light
First things first – the height
The height adjustment of this bassinet has a whopping 9.5-inch range.
It can go as low as 24 and as high as 33.5 inches.
Just as importantly, the adjustment mechanism is robust and reliable.
I'm stressing that because it's not a given – there are bassinets out there with similar adjustment capacities that are not as well made as Chicco.
As a result of poor craftsmanship and low-quality materials, the mechanism that lifts and lowers the bassinet might become flimsy over time.
I've seen no such complaints with Chicco.
3-in-1
The 3-in-1 in the name means that you can use it as a bedside sleeper, a bassinet, or a changing table.
Again, multifunctionality is not news.
It is, however, an exception when it works equally well in all modes.
High-end build
This sturdy bassinet is well-constructed and sturdy, following the high standards of a reputable brand like Chicco.
I've always been a fan of their approach to product testing. Very few brands come close to Chicco when it comes to standards and attention to detail.
It's no surprise that they've been dominating the bassinet market over the past six decades or so.
Finally, Chicco stands behind this bassinet with a solid 2-year warranty on all manufacturing defects.
Excellent sleeping surface
The mattress of the Chicco Close To You is quilted and reversible. The sleeping pad is just firm enough to feel safe but not uncomfortable.
Flip the pad over, and you get a nice, soft changing surface.
Comprehensive soothing center
This tall bassinet comes with soothing vibration (2 modes), six calming melodies, and night light.
A breeze to set up
The only thing that needs to be screwed in is the sound/vibration machine. Every other part just clicks into place.
Overall, this is a great product worth every cent of the premium price.
You can read more about it in my full review here.
If you're looking for something that will make less of a dent in your budget than the above-mentioned Chicco, this Simmons might fit the bill.
Features that stand out:
Five levels of height – pairs well with most beds
Z-shaped body for a seamless space-saving fit – the base rolls under the bed
Built to last – heavy-duty materials
Works for beds up to 27-inches in height
It's height-adjustable and will be a good fit for any bed in the 22-27 inches range.
The adjustment has five 1-inch increments, which gives you the flexibility to make it perfectly level with your bed.
On the other hand, if we're talking about a bed higher than 27 inches, it's not your best bet, and you might want to move on to the next entry on my list.
If your bed IS in the range above, let me go over a few prominent features of this bedside bassinet.
Simple, practical design
This simple, function-oriented bassinet meets or exceeds all the ASTM and CPSC standards and comes with a JPMA certificate.
To put it simply – all the basics of a good bassinet are there with no frills to add to the price.
If it sounds like it might work for your bed height, you can read its full review here.
This is one of the most popular bassinets/bedside sleepers on the market.
Features that stand out:
Height adjustment to six positions
Sliding (lowering) side panel for easy baby access
Secure, anchored connection to the adult bed
One of the many things Baby Delight got right with this model is the height – it's tall enough to pair well with most beds on the higher side.
To be specific, it might be a good choice for you if your bed is 25-30 inches tall.
Just like the Simmons above, you adjust the height by raising it one-inch steps.
It is, however, 3 inches taller than Simmons, both at its lowest and highest point, respectively.
What's so good about it
This tall bedside bassinet has much more going for it than the height.
Here's an overview of its key features:
It's light and portable – easy to move around the house or even take on a trip
It's safe – features straps that securely attach it to the bed
Offers easy access – the side panels fully lower
The Z-shaped design allows the base to slide under the bed, making it a solid choice for smaller spaces
In terms of price, it's somewhere between the top-rated Chicco and the runner-up from Simmons.
You can see my full review of the Baby Delight co-sleeper here.
As per the Ronbei specs, the maximum bed height it will pair with is 31 inches, making it the second tallest bassinet on this list.
Height aside, Ronbei features a more classic design than most bassinets on this list, but the craftsmanship is just as good, at least based on the data I've gathered for this guide.
Features that stand out:
High-end materials that exceed safety standards
Nine-level height adjustment
Side fabrics and the sheet are removable and washable
The good and the could-be-better
The frame is solid, and the materials of the fabric parts are high-end and feel soft to the touch.
It boasts a nice soothing station with a music box and hanging toys.
If it tilts
I've seen a few reviews from owners talking about it tilting to one side.
It's not a red flag since it's an exception (by design, Ronbei is very stable), and you can always replace it if you get a faulty unit.
Simply put – it's nothing to write home about but works well with taller beds, and that's the extent of my interest today.
You can read my detailed Ronbein review here.
It's always nice to see a US company with the integrity to design and make their bassinets in America.
I say "integrity" because I know that local manufacturing typically means lower margins.
Don't get me wrong; there's nothing shady about the manufacturing of the bassinets above; I just root for local companies.
That, however, is not why I'm including this Milliard as one of my top picks in the tall co-sleeper category.
Its place here is well-deserved because it's a great fit with beds as high as 31 inches.
Features that stand out:
Can be used as a side-sleeper or standalone bassinet
Safety-tested in US labs – meets all regulations
Flexible frame is stable enough for safety but yielding enough to sway the baby to sleep
Other features
You can use it in two modes – as a nice tall co-sleeper or a standalone bassinet. The package includes a mattress encasement (fully waterproof) and a washable sheet, which is a nice touch.
I have to admit that I'm not a fan of the vertical bars with the handles. It might be practical, but it looks a bit too industrial for my taste. But that's just me.
The owners don't seem to mind since over 90% of them gave it either 4 or 5 stars.
On the 'me-likey' side, the sleeping area is as generous as they come at 35-inches – which pretty much eliminates any risk of your baby outgrowing it before they move on to a crib.
You can read a more in-depth review of this Milliard bedside bassinet here.
A few takeaways
It would be a shame to miss one minute of the view that beats all other – that of your baby being calmly asleep.
Apart from romantic reasons like the one above, choosing a bedside bassinet that fits the height of your bed perfectly will make your life much easier, especially in those hard postpartum days.
With all the mini-wonders on the market today, settling for anything less than 'great' is not good enough.
All the bassinets I talked about today are great.
More importantly, they're tall.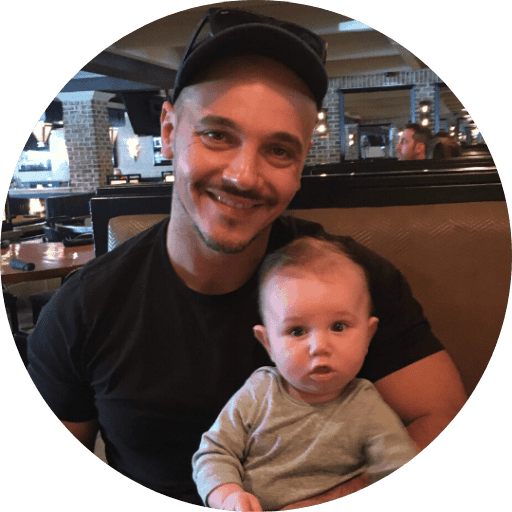 Paul is a passionate dad who founded Upside Dad to share his parenting journey with other new parents. He graduated from Concordia University and worked as a test engineer for over a decade. Paul loves dad jokes and craft beer.
Learn more about Paul and Upside Dad here.