If you made a wish and two came true, it's a blessing like no other. That's what they say.
But they also say that there are two things in life for which we are never truly prepared: twins.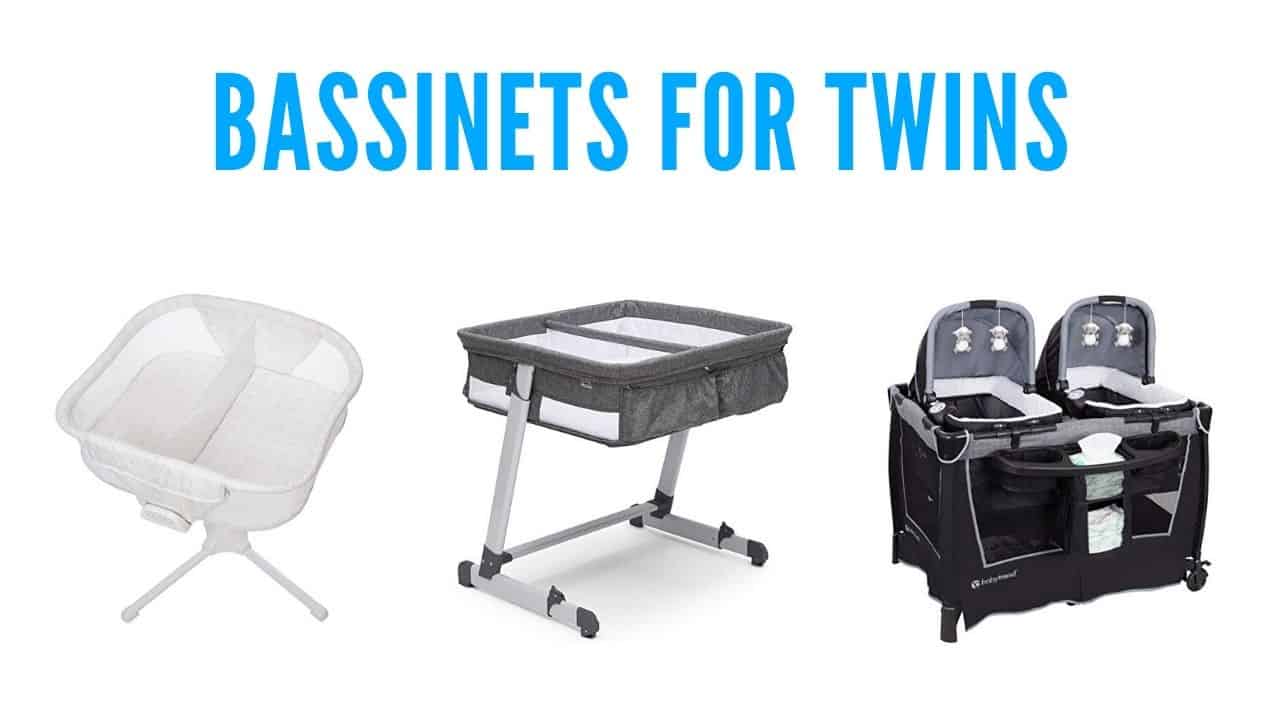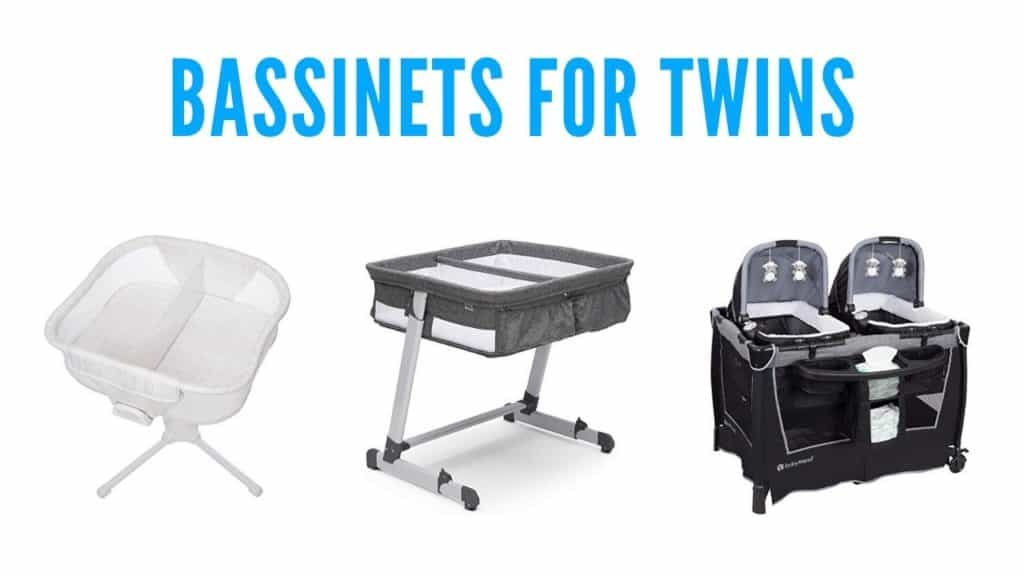 Double the babies, double the giggles, and double the love…but it's also double the gear.
I can only imagine the turmoil that comes with expecting twins. I heard it in the voices of the people I interviewed for this guide. And while I can't help with the appetite changes and insomnia, I can rid you of one major fret – choosing a suitable twin bassinet.
Here's what I did to come up with my picks:
I talked to 15 new parents of baby twins and asked them to share their first-hand experiences with twin co-sleepers
I talked to three baby sleep experts about choosing a suitable double bassinet.
I analyzed 20+ twin bassinets. This included everything from diving deep into the manufacturing practices (read: outsourcing) and safety standards to mystery shopping.
I analyzed over 20,000 owner reviews of the short-listed bassinets.
So, without much ado, let's get to the results.
These are my top 5 picks for the best twin bassinets money can buy:
---
The single most-praised feature of the HALO BassiNest is the ease of access – courtesy of the 360 rotating design. In those early postpartum days, while getting up is still a mini-project, this feature is a game-changer.
Another massive benefit of the rotation is that you can use it to rock your babies without much effort, which is not a given with twin bassinets.
The feeding/nursing alarm is a great safety feature. If you're expecting your first babies, you probably don't know that falling asleep while nursing is a real concern that sends chills down the spine of most moms. No such worries with this HALO BassiNest – the built-in alarm will gently remind you when it's time to put the baby back into the bassinet. Two thumbs up from me.
Features of the HALO BassiNest:
Rotates full 360 degrees
Care center soothes the babies
Adjustable bedside walls
Airy mesh used for the walls
Stable, adjustable base
Why I love it
Because it's at the sweet spot between safety, ease of use, and price. It's not cheap, but you can't put a price tag on a parent's peace of mind.
Well-executed swivel
I've seen the full-circle swiveling attempted in similar products in lower price ranges, but they fall short every time. Most of the time, the swivel mechanism doesn't operate smooth enough from the get-go or stops working right a few weeks in. I've seen no such reports about the Halo Nest.
Safety
The bassinet also ticks all the safety boxes – from the well-crafted breathable walls, the firmness of the mattress, to the feeding alarm.
Adjustable height, stable base
Halo's base is height-adjustable within a generous 10-inch range (24 to 34 ") and is sturdier than most similar models. Sturdiness means stability, and it also means the twin bassinet is slightly heavier than competing models. Fully assembled, it comes in at 55 pounds. Almost all the parents we talked to praised the stability, making the added weight a moot point in my book.
Complete package
If you're anything like me, you hate paying for a product and then learn that you need to buy more stuff to use it. This Halo comes with two mattress pads (waterproof) and four fitted sheets (two cotton and two polyester).
Bottom line – this Halo is the best twin co-sleeper out there, no doubt in my mind about it. It promises a lot and delivers on all accounts.
Who is it for?
It's for any parent that refuses to compromise when it comes to their babies. It's designed to make the frenzy that is twin-parent life easier.
The runner-up in the category is an outlier. It hit the market in March of 2020 and quickly became one of the most popular choices in the lower price range.
If I had to choose one, I'd say that the most impressive aspect here is the owner satisfaction percentages. They're through the roof.
When I asked the owners how they would rate it on a scale of one to five stars, 85% gave this twin bassinet full five stars, and 10% gave it four stars. The 1 in 20 people who were not satisfied with reported either on-arrival problems.
I've been reviewing bassinets for longer than I care to remember, and you see numbers like this once in a blue moon.
What parents liked most about it is the value for money. You don't see well-rounded products with as many features as this Simmons until one or two price levels above.
Features of the Simmons Kids By The Bed:
Meets the strictest safety standards
Auto-gliding motion
Layered, water-resistant mattress pad
Visual stimulation for the babies
Soothing sounds
High-end wheels
Generous storage space
Why I love it
Let me be clear; I don't think this Simmons is the best money can buy. I do, however, think that if you're on a tight budget, it's top value for money.
It meets all the safety standards set forth by the JPMA and even exceeds those of the ASTM.
It's easy to assemble (takes no more than 10-15 minutes), well-made, and designed in a modern style that I prefer over some of the classics.
User friendly
By "user," I mean both the twins and the parents.
Moving it is easy thanks to the high-end rubberized wheels. The middle part is removable, which is a great touch because it gives you extra space for toys and diapers. The adjustable height makes it a good option, even if your bed is on the higher side.
For the current price point, this bassinet for twins is a steal.
Who is it for?
It's good value for money for any parents expecting twins that are working with a strictly defined budget. It's a well-rounded product with an unusually low price tag for the kind of features it packs.
My third choice is the busy-looking Baby Trend twin nursery.
This double bassinet features what the manufacturer calls a "Rock-A-Bye" design. To put it simply, it means that the individual bassinets are removable and have carry handles. It's a clever idea that leaves you wondering why aren't all brands doing it.
Features of the Baby Trend Retreat:
Two-in-one removable bassinet design
Well-thought-out organizer
Hefty changer
Calming music and light lights
Big wheels
Hanging toys for stimulation
Why I love it
I love it for all the same reasons actual owners love it.
The fact that the bassinets are removable and transform into fully functional units makes it an excellent choice for dynamic parents.
It doubles as a bassinet and a changing station and works well as both.
The sound and light machine are probably one of its stronger sides. I've seen way too many twin bassinets feature unusable sound machines. The light that indicates which of the twins is crying is a huge plus for those mid-night nappy changes.
Washable
The bassinet lists being washable as one of its main benefits. I've seen mixed experiences on this, so I had to do a bit more digging. If this is a factor for you, you should go with the dark grey version (quarry) for the best results. I've seen before and after photos -machine- washing it on a gentle cycle and air-drying makes it look mint.
I'm a believer
To be honest, I didn't know much about the brand before working on this guide. Nevertheless, I found nothing but praise and a wide range of highly-rated bassinets. The more I researched them, the more Impressed I grew. I'm a fan.
Who is it for?
For parents who like the flexibility of separating the bassinets and using them as baskets will absolutely love the Baby Trend Retreat. The travel convenience of the Baby Trend is unparalleled.
This Graco is one of two bassinet/playard combos in my Top 5. It's also the only true dual-feature bassinet of this type on the list – meaning it's sold as a single unit.
Most prominent features of this Graco:
Two-in-one design – playard and twin bassinet
Two protective canopies when used as a bassinet
Well-padded mattress
Ease maintenance – can be cleaned with soap and water
Why I love it
Because it's a space and money-saver.
It's the most affordable bassinet-playard combo that does both jobs well. Going below this price point probably means compromising in one or more of the quality aspects.
Travel-friendly
The bassinets are removable and pack small, making it a great choice if you're dynamic and have no plans to give up on the lifestyle just because your twins arrived. That's no small feat, but it is possible.
Who is it for?
This Graco will be the choice of three groups of parents:
those looking for simplicity at a reasonable price
those looking for a travel-friendly bassinet/playard combo
conservative buyers who tend to go with trusted brands with a proven track record
If you belong to one or more of the three groups, I sincerely recommend checking out this Graco.
The 5th spot is two products that work together- the Room2 series by Joovy. The twin bassinet and the playard are a complete solution for parents expecting twins.
Features of the Room2 nursery center:
It doubles as a bassinet and a changing table
The central divider is removable
Breathable mesh sides
Weight limit – 15 lbs per baby, 30 total
Features of the Room2 playard:
50% roomier than most other playards
About 10 square feet of play space – enough room for two babies
Sturdily built
2-year warranty
Why I love the combo
I'm a fan of the Room Squared series from Joovy because the two products answer most dilemmas parents might have. Choosing a bassinet and then choosing a playard is twice the work.
If you ask me, the extra work is worth it, but if you stumble upon a combo like this, you might as well save yourself some headache and kill two birds with one stone.
The longer warranty than the industry standard (one year) is a serious plus, both in its own right and as an indicator of how the Room2 combo is made.
Who is the combo for?
The combined price of the bassinet and the playard is lower than some of the bassinets we mentioned. Personally, I'm not a fan of the design, but if aesthetics are not crucial for you, this combo will probably meet most of your needs.
What to look for in a twin bassinet
If you are the type of parent who likes to back their decisions with reliable information before reaching for that credit card, the remainder of this guide should give you much-needed clarity.
Safety
I've always been big on safety, and it's probably the one factor that carries the most gravity in the choices I make. That's also true for this guide.
Here's the skinny on my top priorities when choosing the best bassinet for twins:
JPMA certification (Juvenile Product Manufacturer Association)
Chemical-free materials
A firm mattress
Well made mesh sides for better airflow
Back to bed reminder (optional, but most parents said it gave them comfort)
Do I need two bassinets for twins?
Separate or together – that's the first dilemma most parents of newborn twins will face – if their babies should sleep together or apart. The answer to that is, "together but apart." To put it simply, double bassinets for twins are your best bet.
That way, you don't interfere with their natural bond by keeping them apart, and you keep them safe. Going with a single sleep space might be tempting for a range of reasons, but it's not a good idea – it increases the risks of the twins getting overheated or entangled with one another or the
It's also what the AAP (American Academy of Pediatrics) recommends.
Your budget
This is a crossroad for most twin parents. If you have the budget, there's no doubt in my mind that Halo is the way to go. It's worth every penny; I sincerely mean it.
If you're not OK with spending that kind of money, some of the other picks on this list will likely be where your search ends. I understand that two babies mean almost double the cost, so I tried to diversify my choices as much as possible.
However, I wouldn't look at it in terms of price only – I'd look for value for money. If a twin bassinet features a changing table, doubles as a playard can be used as a basket; the combos can save you a pretty penny down the line.
Bassinet or crib
If you're asking me, I'd go with a bassinet in those early months. They're easier to use, smaller (hence more portable), and cost less.
In cribs 'defense', they can be used for longer, but you can't beat the convenience of a well-designed double bassinet. The sides of such a bassinet will be lower, to begin with, probably adjustable and shorter than your arms, which means you pick the babies up and put them back down without having to bend over.
It might not seem like a big deal now, but once you're doing it dozens of times a day, it makes a world of difference.
The where
This ties into the previous question. Make plans about where the bassinet will go. There's a good chance they will change, but do make them nonetheless.
Most parents of newborn twins that I talked to decided to put the double bassinet in their bedroom. They said it gives them peace of mind.
Functionality
As things heat up, those extra features will become life-altering; features like 360 rotation, adjustable walls, collapsible changing table.
Even the things that you're likely not thinking about right now – like storage and pockets.
Some of the best bassinets for twins are removable and double as carriers, and others can be turned into bedside sleepers by attaching them to the bed (which is something I don't recommend).
The bottom line here is that you need to carefully analyze the features we talk about to choose the best bassinet for twins in your set of circumstances.
Movement & vibration
Most of the best bassinets for twins on the market feature soothing vibration and allow easy movement or rotation.
The former is proven to have an immensely calming effect and minimize the risk of SIDS. The latter will make your life easier by cradling the baby – Some of the models have a latch that, when released, retracts the wheels and turns into a rocker. Others glide while the wheels remain stationary.
Bottom line – movement and vibration are a massive plus for twins bassinet.
Soothing sounds and night lights
Soothing sounds like gentle ambient music or a heartbeat come from what most manufacturers call a soothing center. In a well-made twin sleeper baby bassinet, the sounds will typically have simple controls – a keypad or a switch.
The night light is tricky to get right, and I've seen too many reports of the feature causing unrest in newborn twin babies. The intensity has to be just right so that you can peak and check on them without waking them up. You should also be able to find your way around one of them without waking the other up.
That's a tall order for most bassinets for twins, but the best of them have to deliver. The ones I included on the list absolutely do.
Weight limit
For most of the highest-rated twin sleeper double bassinets, the weight limit will be in the range of 15-20 pounds for each infant. The weight limit of my top pick, the Halo twin sleeper, is 20 lbs per baby, while the others have it listed at 15 lbs.
Some of them don't have weight limits per se (like Room2). Instead, it has a height limit of 35 inches.
Manufacturing practices
If you read through the whole thing, you remember that I mentioned I looked into the short-listed products' manufacturing practices.
Outsourcing is not bad per se, but there are outsourcing locations that meet the strict US standards and those that find their way around them. I've learned that over the years of reviewing bassinets.
Long story short – I contacted each manufacturer of the short-listed bassinets (the initial list of 30) and asked about where their bassinets are made. I immediately eliminated the ones who didn't give me a straight answer. Furthermore, I looked into each of those locations and filtered the list further down to only keep the ones that are proven to adhere to the strictest standards.
There's a good chance that I eliminated some good bassinets in the process, but being uncompromising about it is the only way to research manufacturing practices.
Materials
The quality in terms of durability and longevity is there in most modern double bassinets. When I talk about materials, I'm more interested in the safety aspect.
Here's what I like to see:
free of any VOCs (Volatile Organic Compounds)
free of allergens and any other potentially harmful chemicals
breathable mesh for the sides, top-to-bottom
I know that this might sound vague because not all manufacturers list what they are and aren't using.
Over the years, I've learned where to look to get detailed information on this. An in-depth explanation of my process here would merit a dedicated article.
What's different about twins sleep
There are a few critical differences in the sleep routines of twins that are a factor when choosing a bassinet.
There are more likely to have small stomachs and need to be fed more frequently
It will likely take longer to establish a routine with two babies
You'll want to be more efficient when calming one baby down to avoid waking the other up
What it means for you
It means that some factors become more important than they are in single bassinets, like rotation and adjustable height of the side walls.
Takeaway
Regulating sleep habits and getting them on a routine schedule is crucial to make those first months bearable. Taking the time to educate yourself about bassinets and make an informed choice is not only smart but essential.
They say that joy that is shared is a joy made double.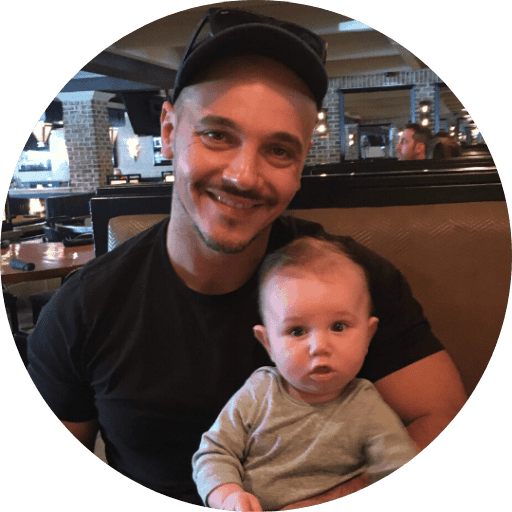 Paul is a passionate dad who founded Upside Dad to share his parenting journey with other new parents. He graduated from Concordia University and worked as a test engineer for over a decade. Paul loves dad jokes and craft beer.
Learn more about Paul and Upside Dad here.