The Kidsclub bedside co sleeper and baby bassinet has recently entered the market and is piquing the interest of many new parents looking for a bassinet that also doubles as bedside sleeper. This new and improved product delivers in quality, functionality and portability.
Kidsclub Bedside Sleeper and Bassinet
Bassinet that doubles as a bedside sleeper
Clips to straps attached to the parents' bed
9 position height adjustable
Breathable mesh
Wide and stable base
---
The American Academy of Pediatrics (AAP) and the Center for Disease control (CDC) both highlight the dangers of bed-sharing with a newborn or infant. The AAP suggests that parents sleep in the same room as their baby for a minimum of 6 months and preferably up to 12 months of age. According to the AAP, sleeping in the same room as your baby can reduce the risk of SIDS by over 50%.
This bedside sleeper conforms to all North American safety standards and it provides new parents with a perfect sleep solution for their baby. It goes right beside the parent's bed allowing for closeness and comfort for both baby and parents.
On top of all the safety and functional features, this bedside sleeper is also rated for babies up to 25lbs or until he can pull himself up into an upright position on his own. This means that you will be able to keep your baby at arm's reach for a long time.
For other great cosleeper options check out the best co sleepers reviewed by Upsidedad!
Key Features
Standalone bassinet that doubles as a bedside sleeper
Bedside sleeper that clips to straps attached to the parents' bed for utmost safety
Side panels unzips about 2/3 of the way down for easy access to your baby
9 position height adjustable from 17.52″ to 25.39″
Breathable mesh side walls on both sides
Low profile feet to slide under almost any bed
Long lasting; can be used up until your baby reaches 25lbs or can pull himself up on his own
Specifications
| | |
| --- | --- |
| Dimensions (sleeping area) | 37.4″L x 22.83″W X 13.98″H |
| Dimensions (Folded for travel) | 37.2"L x 22.7"W x 7.5"H |
| Height adjustment | 17.52″ to 25.39″ measuring from floor to base of bassinets |
| Weight | 23 lbs |
| Max Allowed (age and weight) | 5.5 months or 25 lbs |
| Material | Aluminium + Suede + Mesh + ABS Plastic + Steel Pipe |
Pros
Easy to move around the house as needed
Collapsible and folds down for travel
Detachable side fabric for easy cleaning
Height adjustable to fit almost any bed or couch
Clips to straps on the side of the bed for added safety
Side panel unzips and lowers for easy access to your baby
Cons
Mattress is thin (for safety reasons)
Folded material from open side bunches up on the outside
Who is it for?
This product is perfect for new or expecting parents or new parents looking for a bedside sleeper that allows for easy access to the baby without having to get up from bed. This means it is ideal for C-Section moms that have restricted mobility for several weeks after birth as well as for dads who want to take charge of the nights and want baby at arm's reach.
Both the parents and baby are able to get the benefits of "bed-sharing" without the dangers associated with actually sharing the sleeping surface with the baby.
Why we like it
The main reason we love the Kidsclub bedside sleeper is because it has been designed with the baby's safety and the parent's needs in mind. Parent's want piece of mind that the baby will be safe but also want the closeness we know can comfort the baby in times of need.
When your newborn comes into the world everything will be new, different and a bit scary. Being able to touch your baby when he cries while remaining in the comfort of your own bed is life changing. I was able to just reach over and put my hand on him when he cried. Half of the time he would just go right back to sleep. The other half of the time he actually required a change or a feed, so you won't be able to avoid doing that all together ?
When in "bedside sleeper" mode, the Kidsclub cosleeper bassinet attaches securely to your bed by the means of a long strap that goes under your mattress. This ensures that even if you roll over and touch the bassinet while sleeping, it will not move.
The extendable low-profile feet easily slide right under your bed for a wide and stable base. And the 9-position height adjustable legs make it fit almost any bedroom setup.
Another great feature of the Kidsclub bassinet is the micro-angle incline mode that lets you incline the sleeping surface just a touch. There are studies that show many newborns sleep better with a small incline and you can easily try this out with your baby to see if it helps keep him asleep.
Safety
Safe sleep guidelines from the AAP and CDC should ALWAYS be followed to a tee to guarantee your baby's safety and reduce the risk of SIDS.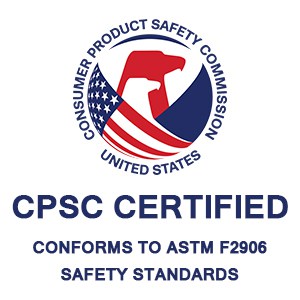 The Kidsclub bedside sleeper and bassinet is certified by the Consumer Product Safety Commission of the United States (CPSC) and it conforms to ASTM F2906 safety standards. This means that this model bassinet has passed all safety testing and it is certified for your baby to sleep in.
Additionally, the manufacturers suggest the following:
Kidsclub co sleeper is recommend for babies from newborn until they reach any of following milestones:
outgrow the bassinet;
reaches 25 lbs;
roll over and bump to the side to wake themselves up;
sit up by themselves.
Most babies transition from a bassinet to a crib by 6 months old.
Assembly and setup instructions
The setup and assembly are actually not difficult for this product but we found the instruction booklet to be touch confusing so we put together this, step-by-step assembly instruction to make your life a little easier:
Open the main frame: Pull the legs out until it reaches the locked vertical position
Insert the support frame: Attach the support frame to both legs
Install the cover: Pull out the cross beam on each side and slide the cover material all around the top section of the bassinet. Once in position, zip it closed along the back side and the front top corners to hold the cover in place.
Insert the lower locking bar into the cover: Slide the cover over the lower locking bar and zip the lower section closed to hold it down.
Place the mattress in the crib: Place the mattress all the way down snugly into the bassinet.
Included in the package
1 x Baby bedside sleeper bassinet
1 x Waterproof Mattress
2 x Washable Sheets
1 x User Manual
Cleaning
There are two main aspects to think of when it comes to cleaning your bedside sleeper:
Regular cleaning routine
Emergency cleaning
One great advantage of this product is that it already comes with 2 washable sheets! This means that you can always have a clean sheet to change the bed to. Weather it has been a little while since you cleaned it or if your baby made a little mess after you put him down.
Since your baby will be spending a lot of time in his beloved bedside sleeper, I can almost guarantee that the second sheet will come in handy. Whether it's due to spit up, sweat, spilled milk/formula and maybe even a sprinkle of a #1 or a dreaded blowout, you will be glad to have a second set of sheets handy.
Secondly, the entire bassinet fabric is detachable and washable. Simply unzip, unclip and remove it for easy cleaning whenever needed.
Final Verdict
The Kidsclub cosleeper bassinet and bedside sleeper checks off all the boxes in today's modern parents' list:
Safety certified
Height adjustable
Bedside attachable
Sturdy and durable
Portable
Breathable
And the list goes on…
We love this product and would recommend to our friends and family without a doubt. If you are still not convinced, check out what other customers are saying by clicking on this link.
Kidsclub Bedside Sleeper and Bassinet
Bassinet that doubles as a bedside sleeper
Clips to straps attached to the parents' bed
9 position height adjustable
Breathable mesh
Wide and stable base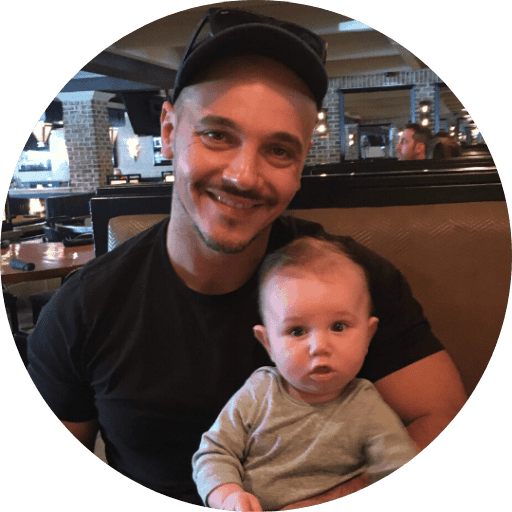 Paul is a passionate dad who founded Upside Dad to share his parenting journey with other new parents. He graduated from Concordia University and worked as a test engineer for over a decade. Paul loves dad jokes and craft beer.
Learn more about Paul and Upside Dad here.