If you cut through the clutter of information, there's one question to be answered about the Graco Dream Suite bassinet, "Is it good value for money, or is it just cheap?"
Graco Dream Suite Bassinet
Compact
Uses vibration to soothe the baby
Large built-in storage space
Sides are mesh
Protects baby from direct light
---
When you review as many bassinets as I did over the past few years, you learn exactly where to look for weaknesses with products in the lower price ranges. You start seeing patterns in where companies typically skimp.
That's what I'll try to do in this Graco Dream Suite Bassinet review – glance at the surface and then dig deeper.
A unique bassinet proposal
It's not easy to stand out in a crowded bassinet market, and the Graco Dream Suite does just that.
How?
By offering a 2-in-1 (bassinet/changer) at a low price point.
You flip the switch, the bassinet rotates and turns into a changing station. As Graco puts it, it's a "complete bedside care center."
Pair that with the low price tag, and you have a product that will appeal to many a parent on a budget or those looking for a secondary bassinet to be used for occasional sleepovers.
Features of the Graco Dream Suite bassinet
Reversible bassinet that doubles as a changer when rotated
Compact works well for small spaces
Recommended weight for the changer – up to 30 lbs
Uses vibration to soothe the baby
Large built-in storage space under the bassinet
Wheels are integrated lock in place
The sides are mesh which allows for better airflow and visibility
Solid material of the canopy protects the baby from direct light
Removable/machine-washable mattress cover
Comes with two removable soft toys suspended on the canopy
Specifications (use relevant specs if appropriate for the product)
| | |
| --- | --- |
| Dimensions | 6.18 x 19.37 x 33.94 inches |
| Weight | 21.08 |
| Height adjustable | no |
| Warranty | 12 months on all defects |
| Weight limit | 15 lbs for the bassinet, 30 for the changer |
Strongest points of the Graco Dream Suite
The convenience of a 2-in-1 bassinet and changer
When I said that Graco offers a unique sales proposition with this one, I had the convenience-price combo in mind.
The concept of combining a bassinet and a changer is not new.
Design-wise it's not an easy thing to do, and typically one of two things happen – one or more quality aspects suffer, or the price goes up…way up.
Neither seems to be true for this Graco.
A budget solution
If you're working with a limited budget, this might be where your search ends.
Price-wise it doesn't get much better than this without serious quality implications.
Smart fit for small spaces
Over the last decade, the average size of new apartments has decreased by 5%. Studio apartments shrunk the most – more than 10%.
In the same time span, rents have gone up by a whopping 28%.
People pay more to live in smaller spaces. If you are one of those people and you're adding a new family member, the minimal footprint of this Graco might be the answer to your space problems.
What I like about the Graco Dream Suite
I already stressed that value for money is the strongest selling point of this Graco.
Let me take a step back here and share some quality aspects that I liked, and a few that I believe could be improved on, even at this price point.
Practical design
This Graco is not a looker; let's get that straight.
I don't think it's ugly either. I just think it's not likely to start any conversations at first sight.
The side panels are not all mesh as they are in most bassinets. The lower part is solid fabric that allows for better grip when alternating between bassinet and changer.
The air still flows freely since the upper portion of the side panels is mesh.
Light & maneuverable
Graco Dream Suite is light, coming in at about 18.5 lbs. That sounds about right for a wheeled bassinet; most of them are in the 15-20 lbs range.
It's the footprint that makes the difference
Three things come into play when it comes to maneuverability: the weight, the footprint, and how well the wheels are made.
What makes this Graco easier to move is the smaller footprint than most similar products.
When analyzing the wheels' quality, I look for reports from people about the stability when locked. Poorly made wheels typically result in the bassinet being wobbly even with wheels locked.
I found that integrated wheels, like those on this Graco, perform much better (compared to those that you need to attach yourself).
A large storage basket
I love the massive storage on this Graco. If this is not your first rodeo, you know how much of a difference handy storage makes.
With this Graco bassinet, you won't have to buzz around looking for the diapers, wipes, and powders. The storage is big enough for you to have all your necessities right there at arm's length.
Easy to go from bassinet to changer
Over the years of reviewing bassinets, I've seen quite a few trying to do two jobs. I've also seen so many of those failing at one crucial aspect – ease of use.
If switching from bassinet to changer is a 2 person job, it defeats the purpose. With this Graco, it's a one-hand job.
I don't recommend it, but switching between the two modes is so simple that you can do it while still holding your baby.
It's that round robust switch on the side that makes it possible without compromising stability.
That's a huge plus.
What could be better
The assembly instructions
I don't know who wrote the directions, but they sound like they were written for someone assembling bassinets every day.
It took me just over half an hour for the initial setup of the Graco Dream Suite bassinet.
But it took 5 minutes to give up on the instructions. I just winged it and used my common sense.
Mesh combo in the side panels
I get why Graco made this one using solid fabric for most of the side panels. It's easier to grip and turn if you're "one-handing" the bassinet-changer conversion.
The way it's made now, fabric goes up to about two-thirds of the bassinet. If you're asking me, I'd go a bit lower with the mesh. It would be a better design choice – it wouldn't compromise anything, and it would let more air in.
To be clear, breathability and airflow are not an issue here.
Frequently asked questions
How to clean/wash the Graco Dream Suite?
Guidelines for cleaning/washing the Graco Dream Suite:
The mattress cover is removable and can be machine washed
For the frame, use soap and warm water
Avoid using bleach or aggressive detergents
To clean the changing table, wipe it with a damp cloth
How do you assemble a Graco Dream Suite bassinet?
To assemble it, follow these steps:
Insert the tubes outlining the bottom of the bassinet into the leg hub
Flip the bassinet and do the same on the other side – insert the top tubes into teh top channel of the leg hub
Check is the tubes are locked in – the metal buttons should be visible
Insert the mattress
Clip on the legs
Assemble the storage basket and attach it to the legs
Key takeaways
Graco Dream Suite Bassinet (Mason, One size) is a solid bang for your buck.
Light, compact, and easy to use, this 2-in-1 does a good job both as a bassinet and as a changer.
It's not the best money can buy, but it is one of the better value propositions out there.
Upside dad approves.
Graco Dream Suite Bassinet
Compact
Uses vibration to soothe the baby
Large built-in storage space
Sides are mesh
Protects baby from direct light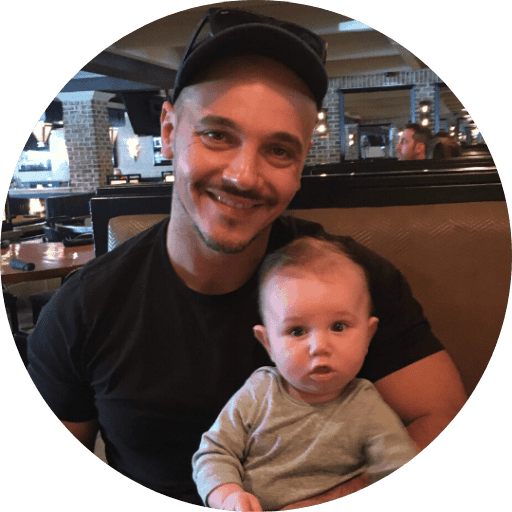 Paul is a passionate dad who founded Upside Dad to share his parenting journey with other new parents. He graduated from Concordia University and worked as a test engineer for over a decade. Paul loves dad jokes and craft beer.
Learn more about Paul and Upside Dad here.