The #1 mistake I've seen people make when choosing a good bassinet for small spaces is not looking beyond the size.
And that's not just an opinion – it's the main grievance of the parents I talked to while gathering data for this guide.
What good is a small bassinet if your baby is cramped in?
It's the 21st century, and there are bassinets out there that will make the best use of your limited space without sacrificing your baby's comfort.
Today, I'll dive into the important aspects of choosing well & offer a few specific recommendations.
Bear with me because a few minutes here can save you some serious headache down the road.
For those in a hurry, let's get right to my top picks.
Best bassinet for small spaces – Top 8
Image
Best Small Bassinets
Features
Price

Best Overall

Height range adjustability
Multipurposes bassinet
Comprehensive soothing station

CLICK FOR PRICEBuy at Amazon

Great alternative to bed sharing
5 adjustable heights
Large storage pockets

CLICK FOR PRICE

Calming sway motion
Dual-mode lighting
Flat sleeping surface

CLICK FOR PRICE

Comfortable and convenient fabric
Light and mobile
Full mesh design on the sides

CLICK FOR PRICE

Compatible with VISTA 2015-later
Vented base and mattress
Overnight sleep solution

CLICK FOR PRICE

Lulls your baby to sleep
JPMA Certified Product
Soft, breathable and airy sides

CLICK FOR PRICE

Lights and sounds
Perfect for naps or bedtime
Easy to use

CLICK FOR PRICE

Silent auto gliding motion
Soothing sounds and visual stimulation
Removable and adjustable canopy

CLICK FOR PRICE
---
Size (in inches): 33.5 x 28 x 46
Weight in LBS: 33
Chicco Close to You is the absolute king of the hill in the "best bassinet for small spaces" category.
It's also a top contender in a few other crucial aspects and one of the highest-rated bassinets I ever reviewed.
Why?
It's small, glides around like a hovercraft, and eliminates the need for a separate bedside bassinet and/or changing table.
That's precisely the kind of flexibility that ticks all the boxes if space is a crucial factor.
It's not the lightest on the list, but you shouldn't expect that from a multifunctional unit in the first place.
And I wouldn't say that weight is a primary factor either – it's more about how easy it is to move.
All the space-related stuff aside
If you look past the space-related aspects, you'll see a well-rounded, smart bassinet that's conservatively priced on top of it all.
When I say "conservatively priced," I don't mean cheap, far from it.
It offers the kind of value that typically costs twice as much in some similar bassinets.
You can read my full review of the Chicco Close To You here.
Size (Width x Depth x Height, in inches): 19.5 x 31 x 41.5
Weight in LBS: 19.18
If you took the time to read the intro, you'd remember me mentioning "smart designs."
Well, the Z shape of this Simmons baby bassinet is just that.
Its base slides under your bed, you choose one of the five height positions, and voila, your baby is right next to you without the frame taking up any extra space.
When the wheels are unlocked, moving the bassinet is seamless and smooth.
The mesh side panels make for a comfy, safe environment – all backed by the fact that the bassinet meets or exceeds CPSC & ASTM safety standards.
Overall, a great bassinet for small spaces and solid value for money.
You can see a more detailed review here.
Size (in inches): 22.8 x 5.9 x 40
Weight in LBS: 20
If you want a light and small bassinet that comes with high-end features (like vibration, music, rocking, and soothing projections) but doesn't cost an arm and a leg, this Fisher-Price deserves a closer look.
Light but sturdy
Coming in at only 20 pounds, it's a breeze to move around. However, for a bassinet of this size and weight, it's surprisingly well-built and durable.
Great pacifier
The Fisher-Price Soothing Motions is up there with the best of them when it comes to the soothing features.
The overhead mobile is easily one of the top 10 on the market. It will also give you and your little one half an hour of soothing sounds, movement, and vibrations at a time – for most babies, that's more than enough to drift calmly to sleep.
You can read a detailed review of the Soothing Motions here.
Size (in inches): 37 x 22 x 27
Weight in LBS: 15
If the reason you're looking for a small bassinet is travel, there's a good chance your search will end with the Dream On Me Traveler.
It's one of the few bassinets for small spaces that's light enough for frequent trips.
I know, I did say that weight is not a primary factor, but that applies to home bassinets. For travel, it makes a huge difference.
Slick, portable design
This is a stylish baby bassinet with an aluminum frame, breathable mesh sides, and snap-on legs. Its quick-fold mechanism will allow you to pack it down in seconds.
Most importantly, none of the above come at the expense of the sleep space – which is a huge plus.
I wrote a more detailed review a while back; you can see it here.
Size (in inches): 16 x 31 x 10
Weight in LBS: 20
This one is a specific pick, and I'm including it because I kept seeing questions about which UppaBaby pairs well with Vista and Cruz strollers but is still space-saving.
In other words, if you already own another stroller or a car seat, you might want to skip this one altogether.
For those of you who asked questions about this UPPAbaby, below is an overview of what I think about it and a link to my full review.
All in one
This UppaBaby is designed to be interchangeable between the stroller, car set, and bassinet. In my experience, it does it all well.
We used this combo, and it worked great for my wife and me for the full three months.
We only moved on when our son grew too big for it.
The size is at the sweet spot between being a good fit for small spaces and a comfy bedside bassinet.
You can read more about it in my review of the Uppababy bassinet as well as in my Halo bassinet vs Uppababy bassinet comparison.
Size (in inches): 31 x 23 x 26
Weight in LBS: 13
If you're interested in more than functionality (read: style), there's no way you'd look past the pizzaz of the wood-white combo of this Babybjorn.
Second lightest on the list
Even though it's stationary, it's still one of the best bassinets for small spaces.
It's so light that it offsets the lack of wheels – it weighs only 13 lbs.
Compact
If you look at the list, you'll notice a pattern.
Most of the baby bassinets that found the way to the top of this category feature a compact, narrow design with no sticking parts and a footprint that's not much bigger than the sleep surface.
That's also the case with this stylish Babybjorn.
It's not cheap by any stretch of the imagination, but, in my opinion, it's worth every penny if you're looking for a small bassinet with a touch of style.
https://upsidedad.com/baby-bjorn-cradle-review/
Size (Width x Depth x Height, in inches): 21 x 35.5 x 45.5
Weight in LBS: 13
This Delta is one of the most overlooked products on the market, especially if you consider the low price point.
Why is it so good for small spaces?
It's easy to move, narrow, and light.
The storage area is surprisingly generous for a small bassinet, which is a massive plus if you're short on space.
It features a soft night light and soothing audio packed into a nice little electronic module.
Light frame, sturdy wheels
This is the combo you want if you'll be moving the bassinet between rooms on a daily basis. You don't need a steel frame because that's not where the stress is exerted when moving the bassinet – it's all on the wheels.
This Delta gets that balance just right.
Finally, at only 10.6 pounds, it's the lightest bassinet in my top 8 picks.
Size (Width x Depth x Height, in inches): 30 x 30 x 32.5
Weight in LBS: 26
If you have a space problem and you're expecting twins, you're in for one fun ride (or so I hear).
In this scenario, your gear choice will make even more of a difference, which is why I'm including one pick for twins.
A life-saver
The second entry from Simmons is pretty much the same product as the runner-up.
The three main space-saving qualities of the bedside sleeper are the Z-shaped design, sturdy wheels, and adjustable height.
If you look at the specs, this eye candy weighs as much as some of the single bassinets, and it's just as small.
This happens to be one of the top 10 bassinets in user ratings, and I'm not talking just about this category, but overall.
It's a rare beast that's maintained a whopping user satisfaction percentage of over 94% for as far back as I can remember.
Bassinets for small spaces buying guide & FAQs
The rest of the guide is dedicated to the more patient among you, people looking to understand the logic behind my picks for the best bassinet for small spaces.
Safety above everything else
There are primary and secondary safety aspects. The few 'priorities' to look for are a nice flat sleeping surface and breathable mesh sides.
Save space by going multifunctional
It makes little sense to talk about saving space and not consider the flexibility of multifunctional bassinets that play the role of a bedside bassinet/sleeper and a changing table.
If you can find one that truly does it all, you're saving much more than inches.
A caveat
Multifunctional bassinets are a dime a dozen, but products that truly perform are not. What I typically see with these is solid performance in one of the aspects and sub-par in others.
This is one of the main reasons why Chicco Close to You dominates this category – it's one of the very few '3-in-1s' that delivers on all fronts.
Looking past the size
I keep getting back to this – lower numbers in the dimension listing don't mean that the bassinet is better for small spaces. It's more complex than that.
What you want to look for is a balance between size, frame design, how easy it is to move around and adjust the specifics of the space.
Sleep surface vs. footprint
I've seen this common mistake one time too many – you look at the dimensions, you measure your space, and it fits like a glove.
Then, the bassinet arrives, and you realize that the numbers you were looking at are not further-most points of the bassinet.
That changes everything.
You add all the extras that come with the bassinet, and it's 20-30 % bigger than you planned.
So, make sure that the dimensions you're looking at are relevant for your purpose. Try to find information on how big the footprint is and work with that number when planning your space.
Stability
Typically, in most of the best bassinets for small spaces, the difference between the footprint and the outer edges of the sleep unit will be small.
If you do find a unit that fits the bill, your next step is to look into whether that means lowered stability.
It's the physics of it
If the difference between the footprint and the bassinet base is small, it might mean lowered stability, especially if it is a high, narrow bassinet.
What to do about it?
Choose a bassinet designed with stability in mind. This typically means a lowered center of gravity.
Weight limit
This one is pretty intuitive; you want to stay away from bassinets that don't meet your projected weights for the expected use period.
Small without being constructing
This is a biggie, and it's far from a given. Some of the bassinets I looked at try to save space by making the sleeping area smaller, too. Limited space doesn't, shouldn't, and mustn't mean sacrifices in comfort and safety.
Storage space
Small rooms typically mean that you probably also don't have as much storage space to work with.
I wouldn't say that this is a primary factor, nor will it be a factor for everybody. In fact, my top pick (Chicco Close To You) comes with no additional storage.
But, if this is a factor for you, go with one of the bassinets with an extra storage basket, like the Delta Children Deluxe.
Portable vs. easy to move
The two terms are not interchangeable. I know it sounds obvious but based on what I've seen when researching this guide, some parents think they are.
If you're working with limited space, but you can still plan it in a way to slide the bassinet around, portability might not be a crucial factor.
However, if most of your floor space is taken, you'll want a bassinet that can be removed from the base and carried.
It's a huge point to consider because it means that not all small spaces are created equal, and you should look at the specifics of your room rather than just the numbers.
Soothing features
Just because you live in a small apartment, it doesn't mean that you or your baby should give up on the cutting-edge soothing features that have changed the industry over the past decade or so – like white noise and vibration.
Granted, some of the bassinets I talked about today are too small to feature an elaborate soothing center, but that's not the case with all of them.
They cost more, but it's worth it
The top dog, Chicco, will likely put your baby to sleep in minutes through a combination of the soothing features I mentioned above. It does cost more because of it, but who can put a price tag on a good night's sleep.
Maintenance
Most of the better models will feature removable sheets and fabrics (sometimes even the mattress pad). It's a huge plus if you're a dynamic parent looking for a bassinet that will make a solid travel companion.
FAQs
What bassinet is best for newborns?
I believe that the SNOO is the best overall, but it's not my top pick for small spaces.
How long should a baby stay in a bassinet?
Most babies will move on to a crib in 3 to 6 months.
Conclusions & takeaways
If I did a decent job with this guide, you should now be a few steps closer to choosing a nice small bassinet.
If I did a good job, you should already be there.
Even if you don't go with one of my top picks, you should at least understand how to balance space-saving, comfort, and safety.
Finally, I update this guide regularly with new information and data, so it might be a good idea to bookmark it for future reference if you don't make a decision today.
Stay smart – sleep well,
Paul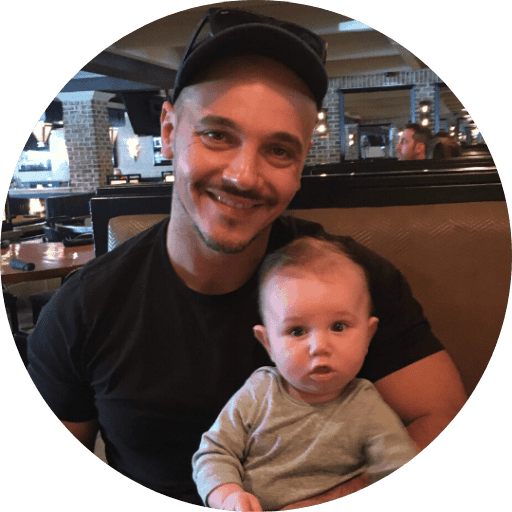 Paul is a passionate dad who founded Upside Dad to share his parenting journey with other new parents. He graduated from Concordia University and worked as a test engineer for over a decade. Paul loves dad jokes and craft beer.
Learn more about Paul and Upside Dad here.