The Ingenuity foldaway bassinet is THE go-to travel bassinet for parents that love to travel. If you want an easy solution to putting your baby to sleep on the road then look no further.
Ingenuity Foldaway Rocking Bassinet
---
The Ingenuity Foldaway Rocking Bassinet has a lot to offer busy parents. It is easy and quick to set up and can be used as a standard bassinet or in rocking mode to help your baby drop off to sleep. The Ingenuity Rocking bassinet is airy, roomy and will serve your baby for quite a few months.
This is the ideal folding crib for parents who like to travel and want to do it alongside their little one. The Ingenuity has a unique frame that folds up in seconds so you can be on your way in a snap.
You can also see how the Ingenuity portable bassinet stands up against the competition in our detailed review of the best travel bassinets.
Features of the Ingenuity Foldaway Rocking Bassinet
Unique foldable frame that collapses fast
Mesh for ventilation and easy monitoring
Comfortable and spacious mattress
Two-mode function: stationary and rocking mode
Comes with a fitted sheet
Washable fabrics
Ingenuity Foldaway Rocking Bassinet specifications
| | |
| --- | --- |
| Dimensions | 37 x 23 x 28 inches |
| Weight | 18.34 pounds |
| Type | Portable and stationary |
| Warranty | 1 year |
| Weight limit | 15kg (33lbs) |
| Age limit | 5 months |
Why we like it
This foldable cot is great for parents who travel often and who like to be on the move. The Ingenuity foldaway bassinet also folds away in seconds making your life easy when you have to pack up at the end of your day.
This travel bassinet has breathable mesh panels at the top and bottom ends. This helps to provide good airflow in the bassinet. It also makes it easy for you to see what your baby is up to even if you are across the room.
The Ingenuity foldable bassinet has a double function: it can be used in a stationary mode or in a rocking mode.
You can't help but notice the roomy size of this portable crib. It is quite a bit bigger than other similar products on the market, so it allows for a comfortable sleep for months.
At the same time, the crib is not so big that it takes up a lot of space in your room or the trunk of your car. You can easily put it right next to your bed so you can sleep knowing your baby is safe near you.
Assembly
There literally is nothing to set up here. The FoldAway Rocking Bassinet snaps into place in seconds, and folds back up with one step. Nothing could be easier. Just take a look at the video clip below.
Spacious sleeping area
With a mattress measuring 32.7" x 17.5", the Ingenuity folding bassinet will allow for many months of use.
Machine washable
The fabrics used for the Ingenuity Foldaway Rocking bassinet are removable and machine washable. This is a great feature that helps you to keep your baby's sleeping environment clean as things can get rather messy from time to time.
Dual-mode use
The Ingenuity travel crib comes with a choice of stationary or rocking mode. You can set it to rock your baby gently to soothe him to sleep or you can convert the crib to stationary mode when you need to change your baby or if he is content to just lie awake.
Breathable mesh
The manufacturers used breathable mesh for both ends of the Ingenuity foldable bassinet. This practice leverages the many benefits of mesh. It's lightweight and facilitates airflow, plus it's see-through so you can keep an eye on your baby.
Who uses the Ingenuity FoldAway Rocking Bassinet?
The Ingenuity travel bassinet is popular with parents who are active. You couples who have always traveled and don't want to stop traveling once their firstborn arrives, often opt for an Ingenuity travel bassinet.
It is also popular with professionals who regularly have to travel for their work. It's a highly portable bassinet that takes seconds to set up and doesn't take up a lot of space once set up.
With the Ingenuity travel cot, parents don't have to stop exploring once their baby has arrived. The Ingenuity bassinet makes it possible for parents to enjoy themselves while they are taking care of their baby away from home while not compromising on the comforts of home.
Conclusion
The Ingenuity travel bassinet is an ideal travel companion for families on the go. Because it's easy and quick to set up and fold up again, the Ingenuity travel bassinet allows you to take your baby with you wherever you go: an adventure; visiting friends or family on the weekend, away on a business trip.
Ingenuity Foldaway Rocking Bassinet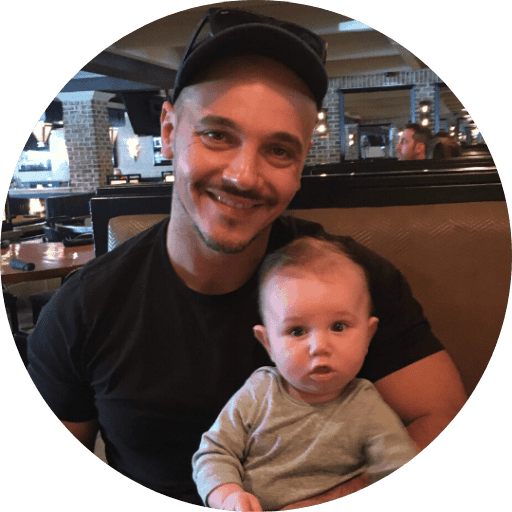 Paul is a passionate dad who founded Upside Dad to share his parenting journey with other new parents. He graduated from Concordia University and worked as a test engineer for over a decade. Paul loves dad jokes and craft beer.
Learn more about Paul and Upside Dad here.