Choosing the right portable crib for YOUR needs can make or break your time away from home with your little one. Whether you're looking for a temporary crib for grandma's house or a bed to use on vacation with the family, your portable crib will either be your best friend or your worst nightmare.
In order to suit the needs of today's parents, travel cribs must be:
Safe for sleep (infant to toddler)
Lightweight
Small and portable
Easy to setup and take down
Here are the top choices that made it into my portable cribs review roundup:
---
These porta cribs are made with travelers, like you and me, in mind. They are extremely easy to set up, lightweight and when you're ready to go home, you simply fold it up in seconds.
In this portable crib review we will look at the top travel cribs available for parents in the market today. From the most popular brands to some less-known but still amazing options as well.
What is a portable crib?
Portable cribs, also known as porta cribs or travel cribs, are an easily transportable version of a crib for your child to sleep in. Some newer travel cribs will even come loaded with features including a change table, a newborn bassinet, storage pockets and more.
There are two main types of portable crib designs that are used today: The "floor bed" and the structured playard styles.
The "floor bed" style of porta cribs such as the Lotus are much lighter and compact in size since they do not need too much structure to hold them up – the baby's mattress (and weight) are on the floor. There are four legs, the mesh side material and a mattress – that's it.
The playard style travel cribs are usually heavier and larger but offer more of a "crib" feel. The mattress is elevated off the ground and they are normally much heavier and more structured with a hard bottom and sturdy beams going up on each corner.
Both types of portable cribs serve similar purposes but also offer advantages and disadvantages.
Portable cribs are versatile and can be used as day beds for naps as well as night beds for overnight sleep.
Are portable cribs safe?
Portable cribs are very safe. Each of the products that I am reviewing in this article are approved for safe sleep according to North American standards and have been tested for safety.
It is always the parent's responsibility to verify if the portable crib they choose is appropriate for their child's age. Beware that some models of portable cribs come with a soft mattress that is not suggested for use with newborns or infants who can't yet roll over on their own.
For parent's with younger children I suggest looking into the models that come with a newborn sleeper bassinet attachment. The portable crib bassinet attachments are perfect newborns and infants.
Mesh sides are a common feature in today's travel cribs and they are perfect safety features to look out for. The full mesh sides allow for great airflow as well as breathability when your child rolls over on it while sleeping.
For ultimate sleep safety, stay away from third part mattresses or crib accessories that modify the sleeping area of the crib. Stick with only manufacturer approved accessories.
---
The top portable cribs reviewed
Best premium travel crib (with change table and bassinet)
4moms is a company that I really like so I may be slightly biased in this review. The 4moms breeze plus playard is very well thought out. It's no doubt a premium product.
The first thing that stands out about the Breeze plus is the fact that it can fulfill many functions – change table, baby bassinet, portable crib and playard. Not many other brands were able to compile this many features into a slick looking and functional product.
Next comes the open and close mechanism. If you even tried to set up a standard pack n play you know what that can be like – not fun. The 4 Moms breeze plus is the simplest playard to setup that I have ever seen.
One hand is all it takes to open up the Breeze Plus or fold it up into its carry case. Heck, you can do it while holding your baby in the other hand. The carry case also comes in handy when you need to move it around and have your hands full.
The removable bassinet of the 4moms breeze plus can hold infants up to 18lbs and the main crib section will support babies up to 30 lbs.
Check out my full review of the 4moms Breeze Plus playard for more info.
Why I like it
A one-step open and close mechanism
Includes a travel bag
Quick to set up
Easy to clean
All-inclusive traveling companion
| | |
| --- | --- |
| Dimensions (Set up) | 43 x 30 x 29 inches |
| Dimensions (Folded-for travel) | 12 x 12 x 30 inches |
| Weight | 23 lbs |
| Carry case | Yes |
Best portable crib for travel
Phil and teds is a new travel crib I came across very recently and was really impressed by some of the specifications. I'll just come out and say it – 6 lbs, the entire portable crib weights just six pounds! If that doesn't impress you, I don't know what will.
The Phil&Teds portable crib is not only super light, it's also really compact for travel. The carry case fits in any backpack, carry on or luggage.
Every fabric used in the phil and ted travel crib is OKEO-TEX certified which means it contains no toxic materials and it's gentle on your baby's skin.
It's also globally safety certified for sleep and can be used indoors or outdoors.
The mattress that comes with the phil&teds crib is thin and somewhat hard compared to others we have reviewed. This portable crib is perfect for occasional travel but not recommended for day-in day-out sleep.
Why I like it
Super lightweight
Includes a travel bag
Easy to set up
Comes with carry bag
Fits in carry-on
| | |
| --- | --- |
| Dimensions (Set up) | 31 x 24.8 x 46 inches |
| Dimensions (Folded-for travel) | 7 x 7 x 25 inches |
| Weight | 6 lbs |
| Carry case | Yes |
Best Travel crib for toddlers
The Joovy Room2 (or "room squared") is a very spacious square-shaped portable playard that also doubles as a travel crib. This portable crib stands out as a perfect toddler bed to any parent looking for space for a toddler to sleep in or for two kids to play in.
Measuring nearly 10 square feet, the New Room2 playard is approximately 50% larger than most standard play-yards because it's a square instead of the usual rectangular travel crib shape.
It comes with all of the standard safety features including mesh side walls and a newborn safe mattress pad that is not too soft. The sides lock in place like a standard pack n play.
Surprisingly, the Joovy Room 2 packs down relatively compact for a portable crib of this size. The carry case makes it easy to transport and store away in a closet when not in use.
If you want to find out more, check out my complete review of the Joovy Room 2 portable crib.
Why I like it
Spacious
Sturdy and durable
Carrying bag included
Doubles up as a travel crib
Comes with a soft cotton fitted sheet
| | |
| --- | --- |
| Dimensions (Set up) | 39.75 x 39.75 x 31 inches |
| Dimensions (Folded-for travel) | 9.5 x 10 x 37 inches |
| Weight | 29.6 lbs |
| Carry case | Yes |
Best portable crib for grandma's house
The Babybjorn travel crib light is my choice for the most versatile travel crib and the best portable crib for grandma's house. It easily folds down into its carry bag for transport and unfolds into the assembled piece in seconds.
The Babybjorn portable crib requires no tools and sets up in the blink of an eye. The carry bag feels great and is perfect for storage in a closet or stacking with other items in the trunk.
It's built on a simple, lightweight frame yet it's still surprisingly sturdy. Babybjorn knows how to make quality baby products and it shows – this portable crib has a premium-quality feel that others in this category lack.
Setting this travel crib up is really easy. The upper frame folds in half and the four legs come out from each corner – done.
The mattress that comes with this portable crib feels so nice. It's plush yet firm. The whole crib is made with child friendly materials and is free from any harmful substances.
I've never been disappointed with a Babybjorn product and it remains true this time around – the Babybjorn travel crib light is a top notch portable crib.
Why I like it
Extremely light
Folds down to a compact size
Plush and sturdy mattress included
Easy to wash
Easy to carry
| | |
| --- | --- |
| Dimensions (Set up) | 44 x 25 x 32 inches |
| Dimensions (Folded-for travel) | 19 x 5.5 x 23.5 inches |
| Weight | 11 lbs |
| Max Weight/Height/Age limit | 0 to 3 years |
Best portable crib for easy assembly
The Guava Family Lotus travel crib is a great option for parents looking for portability and ease of use. This porta crib can be set up in 15 seconds and weights only 13 lbs – those are impressive numbers.
To top it off, the Lotus travel crib comes with a backpack carry bag that allows for hands-free transportation. It comes super handy during times when you're arriving or leaving your destination with multiple bags, luggage and a baby.
The Guava family brand is also interested in sustainability and the environment. This means that they made sure the Lotus travel crib was GrennGuard approved. The Lotus travel crib is certified non-toxic – no PVC, no heavy metals and no phthalates.
The mattress that comes with the Lotus is thick, relatively soft and is actually comfy compared to some other models. It's perfect for older infants and toddlers.
Check out my full review of the Lotus travel crib for more information on this amazing porta crib.
Why I like it
Lightweight
Machine washable crib cover
Easy to set up
GreenGuard non-toxic certification
Comfortable
| | |
| --- | --- |
| Dimensions (Set up) | 42 x 32 x 25 inches |
| Dimensions (Folded-for travel) | 24 x 7 x 11 inches |
| Weight | 13 lbs |
| Max Weight/Height/Age limit | 0 to 3 years |
---
Features of best porta cribs
Outdoor and indoor
If you plan on using your portable crib as a playpen for your baby you should consider getting a product that is also approved for outdoor use. Many of the models we reviewed above are approved for outdoor use as well as indoor sleep.
Compact for travel
Will you be using your portable crib for travel with the family? Will you be flying? You may want to consider a small unit that can easily fit in your carry on or backpack. We love the phil&teds portable crib for travel because it weights only 6 lbs and fits in your carry-on.
Change table and bassinet
If you want a travel crib that will also double (or triple) as a change table and/or bassinet I urge you to consider the 4moms breeze plus reviewed above. It has all of the bells and whistles you can ask for from a portable crib.
Wheels
Wheels come in handy when you want to move your portable crib from room to room while it's still assembled. You can also use it to rolls the crib around outside if you happen to be moving to different places.
Ease of assembly
Most of the portable cribs reviewed here are VERY easy to assemble. The majority will take you less than a minute from the bag to a fully assembled position. Stick with one of the units above if you want a simple assembly.
Age and weight limits
Most portable cribs are approved for use from 0 to 3 years old. It's important to check the age and weight limits of the crib and mattress especially if you have a newborn that you plan on putting to sleep in your travel crib.
Portable crib FAQ
Are portable cribs safe for newborns?
Most portable cribs are safe for newborns but it is important to check the manufacturer's instructions and age limits. For added newborn safety, make sure to check that the mattress is breathable and approved for infants.
How long can a baby sleep in a portable crib?
As long as the portable crib is approved for newborns and overnight sleep, a newborn can sleep in a portable crib all night as well as for naps. Some portable cribs may not be approved for overnight sleep with newborns so it's important to check the manufacturer's instructions and age limits.
What is the largest portable crib?
The largest portable crib in the market today is the Joovy Room 2 measuring a whopping 10 square feet of area. The Joovy portable crib stands out from other travel cribs because of its square shape and huge sleeping area.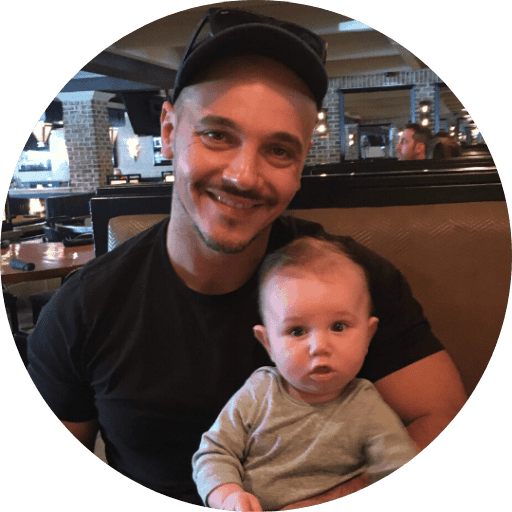 Paul is a passionate dad who founded Upside Dad to share his parenting journey with other new parents. He graduated from Concordia University and worked as a test engineer for over a decade. Paul loves dad jokes and craft beer.
Learn more about Paul and Upside Dad here.