If you are searching for a playard with a ton of space for your baby or toddler to nap and play in, the Joovy New Room2 Portable Playard is exactly what you need. Heck, you could even have two babies playing in the Joovy with space to spare.
Joovy Room2 Portable Crib
Carry case included
Waterproof fitted sheet
Durable build
Perfect for multiple kids
Easy to set up
---
The Joovy is without a doubt the best, most spacious portable playard in the market today.
Measuring nearly 10 square feet, the New Room2 (or "New Room Squared") playard is approximately 50% larger than most standard play-yards because it's a square instead of the usual rectangular playpen shape .
This makes it ideal for a parent who have friends with kids coming over, parents who are expecting twins, or parents just looking for the most spacious portable playard for their baby.
The Joovy New Room 2 can be used for babies from newborn up to the toddler stage. What's more, this portable crib will even have space for a baby friend too. Its design is simplistic yet elegant with clean lines and neutral colors that match any decor.
Key Features: The Most Spacious Portable Playard
Largest in its category
Carry case included for travel
White waterproof fitted sheet included
Ideal for babies from 0 months to 35 inches tall
Large mesh windows on all sides
Durable build
Two wheels for easier movement
Spacious enough to accommodate 1 or 2 children comfortably
Easy to set up
Perfect for multiple kids
Heavy-duty mattress
Low center of gravity for maximum stability
Specifications
| | |
| --- | --- |
| Dimensions (Set up) | 39.75 x 39.75 x 31 inches |
| Dimensions (Folded-for travel) | 9.5 x 10 x 37 inches |
| Weight | 29.6 lbs |
| Materials | 600D Nylon |
| Carry case | Yes |
Pros & Cons
Pros
This is a large and spacious pack n play that is perfect for use by one or multiple babies. Its sides are also high enough to prevent your toddler from climbing out.
The Joovy Room2 play yard can be used both indoors and outdoors.
It has two wheels that make it easy for you to move it from one place to another without having to disassemble it or to remove the baby.
The large mesh windows allow proper aeration. Plus, your baby can easily see through while inside the crib. You can as well monitor your baby as they relax, nap, or play.
It comes with a fitted waterproof sheet that is easy to clean.
The playpen is stable, well made, and durable enough to be used for several years
Cons
Because this pack n play is larger than most conventional playpens, it is slightly heavier than others in the same category.
The fitted sheet is white. So, stains are easier to notice.
At first, attaching the mattress pad to the playpen is a little tedious but it gets easier as you get used to the process.
Who is it suitable for?
The New Room2 is a huge and spacious pack n play that is perfect for use by twins or just two baby friends. It provides ample space for multiple children to play, toss, crawl, and roll. The play-yard is also well made, durable, and very sturdy. Therefore, it can withstand occasional rough play by toddlers.
This play yard will last for years. If you plan on having more than one child, this playpen is worth considering. You can use it to raise all your children.
Also, the Room2 playpen has a very low center of gravity and is extremely stable. So, you carry on with your daily activities worry-free knowing that your child is in a safe place. Even if toddlers toss and jump in it, the playpen will not topple over.
As a parent, there are times when you need some free time away from the baby (or babies). For instance, you may want a secure space to leave your baby as you go clean, do the dishes, laundry, or prepare meals. The New Room2 Play-yard is perfect for keeping baby busy while you stay up to date on your chores.
The New Room2 playpen is a safe place to put down your baby. You'll only need to give them their favorite toys to keep them entertained. And, the large mesh windows allow you to watch and stay in touch with your baby as they play.
On top of that, if your baby is usually scared of being left in a room alone, the two wheels on this playpen allow you to move with your baby with ease to whatever room you are in.
Why We Like It?
The main reasons why we love the New Room2 playard is because of its generous size and strong build. This is one of the largest pack n plays out there and it still rivals some much smaller ones for portability.
A child will not feel tight while hanging out in the New Room2. There is enough space for you to create a comfortable play area for your baby and his friend.
What's more, this pack n play is really well made and there is no doubt about whether or not it's correctly set up. It easily locks into position so you can rest assured that your child is in a safe and secure space with high walls and low center of gravity.
Also, the Room2 play yard is very durable. This means that you can use it until your little one outgrows it and the next baby takes it over. We also love that this playpen can be used both indoors and outdoors.
The large mesh side walls allow easy monitoring of your child from any angle and the child can also feel at peace seeing you around. Its mattress pad is heavy-duty. And it comes with a fitted white waterproof sheet.
From our experience with this amazing playpen we can only tell other parents to give it a try and see for themselves!
Everyday Use
Because this play yard is designed with multiple kids in mind, it has been made with the utmost care using only top-quality materials and is able to withstand a beating. The Joovy pack n play is strong enough to withstand general mishandling by kids as they toss and jump in it. This means you'll have a safe space to place your child (or children) as you go about your daily chores.
The Room2 playpen has mesh walls on all four sides through which you can monitor your baby from a distance and pretty much any angle. You can use the playpen either indoors or outdoors. And, it has two wheels that make it easy to move from one room to another. You do not have to lift the pack n play or fold it down when you want to move it, simply lift one side and push.
Setup and Assembly of the Joovy New Room2 – with an Illustrated Instructions Manual
Setting up the Joovy New Room 2 is very simple.
In short, you just remove it from the packaging, lock the sides and push the center down until it lock into place. TO fold it, begin by pulling the center up and the unlock each side.
To make it even easier for you to visualize the setup, we've put together a simple illustrated manual of the Joovy new Room 2 with pictures of each step.
Step 1: Unzip the carrying case and remove it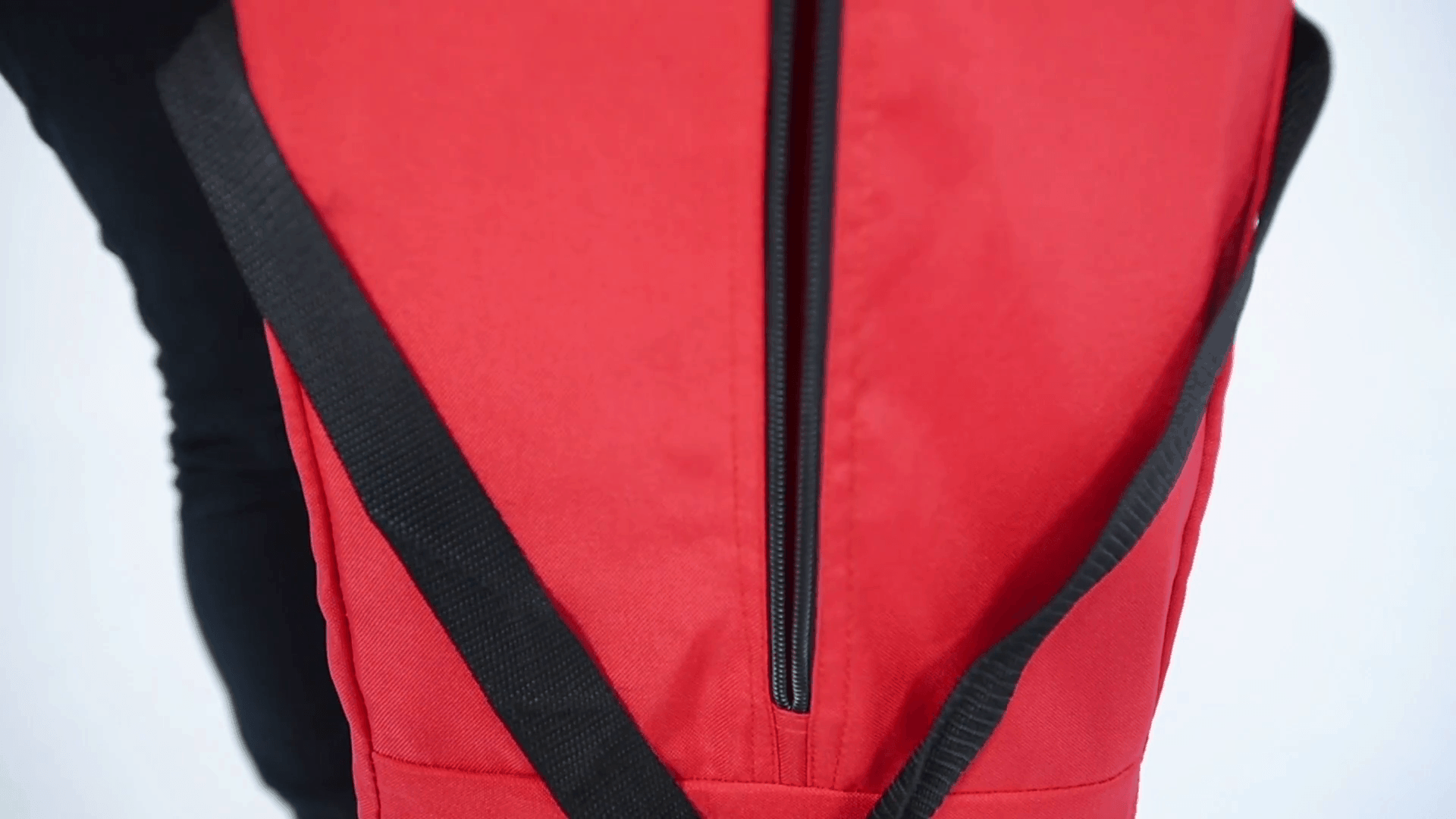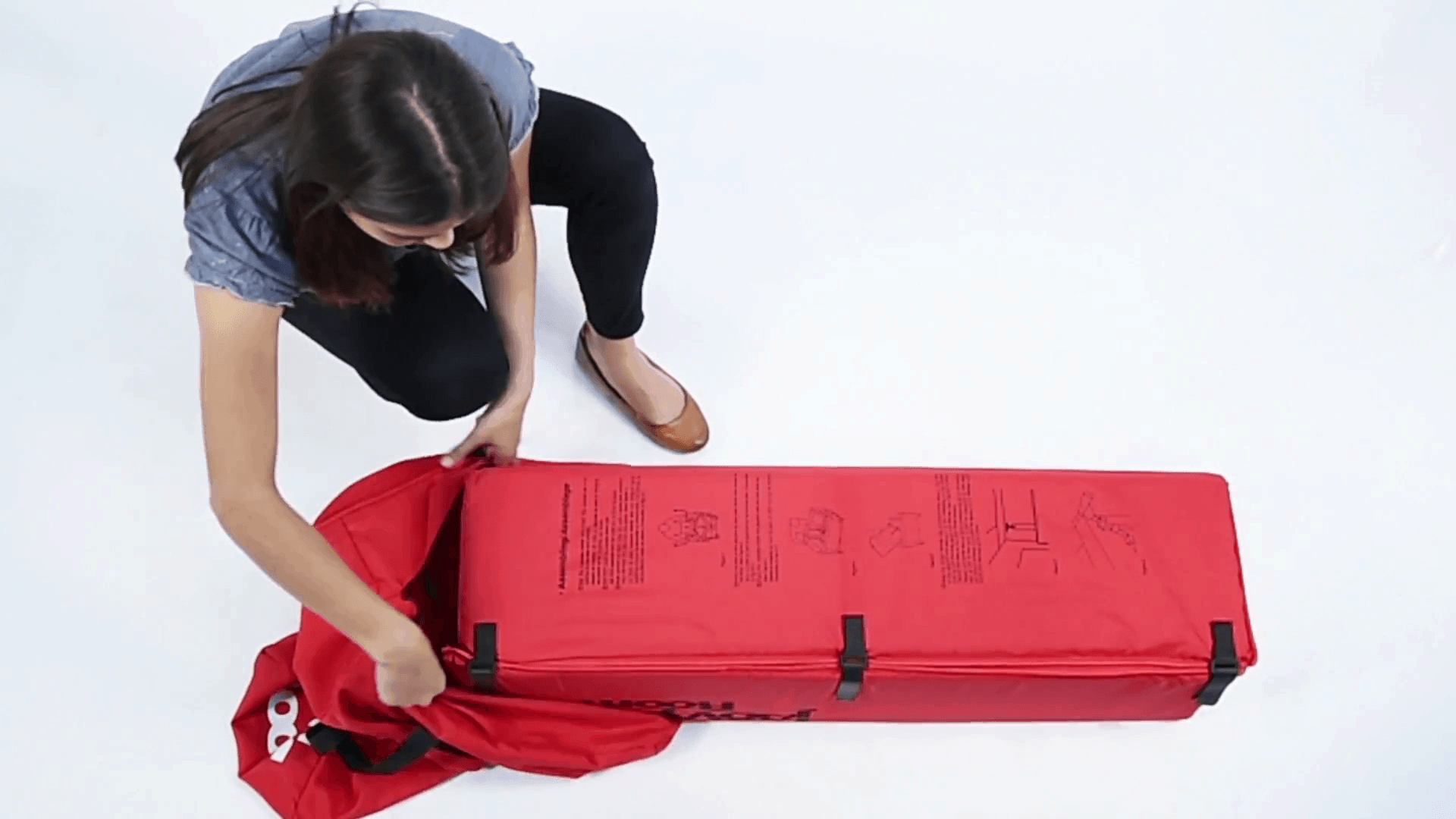 Step 2: Undo the three Velcro straps that hold the padded cover closed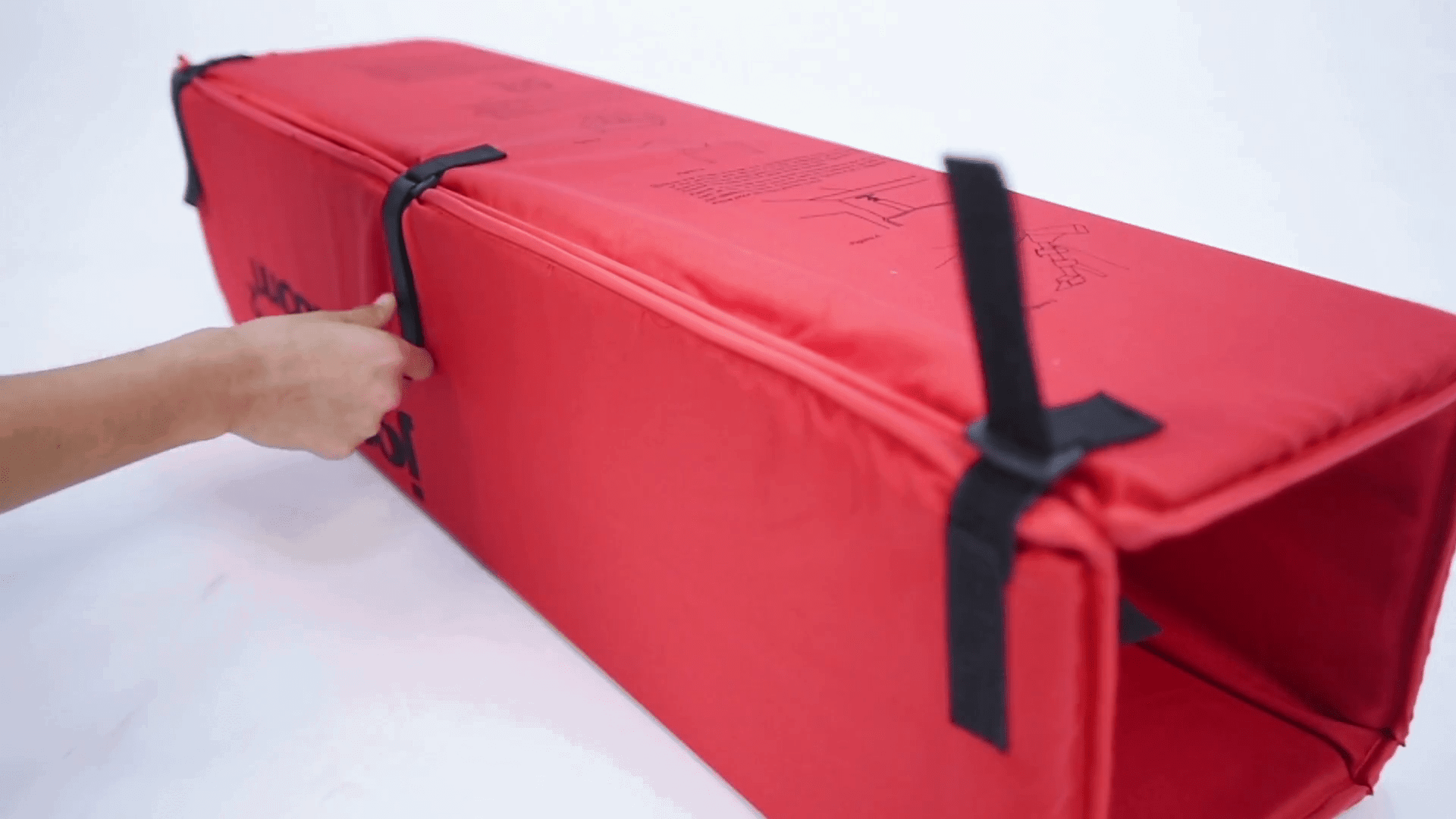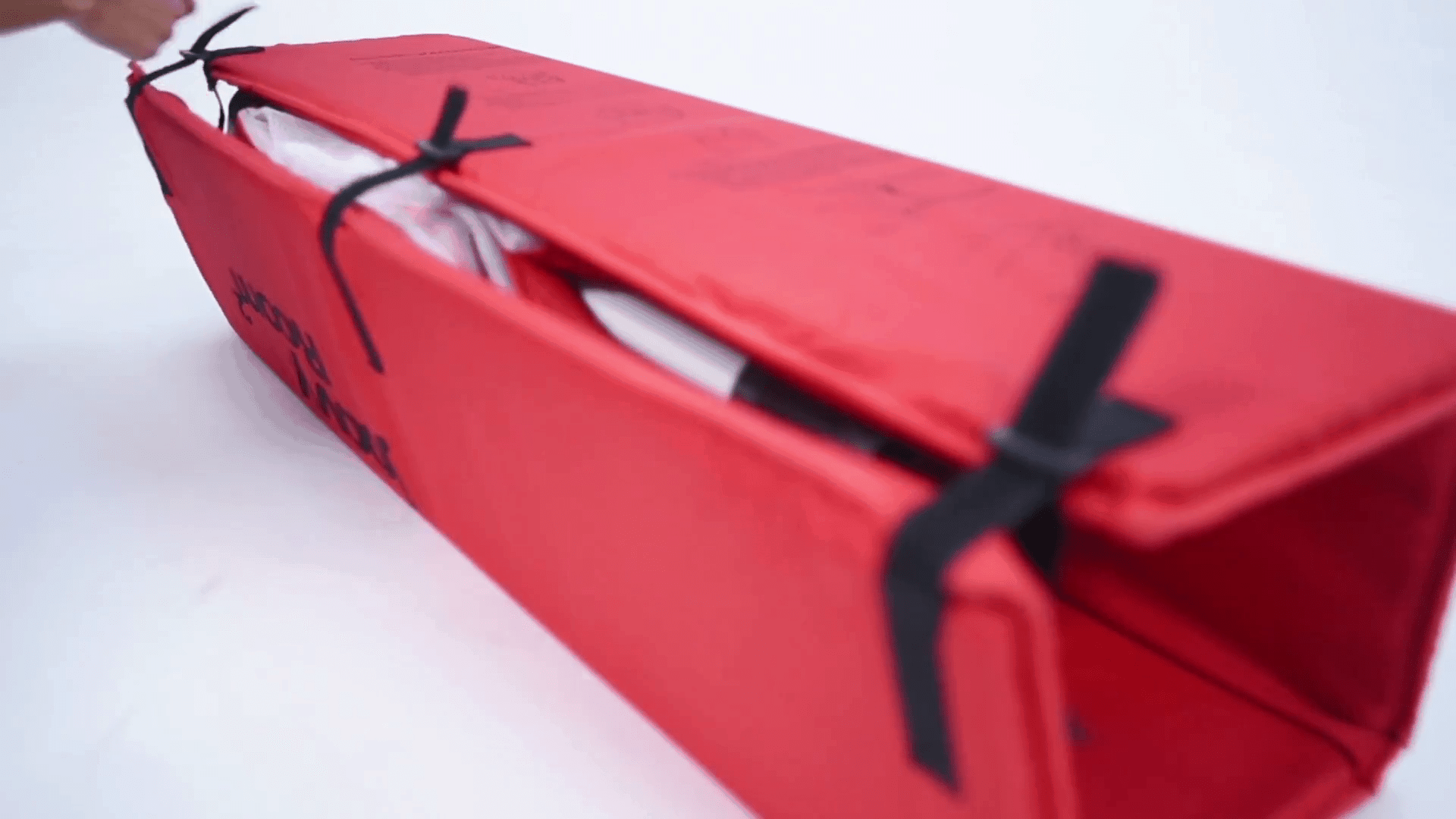 Step 3: Stand the main unit up straight and hold it by two legs pulling it apart partially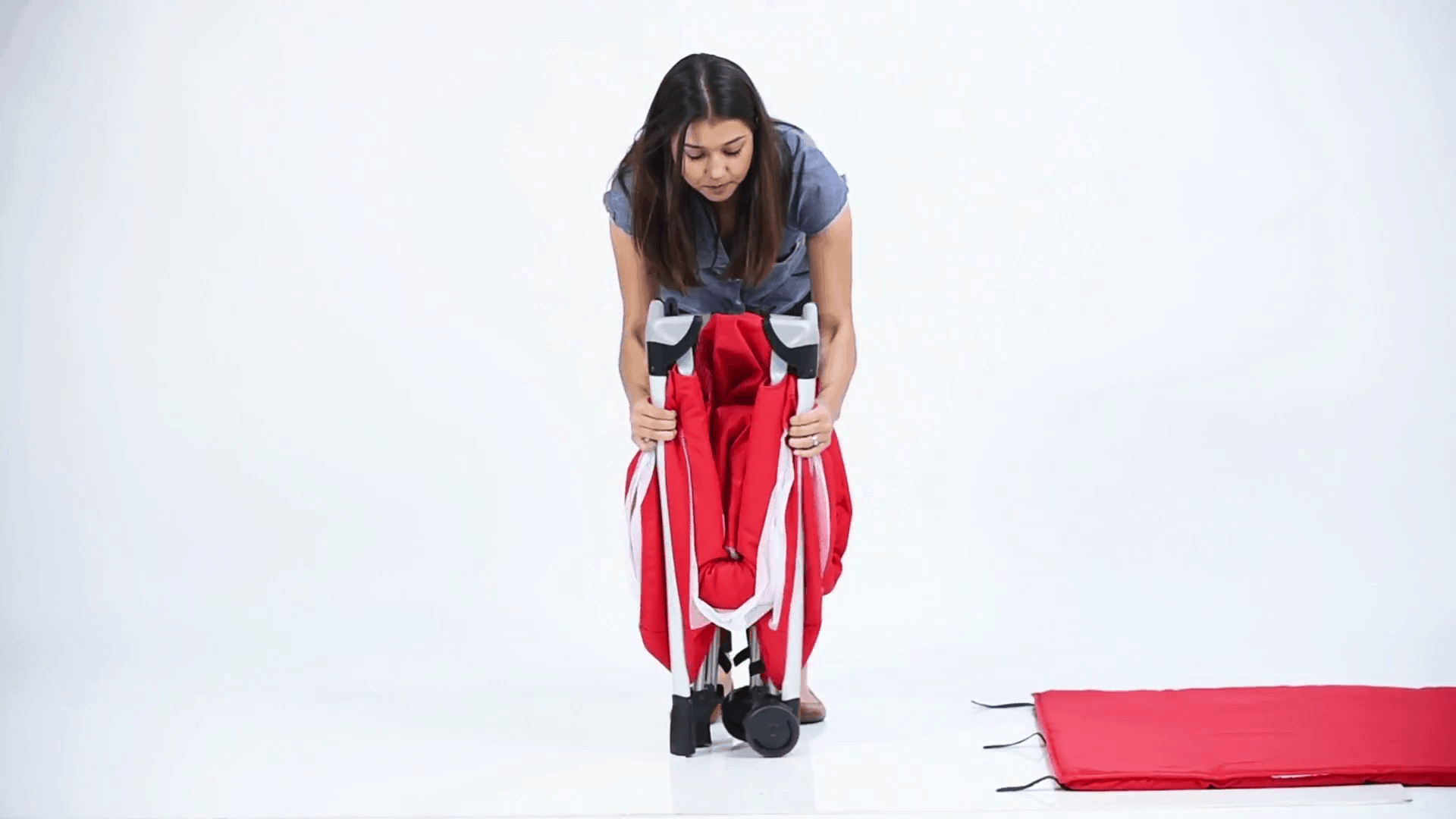 Step 4: Pull up on each of the four sides' upper cross bar until it locks into place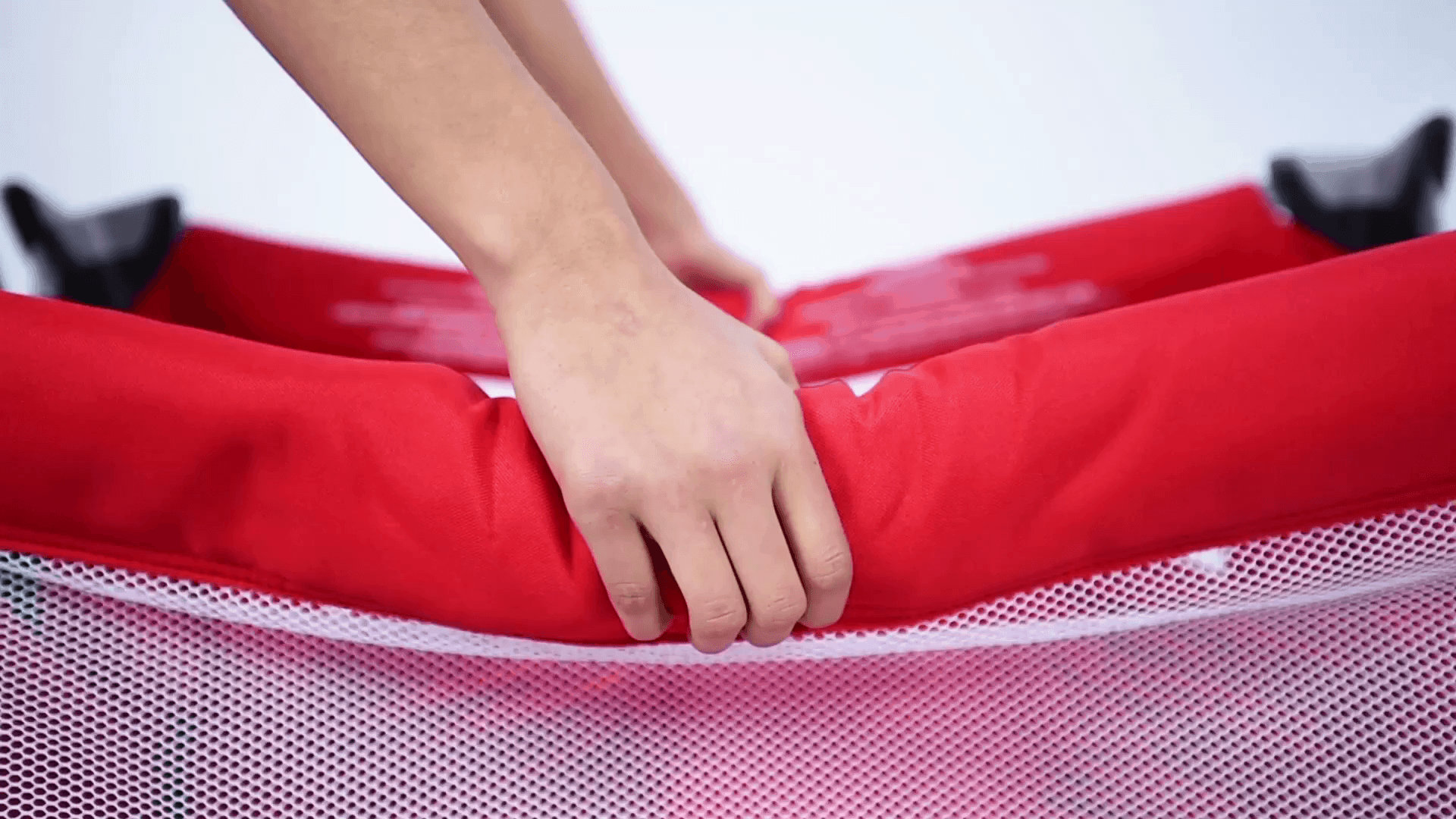 Step 5: Once all four sides are locked, push down in the center all the way down until the entire playpen is tight and locked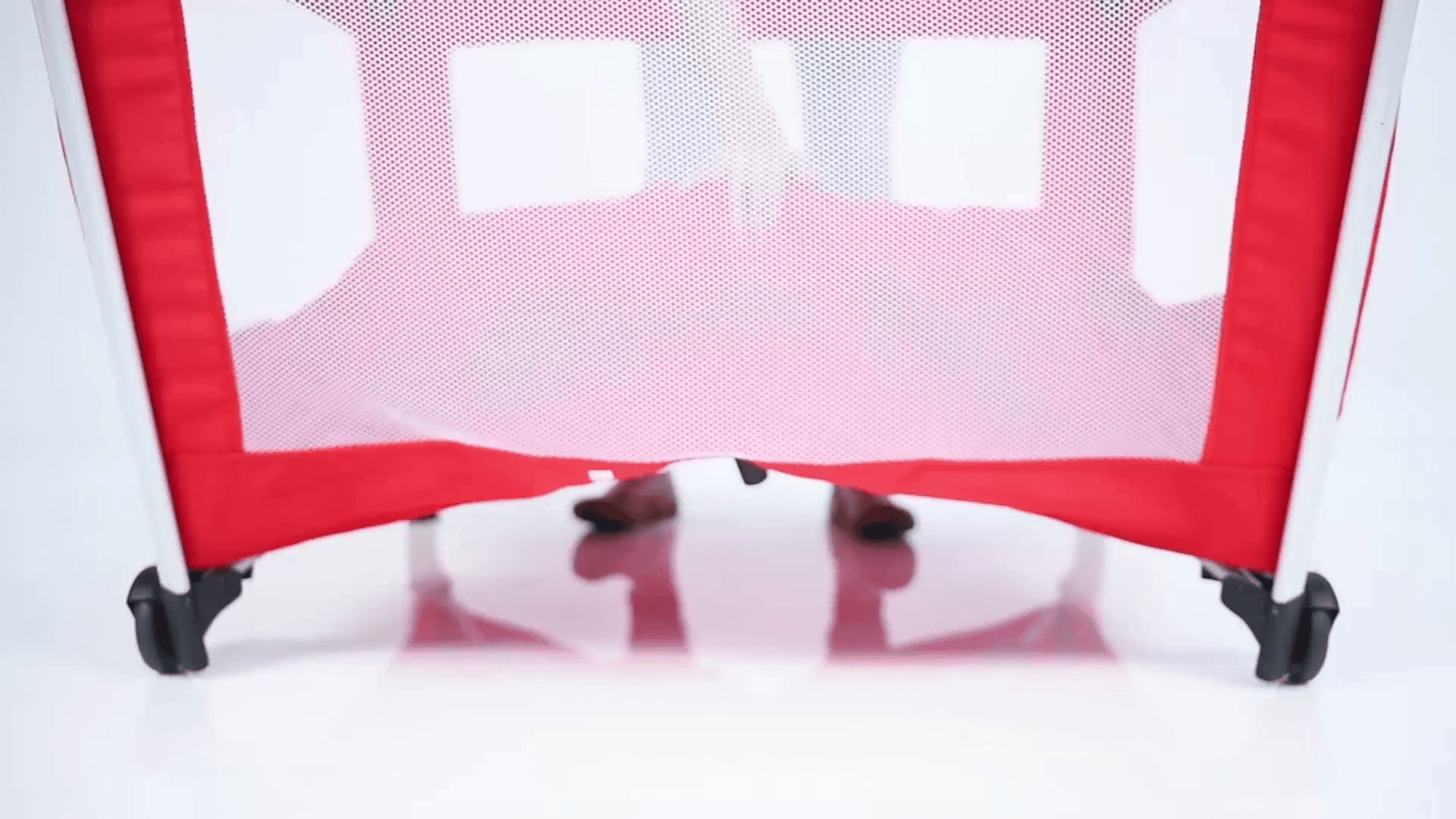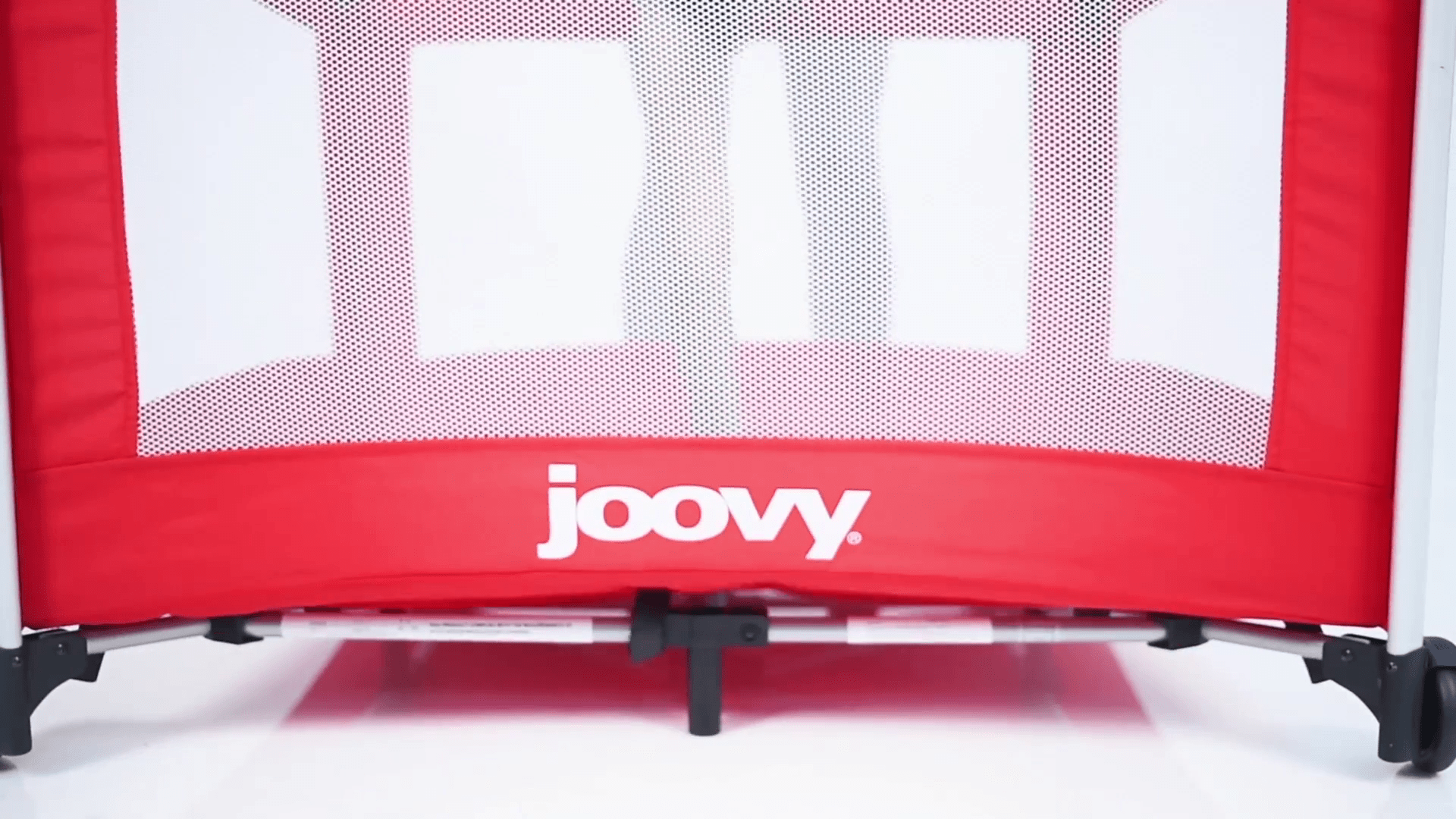 Step 6: Grab the mattress (which is actually the padding that was wrapped around the main unit) and install the sheet by passing the four corner Velcro strips through the holes in the sheet.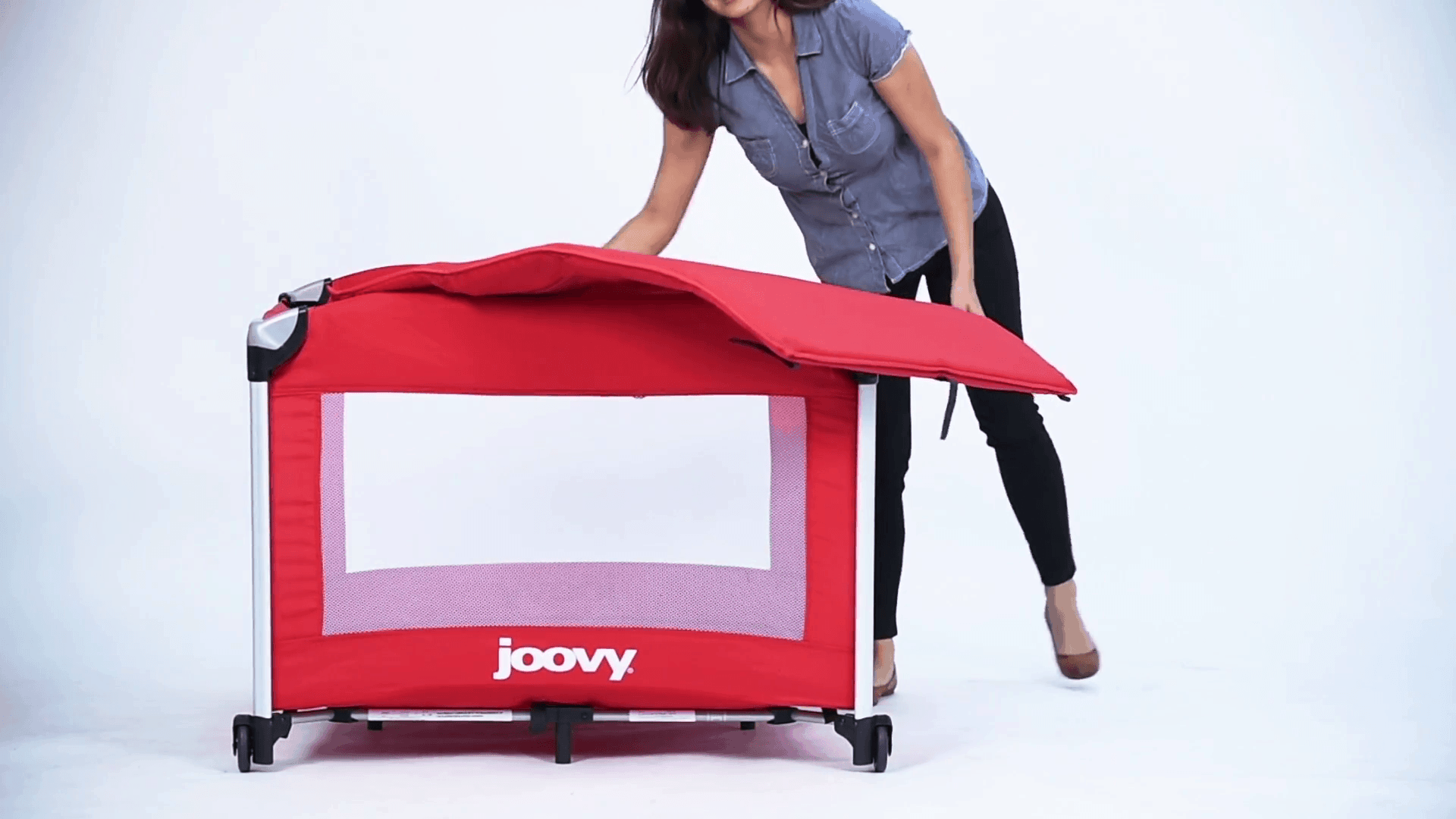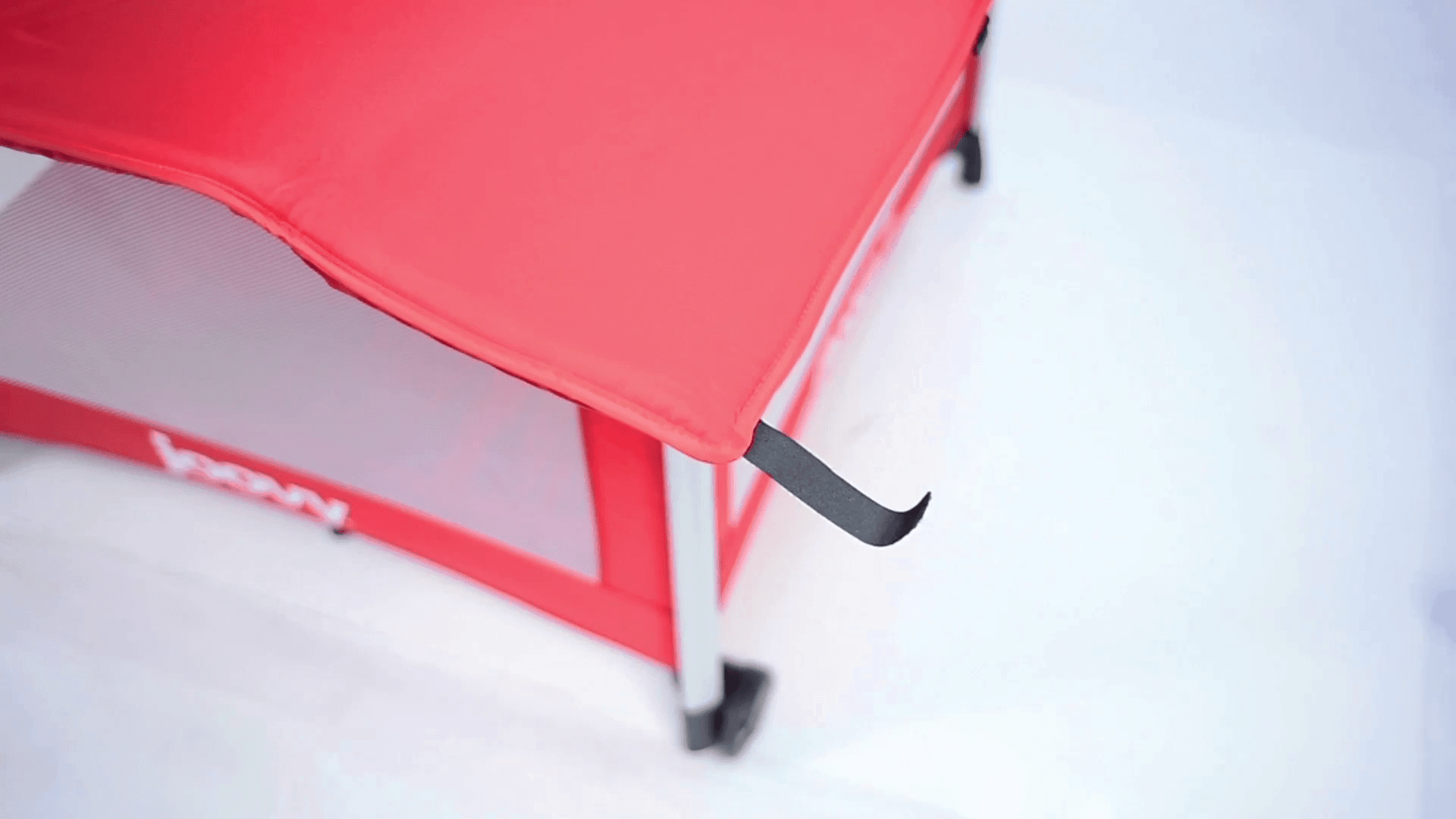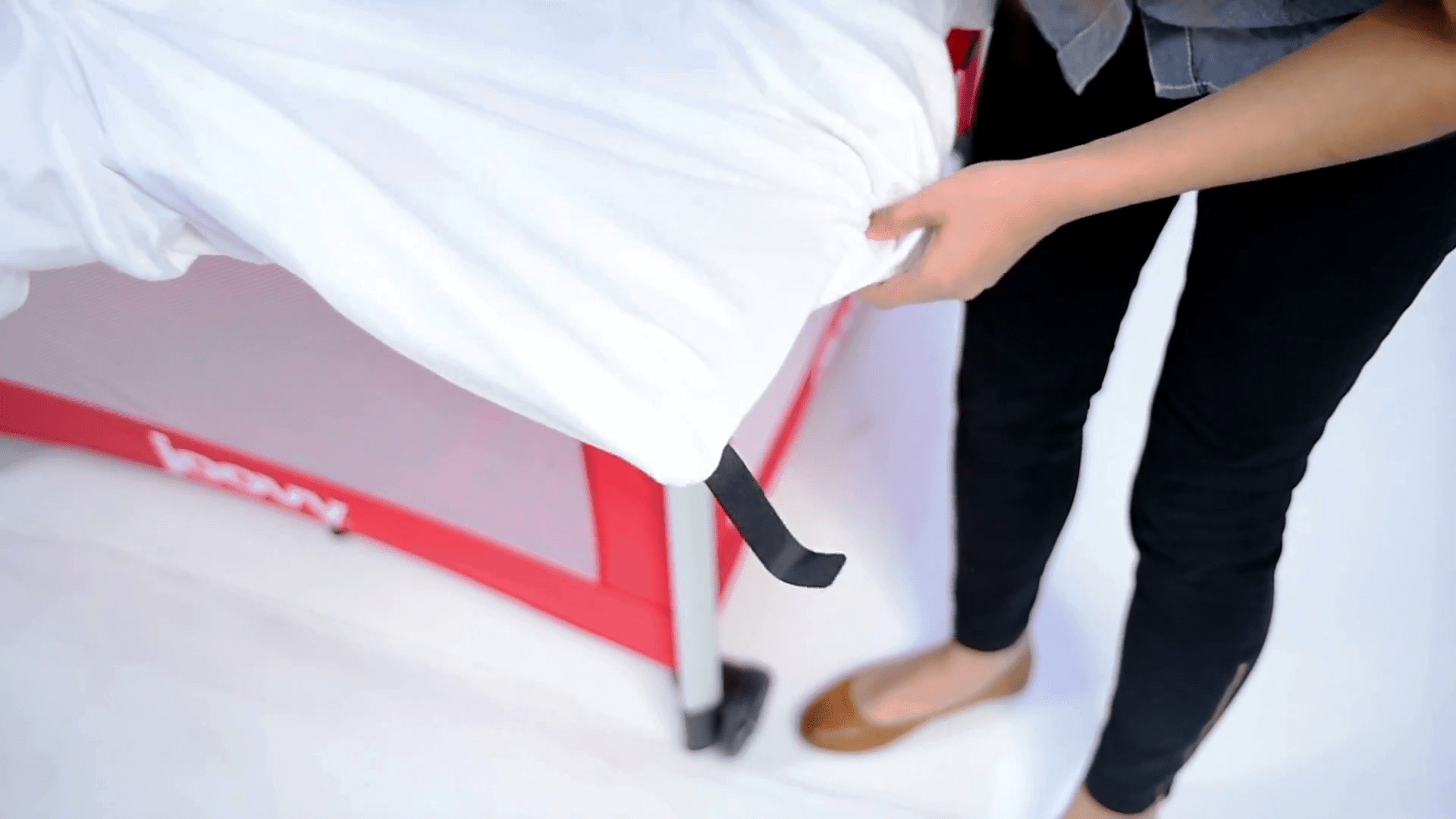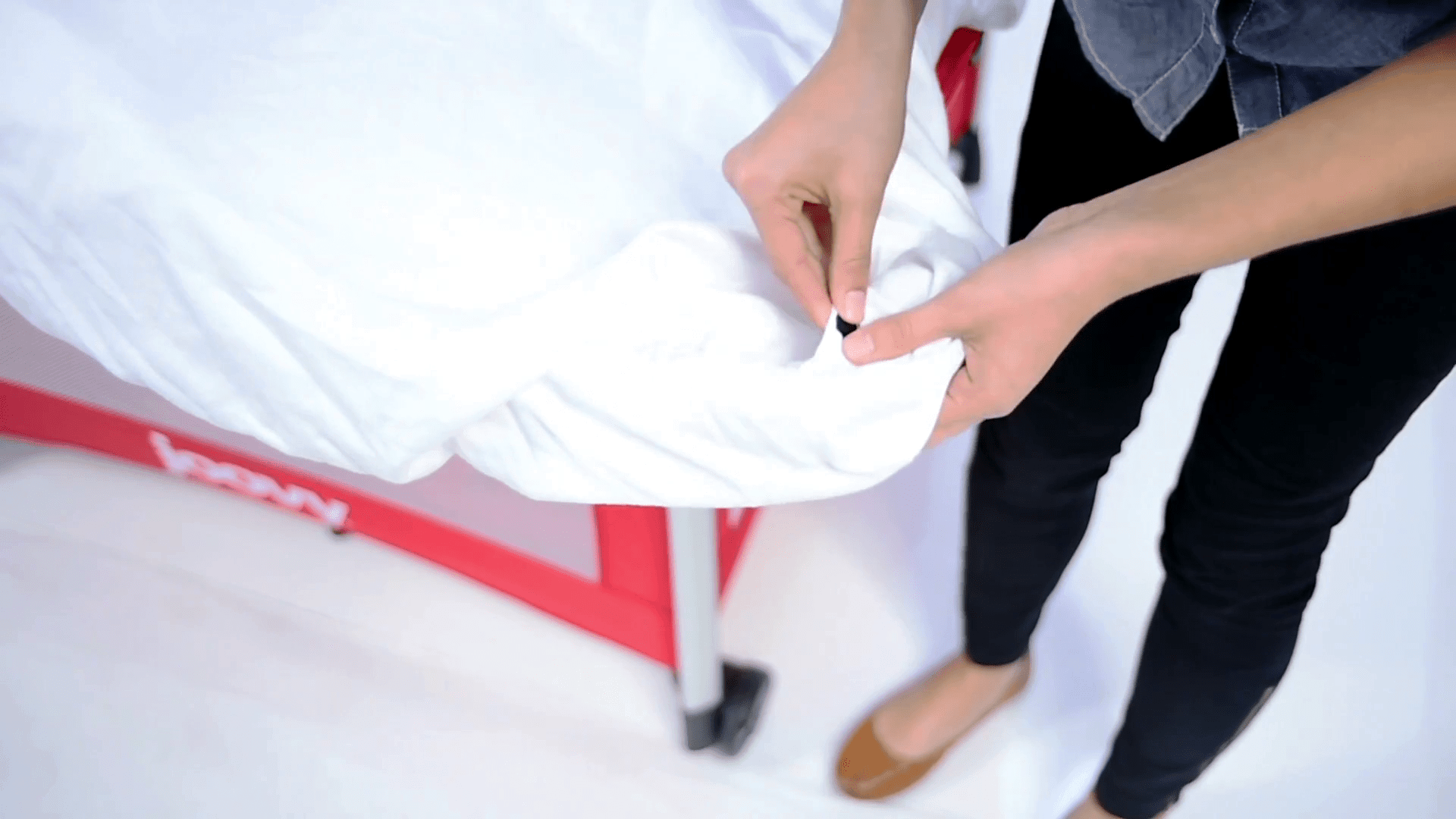 Step 7: Place the mattress into the playpen, and that's it!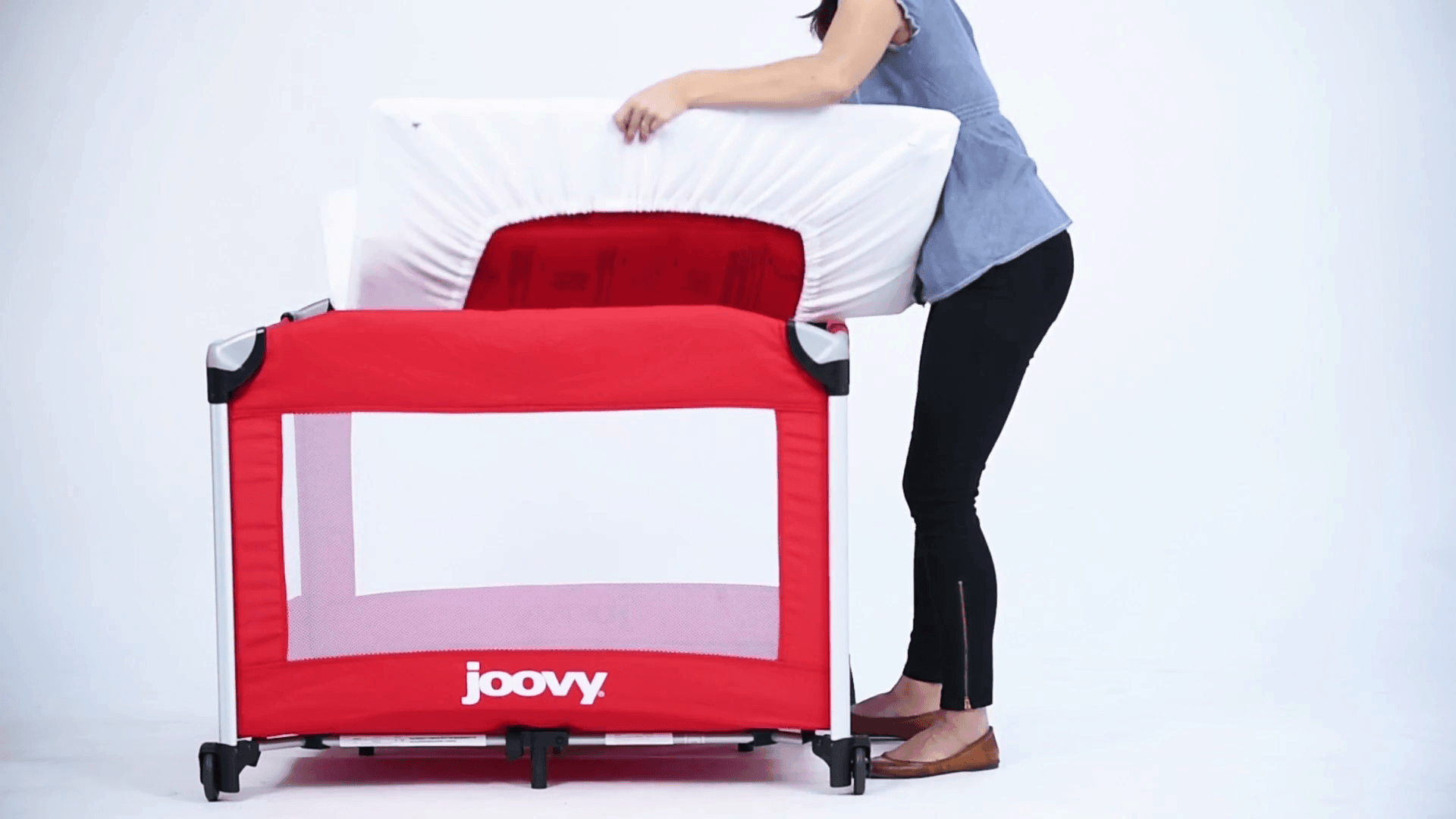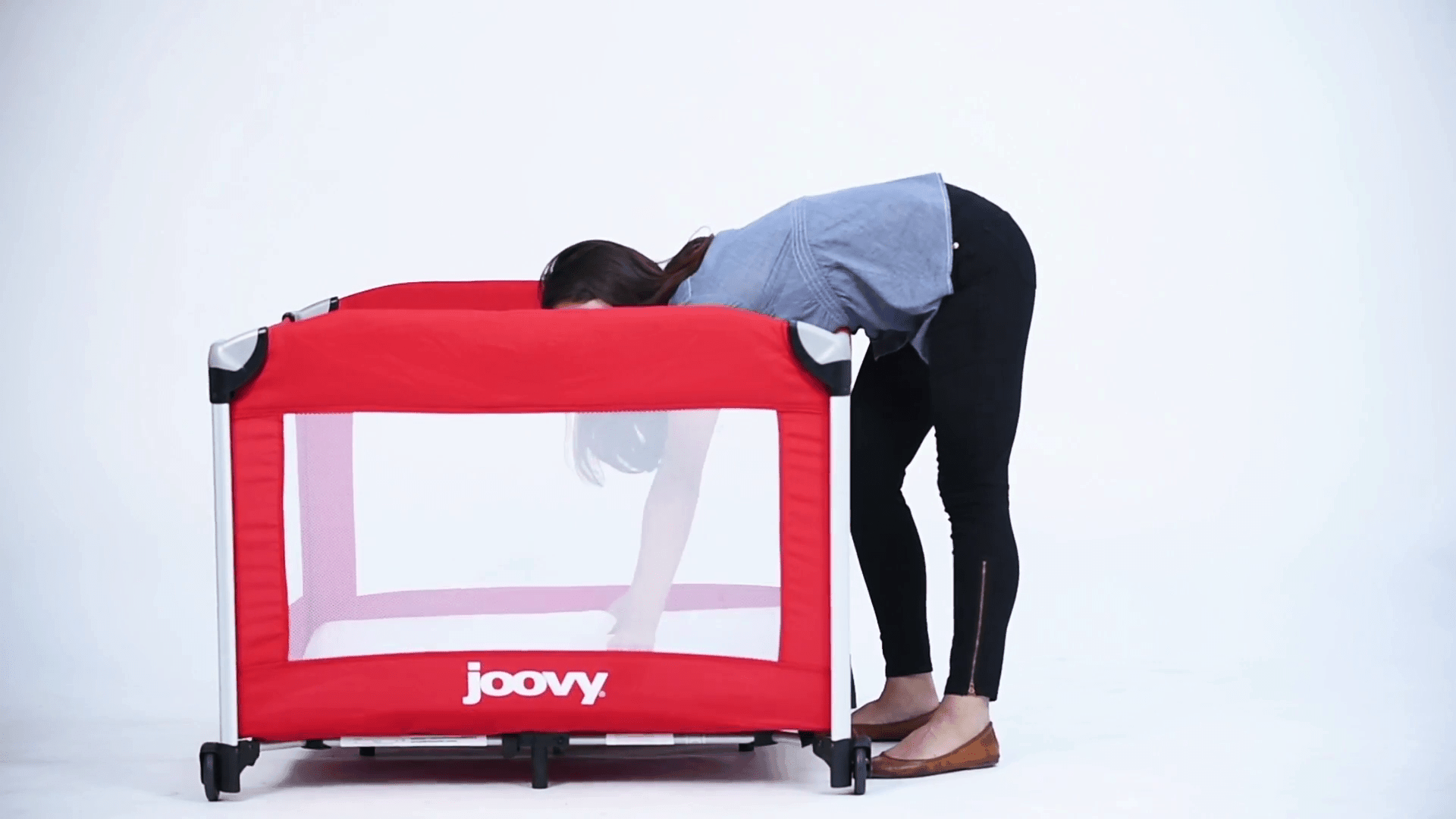 Other great options
If having the largest and most spacious playard is not your number one priority, check out our curated list of portable cribs and our selection of the best travel pack n plays out in the market today.
Joovy Room2 Portable Crib
Carry case included
Waterproof fitted sheet
Durable build
Perfect for multiple kids
Easy to set up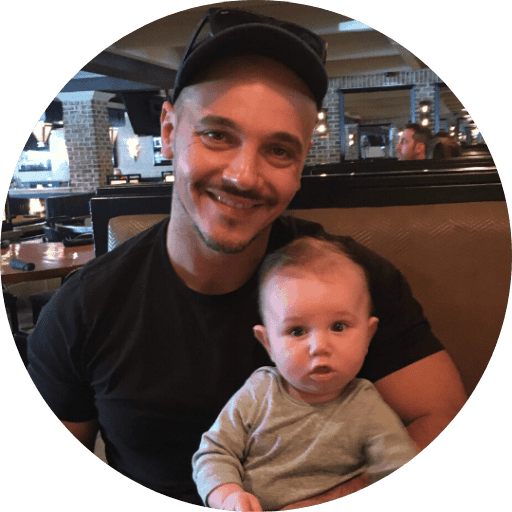 Paul is a passionate dad who founded Upside Dad to share his parenting journey with other new parents. He graduated from Concordia University and worked as a test engineer for over a decade. Paul loves dad jokes and craft beer.
Learn more about Paul and Upside Dad here.