As parents I think we can all agree that traveling with a newborn or toddler is fun, but it can still be extremely tiring and even stressful at times. If you are the type of parent that is always on the go (or plan to be) you need a very practical place to put your baby to sleep in; convenience is key.
4Moms Breeze Plus Playard
One-hand set up and take down
Removable bassinet and changer (included)
Can be used from birth to 30 lbs
Sturdy and durable
Ideal for newborn to 18 lbs
---
That's where the 4Moms Breeze Plus Playard comes in.
The 4moms Breeze Plus portable playard provides parents with just that. Ease of use and convenience! In this review of the 4moms Breeze Plus playard I will go over every details about this superior portable crib and playpen.
For instance, imagine a scenario where you've arrived at your destination late at night and your child is already tired, cranky, fussy, and sleepy. Then, your pack n play decides to act up, the locking mechanism won't lock, you put baby down to set up the playard and he starts wailing, then you pick him up but can't assemble his bed while holding him… Devastating, right?
Unfortunately, these scenarios are fairly common when dealing with most traditional pack n plays that require multiple hands (and sometimes 2 people) to get assembled. Setting them up is often difficult, frustrating and time-consuming.
At times you may need up to 10 to 15 minutes to put your play pen together, and most parents know that's way too long, especially when you are not staying in the same location for too long.
Well, the Breeze Plus Playard stands out from the competition for one main reason: simple and quick one-hand assembly!
It is ridiculously easy to set up due to its clever one-hand set-up mechanism. You can even assemble the travel crib effortlessly while holding your baby on one hand.
You'll only need to stand it up and gently push down the handle in the middle and the play-yard will automatically set itself up. The latches are automatic and just click into place. Secure the crib's mattress to the bottom using the provided Velcro fasteners and your playpen will be ready for use. The entire set up process takes less than 2 minutes.
Dismantling this crib is also just as effortless. Just pull the strap at the center and your pack n play will automatically collapse to a compact size that fits perfectly in the provided travel bag.
If you are a parent who travels a lot with your baby or are just looking for the convenience of the easy setup and take down, the 4moms Breeze Plus portable playard is the must-have baby gear for you. Even if you have no plans to travel and want to keep the playard at home, the easy setup will come in handy multiple times per week.
On top of all that, the included removable bassinet and changer make it an all-inclusive nursery for newborns and infants too. And, it works perfectly for the living room as a secondary changing station for the days you don't feel like going upstairs to change the baby.
Key Features: The Most Spacious Portable Playard
One-hand set up and take down
Removable bassinet and changer (included)
Carry case (included)
Can be used from birth to 30 lbs or 35 inches
Sturdy and durable
Bassinet is ideal for newborn to 18 lbs or 22 inches tall
Dimensions of bottom mattress: 40 x 28 x .25 inches
Dimensions of changing station: 22 x 16 x 4.5 inches
Dimensions of the bassinet mattress: 22.5 x 17.5 x .25 inches
Specifications
| | |
| --- | --- |
| Dimensions (Set up) | 43 x 30 x 29 inches |
| Dimensions (Folded-for travel) | 12 x 12 x 30 inches |
| Weight | 23 lbs |
| Materials | 78% Polyurethane Foam/22% Polyester |
| Carry case | Yes |
Pros & Cons
Pros
The Breeze Plus portable pack n play is extremely easy to assemble and disassemble. You can set it up or dismantle using an easy one-hand technique (shown below).
Sleek and modern design makes it blend seamlessly with other furniture in any room.
Made from premium materials, the Breeze travel crib is sturdy and durable.
It also comes with a removable bassinet and changer. You won't have to bend down to place your newborn to nap. And the changer provides a convenient place for quick diaper changes on the go.
This playard packs down into a compact size that fits well in the provided carrying case.
Cons
It is a premium product so it comes in at a higher price point
No sheets are included. You will need to purchase the sheets separately.
Weighing 23 lbs, this pack n play is a tad heavier than others we have tested.
Who is the 4Moms Breeze Plus suitable for?
Are you tired of the complicated and time-consuming processes of setting up your traditional play yard? Do you want a pack n play that is well made, safe and secure and that your child can use from birth to toddler stage? Are you a parent that likes being on the go, travels or just goes for out sleep overs from time to time?
Then, the 4moms Breeze Plus Portable Playard is our recommendation for you.
Look, I've owned and tested multiple playards and the 4moms Breeze plus is without a doubt the easiest to use. Day-in and day-out there are so many opportunities for this product to make parent's lives easier.
We have a three-floor home and from day 1 we decided that we needed a changing station on the main floor to avoid going upstairs a dozen times per day for diaper changes or having to change our babies on the dining table.
We initially had a Graco pack and play at home but quickly realized that the ever-changing life of a parent requires moving your furniture around more often than we initially thought.
Even though the Graco "did the job", it was a pain to take down every time we wanted to go somewhere or even just to move it around the house.
Pro tip: Pack and plays do NOT fit through most standard door opening. Check the size of your doorways and compare to the playpen width before buying one, or get an easy set up playpen like the 4moms Breeze plus
Here is another common situation we come across often. What if you're having a get together and there is another baby in the house that needs a place to nap while your baby is napping in his crib? Well, just move the Breeze plus to another room and use it as a backup crib for your little guest.
The options and situations are endless and the convenience of having an easy to set up playard is unmatched. The bottom line is that it just makes life easier.
Why We Like the 4Moms Breeze Plus?
We already explained why we like the easy set up mechanism of the Breeze Plus so we won't dwell on that one anymore.
Another reason why we love it so much is the look and build quality. This playpen just looks like it belongs in any room, even your main living room where you spend most of your time.
The lines are clean and slick and the colors are neutral and go with almost any décor, not that "décor" is most parents' top priority anymore but it definitely is a plus here.
The build quality is really nice. The materials are soft to the touch and the mesh is smooth and not scratchy like some cheaper brands. Additionally, the mattress is just the right hardness to not be too soft but still safe and breathable.
The 4moms breeze plus portable playard will last beyond the years of use your babies will need it for.
That's not all. Another reason we find this pack n play great is for its removable changer and bassinet. With this playpen, we have a safe and comfy place for a newborn baby to take daytime naps in while we parents go about our chores.
The changing table also comes in very handy during diaper changes and the occasional messy spit-ups, leaky diaper or emergency blowout.
Everyday Use of the 4Moms Breeze Plus
You will love using the 4moms Breeze Plus portable playard every day. Whether packing for a vacation or just heading out to the cottage for the weekend, the Breeze plus makes every outing as easy and quick as it can be.
This is also a fairly compact playard so it's easy to fit in any bedroom, hotel room, living room or any other location you may end up wanting to put you baby down for a nap or play.
After removing the play yard from its carrying case, you'll only need to place it upright and press down lightly. The only "work" will be attaching the play pen's mattress to the base of the pack and play, which can be done easily and quickly.
When you need to dismantle and pack away your pack and play for whatever reason, remove the mattress and gently pull the playpen in the middle and the playpen will fold down automatically. Next, fold the mattress and pack them back into their storing case.
Also, if you are searching for a pack and play that doesn't take up too much space in your bedroom, the Breeze Plus is perfect for you. Measuring 43 x 30 x 29 inches when set up, this playpen can be placed next to your bed without making your room look too cluttered.
Setup and Assembly with an Illustrated Instructions Manual
Step 1: Place the playard standing up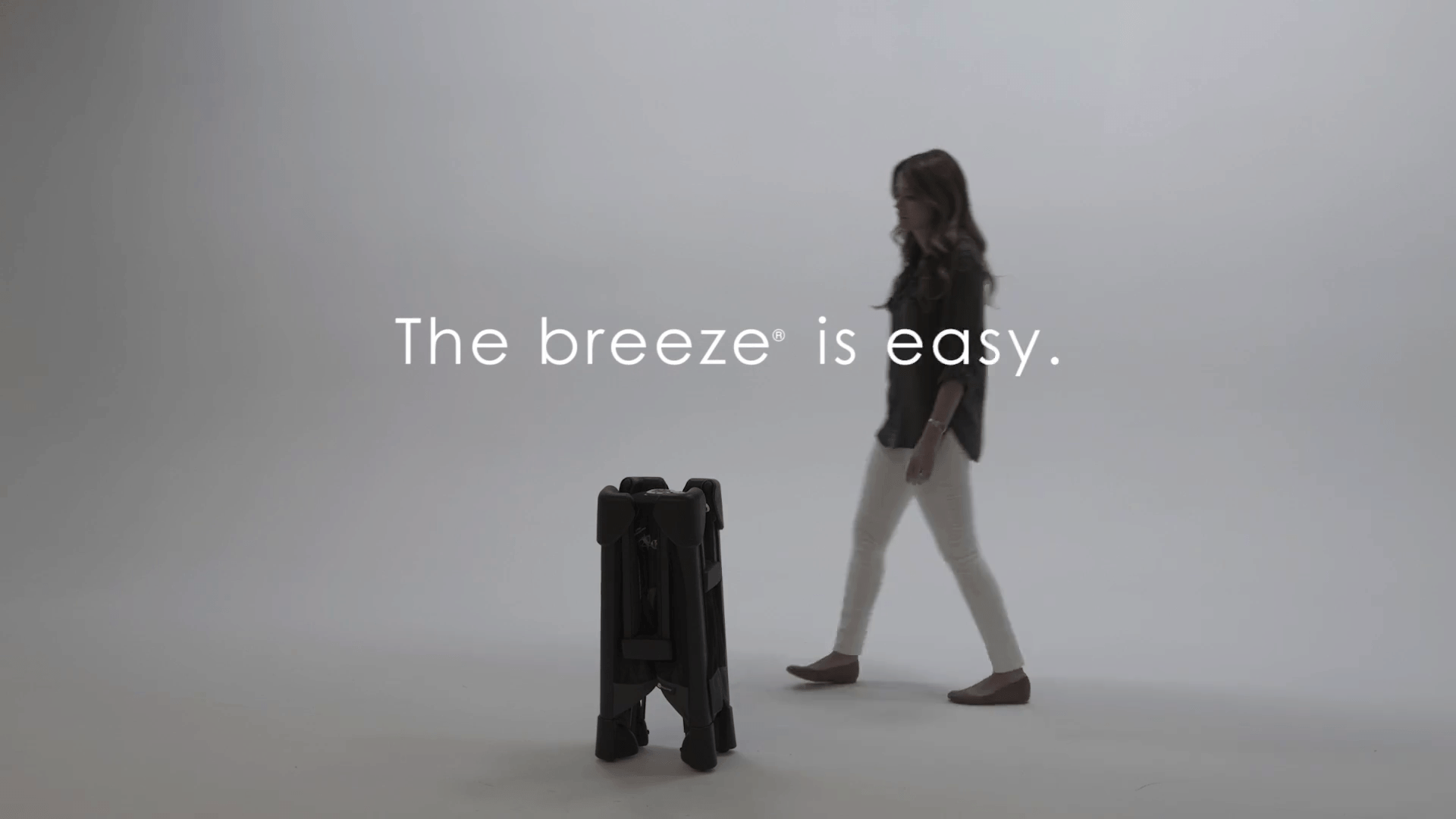 Step 2: Place your hand on the center portion and press down until it locks into position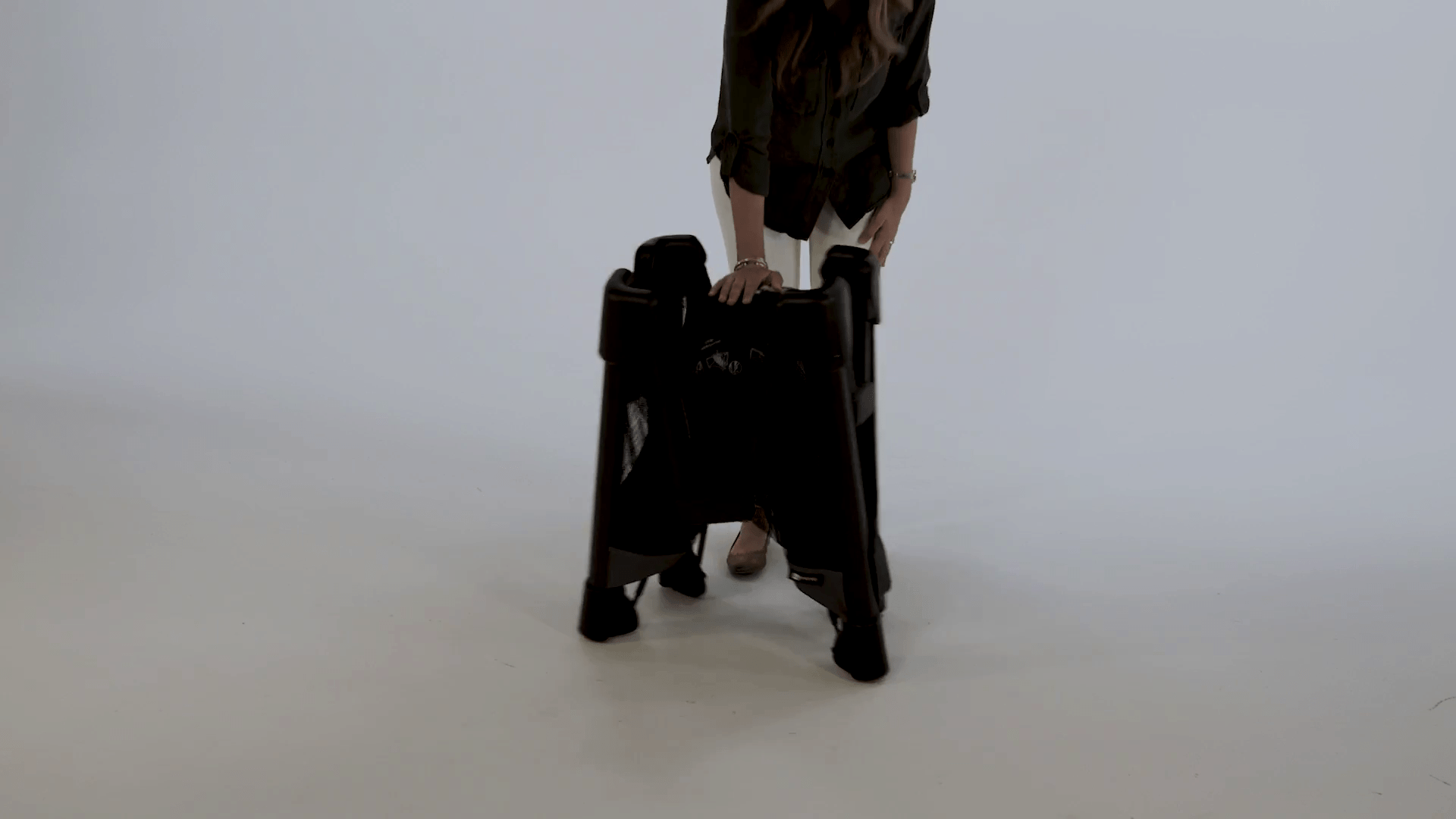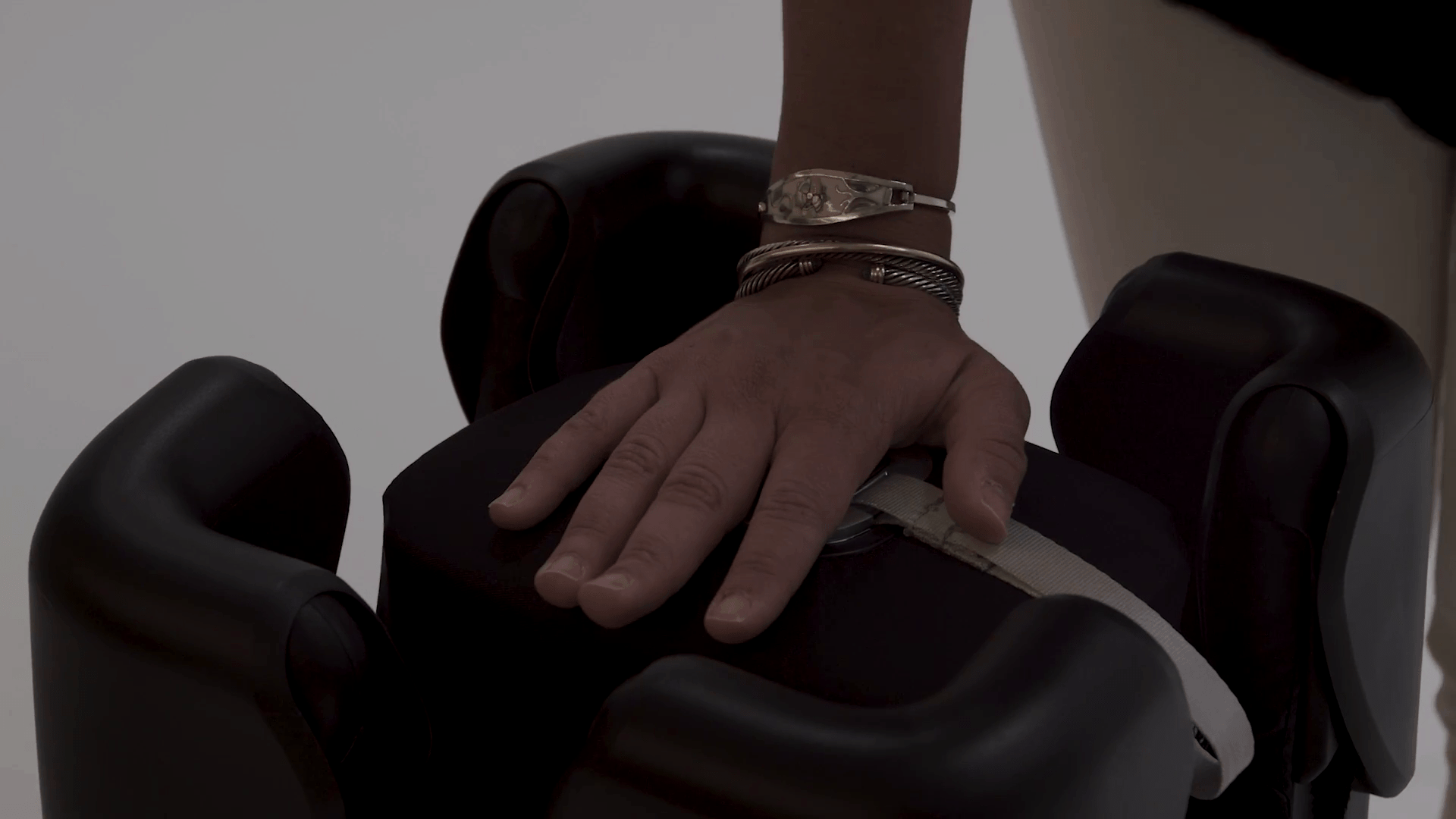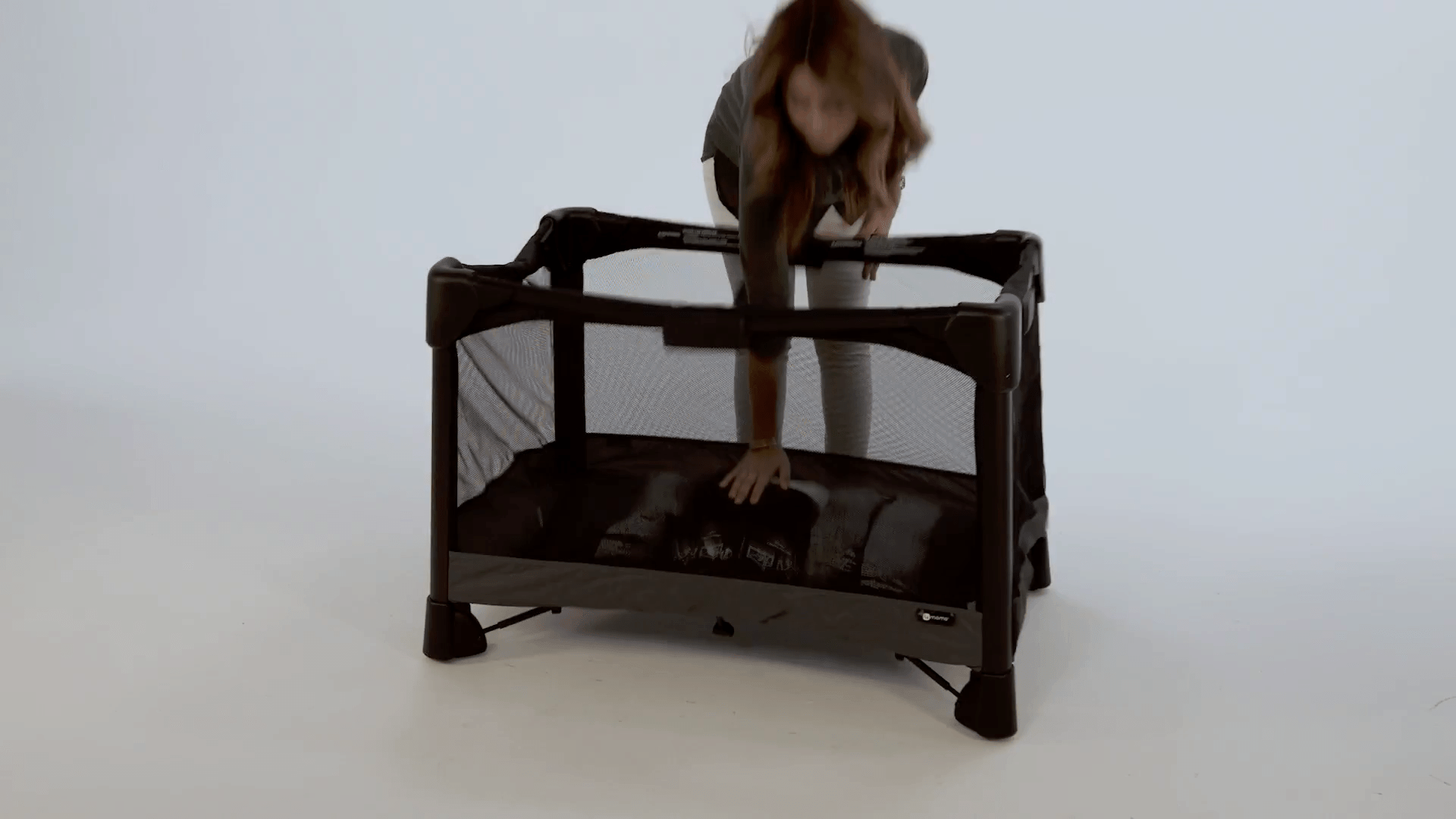 Step 3: To fold it down, simply pull up on the center tab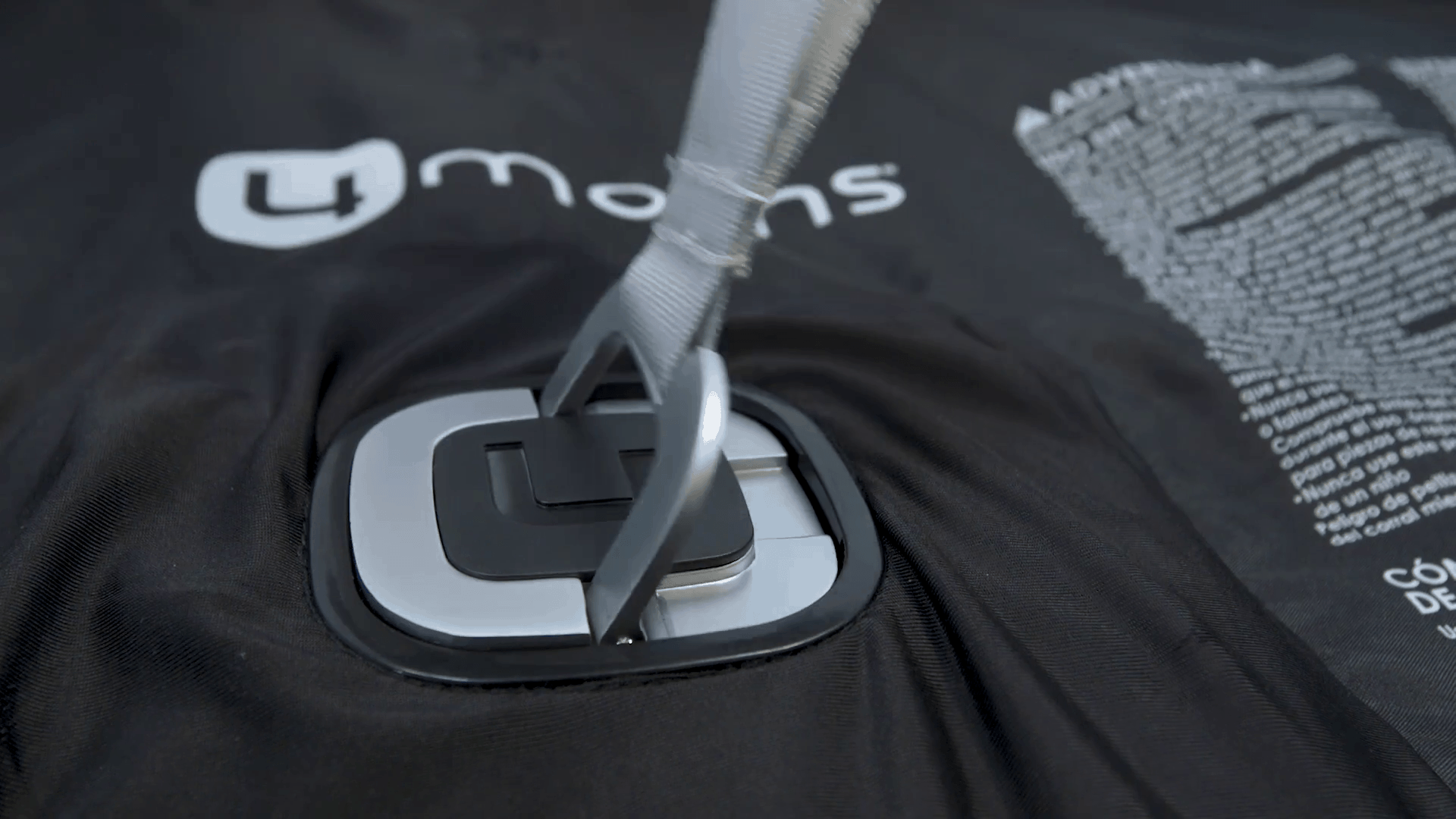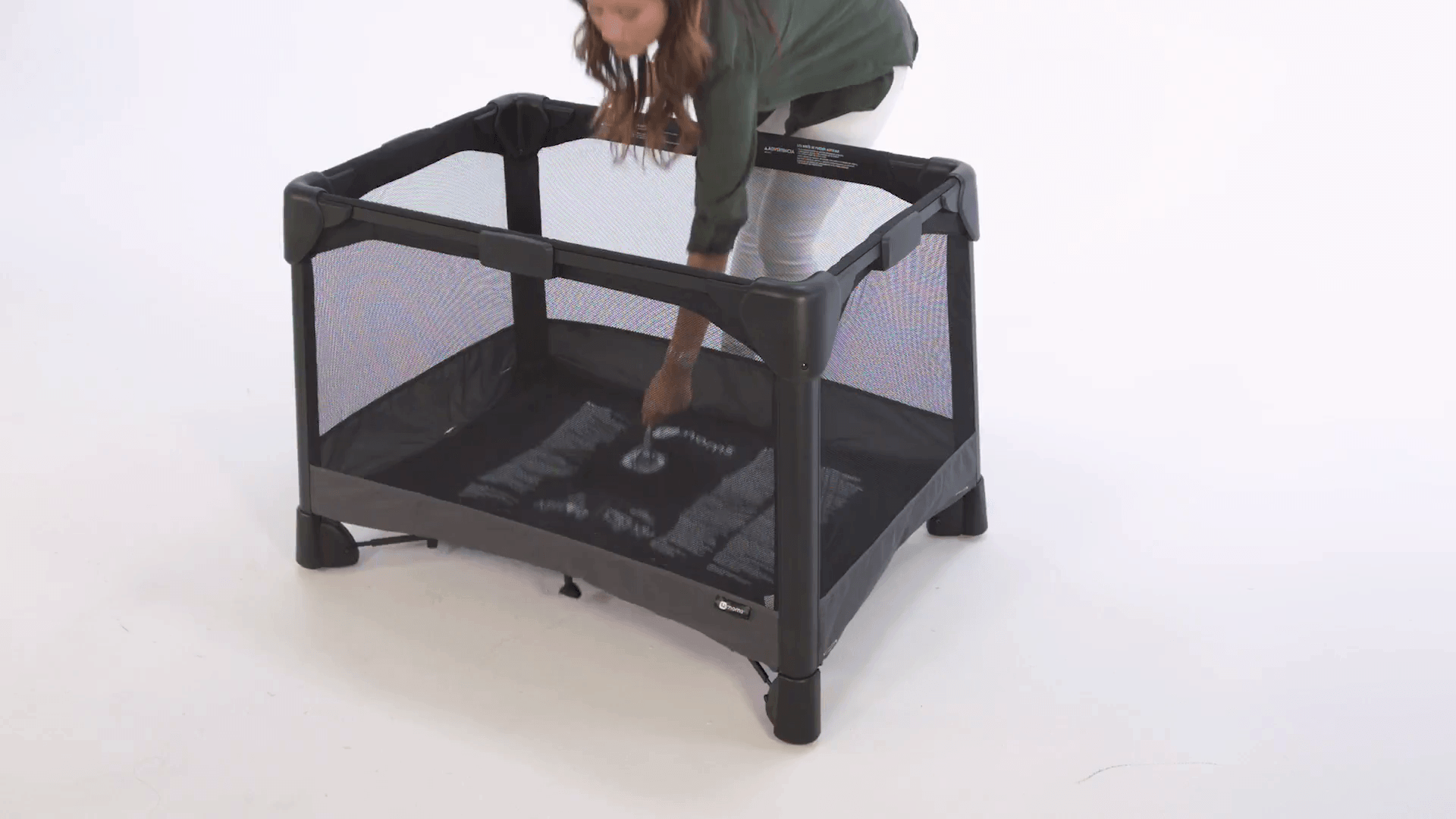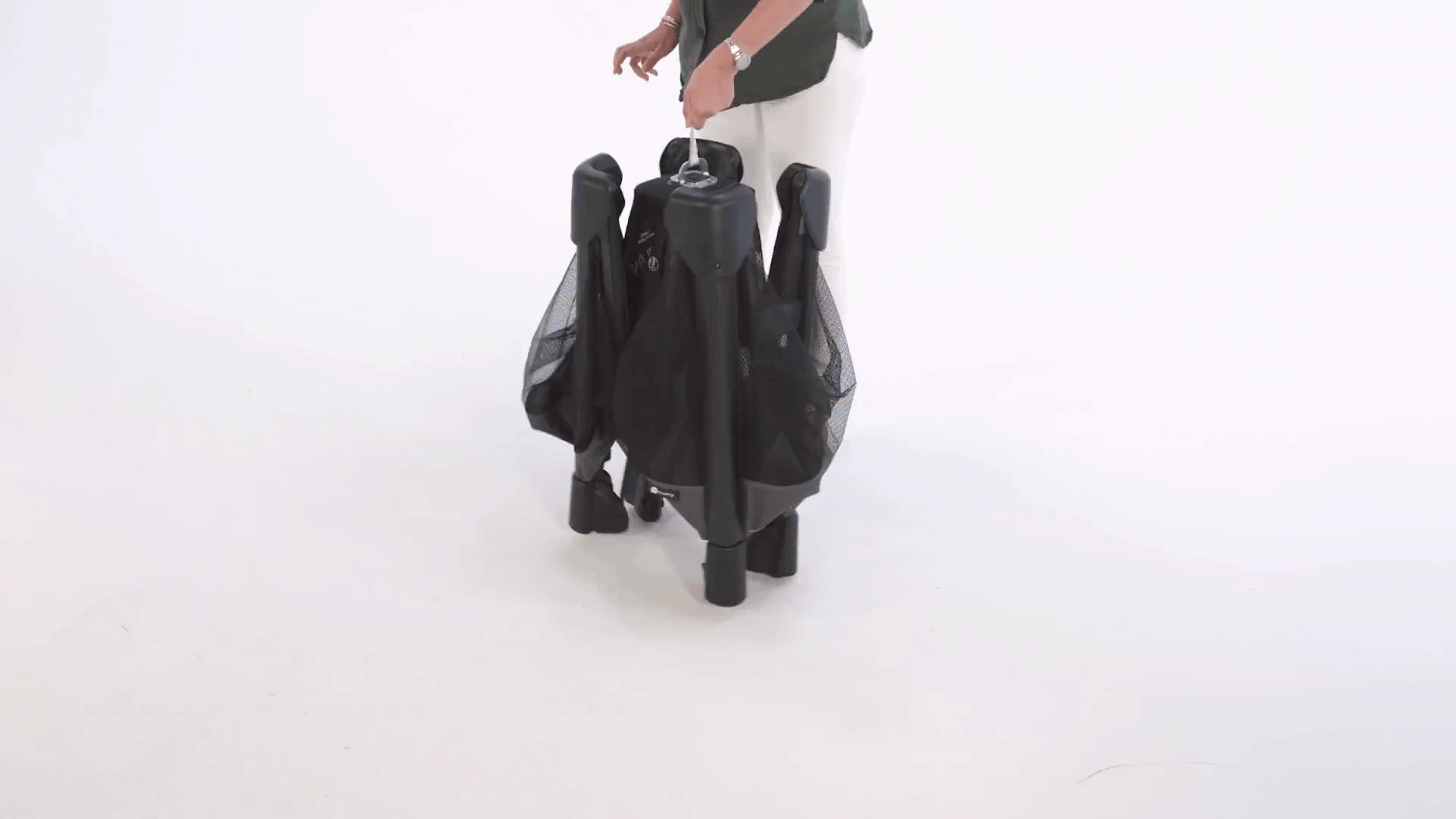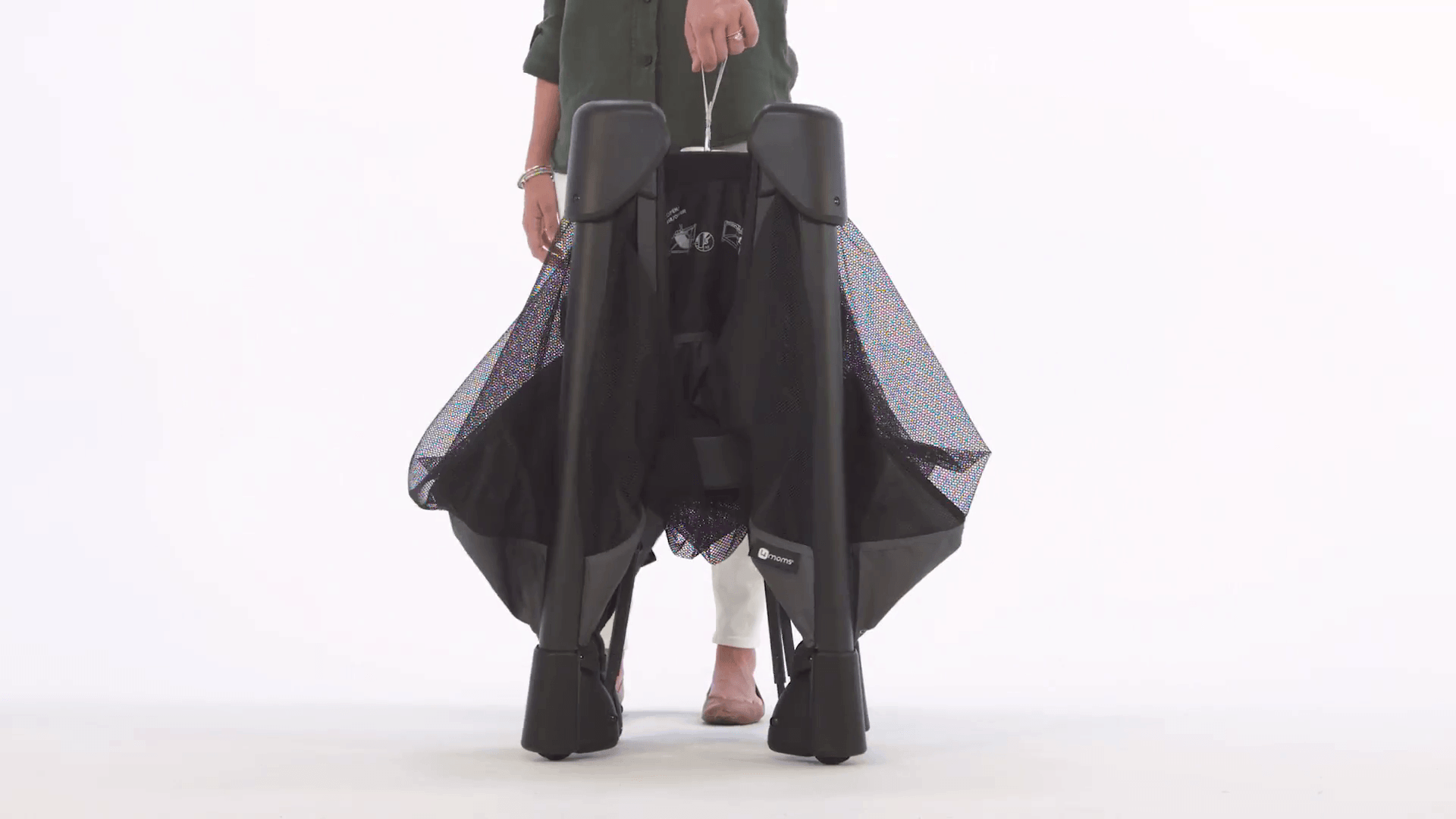 Other great options
If you're still undecided on which playard is the best for you family, check out our curated list of portable cribs and our selection of the best travel pack n plays to help you narrow it down.
4Moms Breeze Plus Playard
One-hand set up and take down
Removable bassinet and changer (included)
Can be used from birth to 30 lbs
Sturdy and durable
Ideal for newborn to 18 lbs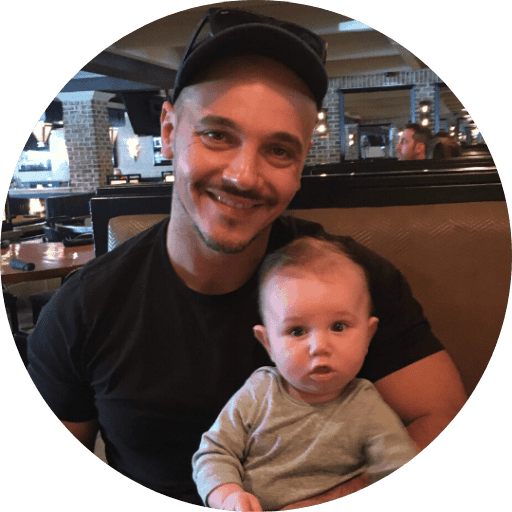 Paul is a passionate dad who founded Upside Dad to share his parenting journey with other new parents. He graduated from Concordia University and worked as a test engineer for over a decade. Paul loves dad jokes and craft beer.
Learn more about Paul and Upside Dad here.