Quick Summary
Most pack n' plays are not ideal for parents that travel a lot. The reason is that traveling with your child means that you will carry twice or thrice as much luggage as you would have when traveling alone. Most pack n' plays are heavy, clunky and not easy to set up. That's why you need a lightweight and highly portable travel crib; the Guava Lotus Travel Crib is the ideal vacation companion.
The good news is that the Lotus Travel Crib is one of the few in this category that match all the needs of the travelling family. Its weight is approximately 13 lbs when packed for travel. It is so light that you can easily carry it on your back with the baby in the carrier. Plus, your hands will be free for you to carry a diaper bag or to your phone.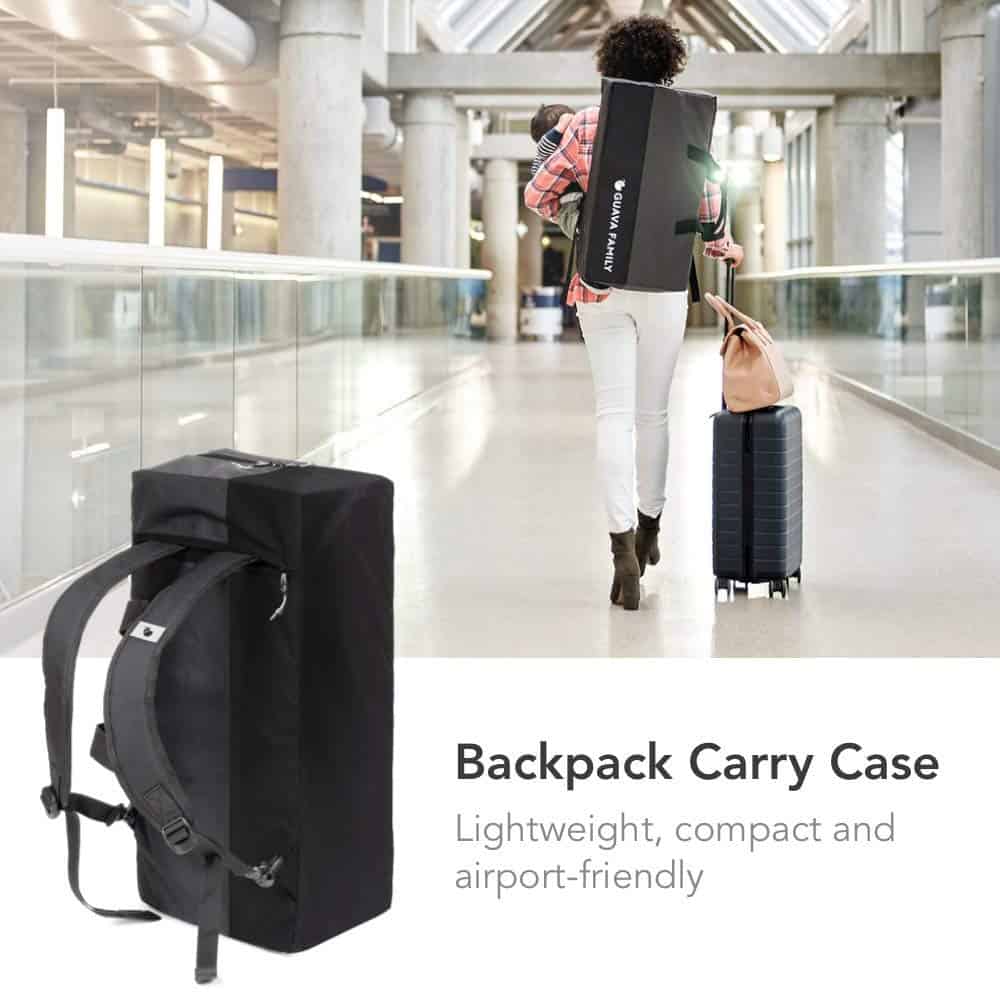 On top of that, the travel crib is easy to assemble and disassemble. You'll need less than 10 minutes to set it up. It measures 42 x 32 x 25 inches when set up to give enough space for your child to play or nap. When folded, this pack n play measures 24 x 7 x 11 inches. This makes it the perfect travel playpen for any kind of trip.
Nothing gives a parent peace of mind like knowing that their child is safe, happy, and comfortable. This is what the Lotus travel crib provides. It is made with your child's safety in mind. The pack n play is sturdy and stable. And, all the materials used are 100% baby safe. There are no phthalates or lead used. 
Check out our portable travel crib round-up and buyer's guide for more details.
Specifications table
| | |
| --- | --- |
| Dimensions (Set up) | 42 x 32 x 25 inches |
| Dimensions (Folded-for travel) | 24 x 7 x 11 inches |
| Weight | 13 lbs |
| Materials | Mesh sides. No Flame Retardants. No PVC. No Phthalates. No Lead. No Heavy Metals. Low-VOC |
| Carry case | Yes |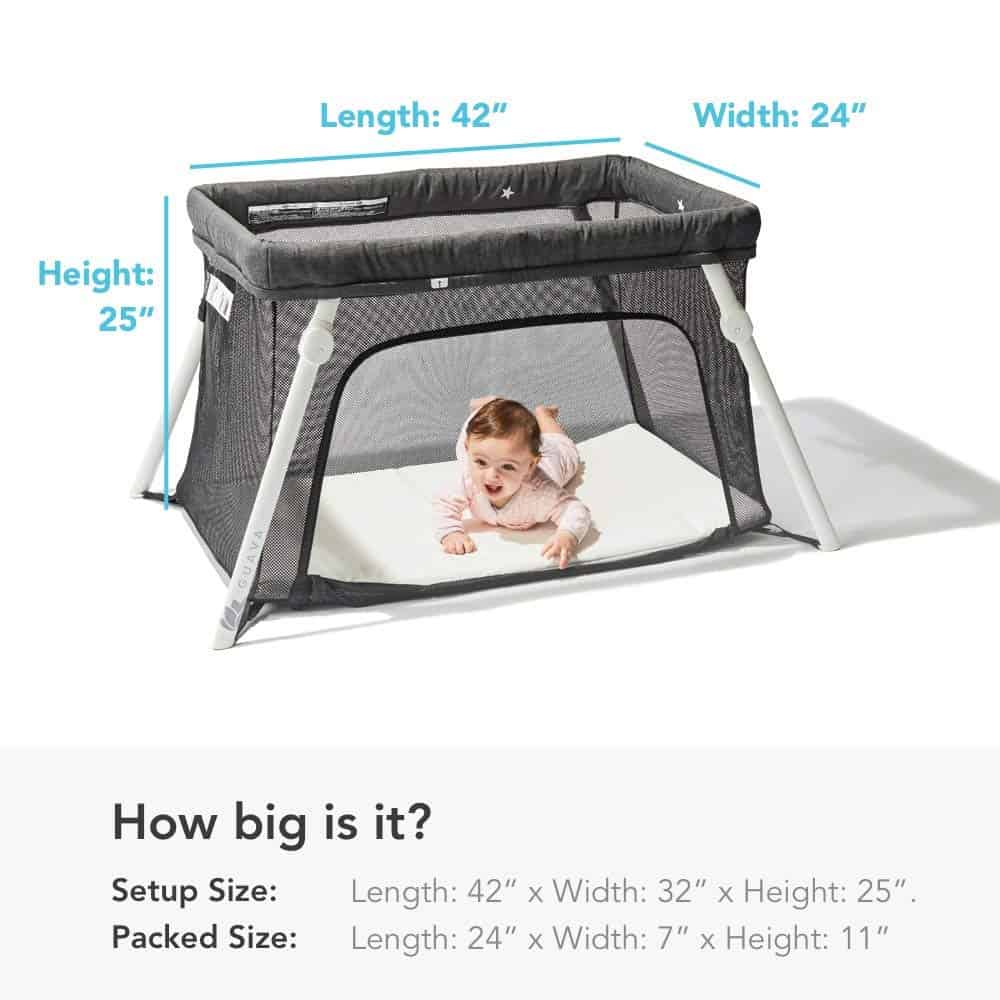 Key Features
Light weight -13 lbs
Safe for babies of all ages – 0 to 3 years
Compact – 24″x7″x11″
Two-year warranty
Carrying case included
GreenGuard Gold non-toxic certification
Easy access side zipper door
Full height mesh sides
Highly portable
Easy to set up and takedown
Sturdy and very stable
Made with high-quality baby safe materials
Sleek and attractive design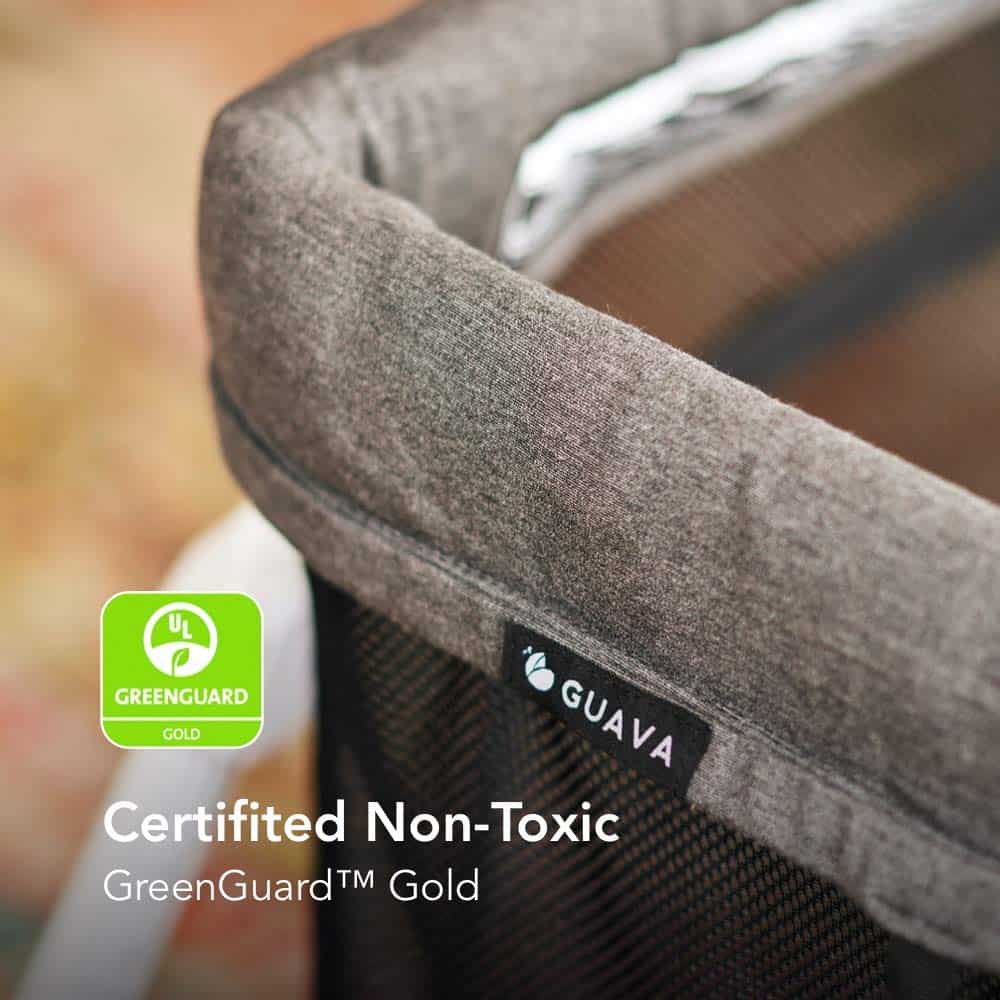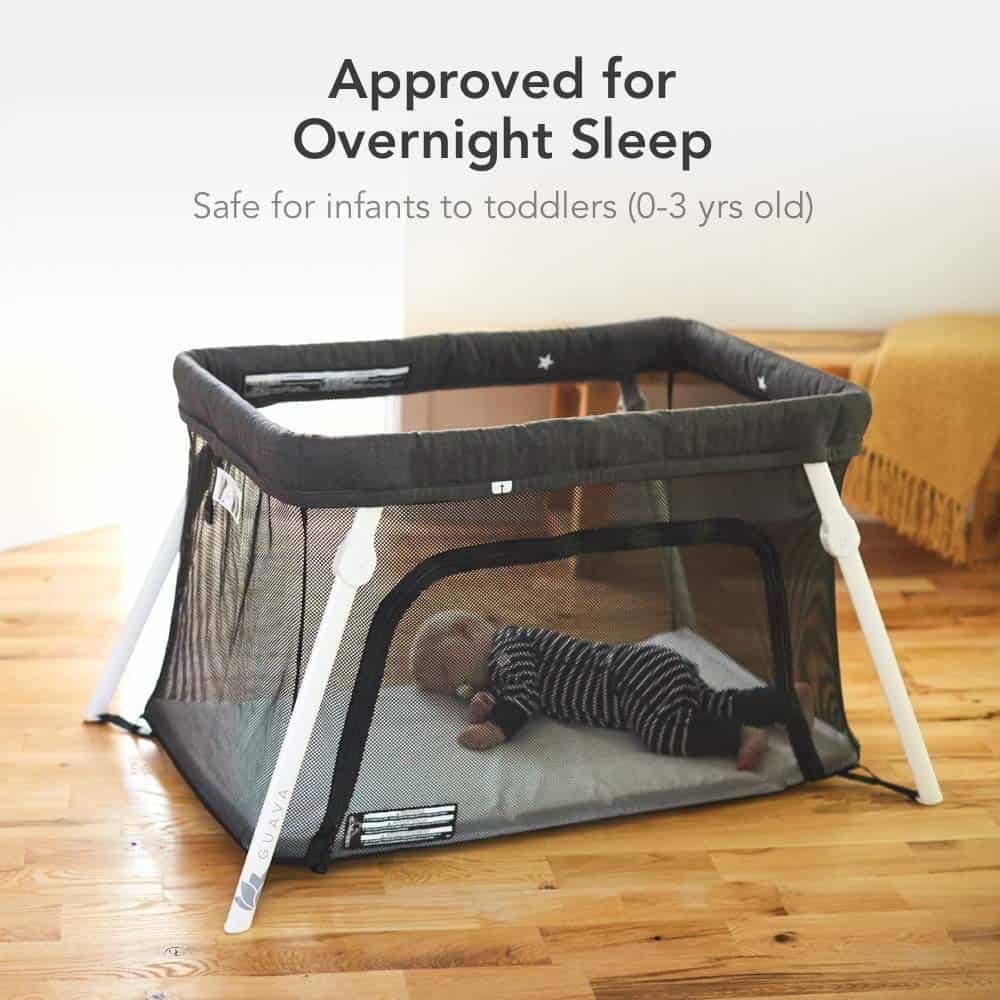 Pros
The travel crib has a side zipper door that allows you to easily access the crib when nursing your baby or putting them to sleep. The door is also a great feature for your baby when they begin to crawl.
Weighing slightly above 10 lbs, this travel crib is light and highly portable. It packs down into a compact size that fits in a small backpack. The size is small enough that it can be accepted as a carryon item in most airports.
The Lotus travel crib has an attractive and sleek design. It is well designed and durable.
Great travel crib that is easy to assemble and disassemble.
The bottom of the Lotus travel crib lies flat on the ground. Thus, the crib is stable and has no weight limit. You can also crawl in to put your baby to sleep.
Cons
Folding and packing away the travel pack n play into the provided backpack could have been a little easier.
The mattress pad is soft and firm but not plushy. For a plushy feel, you may have to buy the recommended plush sheets by Guava.
You will need to attach the mattress pad using six Velcro straps which is time-consuming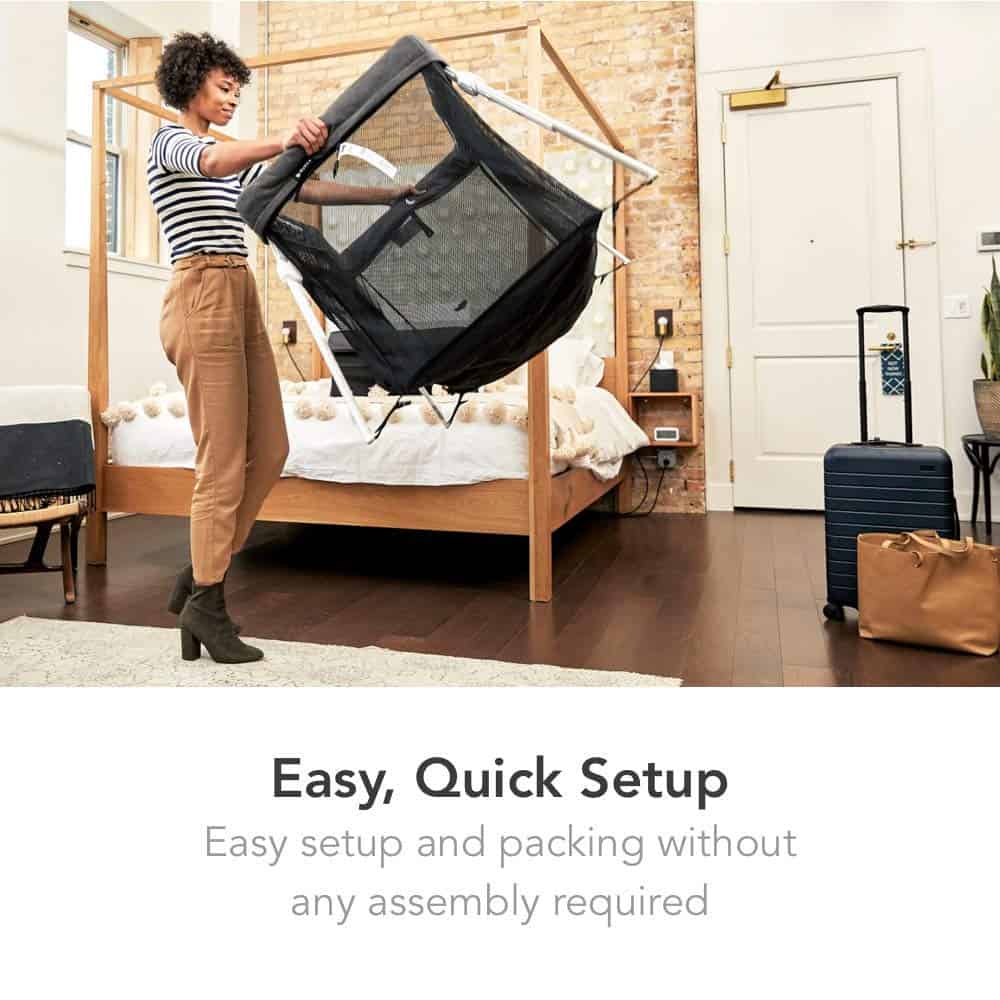 Who is it suitable for?
When searching for a pack n play or a travel crib, there are 3 main factors you should have in mind. These are safety, weight, and assembly. The ideal travel pack n play should be safe and secure for your baby, lightweight, and easy to carry around. It should also be easy to assemble.
Well, the Lotus Crib by Guava might be the perfect travel pack n play out there. It is made with non-toxic materials that are safe for everyone. Its sides are made from highly breathable mesh. You can rest assured that the crib is well-aerated and your baby can still see you when they are inside.
Additionally, this crib is perfect for use by short people. It lies low on the ground and you can easily place your baby to sleep. On the other hand, you can place the baby to sleep through the side zipper while kneeling on the floor. And, because the bottom of this lies down on the ground, the crib is very stable and it has no weight limit for who can use the crib. Thus, it is perfect for infants and toddlers alike.
When it comes to assembly, the Lotus crib is also one of the easiest playpens to assemble. It is also fairly easy to disassemble.
That's not all. This travel playpen is highly portable. Therefore, if you often take flights with your baby, then the Lotus Travel Crib is a great addition to your baby travel gear. It fits in a compact and small-sized backpack carry case that is accepted as carryon luggage in most airports. You also don't need to worry if space if luxury in your apartment since this crib doesn't take a lot of space and will fit in most rooms.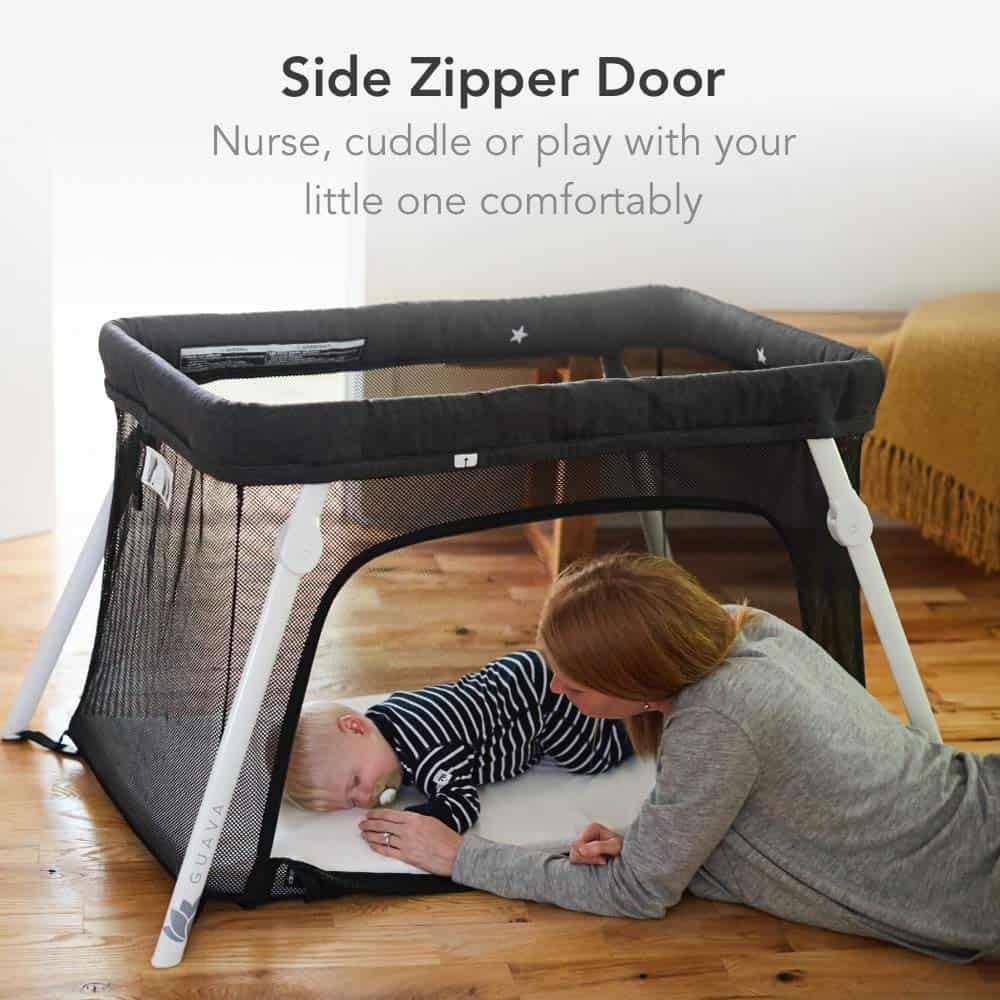 Why we like it
The Guava Lotus Travel Crib has a special place in our hearts. Not only is it a well designed and stylish pack n play but it is also the perfect travel crib during our travels and adventures. We use it when taking road trips, going to grandma and even when taking flights with long layovers. This is because it is very light and portable. It fits in a compact backpack that is easy to carry around.
We also like it because it has a convenient and easily accessible side zipper door which we use when placing the baby to sleep without having to bend all the way. Plus, our son loves to crawl out and in through the side door during playtime.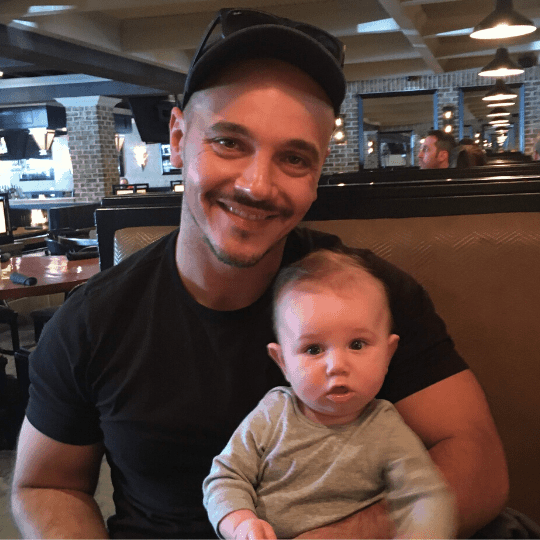 Paulo is a passionate dad who founded Upside Dad to share his parenting journey with other new parents. He graduated from Concordia University and worked as a test engineer for over a decade. Paulo loves dad jokes and craft beer.
Learn more about Paulo and Upside Dad here.