If you're reading this, you are probably looking for an alternative to the Halo bassinest – one that will make less of a dent in your budget or meet your needs better.
If that's the case, you've found just the place.
The guide below is a data-driven exploration of the top options you have if you're looking for a bassinet similar to Halo.
Let's start with the basics.
What's special about the Halo bassinest?
Halo bassinet is a high-end bassinet and the only one out there with a 360 degrees swivel.
As a bedside sleeper, Halo is second to none in terms of easy access to your baby.
It's also right up there with the best in terms of comfort and safety.
These are the Halo's strongest sides:
Easy access – patented full rotation swivel, lowering sidewall, and adjustable height (22-34 inches)
Elaborate soothing center – vibration and soothing sounds
Sturdy yet plush where it matters – made from high-end materials
Space-saving – you only need a 32-inch clearance from the wall because the legs can be tucked under the bed
Halo bassinet options
There are currently four options (series) to choose from: Essentia, Premiere, Luxe, and Luxe Plus series.
The Essentia is the only one on the list without a soothing center.
If you're having second thoughts
Halo is a unique bassinet and, while we'll do our best to offer alternatives, Halo is the king of the hill in many key aspects.
If you want to take a second look, follow the link below to read what other parents say about Halo.
If you're still set on looking for an alternative, keep on reading.
Why do I need a Halo alternative?
In my experience, all parents looking for a Halo bassinest alternative can be split into three groups.
The first group (where most people are) are parents who want to save money and still get most of what Halo offers.
The second group already owns the Halo and wants something similar for those nights away from home.
The third group wants something that packs more "soothing power" for restless babies.
What are the best alternatives to the Halo bassinest?
My top picks are:
BabyBjorn Cradle
Ronbei Bedside sleeper
Beside Me Dreamer Bassinet and Bedside Sleeper
We also did a comparison between the Halo and the Uppababy bassinet for you to look into.
The BabyBjorn cradle packs all the gravitas of the famous brand and carries it over into a classic bassinet with a modern twist.
If room-sharing and bedside sleeping are the aspects of the Halo you're looking to mimic; this bassinet might be where your search ends.
Light & portable
Coming in at only 12 pounds, this is one of the lightest bassinets out there.
It's significantly lighter than any of the Halo options.
Combine that with a compact design and a small footprint, and you get a bassinet that's easy to move around even though the base is not wheeled.
Easy to set up and clean
Even if you never did it before, you're not likely to have any problems putting this bassinet together. It will probably take 10-15 minutes (if you take your time).
Most of the stuff that can get dirty is removable and machine washable, which makes all the difference in the long run.
Solid co-sleeping solution
While the design of this Babybjorn is not centered around co-sleeping, the combination of size and weight makes it a good option if you want to share a room with your little one.
Carries all the safety and quality seals
All the materials used for this bassinet meet the international fabric safety standards. The high-end craftsmanship also means it's not cheap, but it is (in my opinion) worth every single penny.
Trusted name behind it
Baby Bjorn is a Swedish company with six decades of experience making baby products. I know the industry pretty well, and I can confidently say that maintaining the status is no small feat.
You can see my full review of the Baby Bjorn cradle here.
Who will choose it over Halo?
If portability is critical, the Baby Bjorn cradle might be the Halo alternative you've been looking for.
To read the full comparison of Halo vs Babybjorn click here.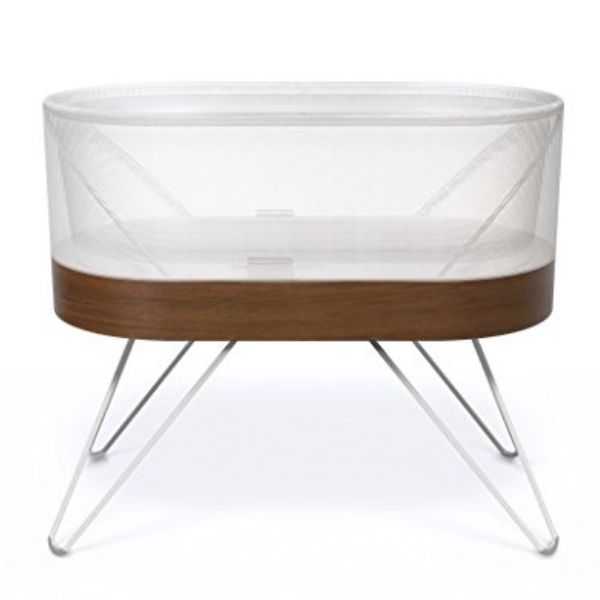 If this is the first time you're stumbling upon my website, let me give you a heads up from the get-go – I'm a fan of SNOO.
Not because I have a bias or any special relationship with the company, but because it's the bassinet that changed our family life.
But my opinion aside, let's take an objective look at what makes SNOO special.
The safest baby bed out there
SNOO is the brainchild of one of the most renowned pediatricians and baby sleep experts – Dr. Haarvey Kaarp.
I'm comfortable with saying that it's "the safest" just because the company is advertising it as such. They're backing up the bold claim with 50+ million sleep hours without a single case of SIDS.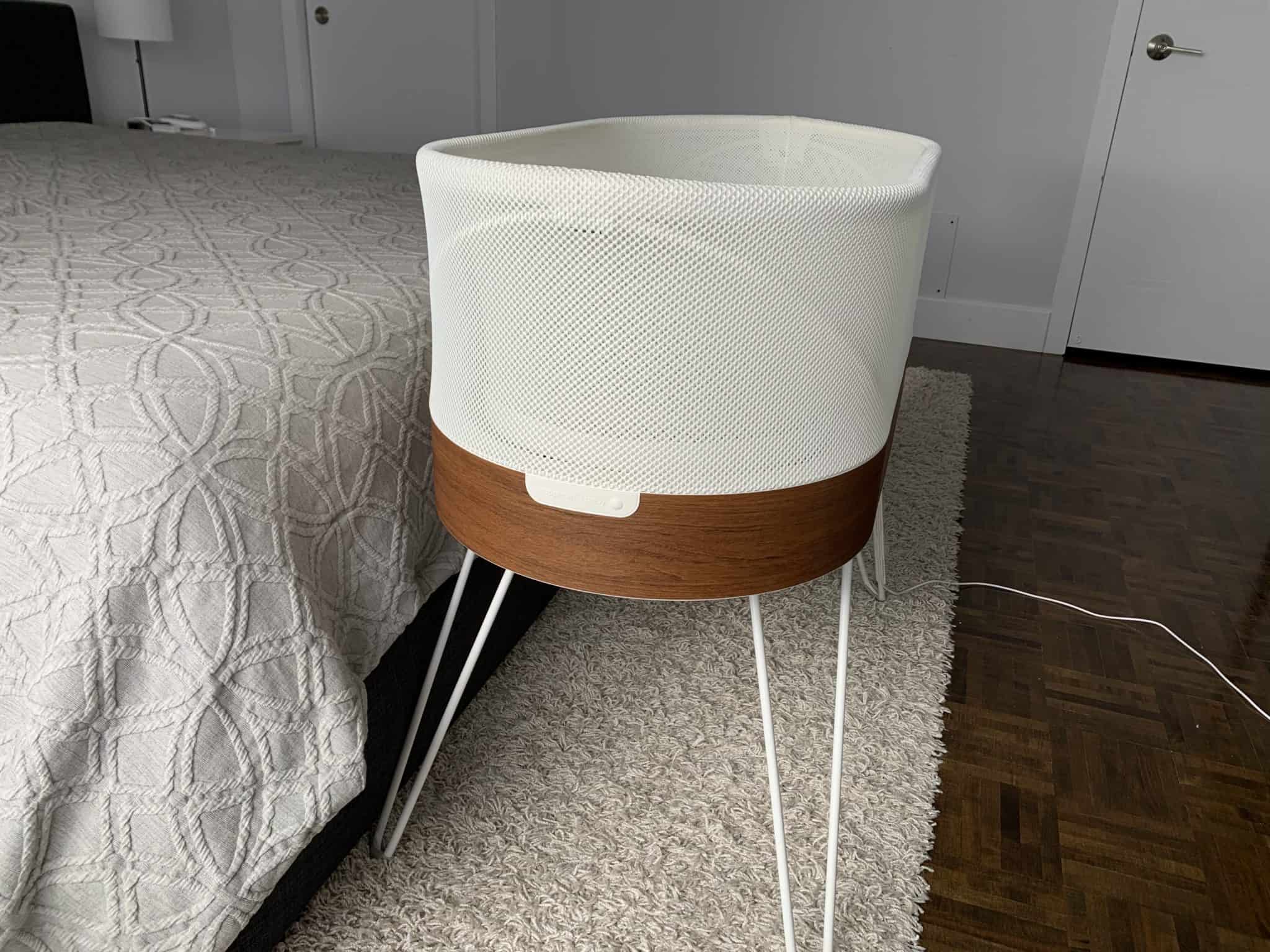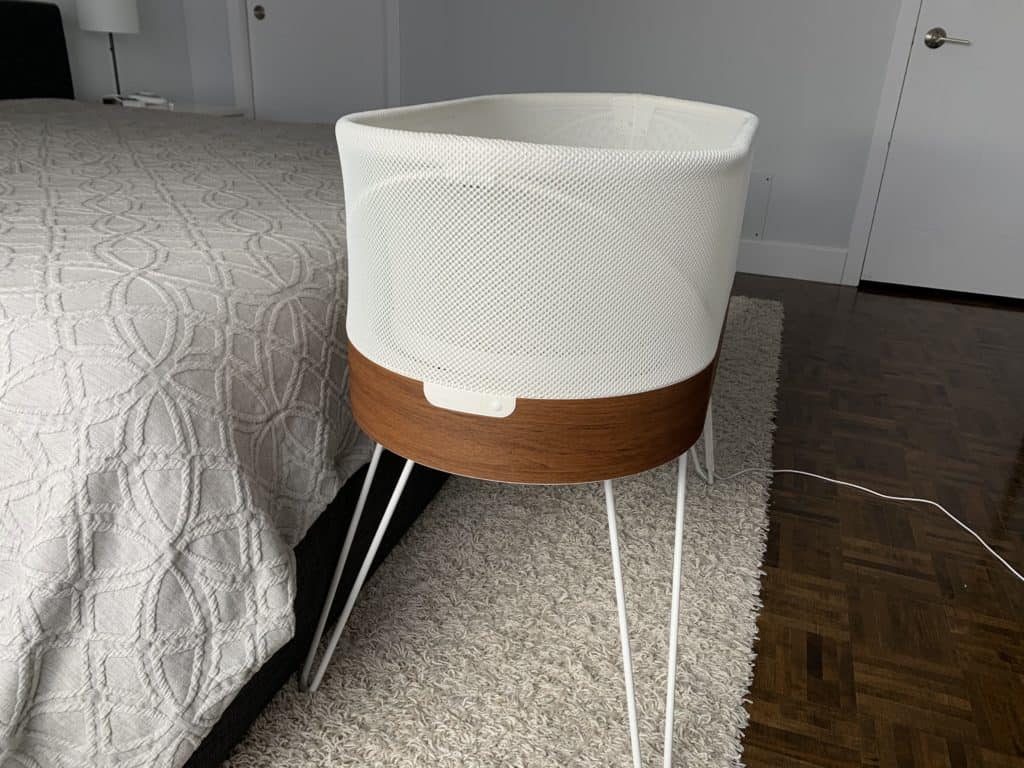 Yup, you read that right – 50 million.
And that was true a few years ago. Today, the number is probably well over 60.
What makes it so safe?
It's the only bassinet that adheres to the strictest rule of pediatric sleep hygiene. It makes sure that a baby ONLY sleeps on its back for the first six months (as advised by the American Academy of Pediatrics).
Most complete soothing center
I often refer to the SNOO as the "Cadillac of bassinets."
It's the complete smart bassinet out there – not only is it equipped to lull the baby (back) to sleep, but it can recognize the baby fussing or waking up and turn the soothing features on.
Most nights, that removes you from the equation of calming the baby down and gives you extra sleep hours. If you have a restless rascal on your hands as we did, it's a game-changer.
Not as good for co-sleeping as Halo
If easy access and co-sleeping are what you're looking for, Halo is the superior option. The SNOO doesn't rotate, and there are no lowering walls.
Who will choose it over Halo?
It will be the choice of people looking for an upgrade in terms of soothing and safety and are willing to pay the premium buck for it.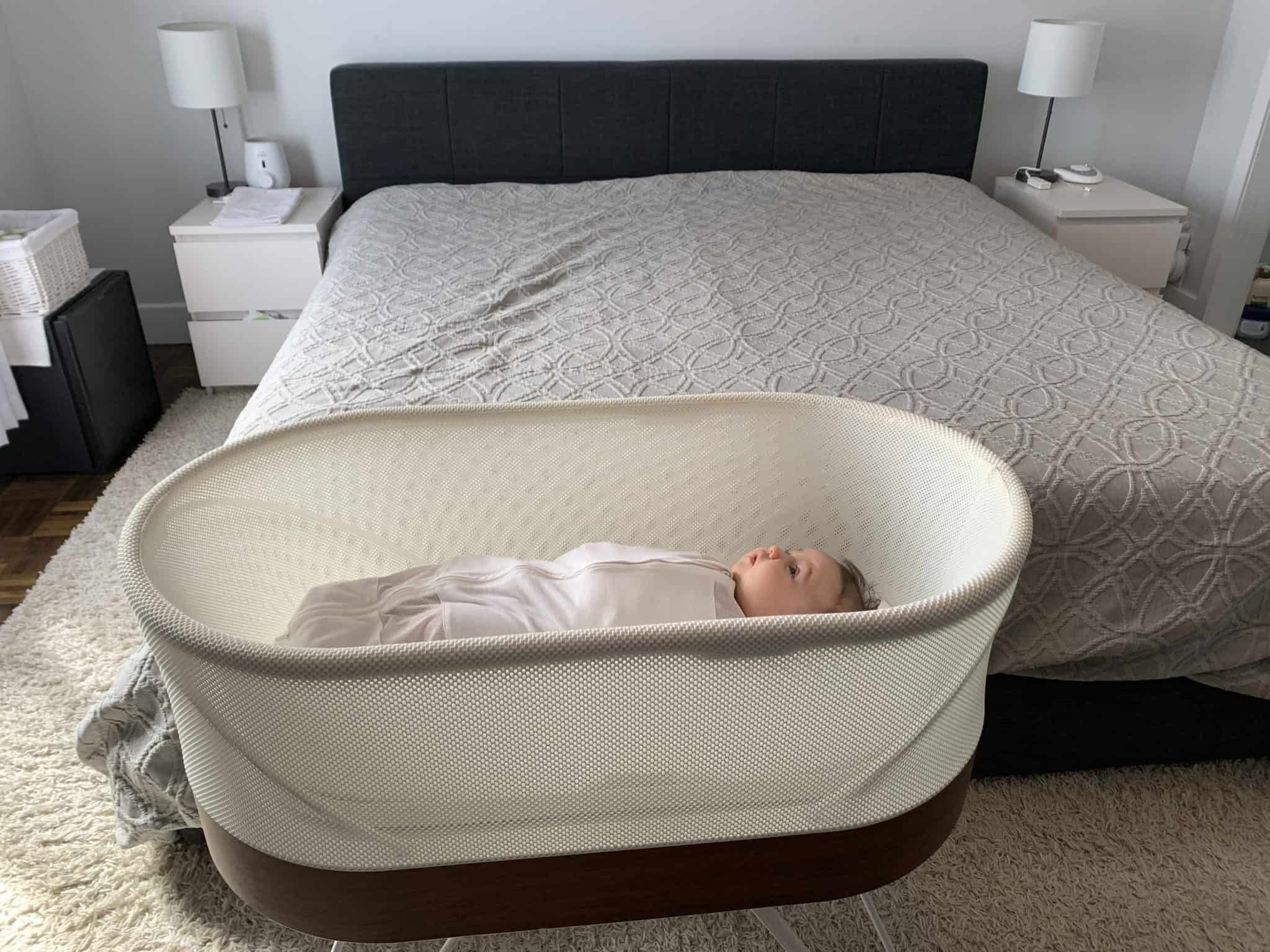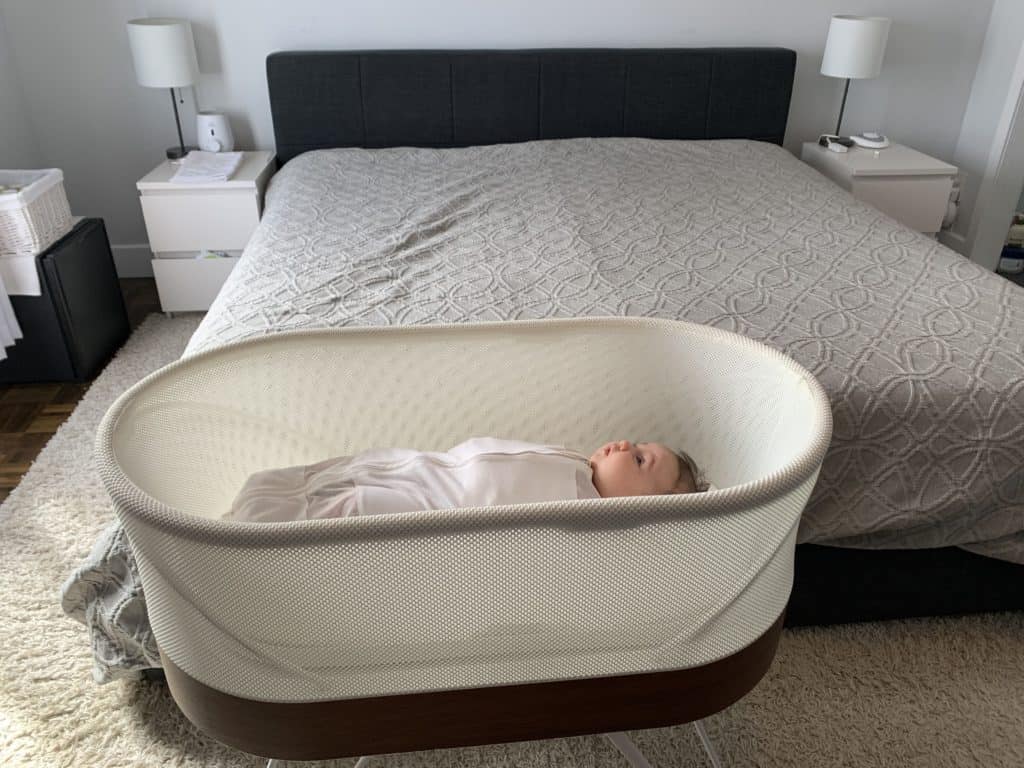 For more info, you can see a more detailed comparison of the SNOO vs. Halo, and a BabyBjorn Cradle vs. Snoo.
Other related reads:
With a user satisfaction of over 90%, a design similar to Halo, and a lower price point, this Ronbei is a textbook example of a solid Halo alternative.
What makes it a good alternative to Halo
Ronbei ticks all the boxes that people love about the Halo:
The lowering wall and height adjustment allow for easy access
Good fit for smaller spaces – it's light, compact, and the frame retracts under the bed
Breathable mesh – almost of the sidewalls and airy mesh, just as they are in the Halo
Adheres to the ASTM F2906 safety standards
Soothing sounds and music
Who will choose it over Halo bassinest?
It will be the choice of people looking for a more affordable bassinet that packs most of Halo's defining features.
The one trade-off is the fact that Ronbei doesn't vibrate.
Bottom line – if you have a baby with healthy sleep habits and the vibration is not a big deal for you, this Ronbei is a viable alternative to Halo at a significantly lower price point.
You can also see my review of the Ronbei bedside sleeper.
If this is the first time you're hearing about Baby Delight, you're in for a treat.
People in the industry consider their bedside sleepers one of the better value proposals in the market.
The Beside Me Dreamer is one of their staple models that features most of the things parents love about the Halo but costs less.
Similar to Halo & Ronbei
One glance at the Beside me Dreamer, and it's clear that the design is focused on easy access and co-sleeping, much like it is with the Halo and Ronbei.
What it has in common with the Halo:
Height adjustment
Lowering side panels
Frame base slides under the bed
Secure fit to the side of the adult bed
Breathable mesh walls
Who will choose it over Halo?
You might choose this bassinet over Halo if portability is a crucial factor for you.
It's not smaller than the Halo, but it is lighter and folds down flat, making it more travel-friendly.
You can see my full review of the Baby Delight bedside sleeper here.
At no. 5, we have a multipurpose bassinet that's not cheaper than the Halo, but it is significantly more diverse.
It's a 3-in-1, meaning that it does the jobs of a bedside sleeper, portable bassinet, and a changer.
What makes it a good alternative
The best part about this Chicco is not the concept (multi-use bassinets are a dime a dozen); it's the fact that it delivers in all modes.
Some of the features I like about it:
High-end soothing station – six melodies, two vibration settings, and a nightlight
Reversible, quilted mattress
Machine washable fabrics
Breathable walls
The wheels feature a locking mechanism (the handles double as breaks)
Who will choose it over Halo?
Chicco close to you is lighter than Halo Luxe but not as light as some of the other options on this list (read: Ronbei and Baby Delight).
However, it does make a great addition to the life of any dynamic parent because it does it all and does it well.
You can see its dedicated Chicco Close To You review here and its head-to-head comparison to Halo here.
Quilted, reversible mattress
Portable bassinet
Changing table with height adjustment
Bedside sleeper
High-end soothing functions
Final thoughts
I set out to make a comprehensive list of alternatives to Halo bassinet options – from the Essentia to the Deluxe Series.
I'm confident that I covered all the bases.
You have the Ronbei and the Beside Me Dreamer as "natural" alternatives that do pretty much the same thing; you have the high-end options like the SNOO, and you have the alternatives with a slightly different design focus than the Halo like the Babybjorn cradle.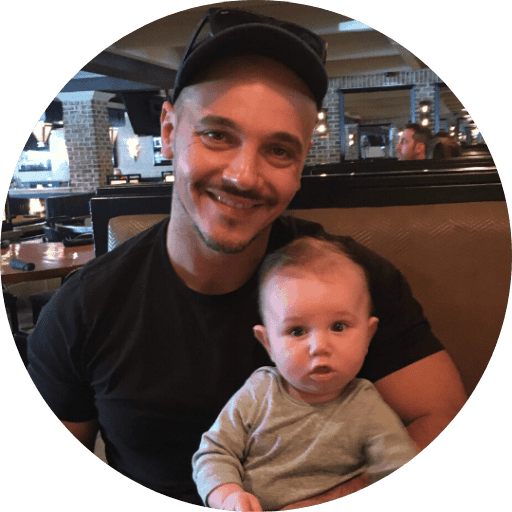 Paul is a passionate dad who founded Upside Dad to share his parenting journey with other new parents. He graduated from Concordia University and worked as a test engineer for over a decade. Paul loves dad jokes and craft beer.
Learn more about Paul and Upside Dad here.