The market of bedside bassinets is as crowded as it gets and it's not easy to separate the wheat from the chaff.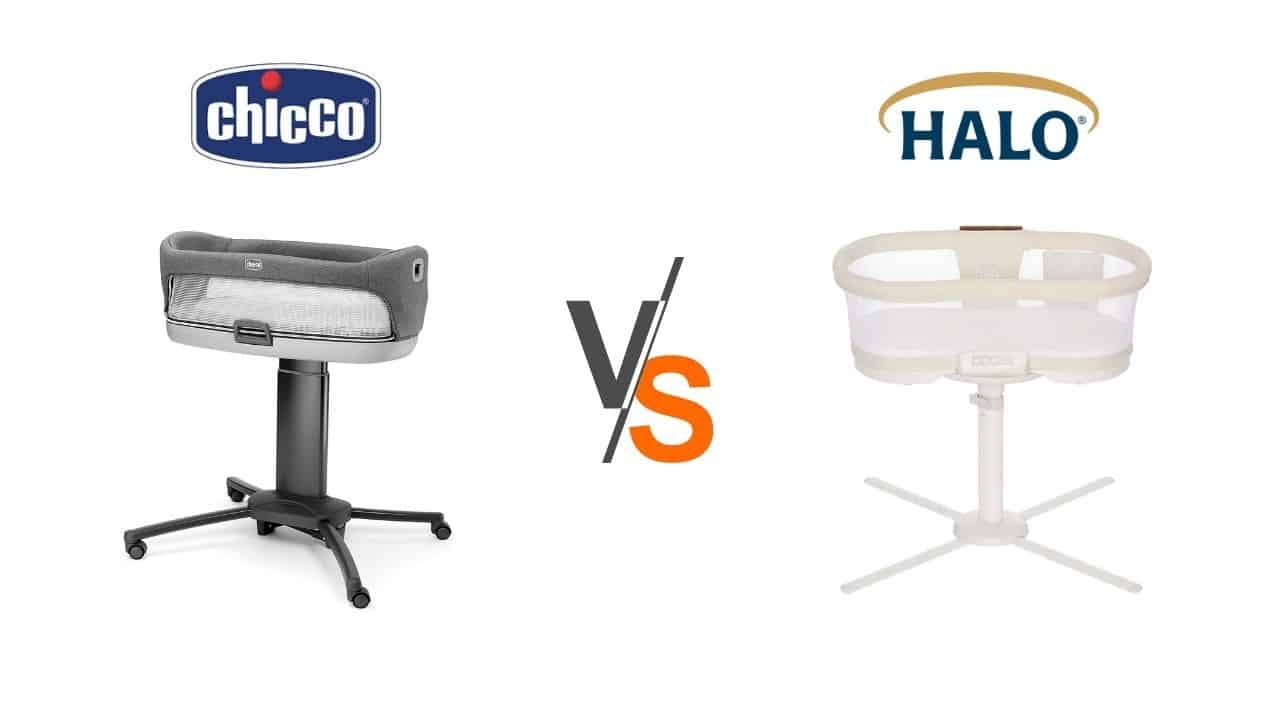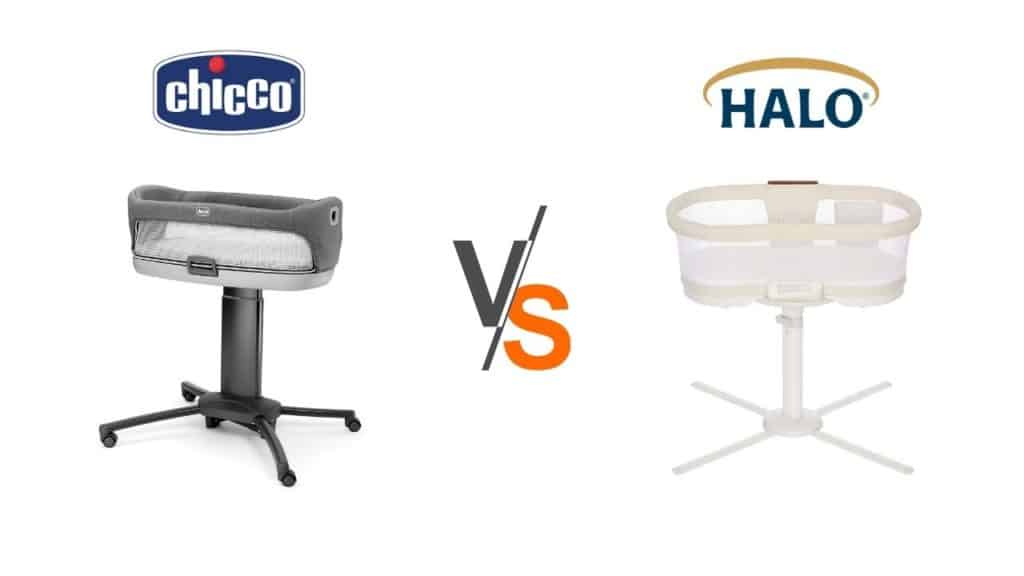 Even when you shortlist a few winners, choosing the one that's right for you is daunting.
If you are reading this, it means that these two bassinets made your short-list.
In today's comparison between chicco and halo baby bassinets I'll aim to give you all the answers you'll need to choose right.
Chicco close to you vs Halo comparison table
Functions
Chicco Close to You
Halo Luxe
Motion

YES

YES

Vibration

YES

, 2 settings

YES

, 2 settings
Doubles as changing table

YES

NO

Full rotation

NO

YES

Sound/white noise

YES

, 6 melodies

YES

, 4 settings
Mesh sides

YES

YES

Adjustable height

YES

YES

Washable, water resistant mattress

YES

YES

Age/weight limits
20 lbs as bassinet35 lbs as changing table
5 months, 20 lbs
Close to You bassinet is made by one of the best-known brands of baby gear in the world – the Italian company with a storied 60-year long history – Chicco.
Halo, on the other hand, was founded 25 years ago by an engineer who lost his firstborn to SIDS.
Both products adhere to the strictest safety and quality standards, which is to be expected from reputable manufacturers like Chicco and Halo.
I'd say that any meaningful comparison between Chicco Close to you and Halo Luxe bassinets must go beyond quality and into the feature territory, which is where the subtle differences live.
Chicco Close To You is one of the few bassinets that successfully doubles as both a changing table and a bedside sleeper.
The concept of "3-in-1s" is not new but the high level of delivery in all aspects is. In those terms, this Chicco is one of a kind.
It's the one bassinet I know that sets out to do it all and delivers. And then some.
It's height adjustable with a hefty 10-inch range (24 to 33.5), which makes it a great choice for dads on the taller side.
The height range is crucial for two reasons:
It will allow you to comfortably stand when changing your baby
It makes this Chicco a flexible bedside sleeper that will work just fine with most bed heights
The materials are adjusted to the multipurpose use. All fabric zips off and is machine-washer friendly.
The two-sided mattress pad is just firm enough to be safe when used for sleeping and to provide a comfy soft surface when used as a changing pad.
High-end soothing station
This is where most multipurpose cribs fall short – the soothing station is almost never as well-thought-out as that of a bassinet-only product (like the Halo).
I say "almost" because this Chicco is an exception.
It's soothing station features 2 vibration modes and 6 melodies that will be a good match for the most restless of little sleepers.
It's a robustly built bassinet with high-end materials left-to-right and top-to-bottom.
You can read more about the Chicco bassinet full review here.
How Does the Halo BassiNest Luxe Work?
The idea behind this Halo is simple – deliver in all aspects that matter and stand out by blowing the competition out of the water in one area – ease of use and access.
It's the only cradle with a full 360 degrees swivel.
Pair that with a 12-inch range between the low and high point (22-34 inches) and you get a truly unique co-sleeper that's one of my top picks in the best co-sleeper bassinet category.
The bed can be easily removed from the base, which means you won't have to push the whole unit if you want to temporarily move your baby to another room.
I'm a fan of Halo's soothing sounds. They're doing a bang-up job choosing the audios. I'm stressing this because I know of bassinets that cost much more and just don't get the sounds right.
In the case of the BassiNest it's a simple four-sound system (white noise, heartbeat, rainforest, and babbling brook). The important part is that you'll actually use each sound, which is not a given with sub-par soothing systems.
Finally, the removable storage caddy and the included fitted sheets are a nice touch. Lack of storage just happens to be the one thing about Chicco Close To You that I stress every time I talk about it.
The caddy of the Halo is far from a complete storage solution, but it's enough for the essentials.
However, I wouldn't go as far as saying that storage (or lack thereof) should be a decision point. There are more important things to consider.
If you want to read a more detailed review of the Halo Luxe, click here.
You'll choose Chicco Close to You if…
Chicco Close to You should be your choice over Halo BassiNest if the versatility of a multipurpose unit is a key factor.
It will also be the choice of people looking to save a pretty penny by getting one unit that does it all.
You will choose Halo BassiNest if…
Parents who chose Halo BassiNest over the Chicco Close to You are primarily looking for easy access co-sleeper with the added flexibility of removing the bed and carrying it separately.
The bottom line
Let me try and put things as simply as I can.
Go with Halo in one of these two scenarios:
You already have a changing table or simply want to get a separate one
If the mom is experiencing reduced postpartum mobility for any reason. The full rotation and lowering side walls make a world of difference here.
If you like the idea of not paying for a changing table separately, go with Chicco.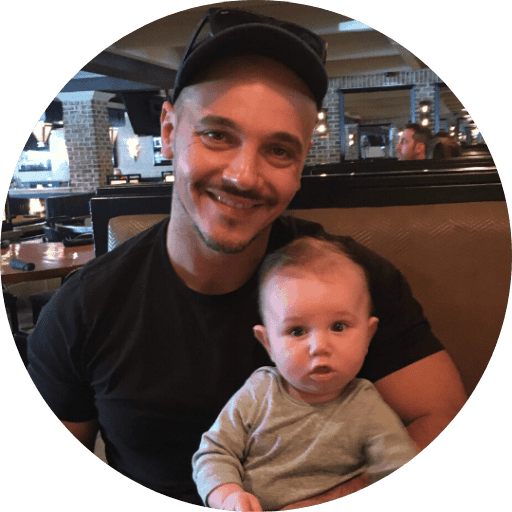 Paul is a passionate dad who founded Upside Dad to share his parenting journey with other new parents. He graduated from Concordia University and worked as a test engineer for over a decade. Paul loves dad jokes and craft beer.
Learn more about Paul and Upside Dad here.