"Jobs" like comparing SNOO & Halo Luxe are never easy for me.
Two high-end products from two reputable companies, and two bassinets packed with state-of-the-art features.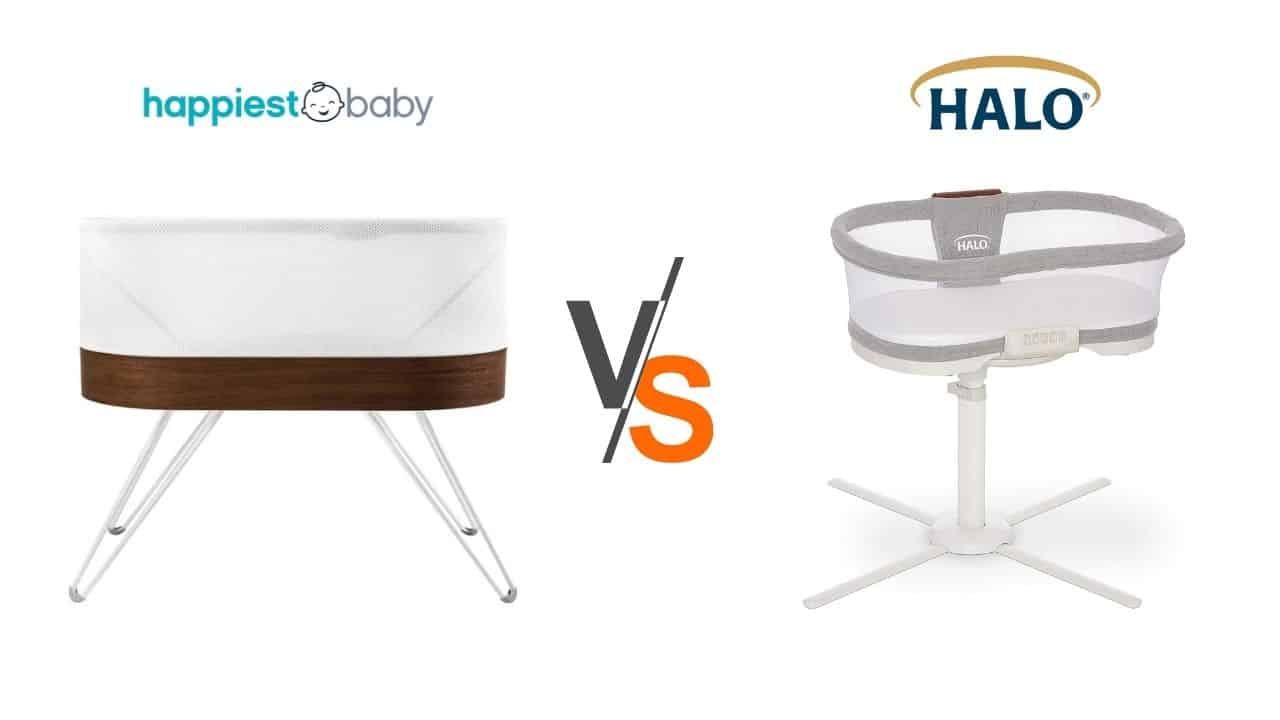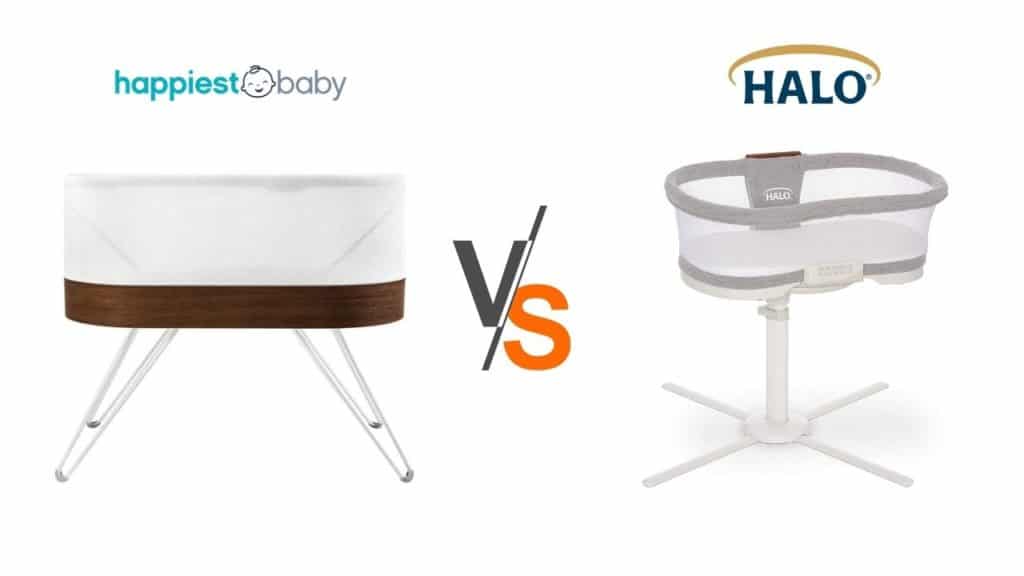 It's more about what you need
My mission in this guide is to pinpoint the key differences between the Halo Bassinet vs SNOO Smart Sleeper in everyday use rather than talk about which of the two is better.
If I do a good job, the next few minutes should give you all the information you'll ever need to make a smart, informed decision to find the best baby bassinet for you and your little one.
Without much ado, let me dive right into a head-to-head comparison of the defining features.
Main Differences Between Halo Bassinet Luxe vs SNOO
Halo Luxe doesn't have an app, whereas SNOO offers an app on the app store
SNOO responds to crying with auto-rocking, whereas Halo Bassinet relies on two different vibrations to soothe baby
Halo Luxe has four sound settings to calm baby, whereas SNOO offers five different settings
SNOO requires a large up-front investment, whereas Halo is a lot more affordable
SNOO vs. Halo Luxe Comparison Table
| | | |
| --- | --- | --- |
| Functions | SNOO | Halo Luxe Series |
| Vibration | YES | YES |
| Rocking Motion | YES | NO |
| Sounds/White Noise | YES | YES |
| Night Light | NO | YES |
| Cry Detection | YES | NO |
| App-Controlled | YES | NO |
| Adjustable Height | NO | YES |
| Bedside Accessibility | NO | YES |
| Mesh Wall for Airflow | YES | YES |
| Water-Resistant Mattress | YES | YES |
| Integrated Storage | NO | YES |
| Age/Weight Limits | Six months, 24 lbs. | Five months, 20 lbs. |
How does the SNOO smart sleeper work
The SNOO bassinet is the king of the proverbial hill, the top dog in the high-end bassinet market – it's the Cadillac of smart bassinets.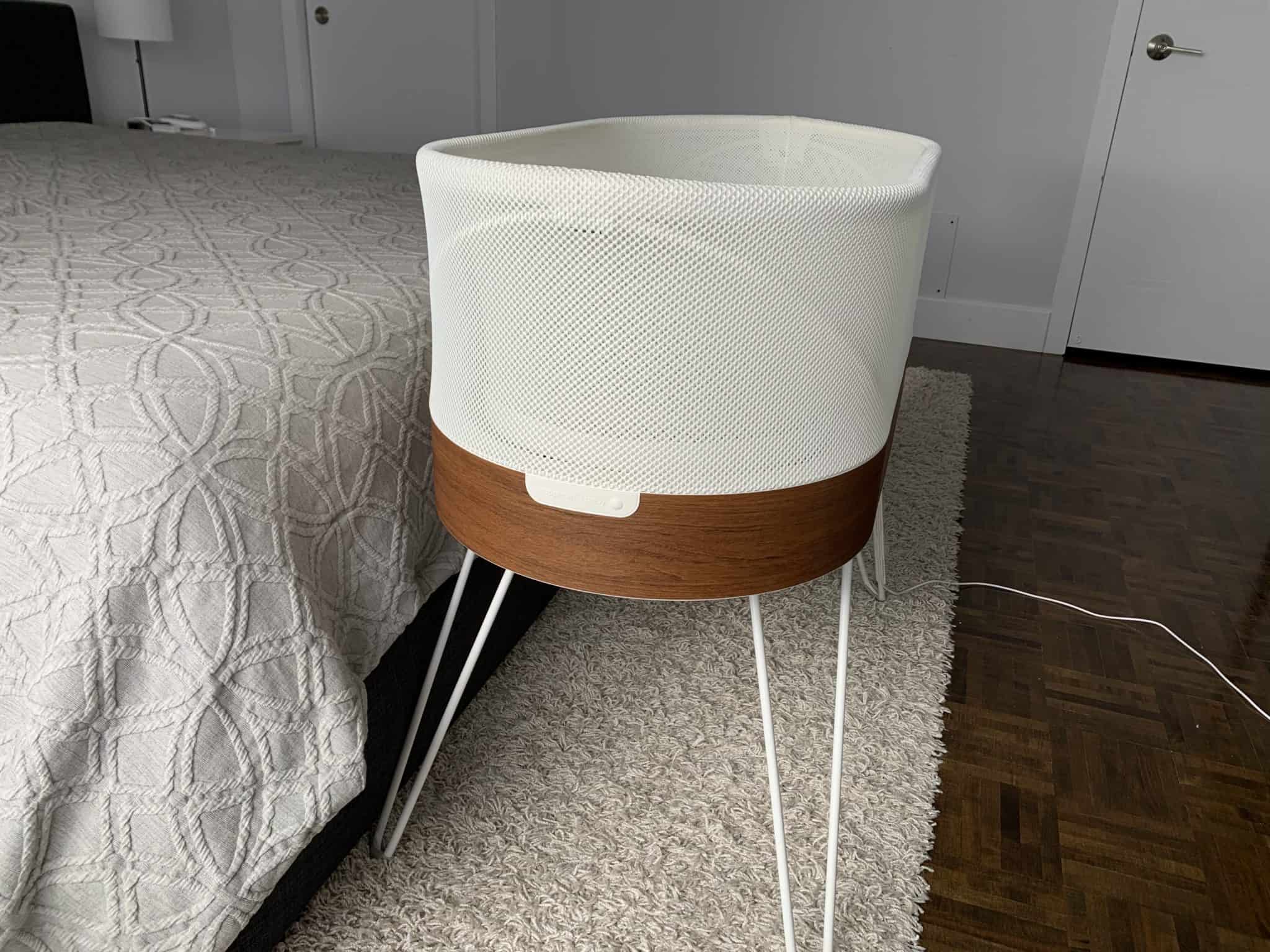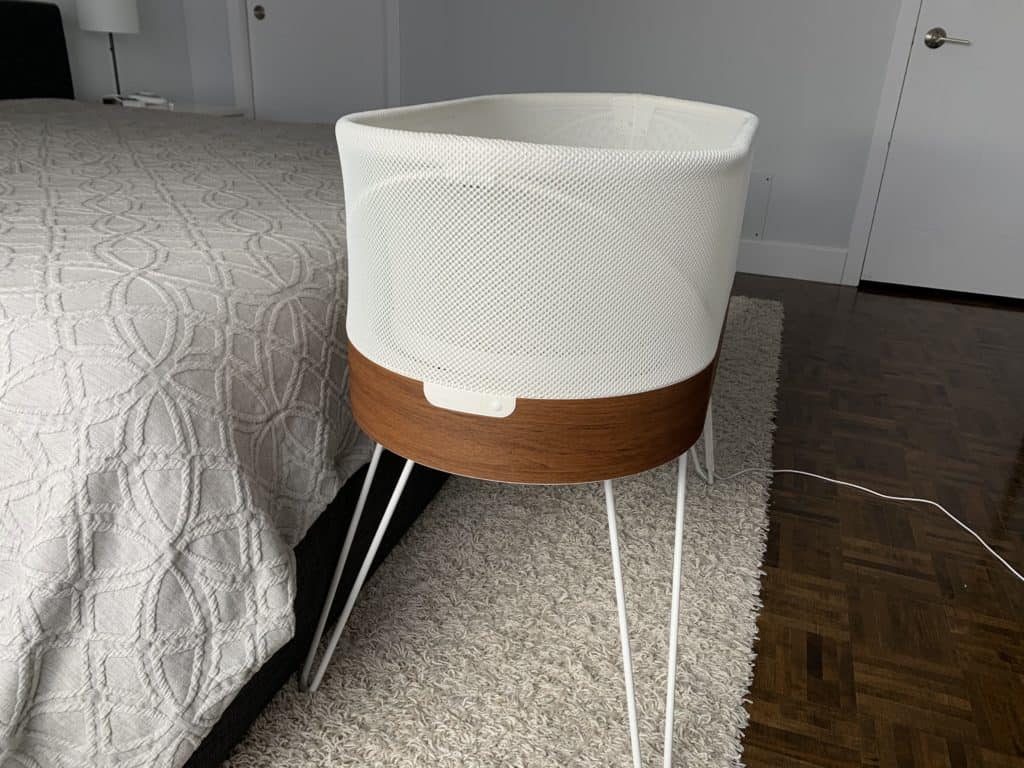 As the most advanced smart bassinet out there, the SNOO ticks all the key feature boxes.
The mind behind it the SNOO Smart Baby Bassinet
It's the pinnacle of Dr. Harvey Karp's impressive career.
Dr. Karp is a world-renowned expert on baby sleep, creator of the 5S baby soothing sound system, and author of the best-selling "The Happiest Baby On The Block."
Safest baby bassinet in existence
This sounds like my opinion. It's anything but.
It's both advertised as such by the company behind it (Happiest Baby) and universally accepted as 'safest" in the industry. The reason no one is disputing that claim is the proven track record of 50+ million hours of baby sleep without a single case of sudden infant death syndrome.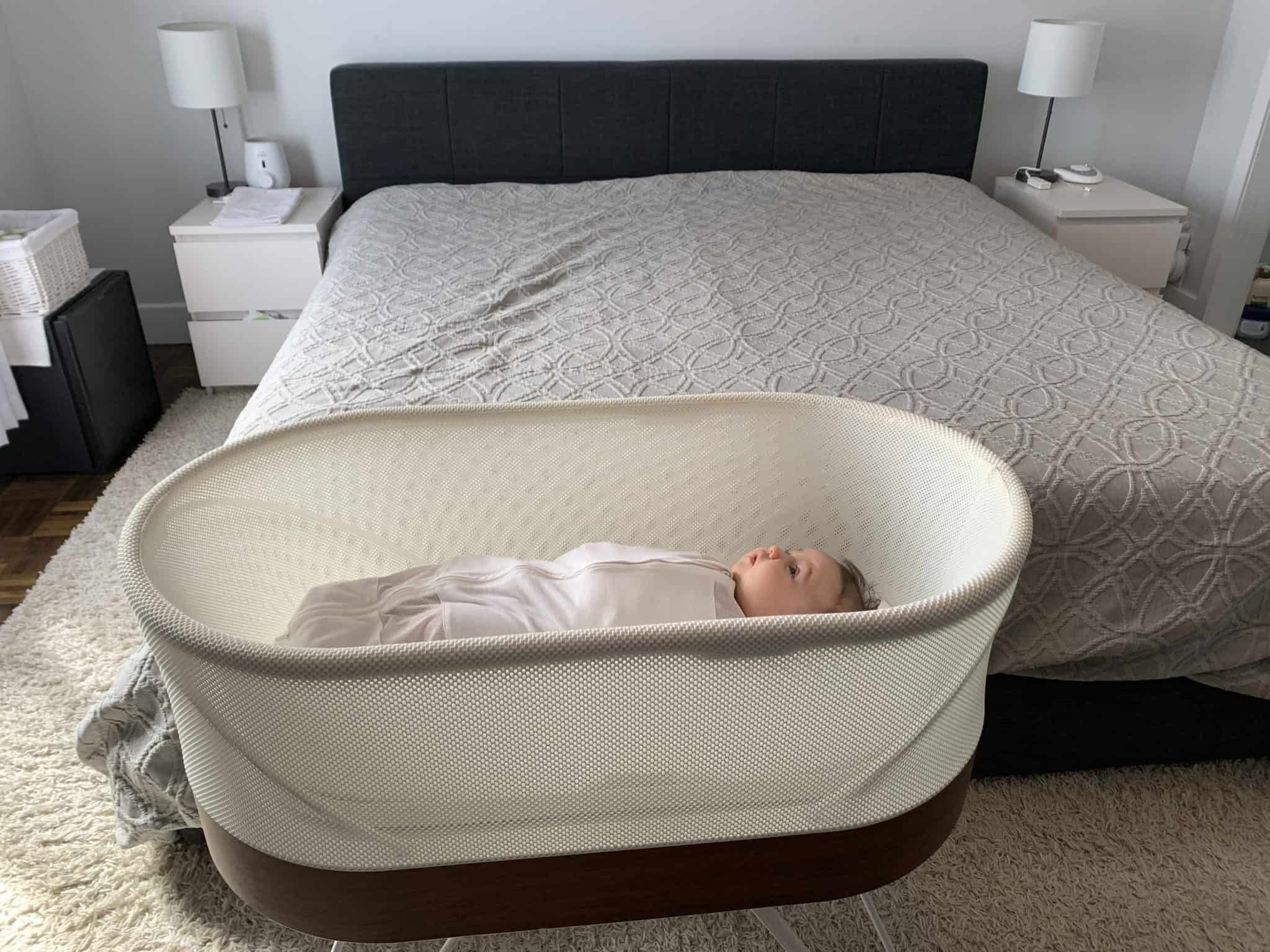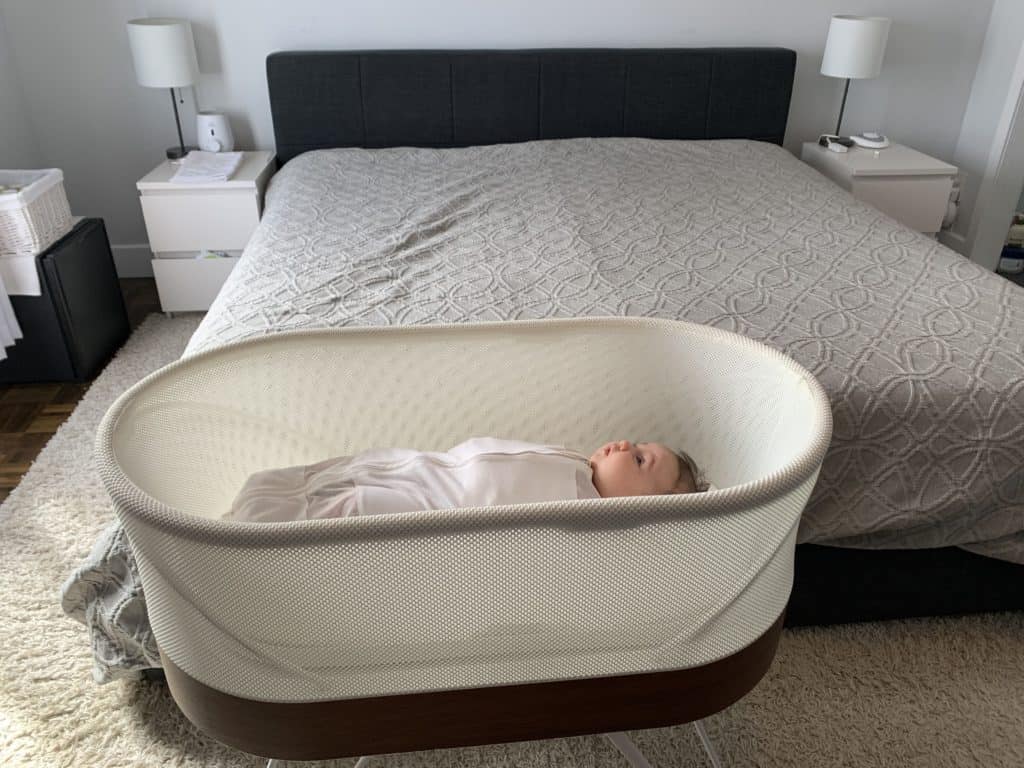 It's the most well-rounded bassinet in existence – the fine-tuned innovative technologies recognize patterns of your little one's sleep and soothe them through motion and sound.
Pros and Cons
Pros
As safe as a baby bed gets
Comes with a sleep sack to swaddle your little one
Automatic – does most of the work on its own
Comprehensive soothing – range of sounds and rocking levels
App-controlled
Adjustable sensitivity
Cons
How does the Halo luxe bassinet work
Halo Luxe is a bassinet with a simple idea behind it – perform well in pretty much all areas but focus on bedside accessibility.
Full rotation & adjustable height
It's one of the very few bassinets/bedside sleepers with a full 360-degree rotation capability and the build-quality to take everyday use like a champ.
If you combine that with a 12-inch range of adjustable height (22-34 ") and you get a top-of-the-line co-sleeping solution.
The bed part is easily removable from the base, so you don't have to push the whole thing around.
Pros and Cons
Pros
Safe, solid build
Full rotation
Adjustable height – will work well with beds
Soothing sounds
Detachable bed
Cons
No cry or movement detection
SNOO vs. Halo Luxe features comparison
You're probably already getting an idea about where the differences and similarities lay between SNOO and Halo basinet.
Let me drive a few more points home by comparing the two bassinet, feature by feature.
Safety
Both SNOO and Halo Luxe are top-notch products that adhere to the strictest safety standards in production and use.
There are, however, levels to this, and SNOO is next-level safe, not only compared to this Halo but all bassinets.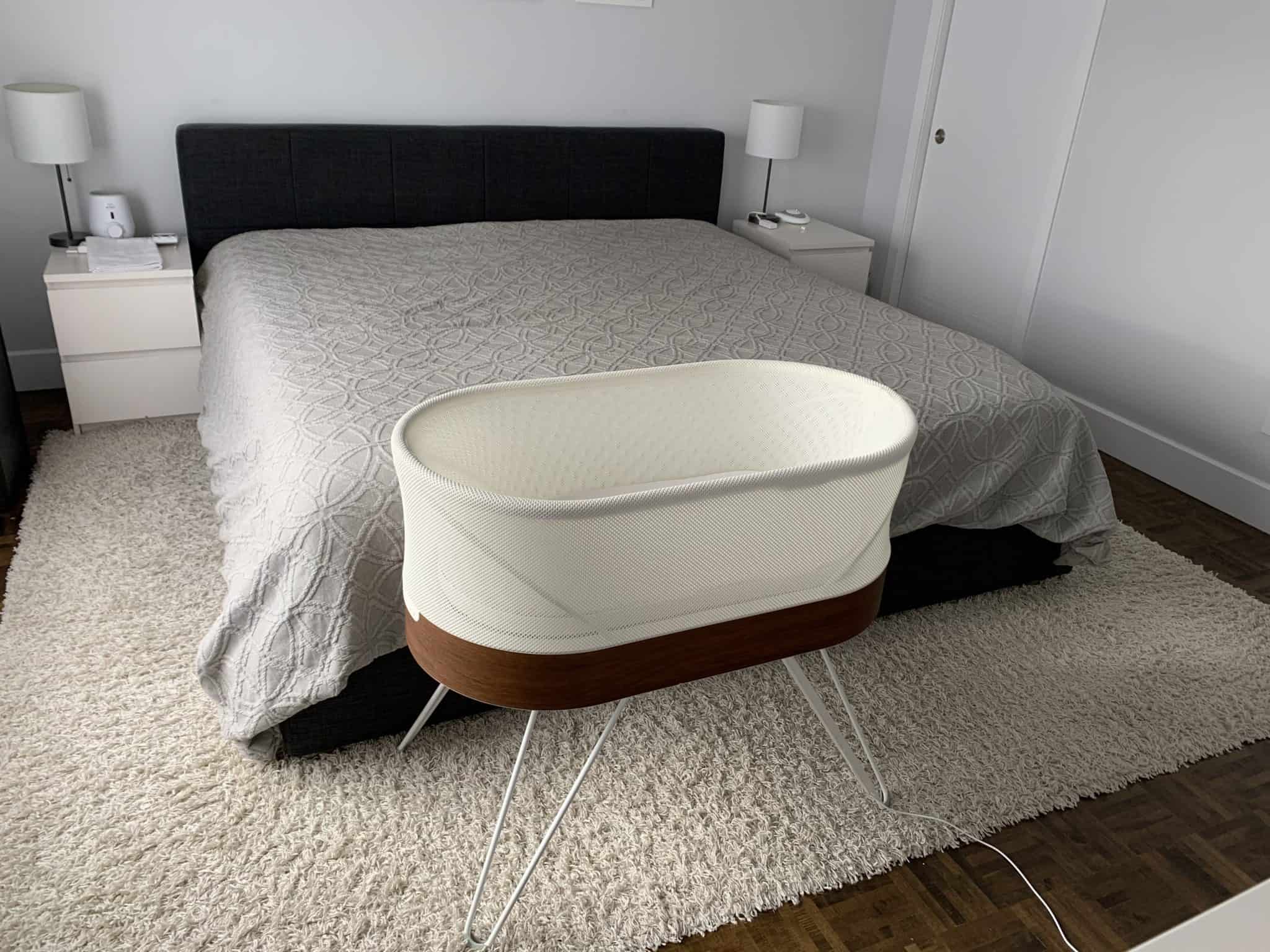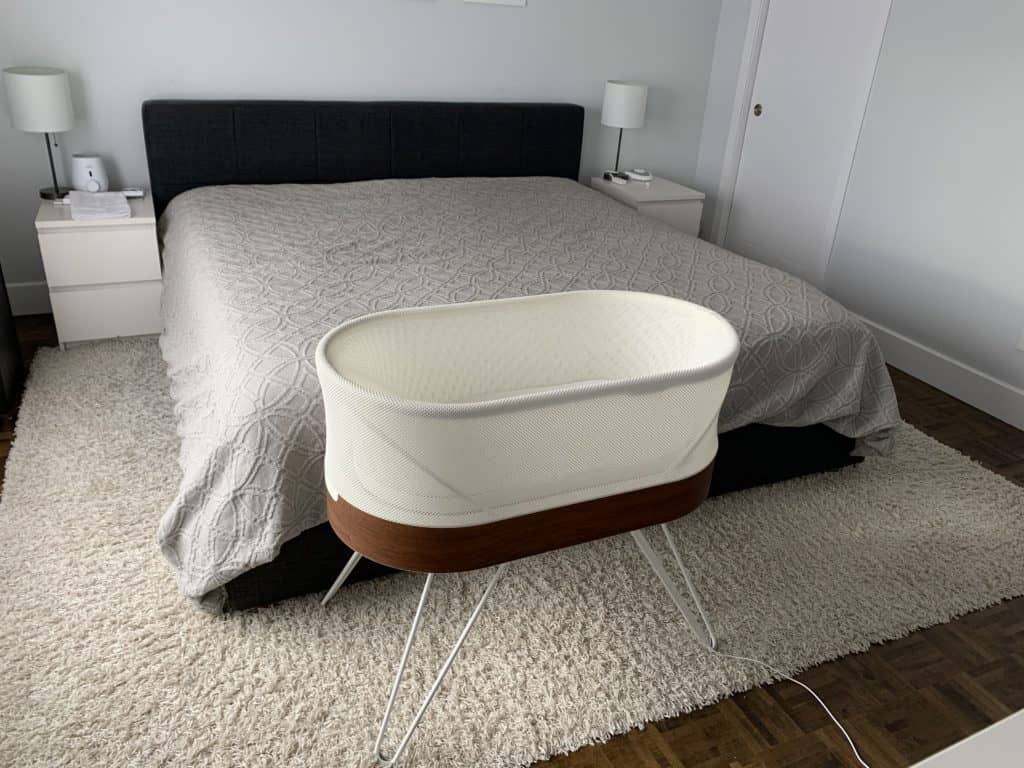 SNOO is the only bassinet that follows the advice of the AAP (American Academy of Pediatrics) that a newborn should sleep on their back at all times for the first six months.
Movement and cry detection technology
SNOO Smart Sleeper features the most well-rounded soothing system on the market. The sensors recognize crying and fussing (movement) and initiate the soothing "protocol."
The Halo Luxe has no detection features, which means you can start the gentle vibrations and sounds and set the shut-off, but it won't start on its own. This may not be ideal for someone with a newborn baby or fussy baby, who frequently wakes up during the night.
This means that, with Halo Luxe, you'll have to respond to those mid-night wake-ups yourself, while SNOO can do it all for you.
Vibration/movement & sound
SNOO is famous for its intricate soothing system with second-to-none flexibility and adaptability, courtesy of three microphones, two motors, a speaker, and motion sensors.
To put it simply – it learns about what's going on inside and adapts through movement and vibration.
You can manually limit the rocking motion and choose the sensitivity (i.e., level of motion/sound that activates the soothing.
The Halo Luxe is not as advanced – it features two vibration modes and four soothing sounds. It can shut off on its own but not adapt to the intensities like the SNOO.
Connectivity/App
The SNOO can be fully controlled through its intuitive, easy-to-use phone app.
No such luck with the Halo bassinet.
Age/weight limits
The age/weight limit of the SNOO is six months or 24 lbs, while the Halo Luxe lists the limits at five months and 20 lbs.
Co-sleeping
The SNOO was not designed with co-sleeping in mind. There's no rotation, the height is not adjustable, and none of the walls lowers for access.
It's meant to be used as a standalone smart bassinet.
On the other hand, Halo Luxe is one of the most flexible co-sleepers out there, with full rotation and a hefty 12-inch height adjustment range.
If ease of access for co-sleeping is something you're looking for, comparing the SNOO and Halo Luxe is a moot point; you'll want the Halo.
Price
The SNOO costs significantly more than the Halo Luxe but offers the option of renting one.
Decision time – SNOO or Halo Luxe?
As I said in the beginning, comparing the SNOO and Halo Luxe is about understanding which does what and which of the two better suits your needs.
If you need a complete sleep solution that's second to none in safety and soothing, you'll choose to buy or rent the SNOO.
If you want a bassinet that makes a good bedside sleeper and prioritizes easy access, you'll be better off.
Both bassinets get two thumbs up from UpsideDad.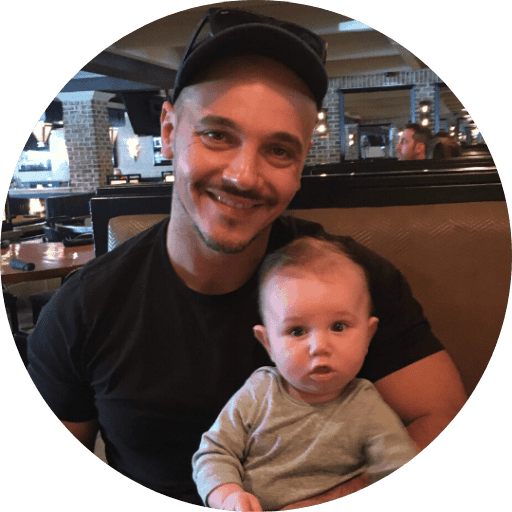 Paul is a passionate dad who founded Upside Dad to share his parenting journey with other new parents. He graduated from Concordia University and worked as a test engineer for over a decade. Paul loves dad jokes and craft beer.
Learn more about Paul and Upside Dad here.