It's been ages since something as revolutionary as smart bassinets hit the parenting market.
And we are grateful for it. I know I am; one of these things changed my life.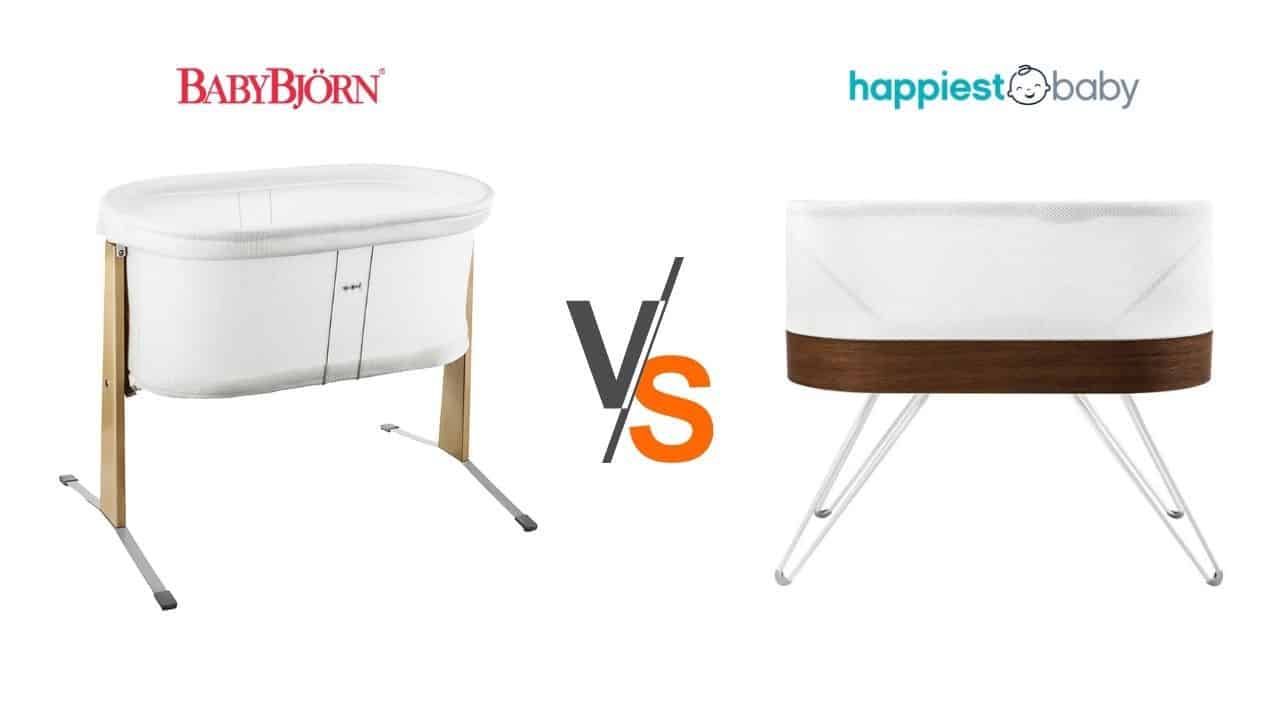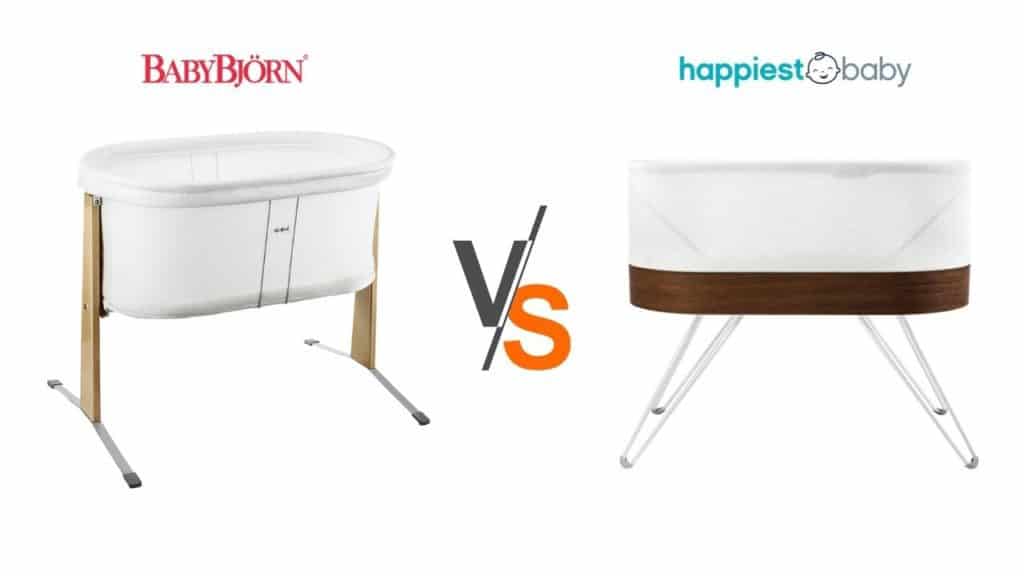 If you've stumbled upon my blog for the first time, I'm (of course) talking about the SNOO – the single most important piece of parenting gear that ever entered our home.
Today, I'll share my thoughts and data in the Babybjorn Cradle vs. Snoo face-off.
If you're in a hurry
For those of you reading this in a hurry, I'll get straight to the point – I prefer the SNOO. I've been reviewing bassinets for years now, and I'm yet to see a time-tested contender that comes close to this amazing bassinet.
On the flip side, SNOO is not cheap. If that is a key factor in your case, there are two roads you can take from here – renting the SNOO (you can see my take on the SNOO rental here) or going with some of the cheaper Snoo alternatives like this Babybjorn.
Babybjorn cradle vs. SNOO bassinet comparison table
Functions
SNOO
Babybjorn
Motion

YES

YES

Vibration

YES

NO

Sound/white noise

YES

, 3 modes

NO

App controlled

YES

NO

Cry detection

YES

NO

Mesh sides

YES

YES

Adjustable height

NO

YES

Prevents rolling

YES

NO

Washable, water resistant mattress

YES

YES

Integrated storage

NO

NO

Age/weight limits
6 months, 25 lbs
6 months, 17 lbs
Companies behind the products
The SNOO is designed by one of the best-known and trusted pediatricians in the US, Dr. Harvey Kaarp. He's the mind behind the bassinet and the founder of Happiest Baby, the company that makes the SNOO.
The fact that he's also known as the "baby whisperer" speaks volumes.
On the other hand, Babybjorn is a Swedish company with a 60-year long, storied history. It was founded in 1961 in Stockholm, and it's still a family-owned business.
Both Happiest Baby and Babybjorn have a solid track record of being highly trusted by the users.
How Does SNOO Work?
SNOO smart sleeper is the single most advanced baby bassinet today. It soothes your little one to sleep through vibration, rocking motion, and white noise.
The more impressive part, if you ask me, is how good SNOO is at getting the baby back to sleep after an unscheduled wake-up.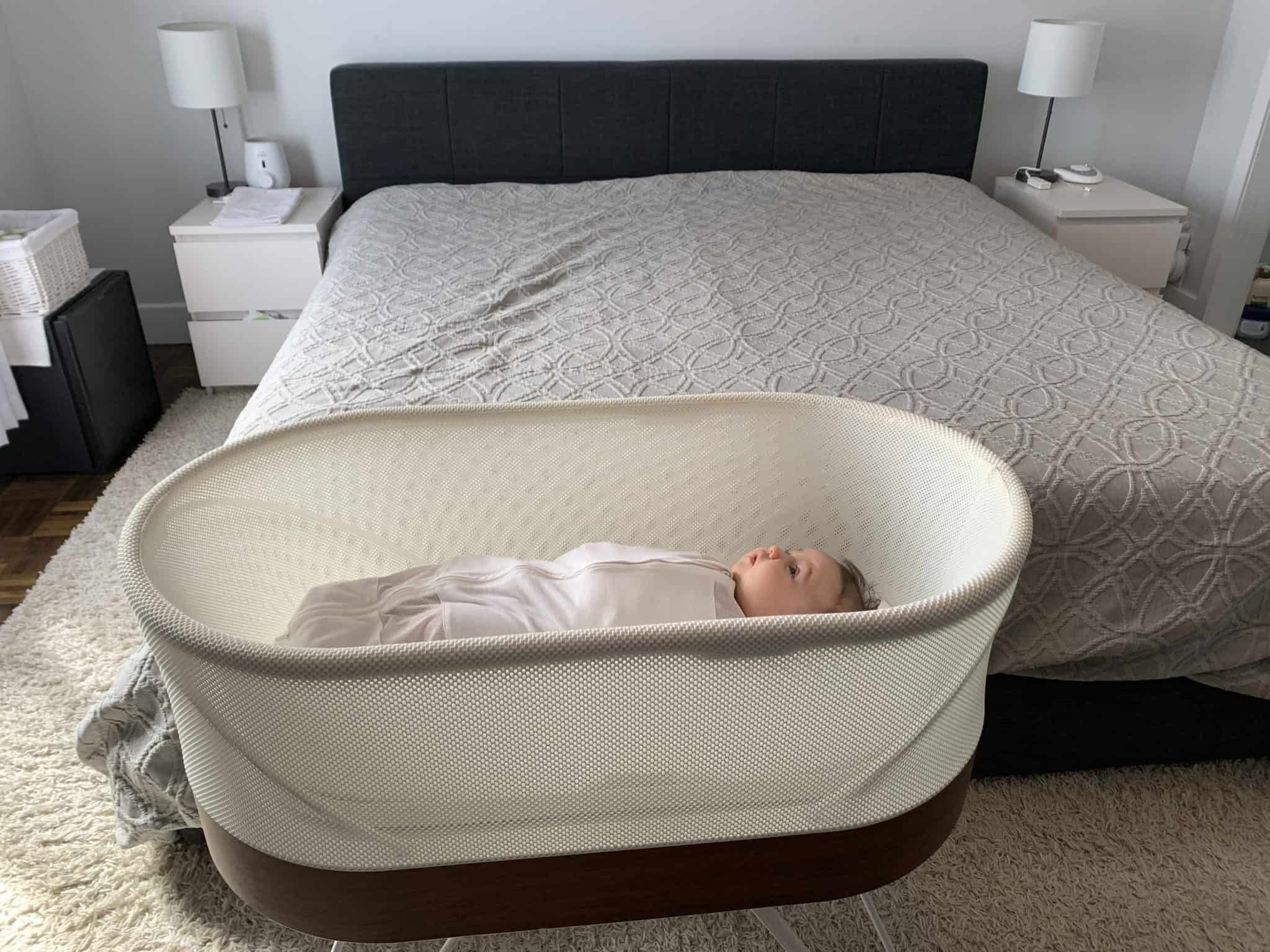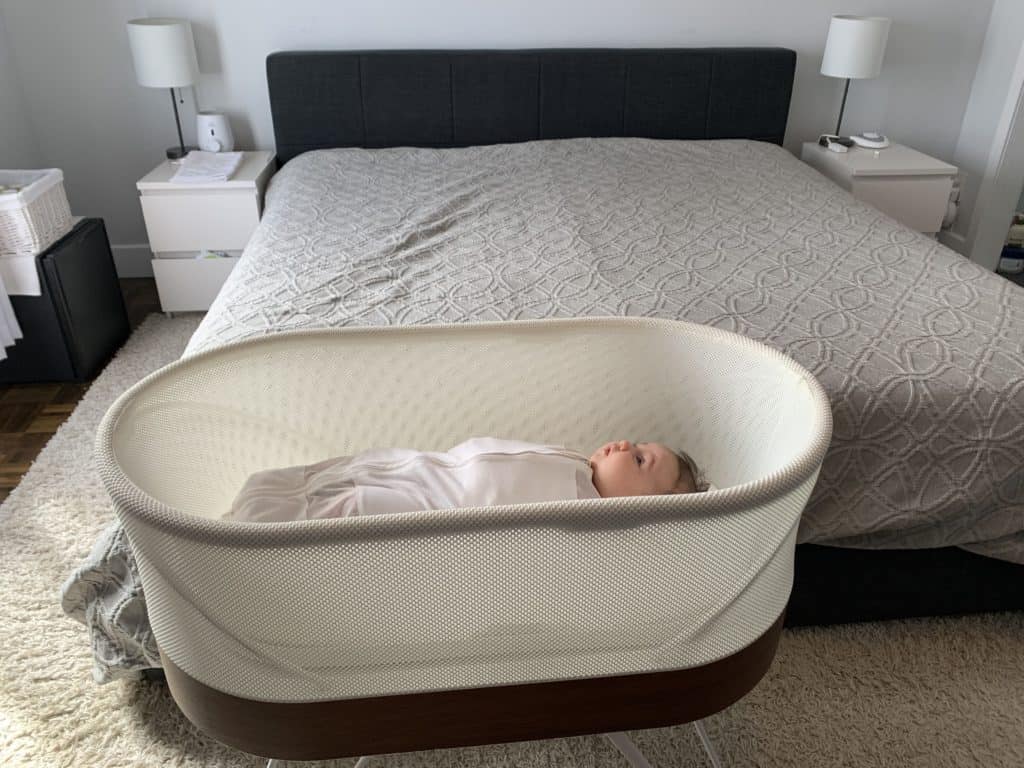 The embedded noise sensor detects the baby fussing and lulls them back to sleep by activating the soothing functions. You can choose how "responsive" the sensor is through an app on your phone.
Now, there are bassinets out there with similar features. I've looked into all of the worthy ones, and the SNOO is still superior in most aspects – the big one being safety.
That is not to say that Babybjorn baby cradle is somehow unsafe.
All I am saying is this – there's special peace of mind that comes with the SNOO. It's known as the "safest infant bed," and they recently celebrated an impressive milestone – 100,000,000 sleep hours without a single case of SIDS.
Why I like it
As safe as they come – the swaddle keeps the baby on their backs at all times.
Improved sleep – soothing center combines vibration, rocking, and swaying to improve sleep.
Responsive – SNOO will get your baby back to sleep without any action on your part
Intensity levels – features five intensity levels and allows you to adjust/limit the level of swaying.
Sensitivity – not all babies are the same (duh). That's why flexibility here is crucial – the higher the settings, the earlier the bassinet will "respond."
Easy to use, intuitive app controls.
More on the Babybjorn Cradle
The strongest points of this Babybjorn are the simplicity of setup/use, portability, and the value for money.
That's why it's one of the few baby cradles that's been consistently finding its way into the top 5% of traditional models in terms of user satisfaction percentages (according to my data).
What I like the most about it
Safety
It carries the seal of approval from the JPMA, and, as I previously said, the simplicity of the design makes it one of the most safety-centered cradles out there.
One might even say that it foregoes some of the bells and whistles and makes a point out of being simple. No small parts or bars means no risk of trapping those tiny hands and feet.
Mesh walls
The shape and the materials of the walls are just right to allow good visibility and airflow.
Light & portable
If you're looking for a cradle that's easy to move around, you can't go wrong with this Babybjorn.
It's feather-like, coming in at only 17 lbs (vs. the hefty 38 lbs of the SNOO), and has a small footprint.
If that sounds like something that might be a decision point for you, you can see the complete review of the Babybjorn cradle here.
Main differences between Babybjorn cradle and SNOO bassinet
First of all, we're talking about a cradle and a bassinet. They might look similar but are not the same thing. If you're unsure of what that means exactly, this guide explains it in greater detail.
Apart from the big picture stuff like coming from reputable brands, comparison between Babybjorn cradle and SNOO baby bassinet is orange-to-apple comparison.
Better yet, it's an apple-to-fruit-basket comparison.
SNOO is a state-of-the-art bassinet, while the Babybjorn cradle relies on simplicity
SNOO takes an active part and a hands-on approach to improving sleep, while the Babybjorn relies on your intervention
SNOO is a heavy bassinet, while the Babybjorn is built to be moved from room to room
SNOO will keep your baby in the patented swaddle, and Babybjorn does no such thing
SNOO costs much more
You can rent the SNOO, and you can only buy the Babybjorn
Key takeaways
Babybjorn cradle and SNOO are two very different infant beds, both great in their own right.
There are bassinets that are much more similar to SNOO than this Babybjorn, like Sense2SNooze from Graco – you can see that comparison here.
I do like the Babybjorn, and I'd put it in the Top 10 traditional cradles any day of the week; the SNOO is on another level.
To put it concisely, if the dilemma is babybjorn cradle or snoo, it isn't really a dilemma, it's more about taking the time to understand what's what.
Finally, you can't go wrong with either, as long as you know what to expect.
For other related reads, check out my mamaRoo vs SNOO comparison.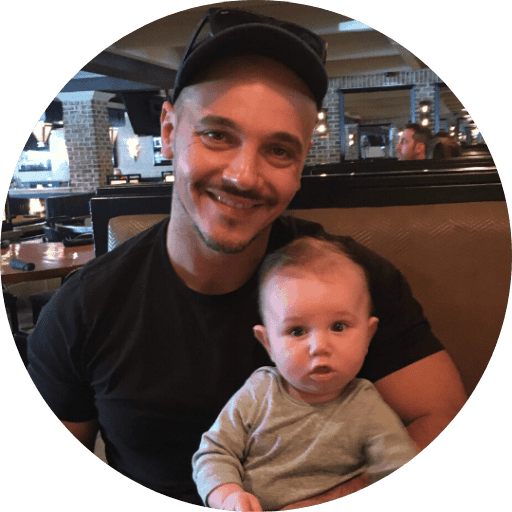 Paul is a passionate dad who founded Upside Dad to share his parenting journey with other new parents. He graduated from Concordia University and worked as a test engineer for over a decade. Paul loves dad jokes and craft beer.
Learn more about Paul and Upside Dad here.