As a new parent or expecting parent, you've got some things to consider when it comes to sleeping arrangements. You will need to consider whether you will use a crib, bassinet, or cradle; what combination to use, and how to use each. Here, we'll describe each and discuss features and best use cases.
What is a Bassinet?
Sometimes referred to as a cosleeper, a bassinet is a small and portable piece of baby sleeping furniture with a number of useful features. They tend to be made to attach to the side of a grown-up's bed for security and closeness during the night. Sometimes they come with a stand, wheels, and a handle across the top- and sometimes not. However they are configured, they are a great way to keep your baby close, move him around, and keep an eye on him during the night or while sleeping any time.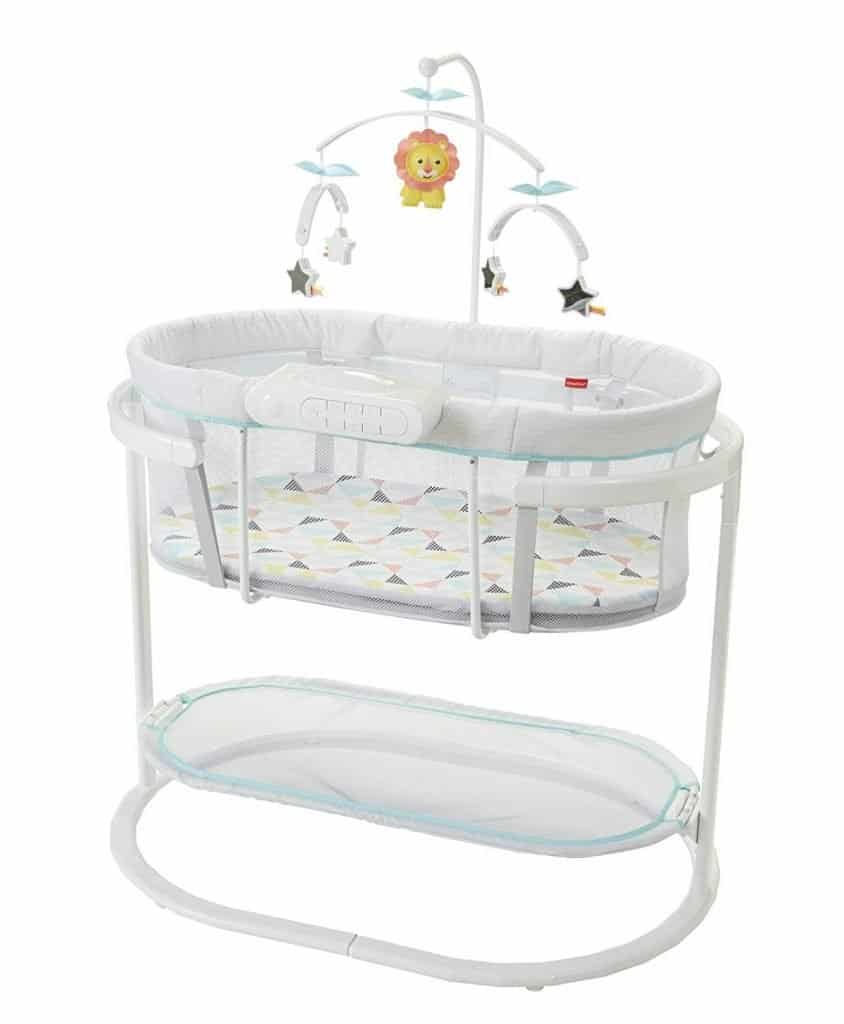 Pros
Small, light, and portable
Affordable
Versatile
Mobility-oriented features
Attaches to your bed for closeness without the danger of co-sleeping
Cons
Baby will outgrow it fairly quickly
Not safe for children over 40 pounds
Placing it on the floor can create a stepping hazard
How Long Can You Use a Bassinet?
Bassinets are not standardized for size and strength the way full-sized cribs are. So the limits of its usefulness will depend largely on closely observing your baby's weight, strength, and activity. Generally speaking, a bassinet is for a newborn under 25 to 30 pounds. However, if your baby is very active, is unusually strong, or has a penchant for climbing, then a bassinet may no longer be a good choice. In most cases, they are perfect for children under 6 months of age.
For more on different bassinets, check out my list of the most popular bassinets and their weight and age limits.
Is a Bassinet Safe for a Newborn?
Bassinets are ideal for newborns. When used for newborns, the safety considerations of a bassinet are the same for any baby sleeping device. That is to say, the mattress should be firm but comfortable. The sheets and blankets you use should be thin, not fluffy, and they should be breathable.
You can test the breathability of a blanket or sheet by placing it over your mouth and breathing. If you can move air through it easily, then it's safe for your baby. There should be no excessive bedding or soft toys in a bassinet. If you use your bassinet with a detachable stand, you should inspect it for sturdiness. Finally, always attach the bassinet to its stand before placing your baby in it, and ensure any locks or securement mechanisms are fully and solidly engaged.
What is a Crib?
A traditional crib is similar to a traditional cradle except that it usually does not rock or swing, is larger, and stronger. They can be moved but are not necessarily designed for portability.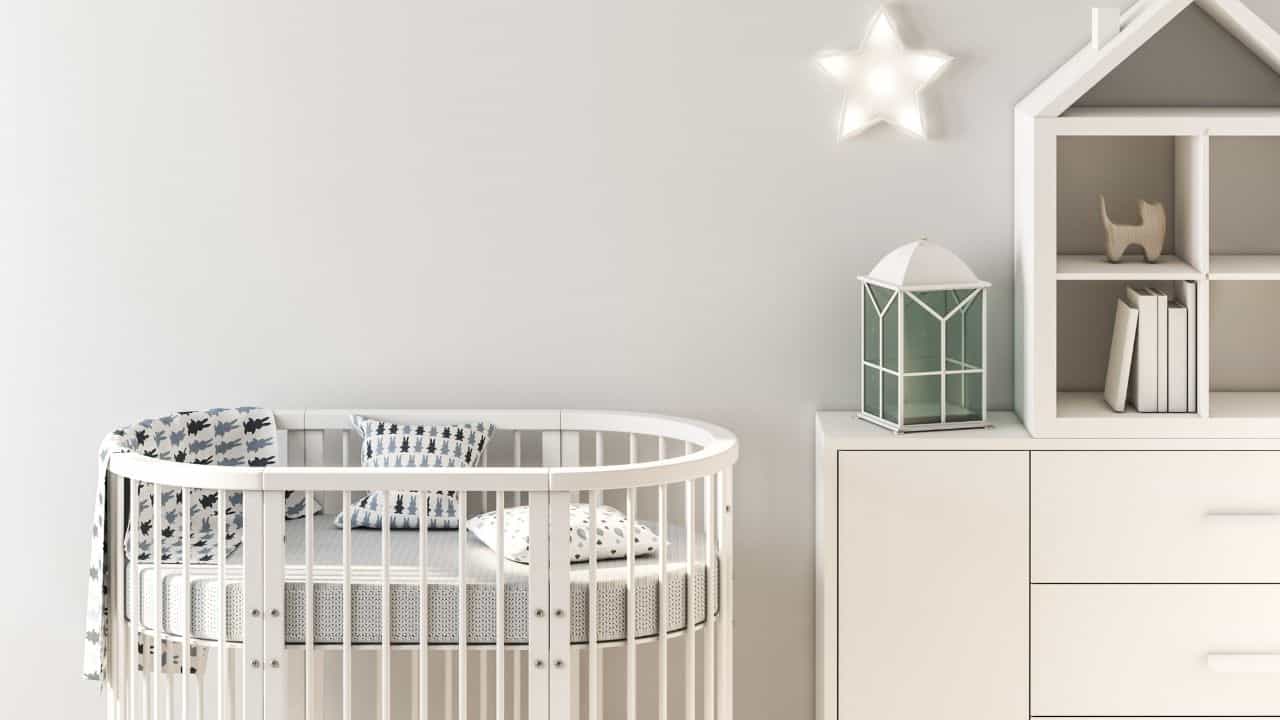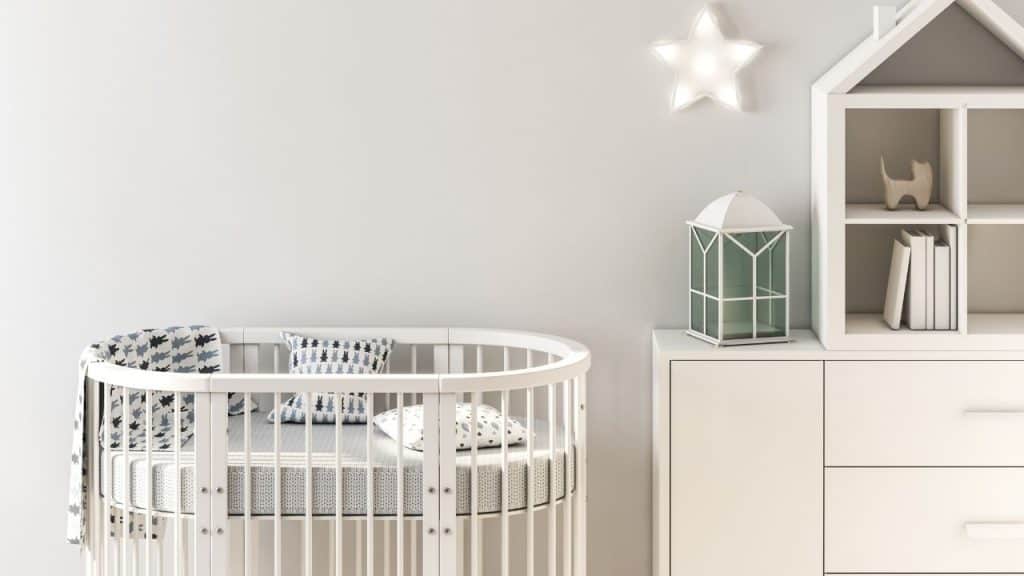 Pros
Those built with swinging or rocking motion help baby go to sleep
Offer your baby move room to move than a bassinet
A good option for larger and more active babies
Can be positioned alongside a parent's bed
Cons
How long can you use a crib?
Cribs are typically best for newborns and small babies. The typical use case is between three and four months of age. If your baby is too large or active, a crib may not be useful for long enough to justify the investment.
Is a crib safe for a newborn?
Once again, a crib is a fine sleeping option for a newborn as long as the bedding is firm, spare, and breathable. Check blankets and sheets to ensure they breathable by placing them over your mouth and trying to move air through them.
What is a Cradle?
Traditionally, a cradle is a small, semi-portable piece of furniture for a baby to sleep in. They tend to have rocker-style legs or hang from a frame like a hammock. Today's cradle-like options are a bit different. Also known as a playpen or play-yard, the common, modern version of a cradle has many uses and options and is designed largely for the newborn sleeper. Some models come with a changing table. Perhaps the most important feature is higher walls than those of older models which makes transitioning easier as your baby grows.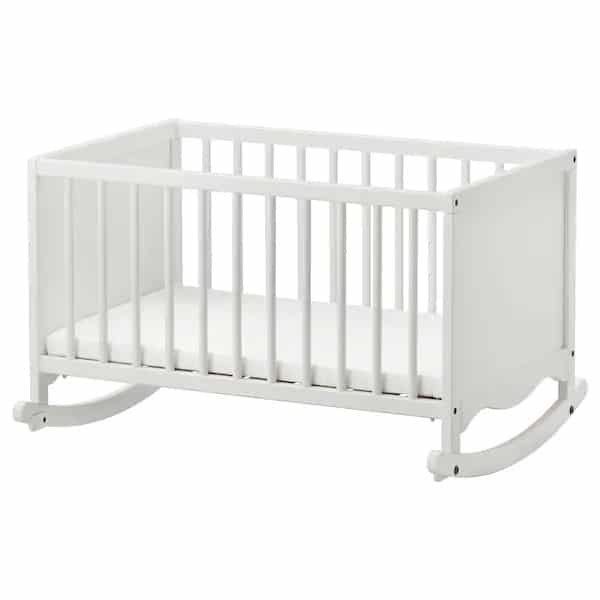 Pros
Foldable, portable, and versatile
Relatively inexpensive
Easy to clean
Inexpensive
Cons
Not ideal for long term sleeping
Hinges may pinch baby fingers
How long can you use a cradle?
A modern cradle, or infant playpen, is a good transitioning tool from the bassinet or infant sleeping device to a larger bed. They are a good choice for children between 1 and 2 years of age. They usually should not be used by children weighing 40 pounds or more. The strength and activity level of your child will also affect the usability of a cradle.
Is a cradle safe for a newborn?
Like a bassinet, a cradle is perfectly safe for a newborn as long as the normal baby sleeping safety considerations are adhered to. The sleeping surface should be firm, sheets should be tight and properly sized, and no excess pillows, blankets, or soft toys should be used. The one drawback of using a larger crib or playpen for a newborn is they may move out of easy reach.
Bassinet vs Crib vs Cradle- How Do They Compare?
All of these sleeping devices have their pros and cons, their positive use cases, and their poor use cases. At the end of the day, one is not going to take care of all your baby sleeping needs. You may be able to get by with just one, but you will end up wishing you had more.
A cradle is best suited as a sleeping device for newborns. If you buy a cradle that is more traditional in design, then your baby will outgrow it rather quickly, since they will tip if your baby stands up. Modern cradles are built more in the "playpen" style, which is more versatile, and will accommodate older, larger babies.
A bassinet can easily be a complete replacement for a cradle. They are more portable and more versatile. Modern playpen-style cribs may serve your baby longer since it is bigger. But a bassinet can be carried with one hand by the handle, making it excellent for travel. The one thing parents should know about a bassinet is you cannot safely or legally put it into a car with your baby in it. A properly sized baby car seat should be used.
Bassinet, Crib and Cradle FAQs
What is the difference between a bassinet and a cradle?
A bassinet is smaller and more portable. Even a traditional cradle will be heavier than a bassinet.
When should I move my baby out of the bassinet?
You should stop using the bassinet when your baby is able to climb out of it, (or is close to being able to climb out of it), exceeds the weight limit of an attachable stand, or when your baby is too large to sleep in it comfortably.
How long does a baby sleep in a bassinet or cradle?
Typically a baby over two years of age or weighing more than 40-45 pounds will have outgrown a cradle or bassinet. Modern cradles are likely to serve longer.
Can a baby sleep in a cradle all night?
Yes, but you should be near to your baby since most such sleeping devices are not dedicated to this purpose wholly.
Do I need a crib and bassinet?
No, bassinets are helpful but not required. A modern crib can take care of all your baby's sleeping needs if necessary, although it would be nicer to have more sleeping options available.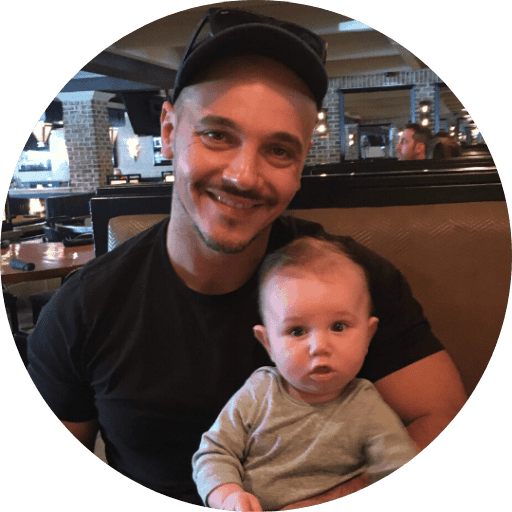 Paul is a passionate dad who founded Upside Dad to share his parenting journey with other new parents. He graduated from Concordia University and worked as a test engineer for over a decade. Paul loves dad jokes and craft beer.
Learn more about Paul and Upside Dad here.