Baby Merlin's Magic Sleepsuit is one of those products that makes you wonder how no one came up with it much earlier.
Baby Merlin's Cotton Magic Sleepsuit
The original swaddle transition product
Designed for back sleeping in the crib
Invented by a mother of four and pediatric physical therapist
Helps establish good sleep habits
Proper fit
---
The concept is simple and makes all the sense in the world, yet it wasn't introduced until 2008.
It immediately received some serious buzz, which was to be expected – it's not every day that the landscape of the baby sleep market changes dramatically.
However, today I take a step back and look at all things Merlin's with a critical (skeptical even) eye.
Merlins Magic Sleepsuit at a glance
The original swaddle transition suit
Invented by a pediatric physical therapist and a mother of four
Designed to shape optimal baby sleep habits
Features double zippers and open hands and feet design
Safe scooped neckline
What the advertising says
One sentence stands at Merlin's website – "The Magic Sleepsuit is the best swaddle transition product on the market today."
Now, if you know the industry, you'd know how tricky marketing language is and how many hoops manufacturers have to go through to make a claim like this.
It's one of two products with advertising like this
Merlin's is one of two products I know of that makes an open, bold claim like this.
The other one is the all-dominant SNOO bassinet with their claim about being the "safest baby bed ever made." Check out my detailed review of the SNOO Smart Sleeper for more details.
This is my point – if there's any room for doubt or if any data suggested otherwise, they wouldn't legally be allowed to say it.
The goal here is simple – make the review concise and clear and give you the answer if Merlin's is the right choice for your baby & you.
Specs and features of the Merlin's Magic Sleepsuit:
Top-of-the-line materials – the inner layer is airy jersey cotton, the outer layer is cotton or microfleece, and generous polyfill in-between (all CPSIA safety certified)
Two sizes – 3 to 6-month-old (12-18 lbs) and 6 to 9-month-old (18-21 lbs)
Aimed at babies ready for a transition but need the soothing feeling of containment
Created to stimulate a feeling of a cozy and safe environment
The design is unique and patented
Not to be used for co-sleeping or with sleep positioners
Other features – open hand and feet design, scooped neckline for improved safety, and convenient double zipper
About this Magic Sleepsuit review
Before we get into the 'meat,' let me just quickly go over what you can expect and how to find your way around.
Here's what you'll see below:
We'll go over some of the strongest points of the sleepsuit (objectively, based on user experiences and parents I interviewed)
I'll share what I liked the most about it and what I think could be better
I'll make a rundown of the negative reviews parents shared
I'll answer common questions parents ask about Merlin's
I'll recapitulate and draw conclusions
Strongest points of Merlin's Magic Sleepsuit
It's a smart swaddle transition product
One of the main benefits of swaddling your baby is controlling the Moro reflex (starling) that's responsible for many a restless night.
Swaddling gently inhibits the reflex and could get your little one to sleep through the night.
Swaddling comes with its own risks, like the issue of rolling over in the swaddle. When that starts happening, it's time to move on. Moving on from a swaddle to a sleep environment that feels much less cozy can undo all the sleep training and healthy habits you've been working on.
Merlin's Magic Sleepsuit is designed to prevent that and soothe them back to sleep when they'd otherwise wake up.
Just enough movement
The best part about it is this – it finds that sweet spot between free movement of the arms and legs and control to keep those startles at bay. It's a natural approach to improving baby's sleep without spending a small fortune on sleep training.
Is it 'magic?'
No.
Is it awesome?
Absolutely yes.
Convenience
The double zipper makes it very easy to use, even for those late-night diaper changes.
It's well-designed, works as advertised, and most importantly, the top flaps eliminate any risk of the zipper scratching the baby.
Again, attention to detail…kudos for that, Merlin's.
Original (cotton) vs. microfleece
If you hear/read someone talking about the 'original' Merlin's, they're probably referring to the cotton version of the suit. The designs are the same, and the only difference is the outer layer.
Which is better?
There's no 'better' here if you ask me.
But, if we're going by the numbers from my database, the original cotton version has an ever so slight edge over the microfleece (87 vs. 85 user satisfaction percentage).
Which is right for you?
Microfleece is somewhat puffier and, by definition, a bit cozier and gentler to the skin.
On the other hand, cotton is more breathable and will probably be the choice of people who don't like synthetics touching their baby.
If you ask me, there's no problem with the kind of microfleece used for the sleep suit. It meets and exceeds the strictest material safety standards.
Both are available in two hues of blue and two hues of pink, while the cotton version also currently offers cream (which I'm not a fan of, if that means anything).
What I like the most about Merlin's Sleepsuit
I'll skip the obvious benefit, which is making the transition from a swaddle to sleep sack seamless.
First things first – safety
Those who aren't new to the website know how big I am on safety. And Baby Merlin's Magic Sleepsuit ticks all the boxes in that area.
I'm all about taking zero risks, and the fact that the suit keeps the baby on its back is a massive plus for me. The design of the neck scoop that keeps fabric away from the baby's face is the kind of attention to detail I like to see in baby gear.
Simple to keep the baby warm
It gets cold here – Montreal is one of the coldest cities in North America.
Sure, we always make sure that the room temperature is just right, but there's extra comfort in knowing that what he has on will keep him warm through the night even if there's a temperature drop.
And doing it with minimal layering is a huge burden off of parent's backs.
One of the cutest "swaddles" you'll see
I dare you to grin when you see your baby wrapped in this eye candy. The first time I put him in it, my son looked like a puffy bundle of blue cotton candy.
We got two microfleece suits for the winters and two cotton suits for the summers. In retrospect, we could've easily managed with one of each, but we found it so helpful that we didn't want to risk accidents leaving us without at least one suit at hand.
The blue is my absolute favorite.
Reasonably priced
When you have a product that introduces a new concept, they typically do a lot of aggressive marketing to jack up the price.
The Baby Merlin's Magic Sleepsuit never did that and I respect them for it.
It's conservatively priced and worth every penny. This is not just my opinion; it's what I see users were in their reviews.
And it makes sense – if you have a restless sleeper on your hands, anything that gets them to sleep through the night is a game-changer. That's what a sleep suit is.
Furthermore, it can directly save you money in sleep training fees and help establish good sleep habits long-term.
If it sounds like my review is a bit over the top, I'll tell you this – according to my data, more than four out of every five parents gave Merlin's either 4 or 5 stars.
This puts the suit in the top 5% of all products I ever reviewed.
High-end materials
This is a big one. In all my reviews, I go the extra mile to look into the materials, especially the chemical and safety aspects.
The Magic Sleepsuit meets all the CPSIA safety requirements (Consumer Product Safety Improvement Act) and Merlin's explicit about it.
What exactly is 'high-end'?
When I look at materials, I look at specific things.
By now, I know the patterns – the industry terminology is where the 'risks' lie. It's obscure language like "high-quality materials" that's the problem.
By 'often,' I mean when it's not backed by the specifics of what the words mean.
Magic Sleepsuit is open and specific when they talk about what they do (or don't do) with the materials – like spraying them with chemicals to make the suit flame-retardant.
Bottom line – I feel confident that the materials used are chemical-free. This point is critical because the suit and your baby's skin will be in direct contact most of the time.
Is it a good choice for 'face-rubbers?'
For the life of me, I could never find the statistic about the percentage of babies that like to sleep with their hands by their face.
I'm mentioning this because, at first sight, it might seem that the suit is too restricting for those with a face-rubbing sleep routine.
It's not – it allows enough movement in their sleep so that even this group of tiny sleepers can sleep better and get adequate rest.
The 'could-be-better'
One surefire way of knowing that I have a winner on my hands is that this part becomes hard to write.
But here we go…
Laundry complications
This thing takes longer to dry than any other sleep sack or swaddle we ever used.
What this means for you
It might mean that, if it works as well for you as it did for us, you'll end up getting two…or four like we did.
If leaks happen, having an extra on hand is simply smart.
Diaper-change complications
This is not really a CON but makes life a bit more complicated when changing the diaper.
It's just the nature of the product, and I don't really see how they could make it better and more accessible.
The two zippers are convenient, but you'll still need to pull your baby's legs out to change the diaper.
No deal-breakers
If you look at the things I listed as 'CONs' you realize that they aren't CONs per se (quality or make-wise)- just the downside of using the product.
Rundown of the negative reviews
I always pay special attention to the negative reviews. I look for genuine quality problems and what percentage of the parents who didn't like the product had a problem with the quality.
Why?
Because no piece of baby gear will work for everyone.
For my little guy, it worked like a charm.
The size and fit
The number of people saying the suit was too big for their baby is statistically significant.
To be fair – if you look at their web page or the Amazon listing, Baby Merlin's make it a point to stress that a good fit is crucial for creating healthy sleep patterns.
They are also very precise about the sizing, both in 'months old' and weight. For the baby to sleep better, there should be freedom of movement but not the kind of 'freedom' that would allow the fabrics to get to their face.
Sometimes it just doesn't work
In about 5% of cases, the baby just doesn't like it, or the parents recognize it's not the right fit – for whatever reason, too hot, too big, or too small.
And that's normal.
The important part is that it worked for almost 9 out of every ten people who tried it. By 'worked,' I mean resulted in better sleep for the baby and extra rest for the parent.
FAQs about Baby Merlin's Magic Sleepsuit
In the following section, I'll address some of the questions about the sleep suit that commonly pop into my inbox – and there's aplenty.
Is Merlin Magic Sleepsuit safe?
It is very safe. In fact, it's designed to keep your baby sleeping on their back, which is the official recommendation of the AAP (American Academy of Pediatrics). On top of that, the neckline is scooped to be extra safe.
Where to buy it?
You can buy the Baby Merlin's Magic Sleepsuit from a range of online sources like Amazon to their retailers.
In my opinion, buying online gives you the irreplaceable benefit of reading the reviews of the people who are already using the product.
Is it weighted?
No. There's no additional weight apart from the oversized design and the padding.
How much does it weigh?
The shipping weight is 0.701 pounds, and the suit itself weighs a bit less.
How do you transition to a Merlins sleep suit?
It's best to make the transition gradual. For example – introducing the baby Merlin's Magic Sleepsuit at nap time will ease the baby into a slightly different sleep environment.
While doing it, do your best to maintain other parts of their sleep routine unchanged. This part is crucial because it allows for a one-variable approach – meaning that if your baby starts fussing, you can slow the transition even more.
Based on what I've seen in the interviews, most parents have little to no problems transitioning to Merlin.
The how and when of using it
When to use it?
It's to be used at approximately three months as your baby starts the transition out of their swaddle.
How long should you use it?
You can use it for as long as six months – starting from month 3 to 9 months of age.
When to stop using it?
For babies that love their Merlin, stop using the smaller suit at month 6, the weight of 18 lbs, or simply when it stops working and move on to the bigger Merlin's.
The same applies to the larger sleep suit.
Can baby self soothe in Magic Merlin?
Most babies can self-soothe in the Merlin Magic sleep suit, even the babies who self-soothe with their hands/thumbs.
Can you use it at 2 months?
It's not advisable to use the Merlin Magic sleep suit at two months – the baby's startle reflex might still be too strong to allow for the baby to sleep through the night.
For peace of mind, let that first night be somewhere around 3 months.
The 'startle reflex'
Also known as the Moro reflex, the startle reflex is a spontaneous motor response that causes the baby to suddenly move their arms legs, bring their arms in front, and, more often than not, burst into tears.
Getting into the theory of it all is beyond this text. What you need to know about the startle reflex in the context of the Baby Merlin's Magic Sleepsuit is this – it's the main reason why you should wait for the 3-month mark before putting them in the Magic sleep suit.
Baby sleep training theory says that if you take the swaddle away too early, teaching them to sleep without it can become hard. A suit like Merlin's lowers that risk because the transition from the swaddle is not as dramatic.
Nevertheless, the 3-month mark is still the rule of thumb.
Hot & cold
How warm is it, and what should the room temperature be?
It's designed to be used at recommended room temperature for babies (68-72 degrees Fahrenheit or 20 to 22 degrees Celsius).
There are lighter material options that are probably better for baby sleep in warm weather, like the cotton suit.
If you're worried about your baby being too cold, you'll find this guide on keeping your baby warm in a crib useful.
What should the baby wear under the suit?
In most cases, I've seen parents saying that they found it to be toasty and used it with a diaper and socks. At most, I've seen parents talking about a light onesie or PJs.
Related read: What a baby should wear under a swaddle
Can it be used for babies who rollover?
Yes. In fact, preventing the baby from rolling over and keeping them on their backs is one of the main safety benefits.
The caveat here is that if you have a baby that is used to sleeping on their side, making the transition might take longer. However, once done, the baby's sleep will likely be just as calm as it was in their swaddle.
Will the baby's feet be cold? Do they need socks?
This is a common question because of the open arms and legs design.
Based on what I've seen in the experiences I analyzed, most of the time, they won't need socks.
The open design of the Baby Merlin's Magic Sleepsuit generally has no adverse effect on how babies sleep because the hot air from the suit dissipates through the opening at the hands and feet.
The rule of thumb here is to judge their temperature by feeling their chest or back.
Takeaways and updates of the Magic Sleepsuit review
As I said from the get-go, if I did my job well in this analysis, you should now be clear on whether Merlin is right for your little one.
If you're just doing some virtual 'tire-kicking' today and are not reaching for that card, make sure you bookmark this text and get back to it when you are ready.
This part is not a cliche – this is a dynamic market, and products change.
I stay on top of it all – if there's a change in quality/manufacturing practices you should know about, a cheaper alternative, or a reason not to buy it – it will be reflected here.
Stay savvy in your baby gear choices,
Paul
Baby Merlin's Cotton Magic Sleepsuit
The original swaddle transition product
Designed for back sleeping in the crib
Invented by a mother of four and pediatric physical therapist
Helps establish good sleep habits
Proper fit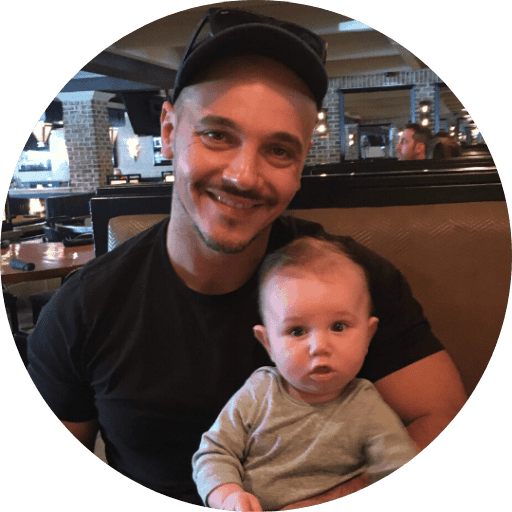 Paul is a passionate dad who founded Upside Dad to share his parenting journey with other new parents. He graduated from Concordia University and worked as a test engineer for over a decade. Paul loves dad jokes and craft beer.
Learn more about Paul and Upside Dad here.