The SNOO Smart Sleeper is a high-end bassinet carefully designed to improve babies' (and parents') sleep. The SNOO incorporates the latest technologies along with proven medical research to automatically adjust to your baby's needs during the night and put him right back to sleep.
Automatic cry detection
App-controlled
Five intensity levels
Pattented swaddle technology
SAFEST bassinet ever made
---
The SNOO can detect when your baby is getting fussy and adjust its rocking and soothing sound for maximum comfort.
Some of the SNOO's best features include:
Patented swaddle technology keeps baby safely and comfortably on its back
Microphones and motion sensors detect your fussing baby and automatically changes settings to soothe him
Incorporates rocking, white noise, and a connected app to track and improve sleep night after night
You can find my full review of the SNOO bassinet here.
Unfortunately, there is a drawback to the SNOO – it costs a pretty penny.
If there is one thing new parents know, it is that having a baby is already expensive. The SNOO's cost can put this amazing bassinet out of reach for many moms and dads, regardless of how many nifty features it has.
Every parent wants the best for their child, but that does not mean you have to go into debt to do it.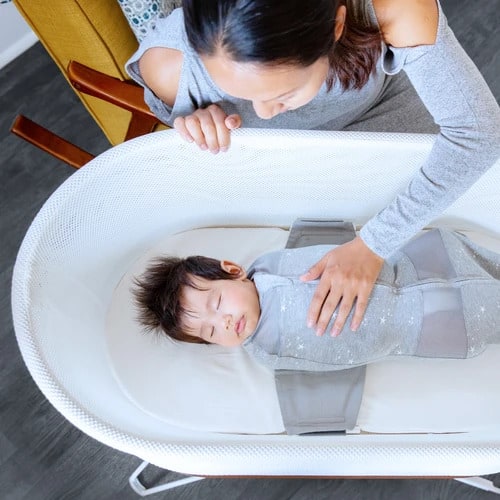 There are several cheaper alternatives to the SNOO that do just as well of a job in providing the whole family with the best possible sleep.
If like me, you still want the SNOO but are looking for a cheaper way to own one, you can always rent the SNOO for about $4/day. This gives you the option to have your SNOO for less than the full cost of owning one. Check out my SNOO rental review for more info.
Why Do I Need A SNOO Alternative
As a new parent, you know how hard it is to get a good night's sleep for you and your baby. Smart bassinets are one of the best ways to ensure everyone sleeps peacefully (and safely).
The SNOO seems like a dream to any parent looking for a self-rocking crib – until they see the price tag.
SNOO alternatives can provide you with everything your baby needs for a fraction of the cost of a SNOO Smart Sleeper.
The bells and whistles are great, but will they really help relax your baby any more than another smart bassinet? I think NOT!
The Best Alternatives To The SNOO Smart Sleeper
By now, you have probably already decided whether or not you are interested in paying the premium price of the SNOO Smart Sleeper.
If like most parents out there you are looking for cheaper alternatives to the SNOO, then look no further. I've put together an up-to-date list of the best and most affordable smart bassinets right here.
Don't get me wrong, the SNOO is still my favorite smart bassinet, but some parents may be looking for a simpler, smaller, cheaper alternative.
Here are my choices for the best SNOO Alternatives:
Read on for a short overview on each of my favorite SNOO alternatives.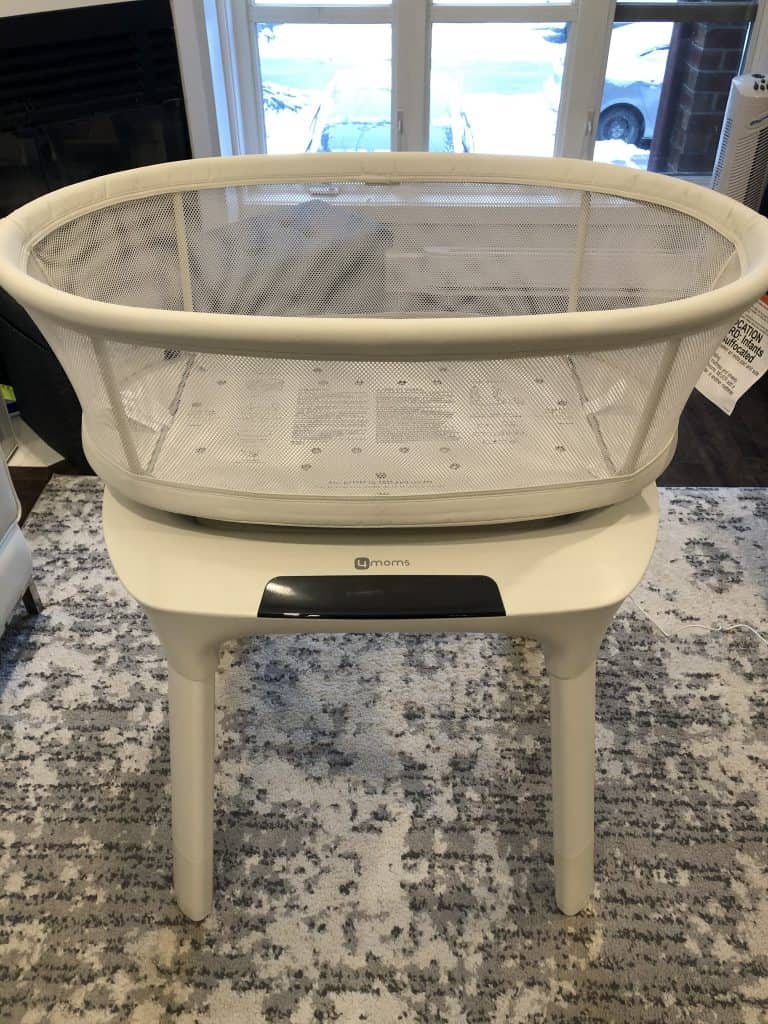 The mamaRoo bassinet has most of the features of the SNOO at a much lower price point. This bassinet can rock your baby 25 different ways – that is, five speeds for five different types of rocking motions.
The vast array of settings ensures you can find one that will help your baby sleep no matter what mood he is in.
Additionally, this bassinet features four white noise options that you can use to help your child relax. You can control all of these features from the bassinet itself or from the 4moms app on your smartphone.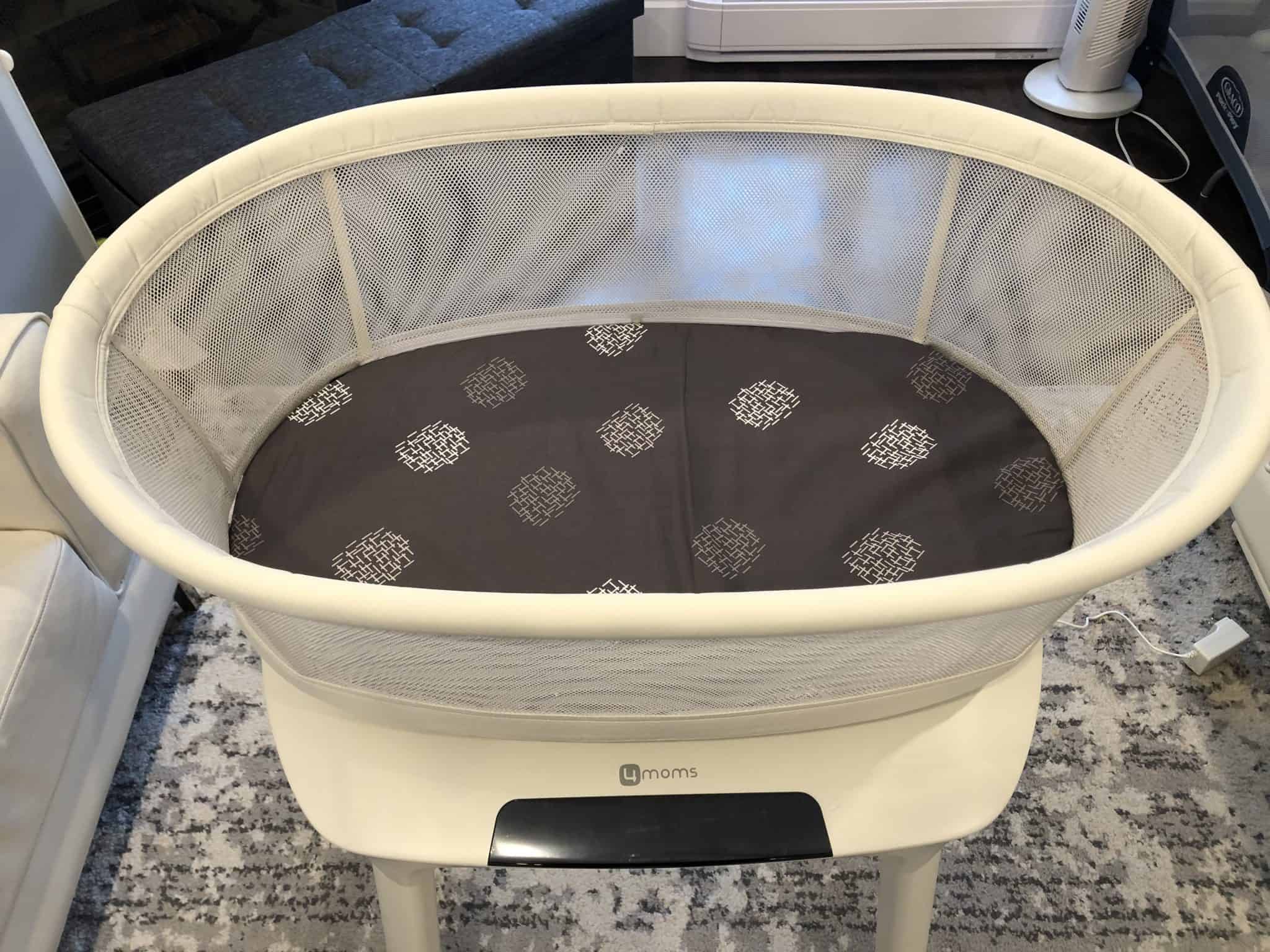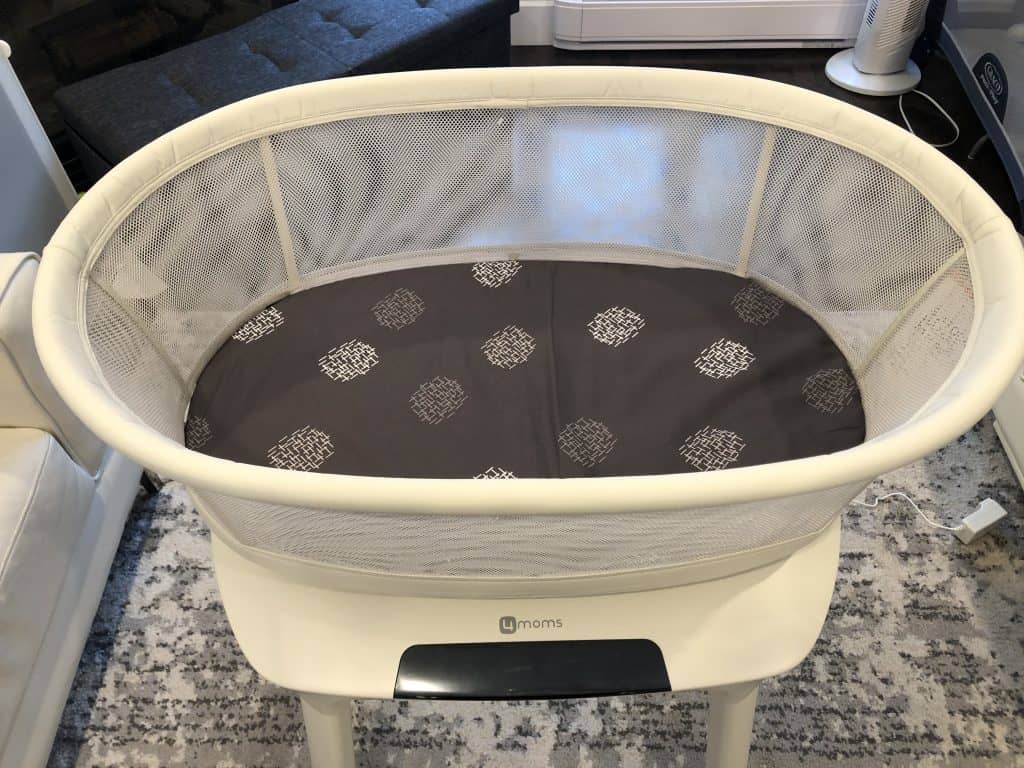 The app also has a timer to help you teach your baby a bedtime routine.
The bassinet itself has mesh walls for maximum breathability, a firm and flat sleeping surface, and adjustable height. The bassinet is 34" L x 24" W x 34.5" H (39" H with extenders) and weighs 30 lbs.
If you're still torn between my two favorite smart bassinets, check out my detailed comparison of the SNOO vs mamaRoo. You can also read about my experience with the 4moms mamaRoo Sleep bassinet here.
Halo's smart bassinet comes loaded with tons of cool features to help you and your baby enjoy a comfortable night's sleep. With warm amber night lighting, two vibration settings, and four white noise options, this bassinet is made specifically for the best experience.
Halo's bassinet is also one of the only bassinets with a full 360 swivel and lowering walls, making it easy to place and access right beside your bed. This feature is especially good for comfortable breastfeeding, moms recovering from C-sections or anyone with mobility issues.
You can also remove this bassinet from its stand for transportability and multi-use functionality. In addition, a Newborn Insert can be added for extra comfort for very young babies. This bassinet can be adjusted from 24"-34" in height. It is a great deal for a fair price.
Check out my full review for more details on the Halo Luxe BassiNest.
If you thought those last two bassinets were great, but are looking for one that can detect your baby crying and adjust accordingly like the SNOO, then look no further than Graco's smart bassinet.
The Sense2Snooze bassinet is designed with two vibration settings, three speeds, ten white noise/sound effect options, and an additional ten songs to help your baby sleep better. The bassinet also has dimmable lighting, built-in storage, and wheels for easy mobility.
All of these settings automatically adjust when crying is detected. Of course, this bassinet also has mesh sides for optimal breathability and visibility. Graco's bassinet has a canopy to help block out light, and it is reversible. The bassinet measures 26" W x 19" D x 41" H.
If you want to know how the Graco Sense2Snooze compares with the SNOO on a one-on-one, check out my review of the SNOO vs Graco Sense2Snooze. I also did a detailed review of the Graco Sense2Snooze.
Chicco's bassinet is all about keeping your baby close. With a height adjustment of 9.5" and wheels that smoothly glide wherever you take it, this bassinet is perfect for daytime and nighttime use. Not only is it a smart bassinet, but it is also multi-functional.
The bassinet vibrates, plays music, and has a nightlight, but it also functions as a changing table. The adjustable height and fold-down mesh sides turn this bassinet into a changing table in seconds. The brake is built right into the handle, so you do not have to worry about remembering to engage it when you take it to a new location.
Chicco's bassinet can be used right up beside your bed, dragged from room to room with ease, or used as a changing table, and that is all in addition to its smart bassinet features. You are certainly getting more than you pay for with this one. The bassinet measurements are 33.5" L x 28" W x 46" H, and it weighs 33 lbs.
Final Thoughts
As amazing as the SNOO bassinet is, the reality is that most new parents cannot afford it. These SNOO alternatives are just as well made, with many features, but cost a heck of a lot less. Any one of these four bassinets would ensure you and your child a good night's rest.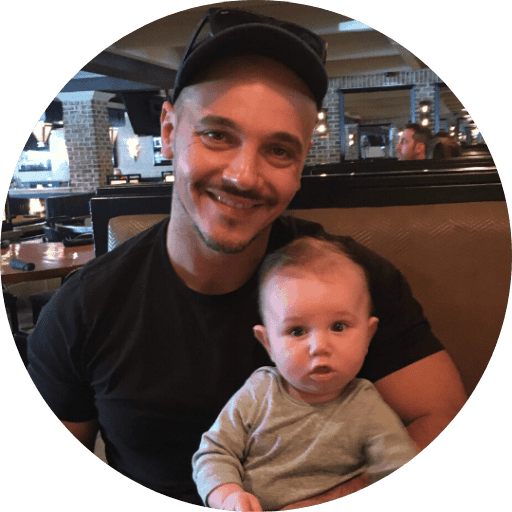 Paul is a passionate dad who founded Upside Dad to share his parenting journey with other new parents. He graduated from Concordia University and worked as a test engineer for over a decade. Paul loves dad jokes and craft beer.
Learn more about Paul and Upside Dad here.