A comparison between Babybjorn cradle and Halo Bassinest only makes sense if you know exactly what you're looking at, so let's get our basics sorted out first.
Halo Bassinest is not one product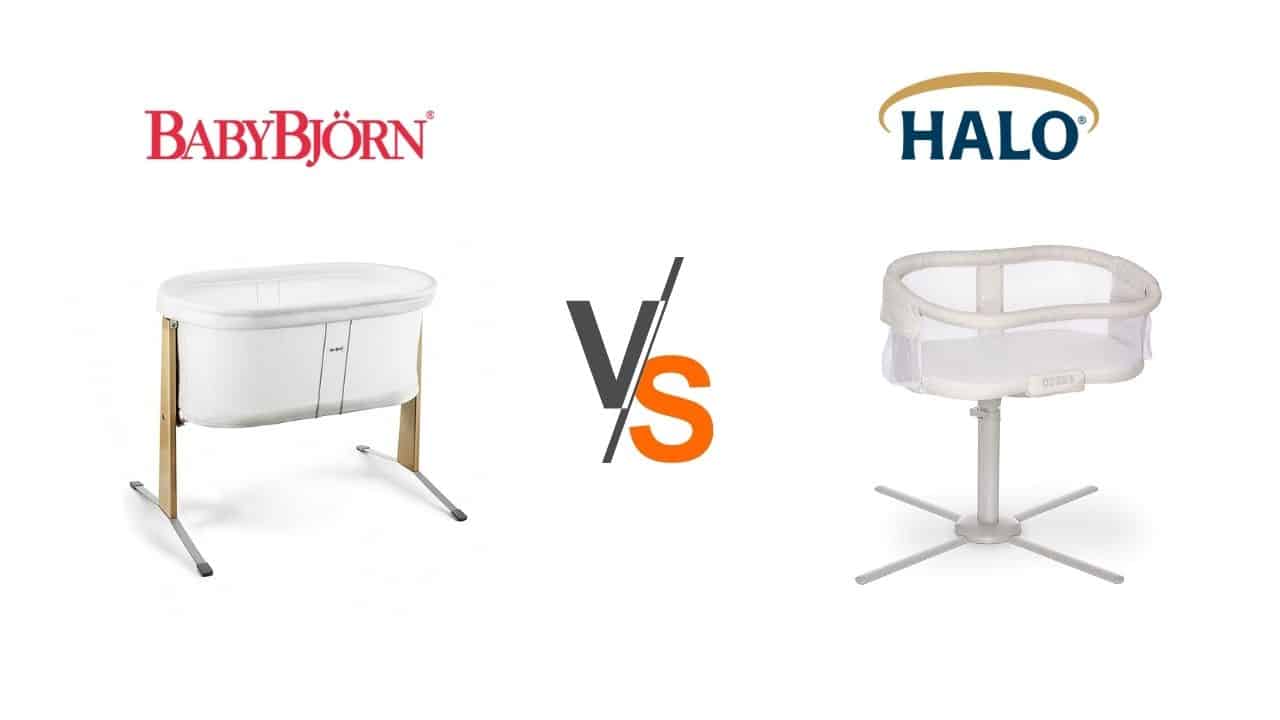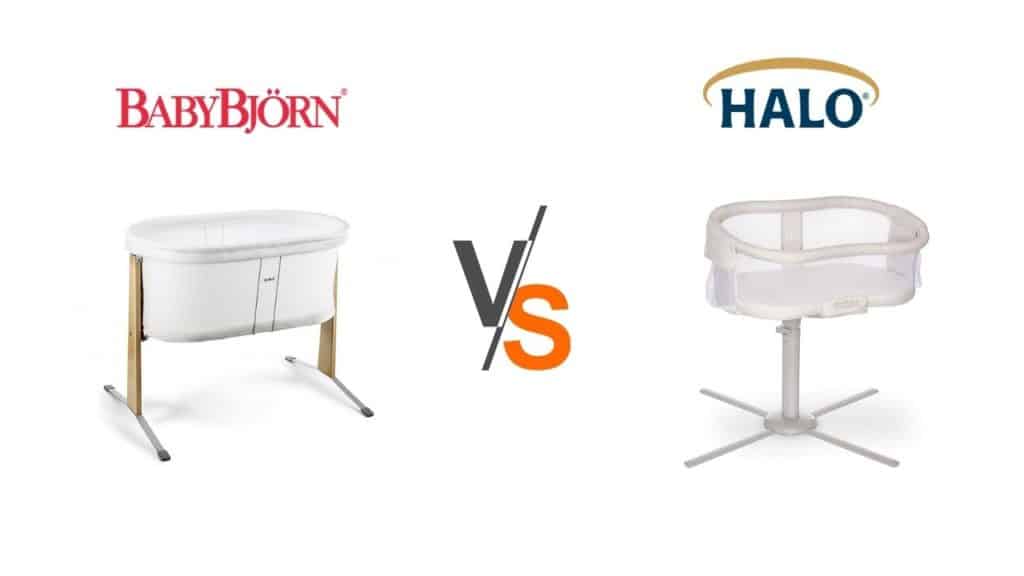 "Bassinest" is a name that Halo uses for a series of products – some of them similar to the Babybjorn cradle (like the Essentia series) and some of them very different (like the Halo Luxe).
The Halo Bassinest Luxe series is in a category of its own and is probably better compared to more intricate baby sleep solutions, like the SNOO (the top dog in the market right now).
That's why the Halo Luxe is listed as one of my top SNOO alternatives.
Make a mental note of this becauseI'll be referring to it throughout this comparison.
Babybjorn cradle, on the other hand, is a traditional crib that has no business being compared to the likes of Halo Luxe. It does look great but that's where the "modern" part ends, the rocking is manual and there's no vibration.
Babybjorn cradle vs. Halo Bassinest (Luxe) comparison table
| | | |
| --- | --- | --- |
| Functions | Babybjorn cradle | Halo bassinet |
| Motion | NO | YES |
| Vibration | NO | YES |
| Sound/white noise | YES | YES |
| Mesh sides | YES | YES |
| Adjustable height | NO | YES |
| Vibration | NO | YES |
| Washable, water-resistant mattress | YES | YES |
| Canopy | NO | YES |
| Age/weight limits | 8-17 lbs | 20 lbs |
Manufacturer background information
The background story of Halo Innovations is one of tragedy-turned-to-passion. When Bill and Cathy Schmid lost their firstborn to SIDS, they turned their grief into a passion for making safe baby gear.
What allowed them to successfully start a business is Bill's engineering background.
Fast forward to today and Halo's sleep sacks and swaddles are currently used in 1,700+ hospitals in the US alone.
Babybjorn is a 60-year old Swedish company (founded in 1961 by Björn Jakobson) and Elsa Jakobson (his sister-in-law). They're best known for their baby carriers but they also make some of the top value-for-money bassinets out there.
In 2012, Björn Jakobson (the founder) was awarded a medal "for significant contributions to Swedish industry" by the Swedish King.
Knowing how serious the Candinavian take quality standards, that speaks volumes about the kind of quality standards that the company maintains.
A closer look at the Babybjorn cradle
This is a classic cradle crib but the visual appeal is beyond anything classic – it's a true eye-candy, with substance to support the looks.
It's just the type of baby product that you'd expect from a Scandinavian product – it looks like it belongs in a home design magazine.
Simple design approach & high-end materials
What makes the design so appealing is the minimalism and the simplicity of the wood-white combo.
The materials used feel cotton-like in all the right spots (soft to the touch) but are very stain resistant and the fabric is machine-washable (both the cradle fabric and the mattress cover). All the fabrics adhere to the Oeko-Tex Standard 100 (class 1 approved).
There's no electrical movement, just smart design – you give the cradle an initial push and the rocking continues for a while "fueled" by the baby's movements. As your little one calms down, so does the Babybjorn.
Easy access and easy to move
Coming in at just over 12 lbs, it's very easy to move between rooms or use as a portable bassinet/travel crib.
The footprint is small which makes it a great choice for smaller spaces. In those first few months, portability can prove to make all the difference, especially if you have a restless sleeper on your hands.
The height is just right for easy access, which makes it a good bedside sleeper.
Not perfect, but good – the one thing that would make it better in that aspect would be adjustable height.
To see the complete review of the BabyBjorn cradle, click here.
A closer look at the Halo Bassinest series
As I mentioned, there are a few products in the Bassinest series from Halo – ranging from the simpler Swivel Sleeper to the more complex Premiere, Luxe, and Luxe Plus models.
The main differences between bassinets in the series are the use of vibration and a few extra doodads like vibration, floor lights, newborn insert, and detachable bed.
The key is this – people who like the Halo (me included) don't like it because it has a floor light. Typically, the owners swear by how easy it is to adjust to any bed and use it on a daily basis.
This is what earned the Halo Luxe a place on my list of the best vibrating bassinets, which is no small feat.
If you want to read more, follow the links below:
Review of the Halo Swivel sleeper
Halo bassinest vs Uppababy bassinet
So, Babybjorn cradle or halo bassinest?
If you took the time to understand what's what in this comparison, it should be pretty easy to cut the wire.
Who will choose the Halo Bassinest over Babybjorn?
If you are looking for a more intricate sleep solution than a classic cradle, you'll probably go with one of the bassinets from the Bassinest series. The more you enjoy technology, the higher the chances you'll choose something advanced (like Halo Luxe).
You'll also choose Halo if you want to be absolutely certain that you're buying a bassinet that will make for a great co-sleeper. Babybjorn can be used as co-sleeper but is no match for the flexibility (read: adjustability) of Halo.
Who will choose the Babybjorn over Halo Bassinest?
If you are a conservative buyer who prefers a classic cradle-style crib that's portable and light, you'll probably go with the Babybjorn. If you're unsure about the differences between a bassinet, cradle and a crib, you can read about it here.
The sleek design will also be a key factor for some parents who care about style.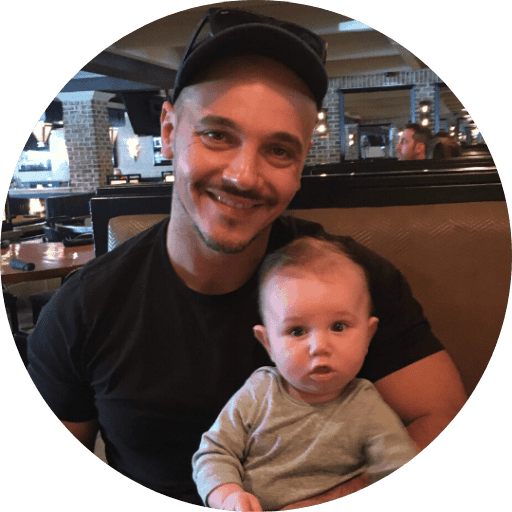 Paul is a passionate dad who founded Upside Dad to share his parenting journey with other new parents. He graduated from Concordia University and worked as a test engineer for over a decade. Paul loves dad jokes and craft beer.
Learn more about Paul and Upside Dad here.