As a new or expecting parent, you've got some things to consider when it comes to sleeping arrangements. One common question parents have is whether to use a crib, bassinet, or cradle. In this post I will try to break down the differences between each of these and how they should be used.
What is a Bassinet?
Sometimes referred to as a cosleeper, a bassinet is a small and portable piece of baby sleeping furniture with a number of useful features. Bassinets come in two main types: standalone and bedside (or co-sleeper) bassinets.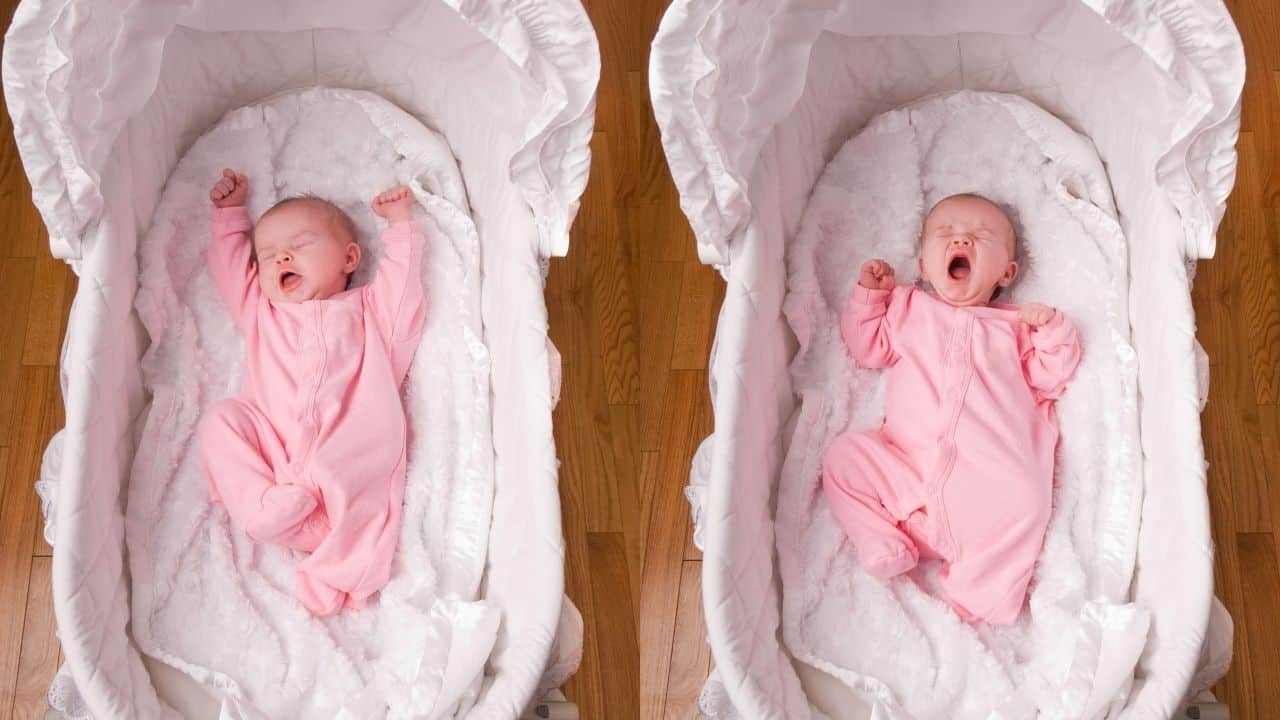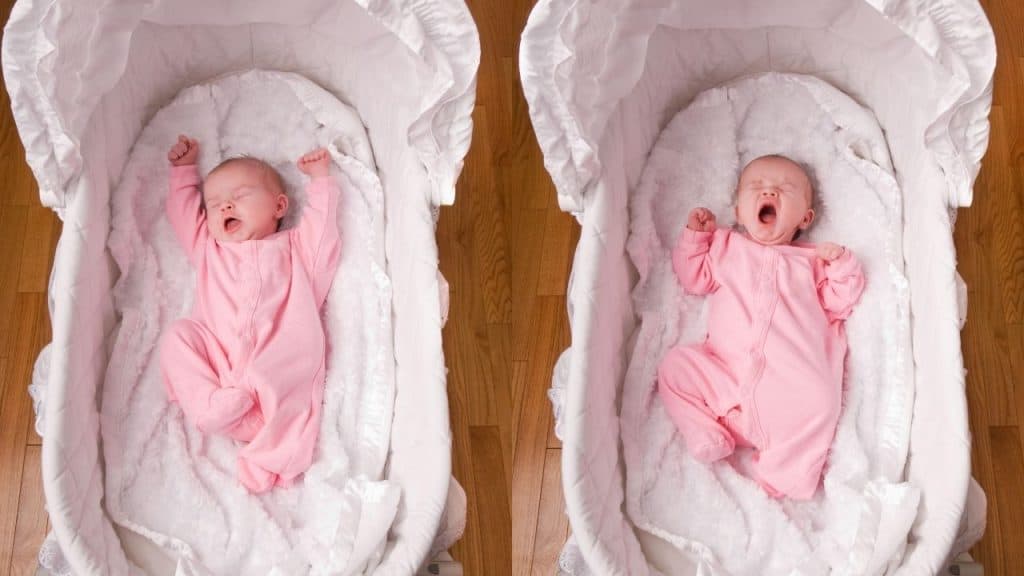 Bedside bassinets are made to attach to the side of a grown-up's bed for security and closeness during the night. Sometimes they come with a stand, wheels, and a handle across the top- and sometimes not.
However bassinets are configured, they are a great way to keep your baby close, move him around, and keep an eye on him during the night or while sleeping.
Bassinets are the preferred place to put a newborn to sleep because they are small, cozy and safe. The downside is that bassinets can only be used for a few months. Once your baby is able to roll over or sit up on his own he should be moved to a larger sleeping area such as a crib.
Check out my list of the best cosleeper bassinets and best portable bassinets.
Pros
Small, light, and portable
Affordable
Versatile
Mobility-oriented features
Attaches to your bed for closeness without the danger of co-sleeping
Cons
How Long Can You Use a Bassinet?
Bassinets are not standardized for size and strength the way full-sized cribs are. So the limits of its usefulness will depend largely on closely observing your baby's weight, strength, and activity.
Generally speaking, bassinets are used for newborns under 25 to 30 pounds. However, if your baby is very active, is unusually strong, or has a penchant for climbing, then a bassinet may no longer be a good choice. In most cases, they are perfect for children under 5 to 6 months of age.
Is a Bassinet Safe for a Newborn?
Bassinets are ideal for newborns. When used for newborns, the safety considerations of a bassinet are the same for any baby sleeping device. That is to say, the mattress should be firm but comfortable.
BONUS: Download my

FREE

Baby Sleep Training PDF
The sheets and blankets you use should be thin, not fluffy, and they should be breathable. You can test the breathability of a blanket or sheet by placing it over your mouth and breathing. If you can move air through it easily, then it's safe for your baby.
There should be no excessive bedding or soft toys in a bassinet. If you use your bassinet with a detachable stand, you should inspect it for sturdiness. Finally, always attach the bassinet to its stand before placing your baby in it, and ensure any locks or securement mechanisms are fully and solidly engaged.
What is a Cradle?
Traditionally, a cradle is a small, semi-portable piece of furniture for a baby to sleep in similar to a mini crib. Cradles tend to have rocker-style legs or hang from a frame like a hammock and they provide movement for the baby inside. Today's modern cradles look more like "rocking bassinets" albeit a bit larger than the traditional bassinet.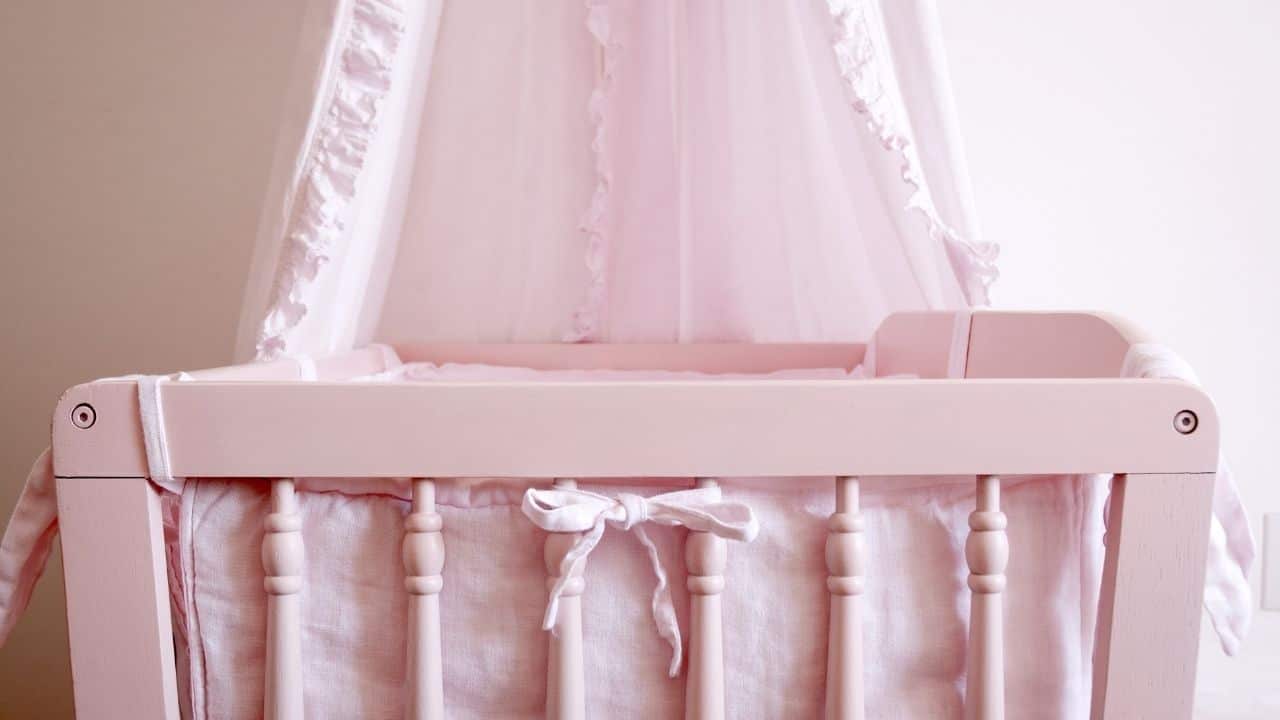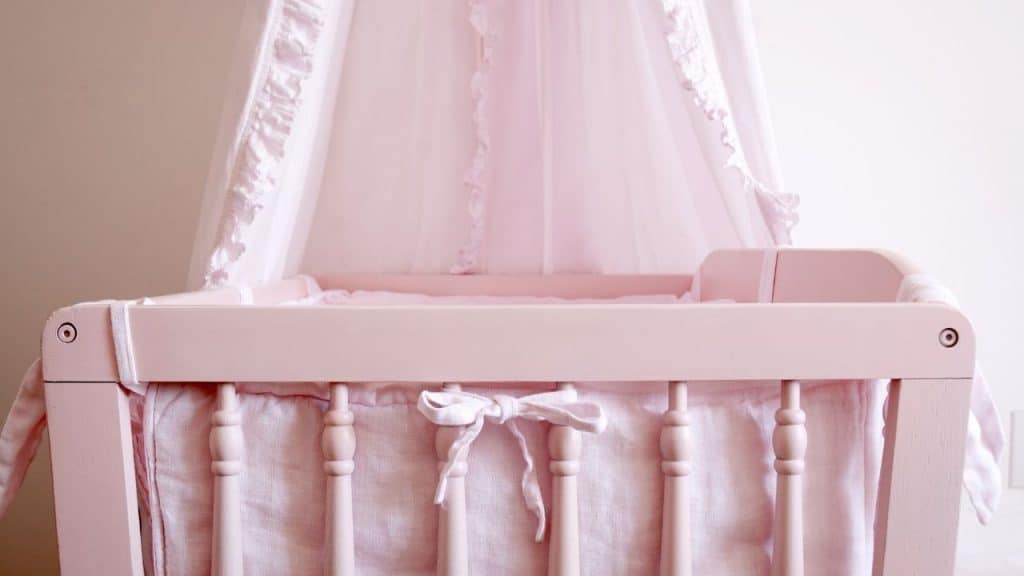 Even though cradles seem to be a thing of the past for many, they appear to be making a comeback and many manufacturers are now developing their own version of the modern cradle.
My favorite cradle is the white Babybjorn cradle because of it's classic yet modern look and amazing functionality.
Pros
Small, portable, and versatile
Relatively inexpensive
Easy to clean
Natural rocking motion
Cons
Not ideal for long term sleeping
Less options and harder to find
How long can you use a cradle?
A modern cradle, is a good transitioning tool from the bassinet or infant sleeping device to a larger bed. They are a good choice for children up to 1 year of age and sometimes longer depending on the size of the cradle.
They usually should not be used by children weighing 40 pounds or more. The strength and activity level of your child will also affect the usability of a cradle.
Is a cradle safe for a newborn?
Like a bassinet, a cradle is perfectly safe for a newborn as long as the normal baby sleeping safety considerations are adhered to. The sleeping surface should be firm, sheets should be tight and properly sized, and no excess pillows, blankets, or soft toys should be used.
BONUS: Download my

FREE

Baby Sleep Training PDF
What is a Crib?
A traditional crib is similar to a traditional cradle except that it usually does not rock or swing, is larger, and stronger. Cribs are normally made out of solid wood. They can be moved but are not necessarily designed for portability.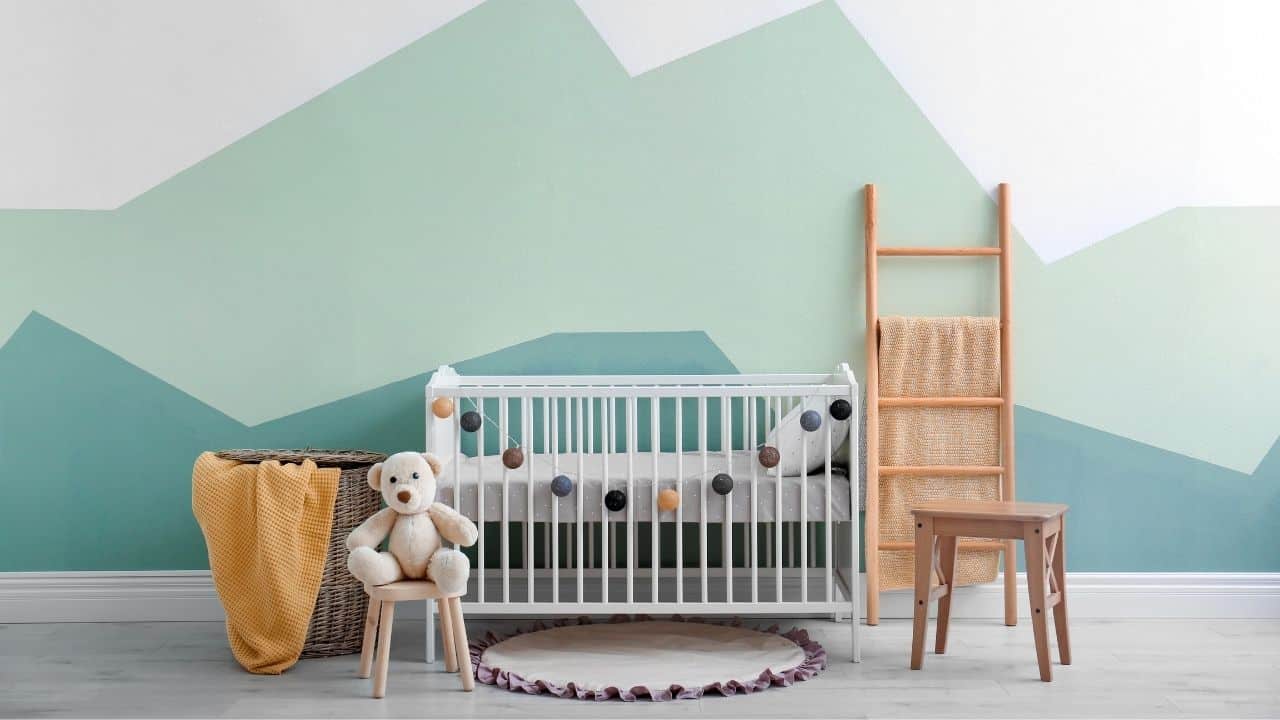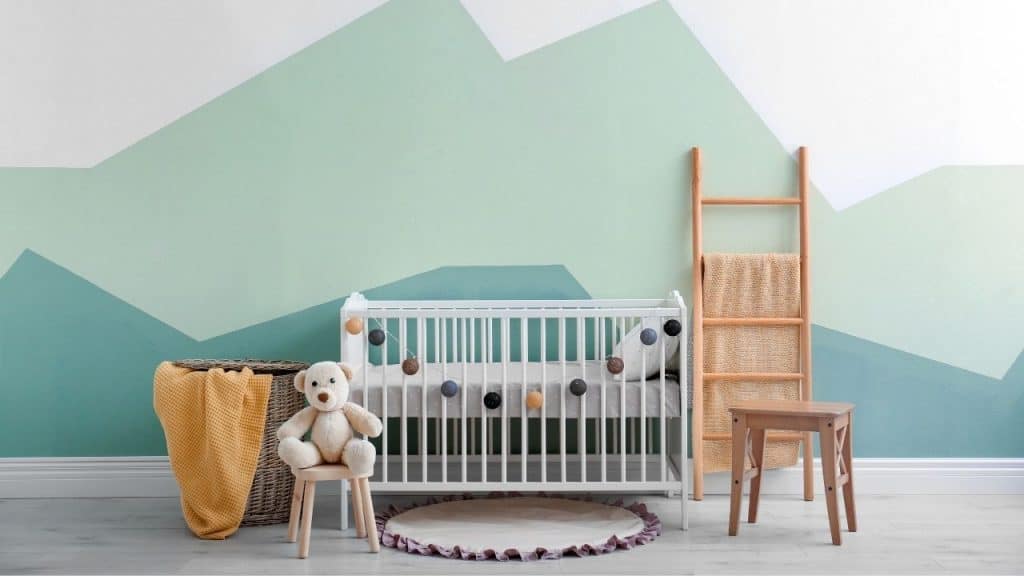 Cribs are the most common sleeping solution for parents today. Cribs can technically be used from day one until kids are much older but many parents opt for a smaller sleeping solution that allows for room sharing during the first few months.
Cribs come in standard sizing with the inner dimension measuring around 28 inches wide by 52 inches long.
Pros
Large and sturdy
Offer room for baby to grow into
A good option for larger and more active babies
Many styles available
Cons
Not well suited for transport
More costly
How long can you use a crib?
Cribs can be used for newborns and toddlers alike. Many cribs will convert into a transition beb and even a toddler bed. It is important to verify if the crib mattress is adequate for the baby's age. Newborns should only sleep on mattresses that are breathable and approved for newborn sleep.
Is a crib safe for a newborn?
A crib is a fine sleeping option for a newborn as long as the mattress is firm, breathable and approved for newborn sleep. Cribs should be kept free of accessories or any loose bedding or cushions.
Cradle vs Bassinet vs Crib – How Do They Compare?
All of these sleeping devices have their pros and cons. Bassinets, cradles and cribs all have their place in the life of a baby. In most cases, parents will need one or more of these throughout the baby's infancy depending on which phase the baby is in.
Bassinets are the perfect place to put your baby to sleep as soon as you get home from the hospital. The American Academy of Pediatrics (AAP) suggests that babies sleep in their parent's room for the first 6 to 12 months and a bassinet is perfect for just that. The problem arises when the baby outgrows the bassinet.
The cradle can be used as an "in between" solution when your baby has outgrown the bassinet but not yet ready for the crib in his own room. A cradle will also bring some babies comfort due to the natural rocking motion.
Cribs are a staple in most homes today. When your baby has his own room he will likely have a crib to sleep in. Many parents choose to bring the crib into their own rooms for the first months and then move it to the nursery when the baby is old enough to sleep on his own.
BONUS: Download my

FREE

Baby Sleep Training PDF
Even though cribs are perfectly safe for newborns, they can be intimidating due to their sheer size. Newborn babies may be comforted by the cozyness a bassinet or cradle can provide.
Cradle vs Bassinet vs Crib FAQs
What is the difference between a bassinet and a cradle?
A bassinet is smaller and more portable than a cradle. Traditional cradles have legs that rock like a rocking chair where newer models may or may not have this feature. Both bassinets and cradles can be used with infants and newborns.
When should I move my baby out of the bassinet?
You should stop using the bassinet when your baby is able to roll over or sit up on his own. You should also verify the weight limits of your bassinet in comparison to your child's to ensure he is still under the allowable weight.
How long does a baby sleep in a bassinet or cradle?
Cradles can normally be used from infancy up to 1 or two years old depending on the size.
Can a baby sleep in a cradle all night?
Yes a baby can sleep in a cradle all night as long as the cradle is certified for overnight sleep. Some rocking cradles are only to be used for supervised sleep so check the manufacturer's recommendations.
Do I need a crib and bassinet?
Having a crib and a bassinet is very common nowadays but not required. If you are to follow the safe sleep recommendations from the AAP, you need to have a sleep solution that will remain in your bedroom for 6 months and up to a year. The truth is that all you need is a safe place for your baby to sleep as they grow.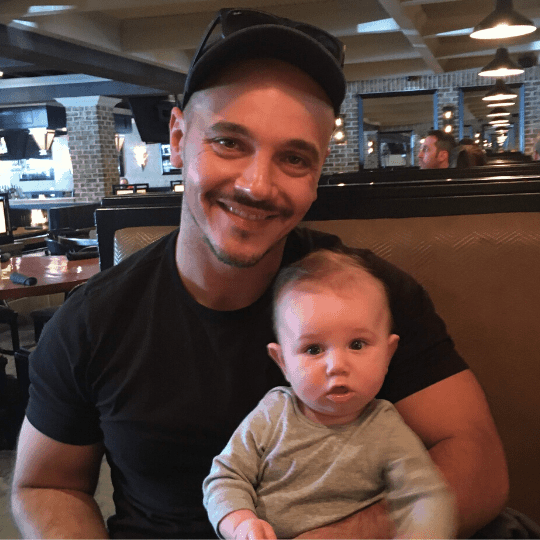 Paulo is a passionate dad who founded Upside Dad to share his parenting journey with other new parents. He graduated from Concordia University and worked as a test engineer for over a decade. Paulo loves dad jokes and craft beer.
Learn more about Paulo and Upside Dad here.