To find the best travel crib for a baby's first big trip can be a daunting experience. How do I know? Because as you'll read in this comprehensive Graco Pack N Play review, I've been there.
As a new dad of a 3-month-old, I had zero experience with travel bassinets like the Graco, and though the trip we were about to embark on was sure to be amazing, I'll admit to being more nervous than excited when it came to picking the right one.
Were the disaster tales of travel cribs that proved impossible to assemble or disassemble true?
Would I be up all night putting one together?
Would it even be safe to get our boy in and out of?
These questions stuck in my mind when a trusted friend recommended the Graco Pack N Play, praising its virtues as a versatile, sturdy, and inexpensive travel bassinet.
In fact, the recommendation only raised more questions.
Could a travel crib that's so affordable really be safe, reliable, and easy to put together?
In turns out the answer was a resounding yes to all of the above.
The Graco proved to offer everything a new parent could want in a crib, though as the proud owner of one, even I have to admit there were some specific details I wish I'd known about the Pack N Play before I bought it.
I'll share those details, along with my honest thoughts on this travel cot in the following review.
Bottom Line Up Front
If you're looking for a reliable, compact, easy-to-use, and perfectly affordable travel cot, Graco Pack N Play is hard to beat. My only complaint is that you can only use it with babies up to five-six months. While that does mean you'll need to buy another one down the line, this five-six month limit is in keeping with most products of this type and hardly a major setback.
My Experience With the Graco Pack N Play With Bassinet
Graco's Pack N Play comes in three design variations:
The first is a simple-yet-sturdy playpen, the second comes with a handy diaper changer, while the third features a bassinet.
Before I get into my experience with this product, note that I have only used and tested the bassinet version.
If you want to learn more about bassinets and why you should have one, check ourBassinet vs. Cradle vs. Crib comparison; otherwise, let's look at the Pack N Play in detail:
Setup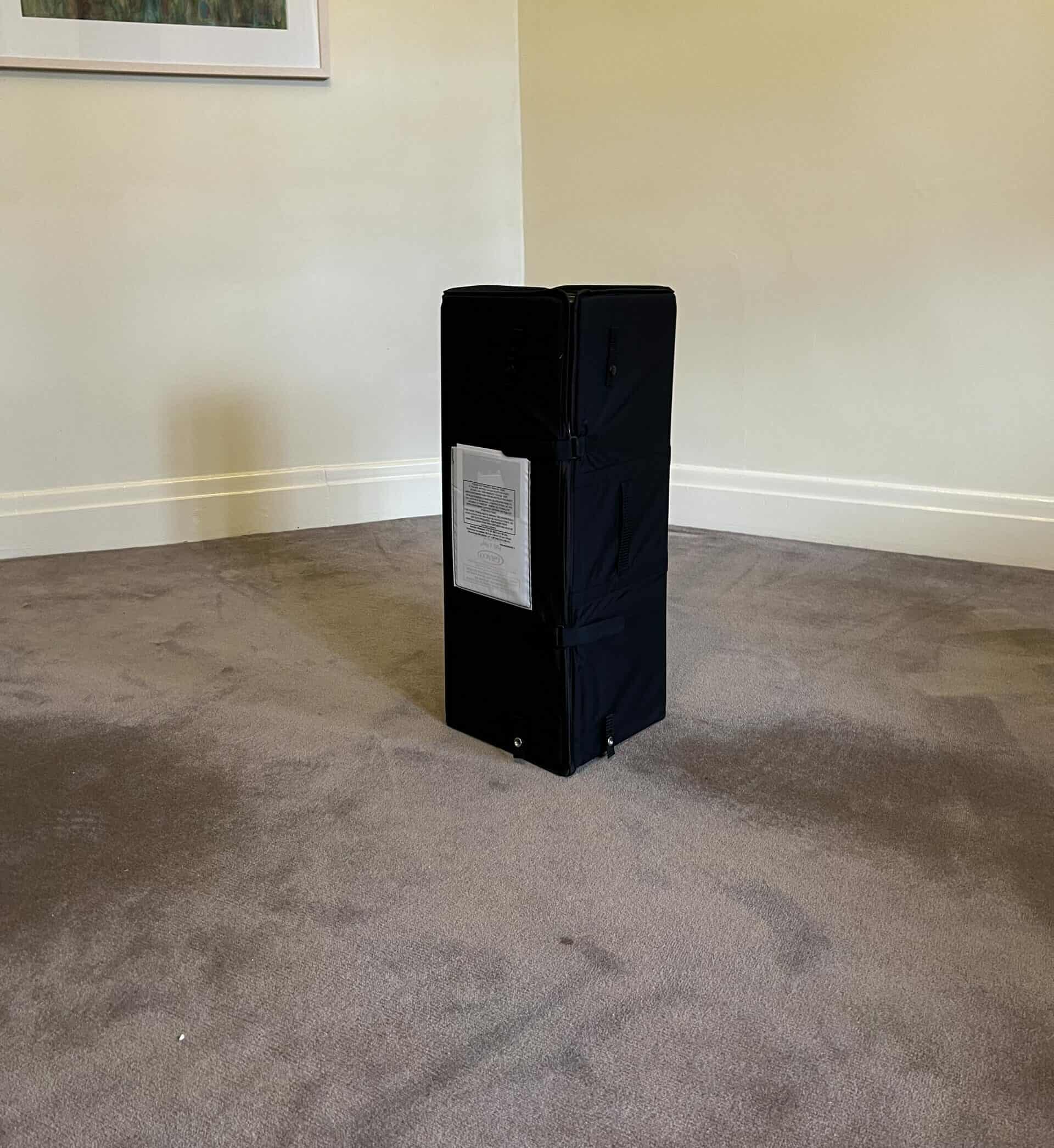 First things first: How does this thing look when you receive it, and how do you assemble it before the first use?
Honestly, this was probably the most stressful part of the experience for me since we had no previous experience with travel cribs. Measuring just 39.5 inches in depth, 29 inches in height, and 10.5 inches in width, the whole crib arrived fully-folded in a sturdy box.
Out of the box, it looks like a black suitcase and has soft handles that allow you to carry it around.
It was when I unfolded the cot that I got a little sweaty. Why does it contain so many parts and components?! I was surprised because I naively assumed that these things work like those self-unfolding beach tents: once you open them, they are ready to use! Sadly, that wasn't the case here.
However, the good news is that setting this travel cot up is actually very easy and undemanding. The first time, it took me about 10 minutes. On the second attempt, it took me just 3 minutes to completely set up.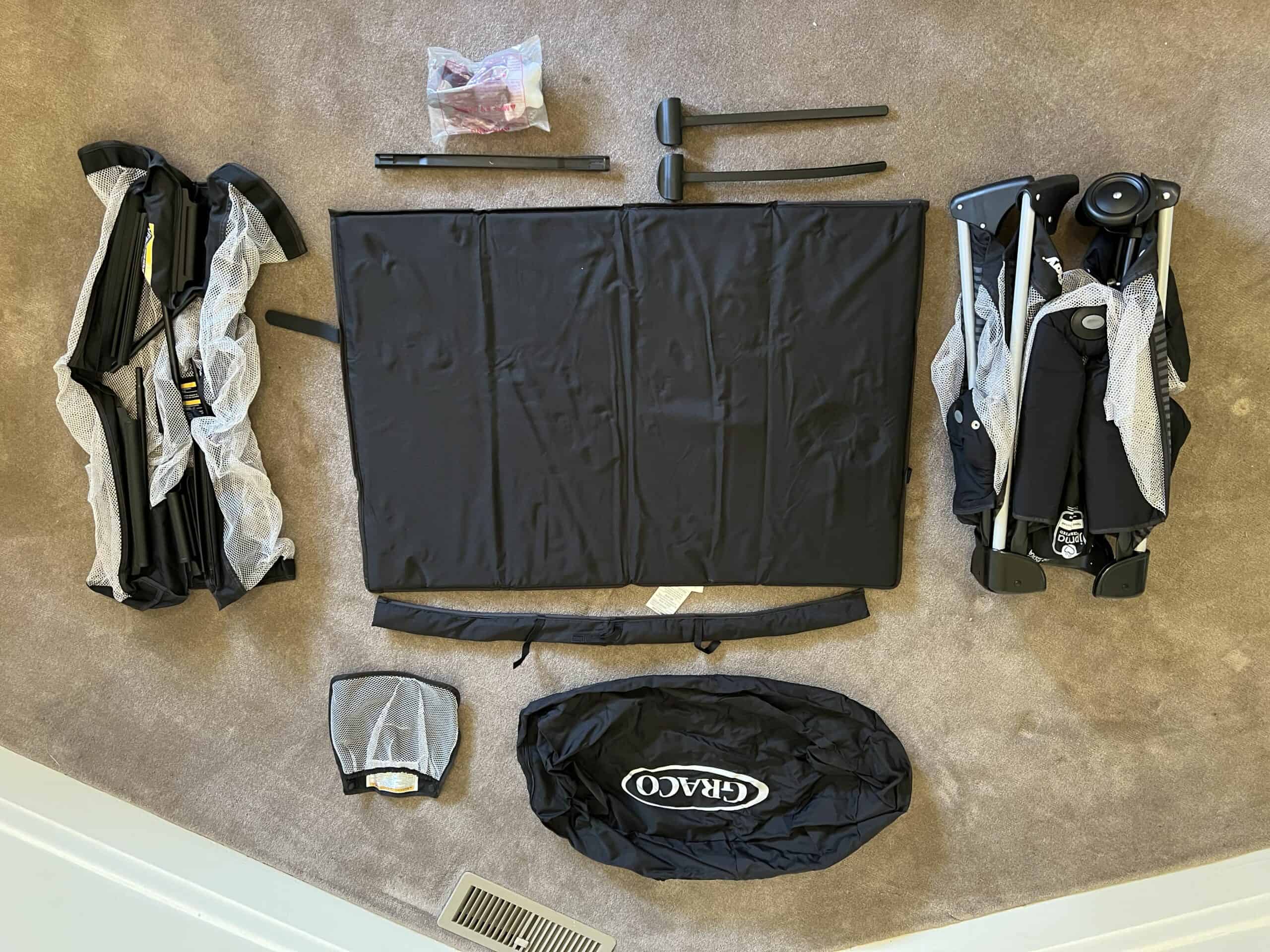 I should also note that the extra time I lost during my first attempt was not caused by any issues with the product itself or the included instructions – it was just my clumsiness and misunderstanding of how the foldable construction works. Silly me.
Important tip if you want to avoid the same mistake: When spreading the cot, clip in ALL the sides before flattening the bottom and opening it up. I made the mistake of opening it first, and it took me a while to figure out how to do it right.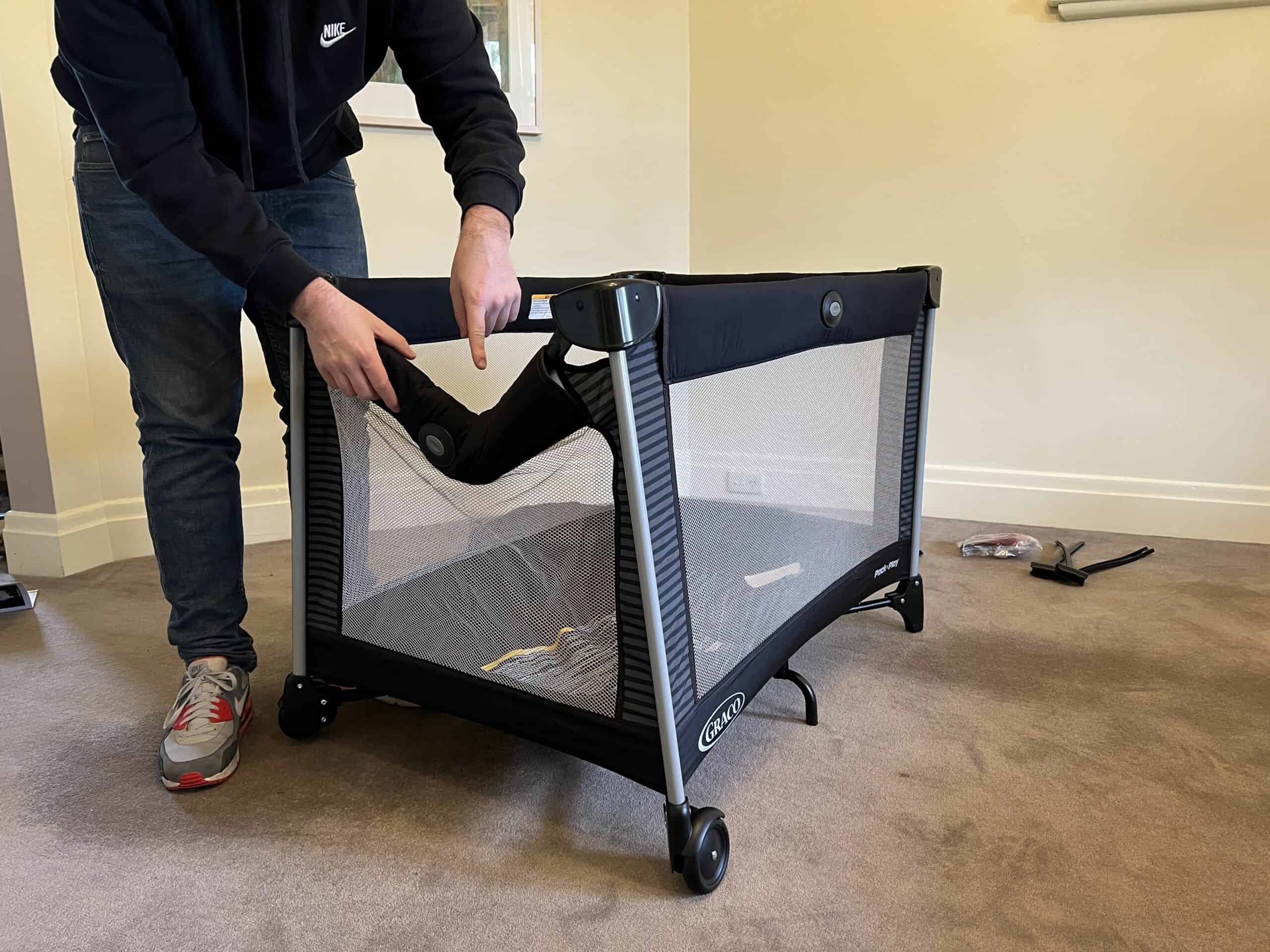 In fact, the manual describes this simple procedure pretty accurately, so I could have easily prevented the issue if I had followed the instructions instead of trying to "wing it." Funnily enough, the mobile (the dangling thing that goes above the porta-cot) took the longest to put together.
But all in all, setting up Pack N Play was very easy.
Setup Verdict: 4.5/5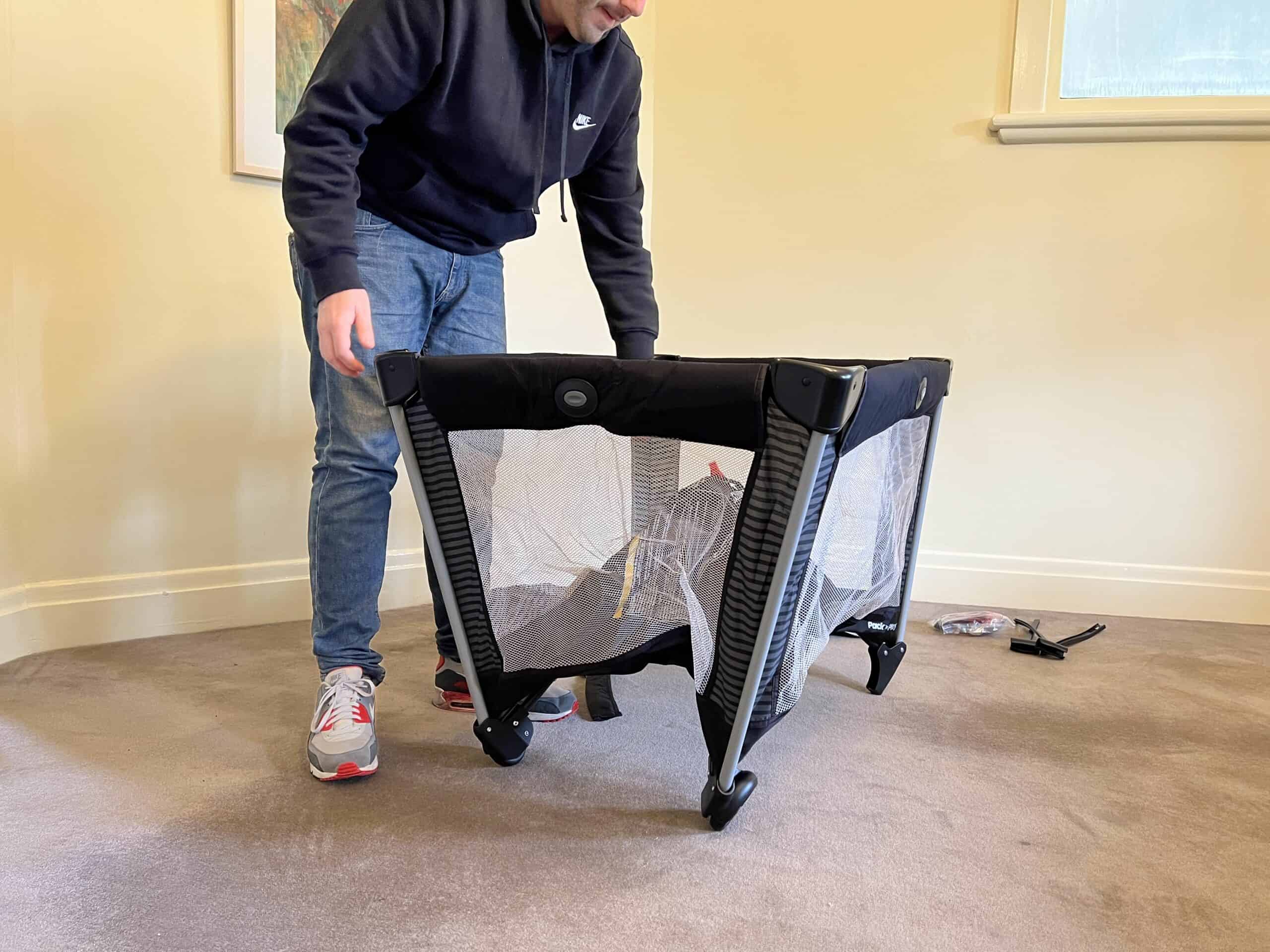 Bassinet
As I've already mentioned, we decided to invest in a Graco Pack N Play with included travel Bassinet, as our boy was already used to it at home. We wanted him to feel as comfortable during our travels as possible.
Of course, it's important to note that, just as it would be unfair to compare any kind of travel cot to a standard wooden crib, this removable bassinet doesn't quite match up to your usual at-home alternative. After all, it is not designed as a permanent nap time solution and primarily has to be lightweight and foldable.
So, how do you put this bassinet on?
After you've already managed to assemble the cot itself, it's quite a straightforward task: Installing the bassinet takes about 1-2 extra minutes since you only have to clip it onto the cot in marked places.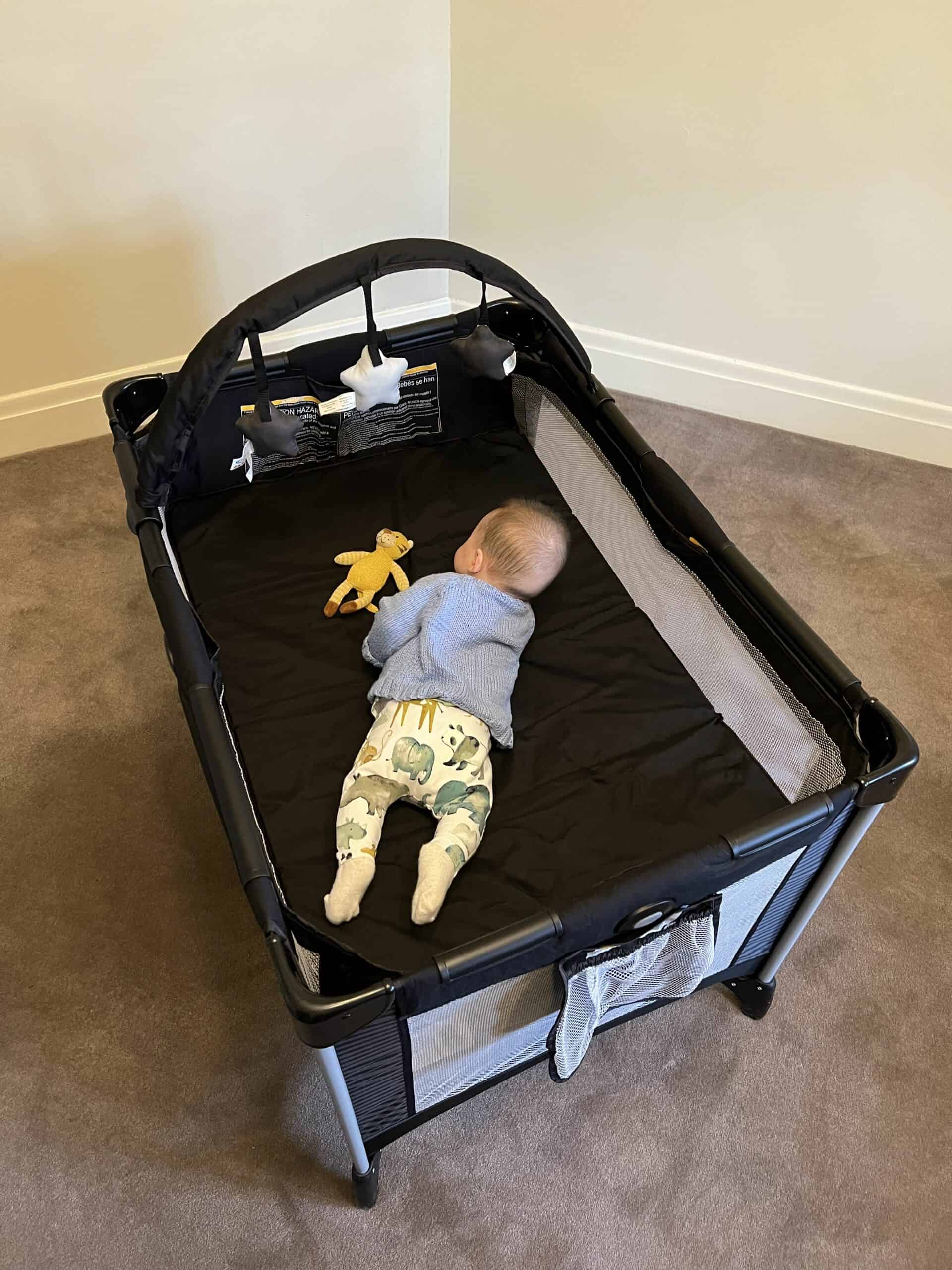 By design, the bassinet has to hang from the top of the cot, which is pretty standard for all porta-cots. However, as a result, it does move a bit, given it is just hanging. This is certainly something to think about, especially if you have a light sleeper who wakes up easily.
Moreover, remember that the bassinet is just clipped onto the top of the cot, not permanently bolted on like your standard bassinet for at-home use. Although it feels pretty sturdy and secure, you shouldn't manipulate it with heavy force or overload it. I must admit I wish it was at least a bit firmer.
In any case, our boy enjoyed his time in the bassinet and seemed to feel very comfortable in it.
Ease of Use
I have heard that some parents use Graco Pack N Play at home as an alternative playpen in a living room or dining room – or even in the garden. I assume they have it permanently assembled and move it around as needed.
Check out ourBassinet vs. Pack N Play comparison for more details on these two options.
Nevertheless, the product is mainly designed for traveling (which was also our main reason for buying it), so you want it to be conveniently compact and perfectly portable.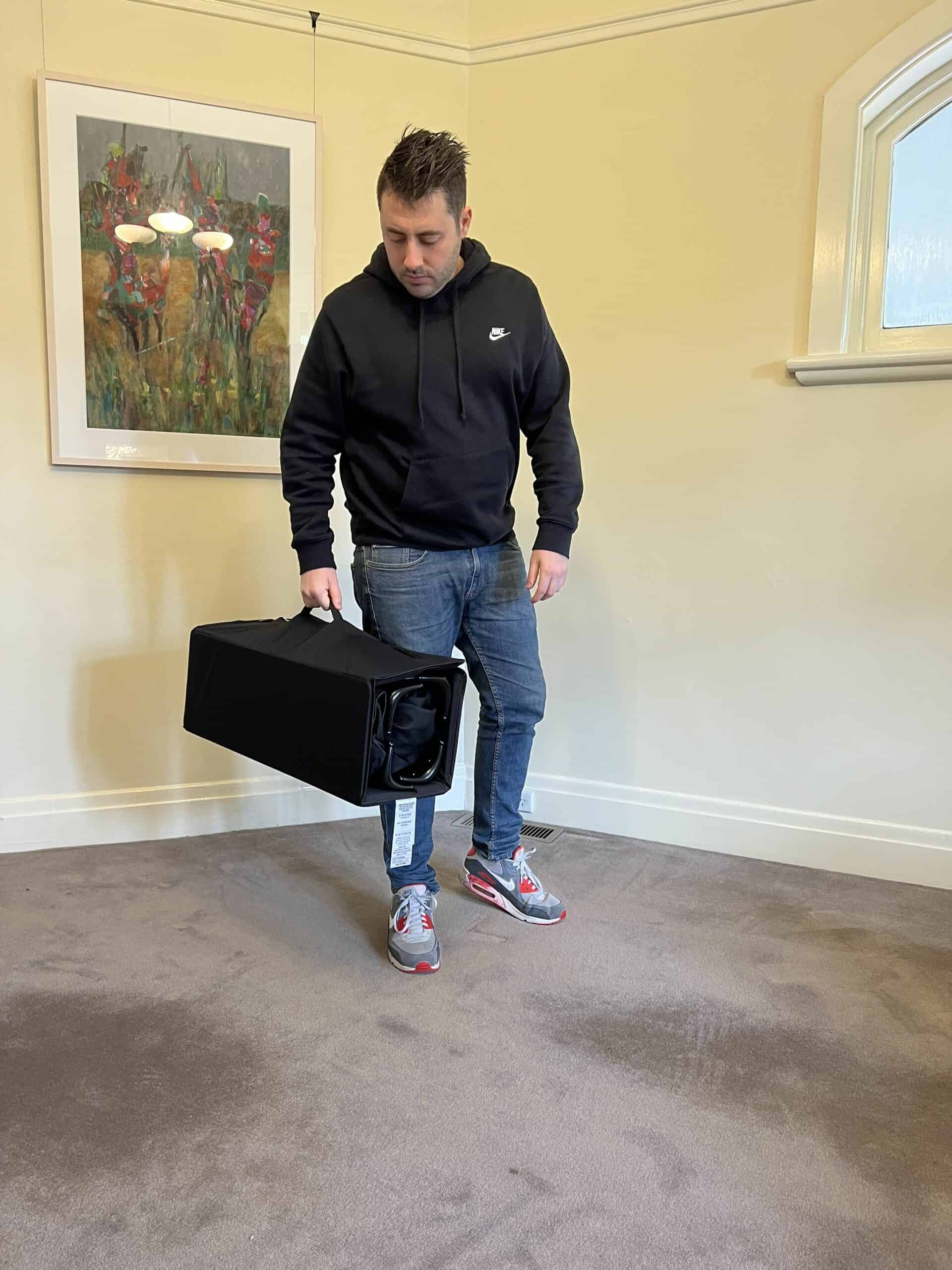 In ​​this regard, there's not much to complain about. Once you´re familiar with ​​the setup and installation procedure, folding and unfolding the cot is fast and easy. The whole thing weighs about 22-23 pounds, which shouldn't be too much even for petite moms to carry.
After all, I assume that if it was even lighter (for example, as a result of using more lightweight materials), it might interfere with the cot's stability, safety, or durability.
The cot's size and shape (when folded) fits perfectly in most car trunks (we had no issue in both our SUV and hatchback).
I assume it is also very convenient when flying – some airlines will even let you take one of these for free (for example, some European airlines like Wizz Air, Easy Jet, or Ryanair), which is certainly worth checking if you're flying.
Another thing I like about Graco's Pack n Play is that it can be easily moved around once assembled, thanks to the integrated castor wheels.
Ease of Use Verdict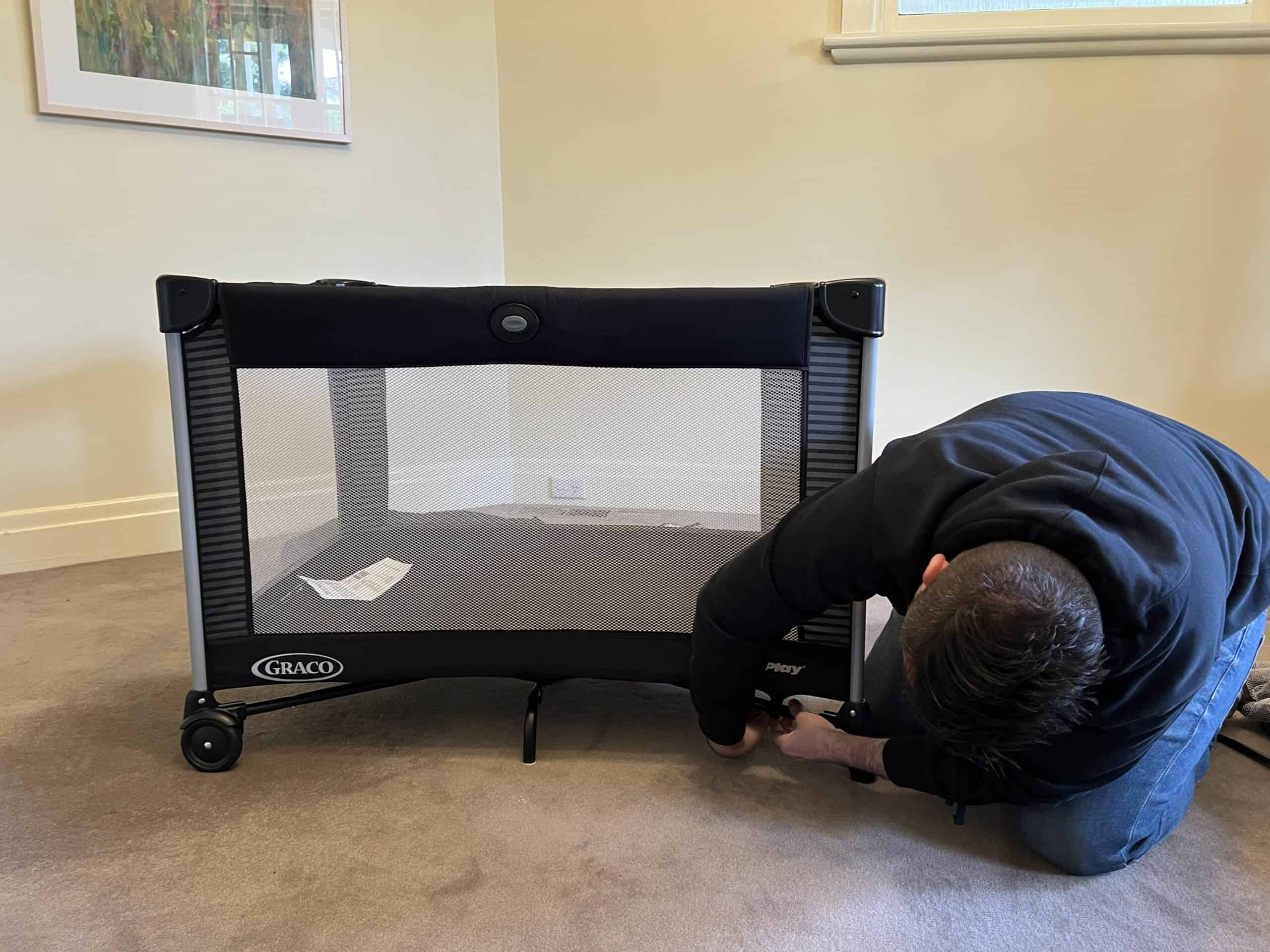 Design and Accessories
Although aesthetics might not be your biggest concern when it comes to baby products, most of us certainly can appreciate it when something works well AND looks great.
Although Pack N Play is somewhat simplistic and lacks the glamour of some of its more expensive competitors (e.g., Joovy Room2), it still looks very modern and sleek. Moreover, you can choose from twelve styles and color combinations (as you can see in the images, we went for Kaden with black and gray stripes).
What I like about the cot's design is the nice addition of a detachable toy bar with a handful of soft dangling toys. As your baby tries to reach them, they develop strength and dexterity, and it also keeps them occupied while you change their diaper or clothes.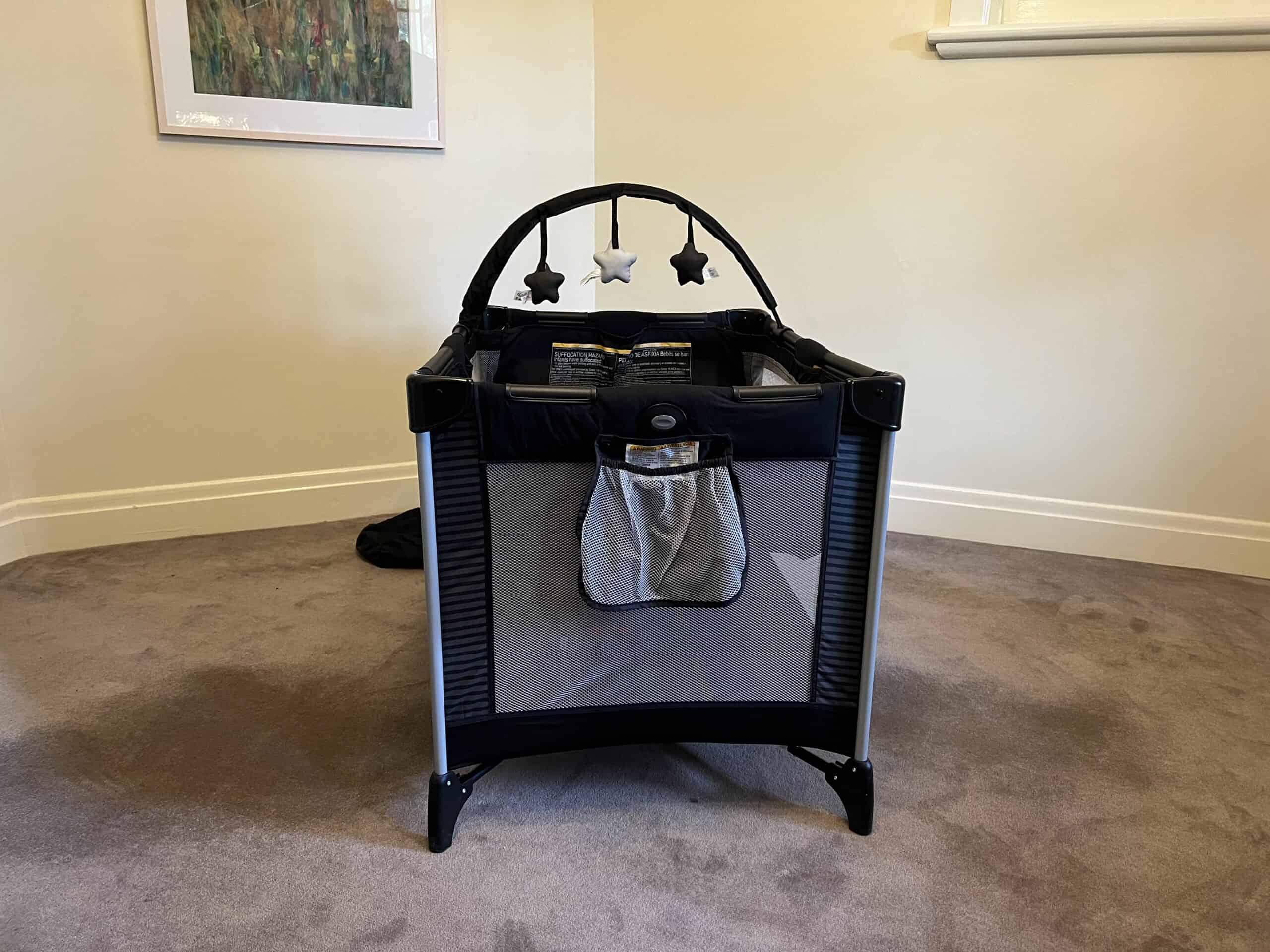 A handy pocket hanging on the outer side of the playpen is another excellent addition. We have used it for all the tiny baby stuff that tends to get lost, and it was a lifesaver, especially in the middle of the night.
If you're wondering whether it comes with a mattress too, I've got more good news for you:
It does, and I believe it feels adequately thick and comfortable (read more valuable tips on Pack N Play mattress pads). Of course, you cannot compare it to standard baby cot mattresses, but our baby slept well on it, and that's good enough for me.
I want to mention one more thing concerning the design or rather the construction of this crib: Beware that it is suitable and safe for your baby only until they start to stand up on their own.
Moreover, according to the official instructions, you should not use it past 5- 6 months of your child's age or when they become heavier than 25 pounds.
It sounds pretty logical when I think about it, and I've found out that many other travel cribs are the same. Still, it is surely worth considering before deciding to invest in this product.
Design and Accessories Verdict: 4/5
Price and Delivery
As I have already mentioned, there are three types of configuration to choose from when you're buying this travel cot. Besides their slightly different functionality, they also differ in their price.
The simple cot design is obviously the cheapest, whereas the variation with an integrated diaper changer is the most expensive.
Our version equipped with a removable bassinet costs somewhere in between those two.
Nevertheless, they all boast competitive and affordable prices.
If you're wondering where to get Graco Pack N Play, I ordered ours online at Amazon. It was shipped from the U.S. and arrived here in Australia within 10 days, which I thought was pretty impressive considering the time some goods take to arrive when shipping overseas.
The product arrived in perfect condition and included everything it was supposed to, so no complaints.
Price and Delivery Verdict: 5/5
Graco Pack N Play With Bassinet: Pros & Cons
Now let's summarize the Pack N Play's most significant advantages and disadvantages once more:
Pros
Simple setup and installation (follow the instructions though).
Convenient size and weight for traveling.
Easy to move around thanks to the integrated wheels.
Fairly sturdy and safe design.
Lovely perks like the toy bar and pocket.
Nice design with twelve styles to choose from.
Reasonable price (much cheaper than some competition).
Cons
Maximum load and age for safe use are somewhat limiting.
You cannot use these cots once your kid can stand up on their own.
Bassinet could feel a bit firmer in its place.
Features of Graco Pack N Play with Bassinet
These are the essential features of Graco Pack N Play with Bassinet:
Movable, full-size bassinet for a safe and comfortable nap wherever you go
Folding feet with wheels – easy to move around
Compact design for effortless storing and traveling
Durable frame – ready to withstand all the hardship of travel
Toy bar with nice soft toys to keep your baby entertained
Available in three configurations: Portable playpen only, with a bassinet, and with diaper changer.
Specifications of Graco Pack N Play With Bassinet :
Here are some of the product's technical specifications and parameters you might find useful:
Dimensions: 40 x 28.5 x 29 inches
Weight: 22.66 Pounds
Materials: polyester, plastic, metal
Floor area: 7354.82 square centimeters
Maximum recommended weight load: 25 pounds
Maximum recommeded age: 5 – 6 months.
Graco Pack N Play Alternatives
When I searched for the best travel cot for our baby boy, I saw quite a few attractive alternatives that could be worth trying.
Although we have decided on Graco's Pack N Play (and are still happy with this choice), if you're not entirely convinced about it, maybe you'd like some of the following products better: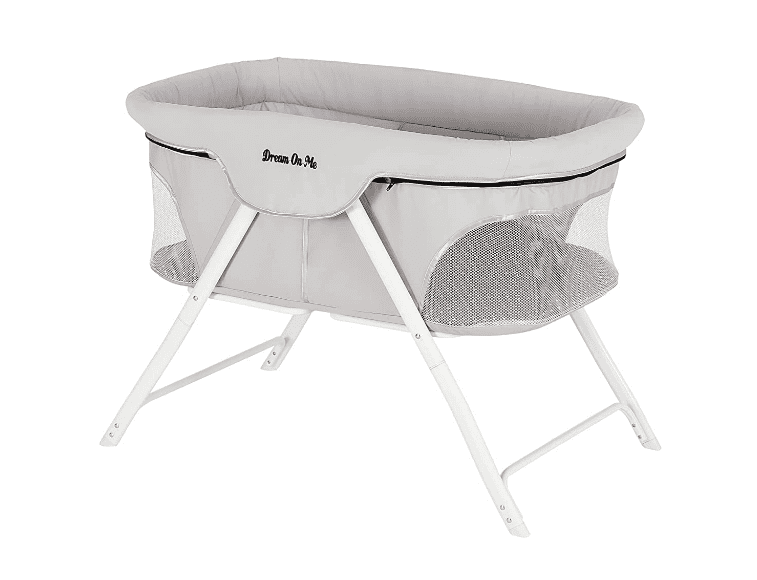 Classic travel cots can be tight if your little one is on the larger side.Dream On Me Traveler Portable Bassinet is a great alternative for those who look for something bigger and genuinely comfortable and are willing ​​to sacrifice a bit more space in their trunk for this purpose.
It comprises a lightweight aluminum frame, see-through mesh sides, and soft foam fabric. It looks modern and stylish (you can choose from a couple of colors too). Moreover, it also boasts a reasonable price.
Learn more in our Dream On Me Traveler Portable Bassinet Review.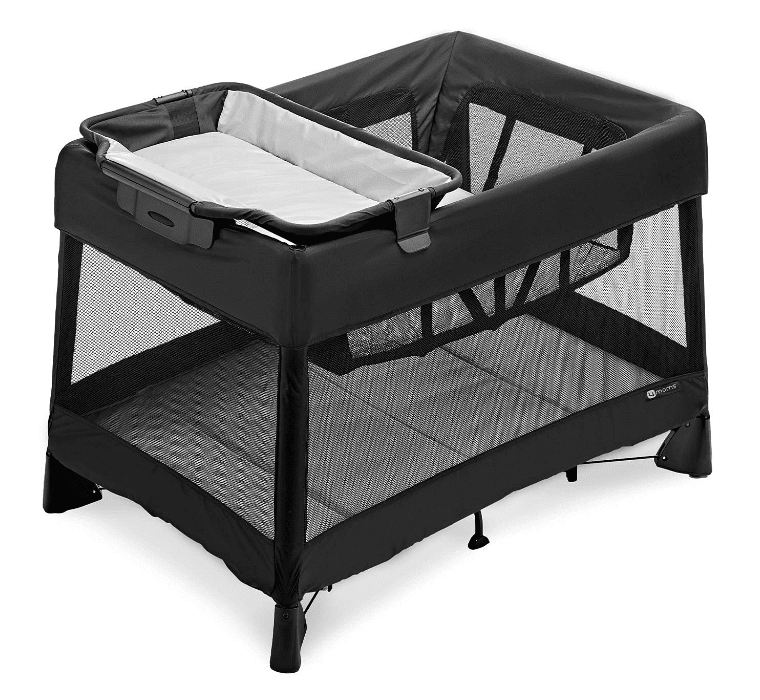 One-hand setup and folding; included a removable bassinet and diaper changer and durable construction made of premium materials. If you're looking for a reliable all-in-one solution for your family travels,4Moms Breeze Plus Playard is hard to beat.
This popular playpen regularly ranks in various "best in class" charts, and I've also heard praise for it from numerous friends. Unfortunately, it is also pretty expensive, so if you're not planning to travel all the time, you might reconsider how practical ​​his investment is.
Read all the details in our 4Moms Breeze Plus Playard Review.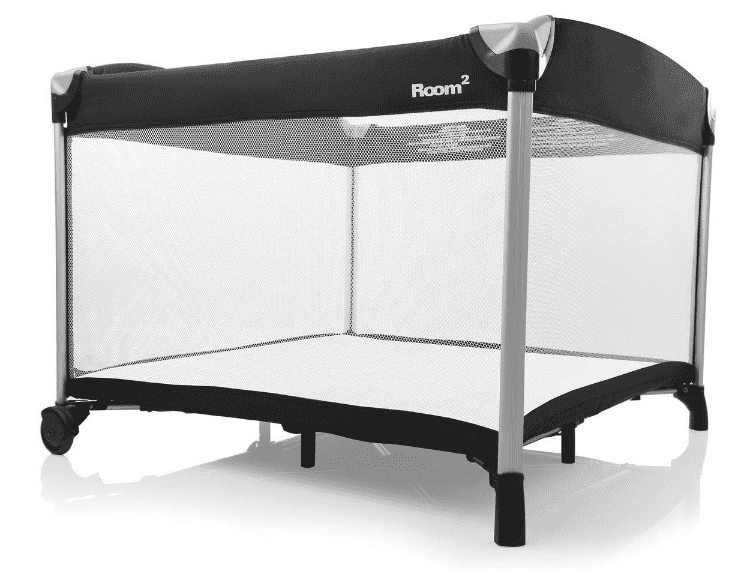 The Joovy Room2 is another excellent solution for those who need to accommodate a larger baby on their trips or vacations. It is approximately 50% larger than most standard travel cribs (nearly 10 square feet!), yet still very compact, lightweight, and super easy to fold and unfold.
Room2 comes with soft cotton fitted sheet and a carrying bag, and it feels sturdy and durable. Again, however, you should be prepared to pay considerably more for this extra large crib than you would invest in most standard al​​alternatives.
See our complete Joovy Room 2 Portable Playard Review.
Frequently Asked Questions
Here are some of the commonly asked questions about Graco Pack n Play:
Question: Can a baby sleep in Graco Pack N Play?
Answer: Yes! And not just theoretically – these travel cots (whether with or without the bassinet) are officially tested and certified for sleeping. See our Can Baby Sleep in a Travel Crib? article for more details.
Question: Can I put my newborn in a Graco Pack N Play?
Answer: Yes, these playpens are perfectly safe and suitable for newborns and infants.
Question: Can you put mattresses in Graco Pack N Play?
Answer: Although this cot comes with a default mattress (which worked well for us), some parents can prefer replacing it with another one – presumably a thicker and more comfortable alternative. In any case, ensure that the mattress fits the cot perfectly – any gaps or bumps can pose a risk of suffocation!
Is the Graco Pack N Play the Best Travel Crib? My Final Verdict
As our first ever travel cot, it would be impossible for me to accurately compare Graco Pack n Play to other products. So, while I can't tell you whether it's the absolute best of the best, I can certainly tell you that, after extensive research, we've decided it's the best travel crib for my son and our family.
Affordably priced, its comparatively low cost belies a high level of comfort, safety, and quality manufacturing, meaning it ticks all the right boxes in a way that other cribs we looked at just didn't.
That said, nothing is perfect in life, and the Graco is no exception.
The downside here is the cot's limited lifespan. Once your baby reaches five or six months old, it will be time to replace their crib so this is hardly a long-time investment.
Even still, when you consider the very reasonable price of the Graco Pack N Play, I'm sure you'll agree that it's one of the best investments you could make for your newborn.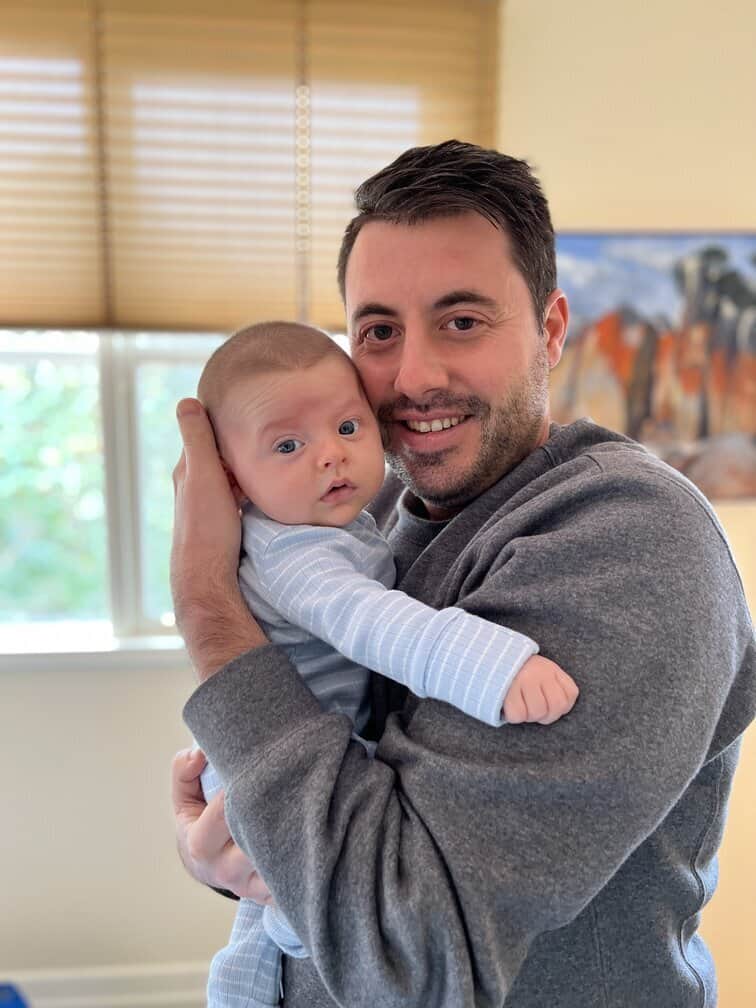 As a new dad himself, David understands the struggles in dealing with a newborn's sleep schedule. He knows how hard it is to work and deal with a lack of sleep at night. He thoroughly tests out products and can advise which are best for your little one. In his spare time, he enjoys riding ATVs and BMX.